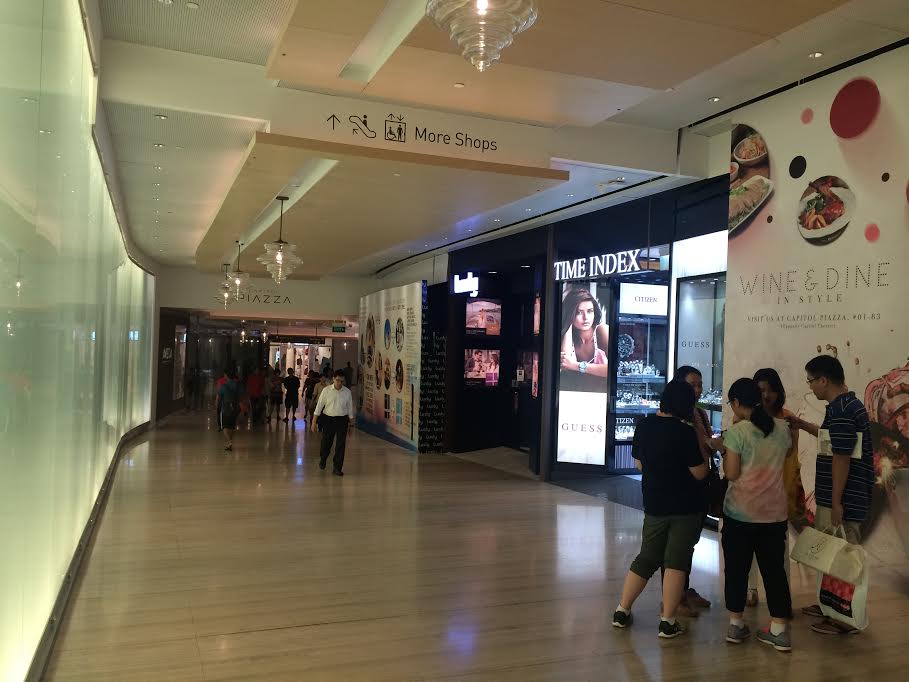 Capitol Piazza is spanking new, but it's shops are already offering offers and discounts – even during weekends.
It was the best of times. It's now the worst of times?
Retailers and shopping mall owners in Singapore are breaking out in a cold sweat these days.
Many Orchard Road malls are emptier than a graveyard these days – even during the June school holidays and the Great Singapore Sale. So are the malls in the Marina Bay area like Marina Square.
While Bugis Junction is still teeming with human traffic, I noticed something quite glaring in many of the shopping malls.
Many of the "shoppers" aren't carrying shopping bags full of purchases. They seem to be enjoying the free air-condition while escaping from our stifling tropical heat.
While the global economy has certainly taken a downturn in recent months, the majority of Singaporeans are still largely unaffected by what's happening in China, the EU and other markets. We are still at almost full employment, and there are tonnes of jobs out there waiting for the right person to fill.
What's more, we have one of the highest GDP per capita in the world. Plus the highest density of millionaires per square km anywhere on this planet.
So the question isn't so much about affordability than choice. In other words, people are choosing to shop elsewhere rather spend their dollars in the city.
What can shopping malls and retail outlets do to restore buzz and vibrancy in the heart of our city?
1) Increase Customer Intimacy
First, we need to bring back that loving feeling. While our shops are spanking new and clean, many of them lack personality.
Price seem to be the only reason to buy, and we all know that brick and mortar retailers can never win the price war with online players.
Instead of thumbing away at our smartphones, why don't we invest our time in building relationships?
Retail assistants can incentivize customers to write down their names and contact numbers (in return for a small gift), and jot down two or three unique things about that person. This can be anything from his or her birthday, family status, hobbies or preferences.
By doing so, we have a basis for remembering our customers and personalising the experience. We can address them by name, alert them whenever we have any special deals, or surprise them by greeting them during their birthdays.
2) Improv Each Encounter
Have you felt that our shopping centres sometimes feel like hospitals? Everybody seem to be busy doing something or other, and nobody wishes to make eye contact with you.
Break away from all that seriousness. Put a smile on your customers' faces!
Instead of having flash mobs only when you have a new promotion or campaign, make it an everyday thing.
Get your retail team members to break into spontaneous song an dance. Give them guitars, tambourines, and karaoke sets.
Provide board games for your customers. Better yet, play a short game with them.
"The next word has four syllables. Sounds like…"
3) Curate Sensorial Spaces
Now that you've broken the ice, consider how you can create deeper sensorial tattoos in your customer's brain.
This entails going beyond visual aesthetics to tickle their other senses: auditory (sound), olfactory (scent), gustatory (that's taste), and tactile (touch). Make your spaces cosy, warm, comfortable and inviting.
Offer a small piece of candy or a warm cup of tea to your browsers. Studies have shown that little treats like these can go a long way towards generating goodwill and triggering buying behaviours.
Invest in creating immersive experience scapes. Learn how the big boys like Starbucks, IKEA and other stalwarts of space create and curate perfect environments that are homes away from homes.
4) Spin Brand Stories
We crave stories. It is the primary mode of communicating ideas and messages since time immemorial.
Even in the digital age, stories have been shown to leave a far deeper impact then the mere recitation of facts and figures – regardless of how mind boggling they are.
Unfortunately, few of our retailers have invested in telling their tale. What they seem more keen in is to move as much of their lifeless and soul-less merchandise as possible.
I am sure consumers would be keen to hear about the inspiration behind the shops, the fine quality and craftsmanship which goes into each product, or the lengths which the creators of the brand went to craft a memorable and delightful customer experience.
Better yet, shine the spotlight on a couple of your customers. Make them the star of the show.
5) Make Shopping Social
Finally and perhaps most importantly (since we are a smartphone nation after all), retail brands should invest time and energies into building their online communities.
If you own a bakery, you may wish to start a Facebook group for bakers and foodies who love cakes and pastries. Fill it with recipes, behind-the-counter videos of your chef whipping up a sweet dessert, or invite members to share their most memorable experience in a cafe.
If you sell clothes, you could provide fashion tips, mix-and-match styling advice, or feature your customers in their #OOTDs (Outfit Of The Day).
The thing is this. Your goal is to provide value and build brand love. Make yourself so indispensable and likable as a part of their lives that they would eventually gravitate towards your retail outlet.
Remember that you are not selling products and services, but recruiting members to your brand club.
Are there other ways to revive retail in Singapore? I would love to hear your thoughts!