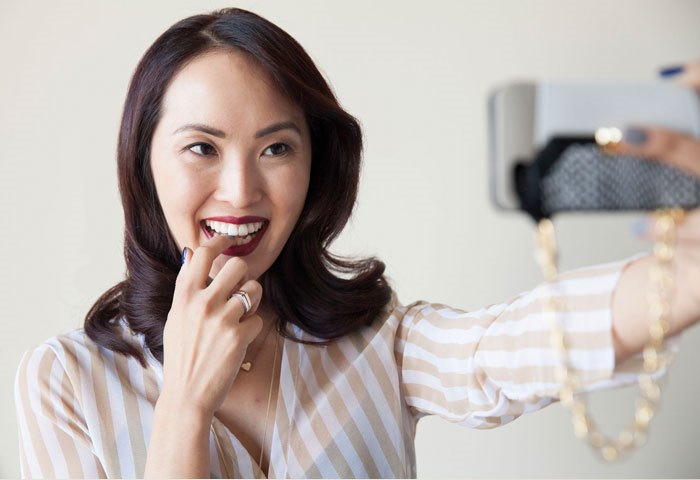 Chriselle Lim and Nordstrom (courtesy of Nordstrom)
Wonder why your social media marketing efforts are not paying off for your brand?
Maybe you should take tuition from that fashionable 20 something student with 100,000 followers on Instagram. Or that "frivolous" YouTuber with his hundreds of thousands of faithful viewers.
Like it or loathe it, the world of social media is dominated by bloggers, YouTubers, Instagrammers and other social influencers. Supported by their millions of fans, these opinion leaders and taste makers help to shape the buying preferences of consumers around the world.
"Bah humbug," you say. What can a gothic-styled teenager or famed food blogger teach you about social media marketing?
Let us dive into the world of social influence to see what nuggets we can uncover.
Be as Social as Influencers
Most social influencers are well connected to their fans. They engage and interact with them on social networks like Facebook, Twitter and Instagram, and organise periodic gatherings so that they can "press the flesh" and meet fans face-to-face.
Influencers are often well connected to other influencers. They embrace the law of reciprocity and are willing to help one another in promoting each other's posts.
Brands like yours can also follow suit. Find ways to reach out to your Facebook fans, Twitter followers and YouTube subscribers in a human matter.
Extend your brand help and influence beyond your own social properties. Seek consumers who tweet or blog about specific topics related to your industry and find ways to provide value.
Have a Point of View and a Cause
Bloggers are interesting to follow because most have a strong point of view. Unafraid to say what they feel, they come across as authentic and believable to their fans.
The flip side of being strongly opinionated is that these influencers may alienate some people. However, those who believe in their cause would fight for what they have to say online.
Likewise, brands should also have a world view and a "cause worth fighting for". Like influencers, brands with a strong and unique identity (like Harley Davidson) are perceived to be more trusted and liked by their customer and fan communities.
Show Your Flesh
In the age of antiheroes, we are drawn towards influencers who are transparent about their vulnerabilities. Their quirks, eccentricities and #FML stories makes them more attractive.
Somehow or other, a flawed hero is more attractive than an immaculate one.
Similarly, brands could be more transparent about sharing their trials and tribulations. Show your fans what mistakes you have made, and how these have helped you to become better. Demonstrate that you are honest and trusted by showcasing your humanity.
Stay Plugged into the Social Web
As social media addicts (come on, admit it guys), influencers are continually plugged into the social web. They are the first to break the news, and are often in close touch with what's happening in their domain areas – be it politics, food, fashion, photography or business.
Admittedly, it isn't easy for brands to be as obsessed about social media as influencers are. Perhaps one way to keep a closer watch on what's happening on the screen is to have "duty social media personnel" over evenings and weekends.
Social monitoring tools like Hootsuite, BuzzSumo or Radian6 could also help brands to listen and respond to social buzz.
Speak like Real Humans not Robots
While influencers are often respected for their thoughts and tastes in specific domains, they also make it a point to offer "quotable quotes". Written in everyday language, these tweetable sound bites are often shared and retweeted by their followers.
Sadly, many brands are so out of touch with communicating on social media that their CEO quotes put you to sleep. They are filled with meaningless buzzwords and management speak that lack colour and character.
Let your brand's humanity shine through. If necessary, train your spokespersons to speak and write like normal human beings.
Appoint Multiple Advocates
Do you know that many of your employees, customers, board members and business partners are probably social influencers themselves? In fact, they are your most powerful brand influencers.
Like social influencers, shine the spotlight on your "sponsors" and "supporters". Even better, encourage them to use their own words to share what they like about your brand.
One thing you have to note though. Do not attempt to edit or vet what they have to say. If you focus on providing value to your stakeholders, it is natural what they have to say about you would sound as sweet as honey.
Treat Followers like Friends
Last but certainly not least, be willing to invest time and effort in getting to know your fans personally. Treat them more like friends and acquaintances and less like targets and prospects.
Influencers often share valuable tips and "insider secrets" with their followers. They are generous in sharing information and insights that would help their fans to live and work better.
Similarly, make it a point to provide value to your brand followers and fans. Seek to share content that is useful, entertaining and educational to them, with the goal of genuinely helping them. Doing so helps to build trust, increase likability, and improve the likelihood of a sale when the occasion comes.
Are there other ways in which brands can learn from bloggers? I'd love to hear your thoughts.