Is your brand story as compelling as The Hunger Games? (source of image)
Struggling to grab the attention of your prospect? Finding it a challenge to attract customers to your business?
Perhaps you've been telling the wrong story – if at all.
Thanks to a recent episode of the terrific Perpetual Traffic podcast, I learned how we can craft a compelling story to capture the hearts – and wallets – of our audiences.
Featuring Donald Miller of StoryBrand, the episode highlighted that many of our digital storytelling efforts fall flat as they fail to connect with our audiences. Often, our target audiences simply cannot relate to or empathise with the elements of our stories.
To address this, Donald proposed a couple of things.
(You can download his free eBook for details of this too.)
Make Your Customer the Hero
First and foremost, you need to make your customer the hero. In other words, he or she would be your chief protagonist in your brand story.
Why is this important? Well, everybody is selfish by nature. We are only interested in stories that we can relate to.
While your company history or how you made your first million could be stirring stuff for your wife or mother, it isn't going to be meaningful for me.
On the flip side, making your company or your founder the hero could even turn off your prospects!
Focus on Your Customer's Problem
No, the universe doesn't revolve around your company or your brand.
Instead, everything about your brand story should be about solving your customer's pain points.
Now the way to go about doing this is not for your brand to become like "Superman" who is here to save your customer. No, no, no, that is getting it all wrong! She (or he) isn't your damsel in distress!
So which character in the story should you play?
Be a Mentor or Guide
To avoid this conundrum, your company, brand or product should act like an advisor or guide.
In other words, think of yourself like Yoda (Star Wars), Mr Miyagi (Karate Kid) or Haymitch (The Hunger Games).
Your main role as a guide is to help your protagonist to overcome his or her problems, take positive action, and win! To succeed, you need to demonstrate both authority and empathy.
Which brings us to the plot of a winning story.
The StoryBrand Plot Structure
An essential part of the brand storytelling process, the plot of a story helps to bring greater coherence to your content.
A good plot leads your audiences along a certain path, makes them feel like they are a part of your brand story, and convinces them of the benefits which you can bring. The beauty of storytelling is that you can do so authentically without nagging or bragging.
The basic premise of the StoryBrand plot structure goes like this:
A character has a problem, then meets a guide who gives them a plan and calls them to action. That action either results in a comedy or tragedy.
You can visualise how this works using the framework below: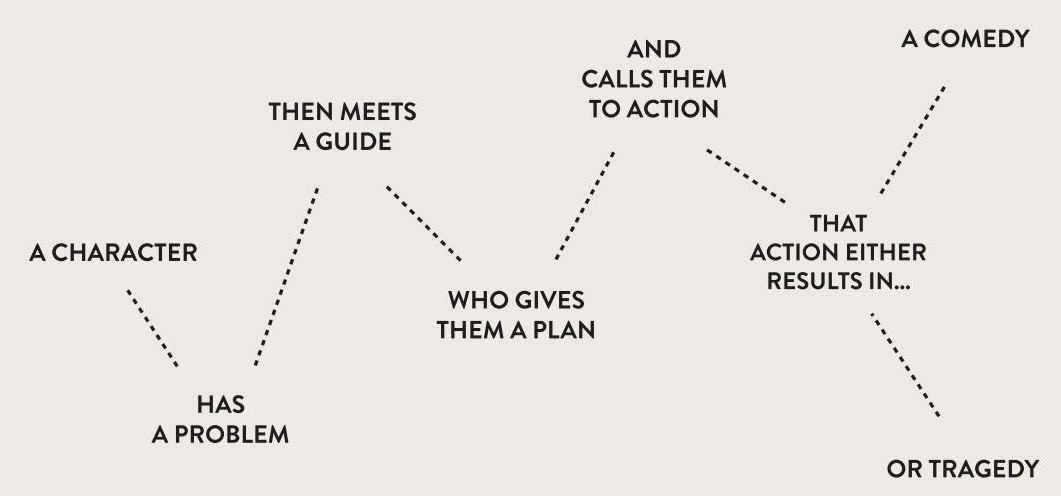 Courtesy of Storybrand
Star Wars Story Plot Example
To bring the story plot alive, let us look at two popular examples taken from the eBook.
In the movie Star Wars, Luke Skywalker wants to fight against the evil empire. However, he also wants to know if he has what it takes to be a Jedi.
As he flies around the galaxy, he meets a couple of mentors like Obi-Wan Kenobi and Yoda. These guides help to give him courage, confidence, a plan ("Use the Force, Luke!") and training to go out and defeat the enemy.
The happy (or comic) ending happens when Luke destroyed the Death Star, converted his evil dad Darth Vader to return to the light, and preserved the Rebellion to fight another day. Should Luke fail in his quest, the Rebel Alliance would be crushed to pulp.
Courtesy of Storybrand
The Hunger Games Story Plot Example
For the first The Hunger Games movie, Katniss Everdeen (played by the charming Jennifer Lawrence) had a major problem. She needs to survive the death dealing Hunger Games.
Fortunately, she managed to find an unlikely mentor in the guise of the perpetually drunk Haymitch. Providing her with a plan and dropping little gifts which helped her to survive, Haymitch helped her to survive.
Katniss also has to endear herself to the public so that she can get much needed sponsorships to benefit her in the games. She takes action by participating in the games.
After a colossal struggle, she managed to become a victor (together with Peeta Mellark) and brought some light to her family and District 12. Should she fail, her entire District would be devastated.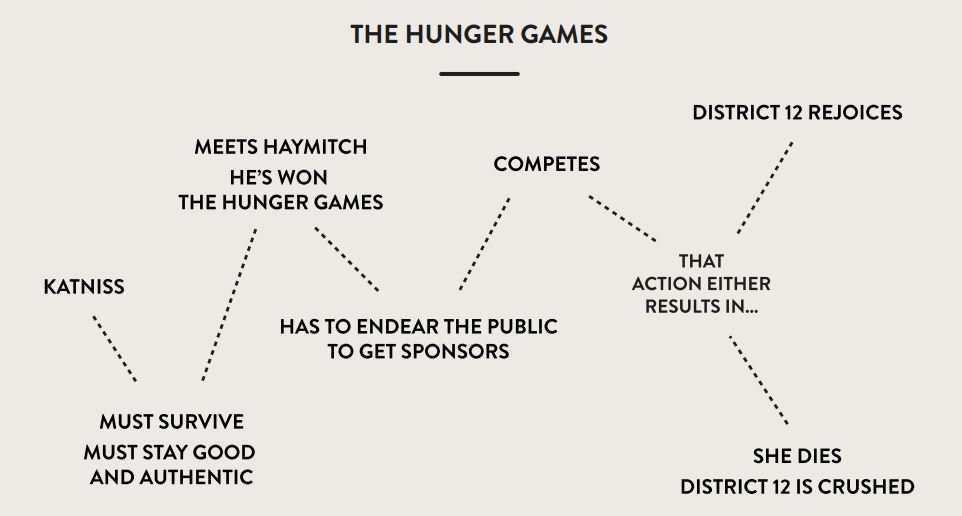 Courtesy of Storybrand
Case Study 1: Laundry and Dry Cleaning Services
Let us apply the StoryBrand framework to some real life examples. For the first, let us imagine that you own a company providing laundry and dry cleaning services.
Instead of just telling people how cheap or fast your services are, consider developing the following story plot:
Character or Hero: A young working mother
Facing a Problem: Need to balance multiple chores at home? Lack time or energy? Feeling frustrated?
Meets a Guide: ABC laundry and dry cleaning services is here to help!
Who gives a Plan: Create time for yourself! Let us take away your laundry and ironing chores.
And calls the hero to Action: Bring your laundry to the nearest outlet. We'll give you a map and even a bag to bring your laundry in.
That action results in Happy Ending: You can enjoy more time with your loved ones, and energy to do what you love!
Inaction would result in Tragedy: Don't continue being frustrated with piled up laundry!
Here are two examples of laundry service providers which have used some elements of the story plot example.
Case Study 2: IT Solution Provider for Small Businesses
Let us look at a second B2B example involving an Information Technology (IT) solutions provider.
In this case, your hero would be a company. Or more specifically, a manager or executive in the company. Using the StoryBrand plot structure, we could develop a story line as follows:
Character or Hero: An owner or manager of a small business.
Facing a Problem: Spends a lot of time keeping records manually. Loses track of his financial accounts. Feels stressed.
Meets a Guide: Smart Wizard software is here to save your day!
Who gives a Plan: Let us help you manage your admin, accounts and HR records. We will even provide free training.
And calls the hero to Action: Give us a call for a FREE consultation. Our consultants will provide you with a hassle-free migration plan.
That action results in Happy Ending: You can spend more time growing your business. And saving time and money in managing your office admin!
Inaction could result in Tragedy: Sure you want to continue wasting time and money on sorting out your records?
Now that you've read about how you can craft your own brand story, let me know how it works for you. To find more, check out Donald Miller's StoryBrand website here.
Courtesy of Michael Lukaszewski
Enjoyed what you learned here? Do also read my other articles to find out how you can tell a great story on social media: