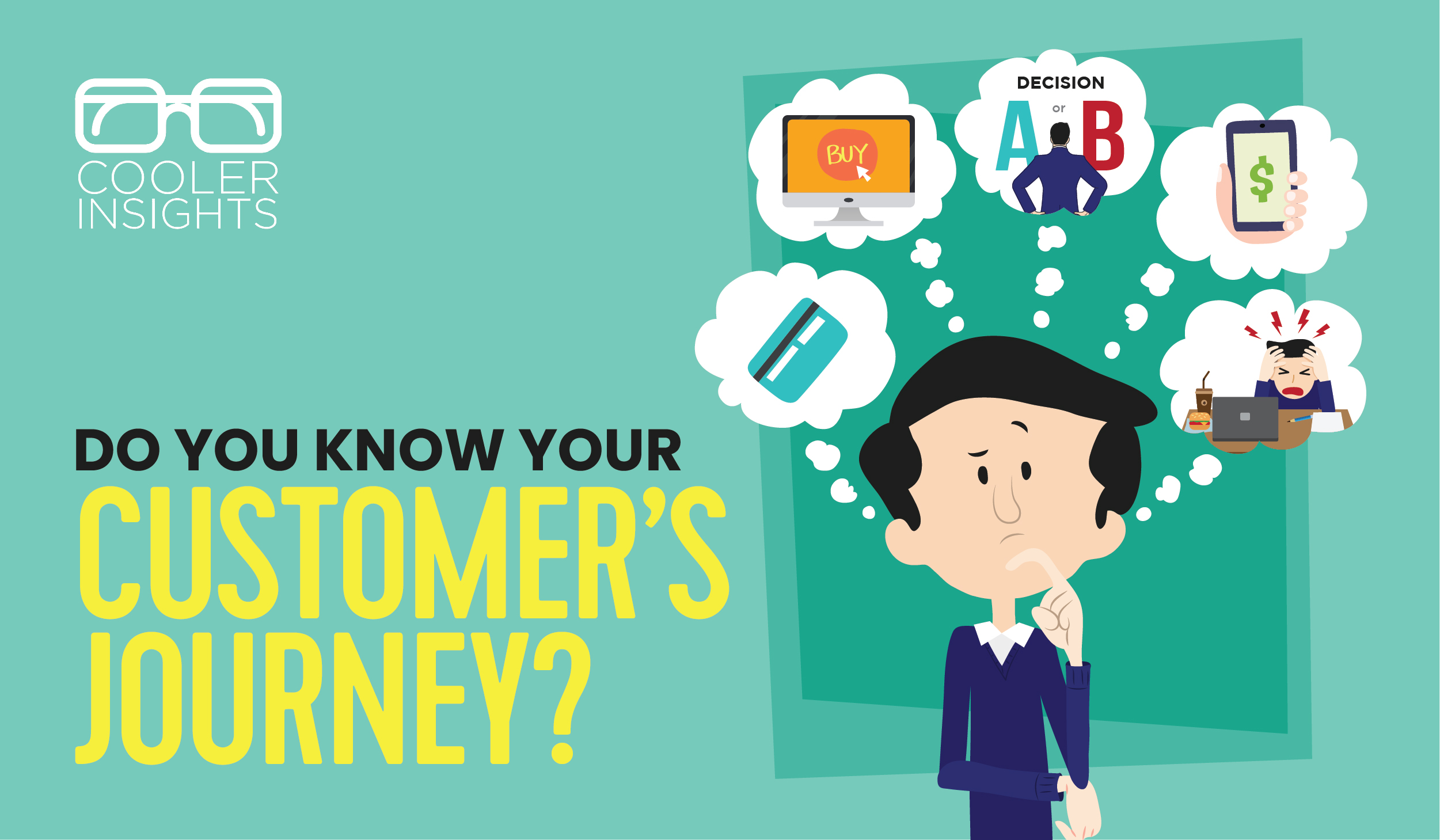 Do you know that it takes 6 to 8 interactions or more before your customer buys from you? Or that content marketing may take months or even years before you see serious results?
To optimize your content marketing efforts, you need to map your customer's buying journey, work out your content mix, and integrate it to your marketing funnel. And that's what we will show you in this article.
Ask yourself these questions:
What types of content should you publish and distribute?
What actions do you want your potential customers to take after consuming your content?
What concerns should you address at each stage of the journey—pre-sale, during the sale, and post-sale?
If you aren't sure or haven't thought about it, you are in the right place.
Fortunately for us, many digital marketing experts and professionals have already paved the way. They've studied and analysed the art and science of attracting, engaging, persuading, and retaining customers throughout their entire buyer's journey.
Which brings us to the question: What IS your customer's buying journey like?
Join me now as we walk through what a buyer's journey is, why it's important, and how you can create your own.
What is Your Buyer's Journey?
First things first. What is your buyer's journey?
Also known as a customer journey, purchase journey or buying cycle, the buyer's journey is defined by HubSpot as the "process buyers go through to become aware of, evaluate and purchase a new product or service".
A simple model of the buyer's journey taken from HubSpot is shown below, illustrating how a patient decides to visit a doctor during an illness.
Courtesy of HubSpot
Typically, there are a number of stages which your prospective customer would go through. In most cases, the Business to Consumer (B2C) buyer's journey is shorter than a Business to Business (B2B) buyer's journey.
These are the typical stages which we should consider:
Unaware: Your target audience have not encountered the problem (or desire).
Awareness: Also known as the problem identification stage, your buyer would have identified the issue that he is seeking to solve.
Consideration: Your buyer would do general research (usually online) and consider different options out there.
Evaluation: Your buyer is carefully selecting a potential purchase, evaluating it based on quality, value, brand reputation, and other variables.
Purchase: Congratulations! You've managed to persuade your prospect to make a purchase.
Post-Purchase: Also known as the consumption phase, your customer's experience may determine longevity and satisfaction.
Advocacy: If you've managed to delight and excite your customer, he may become your online advocate.
Consider Customer Context at Each Stage
Before you go about writing that epic eBook or designing that drool-worthy infographic, you need to consider the unique context for your customer at each stage of their buying journey.
Typically, first-time customers may go through a more thorough process of assessment, consideration and evaluation before they sign on the dotted line. Their information needs may also be significantly different from say a repeat customer.
This also depends on whether you serve a B2C customer or a B2B customer. The contexts for both could vary slightly, depending on their needs.
Here's a useful infographic which lays out the type of questions and triggers that could apply for a potential customer across the different stages of the purchase decision.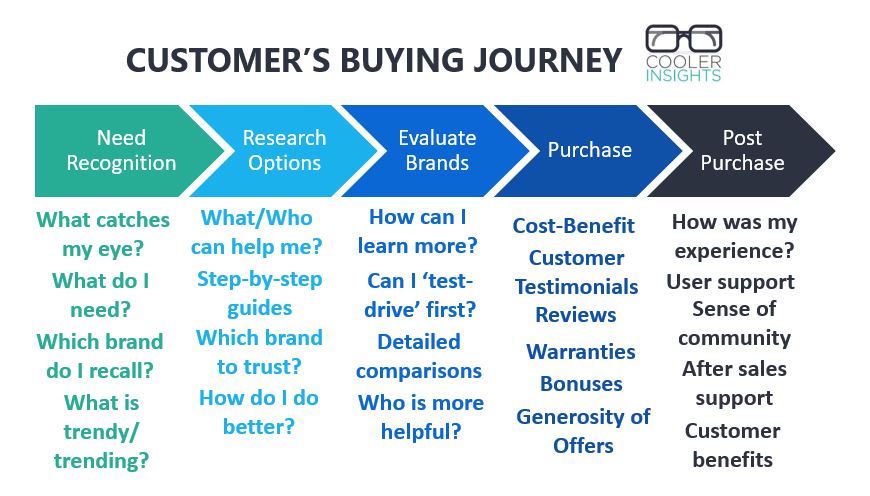 Typically, a visitor in the Need Recognition (or "Awareness") stage may require content that identifies the problem or opportunity, while a close-to-purchase prospect (at the Purchase stage) may require more "hard-selling" content such as testimonials and case studies to nudge him over.
On the other hand, the needs of a customer at the consumption stages (to foster greater sharing and Word Of Mouth or WOM) may include detailed support, customer benefits, and proactive responses to customer enquiries. These would hopefully sweeten your buyer's Post Purchase experience.
Match Buyer Intent with Right Content Types
Once you've understood what your customer needs are at different stages, you need to serve them the right kind of content on the right channels.
While these may vary significantly in form and structure – from emails to Facebook posts, blog posts to coupons – your intent should be to meet their information needs in the most convenient manner.
An example of the types of content that could suit the different buyer stages is shown in the infographic below:
Courtesy of Kyle Lacy
Lending more science to the art of content marketing, the Content Marketing Institute has developed a detailed "Content Marketing and Sales Enablement Strategy" which is captured by their infographic below.
What it does is to include a strategy for each of the buying stages, and propose a possible content format to suit each stage.
For example, under the first "Discovery" stage, you'll have the following:
Intent for buyer: Loosening of the status quo
Content strategy: Create awareness around a new problem
Content format: Research/interactive white paper
Have a look at the infographic below to see what I mean:
Courtesy of Content Marketing Institute
These strategies and content formats are further presented in a table below:
Courtesy of Content Marketing Institute
Map Buyer's Journey to Digital Marketing Funnel
Now that you've understood what the different content types could be, I thought it'd be useful to consider how your buyer's journey could map onto your digital marketing funnel.
(In case you haven't done so, go read my article on Optimising Your Digital Marketing Funnel here.)
Have a look at the infographic below to see how your buyer's journey (on the right) could correspond to the different activities and channels on your funnel.
The importance of mapping your customer journey to your digital funnel are several fold:
It allows you to determine where your resources should be allocated.
You can measure the relative proportion of your buyers at each stage of consideration.
You can also fix any leakages from your digital funnel by strengthening the types of content and tools used.
Using the same digital marketing funnel above, you can also determine your digital marketing metrics at each stage of the funnel. This can be mapped out as shown below: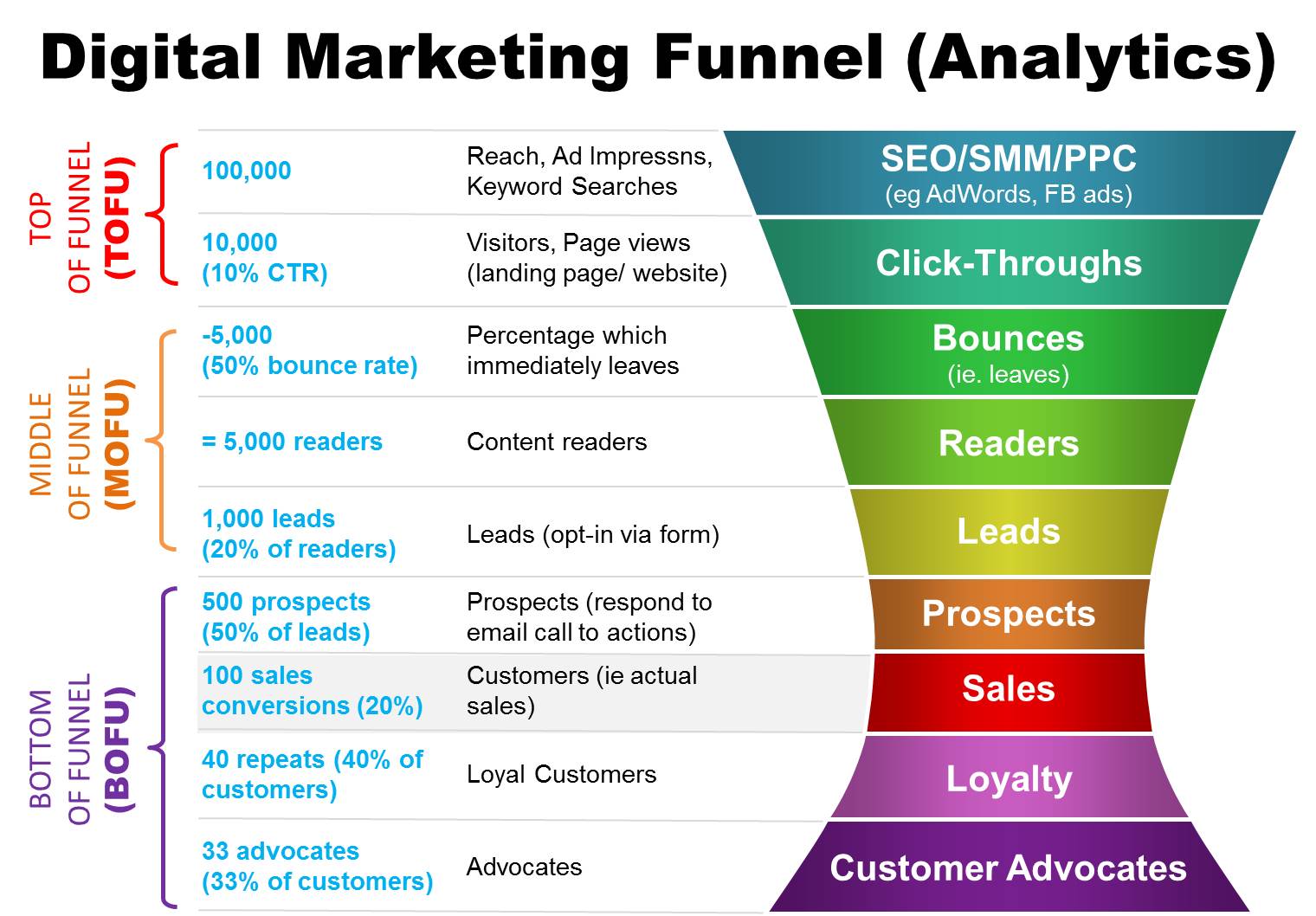 Create Your Buyer's Journey with this Worksheet
Now that you've learned all about the customer journey, the next question which you'll probably ask is this:
"How do I even start?"
Fortunately for all of us, the brilliant folks at Digital Marketer has created a "Value Journey Worksheet" which allows us to define what content types our buyers may need at each stage.
You can just download the sheet below and print it out, or create your own copy.
Courtesy of The Launch Grid (Digital Marketer)
In case you're wondering how you can use this, Digital Marker has included an example taken from their own company.
What I love about their example is how they've included an "upselling" strategy where you convert your prospective buyers with a low-hanging purchase called a "tripwire" and gradually increase the value of each customer through upgrading them to become a full-fledged member.
This example can be seen below:
Courtesy of The Launch Grid (Digital Marketer)
Ready to Embark On Your Content Marketing Journey?
As you can see, content marketing does take quite a bit of effort to plan, strategise, execute and manage. You need to consider both the art of producing creative and engaging content with the science of measuring how effective these are.
If you're unsure how to begin, I'll be happy to meet you for a free consultation chat over coffee. Just leave a comment here or drop me an email anytime.