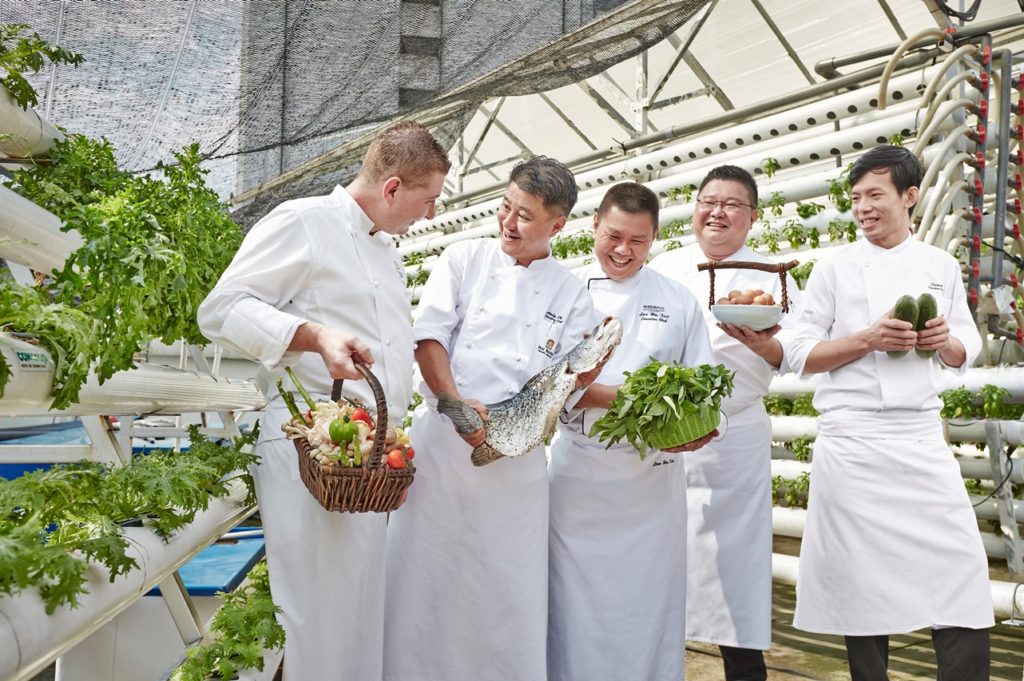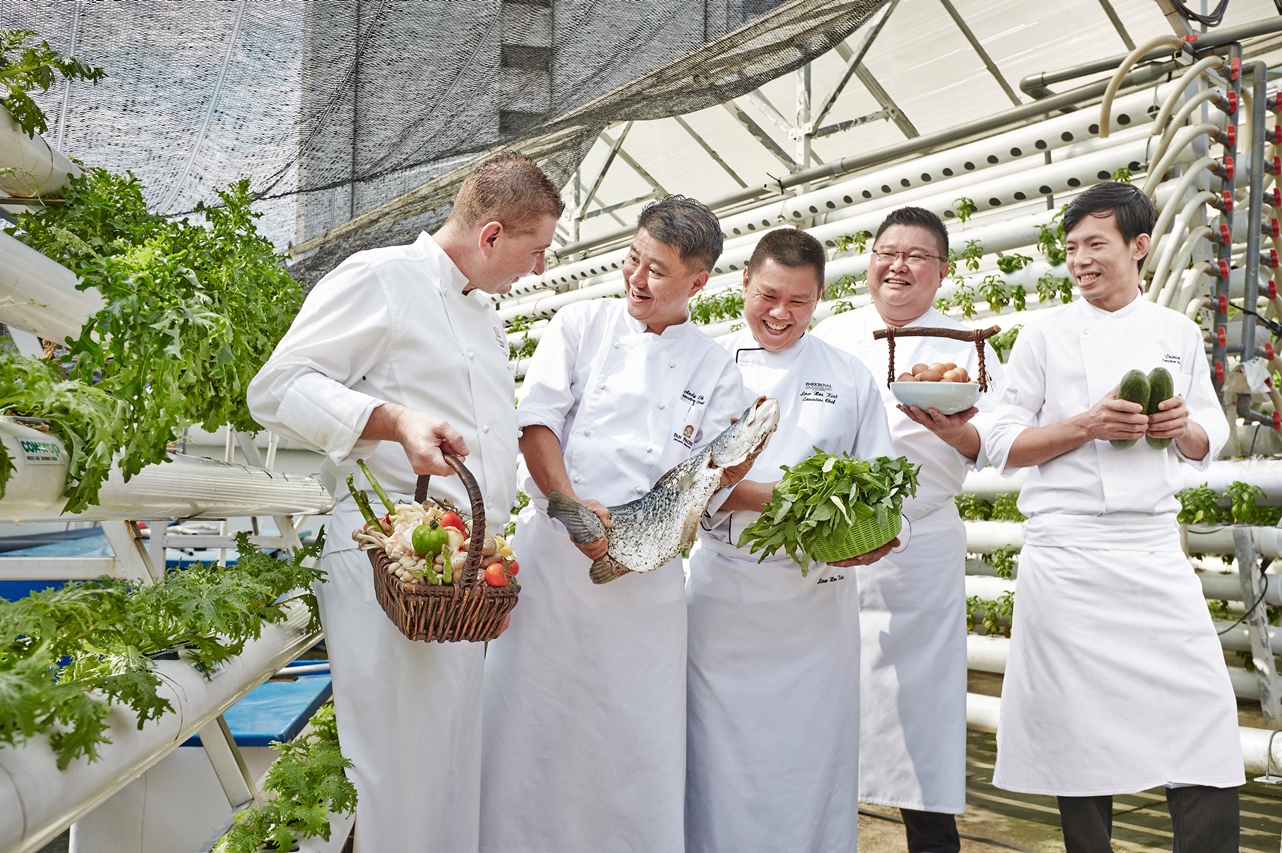 Courtesy of Pan Pacific Hotels Group
Can you enjoy delicious cuisine, reduce your environmental impact, and feed the underprivileged – all at the same time?
Thanks to these executive chefs from the Pan Pacific Hotels Group, you now can!
Held in anticipation of World Food Day (16 October) – a global initiative to achieve #ZeroHunger by the Food and Agriculture Organization of the United Nations – senior chefs from Pan Pacific Hotel Group's (PPHG) five Singapore hotels join hands to whip up imaginatively conceived "farm-to-table" dishes.
Sustainable "Farm-to-table" Cuisine
Done in partnership with Comcrop Singapore, an urban farm located at the roof of *Scape, these special dishes are made from ingredients sourced locally from Singapore farms. Sustainably farmed and locally grown, they include king abalone, oyster, and golden mushrooms; hairy gourd; Singapore produced Barramundi, Tilapia and Seabream fish; home-grown organic fungus and spinach; and eggs from a farm in Lim Chu Kang.
Using this assortment of mushrooms, vegetables, herbs, eggs and fish, the team of Executive Chefs created an ensemble of delicious dishes supporting sustainable locally-sourced eating.
Here's how they look like:
Courtesy of Pan Pacific Hotels Group
Available at dinner buffets from 15 July to 15 August in these restaurants, these dishes (clockwise from bottom-right) are…
Food Parcels for Low-Income Households
Beyond supporting local farmers, dining at these restaurants would also help the needy in Singapore to stave off malnutrition.
One per cent of all dinner proceeds across the five hotels will be donated to purchase food parcels for low-income households. This will be done in collaboration with The Food Bank Singapore to support World Food Day.
I was heartened to hear that the chefs themselves have carefully curated healthy and nutritious ingredients which beneficiaries can use to make their own wholesome meals. Having interviewed a few chefs myself, I learned that many of them came from humble family backgrounds. By helping the less fortunate to improve their nutrition, they are giving back to society in the ways they know best.
Apparently, their efforts last year resulted in the The Food Bank receiving the largest number of food parcels ever. Hopefully, this feat can be broken this year.
Giving Back Through Gastronomy
Executive Chefs from the Pan Pacific and PARKROYAL hotels with PPHG Corp Comms Manager Cuili
Focused on all things culinary at the heart of its Corporate Social Responsibility (CSR) efforts, PPHG has deployed the culinary skills and passion of its hotel chefs to contribute to the disadvantaged and marginalised in Singapore.
Chefs from both Pan Pacific and PARKROYAL hotels made regular visits to a number of adopted charities since the launch of the group's "Eat Well With Us" culinary initiative in 2015. Focused on imparting healthy and tasty recipes to resident cooks, the list has grown from four to ten homes for the elderly, children, and those with mental disabilities.
Beyond these voluntary visits, Executive Chef Andy Oh from PARKROYAL on Beach Road has also consulted for Bakery Hearts – a social enterprise which provides employment opportunities for less privileged women. Through his guidance, Bakery Hearts improved their business model and expanded on their operational capabilities.
So How Did the Tasting Go?
Thanks to Cuili's kind invitation PPHG's media tasting event, I experienced the fine cooking of these talented chefs from the five hotels.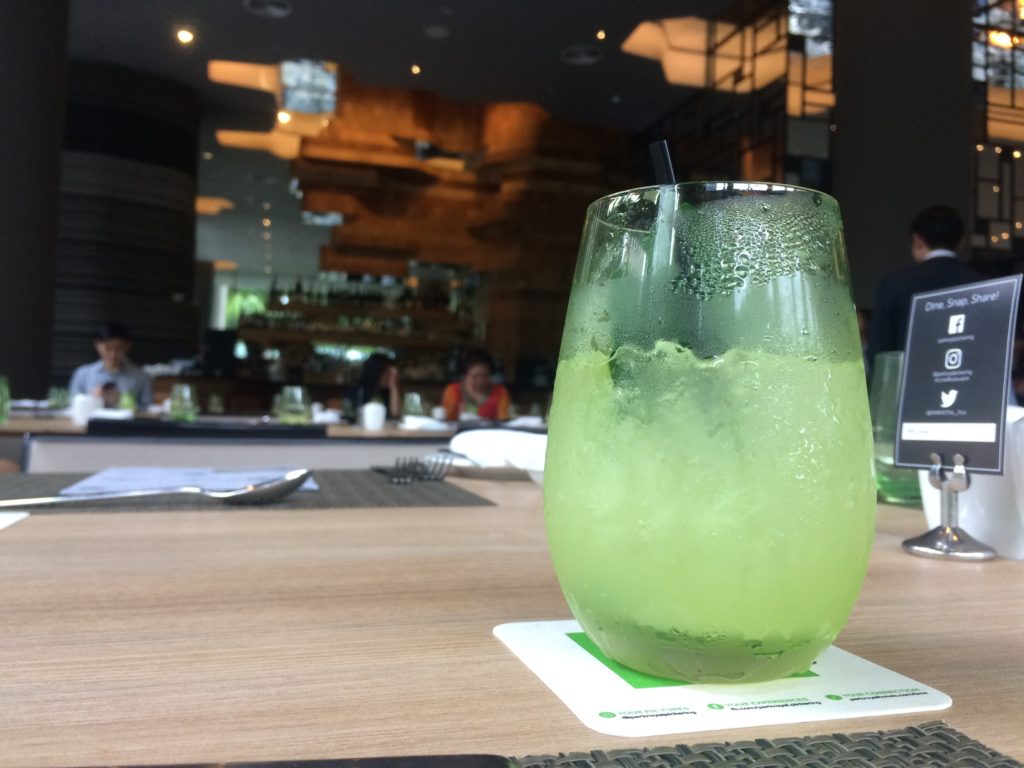 Held at Lime at PARKROYAL on Pickering, our meal began with a glass or two of Lime's signature drink. Guess what flavour it came in?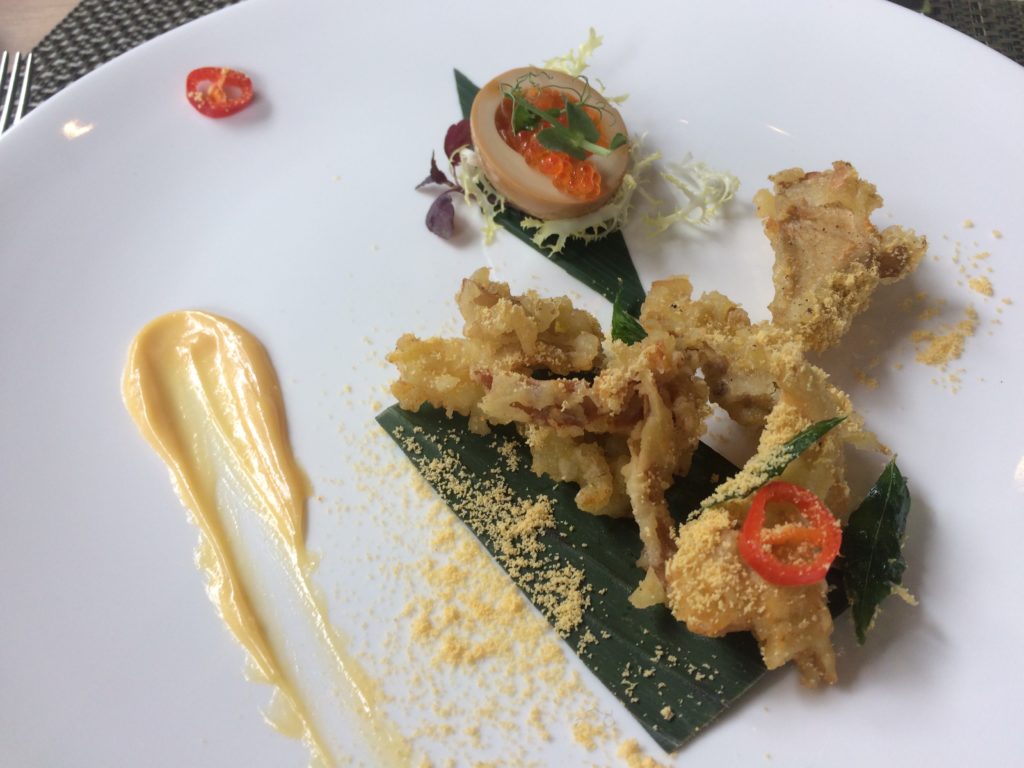 This appetitiser of Spiced Dust Mushroom Fritters with Salted Egg Yolk Aioli (Pan Pacific Singapore) and Tea-Smoked Soft Yolk Egg with Salmon Roe and Micro Herbs (PARKROYAL on Pickering) provided a perfect crunchy and savoury start.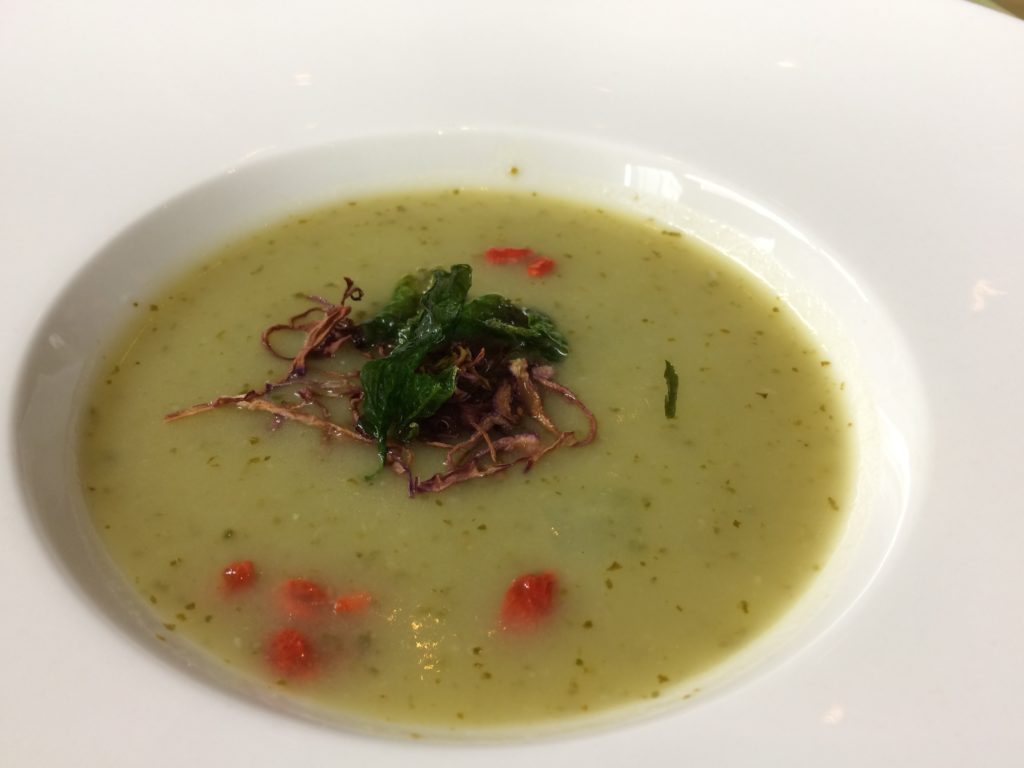 I'm never a huge fan of hairy gourd. However, this Light Veloute Hairy Gourd with Red Cabbage Sprouts (Pan Pacific Orchard) changed my mind. The toppings of goji berries and fried kale provided a nice finish.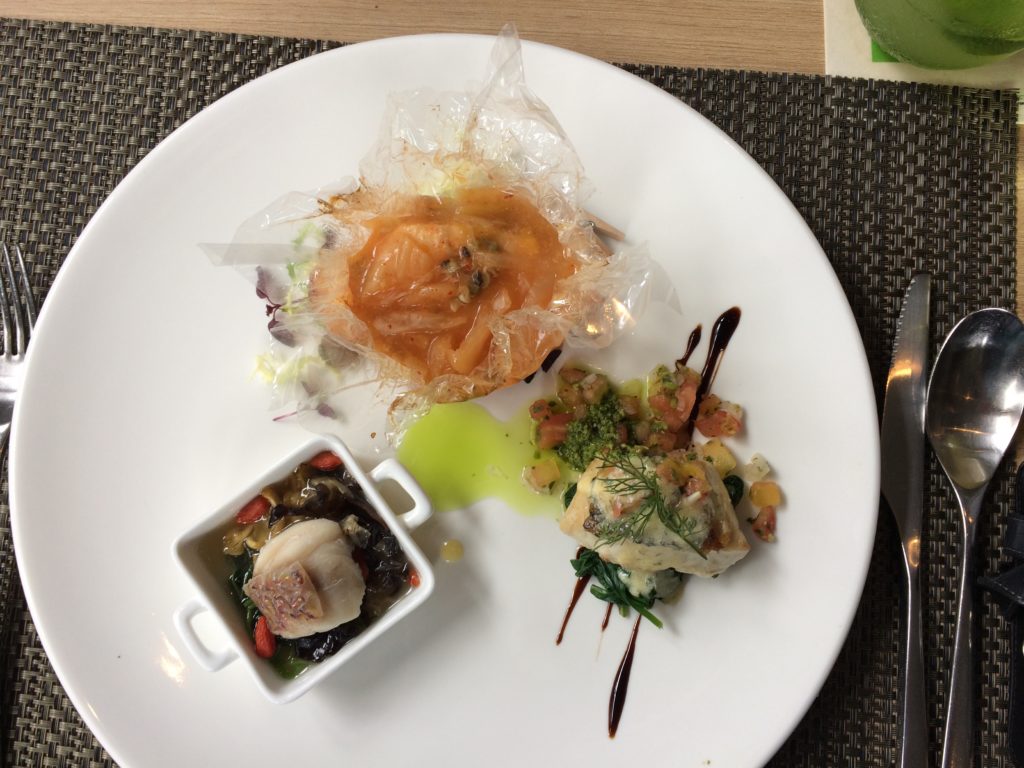 My favourite dish was this trio of locally sourced fish dishes. They made my taste buds swim around the world:
Local tasting Seabream Fillet with Wolfberries in Superior Stock, accompanied with Bed of Fungus, Sharp Spinach, and Garlic Confit (PARKROYAL on Kitchener Road);
Korean inspired Baked Tilapia Fillet in Carta Fata with Golden Spring Mushroom in Kimchi Clam Broth (PARKROYAL on Pickering); and
Italian imagined Baked Barramundi Fish Fillet with Basic Pesto, Creamy Rocket Leaf and Lemon and Dill Butter Sauce (PARKROYAL on Beach Road).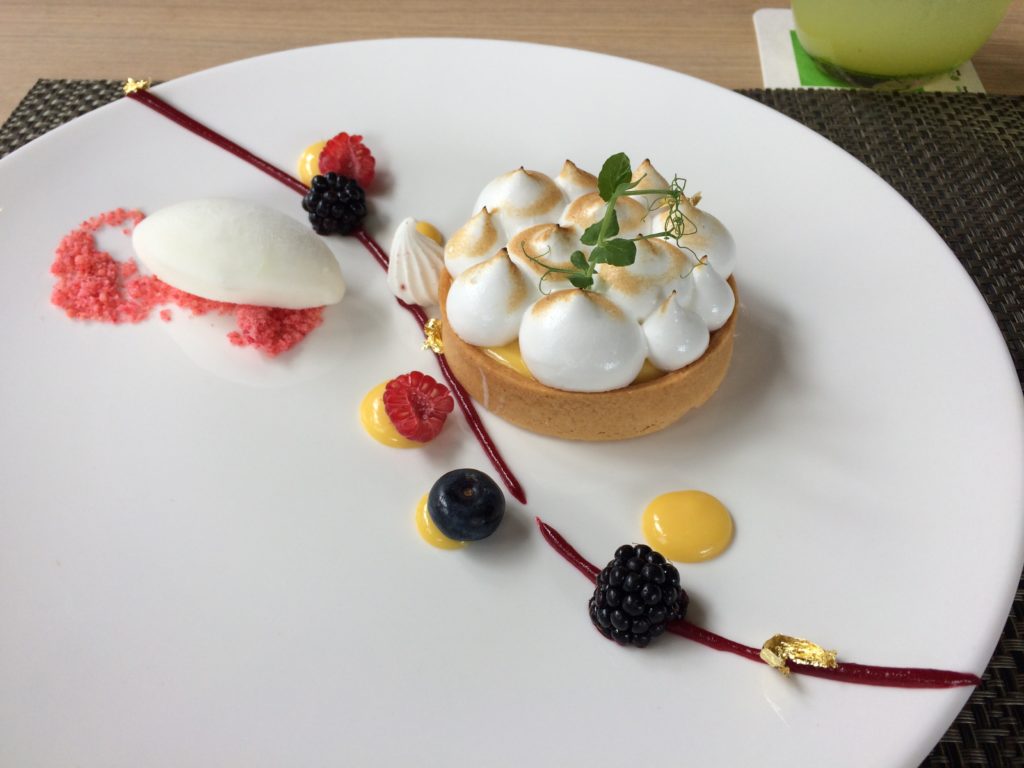 Last but certainly not least, the dessert of Passionfruit Meringue Tart with Raspberry Jelly and Lemon Lime Sorbet (PARKROYAL on Pickering). Sharp, tart, and so refreshing!
To eat well and do good, remember to book your places in the restaurants listed above from 15 July to 15 August. Learn more about this initiative here.
Disclosure: Pan Pacific Hotel Group is a client of the author.