Content marketing isn't sugar and spice and everything nice.
Like any other digital marketing strategy, you'll need to be mindful of the caveats of using content to generate awareness, attract leads, trigger sales, and nurture advocacy. According to Joe Pulizzi of the Content Marketing Institute, content marketing effectiveness is under 40 percent for business-to-business (B2b), business-to-consumer (B2C) and non-profit companies. A common challenge cited by marketers was the difficulty in producing content – 60 percent of B2B Content Marketers highlighted that as a major problem.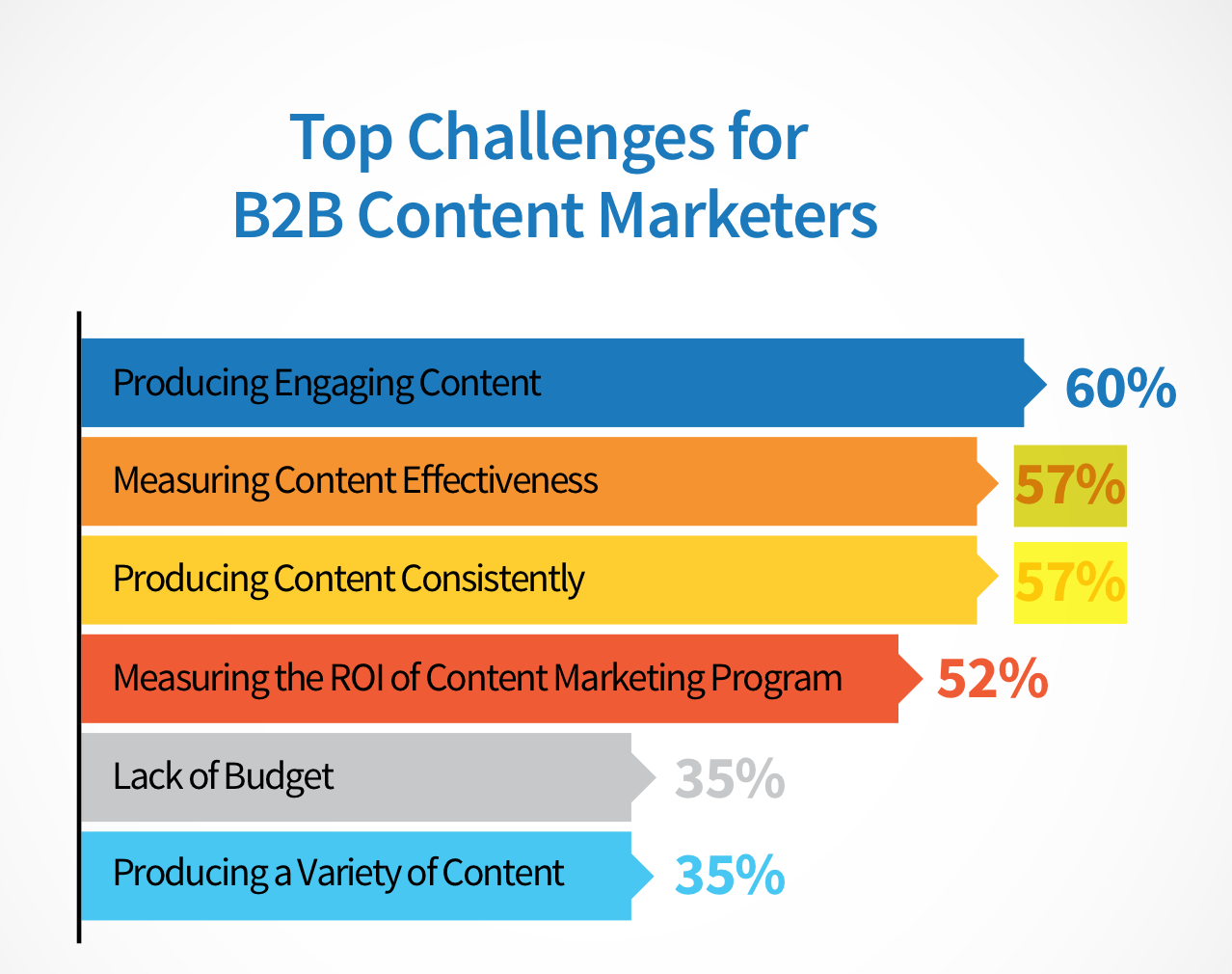 Courtesy of Marketing Profs
A more recent article in Tech in Asia suggested that the traditional marketing mind-set of Asian marketers may have hampered the progress of content marketing here. Asian bosses' obsession with reaping quick gains and unrealistic expectations may have hindered its progress.
Content Marketing Hall of Shame?
Like many of you, I've screwed up on my content marketing efforts in the past.
Beyond my own mistakes, I've also observed what companies and brands have done "in the name of content marketing", and understood why their campaigns failed to generate any real returns.
Let us go through each of these mistakes to what we can learn.
Mistake 1: Overlooking SEO
As copywriters, communicators, and designers, content marketers are creative folks.
We hate to be told what to write, and despise the formulaic style of creating and architecting web content to suit the needs of search engines.
While viral content which gets shared on social media is a boon, ignoring SEO means that you're neglecting one of the biggest sources of free traffic.
This means that you'll need to design the right content architecture for your website or blog, include relevant meta-data, label your images and videos correctly, and find ways to build links to your content pieces.
(There is a whole lot more about creating SEO-friendly content here.)
Mistake 2: Excessive Marketing Focus
I know I know. It is difficult not to toot your own horn on the Internet.
After all, that's the reason why you are in marketing after all.
However, content marketing doesn't work well if every piece of content is a shill. Nobody wants to read an endless avalanche of ads on your website, blog, Facebook, or LinkedIn.
Which bring me to my next point.
Mistake 3: Leaving Your Community Out Cold
As I've said before, if content is king, community must be queen.
In fact, the whole purpose of investing in engaging, useful and entertaining content is to add value to your fans. By doing so, you'll help to win over their trust, increase likability, and improve the likelihood of them buying from you.
Building an online community often comes by providing them with utility (or Youtility as Jay Baer would call it).
Give, give, give then get.
Mistake 4: Ignoring Customer Conversions
Yes, you do need to think about how you're going to generate revenue from your content.
While it is nice to shoot an endless stream of enchanting and engaging Instagram photos, or to wax lyrical about the "9 Mistakes in Content Marketing" (did I just write that?), your ultimate goal must be to lead them to the cash till and buy.
Now this will vary widely depending on your business. For some, you could be through offering a great product or service via an e-commerce channel. For others, you could perhaps use content to attract consulting and training opportunities. Like me.
Mistake 5: Discounting Paid Ads
The honest truth about content and social media marketing is this:
You need to pay to play.
From Facebook to Twitter, Instagram to LinkedIn, social media networks are fast turning into paid media channels. Ditto for established blogs and media websites which draw decent volumes of traffic.
To play this game well, you'll now need to consider investing at least a small sum of your budget in boosting your content. This will pay dividends in getting a much better outcome for each content piece which you produce.
Mistake 6: Inconsistent and Irregular Content
These two 'I's are the reason why people are not following you. Or reading what you have to offer.
As a content marketer, you need to think in terms of episodes. Each installment is like a chapter in your never ending book – one where you narrate your story to an appreciative (and hopefully eventually paying) audience.
This means that you'll need to show up at your keyboard, come hell or high water. And yes, that's a reminder to myself too!
Mistake 7: Lack of Planning and Calendaring
Last, but certainly not least, content marketing is a long haul strategy.
Your goal isn't just to attract an audience, but to build a community. You'll also need to understand how your audiences flow in your digital marketing funnel and create the right types of content to move them closer and closer to conversion and advocacy.
You should also invest sufficient time and effort in creating a content calendar and establish a regular schedule for your content.
Mistake 8: Failing to Think Long Term
OK, I know that this may sound clichéd, but content marketing truly is a long haul strategy.
While there are occasional campaigns and giveaways to trigger conversion and mass participation, the bulk of what you do as a content marketer lies in creating and giving enduring value to your communities.
Content marketing works best when it is planned, organised and resourced for the long term. It is more of a marathon (or an ultra-marathon) than a sprint.
Mistake 9: Shiny Bright Objects Syndrome
Contrary to popular belief, content marketing isn't about being good with tech.
It isn't about working with the hottest influencer in town, or the being the first to pioneer a new tool out in the market.
On the contrary, some of the best content marketers in the business are still pretty old school.
Like legendary Seth Godin who still writes a daily short, non-optimised, image-free blog post on Type Pad. And no, he doesn't allow you to comment on it either.
What's more important is to identify who your targeted audiences and customers are, and providing stuff that are beneficial to them while drawing them closer and closer to becoming a paid customer or an advocate.
That's what the true essence of content marketing is.
Mistake 10: Failing to Brush Up on Knowledge
Last, but certainly not least, you'll need to constantly keep yourself updated with the developments in the field.
As an overarching strategy covering multiple channels and media formats, content marketing is a constantly evolving discipline. Besides keeping pace with the ever changing algorithms of search engines and social networks, you'll need to also know what your best competitors are doing.
A good content marketer also makes it a point to read blogs, listen to podcasts, and follow thought leaders in the content marketing field. They include folks Jay Baer, Lee Odden, Joe Pulizzi, Ann Handley, Brian Clark, and others like them.
Reading what I write here on Cooler Insights is another way to do so too.
Are there other mistakes that we can't avoid in content marketing? I'll love to read your thoughts.