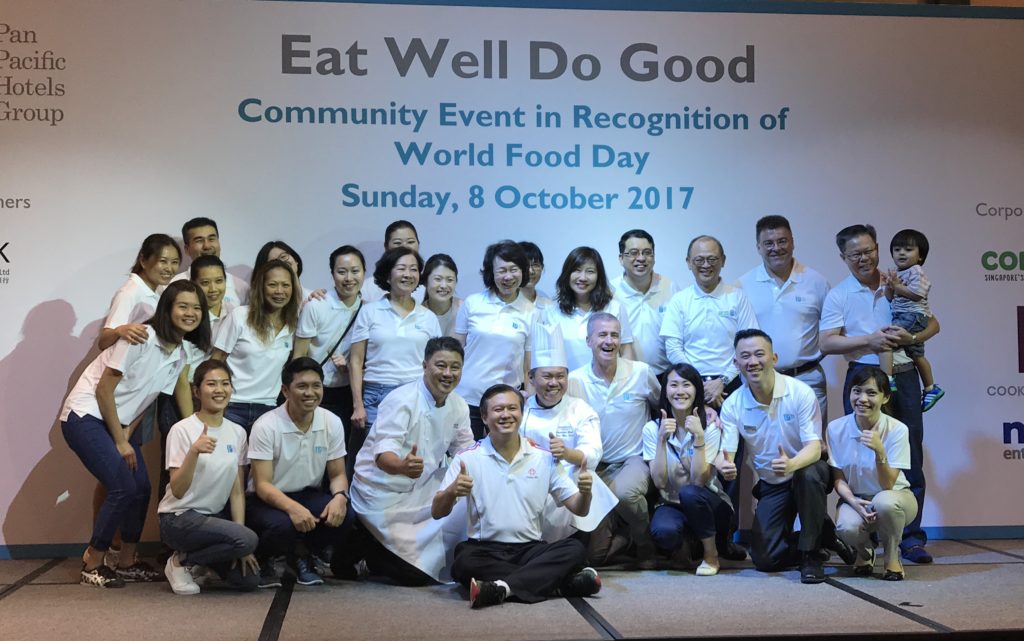 All smiles from the Pan Pacific Hotels Group team
Do you know that around 800 million people go to bed hungry every night?
That's a staggering 1 in 9 people. What's more ironical, at least according to the Food and Agriculture Organisation (FAO) of the United Nations, is that we actually produce enough food to feed everyone on our planet.
As part of their effort to combat global hunger, the FAO pledges countries around the world to remember World Food Day (16 October) – a global initiative to achieve #ZeroHunger.
Here in Singapore, hunger isn't as acute a problem. However, poor dietary habits due to a lack of education and finances result in skyrocketing rates of diabetes – an issue which our Prime Minister highlighted during his recent National Day Rally speech.
(Contrary to popular belief, it isn't the rich but the poor which tend to suffer from the twin afflictions of obesity and diabetes in developed nations.)
To improve the eating habits of lower income Singaporeans, Pan Pacific Hotels Group (PPHG) has partnered the People's Association to provide low-income households island-wide with specially curated healthy food bundles of locally-grown produce. Other partners include The Food Bank Singapore, urban farm Comcrop, and kitchen supplier ToTT.
Aptly named Eat Well Do Good, PPHG's initiative is organised as part of World Food Day each year. For this year, a food donation drive was conducted across five Pan Pacific and PARKROYAL Singapore hotels for a month from 15 July to 15 August. Close to $35,000 was raised to purchase food bundles for a total of 1,722 families this year.
Kung Fu Tea, Ah Boys To Men Glee, and More
Thanks to an invitation from PPHG's Cuili, I joined over the 200 beneficiaries from Hougang Division in an afternoon of light-hearted reverie. The programme was thoughtfully organised to appeal to the tastes of our HDB heartlanders.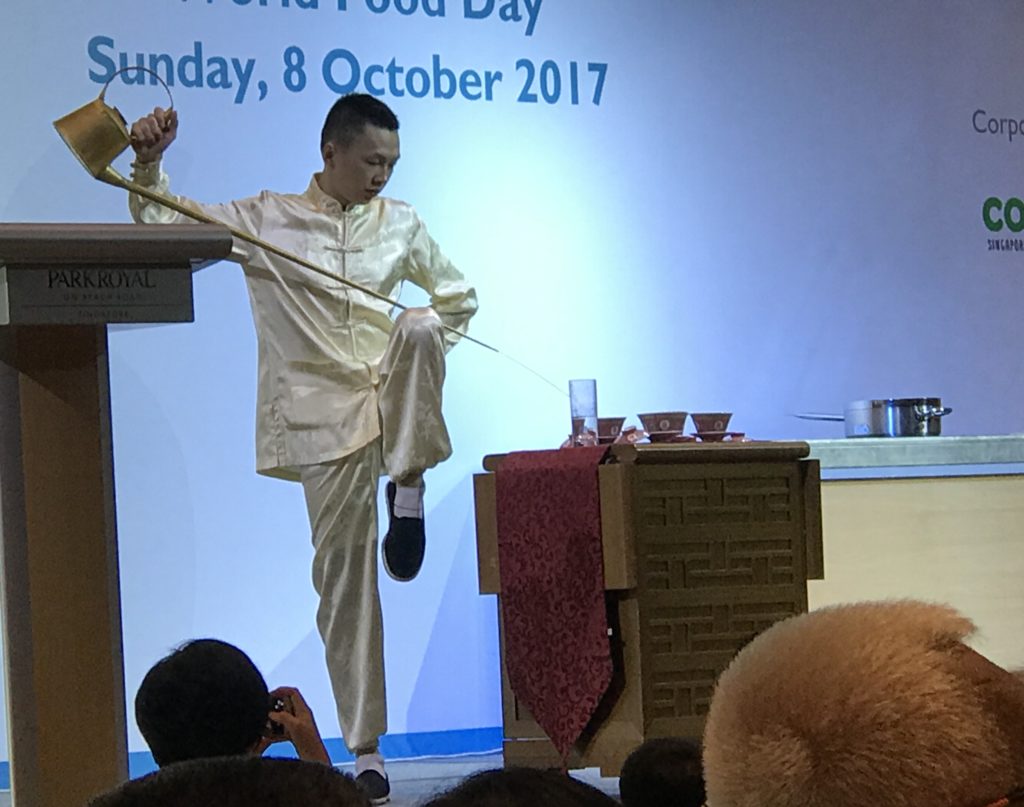 The event kicked off with a kung fu tea demonstration by an expert from PPHG's own Si Chuan Dou Hua restaurant. We were wowed by this guy's acrobatic agility, wielding the the long spouted kettle of "tea" with much dexterity.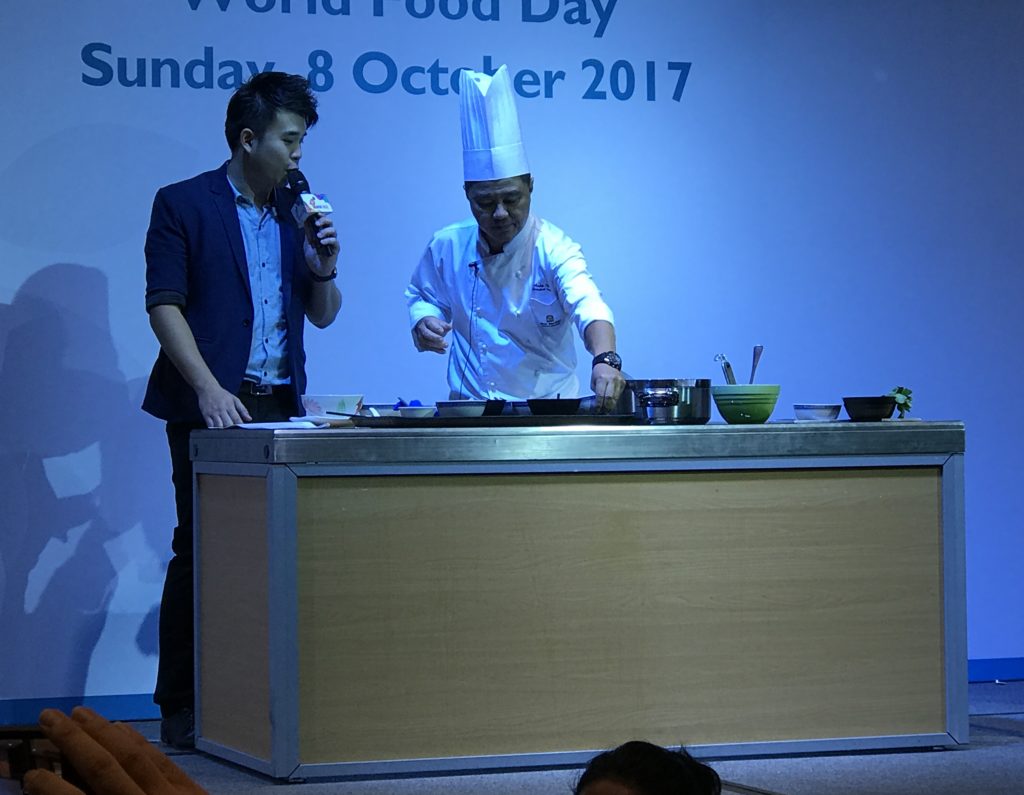 Next up was a cooking demonstration by Executive Chef Andy Oh from PARKROYAL on Beach Road's Ginger restaurant. He guided the audience through the steps needed to prepare a simple delicious and wholesome meal of rice vermicelli, prepared from the food bundles to be donated.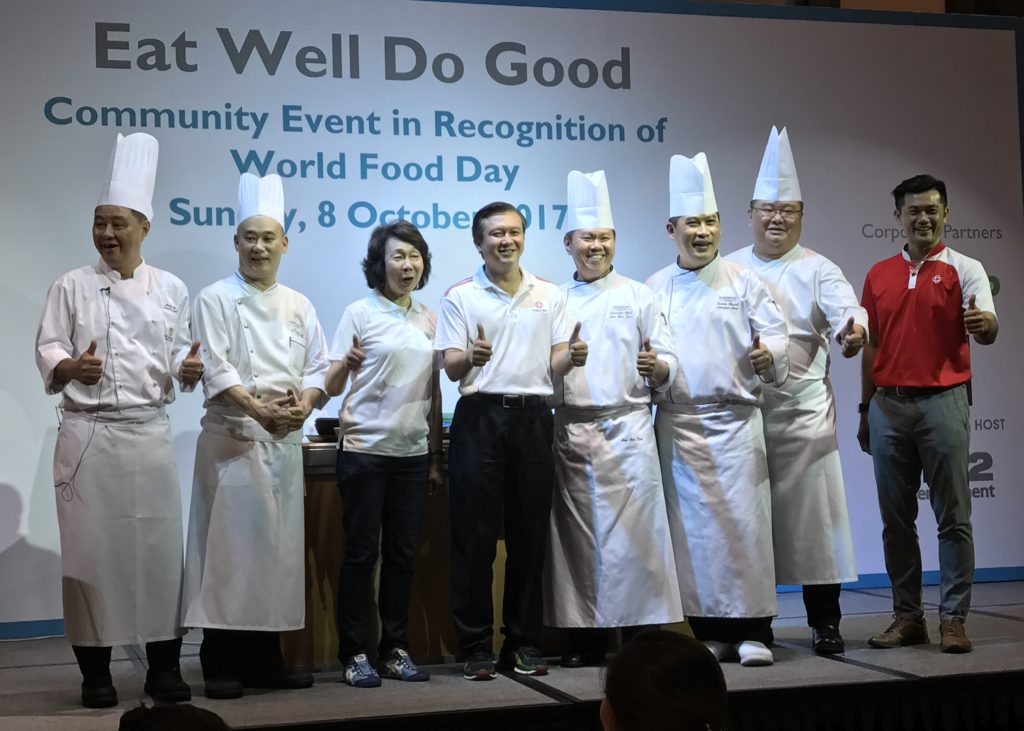 He was joined later by the four other Executive Chefs who participated in the Eat Well Do Good initiative, as well as representatives from PPHG and PA. Let's give a hand to these generous savants of all things sweet and savoury!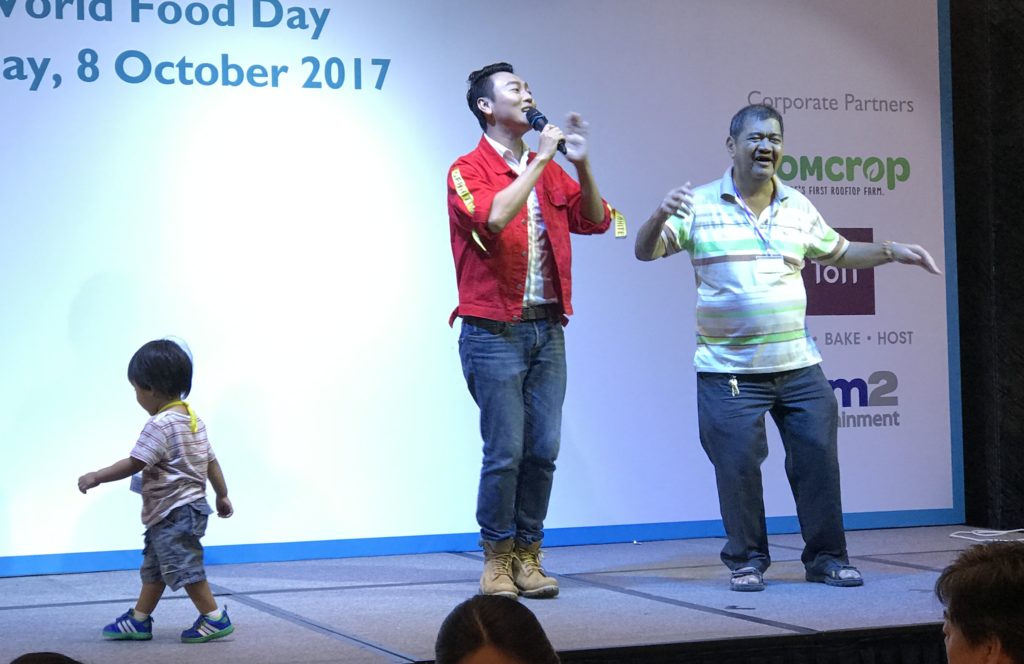 Ah Boys To Men actor Jaspers Lai took the stage next. His energetic rendition of Hokkien favourite Hua Hi Tio Ho got this uncle dancing, and this curious toddler prancing on stage.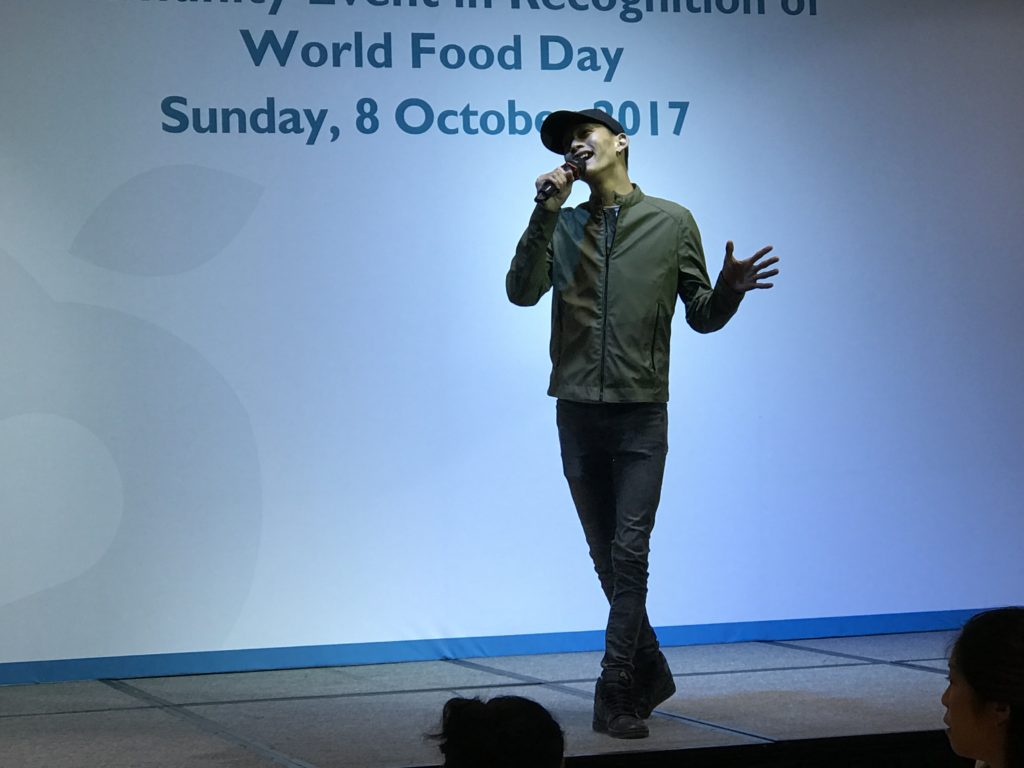 Fellow Ah Boys To Men compatriot Noah Yap came on stage next. He chose another evergreen favourite – Country Road by John Denver. I guessed this appealed to the community crowd.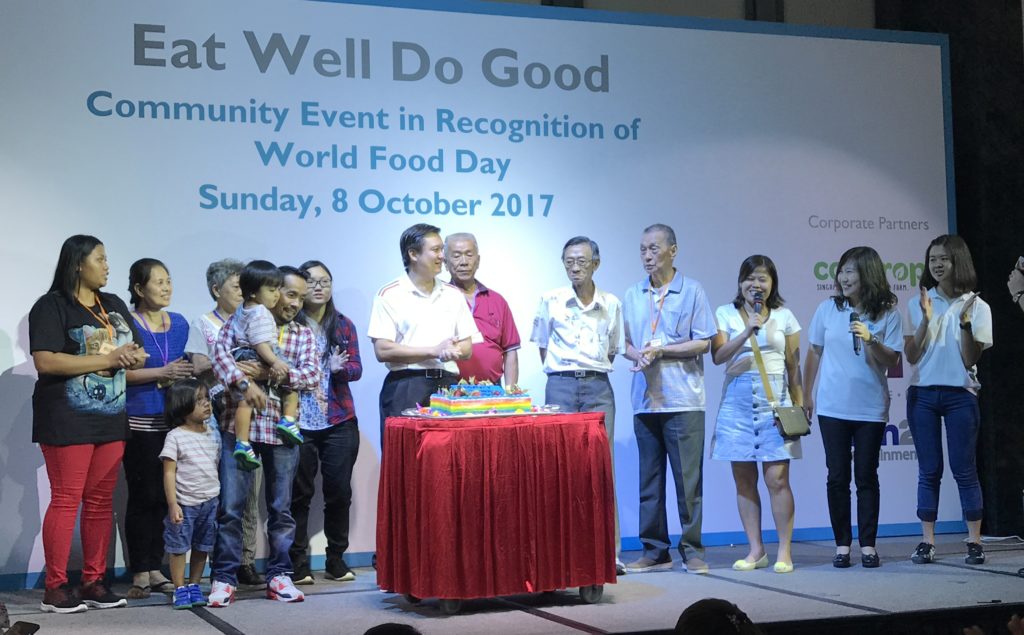 Finally, a rainbow birthday cake to celebrate the birthdays of all October babies.
Locally-Sourced, Delicately Delicious
The highlight of the event was a special five-course lunch prepared for the 200 beneficiaries. They included the noodle dish made from locally-sourced ingredients from the food bundle as well as other Asian delights.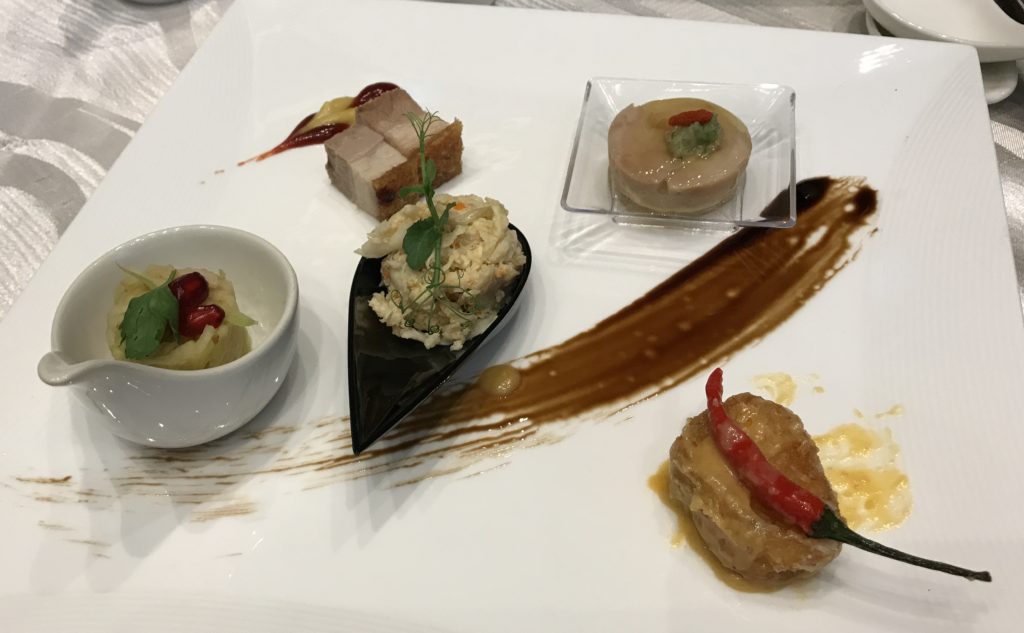 This appetiser from PARKROYAL on Pickering featured a drunken chicken roulade, deep-fried hokkien prawn ball with salted egg, wok-friend egg salad with crab meat, BBQ roasted pork belly with mustard sauve, and young mango salad with pomegranate. They provided a unique blend of oriental tastes and textures in my mouth.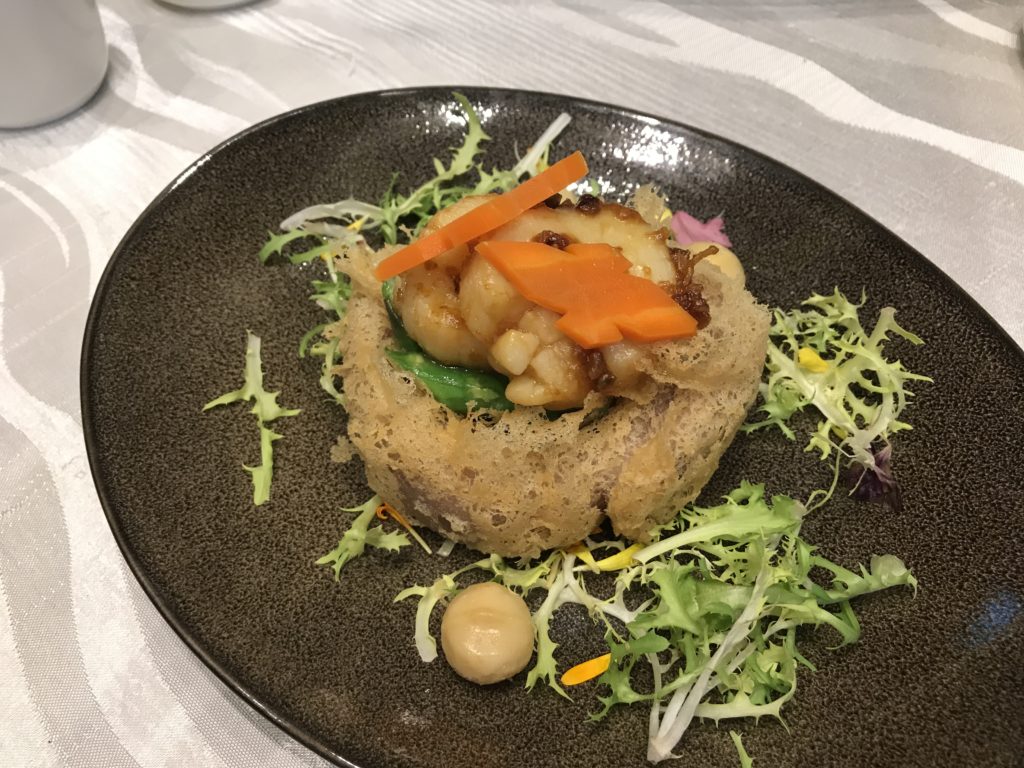 This farm crisp yam basket by Pan Pacific Singapore was topped with Atlantic sea scallop, celery, asparagus, sugar peas, and carrots, and garnished with macadamias and salad leaves. I enjoyed the healthy crunch of the vegetables mixed with the succulence of the scallop.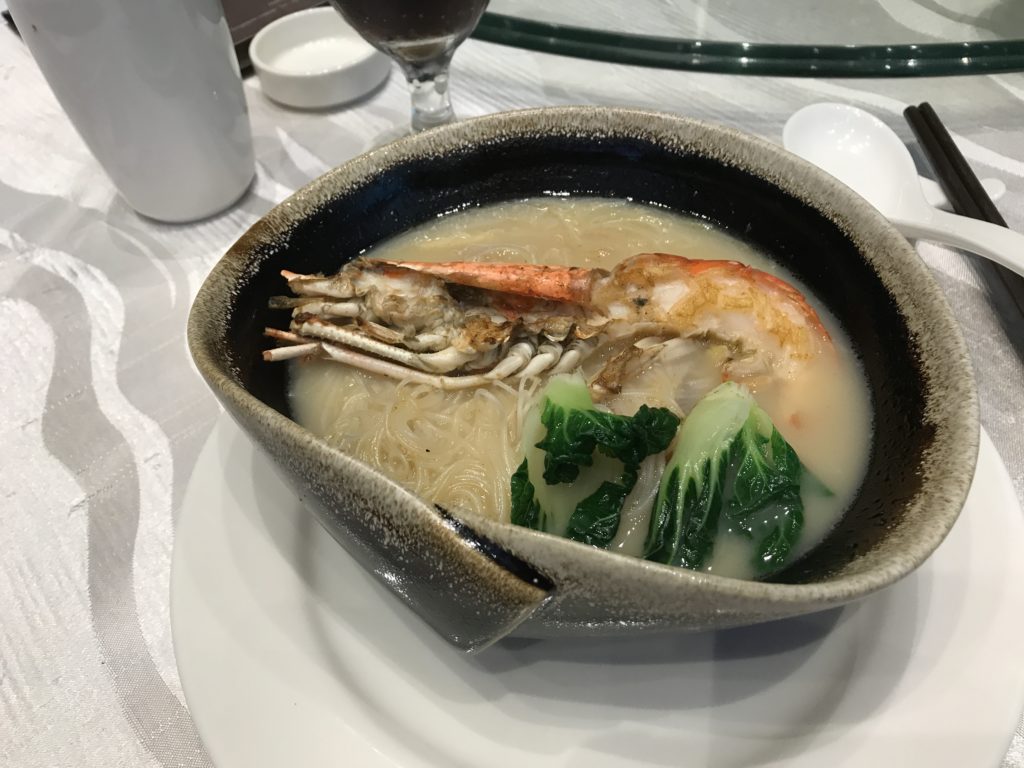 My personal favourite was this rice vermicelli "Yi Pin Guo" hot pot. It featured ingredients like a king prawn, baby abalone, sea-cucumber, green vegetables and crispy barramundi fish in a rich superior milk broth. The broth was umami-rich yet not overly cloying, and I drank every drop of it!
PS- This is the same dish (sans king prawn) that the beneficiaries can prepare using the ingredients in the food bundle.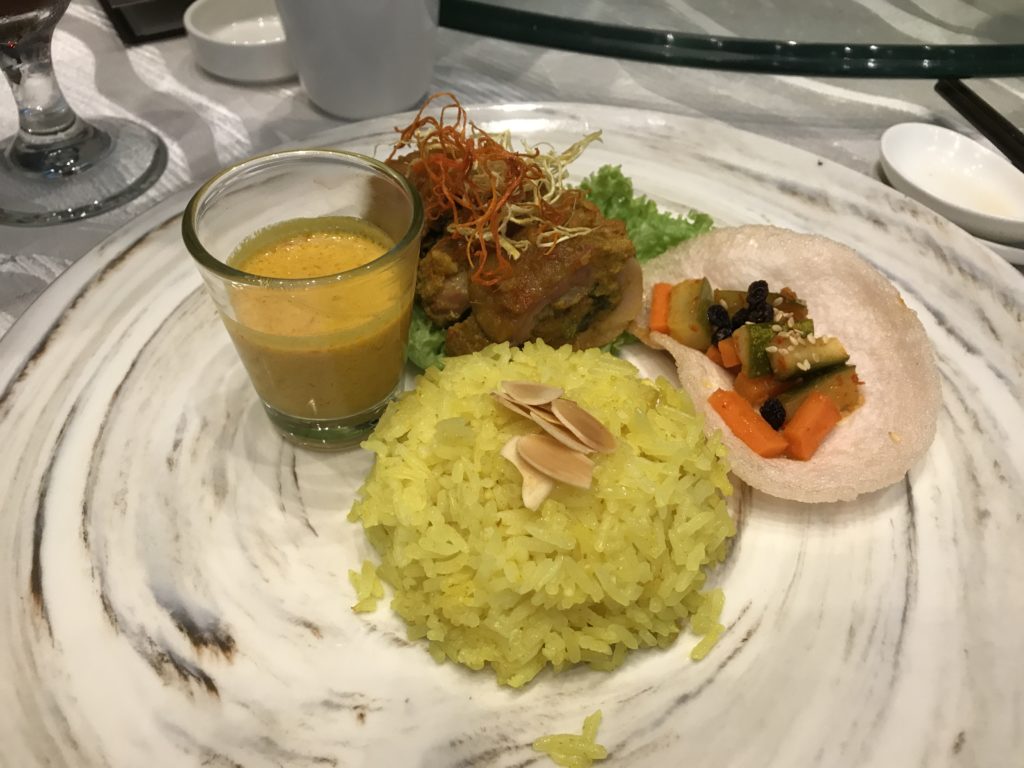 From PARKROYAL on Kitchener Road, we sampled this Ayam Pecik (Malay style BBQ chicken) accompanied with nasi kunyit (yellow rice) and nonya achar. I loved the lemak-ness of the coconut based curry, and how the tartness of the achar helps to defuse the richness of this dish.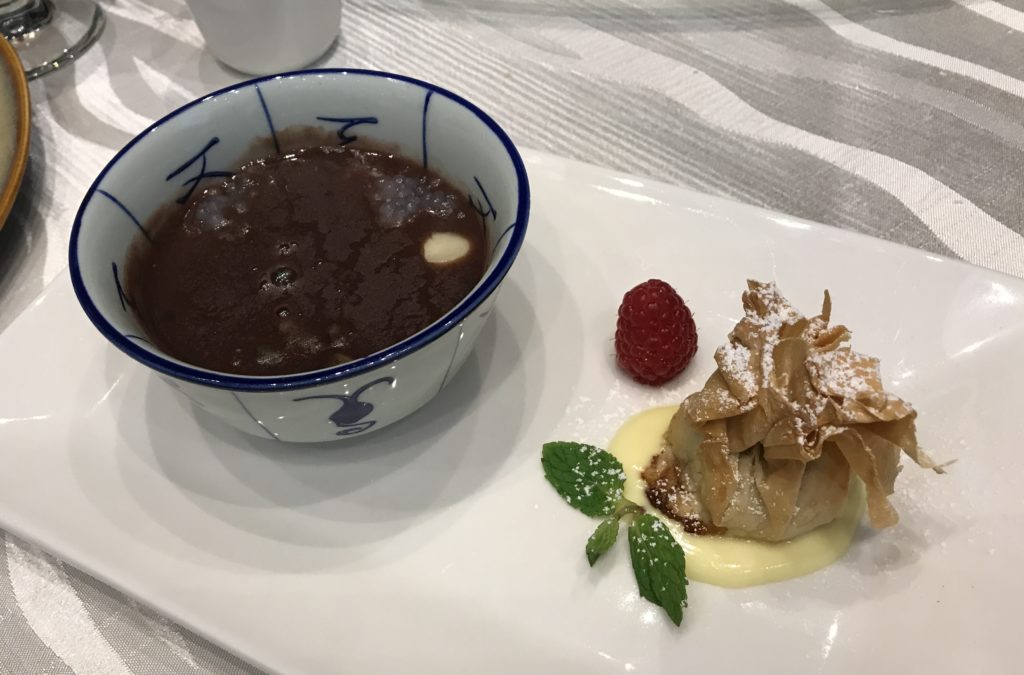 The dessert of organic red bean, dry longan, lotus seed and sago soup was provided by Pan Pacific Orchard. What took the cake for me was the accompanying baked banana wrapped in filo pastry, which provided a unique twist of the goreng pisang which we loved so much.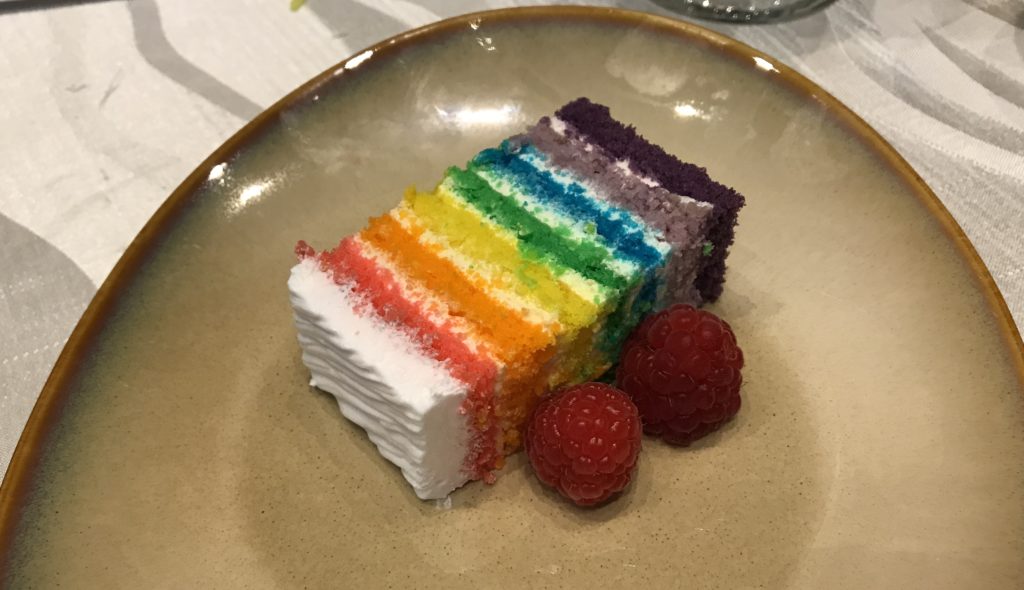 Speaking of cake, we all had a slice of the fruity flavoured rainbow cake, accompanied with raspberries.
Benefiting Over 1,700 Households
At the end of the event, beneficiaries were given a food bundle for each family.
Worth a total of $37.50, each food bundle was carefully curated to contain healthy high quality ingredients rarely received by beneficiaries in typical food donation drives.
They include locally-grown barramundi fish, green leafy vegetables, eggs, and rice vermicelli. Recipes designed by PPHG's culinary team accompanied the food bundle, teaching recipients how to whip up tasty, healthy and affordable healthy meals for their families. On top of that beneficiary families received a Japanese saucepan, chocolates (for kids), and even perfumes for the elderly.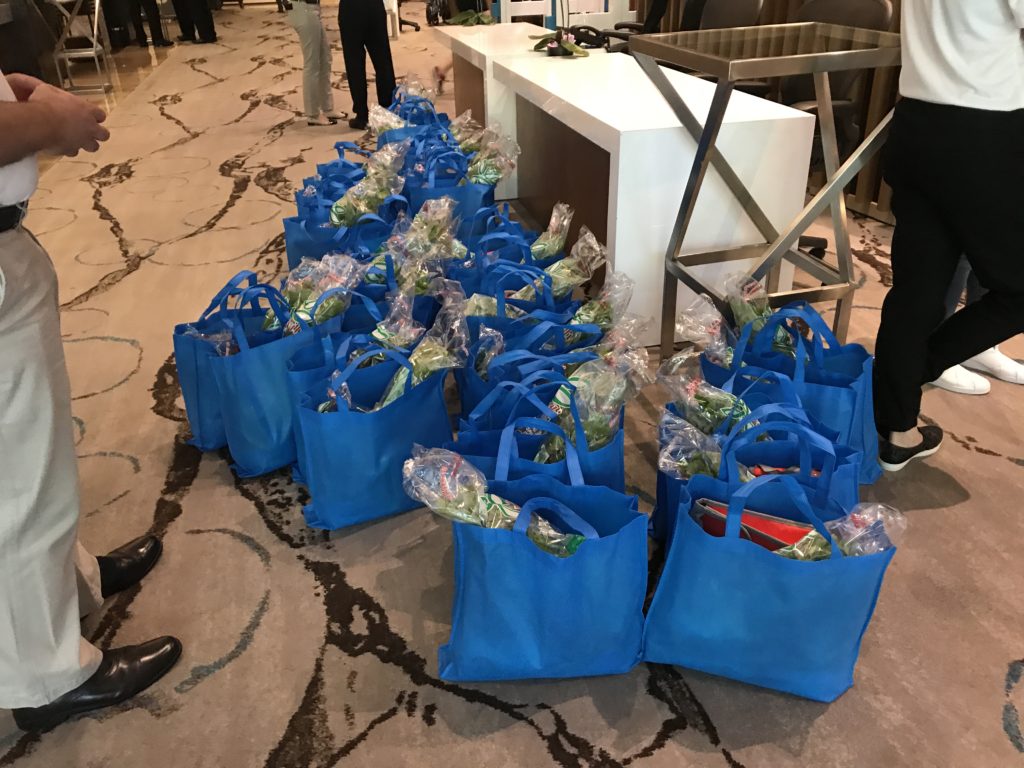 Food bundles packed and ready to be given away. I heard from the PPHG team that the logistics behind this was a massive exercise, considering that fresh food items like the fish and the vegetables (which were harvested the day before) need to be carefully handled.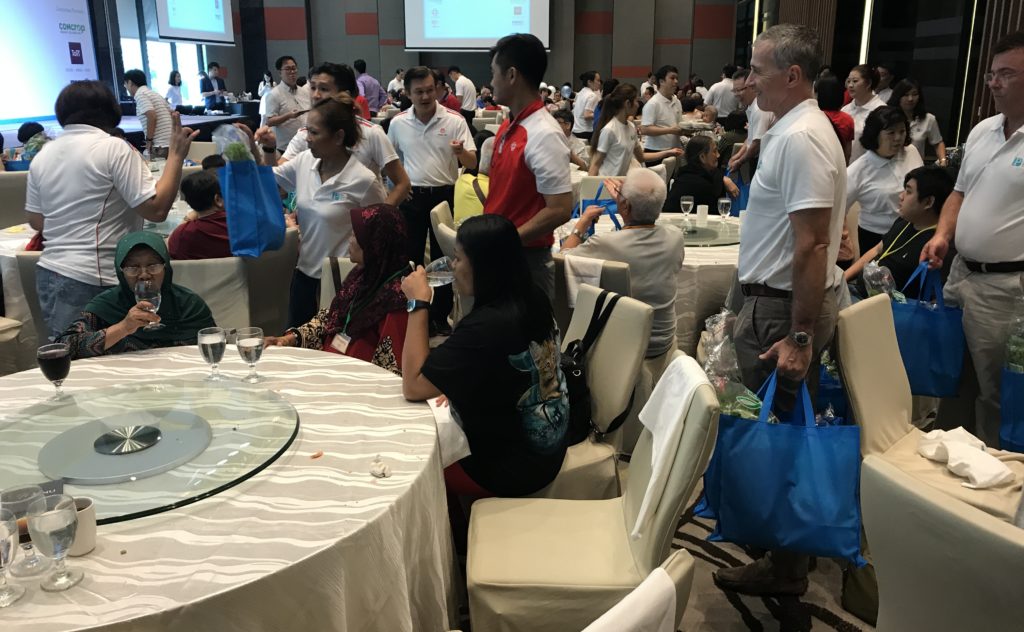 Staff of PPHG and PA ready to deliver the food bundles to beneficiary families.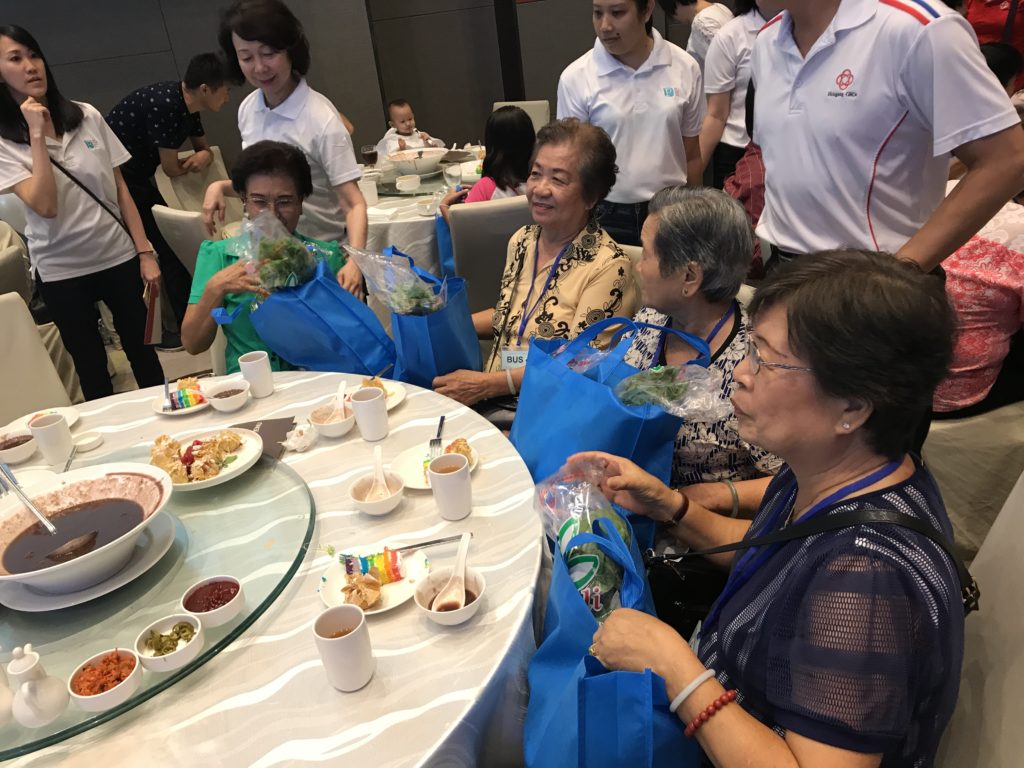 I loved the smiles on these aunties faces as they received the food bundles. It must be a rare treat for them.
To learn more about PPHG's World Food Day initiative, visit their website here.
Disclosure: Pan Pacific Hotel Group is a client of the author.