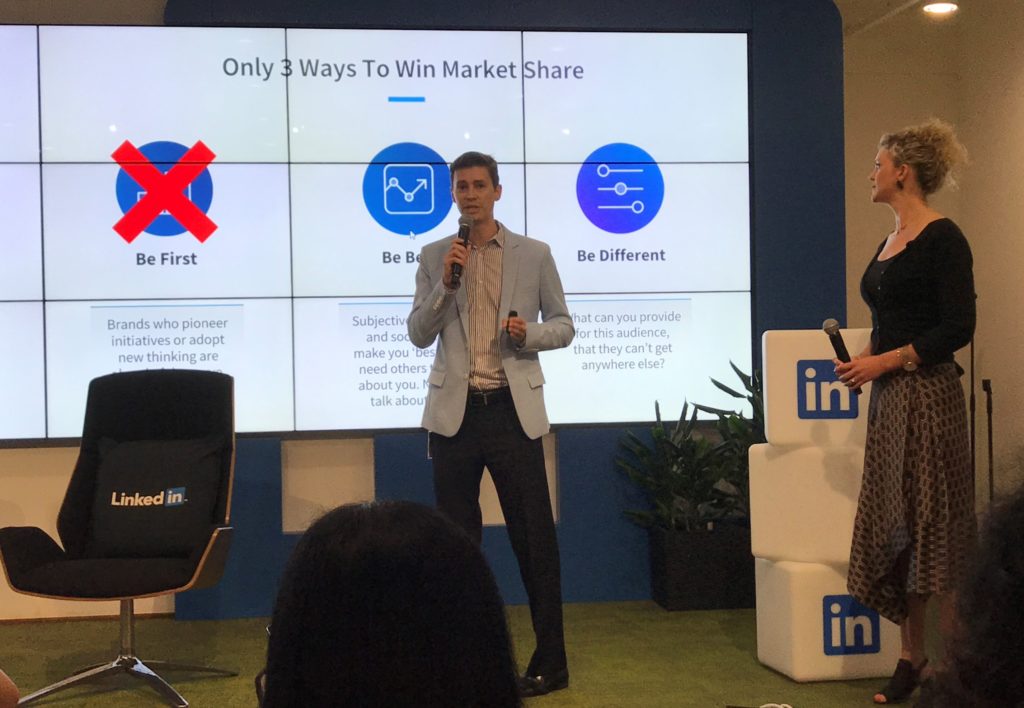 Daniel Hotchuli and Claire Austin from LinkedIn
Are you using the best content strategy for your target audience? How do you use content to build awareness, engage your audience and drive conversions?
These insights and more were shared at a recent talk organised by the Asian Content Marketing Association (ACMA) in collaboration with LinkedIn.
At the session, LinkedIn content strategists Daniel Hotchuliand Claire Austin shared how leader brands differentiated themselves by using different content archetypes to suit their objectives across the marketing funnel.
Here are some highlights from their talk. Hope that it is as useful to you as it was to me.
Creating a Competitive Content Strategy
In the hyper competitive marketplace, there are three main ways for brands to compete:
Be First: Pioneer initiatives or adopt new thinking which are ahead of the innovation curve
Be Best: Brands which can trigger customer Word Of Mouth (WOM) and social proof, by getting others to talk about them
Be Different: Provide something unique to your audience that they can't get anywhere else
Traditionally, being the first has been the main way in which you can make a difference. In content marketing, we are familiar with newsjacking and how being one of the first to "break the news" can get us noticed. However, such a strategy can be exhausting over the long-term and difficult to sustain.
What about being the best?
Naturally, its difficult to do so in very crowded markets where incumbents have significant scale and network advantages (think of beating Amazon and Alibaba, for instance.) From the content marketing perspective, this may mean getting caught in a neverending content arms race.
So what remains is to be different. Like Apple (remember their "Think Different" campaign?), we should consider what the unique and differentiated needs of our audiences are, and how we can best satisfy them using content.
To be different, you can consider developing different content archetypes and match these to your audience's needs.
4 Content Archetypes – Poet, Professor, Preacher and Promoter
Drawing on Robert Rose's presentation way back in 2013's Content Marketing World, the dynamic LinkedIn duo shared that there are four main archetypes for content creation:
The Poet
The Professor
The Preacher
The Promoter
Also known as the Four Ps of content marketing, they reflect a different way of thinking about using storytelling as a driver for content creation and promotion.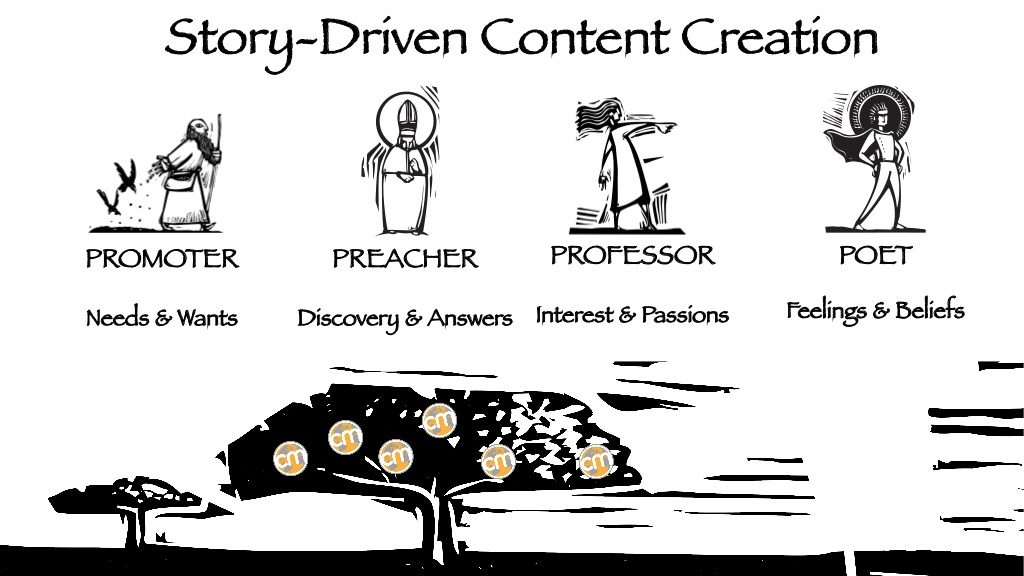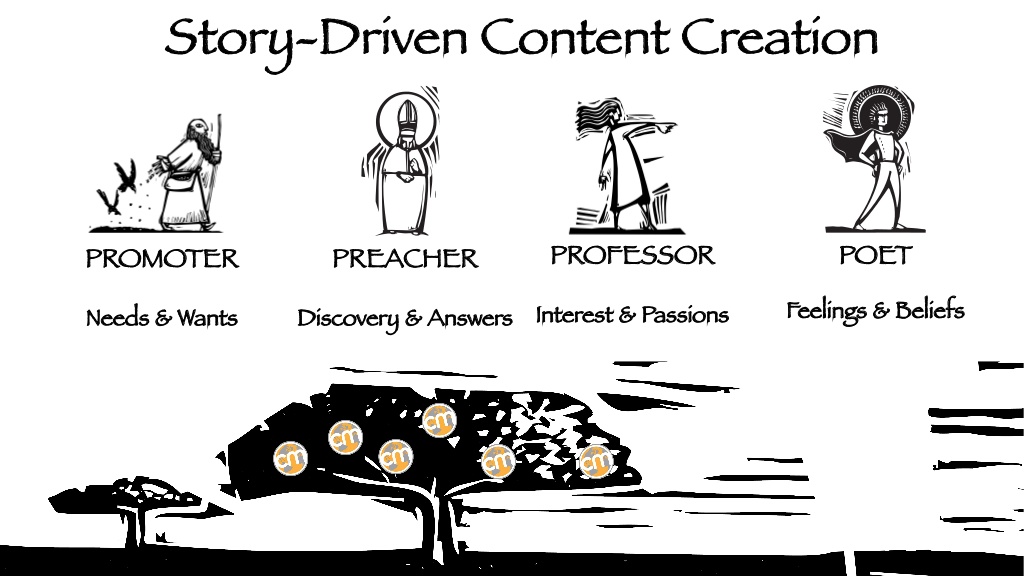 Courtesy of Robert Rose
Let us delve deeper into each of these archetypes and look at some examples of each.
The Poet
Inspired by feelings and beliefs, the Poet is represented by content which is bold, shifts paradigms, and changes prevailing beliefs and perceptions.
Fueled by intuition, she aspires to be the first in the information marketplace, and desires to be viewed as being progressive. The key driver of audience intent here is awareness.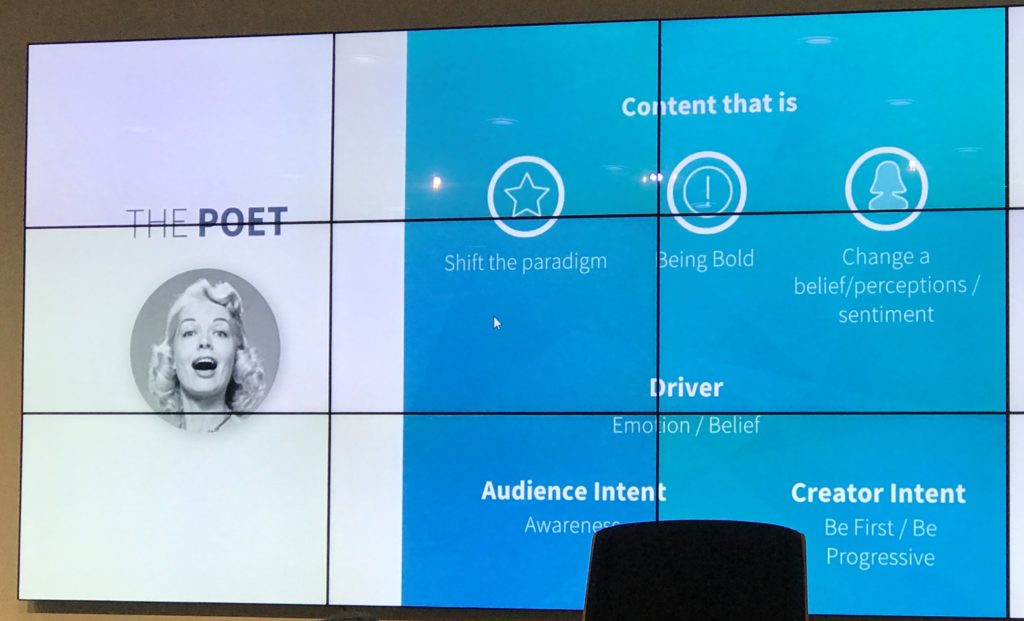 Here in Singapore, there are two examples of Poet Content:
HP's "The Wolf" – a dramatic video starring Christian Slater which shows the dangers of not securing your printer in a vivid fashion.
https://www.youtube.com/watch?v=U3QXMMV-Srs
DBS Sparks – an online miniseries focusing on the stories of bankers and how they changed the lives and livelihoods of others
The Professor
Using data and facts as content ammunition, the Professor is less spontaneous and more deliberate than the Poet.
Content categories which fit this archetype cover the span of thought leadership, opinions, and envelope pushing ideas.
As a content leader, the Professor seeks to deliver top-notch quality. The audience intent here covers belonging, engagement and consideration.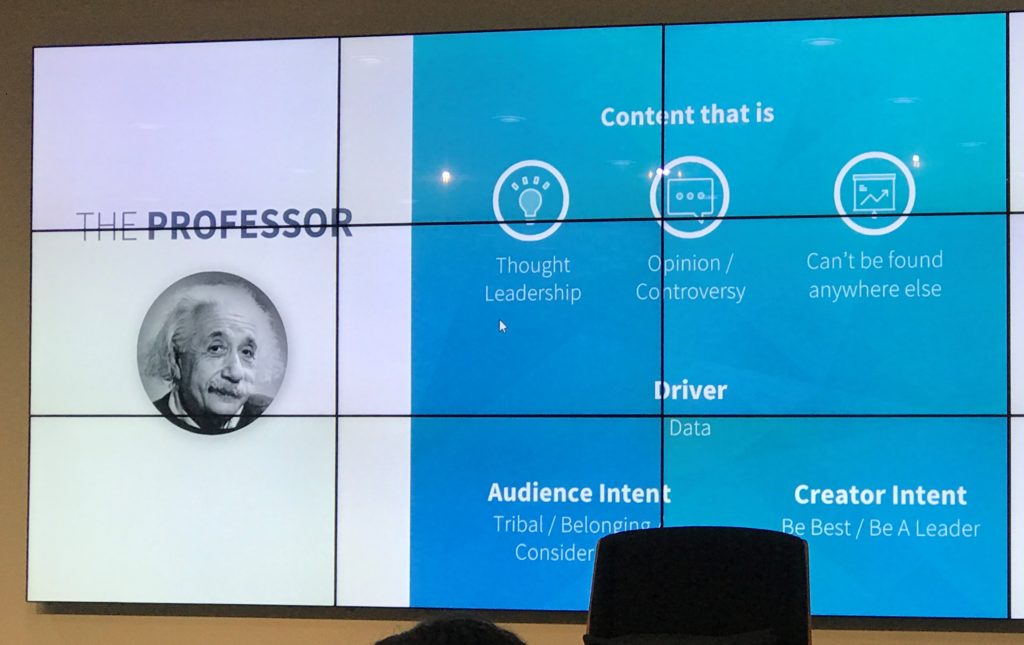 There are two examples of Professor content shared by LinkedIn.
Mary Meeker's annual Internet Trends Report. Considered the authoritative source of information on the Internet, her report firmly establishes her position as a guru in this space.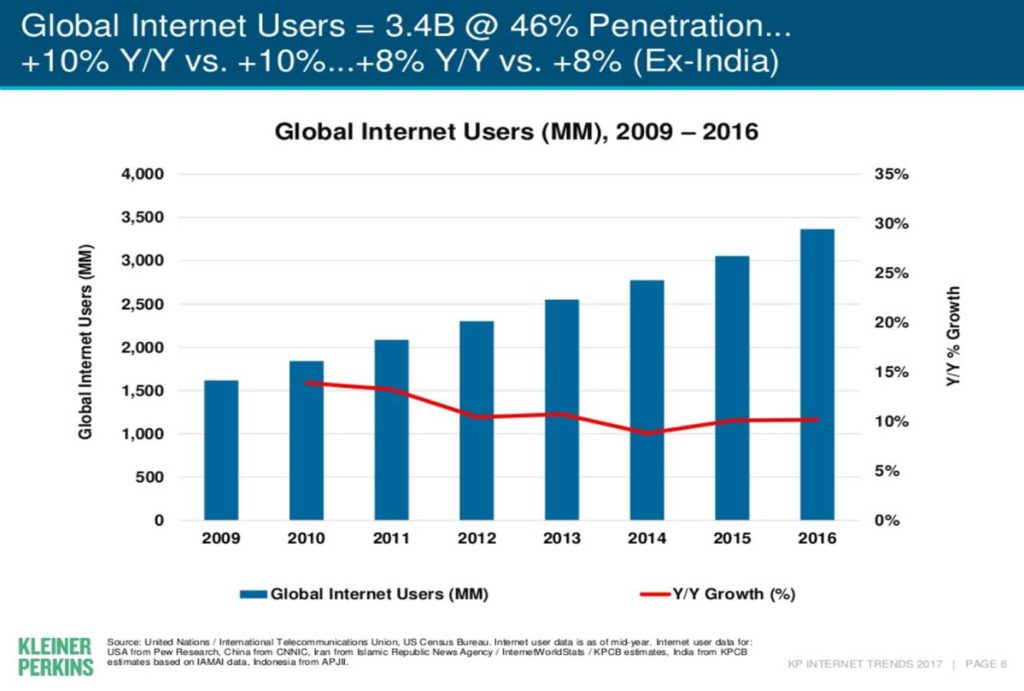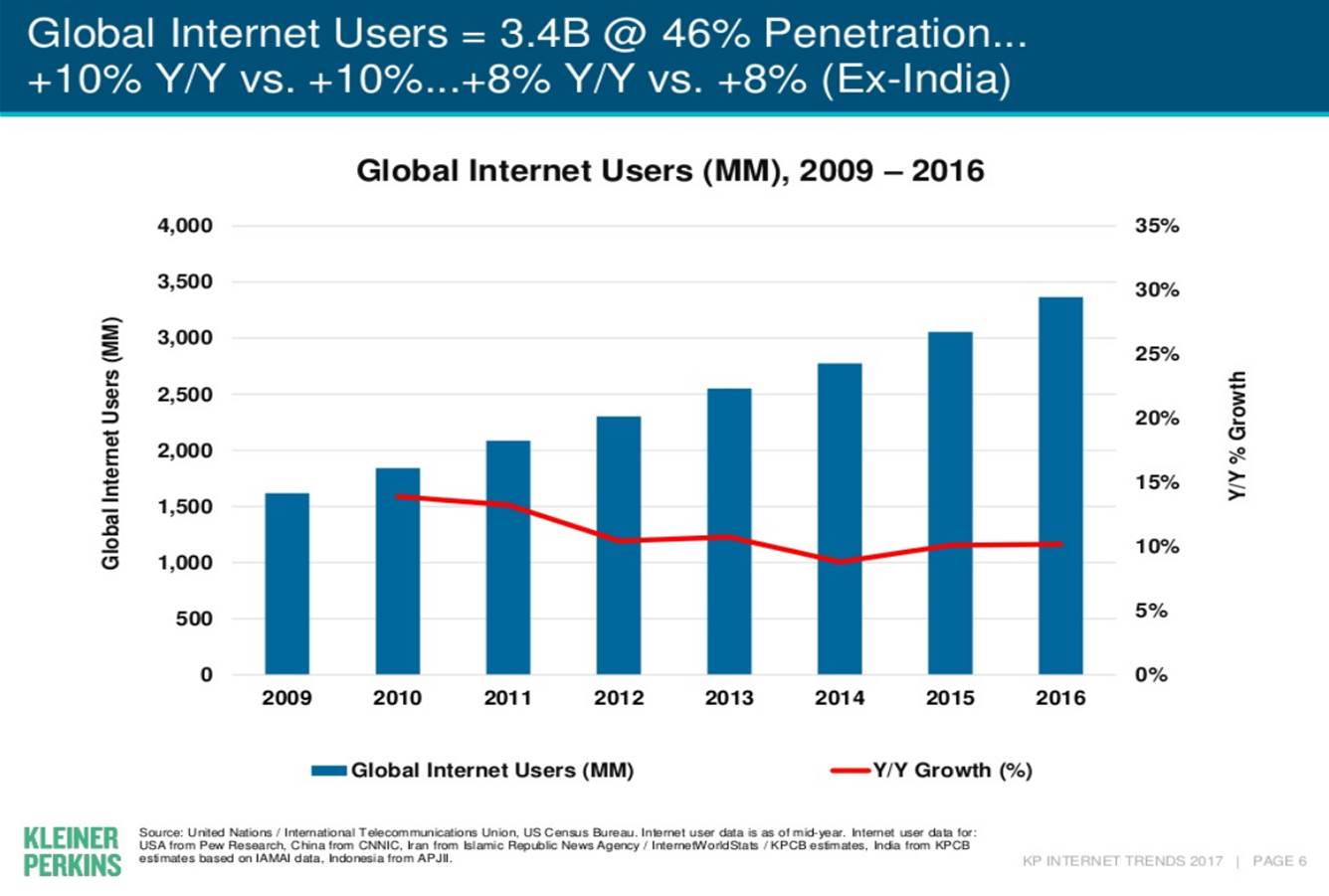 Michelin Guide: The quintessential guide to the world's best gastronomic destinations, created by a tyre company which sought to provide utility to their driving customers.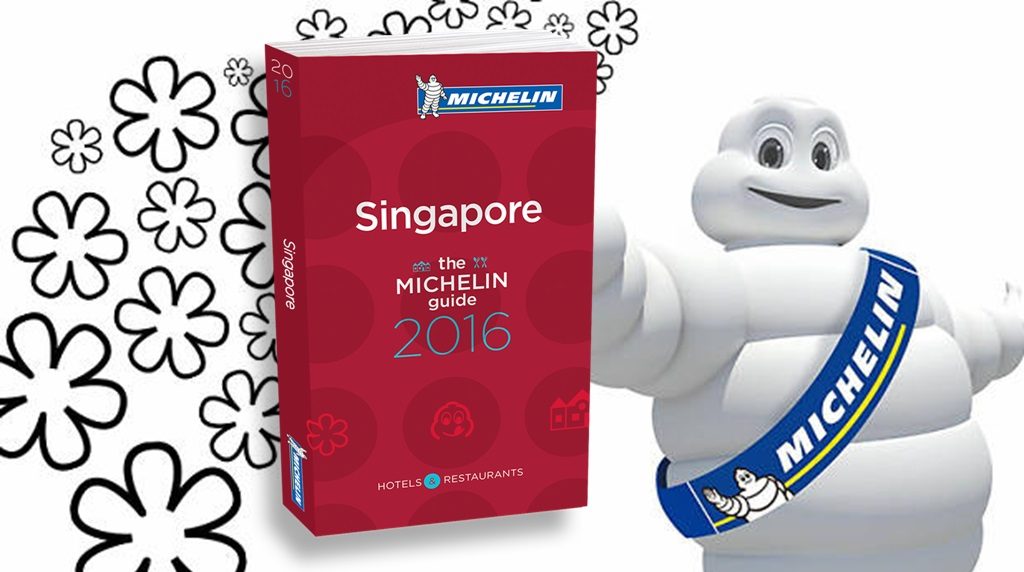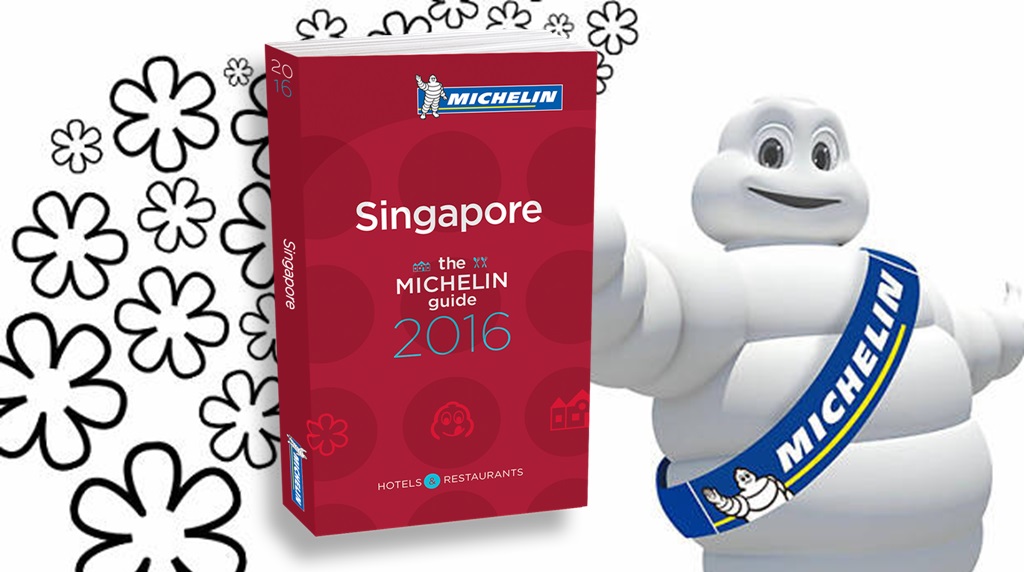 The Preacher
Unlike the first two, the Preacher content archetype is characterised by the following:
Evergreen and topical content
How To's, Top 10 (or 100) lists, and listicles
Informative and educational content
Created to address customer pain or passion points, the Preacher seeks to build communities. The most consistent of the archetypes, his goal is to educate and inform his audiences. I would probably add that Preacher type content helps to cultivate greater customer loyalty and camaraderie.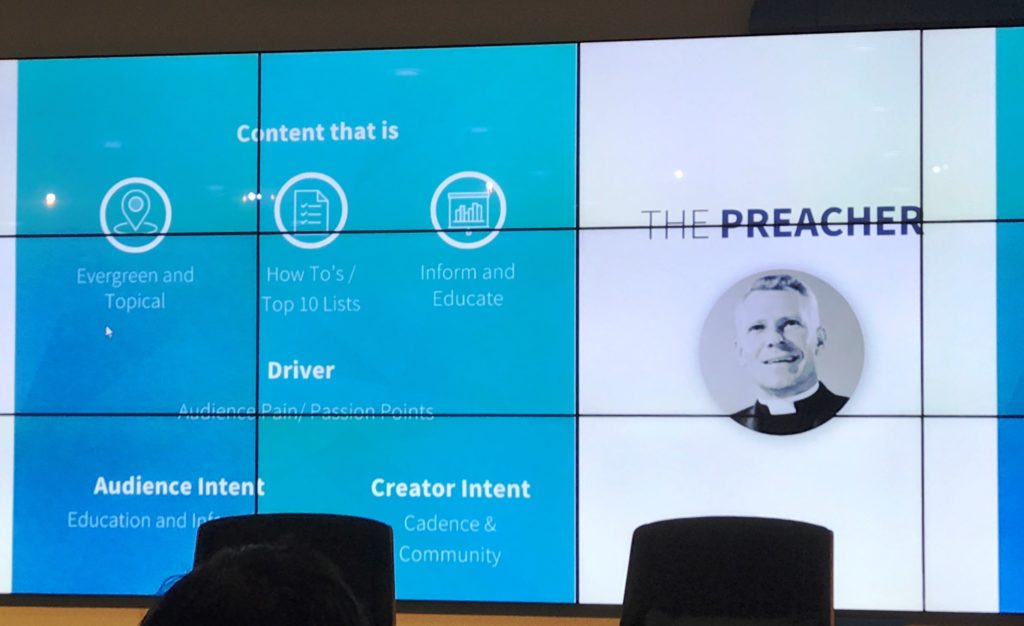 Examples of The Preacher content shared include the following:
American Express' Open Forum: An online resource for small business which addresses virtually everything they need to know about succeeding as a business owner.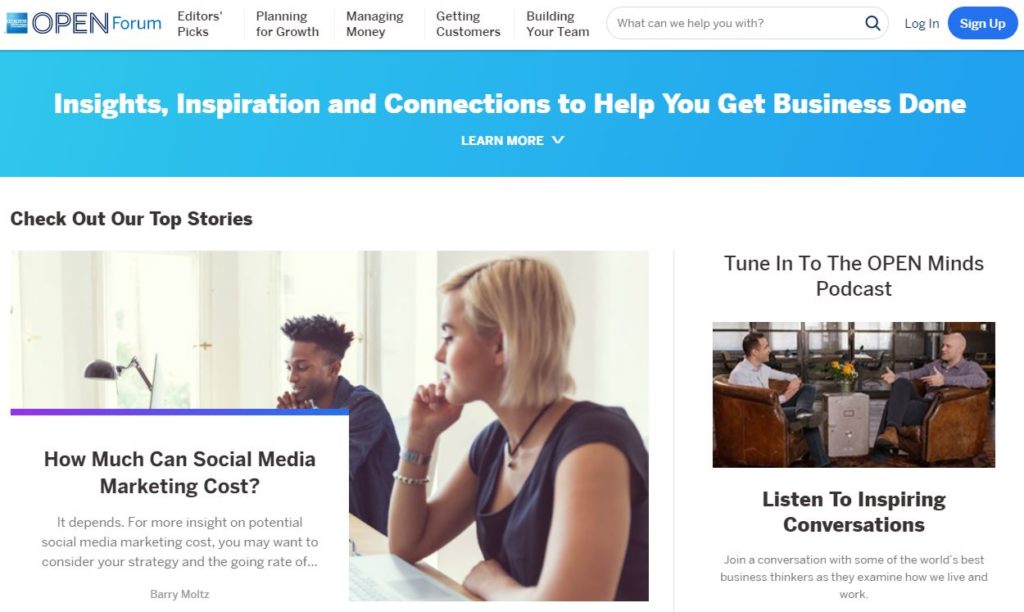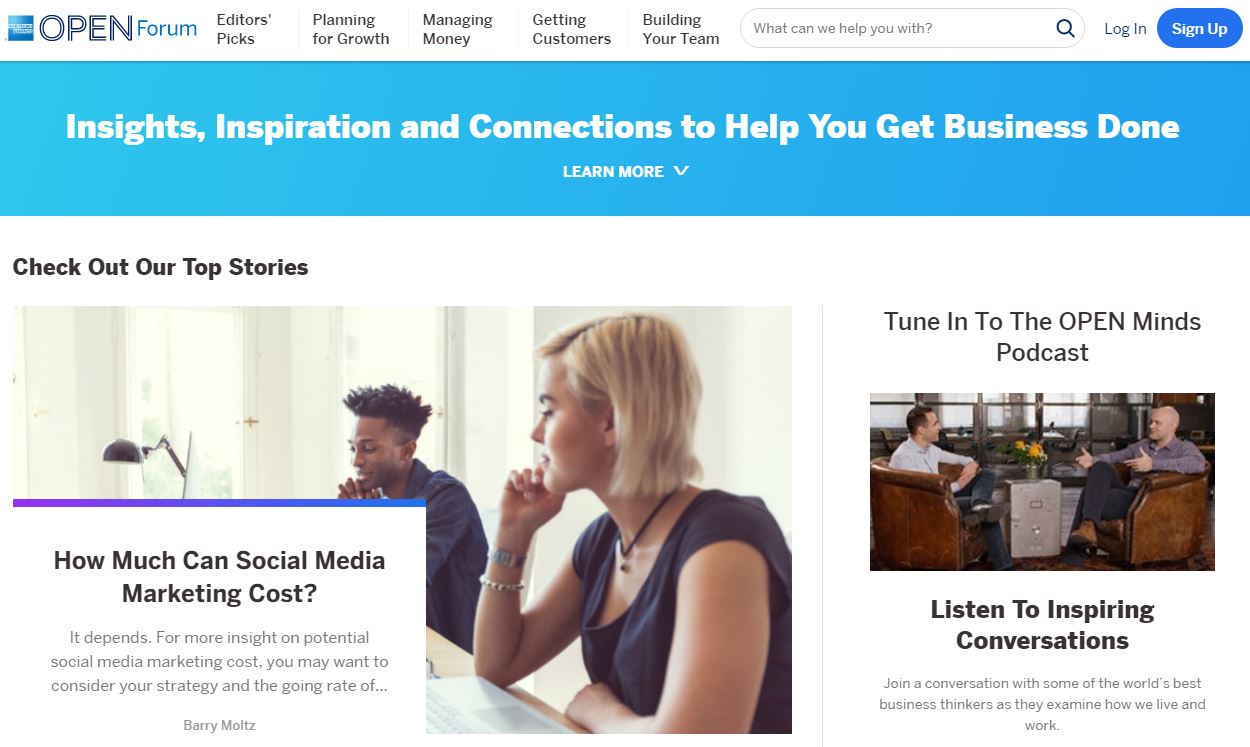 Whiteboard Fridays by Rand Fishkin, founder of MOZ. This regular series of videos and articles have been a mainstay for SEO professionals for years. Watch the video below to see an example of this.
The Promoter
Last, but certainly not least (because this is the archetype that brings in the moolah), we have the Promoter. Unfortunately, most brands ONLY think of this as the type of content which they should create, which isn't how it should work.
Promoter content mostly talks about your brand, your company and its people, or your products and services. Focused on conversion, it may includes promotional articles, advertisements, and emails which drive acquisition and registration.
While this is important, focusing too much on brand promotion at the expense of other objectives could reduce trust, likability and affiliation.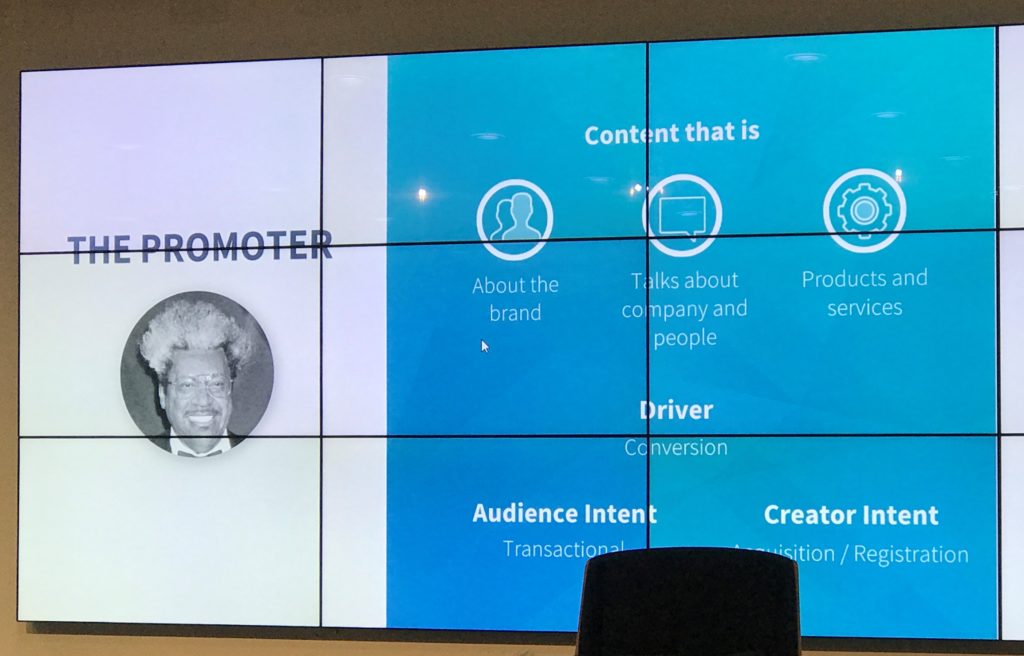 Examples of the Promoter content include the following: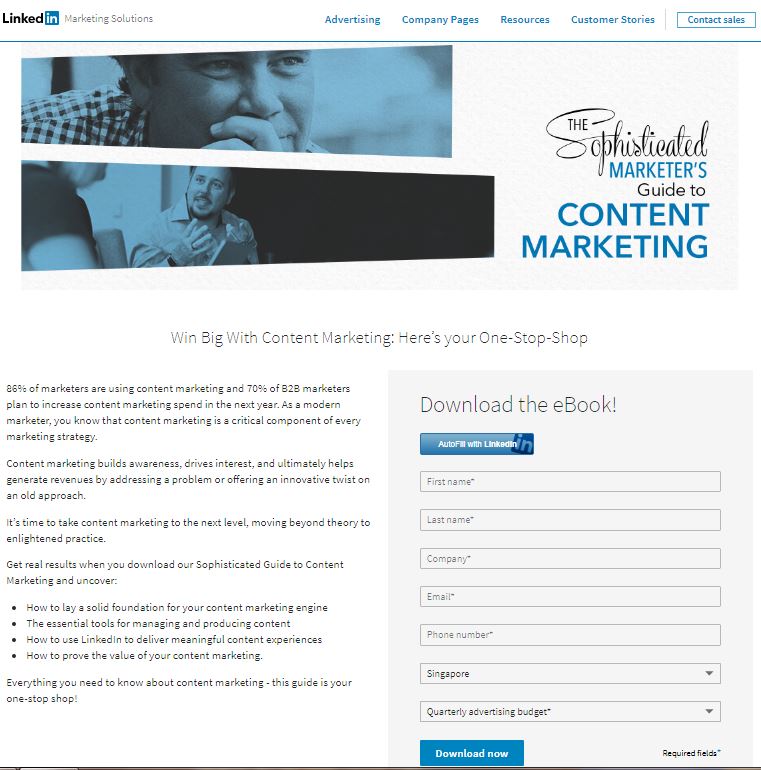 HP's "The Wolf": Yes, this is the same example which was used above (which shows how you can blend archetypes in your content mix.) As part of their conversion strategy, HP uses a landing page which demonstrates the security capabilities of their printing systems.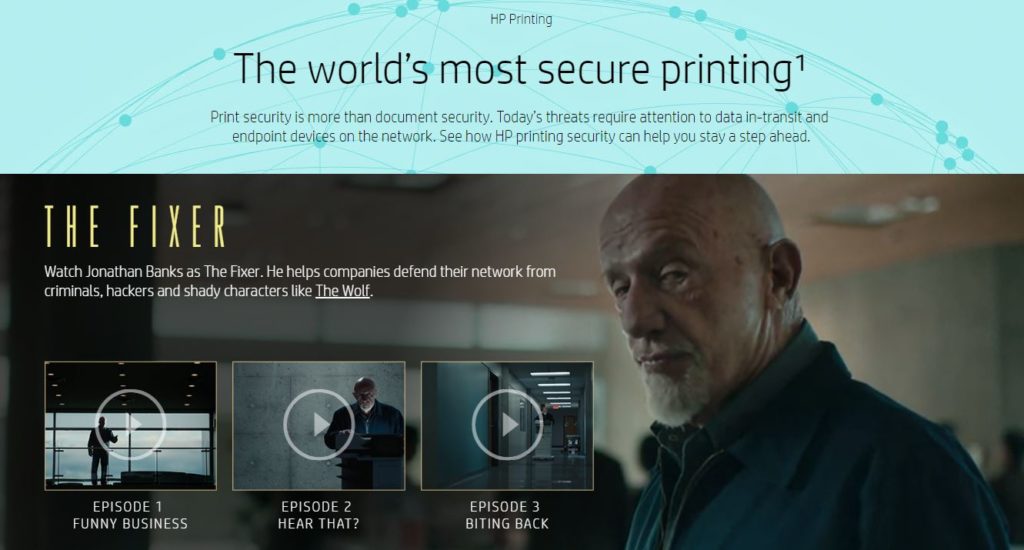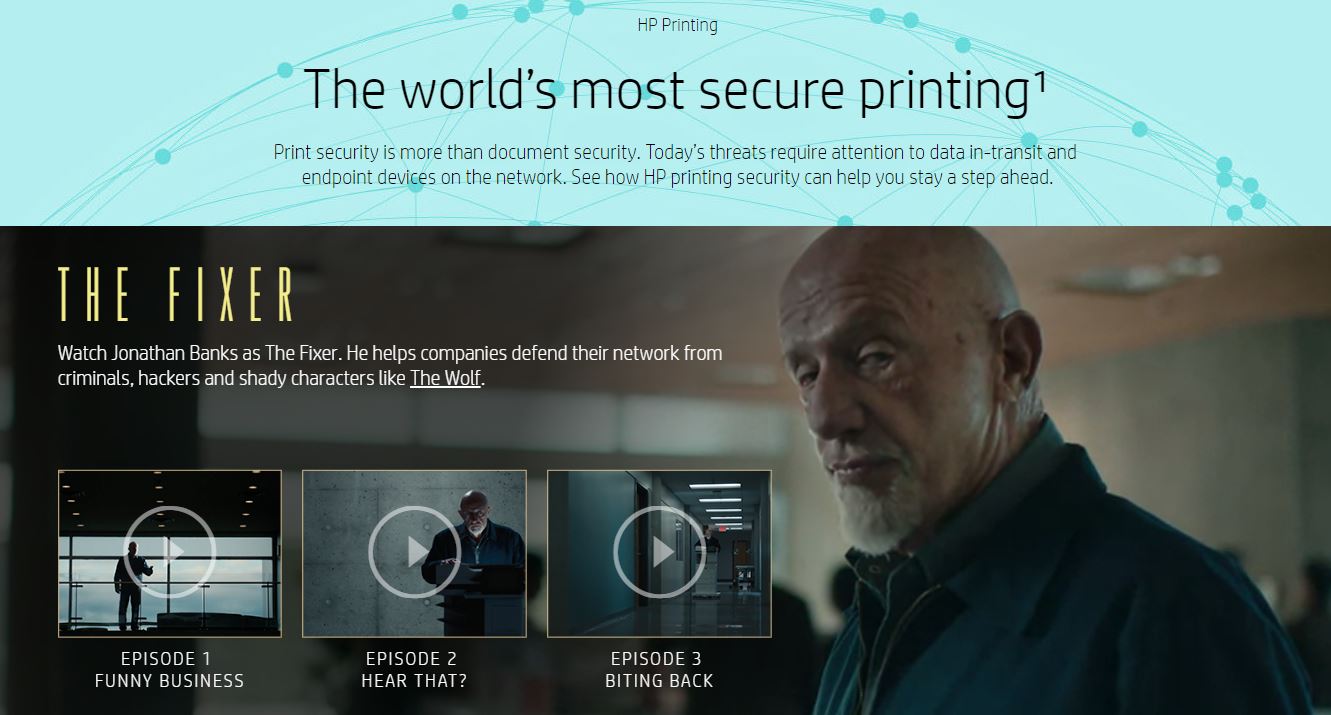 Map On Your Marketing Funnel
If we use the case study of HP's "The Wolf", you can see that your content mix can actually straddle multiple archetypes as your audience moves downwards in the marketing funnel.
Here's how it was presented by LinkedIn. You can see that the mini-movie starring Christian Slater acts as an awareness "hook" to attract viewers (Poet + Professor), who would then learn more about the dangers of unsecured printers and IT systems (Preacher + Poet + Professor), before they are finally converted to become a lead (Promoter).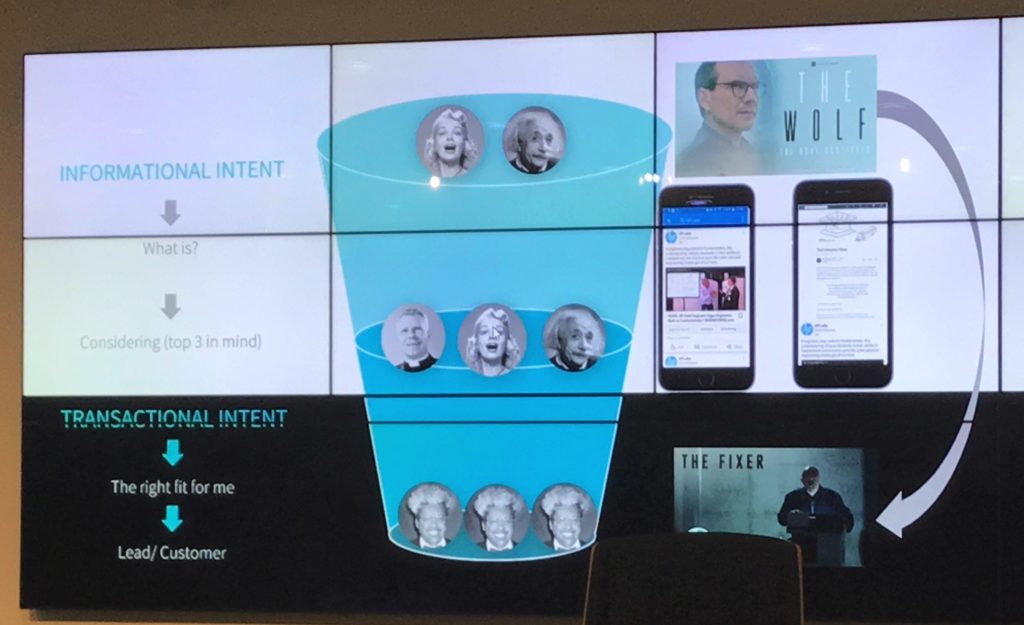 Using a two act sequence, your content mix should thus fulfill two main goals:
Awareness and Information: Generate curiosity and interest while encouraging consideration
Transaction: Stimulate conversion through lead generation, member acquisition and sales
Naturally, the flow of your audience through the purchase cycle may vary from case to case. However, your ultimate goal is to use your content to meet your audience's needs, wants and desires, and lead them on a journey towards conversion.
An Easy and Elegant Framework
Personally, I found LinkedIn's use of Robert Rose's content archetype a great way to scaffold my content marketing efforts.
As a prolific content creator and owner of a content marketing agency, I have focused more of my efforts on Professor and Preacher type content, and less on Poet and Promoter content. I must say that doing so has worked out pretty well for Cooler Insights, as we are able to generate an average of 2 to 3 inbound leads per week.
Looking ahead for the rest of the year, it may be useful for me to think about developing bolder content strokes that gets people to sit up and take notice, while considering how I can better optimize conversion on my content funnel.
What are your thoughts on the content archetypes? Do your content efforts fall more into the Poet, Professor, Preacher or Promoter categories?
Many thanks to Timi Siytangco of the Asia Content Marketing Association for the invitation and my buddy Gerald Ho for the heads up on this event.