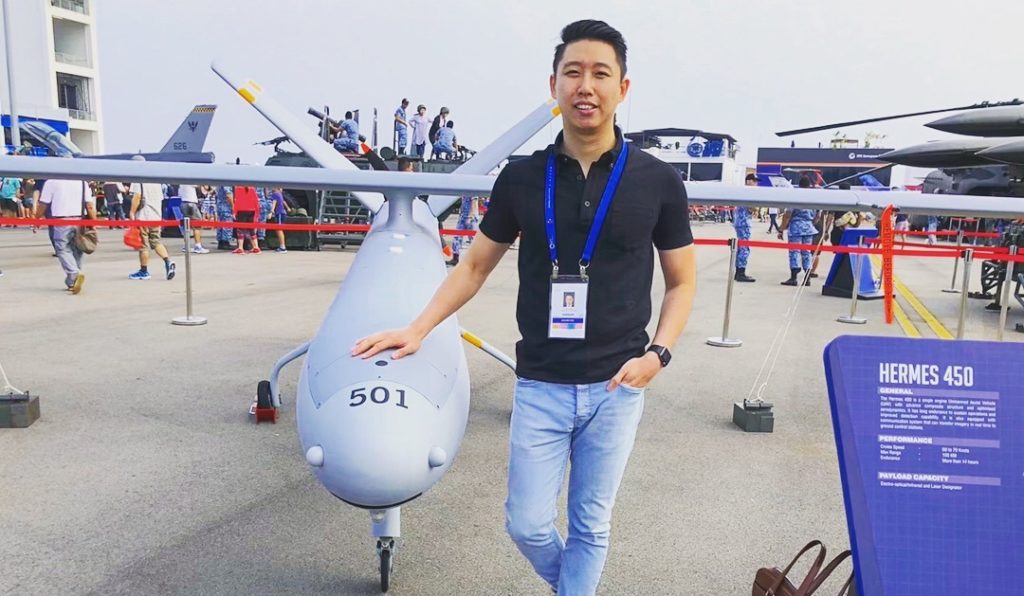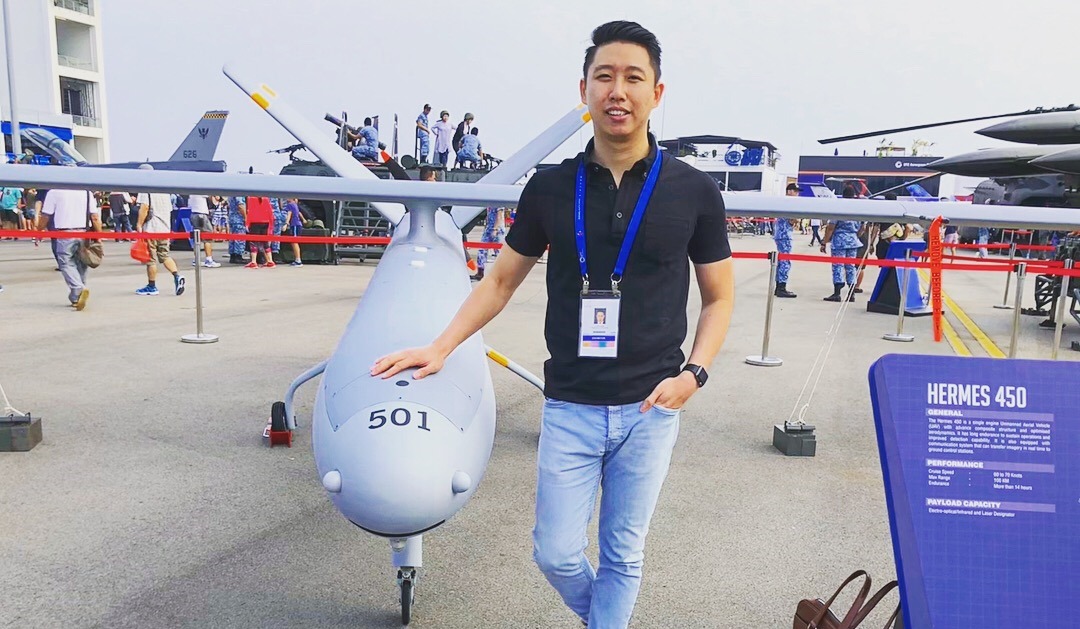 Mike Li (above) is a man on a mission. Don't be deceived by that disarming smile and casual pose – this man means business when he is focused on something.
An action-taker who says what he does, and does what he says, Mike is also one of the few people I know who is exceedingly generous in sharing his knowledge, insights and experience with others.I got to know Mike back in September 2017. Mike was one of our learners for the 4th run of the Creating a Premium Personal Brand on LinkedIn workshop which I conducted together with Eugene Seah.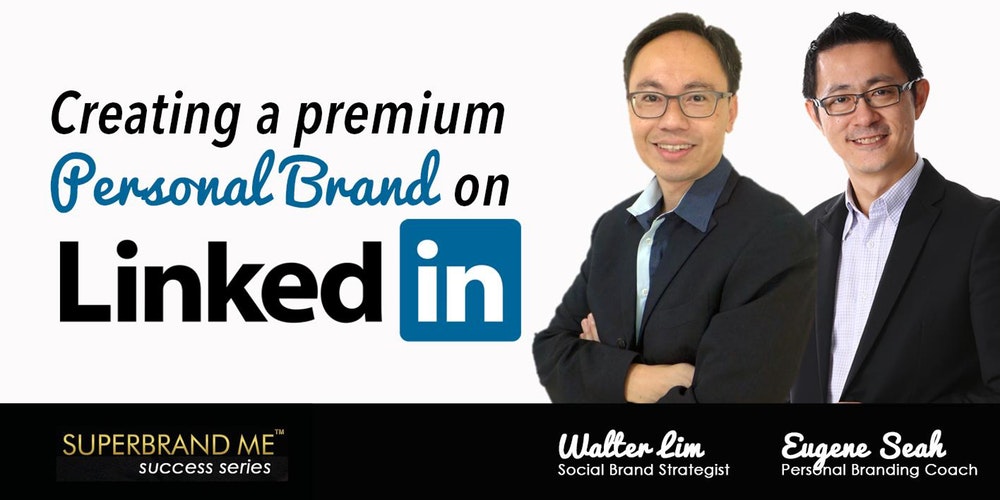 Easily one of my most conscientious and "on-the-ball" learners, Mike put into practice virtually everything that he learned during my course.
He also made it a point to learn from LinkedIn aficionados like Coen Tan, and Andrew Chow, and generously shared what he learned in the WhatsApp groups that we are part of.
Thanks to his efforts and diligence, Mike achieved tremendous growth and results on LinkedIn.
Before I share with you what he did on LinkedIn, let me first introduce you to Captain Mike Li.
Gaining a 10,000 Foot View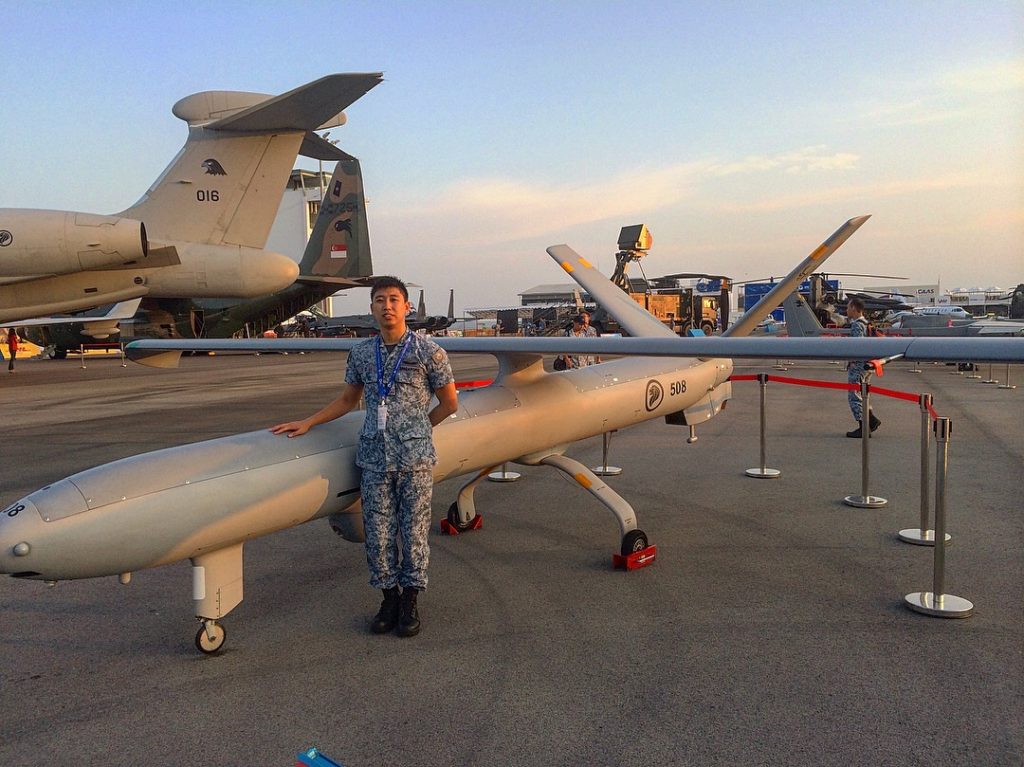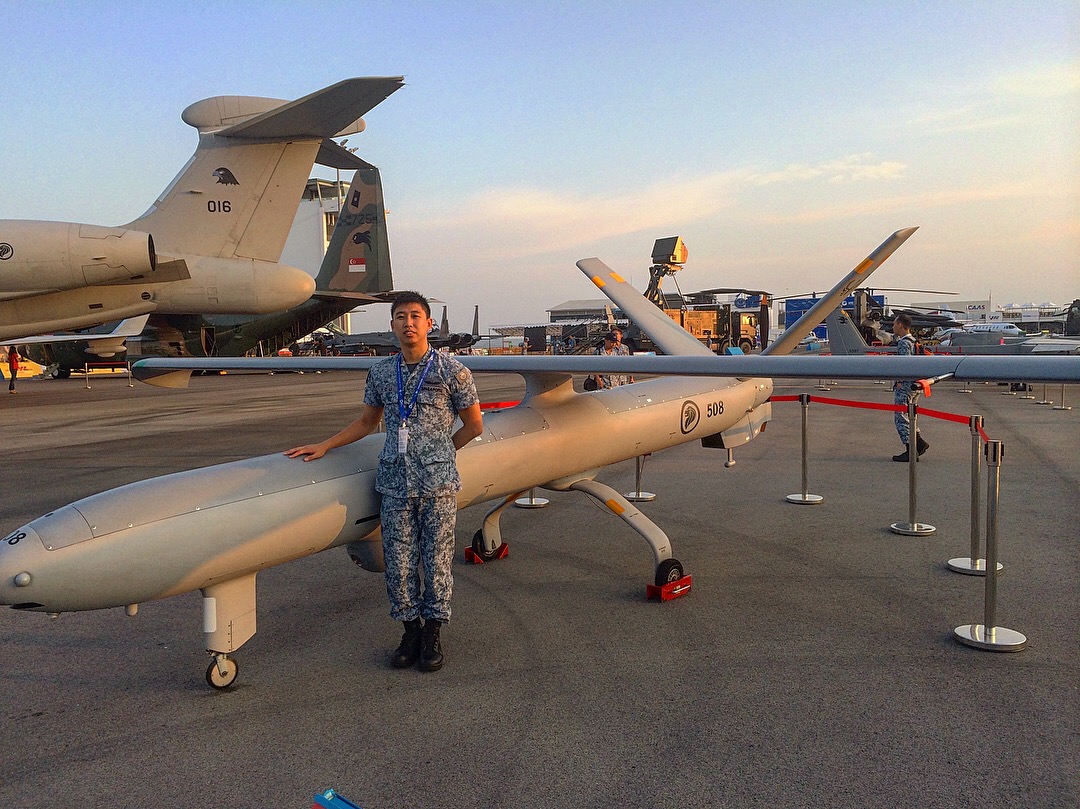 OK, here's a second photo of Mike with an Unmanned Aerial Vehicle (UAV) – yep that's what this somewhat phallic looking equipment is.
Previously a Captain in the Air Force, Mike was a UAV pilot. Spending close to 9 years in the military, Mike's role was to lead his team to perform reconnaissance and surveillance missions using these high-tech flying machines.
Mike also honed his people and communication skills in his time in the Air Force, reaching the peak of his flying career as a Senior Flying Instructor. His role as an Instructor gave him the chance to coach the best performances out of his juniors.
What Mike learned most in the Republic of Singapore Air Force (RSAF) was that nobody does things alone. Team excellence is the key to success and is a core value in the RSAF.
In the example of UAVs, a whole team of specialists are needed:
Engineers to get the aircraft and flying station (cockpit) ready
External Co-Pilot to handle take off and landing processes
Internal Co-Pilot to perform mission and fly the aircraft at the same time
Pilot-In-Command to lead and coordinate the mission with internal and external parties while monitoring aircraft parameters
And of course, he gets to enjoy that 10,000 foot view which we all yearn for.

Helping People To Lose Their Jobs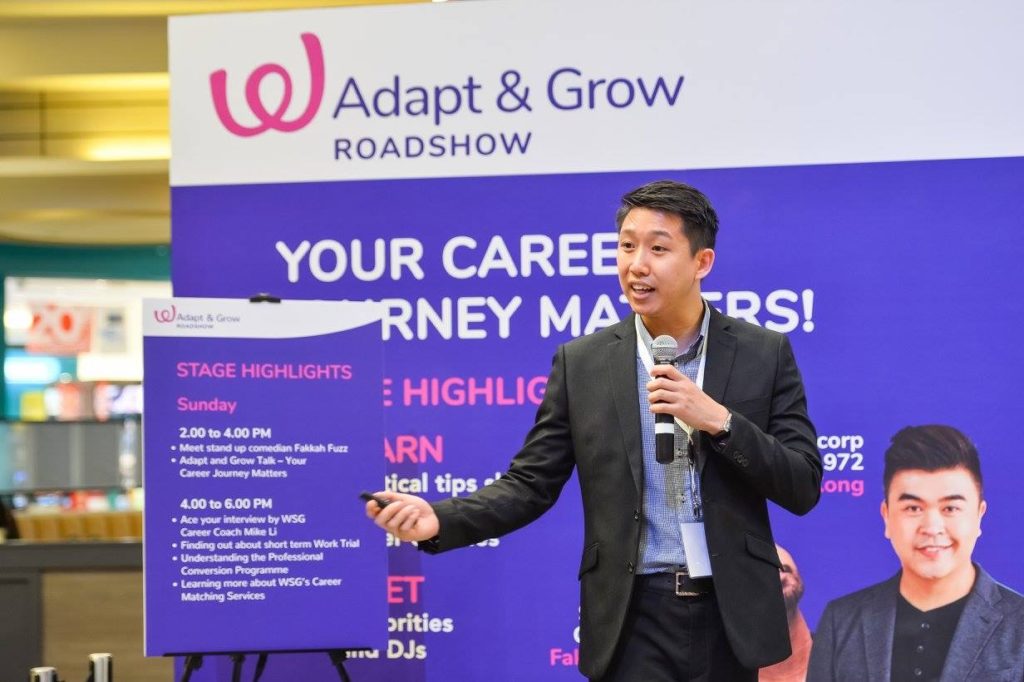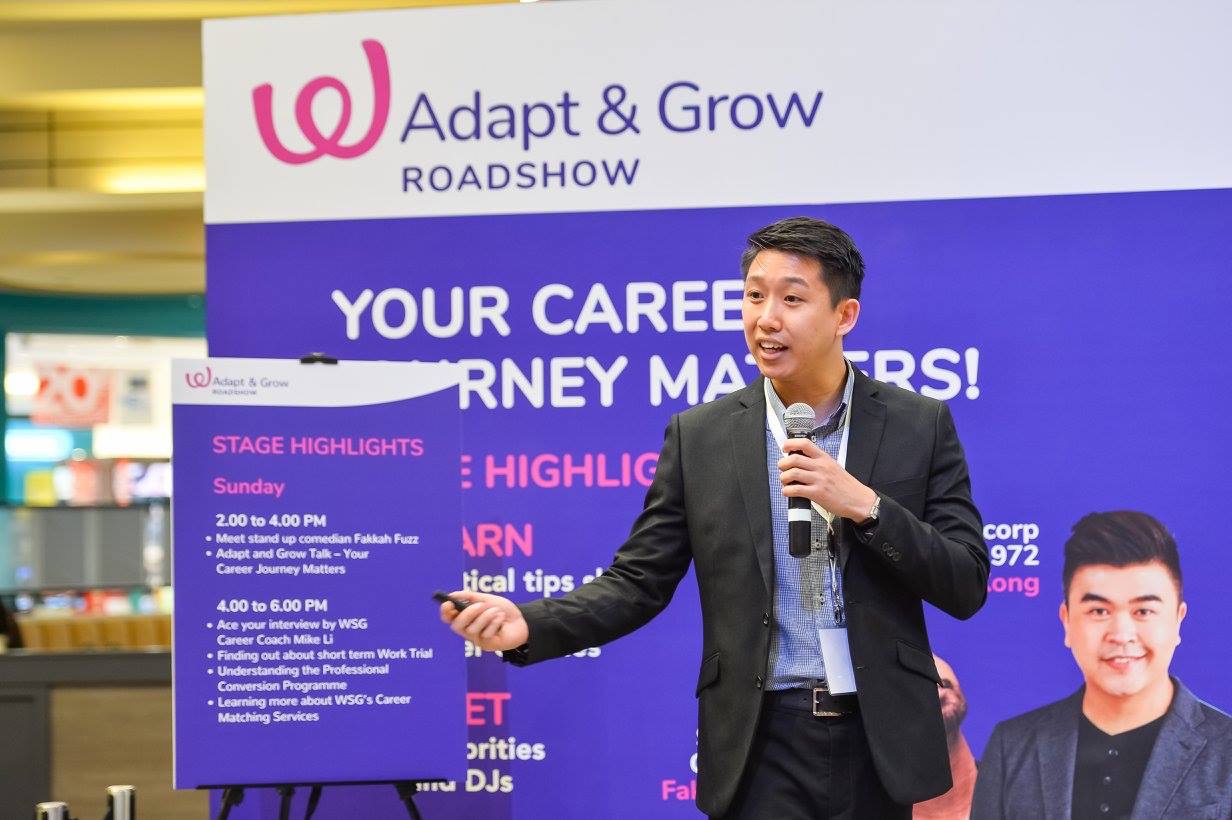 After he completed his contract, Mike decided to pivot from pilot to people.
He joined Workforce Singapore (WSG) as a career counselor, and put his people and management skills to good use in a different domain.
As a career counselor, Mike learned the importance of tact and empathy when dealing with job seekers. Extending a listening ear to their specific issues and challenges, he sought to find out what the root causes for their issues are like.
Probing beyond the surface helped him to be sensitive to the needs of people and uncover deep-rooted issues like mental illnesses, relationship problems, or other challenges that resulted in these individuals becoming unable to hold on to their jobs.
LinkedIn Marketing Success
Mike embraced LinkedIn wholeheartedly after he came for my workshop as well as others.
I love how he adopted the habit of acting on his own advice, and walked the talk. Like Mike, those who execute well tend to do better than those with brilliant ideas but poor execution.
On using LinkedIn as a career building move, Mike focused himself on this one statement:
"What opportunities and value can I give others, rather than what other people can give me." – Mike Li
With this in mind, Mike went on to grow his LinkedIn profile by leaps and bounds. Just look at his profile views below.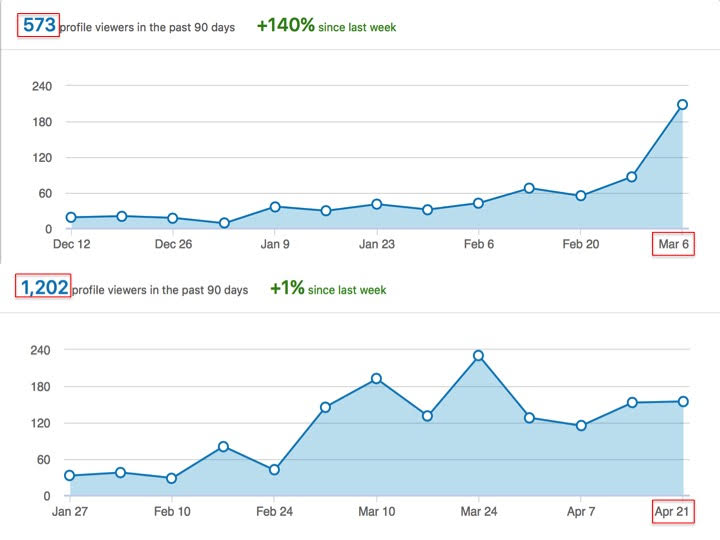 Starting out with about 20 plus profile views per day, Mike applied the techniques which he learned about engaging with others, networking, beefing up his profile, as well as sharing his stories and experiences in his posts.
His views have increased to about 1,892 profile views over the past 90 days, with a peak of over 400 views a day – an amazing 20X or 2000 percent improvement!
That's not all.
Mike Li's Social Selling Index (SSI) used to be about 39 when he first started on his LinkedIn marketing journey back in September 2017. The SSI is a score developed by LinkedIn which measures "how effective you are at establishing your professional brand, finding the right people, engaging with insights, and building relationships."
Thanks to his daily discipline of applying what he has learned, he now has an SSI of 73, which is considered very respectable in his field. He is now the Top 3 percent in his industry and top 11 percent in his network.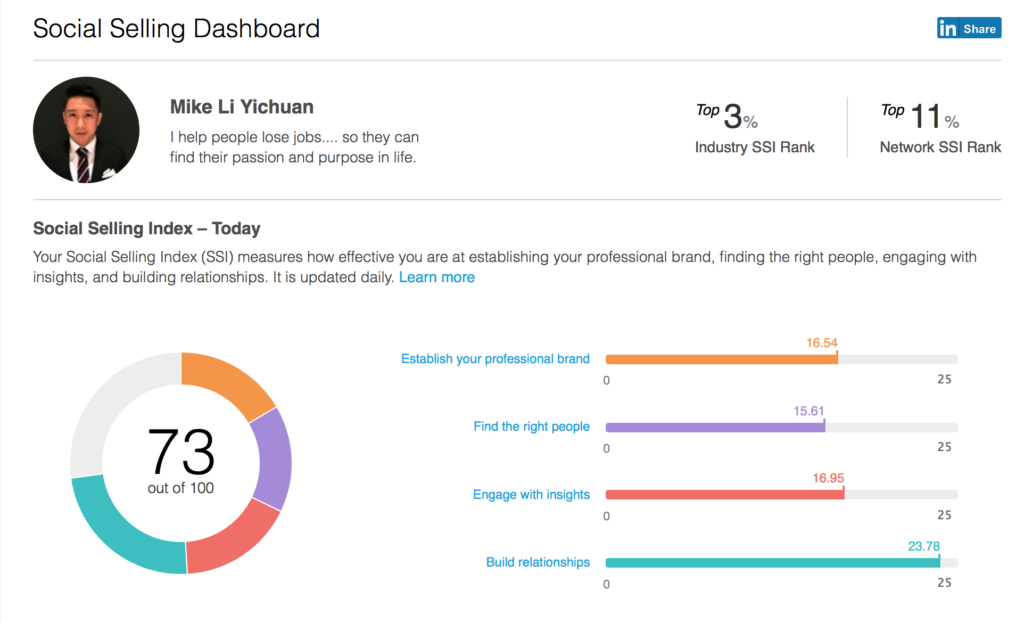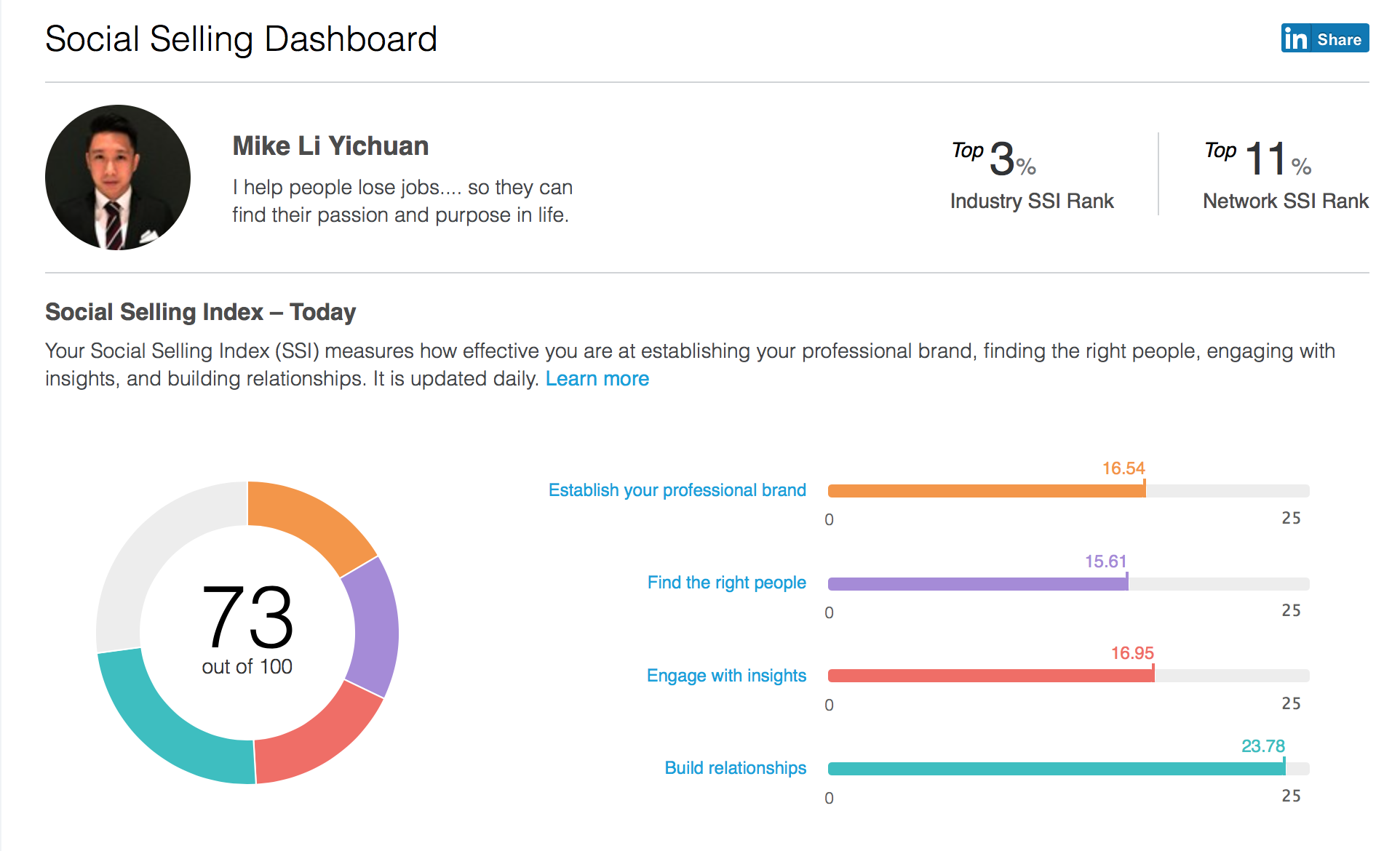 Mike Li's 7 LinkedIn Habits
How did Mike achieve such a phenomenal result?
Mike revealed that he received the most engagement on his posts when he narrates his own story. Beyond that, he also experimented with different storytelling techniques in his LinkedIn posts, citing the experience of different folks like Coen Tan, David King and John Chen as those who inspired him.
So what are some of Mike's successful LinkedIn habits?
Let me list them down for you:
Comment regularly on other people's posts, especially those of your 2nd or 3rd level connections. It is one of the fastest way to be noticed.
Tweak and refine your LinkedIn profile headline to test which one works best.
Change your LinkedIn summary once or twice and experiment with writing it in a first or third person voice.
Add a few connections each day with a personalised request, telling others what is interesting about them.
Share content at least once every other day. Mike recommends reflecting on the events of your day and sharing what you have learned from these experiences.
Evaluate who wishes to connect with you. You should preferably connect with those who are active on their own LinkedIn profiles by looking at their recent activity. Everyone starts out somewhere and it is important to help others get that head start to build their connections.
Bring online connections offline and meet on a person to person basis. This can be extremely beneficial in spinning off new opportunities or just learning from others.
The Next Pivot for this Former Pilot?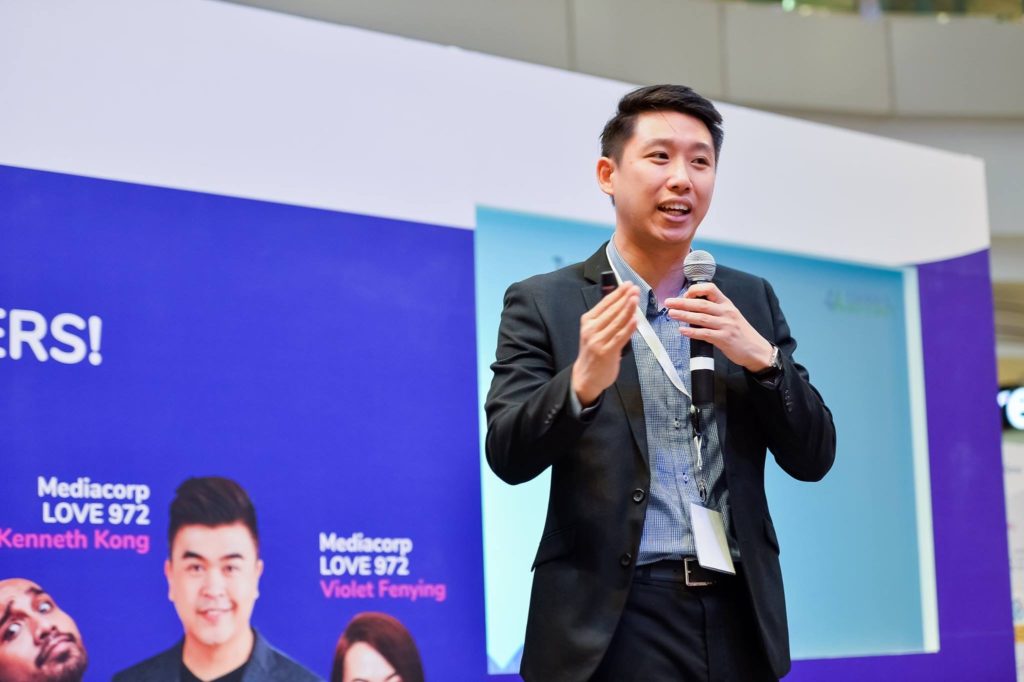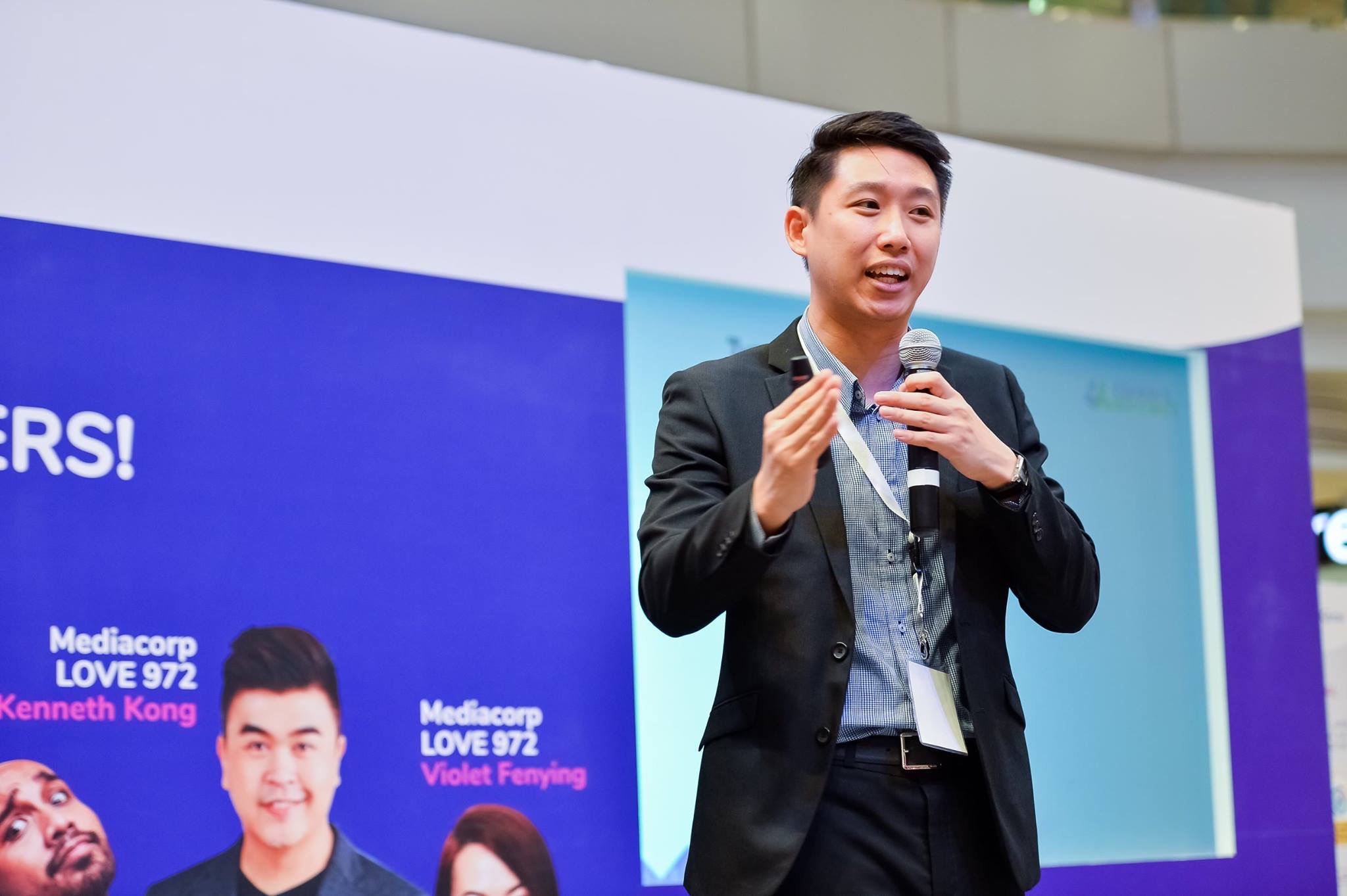 Mike shared that he would be moving on has already moved on from WSG to a new entrepreneurial adventure.
This would be focused on life coaching – a role which allows him to help individuals not just succeed in their careers but in all aspects of their lives.
Beyond coaching, Mike would probably be doing more training to help individuals to gear up for growth. This is laudable considering that he is an introvert by nature. However, instead of viewing it as a limitation, Mike chose to adapt by forcing himself to speak in public and conduct training sessions.
I wish Mike all the best in his future career growth, and am confident that he will continue to scale higher heights – perhaps even beyond that 10,000 foot view!
You can connect with Mike on LinkedIn here, and learn more about Eugene's SuperBrandMe club here.
To register your interest in our LinkedIn workshop, drop me an email here.
Be Like Mike – Sign Up For Our Upcoming LinkedIn Workshop!
Learn how to supercharge your LinkedIn profile, boost your personal brand, and generate leads, business and career opportunities on LinkedIn.
Sign up for our next Creating A Premium Personal Brand on LinkedIn workshop now, and enjoy an early bird price!
Places are filling up fast, so Click here to SIGN UP TODAY