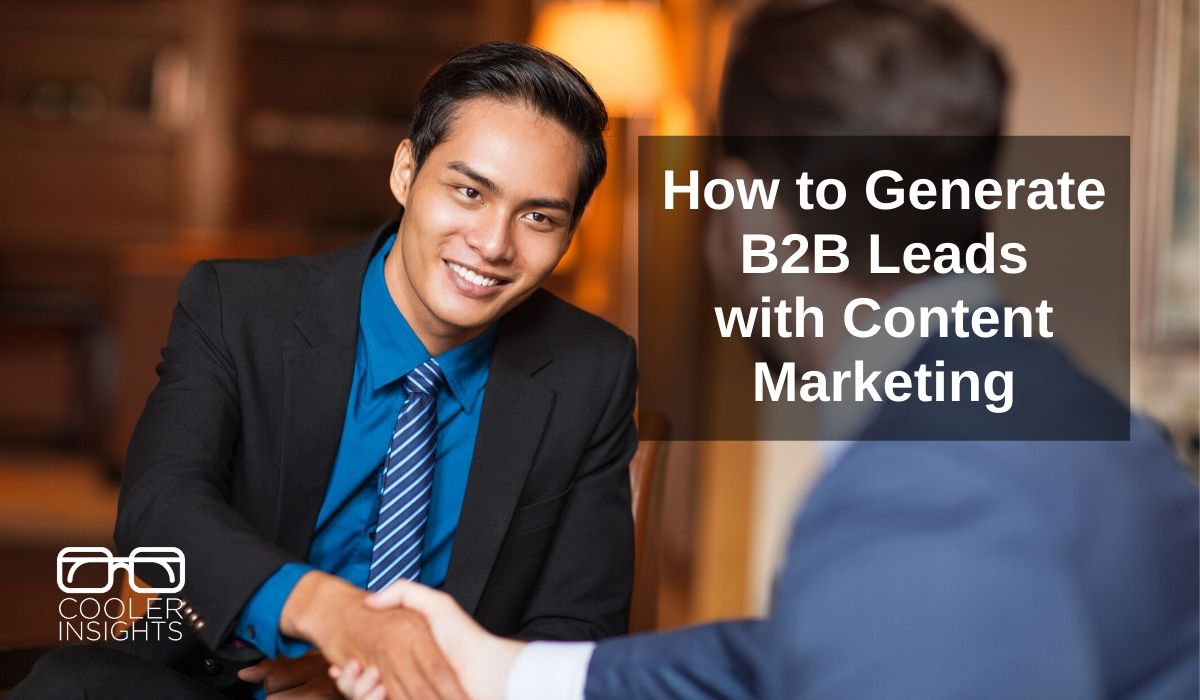 Business card photo created by katemangostar – www.freepik.com
Wondering what marketing process you can use to generate business leads? Keen to generate more leads for your Business to Business (B2B) firm through content marketing?
In this article, you will learn how online B2B lead generation happens, and pick up a couple of B2B lead generation tips using content marketing as an ongoing lead acquisition and nurturing strategy.
You will also learn about the different content types in a B2B marketing funnel, the suitable channels for using them, and learn how you can score your leads based on their interactions with your brand.
Finally, we will briefly cover how marketing automation and Customer Relationship Management (CRM) software can add value to your B2B content marketing strategy.
First, let us cover some basics of B2B lead-gen and explore why content marketing is so effective as a marketing strategy here.
Understanding B2B Lead Generation
Typically, B2B lead generation is one of the first few steps in a sales or marketing funnel.
A process is put in place to entice prospects to provide your company with their contact information—name, company, email, telephone number, job title and so on. Through a process of nurturing the lead, your sales person would eventually help to close the deal.
Traditionally, most B2B lead generation efforts happen offline through a series of outbound marketing efforts. This may include placing ads in trade publications, cold-calls by sales persons, or participating in trade shows and exhibitions.
As potential clients start to spend more time online researching and learning about their trade, B2B companies and service providers realise that they need to invest more of their resources in content marketing.
How Content Marketing Generates Inbound B2B Leads
Unlike outbound marketing, lead-generation through content marketing occurs via an inbound marketing process. This involves answering a series of questions which your client may have.
Here, a structured process is used to attract your potential clients and nurture them through the different stages of the marketing funnel, as shown below.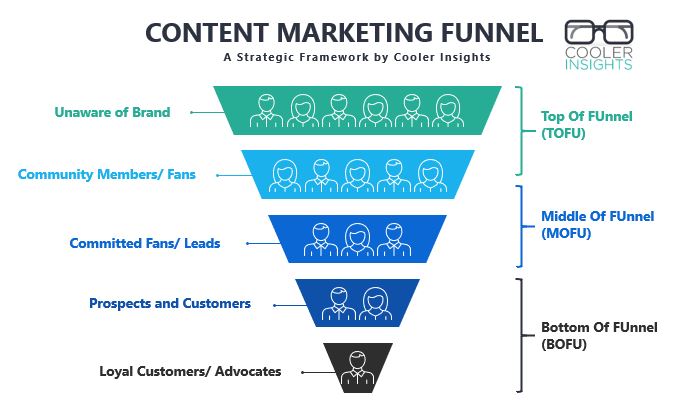 Typically, the B2B content marketing funnel comprises 3 stages:
Top Of FUnnel (TOFU): The goal here is to generate brand awareness and brand affinity
Middle Of FUnnel (MOFU): The goal here is to build brand trust, strengthen relationships, and increase likability
Bottom Of FUnnel (BOFU): The goal here is to trigger conversions and build brand loyalty and advocacy
By providing different types of content, you are able to effectively generate leads without cold calling. Your leads are also inbound—in other words, they're already interested in what you have to say, and are more likely to trust you.
Types of Content for B2B Lead Generation
But what types of content work here? How do you string them together in your lead-generation funnel?
Typically, B2B lead generation is a fairly long-drawn process given the value of your product or service, the complexity of the procurement process, as well as the competitiveness in your industry.
The content types that you should consider here cover a wide range:
Pay Per Click (PPC) Ads: These could be Google Ads, LinkedIn ads, Twitter ads or Facebook ads, and are geared towards TOFU audiences (ie those who haven't interacted much with your brand).
Landing Pages: These are the web pages where your prospect first arrives after clicking on an ad.
Blog Articles: Optimised for specific SEO keywords, they help you to engage prospects and build trust.
Lead Magnets: These are the 'bait' that you can use to attract prospects to fill in their particulars and provide you with their contact information. They may include seminars or webinars, eBooks, guides, checklists, mini-courses, white papers, templates and checklists.
Emails, Instant Messages and Voice Calls: Yes, B2B marketing is very much a one-to-one thing during the latter stages of your campaign. By using a series of emails, messages, and phone conversations, you are able to bring the relationship to a close.
Using the content marketing funnel above as an example, these content types may be used at different stages as laid out below. You can also deploy the right digital analytics to measure each stage.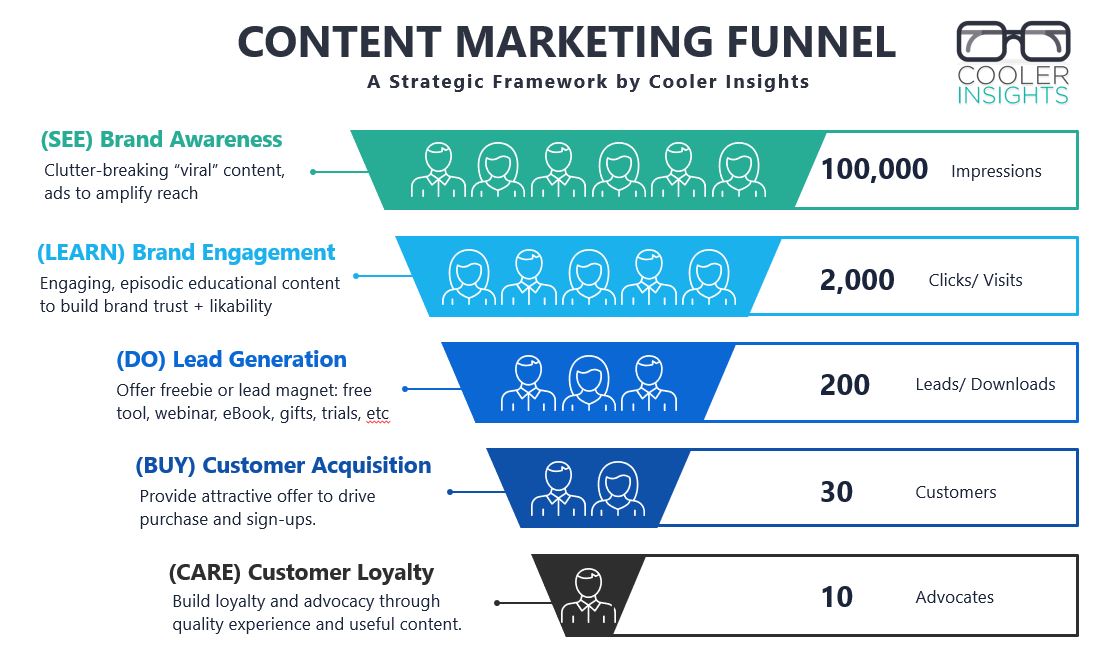 How to Nurture and Score Your B2B Leads
Now what do you do AFTER your lead has entered your funnel? Are all B2B leads the same, and should you treat them all the same way?
Understanding Lead Nurturing
First, you need to undertake the process known as lead nurturing, which essentially involves providing increasingly valuable content to your potential customer with the aim of making them more ready to buy.
Traditionally, lead nurturing can be a painstaking process involving telephone calls, face-to-face meetings, and relationship building. Thanks to content marketing techniques, you can improve your process by providing increasingly valuable content to leads in your funnel through multiple channels. This can be semi-automated using various marketing technology (martech) tools.
How to Score Your B2B Leads
This is where the art and science of lead scoring comes in. This can be defined as follows:
Lead scoring is a process of weighing the different attributes and behaviours of potential customers in your marketing funnel by giving a value to each lead. It allows organisations to determine the best way to manage and nurture prospective customers using a combination of content and communication strategies.
Here's an example of how a simple lead scoring matrix could possibly look, complete with different levels of customer readiness.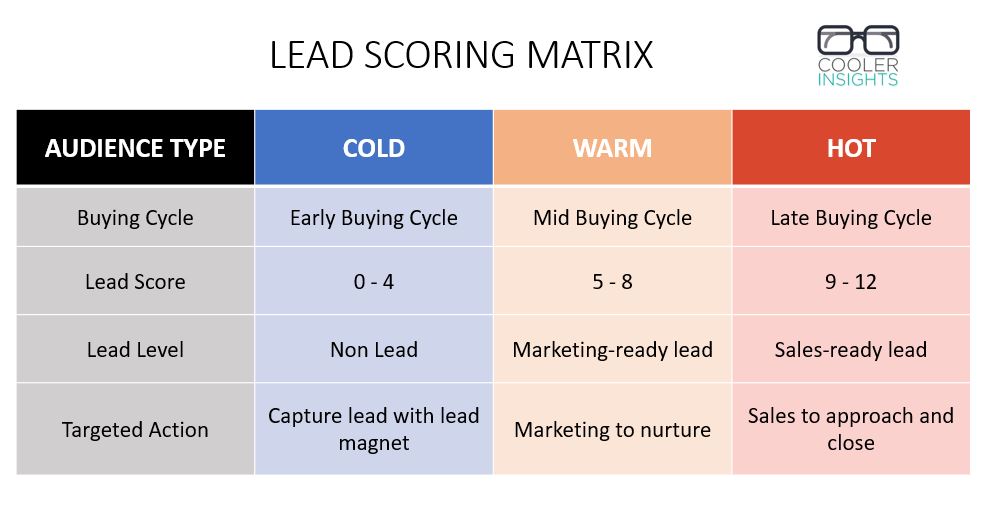 In more complex B2B lead-gen funnels, your lead scoring matrix may be split further into different categories. These may include the following:
Subscriber: These are members who have signed up for your emails or downloaded an eBook.
Lead: An individual who responded to a few emails by opening and clicking on them.
Marketing Qualified Lead (MQL): Responded to events (whether physical or online) by filling up Call-To-Actions (CTAs). These need to be further nurtured before they're ready to buy.
Sales Qualified Lead (SQL): Respondents who participated in multiple events/ activities, and may be ready to buy.
Prospect: Respondents who indicated an interest to buy, normally in a face-t0-face setting.
Customer: Clients who already bought a product/service.
Here's how a more complex lead scoring matrix could possibly be designed and developed.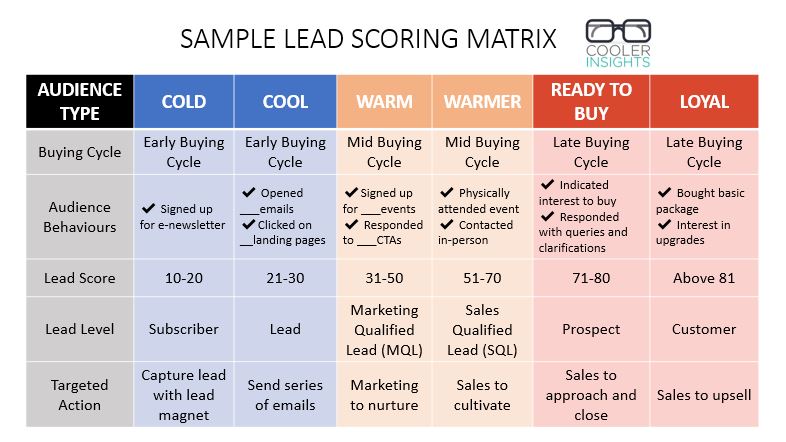 As you can see from the above, the process of lead nurturing and lead scoring can be complicated. This is where martech solutions come in.
Marketing Automation and CRM for B2B Lead Gen
Once you've got your B2B marketing funnel set up, you should consider automating part of the process. A common way to do so is through employing marketing automation and Customer Relationship Management (CRM) solutions.
Marketing automation refers to the software platforms and technologies used to effectively market on multiple channels and automate repetitive tasks. Often, it involves coming up with a specific rules to automate each step of the process, and to score your leads as they progress through your funnel.
Most marketing automation solutions come in the form of digital marketing Software-As-A-Service (SAAS) providers. Major all-in-one suites include HubSpot, Pardot, Marketo and Infusionsoft, while the more specialised niche providers include MailChimp, Leadpages and Wishpond.
Often the main users of marketing automation solutions are the folks responsible for content marketing in your organisation.
What about CRM solutions? Well, these are geared at categorising your leads and customers in more detail, so that your sales personnel are able to approach them with the right contexts (and confidence).
In the most sophisticated martech stacks, you can integrate your marketing automation solution into your CRM system. This allows both your marketing and sales staff to view the same customer and track his or her activities through the entire process of lead nurturing.
Conclusion
B2B lead generation has always been a challenge for digital marketers, given how complex the marketing and sales process may be.
By adopting the best practices above, you can short cut your learning curve, and build a more robust system for attracting, nurturing and closing leads for your B2B firm.
What are your thoughts on using content to attract and nurture B2B leads? Are there other considerations that I have missed out?
Need Help to Generate Leads for Your B2B Business?
Fill in the contact form below for a free 30-minute Skype or Zoom consultation session!