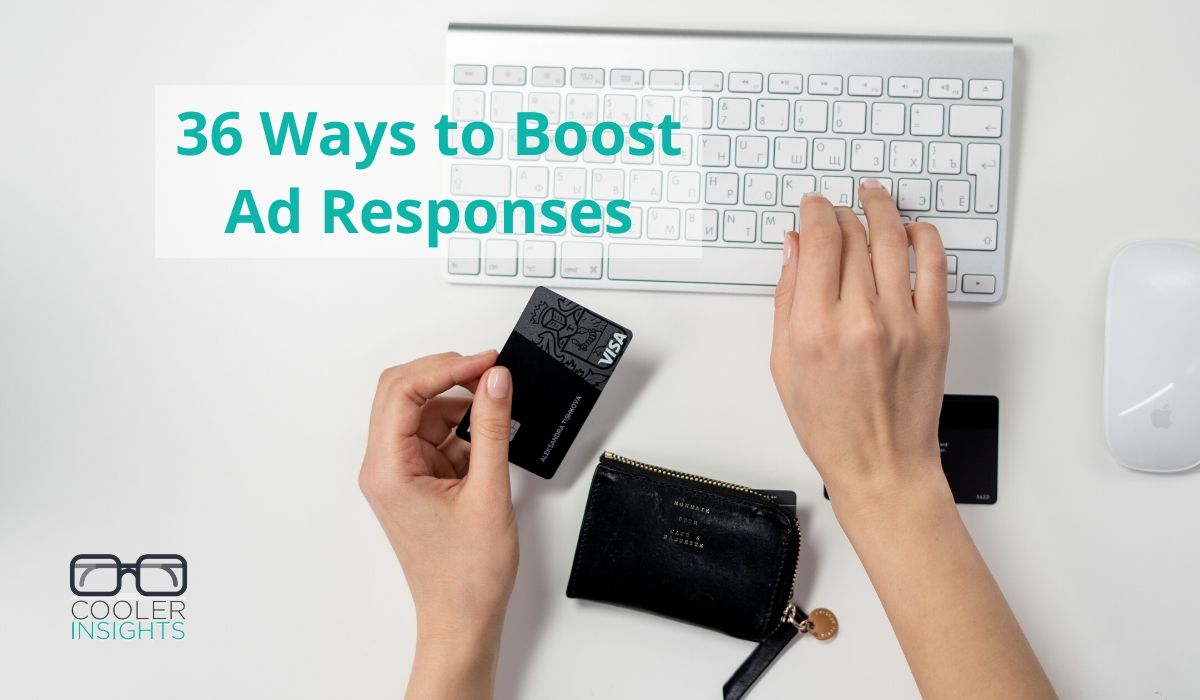 The most frustrating outcome for a digital marketer is this: Not a single soul responding to your online ad.
While penning the greatest online prose on the planet may win you creative awards, securing that sale is probably way more important to you or your client…
But what can you do to boost responses to your Google Ad, Facebook Post, or emailer? How can you increase the likelihood of your audiences responding to your campaign?
In this article, we will consult the wisdom of two giants of advertising and direct marketing: Robert Collier and John Caples.
While these techniques were developed primarily for offline channels like direct mailers, they are still as relevant today as they were decades ago.
Let's dive right into these copywriting gems!
Robert Collier's Four Ad Response Boosters
#1 Tested Selling Sentences
These are used by salespeople, and they worked exceptionally well in sales-focused pieces.
There are several words which you should use in your headlines or body copy:
How: This is the most powerful as it shows readers that a solution is available to their problems
Truth: We're all hankering to hear the truth
Life: Who doesn't want to lead a better life?
Love: Yes, the magic four-letter word
At last: This gives the impression of a new discovery and invention
New: Out with the old, in with the new
Advice: People are always looking out for ways to improve themselves
Facts you should know about…: This piques the curiosity and our thirst for knowledge
#2 Feed Your Reader's Vanity
Make them feel special and smart and unique. Use words like "exclusive" to butter your audience up.
You can begin your copy with a line like these examples here:
I Wonder If You Can Qualify As a "Star Patron" In Our Club?
Will you give me the honour of your presence at our first event?
Exclusive Invite: We're restricting the number of participants to a select few…
The key thing is to stroke the ego or your reader – not make them feel stupid!
#3 Give Me _____ and I'll Give You _____
This formula has worked very well for Collier, with variations like the following:
"Give me Five Minutes, and I'll Give You The Opportunity of a Lifetime."
"Give me 2 Days, and I'll Give You the Skills You Need to Multiply Your Income Online."
#4 Add Bonuses and Gifts
To "take the guess" out of your advertising, sugarcoat your offer with a bonus or premium or extra deal. Use this special gift to make it easier for them to accept your offer.
This can be anything such as…
A free book or eBook
A cash voucher or coupon
Free consultation or training
Extra samples of your product
Checklists and templates
When doing so, make sure that you add the total number of bonuses and name each piece separately.
John Caple's Mammoth 32 Ways to Get More Ad Enquiries
#5 Mention Offer in Headline
Yes, people are more likely to respond to your marketing piece (email or social media ad or web landing page copy) if you state what's in it for them upfront.
For example, you can use the headline "Get Your Free 100-page Guide to Facebook Advertising Mastery" rather than just writing "Guide to Facebook Advertising Mastery."
#6 Emphasis the Word "Free"
Yes, this is the most powerful word in an advertiser's dictionary.
One trick to making this more visible is to use a "burst" with the word "Free" in your image. Or make it flash if you're using this in a GIF or a video.
#7 Include Offer in a Subhead
Sometimes, putting your offer in your subhead could work after a strong headline.
Here's an example from Caples:
Learn Surefire Weight Loss Methods
Get Your FREE Book by Responding in 72 Hours!
#8 Show Visuals of Your Gift
They can be a booklet (or eBook cover), a voucher, a packet of your sample, or a box of your premium. Remember to splash the word "Free" on it as a burst.
#9 Mention Offer in the First Paragraph
Yes, you need to frontload your freebie!
You don't have to five them the full details at this time, but don't wait to catch their attention. Do this as soon as possible – preferably "above the fold" on your webpage or your Facebook ad/ post BEFORE they need to scroll.
#10 Title Your Gift Attractively
Sell your bonus by giving it attractive name. For example…
Booklet: "10 Ways to Reduce Your Cost Per Result for Facebook Ads"
Training: "Exercise Programme to Build Ab Muscles in 4 Weeks"
Product: "100% Organic Fruit Essence with 20 Vitamins and Minerals"
#11 Craft Attractive Description of Your Offer
Beyond giving your offer an attractive name, you should also provide bullet points to highlight its features and benefits. If you're giving away a guide, you can include your table of contents too.
#12 Include a Foreword or Quote by a Famous Person
This is a powerful way of increasing social proof and perceived value of your offer.
If you are offering a beauty product, you can get a foreword from a beauty influencer or celebrity.
#13 Include Testimonials and References
Should celebrities be too expensive or difficult to gain testimonials form, consider getting them from your satisfied customers.
These can be a very powerful way to influence would-be customers and to allay their fears.
For job applications or pitches to potential clients, you should also include your credentials or references (ie list of client names).
#14 Sweeten Offer with More Bonuses
The more items you can add – the more attractive it would be.
However, do make sure that they are relevant to your audience, and more importantly, valued by them.
#15 Include a Coupon
In the digital world, an image can be made to look like a coupon. This can be on your web page, email, Facebook post, or Instagram Story image.
#16 Print the Value on Your Coupon
Do write down the exact benefit which your coupon offers on both the image and your text in the copy.
For example, if you are stating a 20 percent off coupon, you should write it there "20 percent off up to $25 in value."
#16 Include Selling Copy on Coupon
Yes, you need to include your offer, value and guarantee directly on your coupon.
Don't expect your audience to hunt for it.
#17 Put Your Address (URLs, emails, contacts) Twice on Every Ad
While this seemed to apply to direct mail sales pieces, the same policy applies for online copy.
In fact, people online are likely to be very distracted – they will not bother to hunt for your company on Google!
Make your contact particulars prominently at the top and bottom of your content. Or place it close to the Call To Action (CTA).
#18 Include a Telephone Number (or at least an Instant Messaging Box)
OK, this can be debatable. While placing your handphone number on a Facebook or Instagram profile may invite spammers, most people still like to contact a company in the most direct way.
A solution is to include an Instant Messaging option – like a chat window that is linked to your Facebook Messenger, WhatsApp, or Telegram account.
#19 Spotlight Your Ordering Contact Details
Highlight how people can order from you – be it via sending an SMS, dropping an email or giving you a call.
Make all forms of communication free and fuss-free!
#20 Emphasize "No Obligations" and "Money-Back Guarantees"
These are very powerful ways to allay fear and reduce risks.
State your guarantee and keep repeating them. This will help them to take action by ordering from you, subscribing to your newsletter, or fill up a form.
#21 Protect Their Private Information
Beyond these, let people know that their privacy and security is foremost on your mind. Let them know that their private information is never shared with others. Include a link to your privacy policy if necessary.
#22 Offer Certain Information in a Plain Envelope
In a traditional mail order business, there are certain occasions where customers prefer not to raise the alarm over what they're buying. For example, they could be personal hygiene products.
In the online world, the equivalent would be using a nondescript subject line, rather than one which screams unwanted attention.
#23 Urge Immediate Action
Get your audience to take action soonest possible.
Put a time limit to your offer. State that stocks are limited. Or stipulate that the first 200 customers can enjoy the special deal.
#24 Include an Easy Way to Respond or Return Goods
For cases where a physical product needs to be mailed, consider offering to pay shipping and handling costs to sweeten the deal.
And enclose in your package a way to return the goods if they're broken or unsatisfactory.
#25 Include a Frictionless Way to Claim Offer
This is equivalent to a coupon that customers can use and mail back easily to you.
In the online world, it could be perhaps a link that goes directly to a page where consumers can transact immediately.
Keep the process cost-free and frictionless for your buyers.
#26 Use Additional Inserts to Persuade Further
In the old direct mail package, including an insert would mean a note or a single or multiple-page ad in your larger sales piece. The idea is to get the attention of your recipient.
In the online world, this may be ensuring that additional information such as your "About Us," "Customer Testimonials," "Product Features," and other useful information can be included.
#27 Test Your Different Offers
Yes, John Caples is very much into testing and so should we!
In the digital age, you should follow a "single variable testing" when you do so for your offers.
See if people prefer a discount or a bundled deal or a freebie.
#28 Test Your Different Ads
When you test your ads, consider all the different possibilities
Test different sets of audiences
Test different headlines in your copy
Test different images or videos in your content
Test different channels with the same creative and offer
Test different timings to see if they make a difference in responses
Test different sizes for your ad creatives (or video lengths)
Test different lengths of copy
#29 Zoom in on the Most Effective Media
Once you've determined the best medium to work on, you should then use them more aggressively.
Testing is the only way for you to get more bang for your buck.
#30 Skim the Cream from Different Media Channels
Once you've determined the best media, you should further refine your techniques.
For example, certain social media channels may work well for certain offers. Yet other channels may succeed on different occasions.
Putting different media to work is like being an experienced fisherman, who "shifts from one location to another in order to catch more fish."
#31 Use the Most Effective Space Size
This is related to how you should optimize your advertising media to deliver the best outcomes.
It could also mean not over-spending on your ads.
#32 Use Long Copy (But Make Sure You Test Too…)
Well, this isn't the first time I read this. According to research, the more information you give people about your product, the better your response will be.
Include as much facts, benefits, testimonials, and other evidence to persuade your audience.
Personally, I'd advocate that you test different copy lengths before arriving at a conclusion.
#33 Choose the Best Season
In an age where you can use tools like Google Trends, Facebook Insights, and LinkedIn Analytics, there really are no excuses for you not to choose the best timings for your promotions!
Beyond this, do also consider the seasonality of your offers vis-à-vis holiday periods, days of the week, and festive occasions.
#34 Optimize Your Ad Positions on Media Channels
From online magazines to social media channels, ensure that your ads are placed in the best positions.
These days, doing so should be easily done given how powerful the online advertising algorithms from Google, Facebook, Instagram, and LinkedIn are. The advent of programmatic advertising have also made optimising your ad spent on different placements easier than before.
#35 Study Your Competitor's Offerings
Do not neglect to see what your competitors are doing online (and offline).
Visit their social media pages. Observe their Google Ads. Subscribe to their emailers.
Your goal isn't just to copy them exactly though. Instead, find a way to come up with superior offers to selling points.
#36 Record Your Results and Improve!
Constantly monitor your response rates and find ways to continually improve on them.
Test different combinations of your copy, creatives, offers, delivery channels, and others aspects to sharpen your ads.
Conclusion
And there you have it – 36 evergreen advertising strategies that you can use to boost your responses to any online ad.
I hope that you've found them useful. Let me know which are your favourites, and which you'll immediately apply after reading about them here!