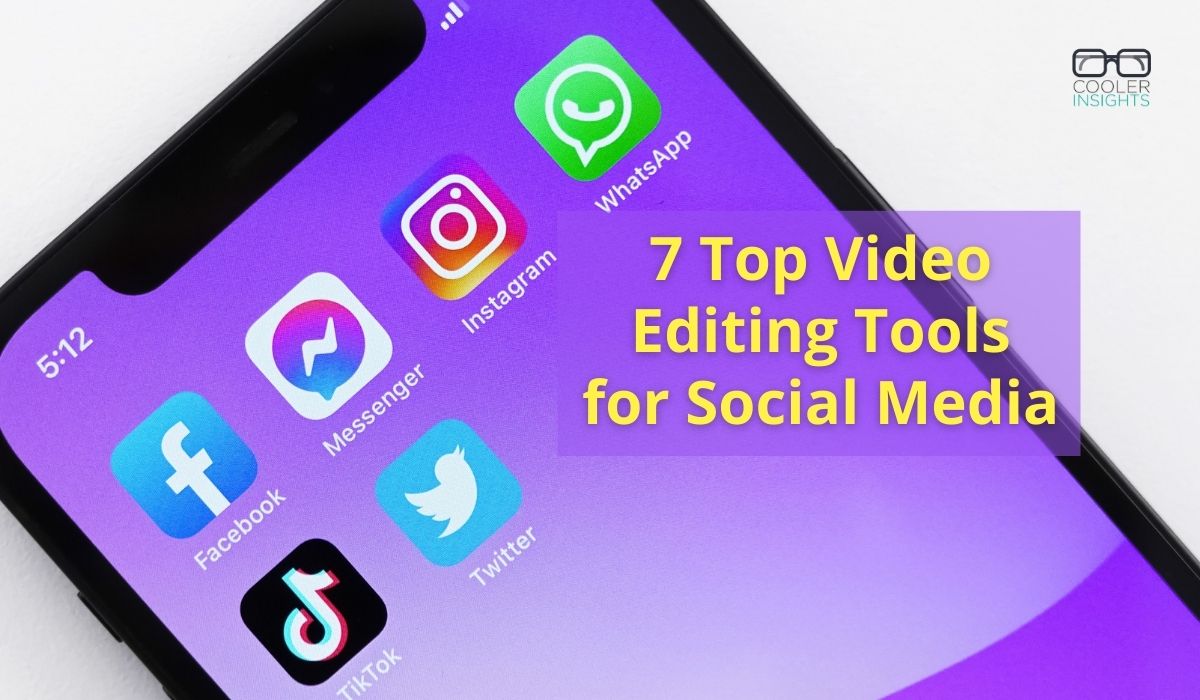 What exactly is a vlog? A popular theory is that vlog stands for video blog. Similarly, creating a vlog entails developing a short video documentary that expresses personal ideas via video rather than text or pictures.
Vlogs are often used to document fascinating events in people's lives as it's a great trick implemented for social media marketing. In reality, it covers a wide range of topics such as cuisine, music, travel, parenthood, fashion, cosmetics, sports, and fitness, among others. 
When it comes to creating high-quality vlogs, you must have two tools on hand: A high-definition video camera with fantastic vlog editing software. Instead of investing in an expensive camera, several amateur vloggers utilize their phone cameras to create videos.
That's a really clever method to conserve money since post-production seems to play a larger part in creating fantastic video blogs that will profoundly wow readers.
After careful consideration of several video editing tools we have come up with a list of the 7 best vlog editing platforms that can bring your Instagram, Facebook, and YouTube vlogs to life. Here goes our list!
Best Vlog Editors for You to Choose
1. iMovie
iMovie is a free video editing program for vloggers who edit films on a Mac. With a plethora of great and useful video editing capabilities, iMovie is an ideal video editing application for everyone.
It comes with every new iMac, it's free, and it offers a broad variety of effects and toolsets, so it's always regarded as an important tool for any Mac user looking to improve their vlogs.
Despite iMovie's relatively restricted range of video editing capabilities, the program is strong enough to allow you to edit footage recorded in resolutions up to 4K.
You may also make titles, add graphic effects and filters to video clips, and even record your own voice overs. The file-sharing features of iMovie are ideal for vlogging since you can post a video straight from the program to your YouTube channel or Facebook account.
2. Wondershare FilmoraPro
FilmoraPro is a professional video editing program that simplifies the process of creating vlogs.
Vloggers that often film in beautiful outdoor settings should check out this video editor since it will offer them a plethora of video editing and audio editing options that will help them speed up the editing process.
Wondershare's video editing capabilities aren't the sole reason for its popularity. FilmoraPro is an excellent video editor for trip vloggers since it provides a plethora of animation and effects choices that may be helpful while producing a vacation vlog.
3. GoPro Quik
If you're traveling around the globe and spend a lot of time on the road shooting films with a GoPro action camera, you may try editing your vlog videos using the Quik desktop software.
The Quik video editor is well suited for editing footage recorded with various GoPro camera models. However, the number of video editing choices provided by the software may be a little disappointing for pros.
This is an excellent choice if the laptop you take with you on your travels lacks the processing ability to run more sophisticated video editing applications. However, if you seldom utilize GoPro cameras to capture your film, this video editing software will not be of much help to you.
4. InVideo
If you are looking for a full-fledged video creation environment, InVideo certainly deserves to be on your list. It is an end-to-end video creation suite that is highly popular among the video creation community.
Vloggers can seamlessly create and edit footage in the cloud-based video editor and enjoy all the benefits that a native video editor provides.
This online tool provides editors with a plethora of features which include pre-existing templates, stock images, and audio clips, and a host of animation and transition options to choose from.
If you are looking for a vlog editor solely to create YouTube, Instagram, or Facebook footage, InVideo deserves serious consideration.
5. Adobe Premiere Pro
Adobe Premiere is one of the finest video editing programs ever developed, if not the best, so if you're searching for a dependable video editor with a plethora of sophisticated video editing capabilities, this is most likely your best option.
The apparently limitless array of tools, visual effects, and animation capabilities in Adobe Premiere Pro will guarantee that any film you edit reaches the highest professional standards.
It also supports a wide range of third-party plug-ins for extra functionality. Please keep in mind that there is a 30-day limited trial period, so if you use it to edit vlog videos, be sure to check before the trial period expires, otherwise you will lose access to the program.
There will also be a watermark in the free trial version.
6. Final Cut Pro X
Final Cut Pro has become one of the most widely used video editing software programs in the film business during the past several decades. As a result, it's not surprising that Final Cut's newest version is one of the finest vlog video editors you can use in 2020.
A wide range of video editing tools gives you the creative flexibility to depict any concept, no matter how complicated it is. However, if you are new to Final Cut Pro X, you will need a lot of experience to fully use its potential.
Final Cut Pro X is a high-end video editing software designed for professionals. It has nearly all of the video editing tools and choices you might want, such as multi-cam synchronization, batch sequence capture, and third-party plug-in compatibility.
However, it is one of the most costly video editing programs on the market. So consider carefully before making your ultimate choice. However, professional video editing software is expensive ($299) and requires more time to learn how to use.
7. VSDC
Because it provides a plethora of video editing features that are extremely simple to use, this non-linear editor seems to be an ideal choice for both experienced and aspiring vloggers.
Furthermore, the program supports almost all popular picture and video file types, so you may record your vlog entries with any digital camera.
The greatest aspect is that VSDC allows users to immediately upload movies in HD and 4K formats to YouTube. The main disadvantage is that you can only install this vlog editor on a PC.
Conclusion
Above are our recommendations for the best video editing software for vloggers; some are free for video editing beginners, but after editing a few vlog videos, you may require professional ones, therefore I have included some video editing software for pros.
It is much more essential to have the appropriate equipment than it is to have the most costly equipment.
Instead of just purchasing the most expensive video editing software on the market, you should choose a video editor that includes all of the tools you'll need to produce a vlog. Still if you are not sure regarding the visual content, you can just hire a professional creator to help you out.