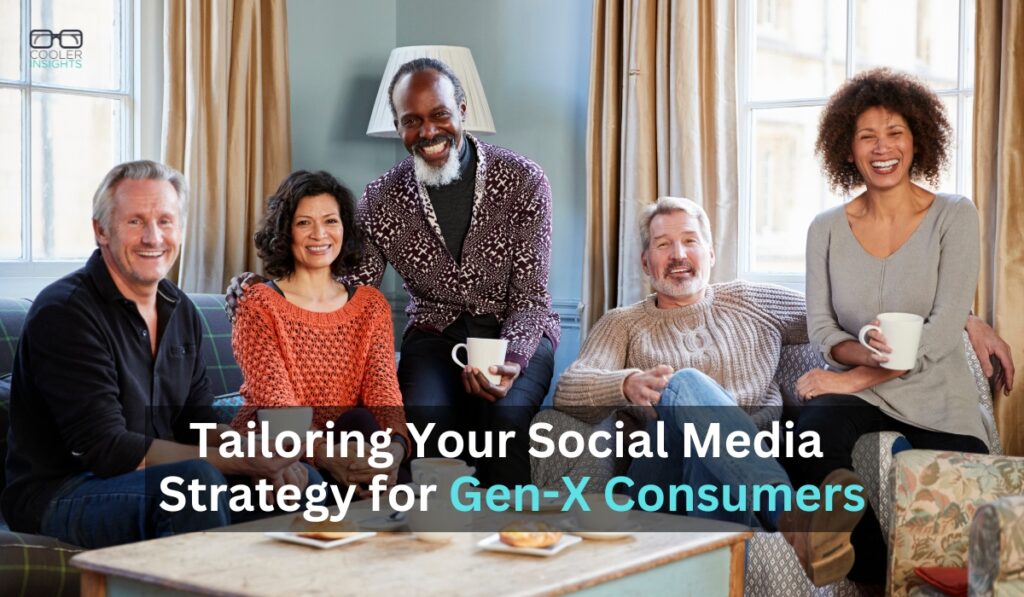 Can you guess which is the most profitable generation to tap? No, not the Gen Zs but their parents — the Gen-Xes!
Generation X is the biggest spending generation today. In countries like the US, folks aged between 40 – 60 spent an average of $83,357 per year — just over $20,000 more than Baby Boomers.
These big spenders pay large sums for big-ticket items like housing and healthcare but also buy plenty of luxury items and consumer goods.
As a marketer, aligning your social media strategy with Gen-X consumer preferences is a wise move. The so-called "sandwich generation" is sure to support upcoming product launches and may be more likely to invest when you are trying to raise funds for future projects.
However, appealing to Gen-X can be tricky. They're shrewd consumers and are unlikely to be swayed by lackluster, generic social posts. Instead, maximize your chances of success by tailoring your strategy to appeal to today's big spenders.
Generational Marketing
There are dozens of ways to approach social media marketing. However, an intentional approach to your social strategy is sure to yield higher rates of reach and engagement. An intentional, generational approach can help you better understand consumer behavior, too, as tailored posts may outperform generic social content. You can build your appeal amongst Gen-X followers by:
Representation: When you use graphics and images, be sure to include folks who are between ages 40 and 60. This will help the sandwich generation feel seen and show that your brand authentically cares about their insights.
Nostalgia: The oldest Gen-Xers remember the Apollo 11 mission while the youngest witnessed the fall of the Berlin Wall. Appeal to Generation X by referencing cultural events that resonate with them. This shows you understand their interests and are aware of their preferences. And yes, the 80s music certainly counts for them!
Security: Gen-Xers bring in the most money and outspend every other generation. That means they have a lot to lose! Reassure your followers by foregrounding security and peace of mind whenever relevant.
Mobile content: Like younger generations, Generation X will find your brand through their phone. Make sure your content is tailored to suit smartphones and be sure to include easy-to-follow links to your sales funnel.
Understanding the basic motivations and interests of Gen-X is crucial to the long-term success of your social profile.
Gen X Data Collection
Data collection is key to any successful social media marketing strategy. Data can help you set realistic goals and track your KPIs that relate to Generation X consumers. A robust data collection program can show you how, exactly, Generation X consumers decide to spend their money, too.
Once you've gathered a month's worth of data, you can start to set goals related to Generation X consumers. Tracking your results will yield valuable insights that can help you adapt your overall strategy to suit a generational audience. Just remember to post consistently when tracking data points like engagement, as consistent posts will produce the most reliable results.
Use your social data to set Generation X-specific goals. For example, if you want to build a buzz amongst older web users, set a target like "increase engagement amongst users aged 40 – 60 by x%". This will give your strategy a clear direction and help you track your progress. You can even compare your performance to your competitors, as this will help you spot shortcomings in your strategy.
Turning Followers into Sales
Social media marketing is low-cost compared to traditional forms of marketing. However, if you want to make the most out of your social presence, you need to build a clear funnel from follower to customer.
Track your customer journey by embedding links in your social content. Embedding links will show you which post a consumer has clicked on to arrive at your point of sale. This is extremely valuable information, as it can help you create more posts that appeal to would-be Gen X consumers.
Avoid the temptation to push overly-promotional content. Gen-Xers won't appreciate a hard sale and will click the unfollow button if you treat them like a lead, rather than a member of your community. Instead, use well-established social media content ideas like:
Post content related to trending topics;
Reference age-appropriate pop culture in your posts;
Consider the life-stages of Gen X consumers, and their concerns (for instance, as parents of youths and children of elderly parents);
Take your lead from influencers and use their style to guide your decision-making;
Use social listening tools to understand Gen-X consumer sentiment.
These tactics will help you post content that feels relevant to Gen-X consumers. This will innately boost your engagement and streamline the process from brand awareness to sale.
Building a Brand on Facebook
Like older generations, Generation X are avid users of Facebook. Today, 76% of Gen-Xers use Facebook while less than 50% use Instagram or Twitter. This makes sense, as the site serves as a community platform, digital notice board, and place to interact with brands.
Tailor your Facebook posts to align with Generation X expectations by foregrounding informative video content. High-quality, informative video content appeals to Generation X as it is easy to consume without being too trendy. If you're looking for fresh ideas, consider:
How-To Videos: How-to videos add value to your follower's lives and can build engagement. Focus on posting how-to videos that relate to your particular product, as this can turn interested followers into loyal consumers.
Behind-the-scenes: Everyone wants to know how your product is assembled. Give folks a sneak peek and focus the camera on interesting elements of the process like the design or fabrication.
Personalized branding: If you run a small business, put yourself in front of the camera so Gen-Xers can learn about your personal mission. This will build brand awareness and may help people feel reassured when purchasing your product.
Product features: If you sell a niche product, folks might not know how to use it. Feature a quick video that walks them through the process and invites engagement by including a call-to-action at the end of your video.
Informative videos perform well on platforms like Facebook and will resonate with Generation X followers. Just be sure to include a clear hook in the opening few seconds as this will draw your audience in and create a buzz around your latest post.
Posting on social sites like Facebook can improve your operations, too. Social media benefits your business by helping you view industry trends and competitor behavior in real time. For example, when researching your industry on Facebook, you can see how your competitors respond to customer queries and may be able to track things like their promotions. This will help you make more informed decisions and is a cost-effective way to gather industry-specific insights.
Like any improvements you make to your social media marketing strategy and your business in general, it's best to outline these changes and goals beforehand. You should outline these goals with the rest of your team and be open to changes if you see any content gaps among your competition. Fail to do so, and you may lose a Generation X audience along with other audience members.
Conclusion
Social media is the perfect platform to reach Gen-X consumers. Tweaking your content to appeal to folks between 40 – 60 can maximize your sales and boost your brand presence, too. Even subtle changes, like posting more regular high-quality video content to Facebook, may increase your sales volume.
If you do decide to roll out a generational marketing strategy, be sure to track your key performance indicators. Tracking KPIs like engagement, traffic conversion, and social shares will refine your strategy and help you connect with more Gen-Xers in the future.

BIO: Ainsley Lawrence is a freelance writer from the Pacific Northwest in the United States. She enjoys writing about better living through education and technology. She is frequently lost in a mystery podcast.