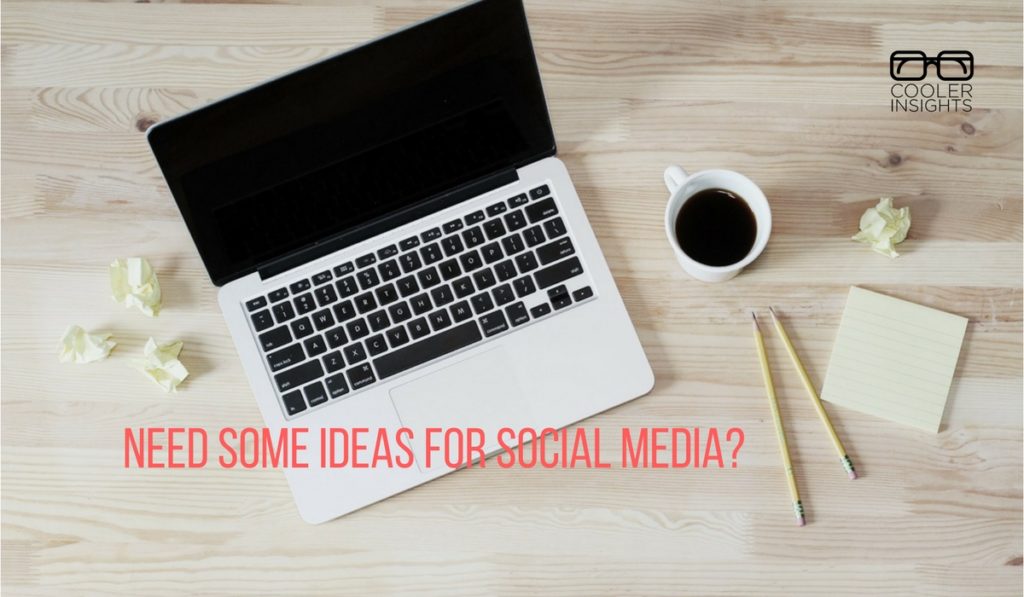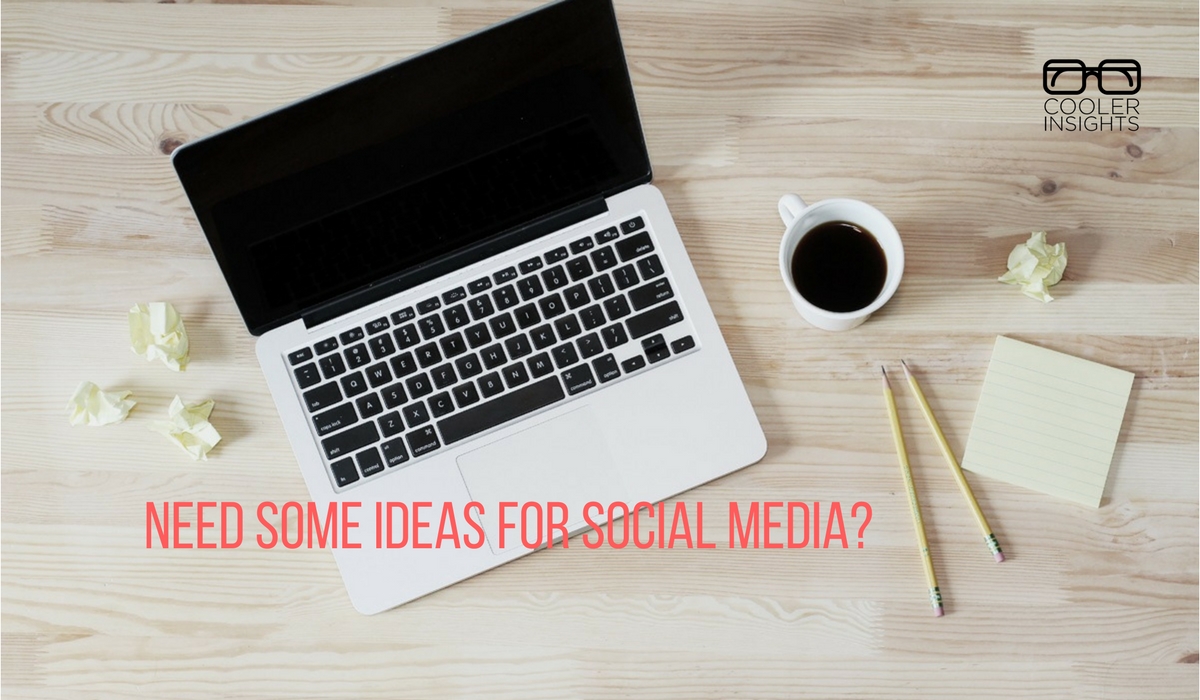 Image fromLauren Mancke
Like marriage, social media marketing is a long-term commitment.
Once you've launched a blog, Facebook page, YouTube channel, Instagram, Twitter, or LinkedIn account, you need to engage your online communities with a continual pipeline of quality content.
The challenge, however, is this:
How can you prime the pump so that you can continually produce social media content that draws visitors, engage fans, generate leads, and converts customers?
After all, you aren't exactly a Facebook version of J.K. Rowling. Or as charismatic as billionaire Sir Richard Branson on LinkedIn.
All is not lost. You don't have to be superstar to be a prolific social media producer.
(Take it from me. I've been doing this for over 11 years.)
To help you along, I have listed some of my favourite sources of ideas below. You can mix and match these tactics to achieve a perpetual stream of inspiring content for your social media channels.
#1 Join Online Forums and Groups
One of the oldest forms of social media, online forums are still alive and kicking.
Unlike bygone days, however, these channels have morphed into hyper-niche websites or social media communities centred around topics, audiences, and interests.
To get a grasp of what your potential customers and industry players are hot about, participate in online forums related to your niche. You may also join Facebook or LinkedIn Groups related to your topics of interest.
Read and participate in the discussions in these forums, and see if you can create social media content that addresses their pain points.
Here's a good example of a Facebook Group which I'm fairly active on called Singapore Start-Ups. Go check it out.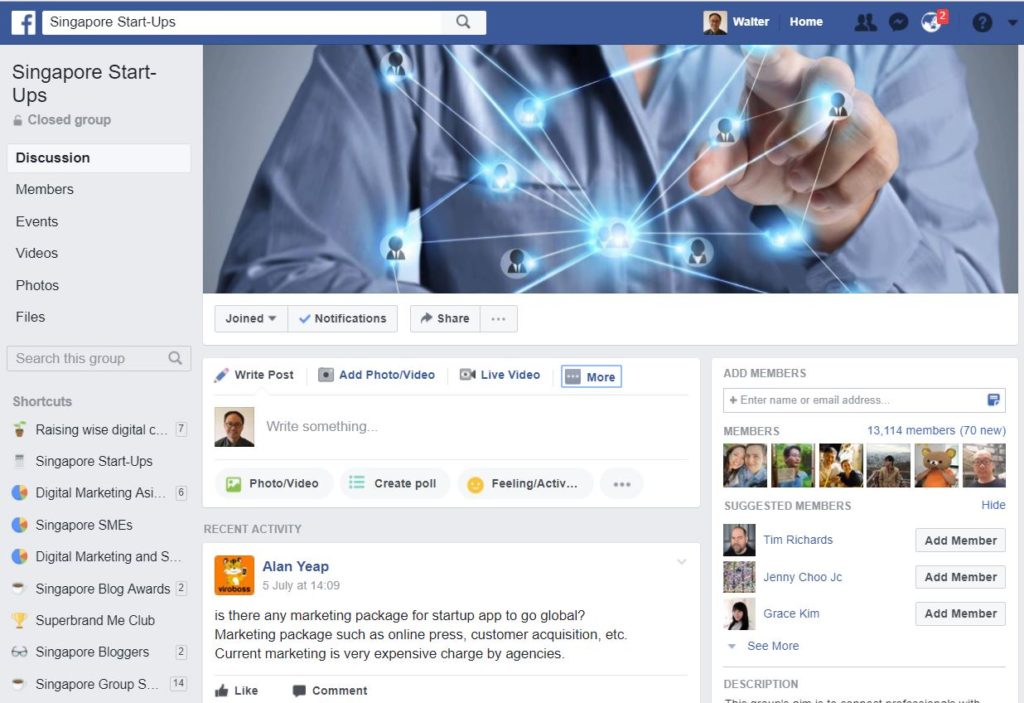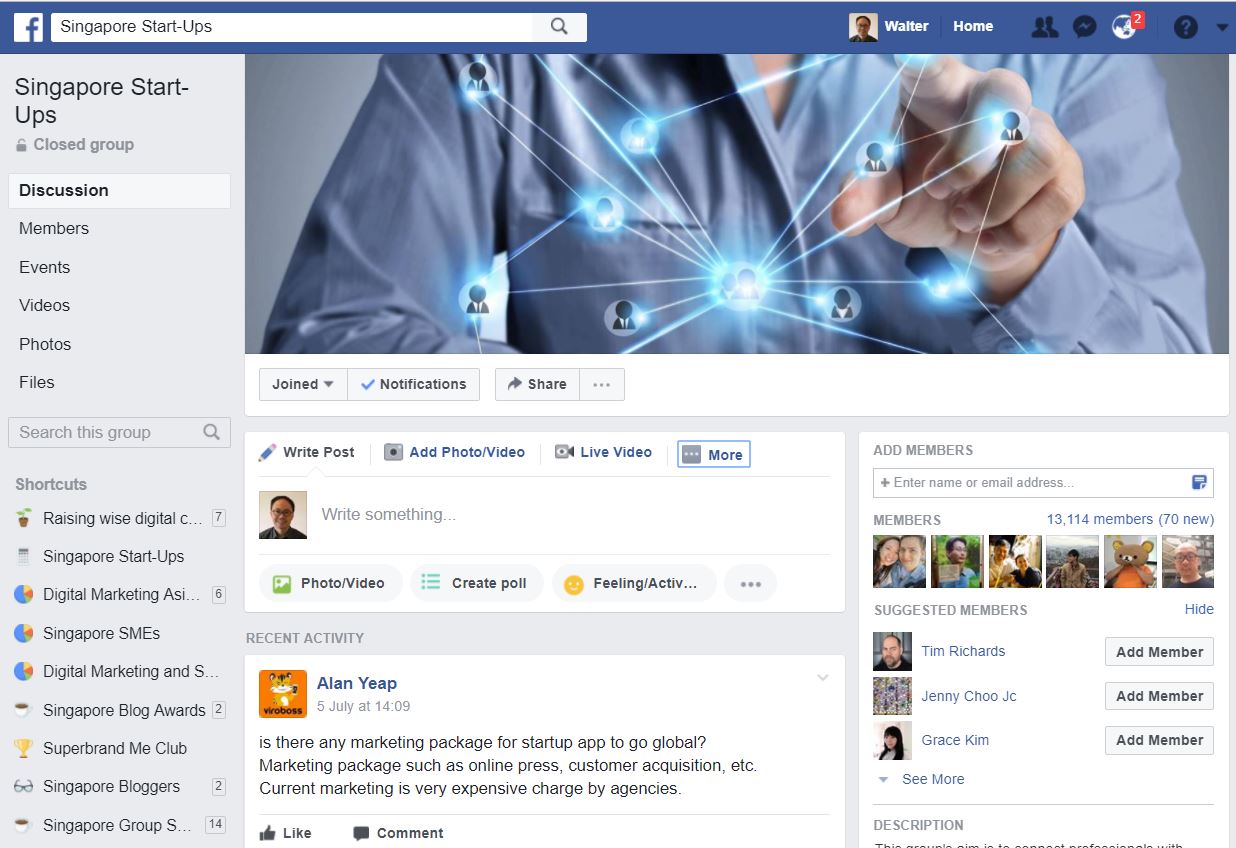 #2 Use Social Listening Tools
If you're savvy with using online apps, you can use social listening tools to read what people are talking about. Type in the keywords and topics that define your industry, and see what pops up as the most searched for or most shared terms.
Here are some good tools to consider:
SocialBakers allows you to monitor your competitors and to see what the hottest topics in your industry are
BuzzSumo lets you see what the most highly shared pieces of content on the different social media channels are
Google Alerts sends an email to you whenever an updated content related to your topic emerges on the crawlable web
Here's an example from BuzzSumo showing you the types of articles which was most shared on the topic "Social Media Singapore". See if you could discern why these articles were shared more widely than others over the past year.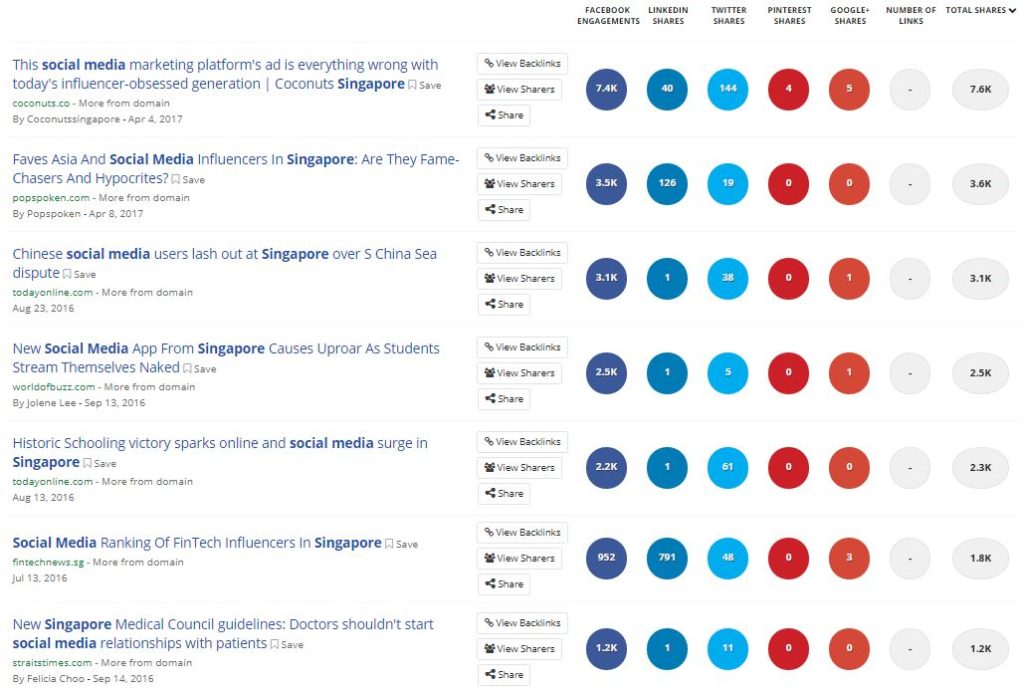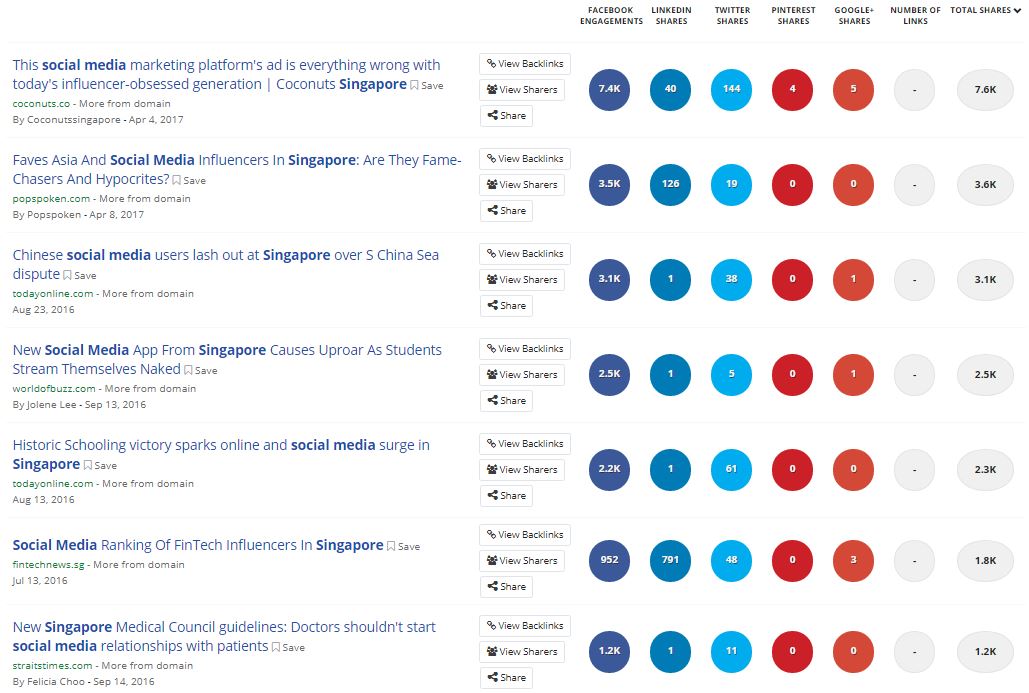 #3 Catch What's Trending in the News
If you don't already know, newsjacking is one of my favourite social media marketing strategy. Many bloggers and other influencers make use of this content strategy to ride on the wave of popular and breaking news.
Courtesy of David Meerman Scott
To find out what's trending, you can consider using two different tools:
Google Trends: This FREE tool from the good folks at Google provides a good idea of what people are aggressively searching for online.
Twitter also has a section showing currently trending topics and hashtags.
Here's a screen shot from Google Trends showing what's currently popular in Singapore (5 December 2017), as well as the trending topics in the past year.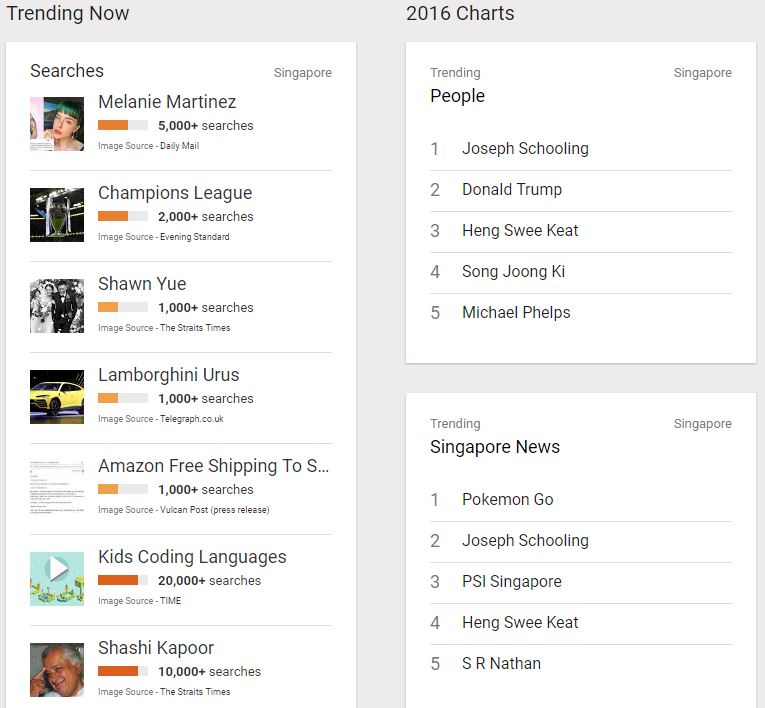 #4 Read The Best Blogs
Regardless of whether you are in a B2B or B2C space, there will definitely be a blog or magazine website focused on your areas of interest.
Beyond picking up useful knowledge for your business, you could emulate their style of writing articles while giving it your own unique twist. Or adapt from the type of content which they are share on social media.
One of the best sources for the top blogs on virtually any topic is Alltop started by Guy Kawasaki. Here's a sample I've extracted based on the category of "ballroom dancing".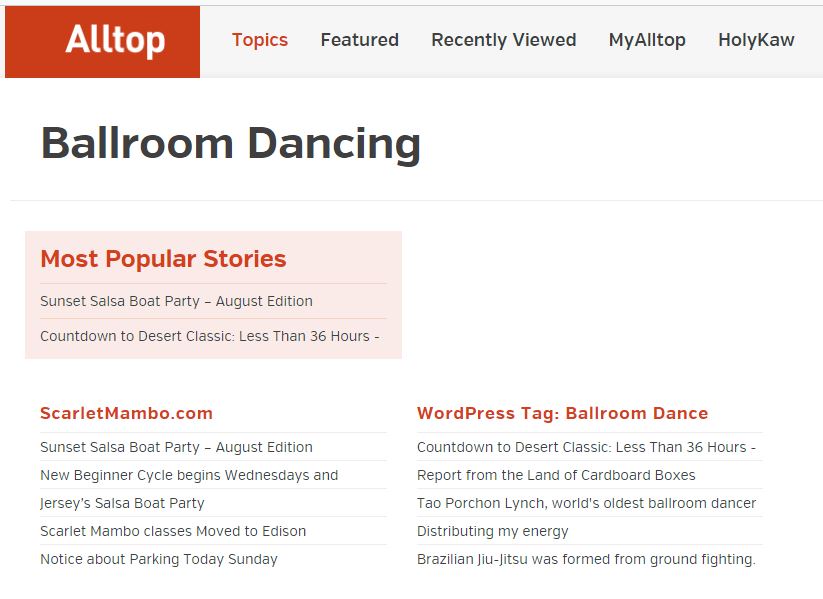 Courtesy of Alltop
The other great place to suss out what's popular amongst bloggers is HubPages. What I love about this blog-aggregator is its beautiful and intuitive user interface which makes it super simple to navigate. Here's how it looks like.
Via HubPages
#5 Dig Popular Culture
Wish to know how websites like BuzzFeed, UpWorthy, ZergNet, and ViralNova grew so big? The answer lies in their frequent use of pop culture themes and memes in their social media content.
Here's an example from BuzzFeed's Facebook page, featuring the world's most famous male plastic doll.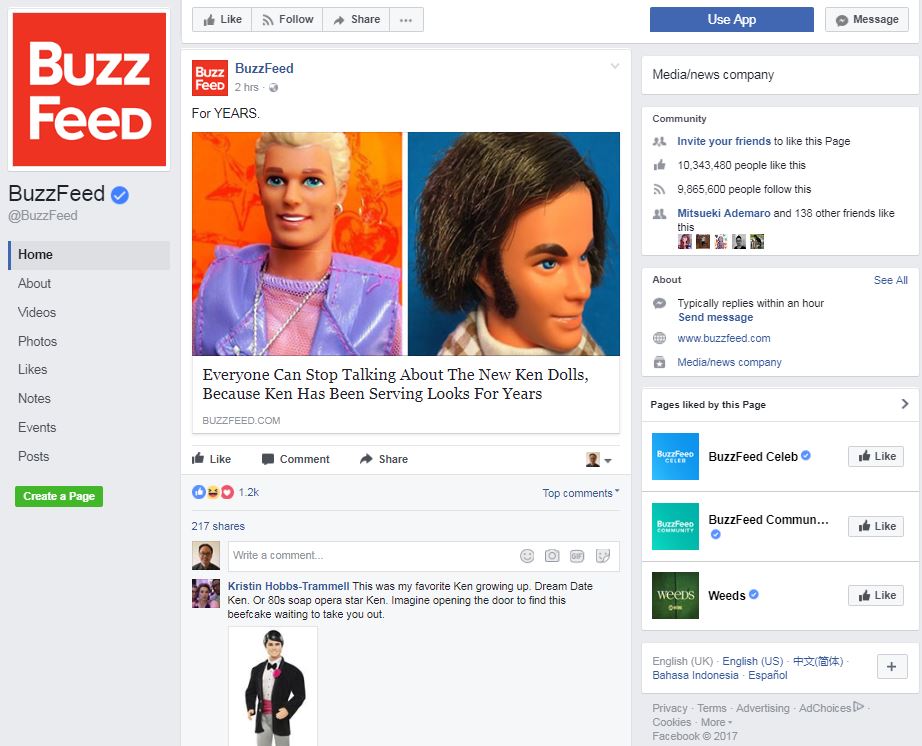 Is there a scope to weave popular culture into B2B social media content? The answer is a resounding yes!
Let's imagine that you are a software company and wish to tap on some popular cultural themes. Perhaps you can create a piece of social media content imagining how Tony Stark (aka Iron Man) could use software to design his ultra-cool power suits. Or maybe encourage your users to turn their operating system into Jarvis—which was exactly what these guys did, complete with a YouTube video:
(More tips on social storytelling for B2B businesses here.)
#6 Study Your Competitors
As a social media trainer, I often tell my learners to emulate what their best competitors do. This growth hacking strategy helps to shorten your learning curve and reduce ambiguity when you are just starting out.
Here are some ways to do so:
Use the methods I've highlighted above to find out which website or blog have consistently strongly shared content on social media.
Like their Facebook page and follow them on Twitter, Instagram, LinkedIn and other channels.
Sign up for their email newsletter. This is especially useful to see how they convert members to paying customers.
Read their blog posts and notice the themes and types of content which they use.
#7 Investigate Customer Feedback
One of the best sources for social media content ideas comes from your customers. Ironically, the worse their feedback is, the better it works as a topic for your content.
To get inputs from your customers, you can either ask your frontline staff (those manning the hotlines), read your feedback forms, or use Facebook or Google Reviews to get them. For Facebook, just click on the "stars" section on the right column of the page as shown below.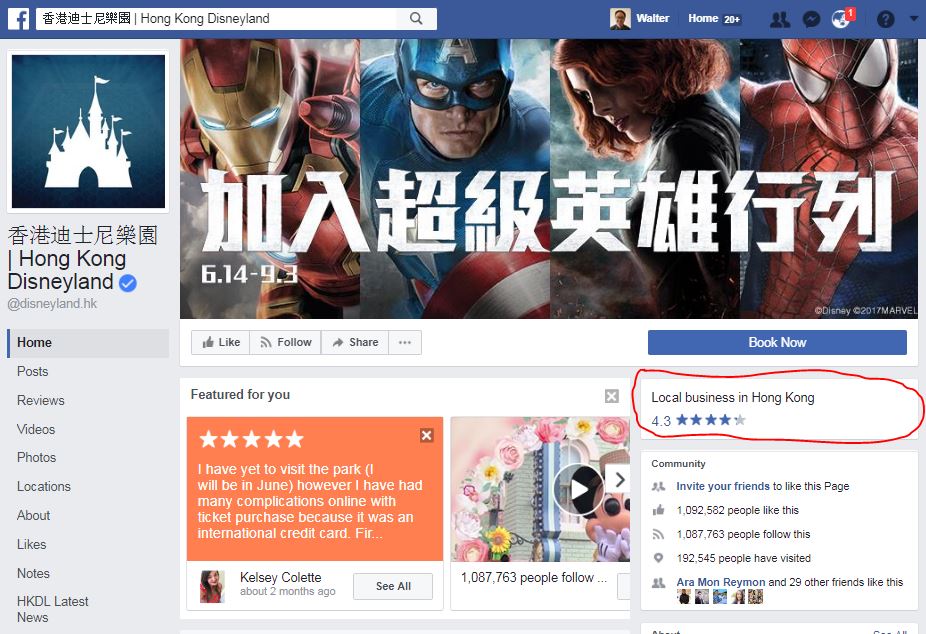 Via Hong Kong Disneyland Facebook
#8 Emulate Social Media Influencers
Social media influencers are highly trained in the art of social media content creation. Highly disciplined in regularly creating content, they stick to consistent themes yet innovate to stay ahead in the game.
To find the right influencers, consider the following tactics:
Keyhole.co lets you track influencers on Twitter and Instagram based on their topics and hashtags
Use the LinkedIn search function to locate influencers on LinkedIn using your keywords
The other tool that can be used is Klout, which helps you to identify influencers based on their topics of interest. Here's how mine look like: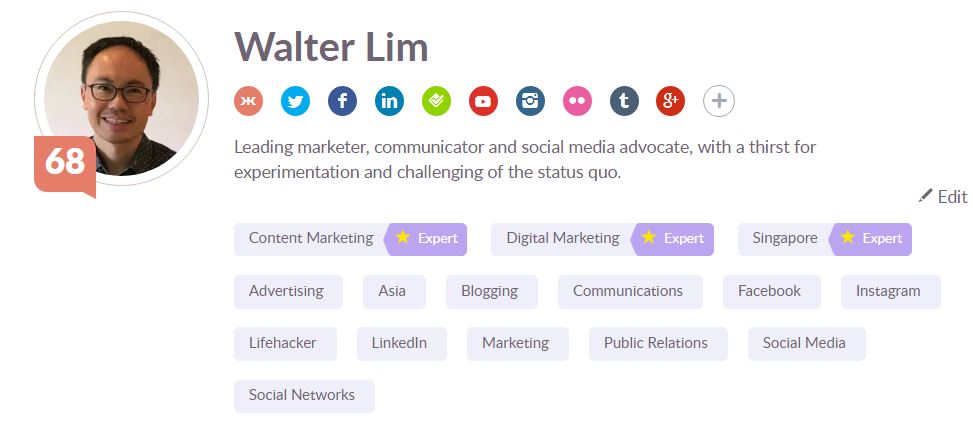 #9 Reflect On Your Experience
Last, but certainly not least, you can reflect on your life or work experience to see if anything strikes you as a possible Facebook status update, Tweet, Instagram photo, or LinkedIn article.
Note that this should be somewhat related to your business or job – an #OOTD photo may get you lots of likes, but it may not help your fledgling legal practice to gain online traction. Unless perhaps you're incorporating some useful tips on how lawyers should dress for court?
Here's a LinkedIn article example of how I shared my own experience as a former public officer. It obviously resonated with a lot of people – both in Singapore and around the world.
My most successful to date, the article was viewed over 40,000 times, with numerous shares on LinkedIn and Facebook.
Now that I've shared these ideas, I'd love to hear what other sources of inspiration you may have. Drop me a comment here or on social media, and let me know your thoughts.