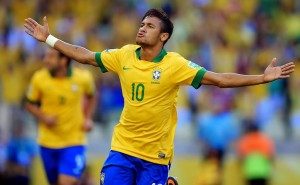 All eyes will be on Neymar tonight (courtesy of Happy Holidays 2014)
Tonight (or tomorrow afternoon), soccer fans around the world will be eagerly catching two monumental World Cup 2014 quarter final matches: France vs Germany and Brazil vs Colombia. While many would catch it on TV, I bet that their fingers will be actively updating their Facebook pages, Twitter and Google+ accounts while watching the "beautiful game".
Indeed, sports and social media is a match made in heaven. The instantaneous, intimate and interactive nature of social and mobile technologies make them perfect platforms to fuel our sporting desires.