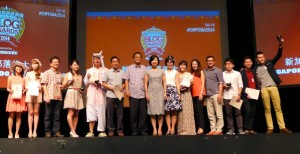 Congratulations to all the winners of the Singapore Blog Awards 2014!
Adopting an equine theme (2014 being the Year of the Wooden Horse), this year's Singapore Blog Awards – the seventh in the series – crowned a total of 14 winners. Organised by the tireless team from Singapore Press Holding's Omy.sg led by Ms Lee Kuan Fung (Head, Chinese Newspapers Digital Strategy, SPH), the awards helped build the careers of numerous social media stars over the years. Many have gone on to become long-time friends and buddies.
Officiated by Ms Sim Ann, Minister of State for Communications and Information, and Education, the awards this year was held at The Ground Theatre at *SCAPE in Orchard. Other than the prize presentation itself, attendees were treated to a rousing dance performance as well as a "best dressed" competition.