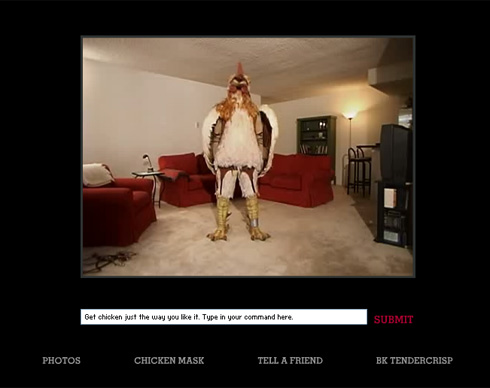 Courtesy of viralblog.com
Humour works in advertising. It grabs your attention, makes you laugh, and gives you a nice endorphin rush.
It also makes you more positively inclined towards a particular brand, especially if its cleverly done without trying too hard. In fact, some commercials can be even more entertaining than comedy shows on television!
Burger King is of course no stranger to humour in advertising. Many of you would have been aware of their Subservient Chicken viral website (which is still 'live') which is an interesting example of how a viral application could work towards a company's benefit despite having minimal brand presence or sales messages.
Quoting from Marketing Campaign Case Studies:
"After being online for only one month, the chicken had performed its millionth request. After one year the site had had approximately 14 million visitors and 396 million hits. Andy Bonaparte, a Burger King ad director, told Adweek that the campaign helped ''sell a lot, a lot, a lot of chicken sandwiches.'' During the campaign Burger King's 21-month sales decline stopped and turned around.
Burger King's sales growth was soon outperforming McDonald's. Sales of the Tendercrisp sandwich consistently increased at an average of 9 percent a week until it eventually sold more than the firm's other chicken offering, the Original Chicken Sandwich."

This is what you get if you ask the chicken to do naughty stuff (courtesy of New Media and Brands)
Emboldened by the success of Subservient Chicken (and a host of many other parody style campaigns like this, this and this), Burger King has decided now to work with the same agency (Crispin Porter + Bogusky) to launch an ad on the One Dollar Whopper. There seem to be quite a lot of hidden "messages" in the commercial if you know what I mean. Well, just click on the Youtube video below:
Of course, Burger King's affinity for outrageousness may sometimes appear a little over the top, like the Whopper Sacrifice campaign in the US. In that campaign, one has to delete 10 friends from Facebook to enjoy a FREE Whopper. Unfortunately, Burger King got into a bit of a flap with Facebook for that as people were manipulating the system. Some immediately added their friends after the free Whopper voucher was given to them.
The good thing about the Whopper Sacrifice though is that they managed to generate so much buzz that it probably paid off. And I am sure the costs of the free Whoppers probably still chicken feed compared to that of nation-wide prime-time TV advertising.
I sometimes wished that fast food chains in Singapore would dare to adopt some of these bolder and more buzz-worthy marketing tactics. If you need to interrupt us, then I would probably mind less if it is funny too. We really don't need yet another classy advertisement featuring that all too perfect family, yuppy couple or funky youths with modelsque smiles, trim bodies and wholesome features.
With a little imagination, a good dose of humour, and an ability to take risks, F&B businesses can make a distinct difference in the way they market themselves beyond just showing the food, the food and nothing but the food. Tickling the funny bone is one sure way of beating the advertising clutter that we all face on a daily regular basis.