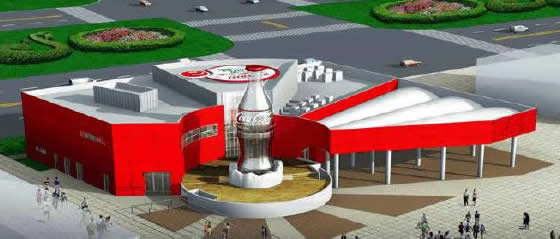 Coke Pavillion at Shanghai World Expo (Courtesy of Coca-Cola China)
Have you wondered how Coca-Cola became the world's leading brand?
Well, thanks to Coca-Cola, I'm about to find out.
I've been selected by Coca-Cola to be one of two bloggers (the other is Alvinology) to fly to Shanghai for the World Expo to cover the launch of its pavillion, explore its new Global Innovation and Technology Center (GITC), and attend events such as its Founder's Day ceremony and an Expo Celebration Concert.
The World Expo is going to be the planet's largest experience-rich destination offering exotic sights, sounds, scents, tastes, and textures hailing from all corners of the globe. I certainly look forward to seeing how Coke brings its brand to life at this global showcase.
In preparing for the trip, I did some research on Coke's various marketing and branding initiatives.
What I discovered showed its prowess as a holistic marketer which leverages not only on traditional channels and social technologies, but on the virtues of great storytelling and long-term sustainability.
Coca-Cola's Transmedia Storytelling
Other than being one of the leading brands in the world, Coke was also a fore-runner in transmedia entertainment with its Happiness Factory campaign which first begain in April 2006 with a television campaign that told the story of what really happens behind the scenes when you buy a Coke from a vending machine.
This commercial spurred the start of a highly successful customer loyalty effort that reached consumers on multiple devices including television, computer, web, gaming and mobile.
[youtube id="yGjBV9roQhA"]
According to its press release here, the idea behind the Happiness Factory – now in its third iteration as Happiness Factory 3 – is one of immersive entertainment and transmedia storytelling:
"…Happiness Factory 3 further immerses consumers in the next chapter of the fantastical world inside a Coca-Cola vending machine. The now famous Happiness Factory workers are the stars of this series of uplifting 'stories' that bring their magical world to life across multiple media channels. The latest installment includes a new commercial, a music track featuring some of the hottest acts from the worlds of rock and hip hop, and a series of interactive video games."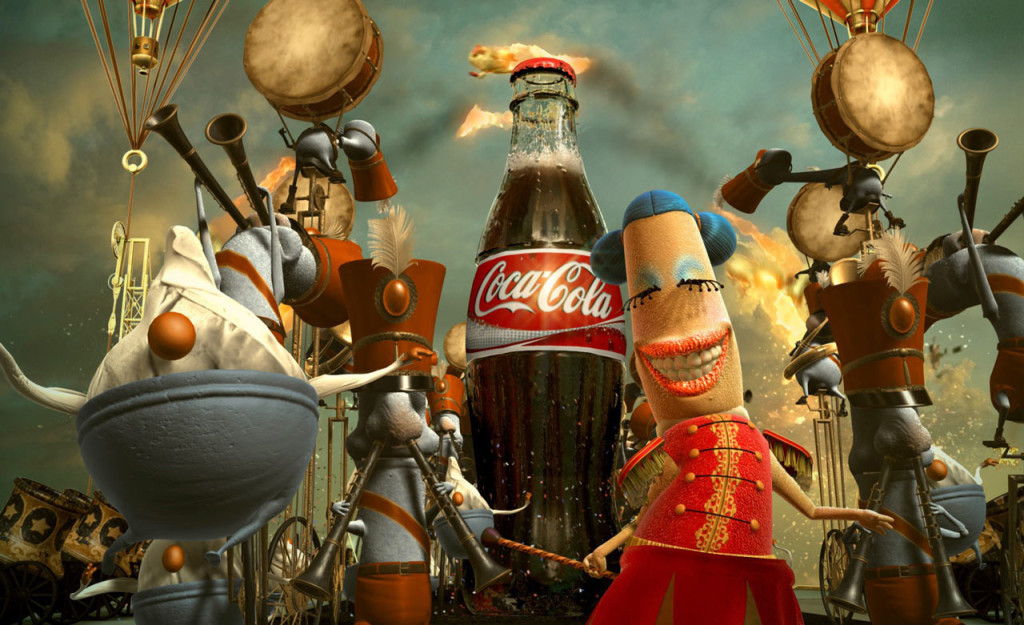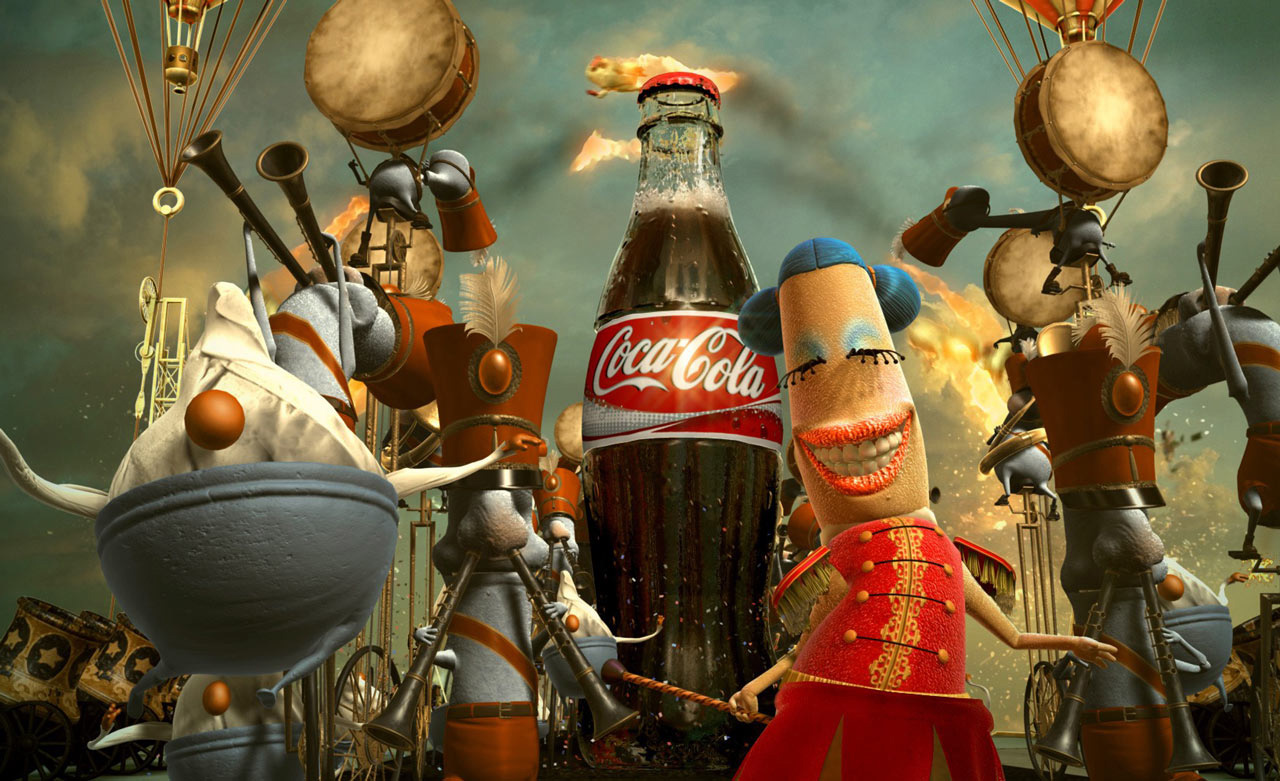 Courtesy of This is not Advertising
It would be interesting to see if some of these ideas in transmedia entertainment could be imported to other industries, such as the museums and galleries where I work in.
Of course, production values, interactivity and participation is a major attraction for such campaigns, and Coke scored pretty well here.
Brand Advocacy through Expedition 206
Continuing on the "happiness" theme, Coke recently launched a global "happiness" advocacy initiative called Expedition 206 which involves 3 Coke ambassadors travelling around 206 countries in the world over 365 days.
These winners of a global contest have a mission to seek out "what makes people happy" around the world.
Over the course of a year, these Happiness Ambassadors will be sharing their blog posts, tweets, videos, interviews and pictures on their adventures in every country along the way.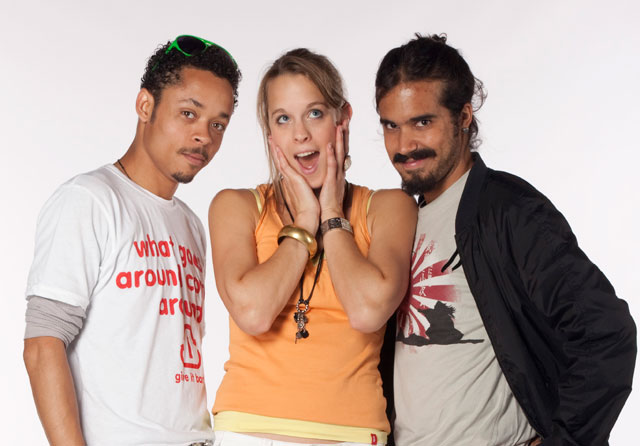 Coke Happiness Ambassadors (courtesy of Mashable.com)
According to the well respected Mashable.com, Coke does get social media. Quoting from this article:
"…it's impressive to see a company the size of Coca-Cola, not only talk the talk, but actually follow-through. At lunch yesterday, we got a chance to hear about the origins for Expedition 206 and it became very clear that Coca-Cola gets social media."
Other than being paid airfare and accommodation to travel around the world, the team members have a series of scheduled stops along the way. They will be given per diem for food and local travel, but its entirely up to them what they want to do at each stop and what they choose to share online.
Those who are keen to know more can check out their adventures here.
Harnessing its 125 Year Old Heritage
One of the oldest beverage brand around, Coca-Cola was first launched on 8 May 1886 by Dr John Styth Pemberton, a local pharmacist. Its formula was purportedly produced in a three-legged brass pot in his backyard.
Celebrating its 125th birthday next year, Coca-Cola is one of the few companies which pays homage to its long heritage through a museum called The World of Coca-Cola at Pemberton Place, Atlanta, USA.
Over the years, Coca-Cola has been one of the most studied brands in the history of advertising.
Some of the best known advertising slogans in the world such "The Pause That Refreshes" which first appeared in 1929, the evergreen "I'd like to buy the world a Coke" which involved a group of young people on a hilltop in Italy in 1971, and the more recent "Always Coca-Cola" in 1993.
[youtube id="ib-Qiyklq-Q"]
What I'm especially delighted to note, however, is that the global brand has a heritage blog (just like us) called Coca-Cola Conversations which traces the history, culture and collectibles of the soda conglomerate.
One of the juicy nuggets in its virtual pages was the story of the 25th Anniversary of New Coke.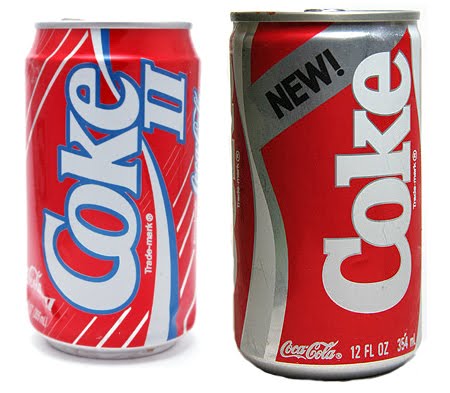 New Coke (Courtesy of Board of Hi Five)
Those of us old enough to remember its launch in 1985 would recall how it became one of the greatest marketing fiascos ever.
The positive thing though is how Coke decided to be transparent about it and to even celebrate it as an example of how brands truly belong to the consumer and not the company.
Living Positively with the World's Soda Giant
Finally, the latest feather on Coke's bottle cap is the launch of the Live Positively global initiative which is part of the beverage giant's move to make "a lasting, positive difference in the world."
Coke's tenets for global sustainability are embodied in the noble goals like encouraging active healthy living, energy management and climate protection, developing of underprivileged communities, sustainable packaging and water stewardship.
According to Coke's sustainability report card in 2008-2009, it managed to:
Launch more than 160 low- and no-calorie beverages in 2008;
Contribute US$82 million to charities around the world either directly or through the Coca-Cola Foundation;
Ensure that almost 100% of its beverage packages in the European Union include guideline daily amounts labelling;
Recover the equivalent of the bottles and cans sold in the system.
Locally in Singapore, Coke has also launched several positive living initiatives such as a partnership with the Public Utilities Board (PUB) and Singapore Scouts to reduce household water usage by 5%.
Coke has also been an ardent supporter of the International Coastal Cleanup in Singapore, an important initiative (which my friend Siva would agree) that resulted in the collection of 2697 items, weighing 205kg, all within 1.5 hours at the Lim Chu Kang beach last year.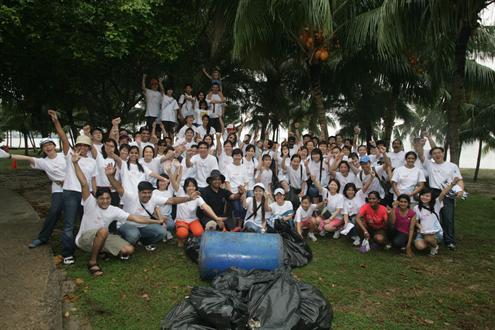 Coastal Cleanup Singapore (Courtesy of Ammado.com)
What else does the global giant have in store? Well, stay tuned to find out as I make my way to China's "Paris of the East" next week.