Business-to-Business (B2B) content marketing is growing. Well, at least in the US.
Like Business-to-Consumer (B2C) companies, B2B firms employ a wide range of traditional and social media channels in the creation, production and publishing of content.
They include the writing of blog articles, sharing of social media posts (Facebook, LinkedIn, Twitter), organising of conferences, authoring of white papers, and publishing of eBooks.
According to this report by the Content Marketing Institute and Marketing Profs, 88% of B2B marketers use content marketing.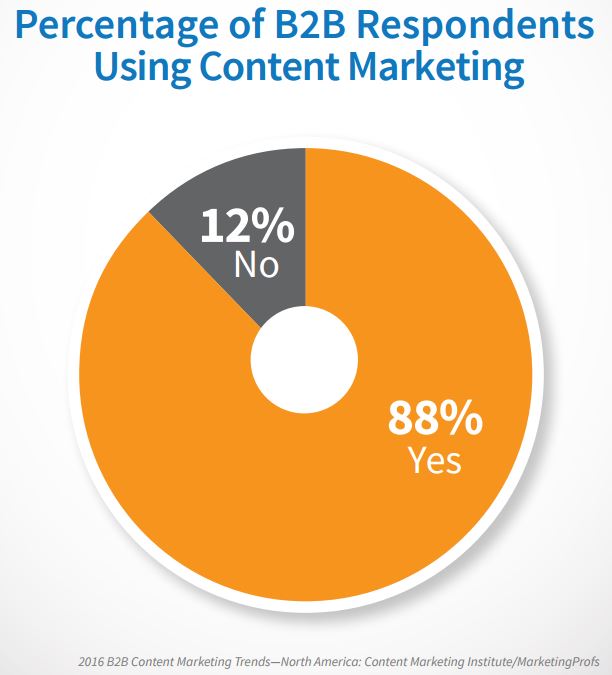 Courtesy of Content Marketing Institute/MarketingProfs
While B2B content marketing has taken off in the States, it is woefully absent here in Singapore.
Most companies and businesses here are a lot more focused on advertising their wares and making a quick sale – often through deals and promotions – than to build their brands through quality content.
If you don't believe me, just look at the websites, and social media properties (Facebook fan page, Twitter stream, Youtube channel) of these companies. Most of these company-owned platforms scream "Look how great we are!", "Our products and services offer superb value!" or "Hurry, buy one get one free!"
Now, I'm not against hard sell marketing per se. There is a time and place for such practices to move old stock from your inventory or generate cashflow.
However, making them the core of your marketing strategy is hardly ingenious. Over time, your customers will label you as a "cheap and good" supplier, resulting in a downward death spiral of diminishing profitability.
How can Singapore companies leverage on content marketing then? Here are some ideas to start you off with.
Think of Your Customer's Customer
Be very targeted on who your niche customers are and concentrate on creating content that is relevant to them. Better yet, help your customers to serve their customers better.
Stretch your brand across neighbouring and related categories. For example, if you're a diaper manufacturer, you could consider creating content that could cover the wider context of infant health. Consider your ultimate customer (ie consumer) and what would be valuable to them.
Help Customers Improve Their Business
Supply information that helps your customers to perform better. In other words, help them to be better entrepreneurs and business folks rather than just better buyers of your products and services.
Now what do I mean by that?
If you're supplying say kitchen ware to restaurants, consider how you can provide the chefs and cooks with useful productivity tips or ways to optimise the use of your equipment to improve the taste of their dishes.
If you're a manufacturer of machine tools, publish online guides that could help factories to increase efficiency, reduce errors, and improve yield. Make sure that such guides are easily available on your website, or if they're more valuable and extensive, introduce an opt-in mechanism so that you can collect the emails and particulars of your prospects.
Stay Ahead of the Technology Curve
Keep your ear to the ground to understand what the underlying trends are in your industry.
If you do know of a certain development that could impact your customers, be ready to provide that information through your platforms.
Even better if you can link what's happening out there with what your company provides. This helps to establish your firm as a forward looking business while providing useful information to your customers or followers.
(PS – read about the concept of "Nuclear Fuel" in my book review of Michael Stelzner's Launch.)
"Give-to-Get" Marketing
With Google and the ever transparent web, there really are NO trade secrets. Well, almost.
In such an environment, it may be better to err on the side of generosity and provide as much content as you can afford to. This is especially valuable in niche industries where specialised information may be few and far between.
Increase your utility (or Youtility ala Jay Baer). Make yourself likable and increase your fanshare. Remember that you should "give to get" marketing.
Focus on Customer Experience
Most importantly, keep the content and conversations flowing AFTER the sale is made.
Give your customers compelling reasons to maintain their links with you. Continually supply useful updates, tips, tools, techniques and strategies that help them to become a better business.
Doing so has a couple of benefits:
It delights your customers and improves loyalty
It increases the potential value of your customer through customer lifetime sales
It improves the possibility of Word Of Mouth (WOM) referrals and recommendations
In an age where everybody is sharing and exchanging bits of information over the web, it is crucial for companies to establish themselves as thought leaders and knowledge brokers in the areas that matter.
Develop your expertise as a content expert and specialist. Sooner or later, your customers will appreciate that extra help and reward you with business opportunities beyond your wildest dreams.