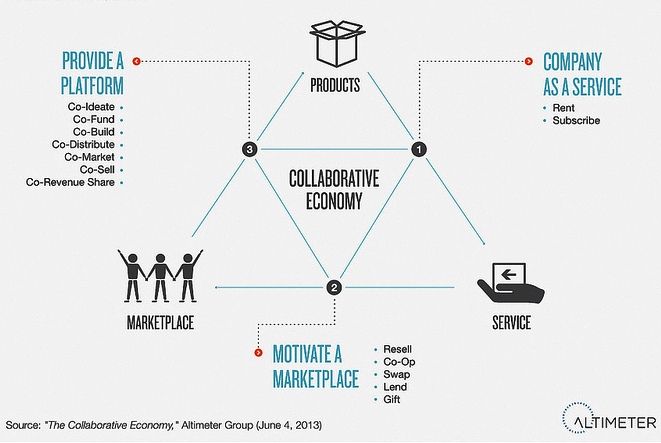 Courtesy of The Altimeter Group
Imagine if your customers stopped buying your products and services. Instead, they choose to rent, loan or hire, trade products and services with each other, or choose to go to the "crowd" for their needs.
According to Jeremiah Owyang and his colleagues at The Altimeter Group, such a future may not be very far off.

In their recent market definition report, Owyang defines The Collaborative Economy as an economic model where ownership and access are shared between companies, startups and people. Here, market efficiencies result in the creation of new products, transaction processes, services and growth.
What are the triggers behind this new world of commerce?
1) Societal Drivers like increased population density, the need for sustainability, the desire for community, and the rise of altruism;
2) Economic Drivers like the monetising of excess or idle inventory, increased financial flexibility, access over ownership, and influx of VC funding; and
3) Technological Drivers like the growth of social networking, mobile devices and platforms, payment systems, and location based technology.
To manage the rise of these factors, Owyang proposed that companies should embrace a new way of looking at business. Instead of trying to fight against social sharing with lawsuits, Digital Rights Management (DRM) technologies and other defensive measures, companies should go with the flow.
To do so, companies could adopt social technologies to better communicate, market and care for their customers. They should tap on the potential of Social-Local-Mobile (SOLOMO) technologies to provide much needed products and services to their customers when and where they need them. They should also embrace the concept of sharing and bartering as the new ways of building a more sustainable future.
There are three ways for companies to ride on the Collaborative Economy:
1) Company as a Service – Instead of selling stuff which people may not need often, businesses should find ways to offer their products and services "on demand" or through a subscription model. This is certainly not new, with examples like Netflix, car rental companies and providers of Software-As-A-Service (SAAS). The benefit here is that companies can develop long and lasting relationships with repeat customers whose lifetime value may exceed that of a singular transaction.
2) Motivate a Marketplace – Here, businesses could find ways to assemble marketplaces that connect existing peer to peer trades. The emphasis here is on an existing ecosystem rather than a straight-off business relationship. Again, there are numerous examples here like eBay, Airbnb, freelancer exchanges, and of course flea markets. The value here is that of co-ownership and sharing of goods and services that are not only new, but secondhand.
3) Provide a Platform – The final frontier in the Collaborative Economy lies in creating a platform that allows us to tap on the wisdom of the crowd. Almost everything can be crowdsourced – ideas, funds, manufacturing, distribution, marketing, design – the sky's the limit. Examples here include Etsy, Kickstarter, Threadless and more.
You can visualise how this all links together in the Collaborative Economy Value Chain seen below: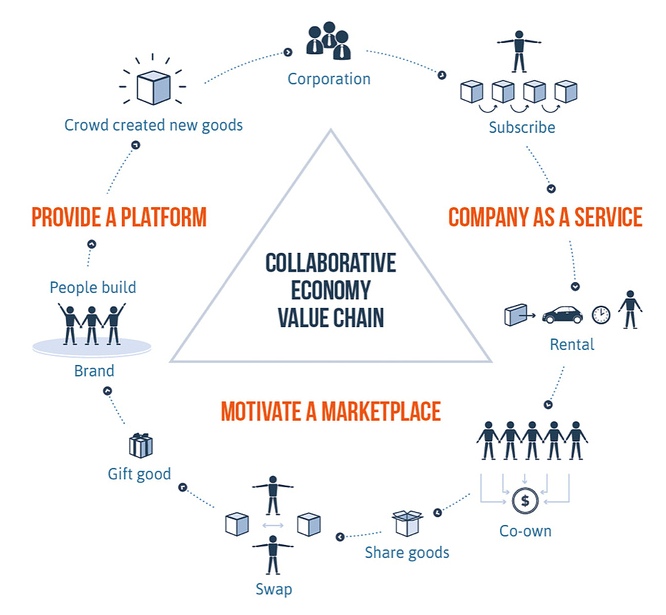 Courtesy of The Altimeter Group
While the above does look rosy, there are several drawbacks to such a scenario.
For a start, organisations may need to go through the painful process of restructuring and re-aligning their business processes.
Skill sets in jobs may also need to evolve as we move from "buyer-seller" and "manufacturer-distributor" relationships to "co-owning", "co-creating", "bartering" and "sharing" in our marketplace.
Finally, government policies and legal frameworks will need to change to ensure that the consuming public are protected in a more connected sharing economy.
Here in Singapore, the emergence of barter trade, rental-on-the-go and "co-build" type businesses is still at an infancy.
While there are promising new ventures like Rent Tycoons, the bulk of our consumers prefer to purchase products and services from big brands as opposed to niche marketplaces.
Renting and sharing of goods, especially second hand ones, is also quite uncommon – we much prefer to acquire and own brand new stuff. Having said that, such behaviours may slowly change in the years to come.
What are your views on the Collaborative Economy? Would such a future work for us?