Outlandish outfits. Avant garde style. Burlesque performance artist. Mother Monster.
Born Stefani Joanne Angelina Germanotta to Italian parents, Lady Gaga is probably the greatest pop phenomenon of the 2010s. Iconoclastic and irrepressible, her eclectic and esoteric fashion sense and explosive concert performances have always been the talk of the town.
Some of her memorable milestones include arriving at the 53rd Annual Grammy Awards (February 2011) in an "egg", and donning a meat dress at the 2010 MTV Video Music Awards.
In Church of the Customer co-founder Jackie Huba's book Monster Loyalty, we're told that Gaga has 55 million fans on Facebook (the 3rd highest), 33 million followers on Twitter, and millions more readers on Tumblr and other social sites.
What makes Lady Gaga truly outstanding, however, is the way she manages her fans. Unlike many other celebrities, Gaga actually manages her own social media properties and responds fairly frequently to fans.
Subtitled "How Lady Gaga turns Followers into Fanatics", Huba's latest book distills 7 monster lessons from the chameleonic queen of pop. Let us dive in and learn from the diva!
1) Focus on Your One Percenters
First cited in Church of the Customer blog, the One Percenters are super-engaged customers and fans who can be one's "customer envangelists". These core customers strongly believe in the company and its people, passionately recommend the company and its products to friends and family, feel part of something bigger beyond themselves, and can even forgive the occasional screw ups in customer service.
Through her website Littlemonsters.com (which looks like a cross between Pinterest and reddit), Gaga encourages her most influential fans to submit fan art, photos, fan fiction, and all things Gaga-esque. These half-a-million or so superfans adore their "Monster Monster" (Gaga) and become hyper-devoted to spreading her cause.
2) Lead with Values
A rebel with a cause, Lady Gaga can clearly articulate her life mission, ie her WHYs (ala Simon Sinek). Launching the Born This Way Foundation, she devotes her songs and performances to causes such as the LGBT movement, kids who were bullied, and other disenfranchised folks. Similarly, companies like Whole Foods Market ("Whole Foods, Whole People, Whole Planet"), Zappos, and green cleaning products company Method have built growing businesses founded on values.

3) Build Community
To build her huge community of fans, Lady Gaga adopts five key ways:
– Connect with like-minded folks;
– Be authentic;
– Create collective experiences;
– Celebrate milestones; and
– Encourage collaboration.
Naturally, this takes time. In the case of Fiskars, a Finnish housewares firm, they started the "Fiskateer" movement comprising passionate scrapbookers to connect and collaborate with amateur crafts lovers who used Fiskar's art scissors to create works of art.
4) Give Fans a Name
A rose by any other name smells just as sweet. Or won't it? Beyond Lady Gaga's world famous "Little Monsters", companies such as Kentucky bourbon maker Maker's Mark (Maker's Mark Ambassadors) and Aruba (Airheads) have named their fan communities. Naming such communities allow fans to access each other, strengthen bonds, and shape their shared identity.
5) Embrace Shared Symbols
Through moves and motifs like the Monster Paw (first introduced in "Bad Romance"), Unicorn (with a banner "Born This Way" to signify its uniqueness), and quirky body art, Gaga has created icons that fans can embrace. Corporate examples include Livestrong bracelets started by cyclist Lance Armstrong's Livestrong Foundation which has surprisingly grown from strength to strength despite the naming and shaming of their founder due to his use of performance enhancing drugs.
6) Make Them Feel Like Rock Stars
Yes, Gaga pampers her superfans. Rituals such as phone a Monster (where she calls a fan midway through a concert), Keys to the Ball (where she provides a "monster pit key" to a superfan for him/her to autograph and return to her), and dragging a fan on stage are ways in which she shines the spotlight on her supporters. eBay understands this and organises red-carpet conventions where their sellers are treated like royalty while Ant's Eye View engages "paparazzi" to make their customers literally feel like rock stars.
7) Generate Something To Talk About
Finally, one should "have mind-blowing, irresponsible, condomless sex with whatever idea" one is writing about. OK, while that does sound a little risque, the idea here is to stand out from the crowd. Gaga's meat dress, appearance from an egg (in an "embryonic state" who won't be born until the performance), and black coloured perfume Fame are examples. Away from Tinseltown, UK smoothie company Innocent has done lots of stuff like this, such as donning their drinks with customer knitted caps (more examples from Innocent in my blog post here).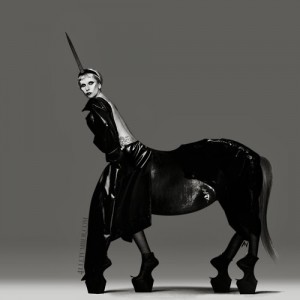 Only Lady Gaga can look good in a unicorn suit (source of image)
What I liked about Monster Loyalty is Huba's focus not only on regaling us with the extraordinary escapades of Lady Gaga but with how these lessons can be adopted in more grounded businesses. At the end of the book, she recaps her lessons with practical examples of how one can apply them in business. This alone is probably worth its weight in gold.
Personally, I'm not a fan of Lady Gaga and I can't say that I embrace everything she believes in. However, it is certainly insightful to read how she built her pop empire not so much by behaving like an out of reach diva but by showering her fans with love and adoration. That is truly something for all of us in the corporate world to emulate.
Let me end with this inspirational quote from the book:
"I believe that everybody can do what I'm doing. Everyone can access the parts of themselves that are great. I'm just a girl from New York City who decided to do this, after all. Rule the world! What's life worth living if you don't rule it?" – Lady Gaga