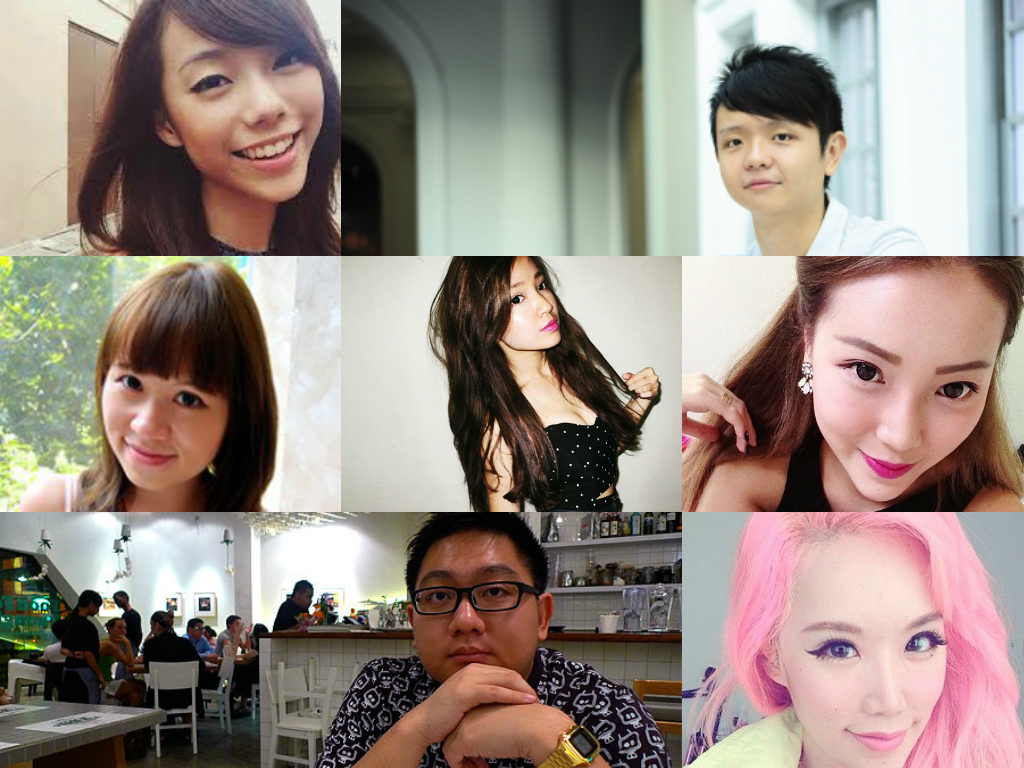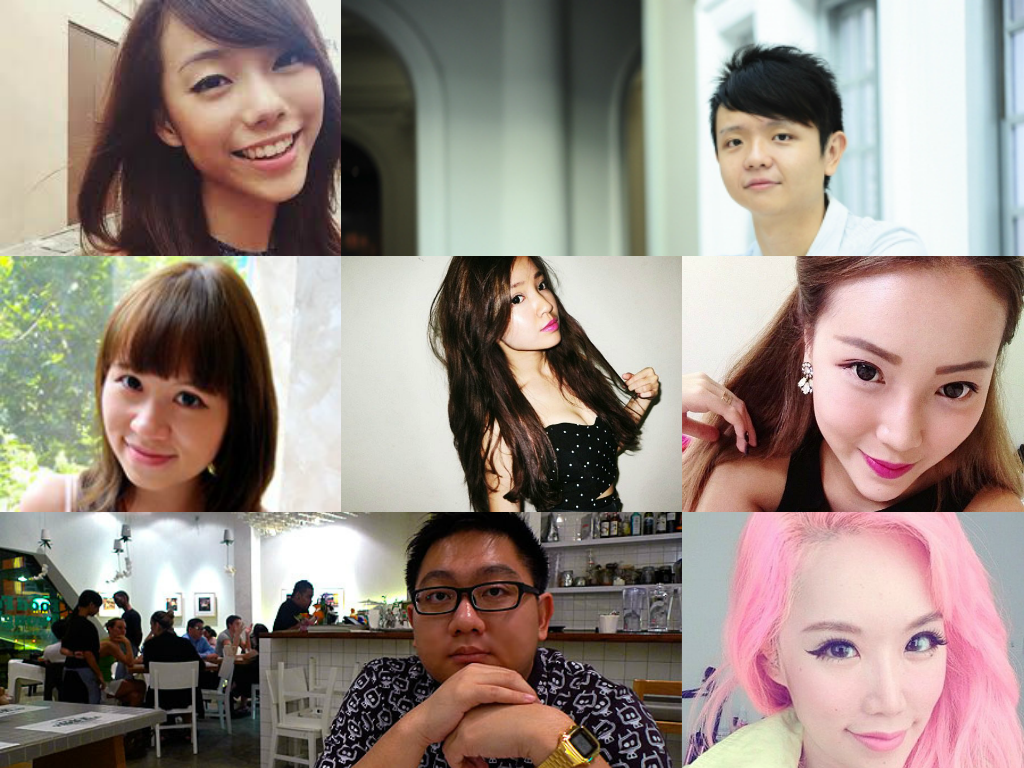 Do you recognise these social influencers? (courtesy of The Influencer Media)
How do brands works with social media influencers? How do you choose the right influencers for your brand?
By now, you would be familiar with the ongoing saga involving Xiaxue, Gushcloud, and SMRT Feedback Ltd (an online vigilante Facebook account). Following from this, Sunday Life (The Straits Times) published an article on influencers and what they do for brands. Describing how businesses work with online "influencers", the paper described how these young Singaporeans can generate value for themselves by virtue of how well they "influence" the buying behaviours of their fans on social networks.
Previously, I blogged about who influencers are. Riding on the burgeoning interest in the whole business of influencer marketing, it may be useful to recap some of the basics of influencer relations and influencer marketing.
How Influencers Work With Brands
Online influencers (aka social influencers) are normally prolific digital content producers with strong followings. Armed with thousands of followers, fans and subscribers to their blogs, Facebook pages, Twitter and Instagram accounts, these social influencers have worked with lifestyle brands on various sponsorship and commercial deals. Let me go through each in turn.
1) Social or Digital Public Relations
This is similar to traditional PR working with mainstream media journalists. It may involve pitching stories to social influencers, extending invitations to press conferences, or providing complimentary tickets to events like conferences/workshops, concerts, and parties. Often, this extends to the widest range of influencers (since the relative costs of doing so is lower for brands).
Like any PR effort, brands need to prepare press releases (preferably written in a social friendly manner), photos/videos, FAQs, and other materials. Do include all the relevant information such as #hashtags, web links, and social media accounts of your brand. Remember to also send photos or videos of your event to your influencers as soon as you've got them.
2) Non-Monetary or In Kind Benefits
These run the whole gamut, and really depend on the scope and interests of the brand and the social influencer involved. They normally cover a wider range of social influencers including mid-tier influencers who may not have the reach of top influencers, and include the following:
Complimentary sample products. They can include anything from free shampoos and cosmetics, beverages, food hampers, electronic gadgets (usually trial periods for expensive ones like cameras and smartphones), to books and toys.
Complimentary service packages. These are usually associated with the beauty and vanity industries, and include massages, beauty treatments, facials, hair cuts/perms, to even plastic surgery!
Free holidays, overseas trips, and media junkets. These range from local staycations (free hotel stays), complimentary air travel, sponsored holidays (usually with a prescribed itinerary), to media trips.
Participation in blogger or influencer contests. While the winners may walk away with a premium product (eg a new mobile phone or holiday for two), participants normally enjoy some other benefit (eg a significant discount off a new product or service).
3) Monetary Sponsorship/Advertorial Deals
Top rung social influencers in Singapore may be paid for sponsored "advertorials" on their blogs, Instagram photos (with shares on Facebook and Twitter), and YouTube videos. The amount ranges significantly depending on the following Key Performance Indicators (KPIs):
Number of views/ unique visitors (for blogs and YouTube videos)
Number of fans/followers/subscribers (for Facebook, Twitter, Instagram and YouTube)
Degree of engagement, eg "likes", comments, #hashtags populated, retweets and shout outs, and shares/re-shares for posts
Business KPIs like number of new social media fans/followers, increased visitors (to corporate brand page), click-throughs (for links shared through influencers' networks), and ultimately paid members and sales transacted.
6 Steps to Finding the Right Influencers
With such a wide and varied range of influencers – and techniques – to choose from, how do we go about filtering and selecting the right social influencer to work with?
1) Know Thy Social Influencer
First, you need to know a thing or two about the influencers you are thinking of working with. Conduct the following preliminary assessment:
Profile and background of influencer
Social reputation
Personality and style (ie safe and sterile or radical and rebellious)
Quality of content (writing, photos, videos)
Relative strengths and weaknesses on social platforms (ie Facebook, Twitter, Instagram, YouTube, blogs, etc)
2) Pick Social Influencers with the Right Niche
If you're a B2B technology company specialising in enterprise IT solutions, it may not augur well for you to work with a teen fashion instagrammer. Likewise, a health and wellness brand may want to avoid working with a foodie blogger (unless he or she "turns" over a new leaf and goes paleo perhaps?).
3) Understand Their Audiences
Next, consider the demographic or psychographic profiles of your influencers' communities. Remember that you are not just picking a pretty face, but reaching out to her followers. Consider the following:
Nationality of the fans. Are they mostly local, regional or international?
Sex (male/female), age group, education or income levels
Lifestyles, interests and hobbies
Activity levels online (active, moderate, or passive)
4) Measure Your Social Influencer's Reach and Engagement
While the size of an influencer's reach (ie readership, followership, or fan-base) matters, it is also important to consider how engaged the influencer's fans are. Ask yourself the following:
Are they responsive in terms of the number of "likes" and comments on Facebook?
Do they help to retweet his tweets, complete with the requisite #hashtags?
Are they reblogging and sharing his content?
Do the fans defend the influencer when he is under attack?
There are various tools out there to ascertain reach and engagement. They include Klout, Peer Index, Kred, Social Baker, and a whole bunch of others.
Beyond these quantitative tools, you should also the quality of the influencer's engagement with his fans.
5) Request for References
If you're unsure about the influencer's ability to deliver the goods, it may be worthwhile to ask for references. This could be a previous client whom the influencer worked with, or influencer marketing agency which have employed the influencer's services.
Are there other brands which the influencer worked with in the past? If so, it may be useful to do a check to see how long these engagements are.
Long-term sponsorship deals between brands and influencers are normally a good sign that the influencer is producing results.
6) Determine Your Brand/Social Influencer Fit
Finally, and perhaps most importantly, consider the personality attributes of your social influencer and how well he or she would fit into your brand. In most cases, influencer marketing is a co-branding exercise.
You are partnering a group of social influencers and using their networks to amplify your brand. Thus, you should evaluate their relative effectiveness as you would any other sponsorship deal.