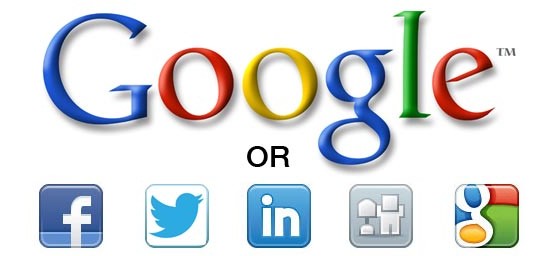 Courtesy of Blitz media design
One of the most common dilemmas faced by marketers is this:
Should we invest in helping our customers to find us on search engines like Google? Or would our marketing dollars be better spent on social media outreach?
Ideally, one should have both. However, we all know that we do not live in an ideal world.
How then should we differentiate between both strategies?
Understanding Search Marketing
According to Search Engine Land, the term Search Marketing is defined as follows:
Search marketing is the process of gaining traffic and visibility from search engines through both paid and unpaid efforts.
There are two parts to Search Marketing, namely Search Engine Optimization (SEO) and Search Engine Marketing or SEM. Expanding further on SEO and SEM, these terminologies can be understood as follows:
SEO: Generate web traffic through unpaid listings on search engines. Normally involves a mixture of onsite and offsite optimization, link building, keyword research, traffic and rank analyses, and other methods.
SEM: Buy web traffic through paid search listings and advertisements. These would include Pay Per Click (PPC) ads on popular search engines like Google (AdWords), Bing and Yahoo!
To find out more about the two, you can read more about SEO in my article on SEO for WordPress here, and more about SEM in Search Engine Land's article here.
Understanding Social Media Marketing
Now that we have uncovered what search marketing is, let us now look at social media marketing. For this, I will quote from the ABCs of Content Marketing, SEO and Social Media:
Social media marketing is the process of gaining website traffic or attention through social media sites. It focuses on creating content that attracts attention and interest while encouraging online communities to share it on their social networks. This would involve social networks like Facebook, Twitter, Instagram, LinkedIn, YouTube, and Pinterest.
Unlike search marketing, social media marketing is dependent on the social and relational dynamics between different individuals in an online community. Thus, its success is heavily dependent on what catches on virally between members in a social network more than the unique needs of individuals.
Search, Social and the Buying Funnel
Now that you have learned what search and social is all about, let us look at how these different digital marketing strategies intersect in a customer's buying journey.
According to this recent article by Daniel Hochuli of the Content Marketing Institute, social content sits higher up on the buying funnel than search content. Thus, content which attracts people on social networks tend to be more serendipitous (awareness and discovery) while content which search engine users are usually more task focused (discovery and conversion).
This can be visualised by the infographic below (courtesy of Content Marketing Institute):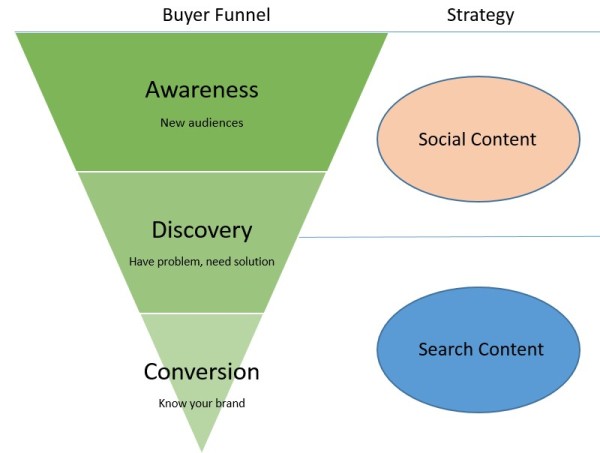 Search vs Social – Mode of Users
Beyond their relative positions on the buying funnel, it also helps to think through what goes on in your target audiences' minds when performing search or social media related activities.
Principally, the differences can be summarised by the table below:
From the table above, we can see that users on a search engine tend to be very focused on solving a problem or satisfying a need. At that stage, they usually have a good idea what information they need, be it for comparative purposes or to make a decision.
On the other hand, users on a social network are normally driven by what others are sharing, rather than what they have to do. In most cases, their journey through the social network is more accidental and serendipitous than purposeful. Here, novelty attracts more than utility.
When to Use Search or Social Media Marketing
Now that we've unpacked some of the information on both modes of digital marketing, the question now arises over which would work better for your business. This really depends on the brand awareness for your product or service, the readiness of your target audience to look out for, purchase and consume your product or service, and the state of the industry which you are in.
Where Search Marketing Excels
If you are in an established trade, have a clearly defined customer base, and serve businesses (ie B2B) more than consumers, search marketing may work better for you.
Businesses in very technical areas like finance, law, engineering, shipping, manufacturing, or construction may also benefit from a strong search marketing strategy.
Businesses here should focus on building a kickass website that is optimised for their trade's keywords, and create content pieces that are focused on problem solving (eg FAQs, eBooks, training videos) more than entertainment. They should also design their online pages to be easy to navigate, task-focused (eg make a purchase in the fewest possible clicks), and user-friendly.
Where Social Media Marketing Succeeds
On the other hand, if your business operates in a new or emerging trade (eg hybrid watches), occupies a lifestyle niche (eg fashion, food, travel, photography), and is considered to be more of a luxury than a necessity (eg egg yolk croissants), social media marketing may work better.
Businesses here would fare better by aggressively building their communities on social networks, forming relationships with key influencers, and creating plus sharing content pieces that seek to attract and entertain their target customers.
Social media marketing would also work better for NGOs and non-profits seeking to push a social cause. Often, giving activities are spurred more by emotionally evocative content (especially videos) than specific keywords.
Benefit from Both Search and Social
Having said that, bear in mind that the best companies use a combination of BOTH Search and Social in order to boost their brand awareness, generate leads and gain sales. Together with content marketing, the three form important parts of the trinity of digital marketing and helps to reinforce each other.
Mixing and matching the powers of search and social is the best way to optimize and socialize your business for the digital age. However, when resources and bandwidth are limited – as they are apt to happen in all businesses – it pays to prioritize your energies on the strategy which could yield the greatest outcomes.
What are your thoughts on this? Do you agree that certain businesses would work better on search while others fare better on social?
More in my social media marketing workshop!
What I've covered above is just the tip of the iceberg. Social media marketing covers many other areas – understanding how each social channel works, knowing which content format to use, to measuring and managing success.
Drawing from my 10 years of experience in blogging and social media marketing, I will share what I know in a comprehensive two day social media workshop. Done in partnership with Equinet Academy, this rigorous workshop will equip you with practical hands-on experience in social media marketing.
At the workshop, I will use a problem-based step-by-step approach in tackling each aspect of social media marketing. This ensures that trainees will gain practical hands-on skills.
Click on the link here to sign up today.
Let me know too if you've got any thoughts on what you can do to begin your social media marketing journey. I'd love to hear your ideas!