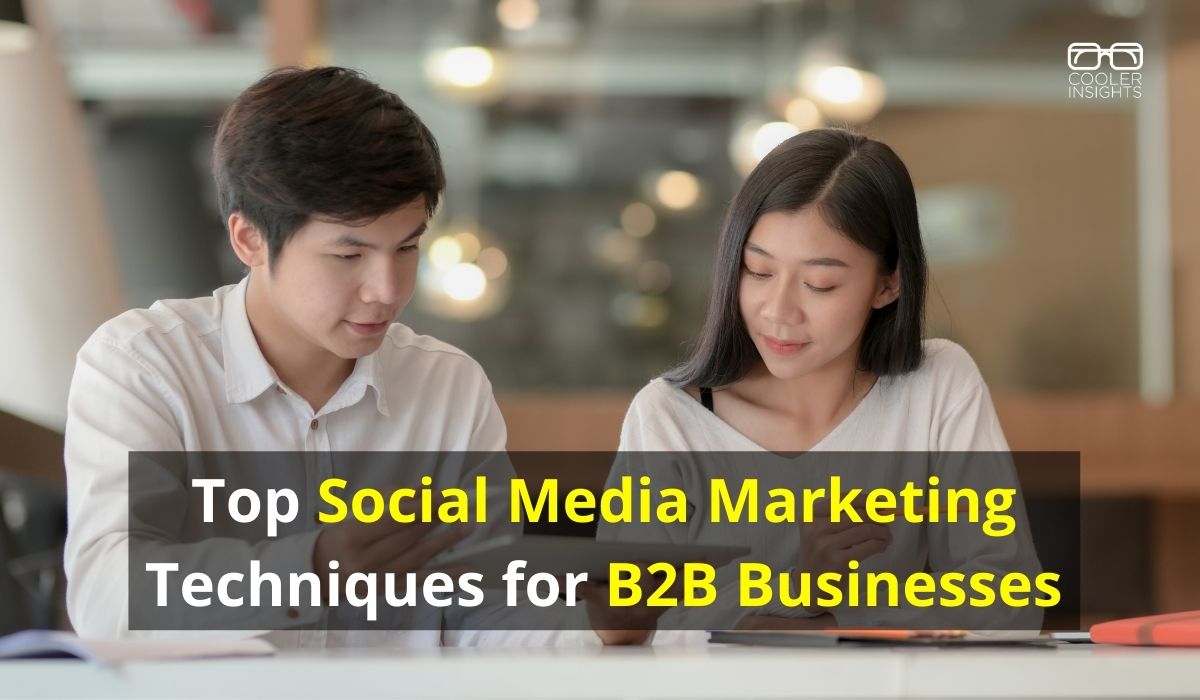 Wondering how to do social media marketing for your B2B business? Keen to learn the best practices in B2B social media marketing?
As social networks like Facebook, Twitter, Instagram, Pinterest, YouTube and LinkedIn continue to grow in size and influence, it is almost a given for your B2B business to have a social media presence.
But how can you grow your B2B business on social media? Especially if you are selling a highly technical product or service like an IT solution, accounting service, wafer manufacturing, or building management?
The answer is a resolute "YES!"
Take it from me. I've been running a B2B content marketing agency over the past 3 years. Over 80% of my business leads comes from social media channels like LinkedIn, Facebook and my own blog.
How B2B Customers Buy
First, let us look at how a B2C customer (ie consumer) and a B2B customer differ. The table below illustrates the differences between both groups of customers.
The key things to consider are that B2B buying decisions are more complex, take place over a longer time frame, and involve the need for more information.
Often, the value of each purchase is higher (eg servers compared to laptops) and hence payments are normally made over a staggered time-frame.
Now that you've learned what steps are needed in a B2B buying process, you'll need to consider how you can use social media channels to influence their buying decision.
This should cover all stages of your customer's buying journey – from awareness, consideration, purchase, post-purchase, to advocacy.
#1 Tweetable Tips, Tricks and Thoughts
All businesses face the challenge of getting their customer's attention, regardless of whether they own consumer brands or B2B firms. Unlike the past, the workers of today are heavily distracted both at their workplaces and at home.
To cut through the clutter, you can provide short, snappy and snackable content. Twitter is a good channel for offering bite-sized tips, thoughts and tricks that your target customers can immediately use.
Here's an example from Jason Fried, founder and CEO of basecamp (a work productivity software provider).
#2 Short (and Sweet) Educational Videos
The domain of teens and tweens, YouTube is also the world's second largest search engine.
That's not all. YouTube is a great place for you to share useful videos to help your clients to solve common problems that they face in their business. Many professionals go to YouTube to look for training videos to help them troubleshoot different aspects of their business.
The Small Business Doer has a neat YouTube channel sharing lessons in accounting for small businesses. What I love about the channel is that it comes with a downloadable cheat sheet that small business owners can download and use.
#3 "How To" Blog Articles
Blogging is one of the best ways to get people to notice your B2B business. It has the dual advantage of boosting your business visibility on both search engines (using the right keywords) and social media channels like LinkedIn.
One of the most popular forms of B2B content in social media, the best blogs combines both education and entertainment. A great example is FedEx's Small Business Center which features lots of useful articles helping small businesses to do better online.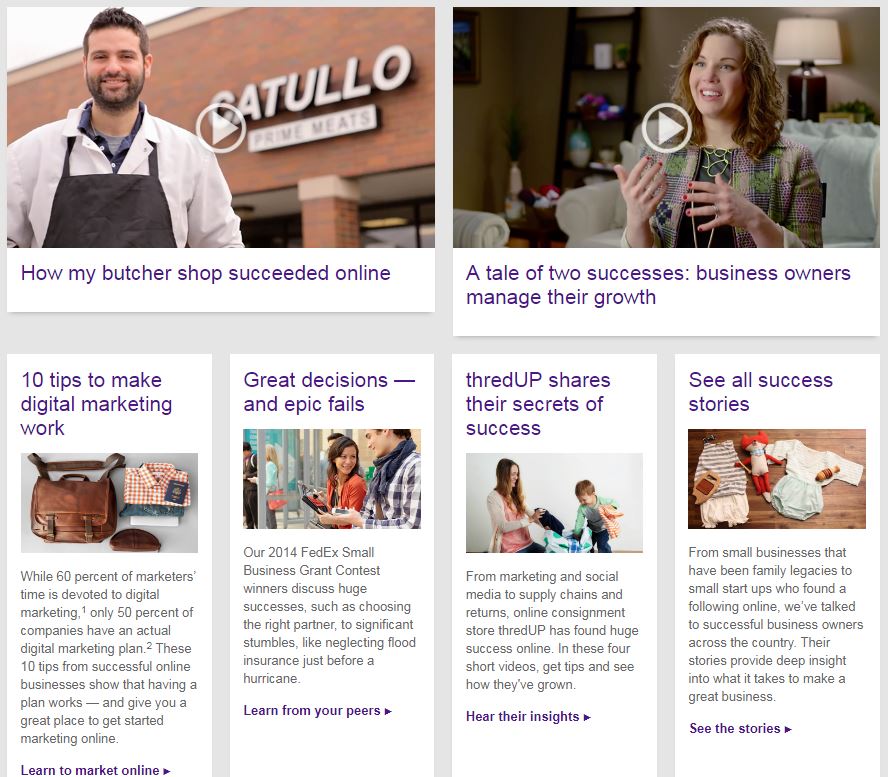 What I like about it is that it covers a wide range of ideas, tips and insights covering the different dimensions of running and operating a small business.
#4 Frequently Asked Questions (FAQs)
Q&A content works very well on social media. They can be in the form of blog posts, Facebook posts, Tweets, or Instagram posts.
Often, FAQs form the lynchpin of podcasts and YouTube videos. They allow you to respond to the most common problems and challenges faced by potential clients running a business.
There are two great examples here.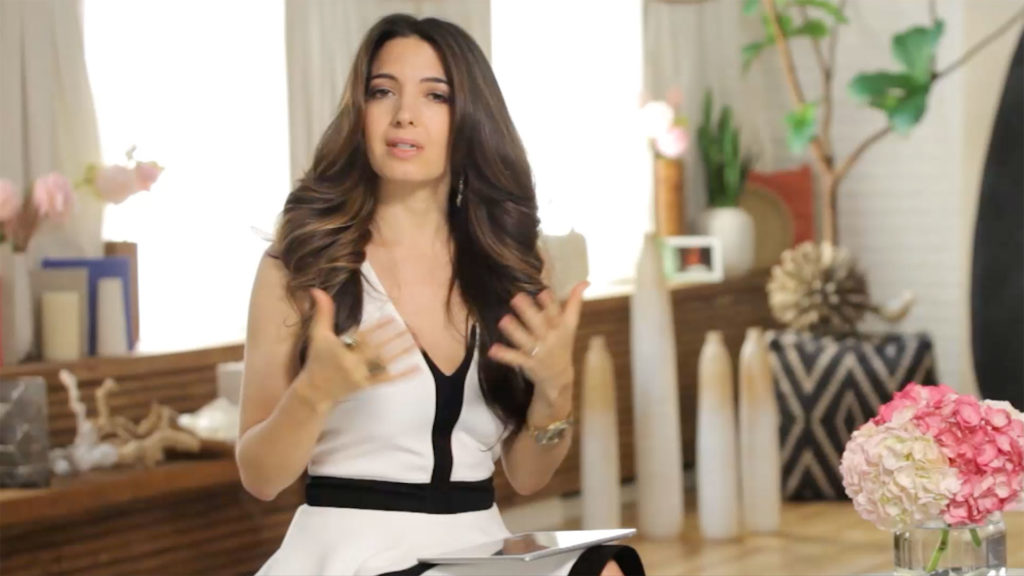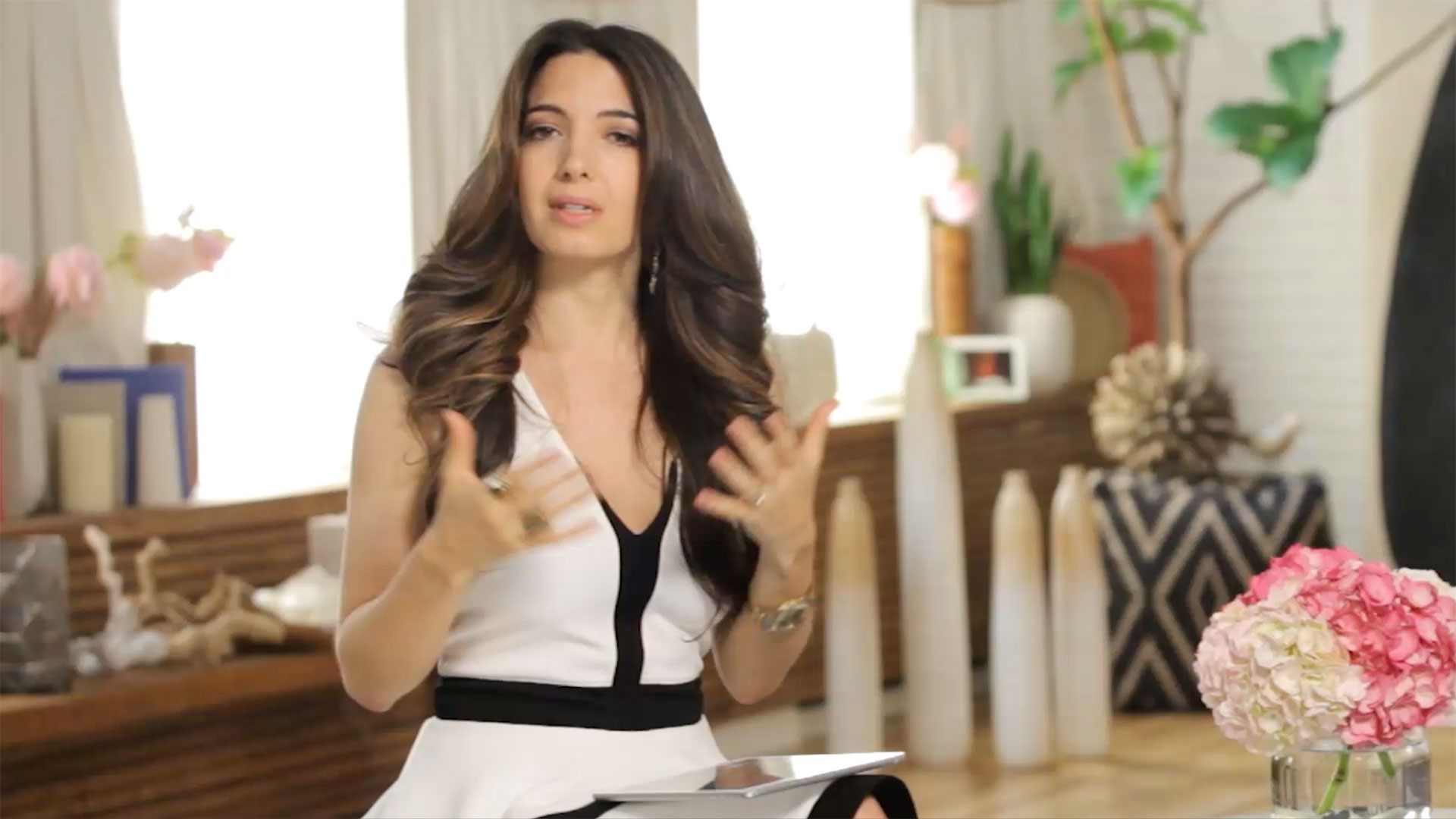 The first is from the super charming Marie Forleo of Marie TV. Her YouTube channel regularly features her responding to questions from her fans related to starting and running a small business. Called Q&A Tuesday, here's one of the episodes for your viewing pleasure:
The other business influencer is the uber popular Gary Vaynerchuk with his Ask Gary Vee show. Here's one of the episodes where he answers questions from a bunch of Chinese students.
#5 Interest-Based Communities
In case you didn't already know, social media groups on Facebook, LinkedIn and Google Plus are great places to build a business community.
The best ones are focused on specific topics of interest, and this could include professional areas like entrepreneurship, marketing, law, HR and engineering.
Here's one which I belong to called Singapore Start-Ups – a Facebook Group which focuses on providing helpful tips to start-ups of all shapes and sizes. I like how its members openly share what they know to help other start-ups do better in their business, like the example below.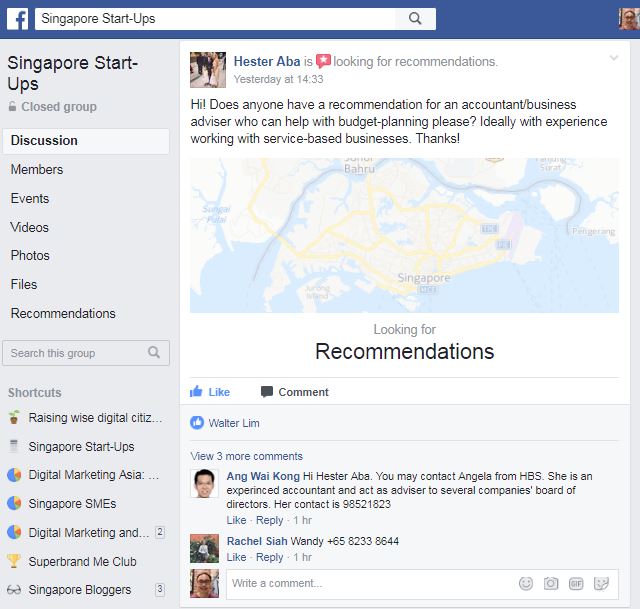 #6 Case Studies on SlideShare
One of the most popular forms of business content, case studies are valuable as they help businesses to learn directly from the successes and mistakes of other businesses.
A good place to find them is SlideShare – an online resource of crowdsourced presentations from all over the business world. Here's an example of a good case study on SlideShare featuring how brands could ride the Collaborative Economy.
[slideshare id=56684381&doc=howcanbrandtacklethecollaborativeeconomyv2hd-160105080517]
#7 Customer Testimonials and User Generated Content
While case studies may work for clients who need a more detailed analysis of what you provide, it is often the customer testimonials and successes which tip them over the "buy" barrier.
As a B2B business, you could either interview your customer to share how they've used your products and services to do better in their business or to shine the spotlight directly on how they've used it.
I love how Adobe does it on their Instagram account. They regularly feature their customer's work (ie photographers or designers), and give a shout-out to their Instagram accounts at the same time. This has the dual benefit of promoting their software and raising the visibility of their clients.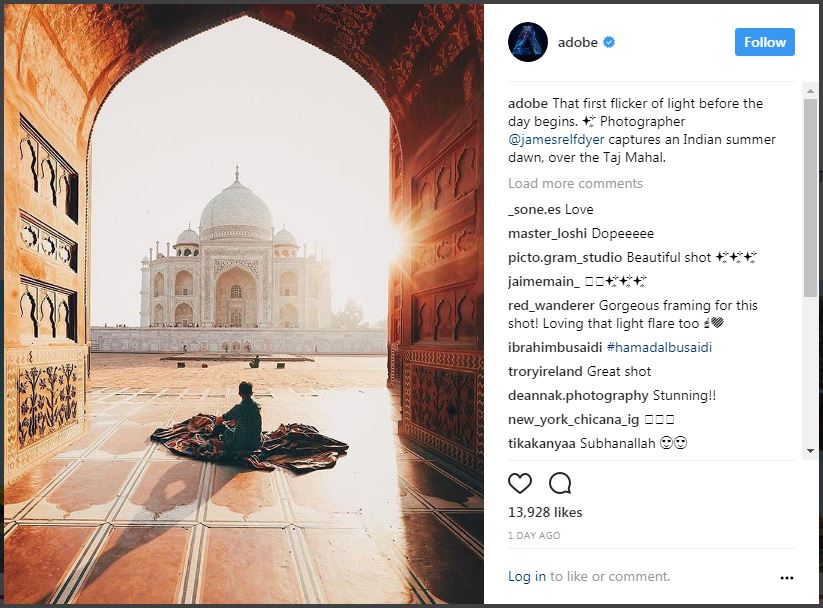 #8 Troubleshooting Forums
Discussion forums are probably one of the oldest forms of social media. The neat thing about these user-centric websites is that they contain a tonne of useful answers to commonly asked questions.
While there are online forums for practically any topic under the Sun that you can think of, the best B2B ones are usually focused on solving technical issues.
WordPress (the world's largest web CMS) has set the standard here, with its super-huge repository of troubleshooting forums covering practically any WordPress related problems out there. Time and time again, I've used its resources to help me solve my website challenges.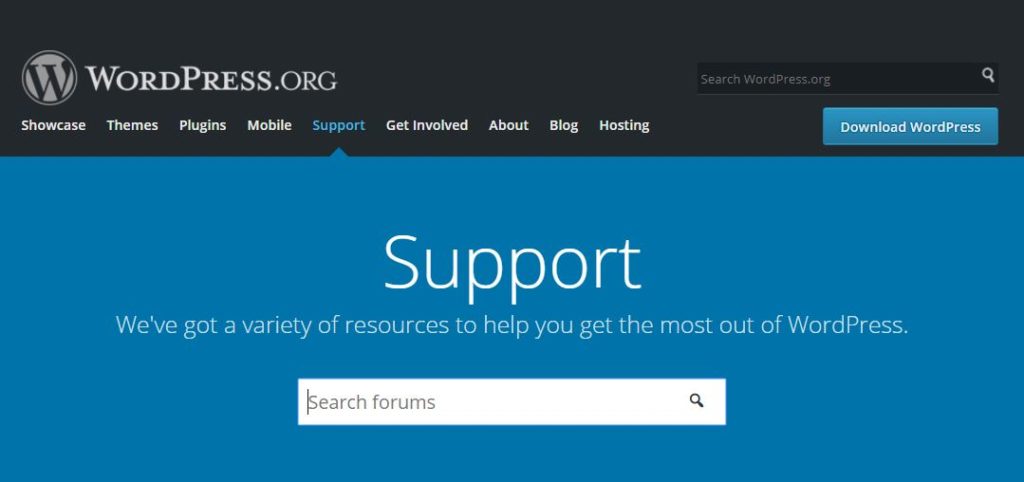 #9 Expert Interviews
Unless you are a well-known influencer like Tony Robbins or Oprah Winfrey, it may be difficult for you as a small B2B business owner to get your voice heard.
Here's where you can "borrow" from the might of other experts in the business and tap on their insights for your social media content.
There are two ways to do this:
Approach the experts directly and ask them for their advice on a common pain point faced by your customers.
Crowd source content that is available out there, and curate them into a blog article, video, or social media post.
Mitch Joel's Six Pixels of Separation is a great example of a podcast which leverages on expert interviews. Here is one of the recent episode where he interviewed Avinash Kaushik of Occam's Razor in an over hour long interview on machine learning.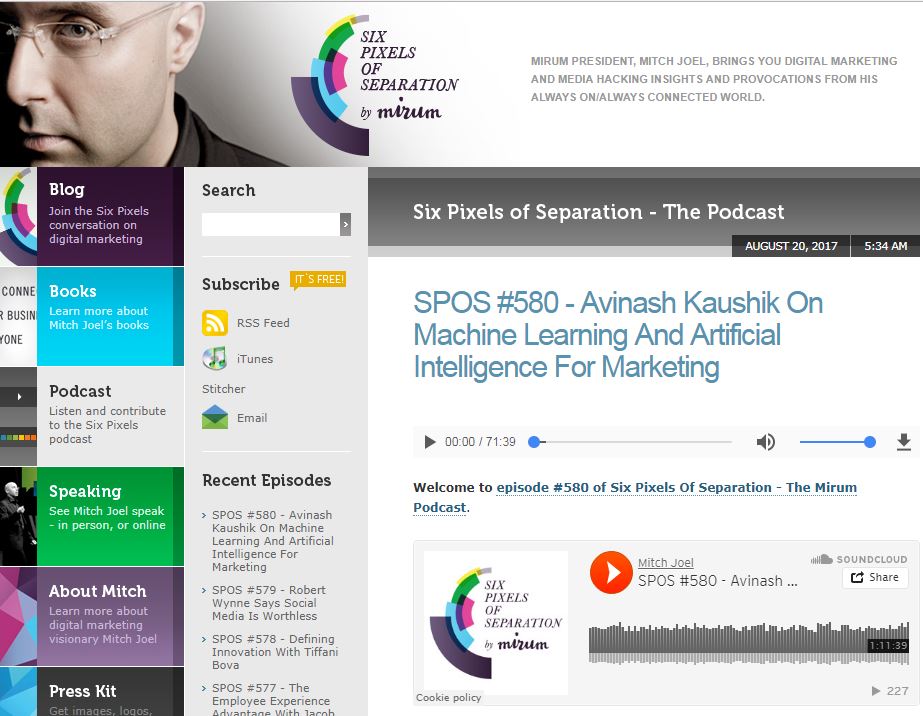 #10 Step-by-Step Infographics
Last, but certainly not least, you can try to create an infographic for your B2B business.
You can either try to DIY using a tool like Piktochart or Venngage, or work with a designer to help you infuse graphics into a heavy piece of content.
Infographics are useful for laying out step-by-step instructions (eg using a tool), for presenting research statistics, for highlighting best practices/ tips, or for illustrating short case studies. Here's an example taken from Pinterest which highlights the legal needs of a website.


Conclusion
Now that you've read about the different social media marketing tactics which you can use to promote your B2B business, the ball is over in your court.
Which social media marketing strategy or technique could you start using for your B2B business and why?
Need Help with Your B2B Social Media Marketing?
Fill in the contact form below for a free 30-minute Skype or Zoom consultation session!