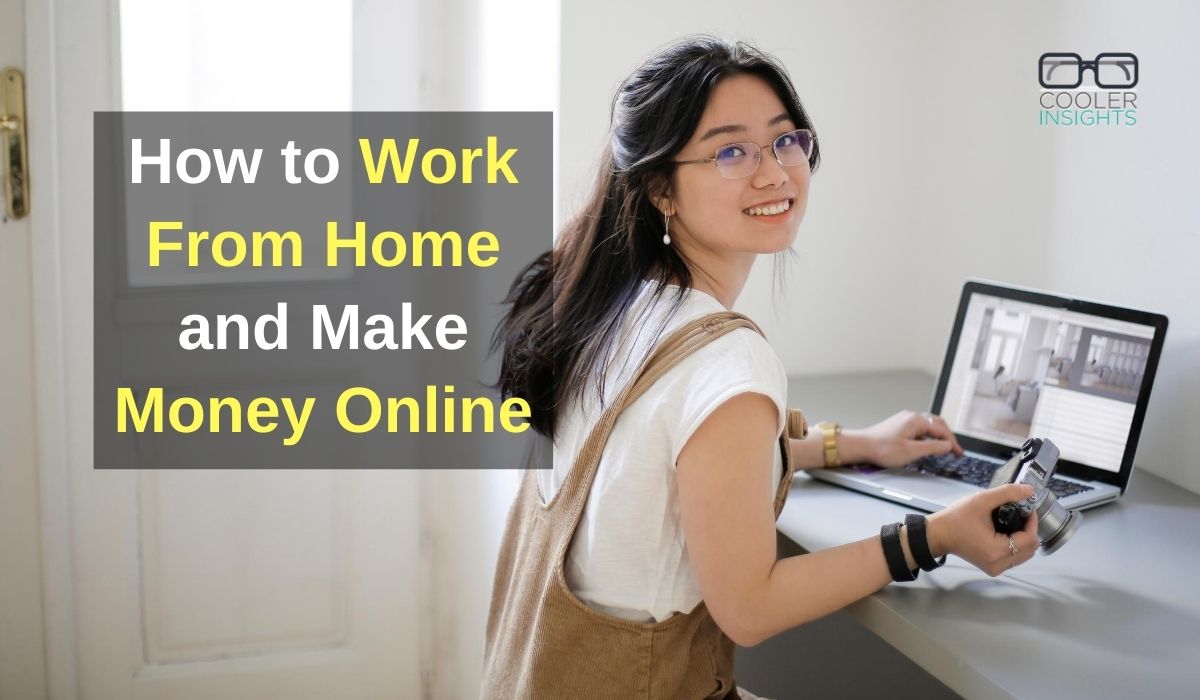 Do you wish to start your own business one day? Or work from the comfort of your own home?
I'm sure that many of you do. Beyond the flexibility of being your own boss, doing so may also protect you from the vagaries of the economy.
Before you read further though, note that I'm not a get-rich-quick expert.
I will not teach you how to develop and launch an instant affiliate marketing e-commerce website and watch your bank account swell automatically.
Nor will you be taught how to increase your net worth by timing the market, investing in a few choice blue-chip stocks, or trade in forex.
Instead, I will share my own experience as an online entrepreneur, and what steps I took to get to where I am today.
While we wouldn't consider ourselves to be wildly successful, my wife and I are making a comfortable income working mostly from home or anywhere we choose.
We have a lot more flexibility in how we manage our time, plus we're able to lead a healthy and sustainable lifestyle in this new phase of our lives.
#1 Find Riches in Niches
The first thing you need to do is to identify the right online niche to serve. Conduct initial market research and use both online and offline methods to determine if there is a demand for your envisaged product or service.
There are normally two ways to do so:
Solve a customer problem or pain point that isn't well addressed by the incumbents in the industry.
Tap an emerging opportunity that has recently arisen.
You may consider the following ways to do so:
Use SEO research tools like Ubersuggest, SEMRush or Google AdWords Keyword Planner to find out which keywords have a decent volume of searches yet are lower in competition
Trawl online forums and review websites like Trip Advisor, Yelp or Google Reviews to learn which customer pain points are commonly posted
Read industry news websites and blogs to learn if there are any emerging opportunities
Remember that your goal is to zoom in on an under-served market that has the potential to grow.
#2 Identify Your Customers
Next, you need to know who your customers are.
If you're in the Business To Consumer (B2C) domain, you should draw up a customer profile containing their demographics, psychographics, purchasing habits, pain points, and online behaviours. This may include what he or she reads, places that they frequent, lifestyle habits and hobbies, as well as influencers whom they may follow.
If you're selling to businesses (ie B2B), your customer profile would include the decision makers, industries, size of business, purchase cycle, information sources (especially online), and issues and challenges faced by the business.
Once you know what your customers want, need or desire, you should wrap your entire business around them.
#3 Suss Out Competitors
Consider which incumbent players (both individuals or organisations) could be your competitors.
Study how they have structured their business by doing the following:
Visit their websites and browse their pages
Use an online tool like SimilarWeb to gauge their online traffic, sources of traffic, keywords, and ranking
Use a social media competitive tool like Socialbakers or Fanpage Karma to determine their social media engagement, frequency of posts, most popular content, and types of posts
Visit their LinkedIn accounts and look at what they are sharing from a professional standpoint
#4 Leverage Your Online Edge
Now that you've got your markets, customers and competitors mapped out, you should identify your Unique Value Proposition (UVP).
What can you do better, faster and cheaper than the rest of the players out there? Which target market do you understand deeply and intimately, by virtue of who you are and what you're interested in.
Alternatively, which premium online service can you provide which would set you apart from the rest?
In the case of our agency Cooler Insights, we've narrowed down our offerings to areas related to content marketing and social media marketing. We help brands and businesses to craft their digital brand story, develop online content, grow their social media presence, and reach out to influencers (both traditional and online). Lately, we've also expanded into a fuller-suite offering, including developing and designing of websites, Search Engine Optimization (SEO) services, as well as social media advertising.
Beyond the agency and consulting arm of the business, I've also developed expertise as a content and social media marketing trainer. As we re-examine what we wish to focus on, training and coaching will be an area that I will focus more on as I grow a team to handle the agency side of things.
#5 Experiment With a Side Hustle
Quitting from any job is never an easy experience. Especially when you are on top of your corporate game.
Before you plunge fully into your new venture, consider testing your ideas with small side projects.
If your organisation forbids you from doing a sideline, do think about volunteering for a non-profit and trying out your ideas as a volunteer first. Most NPOs would gladly welcome more help, especially if it helps them to do better.
I actually spent 9 years as a blogger who regularly share content on social media before I left my full-time job to pursue entrepreneurship.
#6 Make Learning a Daily Habit
As an entrepreneur, you need to also make learning a central part of your life.
Set aside time each day – perhaps first thing in the morning or last thing at night – to read books and blogs, watch online videos, or listen to podcasts related to your craft.
You may also wish to sign up for relevant courses to improve your knowledge of digital marketing. Core areas include Search Engine Optimization (SEO), Social Media Marketing, and online advertising.
Follow the influencers in your desired domain. See what they do and emulate their approach.
Do also consider catching up with professional friends who are already in the business to tap onto their experience.
#7 Find Trustworthy Partners
There is an old African saying which goes like this…
"If you want to go fast, go alone. If you want to go far, go together." – African Proverb
To run the distance as an entrepreneur, you'll need to work with business partners and associates who can complement you in what you do. This could vary depending on what your unique needs are.
In the case of Cooler Insights, we offer a full suite of digital marketing services by working with partners that have unique expertise in areas like SEO, Pay Per Click (PPC) advertising, web design and development, and marketing automation. I am also very fortunate to work with professional training partners and associates who have helped me to build my training career.
Conversely, our partners would seek our services in content marketing and strategy, social media marketing, brand storytelling, and PR.
#8 Schedule Your Activities
Whatever gets written gets done. This is so true when you have a thousand and one things to manage as a start-up founder.
To ensure that you do not miss out on the important things, make it a habit to schedule and "calendarise" all your activities. This may include both major and minor tasks:
Appointments and meetings with customers, vendors and business partners
Content creation and publishing
Marketing and advertising
Operations and logistics
Administration
Human Resource planning
Rest and relaxation (yes, you need to have your own downtime too)
#9 Work On Your Business (Not In Your Business)
Lastly, you need to consider Michael Gerber's words of wisdom to all small business owners:
"Work On Your Business, Not In Your Business" – Michael Gerber
What this means is to consider building your business module by module like a franchise prototype (think McDonald's). Do not be a "technician with an entrepreneurial seizure".
Instead seek to build systems that cover the different dimensions of your online business such as your organisation, people, marketing, systems, finance, and other aspects. Doing so will help you to sustain and grow your business over the long haul.
You can read more about this in my book review of the E-Myth Revisited here.
Conclusion
Starting an online business isn't as simple as launching a new website or Facebook page and watching your bank account grow.
It involves an orchestrated, step-by-step process which includes a mixture of research, analysis, planning, execution and sustainability.
Now that you've read about how you can build an online business, the next step is yours to take. Let me know if the above ideas work for you, and I'd love to read your thoughts.