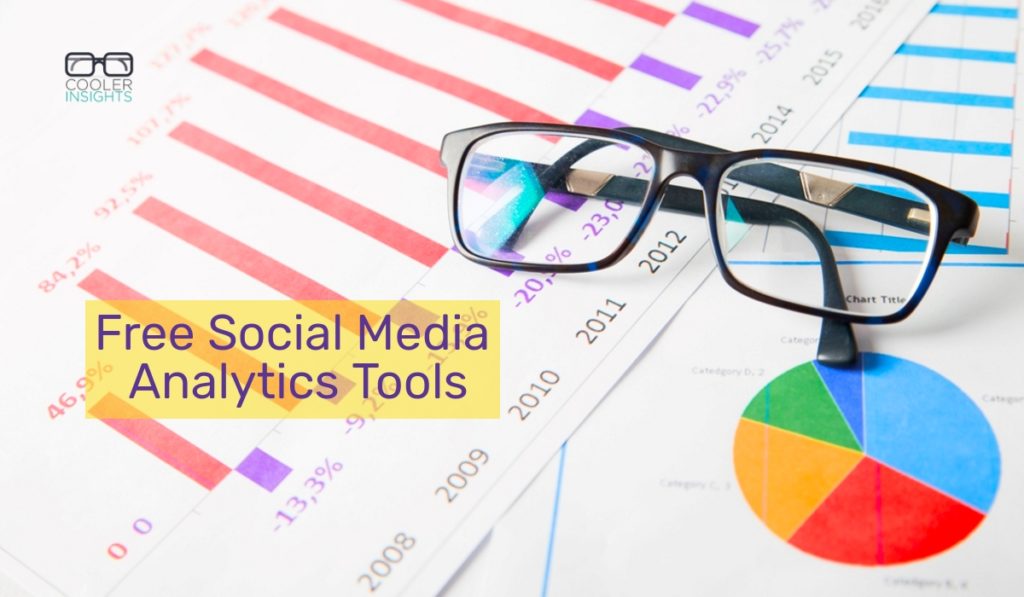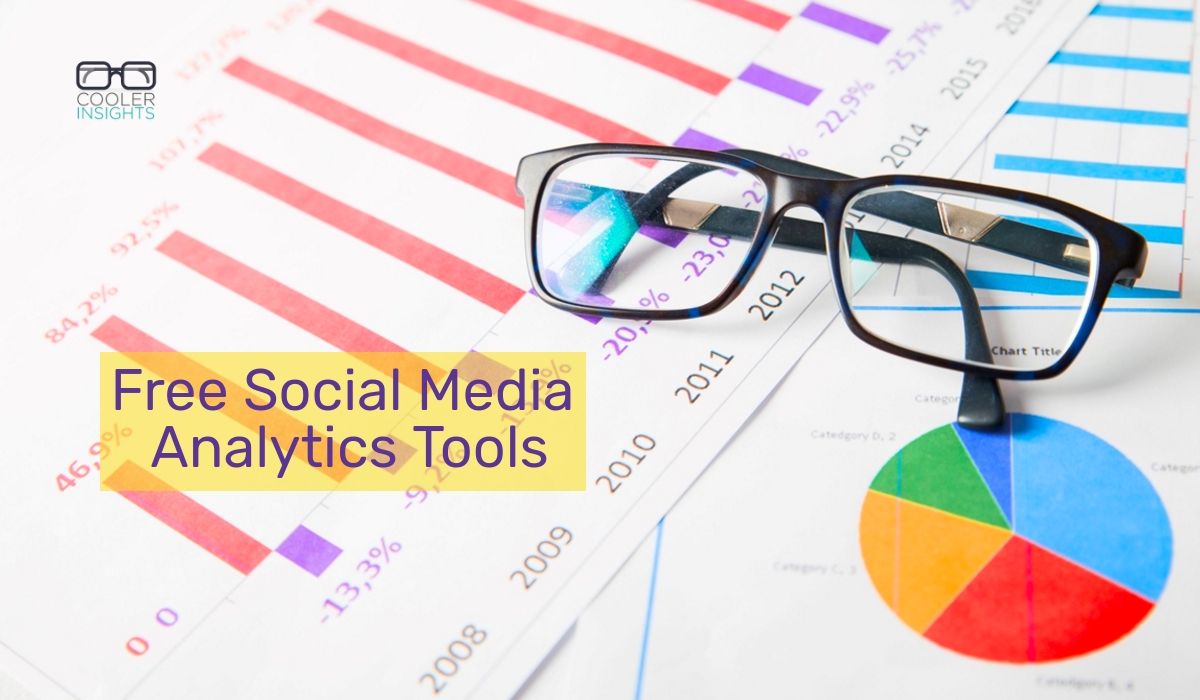 You cannot manage what you do not measure.
With the plethora of tools available, you really ought to track and measure your performance in social media marketing.
But where should you start? Which indicators should you focus on? How do you measure and track them?
In this post, you will first learn some basics of social media analytics. Thereafter, I will bring you through some of the online tools which I use, and highlight how you can use them to improve your social media marketing performance.
Establish Social Media Goals
Like any marketing activity, social media marketing begins with understanding your goals.
Depending on what you wish to achieve, there are usually five objectives in social media marketing:
Awareness: This is usually measured in indicators like impression, reach, no of fans (ie page likes) or followers, and viewers (for videos).
Engagement: This is usually tracked by indicators like post likes, comments, clicks, duration of visits, and growth in fans/followers.
Conversion: These are usually measured by the no of leads generated, no of downloads, no of app installs, no of sales, and value of sales.
Loyalty: A proxy for loyalty would be indicators like repeat visitors, growth rate of fan-base, and positive reviews/ ratings.
Advocacy: Closely related to loyalty, indicators here include the number of shares or retweets, third party blog posts by influencers, and hashtagged posts.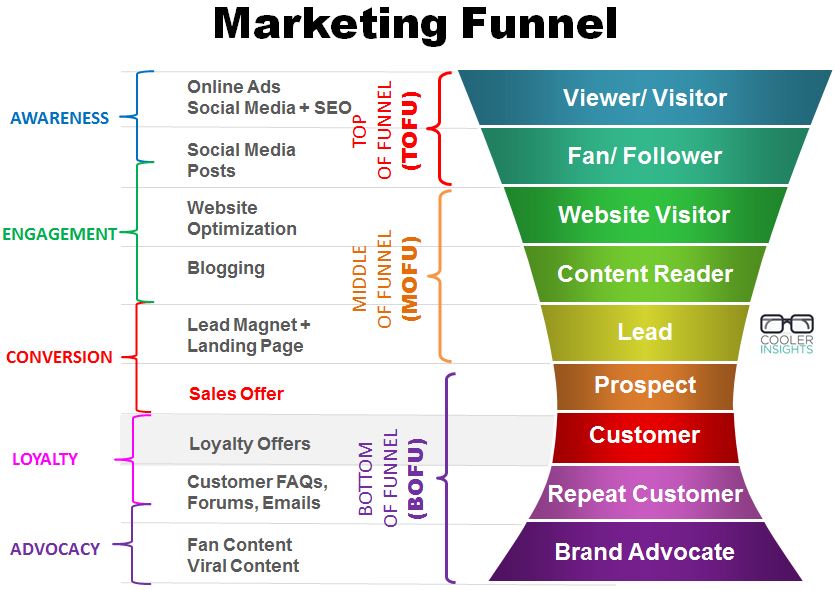 While there may be overlaps between the five objectives above, we normally try to segregate them on what we call a digital marketing funnel. You can see from the infographic above that different social media content types work better to achieve different objectives.
(You can learn more about marketing funnels and analytics in this blog post.)
As we dive into each of the social media analytics tools, I will link each of them back to the five objectives above.
#1 Facebook Insights
Offered free with any Facebook page, Facebook Insights helps you to assess the performance of your Facebook posts.
Here's a screen shot of how its overview page looks like: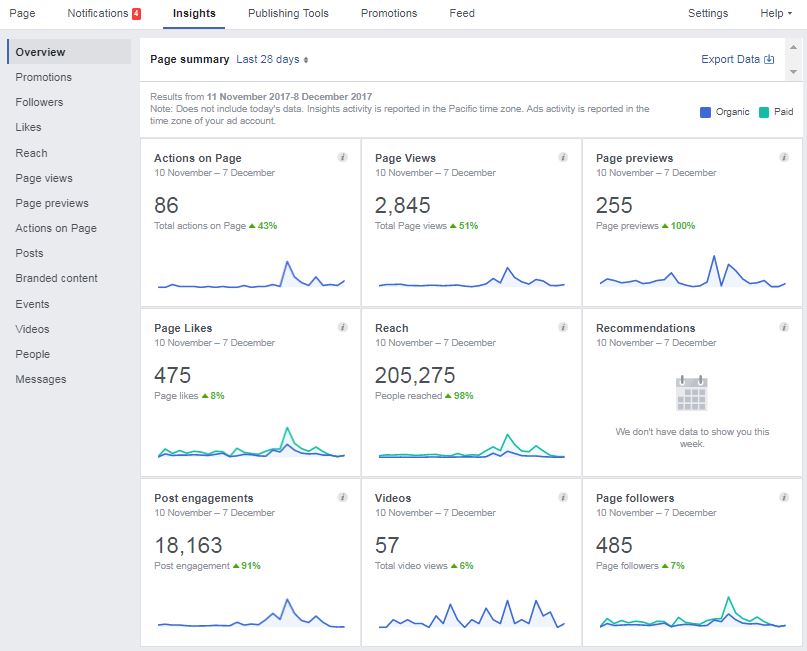 The beauty of Facebook Insights is that it allows you to track awareness, engagement, loyalty and advocacy metrics such as the following:
Awareness: Overall Reach, Page Views, Video Views, Impressions
Engagement: Average Post Likes, Comments, Clicks and Shares. Average Engagement Rate.
Loyalty: Increase/Decrease in Page Likes
Advocacy: Shares Per Post
The screenshot below shows the Average Reach and Engagement for a Facebook Page.

If you click on the "Post" section, you can find the individual details of each post. Here's an example where you can see multiple metrics such as total numbers of people reach, total interactions (reactions, comments and shares), number of post clicks, as well as breakdown of organic vs paid (ie light orange vs dark orange) reach.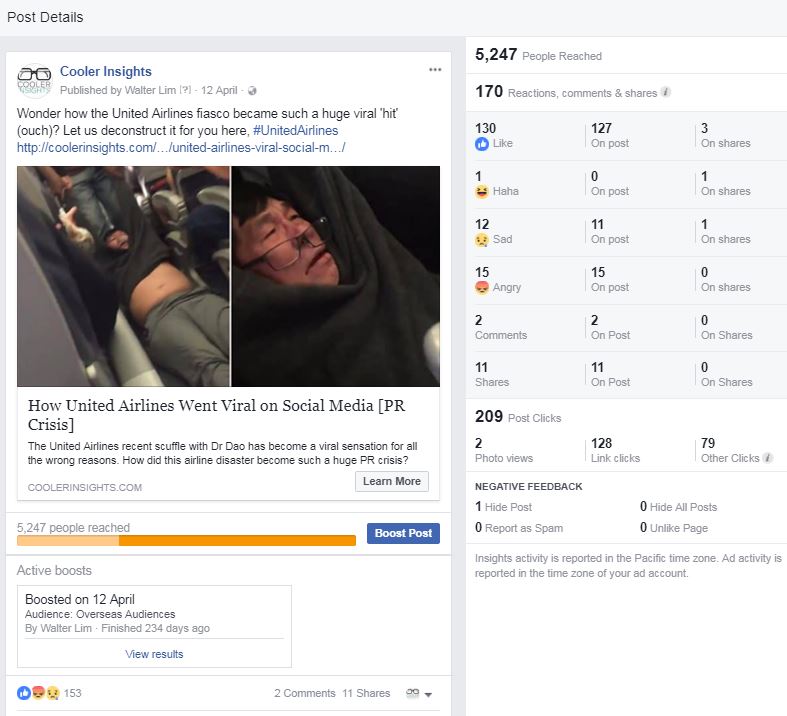 Beyond these indicators, Facebook Insights also tells you when your audiences are most active online, so that you can choose that period to post.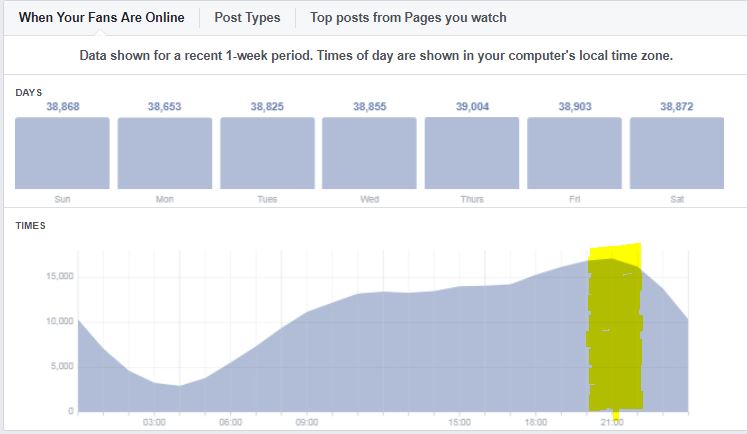 You can also click on the People section of your Facebook Insights to understand who your community members are, as well as their demographics and interests.

#2 LinkedIn Analytics
Unlike Facebook, LinkedIn offers different levels of analytics depending on whether you are a free or paid user. Personally, I use LinkedIn more to boost my personal branding and it has been a great source of leads.
As a free LinkedIn account holder, I can gain insights into many detailed indicators such as the following:
Awareness: Number of profile views, search appearances, number of post or article views
Engagement: Likes, comments and shares on posts and articles
Loyalty: No of connections (whether increasing or decreasing)
Advocacy: Endorsements and recommendations
Here's a screen shot showing my personal LinkedIn dashboard (I haven't been very active there recently).

And another screen shot showing the performance of one of my recent posts.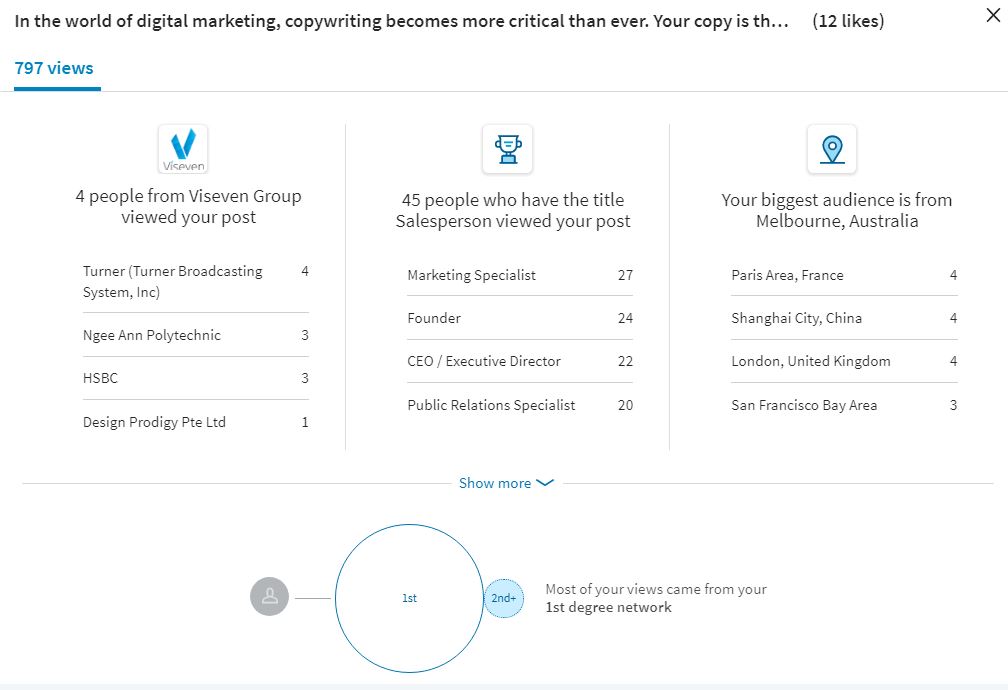 As a measure of advocacy, do look out for indicators like Endorsements for Skills and Recommendations. Both measures are important proxies for trust and reputation.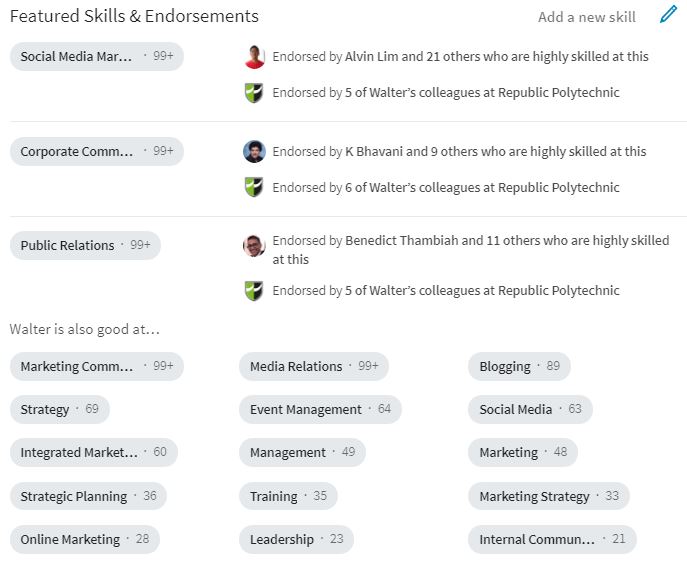 #3 Instagram Insights
Instagram Insights is a relatively new tool offered by Facebook. To access it, you need to convert your personal Instagram profile to a business profile (Learn how to do so here).
Once you have it installed, you can view the following metrics:
Awareness: Profile Views, Impressions and Reach; Post Impressions and Reach; Story Impressions and Reach; Video Views

Engagement: Website Clicks; Post Likes, Comments and Saved; Story Replies, Taps (Forward or Back), and Exit
Here's an example taken from SLR Lounge.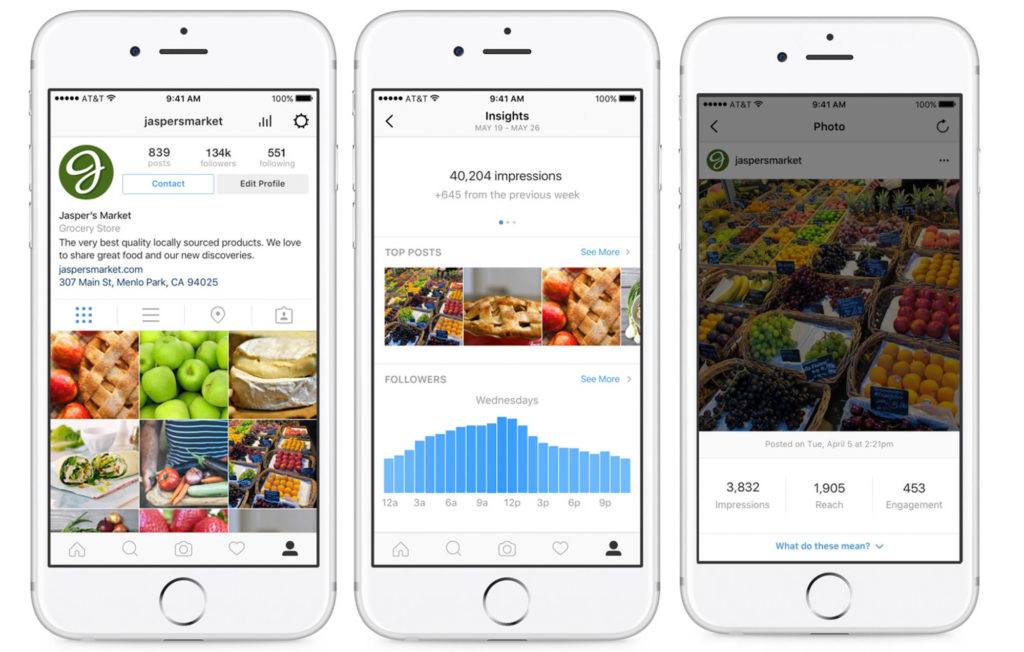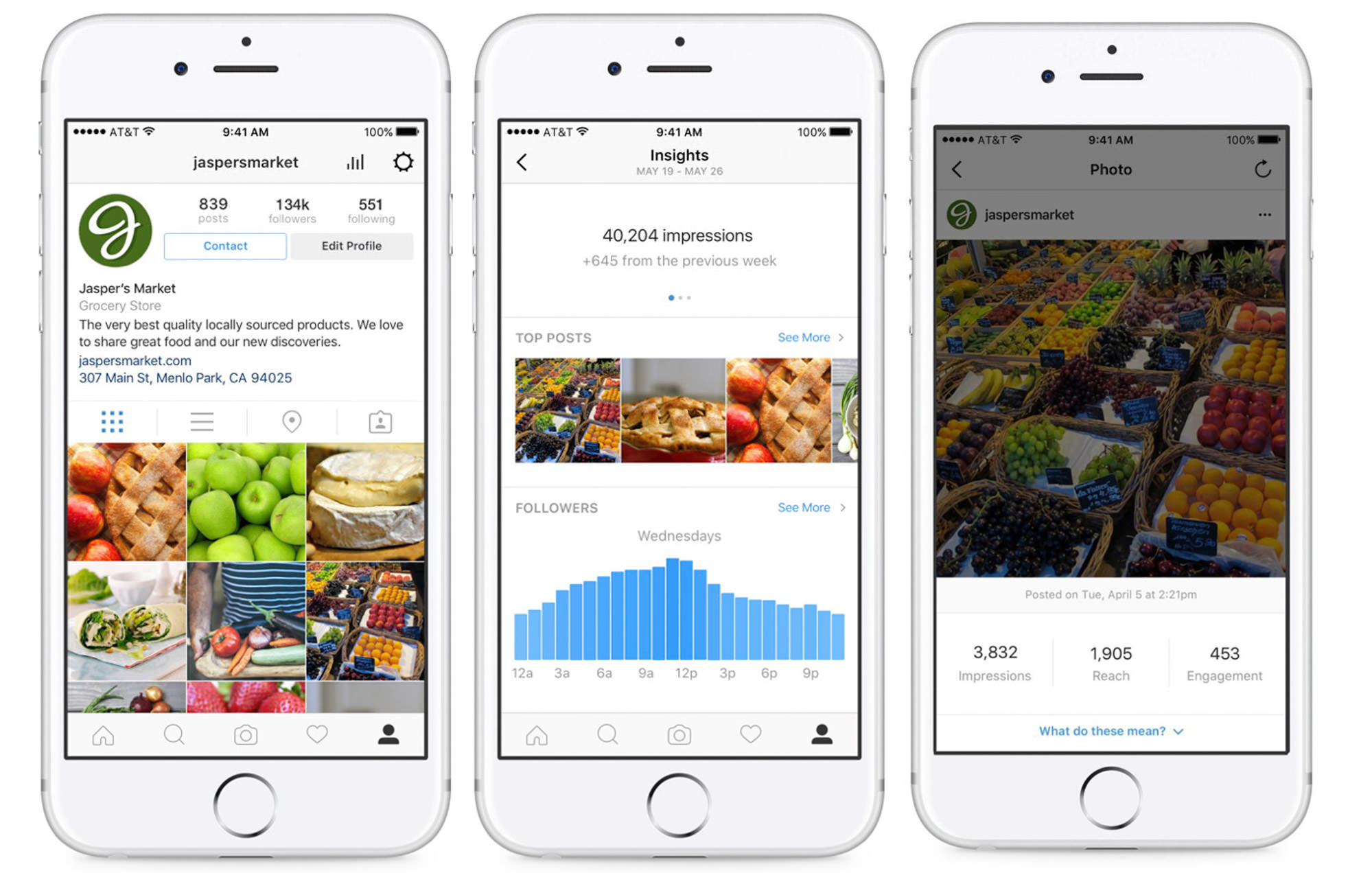 Other than the individual profile and post performance, you can also view some basic location and demographic information about your followers like:
Location
Gender
Age Range
When they are most active
Here's a short video explaining how Instagram Insights work.
#4 Twitter Analytics
Like LinkedIn, Twitter provides some useful analytics information right from the website itself. To access them, just click on https://analytics.twitter.com/.
Twitter Analytics tracks the following:
Awareness: Tweet impressions, Profile visits, Followers
Engagement: Link clicks, Retweets, Replies, and Likes, as well as Engagement Rate
On the Twitter Analytics Home page, you can gain an overview of your Twitter account's performance.


You can also find out who your followers are, including some pretty useful information about their gender, interests, household income, and wireless carrier.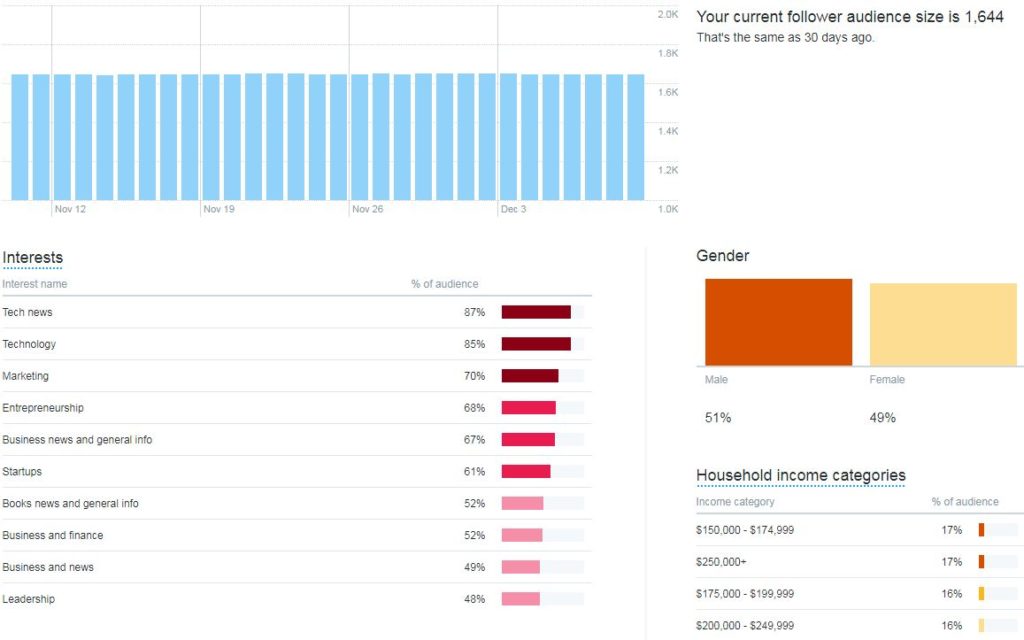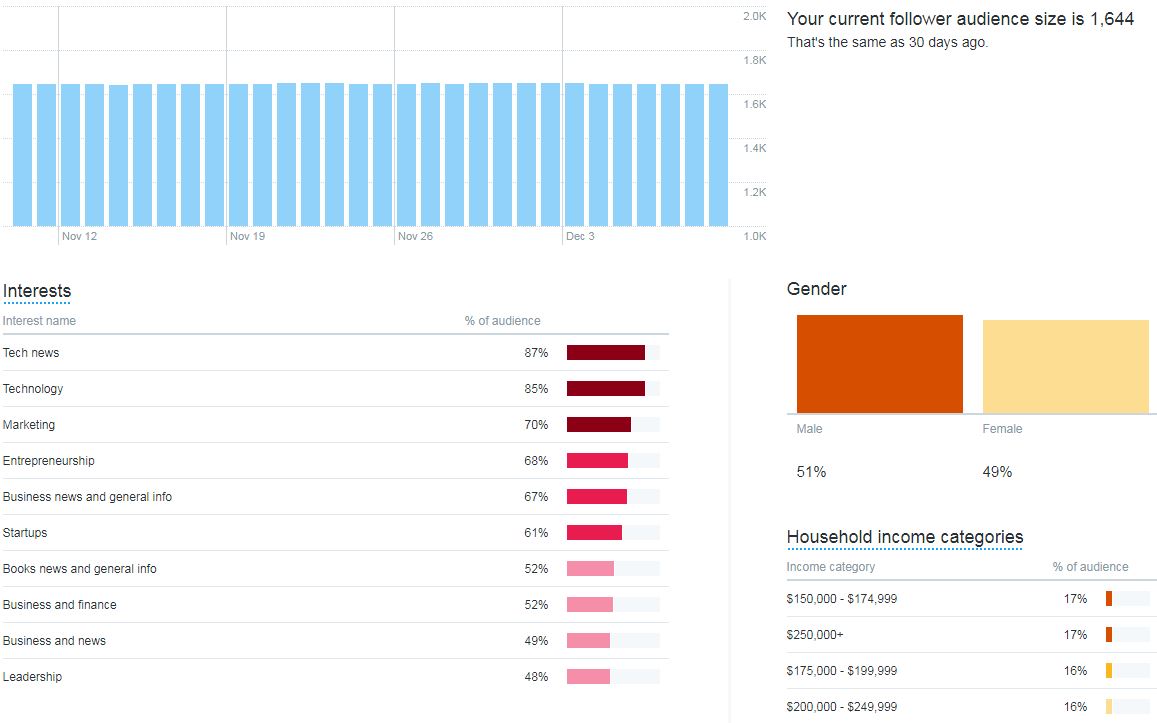 #5 Hashtag and Brand Name Tracking Tools
If you wish to track your hashtags and brand name mentions, you can consider using tools like Google Alerts, Keyhole, or Talkwalker Alerts. Here's a screenshot of how Talkwalker Alerts look like: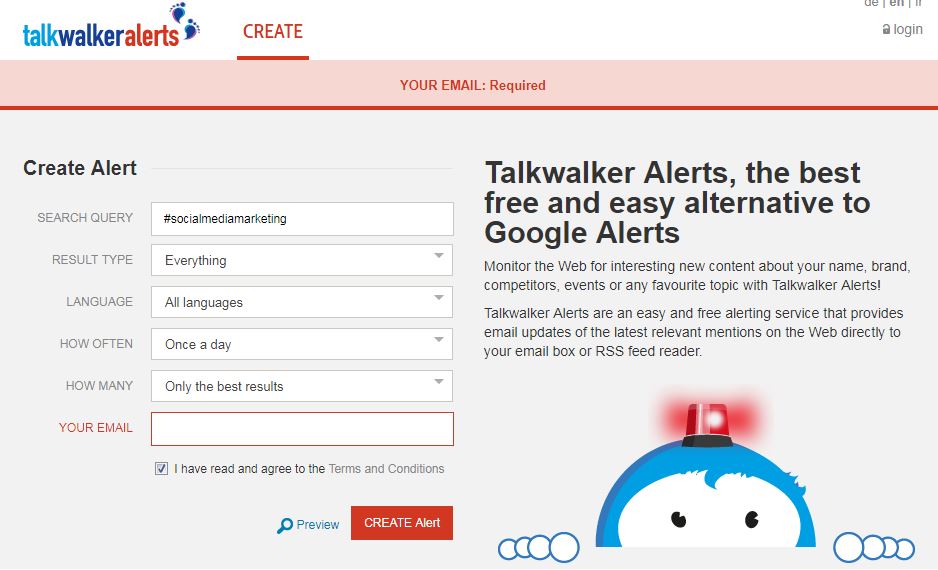 Collectively, these tools can help you to track the following:
Awareness: brand name mentions
Advocacy: brand name mentions, third party posts with brand name, third party posts with hashtags
What these tools will do is to send you an email once your brand name (or product names or keywords) and hashtags are mentioned. Yes, it is that simple.
#6 Facebook Ads Manager
If you do some Facebook advertising (at minimum $1 a day, you really ought to try), you'll probably wish to know how well your ads or boosted posts did. Facebook Ads Manager allows you to track the following metrics:
Awareness: Impressions and Reach of Ads; Cost Per Thousand Impressions (CPM)
Engagement: Clicks, Likes, Comments and Shares of Ads; Cost Per Click (CPC), Cost Per Engagement, and other indicators
Conversion: Conversions of Ads (eg Registrations, Purchases, Leads, App installs); Conversion Value
Here's a screenshot showing some of the sample results that you can monitor on Facebook Ads Manager.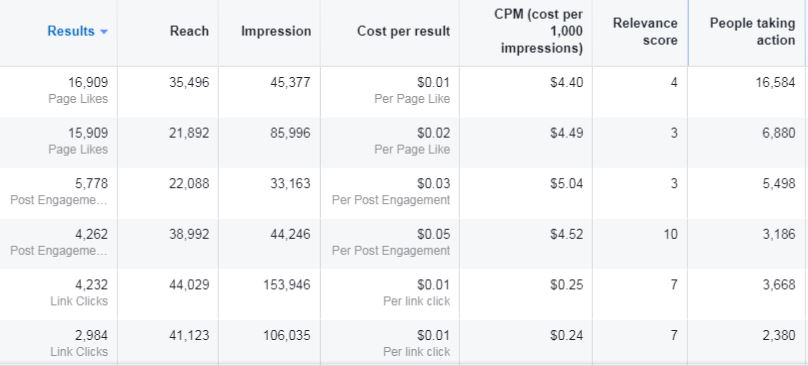 Beyond the above indicators, you can also see the Relevance score in Facebook Ads Manager. This tells you how positive (or negative) your ad is received. Generally, a higher Relevance score shows that your ad is more well liked, commented, shared, and clicked on.
For advanced Facebook Advertising users, you can monitor the conversions of your ads by creating a Pixel linked to it and embedding it on your website. Here are some of the conversions that are available to be tracked. (You can learn more about Facebook Conversion Ads here.)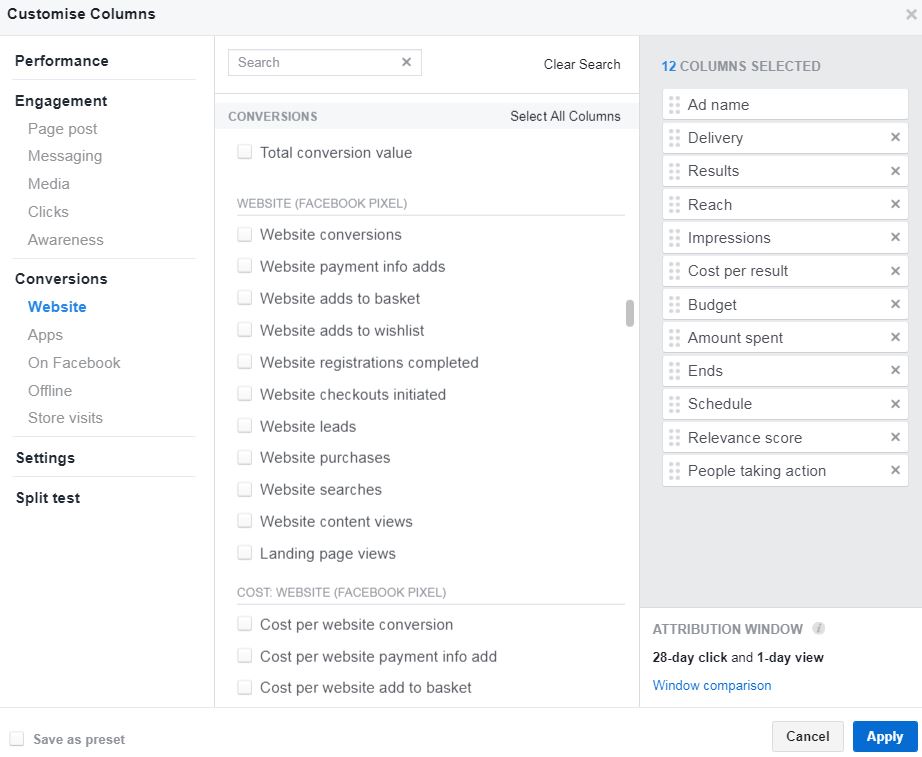 For more information on Facebook Ads, read my article here.
#7 Google Analytics
Also known as GA, Google Analytics is the grand daddy of online analytics tools.
Unlike social media platform specific tools, Google Analytics tracks activity on your website. This is important as most conversion activities will take place on your website. Used in tandem with social media marketing, it allows you to glean the following information from its charts and tables:
Awareness: Total Users (ie Visitors), New Users, Sessions (ie Visits), and Pageviews
Engagement: Pages per Session (usually better the higher they are), Average Session Duration, Bounce Rates
Conversion: No of Transactions (leads or sales), Value of Transactions (Revenue) – you can track these by setting goals associated with specific conversion activities
If you click on Audience Overview, you can see at a glance how well your website is performing in general. Here's a snap shot taken from Google's Merchandise Store Demo Account.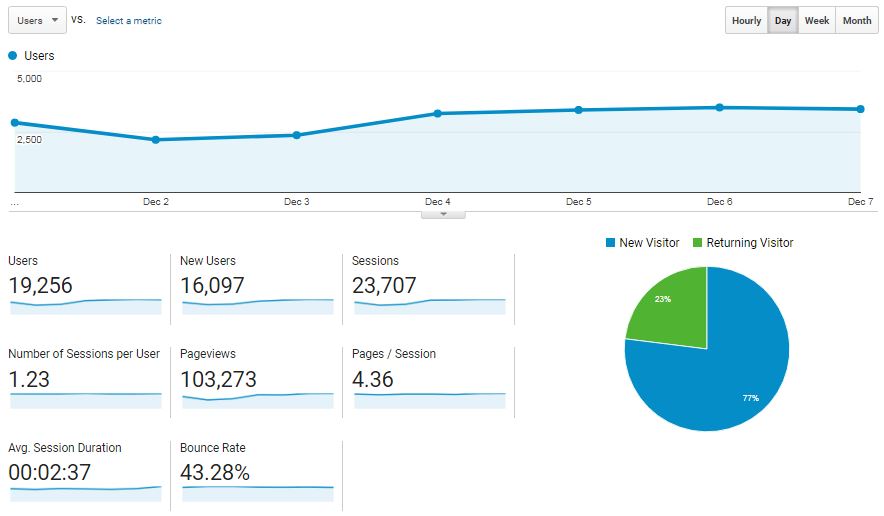 If you click on Acquisition Overview, you can see how well your social channels are doing in driving traffic relative to other sources. In this example, it is clear that Organic Search, Referrals and Direct are more important drivers of traffic than Social.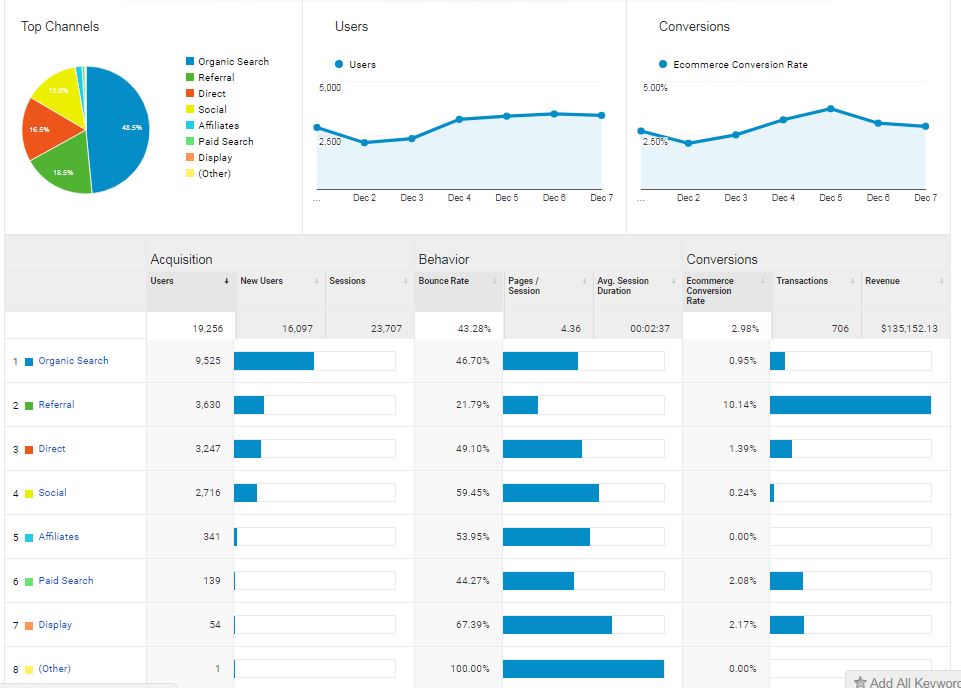 Here's a screen shot showing a comparison of the different social channels (for Google's Merchandise Store). You can see clearly that social media makes up a very small percentage of their total value in conversions.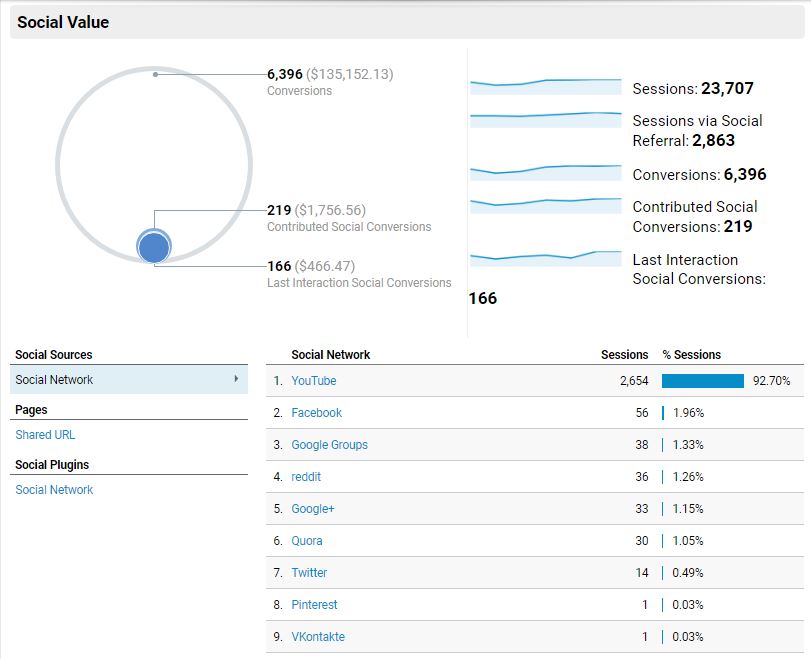 Conclusion
Now that you've learned some of the free tools available to track your social media marketing performance, your next step is to try some of them out.
Begin with the easier ones like Facebook Insights, Twitter Insights, LinkedIn Analytics and Instagram Insights before progressing to more advanced tools like Facebook Ads Manager and Google Analytics.
Hope that you found these tools useful, and leave me a comment or drop me an email if you've got any questions on them!