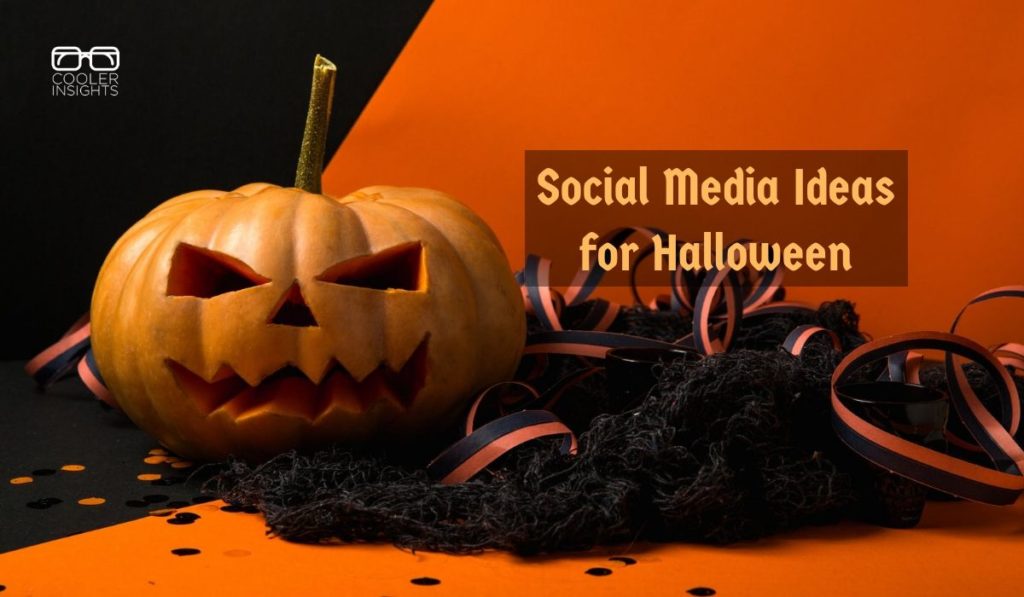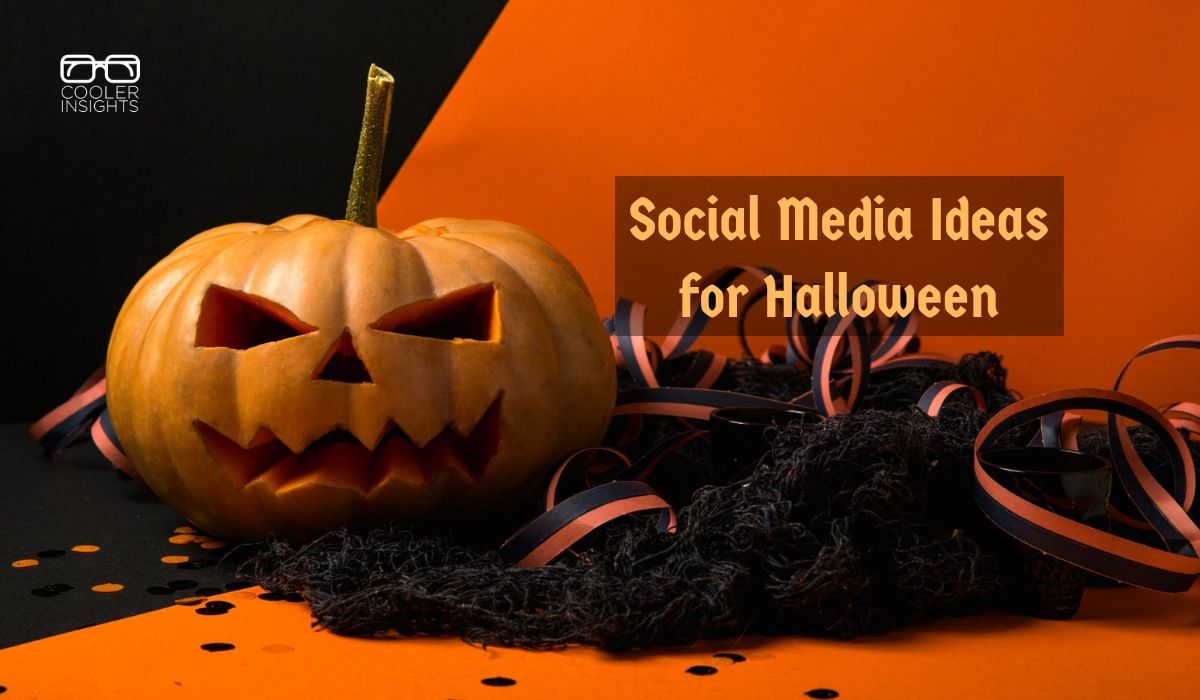 Does Halloween make you go "Boo!" or "Boo Hoo?"
Traditionally considered as one of the more controversial festive seasons due to its somewhat macabre origins, Halloween is huge in the US and growing in Asia.
Predicted to hit US$9 billion in the US by the National Retail Federation (see chart below), it has also sparked off lots of event ideas here in Singapore.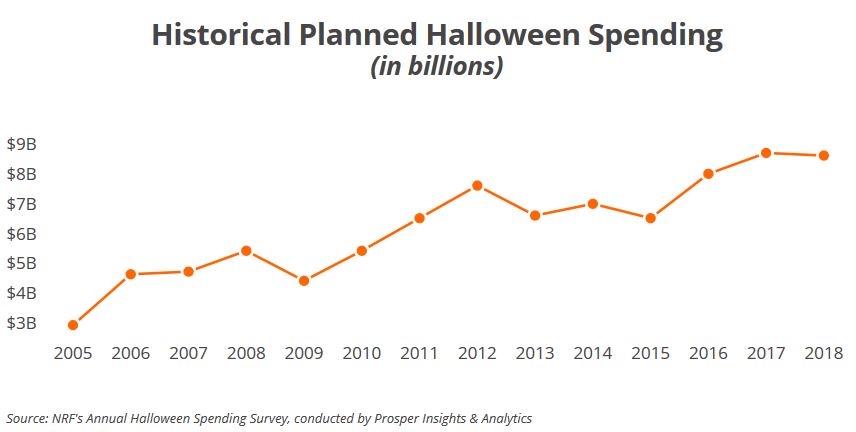 US Halloween Sales (courtesy of National Retail Federation)
While decorating your stores with cobwebs and pumpkins is all fine and dandy, how can you boost your online presence during this spooky season?
Fear not. Help is here!
This list of 7 uncanny social media marketing campaign ideas will help you to get a screaming head start.
Search for Spooky-tacular Keywords
Do you know what your customers are searching for?
Use online keyword research tools like Google Trends, Keyword Tool, or Ubersuggest to find the best combination of topics to focus on.
If I use Ubersuggest and zoom in on "Halloween" as a keyword and "En/Sg" as a language/region, I can find useful keyword information like this.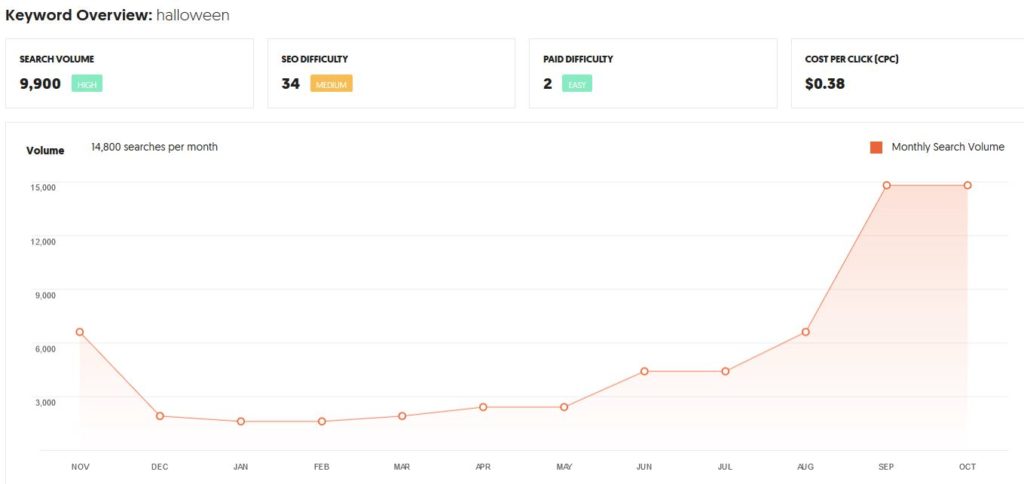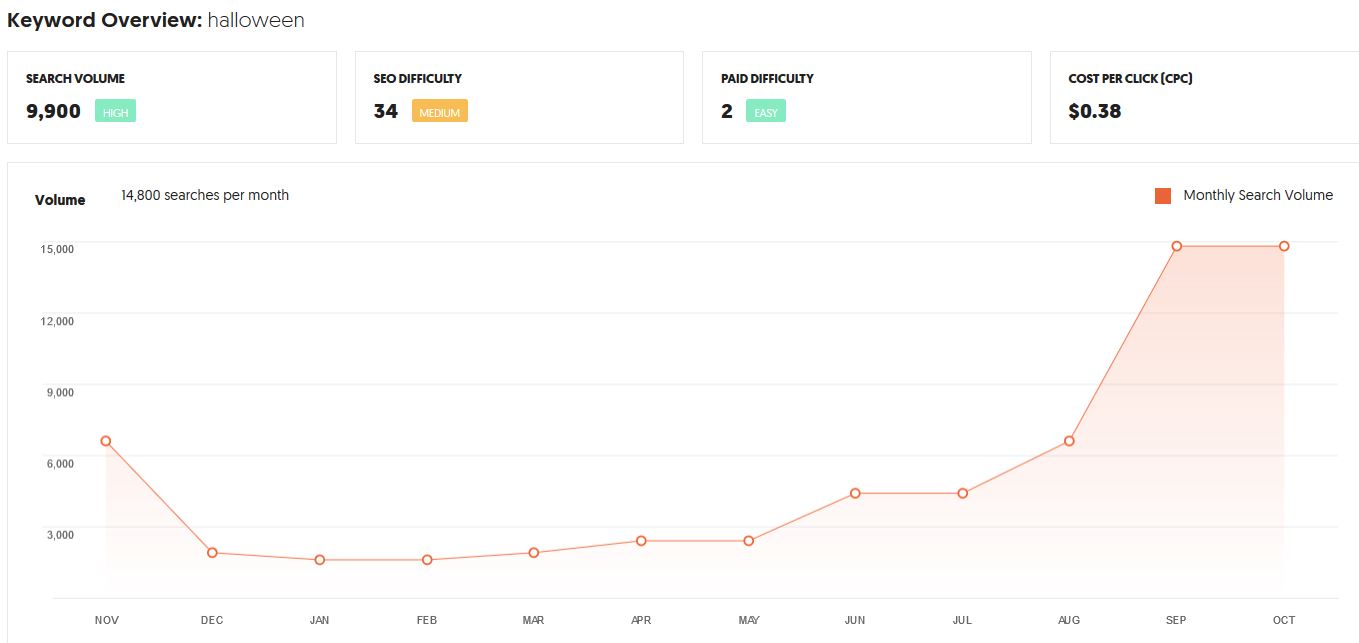 Notice how the volume of searches has increased significantly in the last 2 months before Halloween itself (which is 31 October).
Zooming in on keyword ideas, I got the following.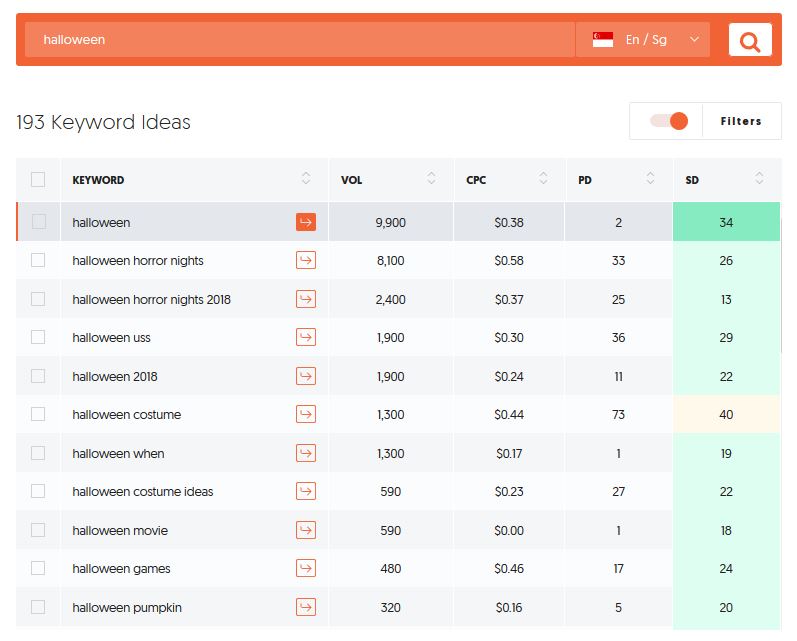 From this list, the following is clear:
Halloween Horror Nights at Universal Studios in Sentosa is a huge thing
People are searching for Halloween costumes
And possibly some bloodcurdling movies!
Games are also popular searches
Ditto for any information regarding the pumpkin
Using any of the above information, you can create a piece of content that addresses these search queries.
#2 Theme Your Online Walls
Orange is the new black here. Or more precisely, pumpkin orange.
There are many ways to theme your website, Facebook page, Twitter account, Instagram account or even YouTube channel with Halloween's signature look.
Afraid that you'll run out of design ideas?
Simply key in "Halloween Design" into Google's search engine and look for the types of images which pop up.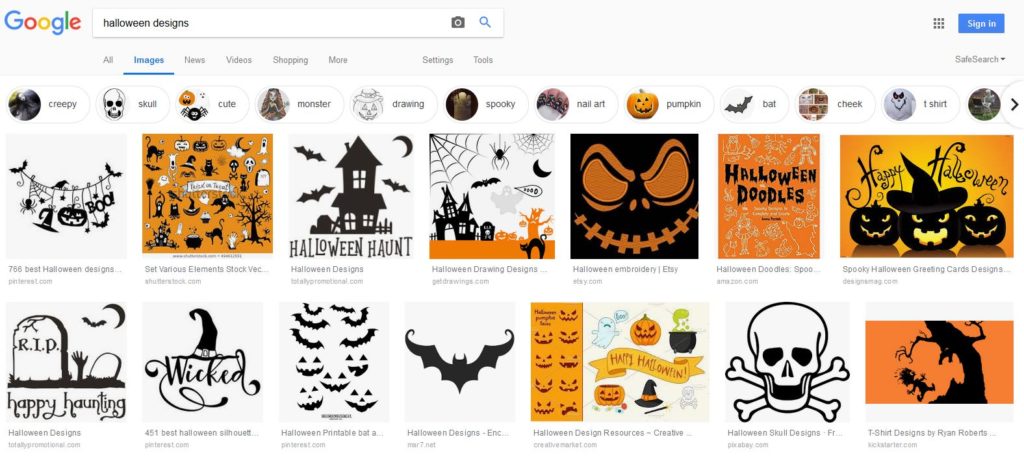 You can also go to Pinterest, and key in "Halloween Design" to find pins that inspire your quest for Halloween-inspired images, cartoons, and visuals, as shown here.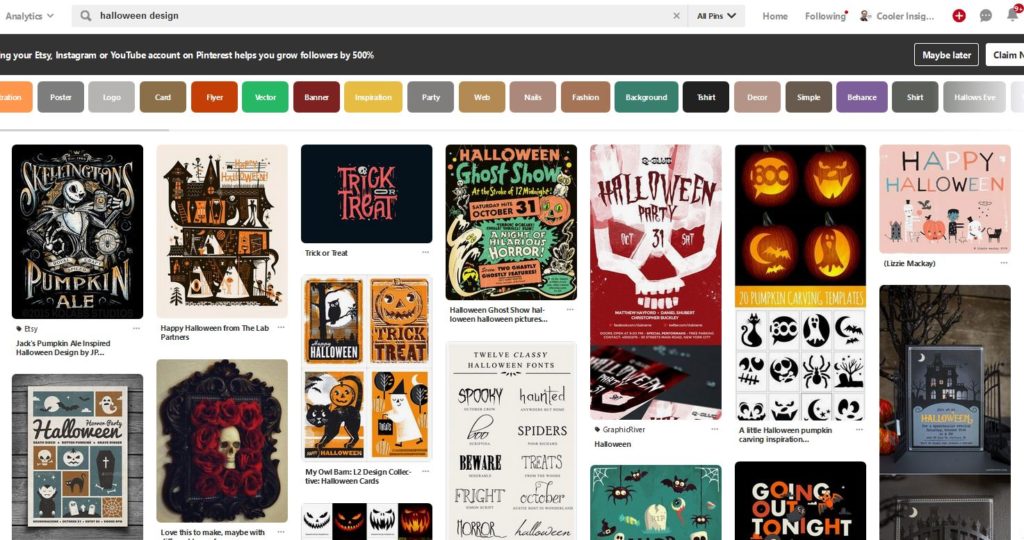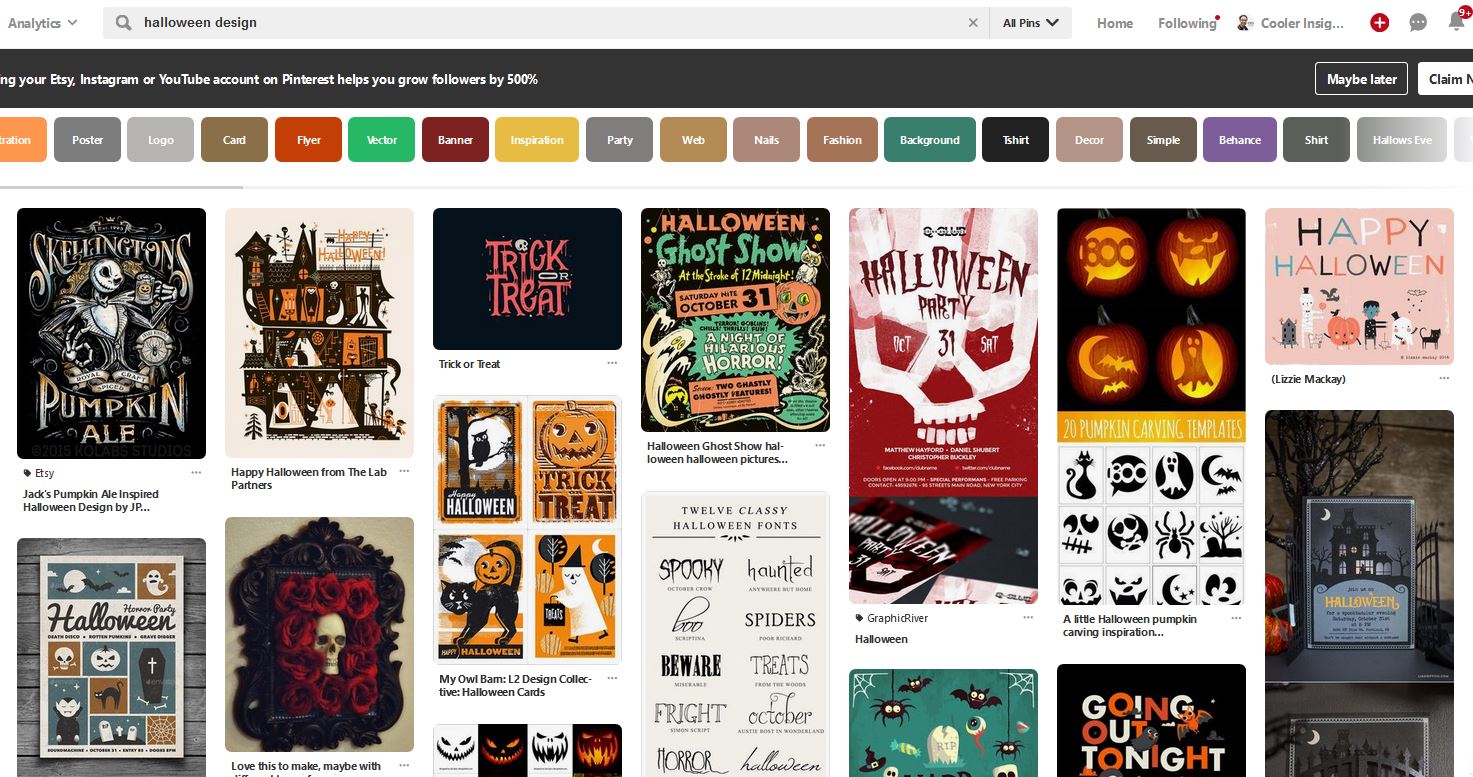 If budget is not a constrain, you can go the whole hog like Ocean Park in Hong Kong. Known for their phenomenally successful Halloween event each year, the theme park sets the standard here with their chillingly creative website designs.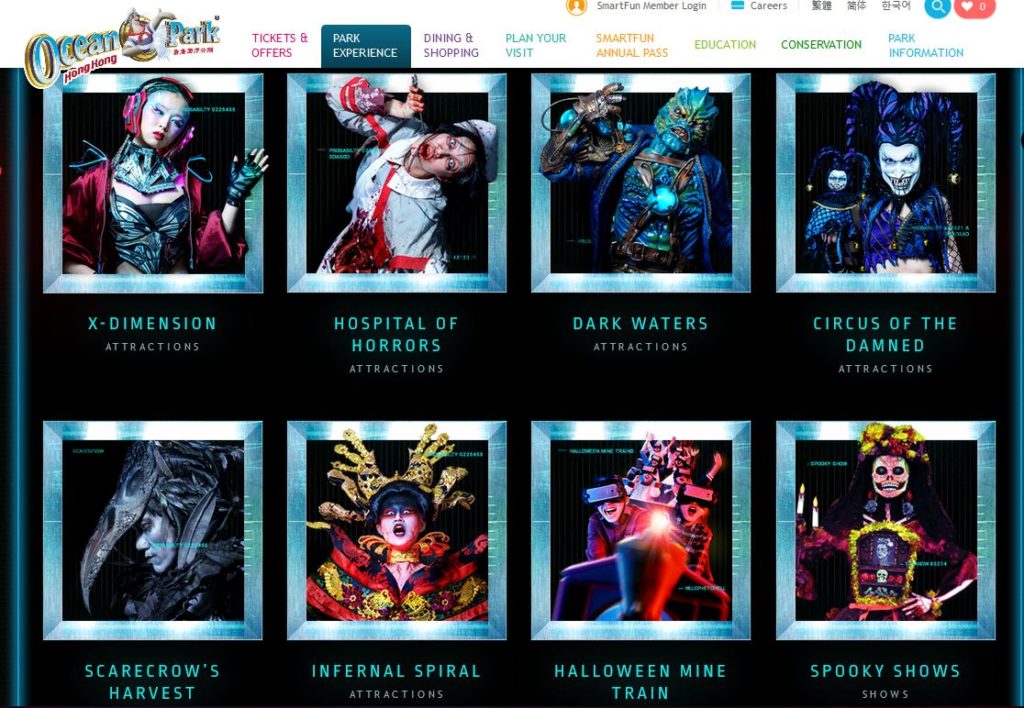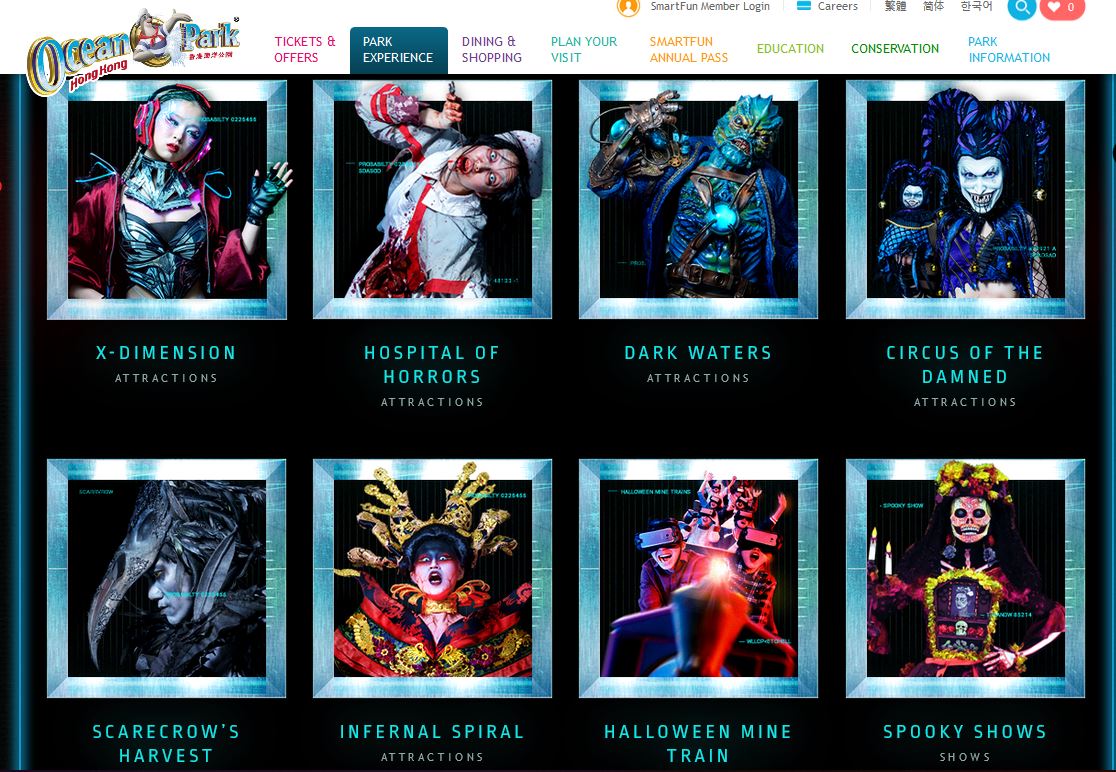 Courtesy of Ocean Park
#3 Treat Your Customers
Originally celebrated as a harvest festival in the US, Halloween is often associated with food. And in the online world, gorgeous photos of Halloween-themed food items do grab a lot of attention.
Possibly the greatest artist of Halloween or horror-themed confectionery items is Instagrammer turned Netflix star Christine McConnell.
Have a look at this example of her thrilling confection below.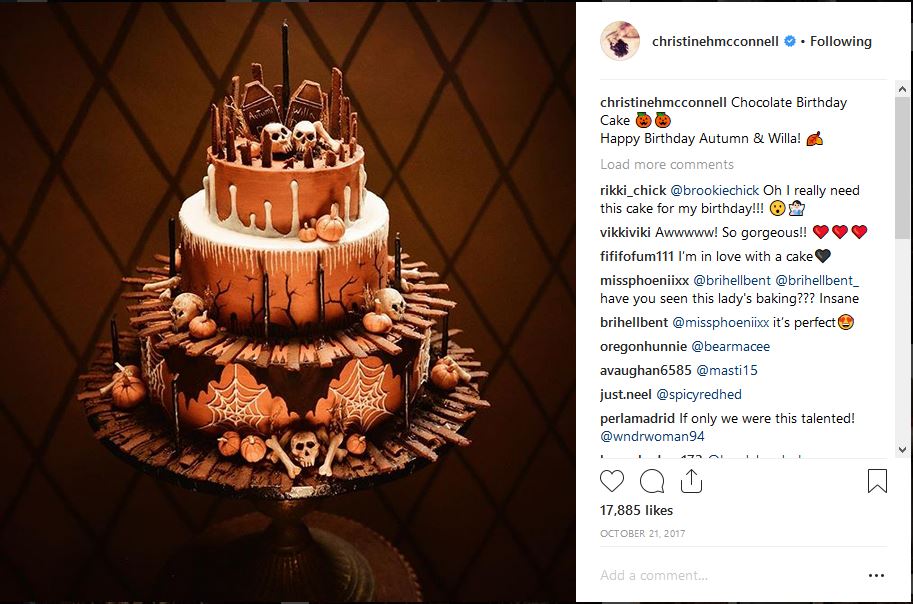 Courtesy of Christine Mcconnell
While the festival may not be quite the same scale as the Chinese Hungry Ghost Festival here in Asia, you won't go wrong if you can provide some ideas for Halloween treats for your social media followers.
Here are some examples of the content which you can create:
Recipes for Halloween cocktails (with garish and ghoulish names, like "bloody Mary with eye-balls")
Halloween food and confectionery items
Halloween gift ideas (fancy a chocolate-coated spider anybody?)
Halloween party decor ideas (more than just ghosts and vampires)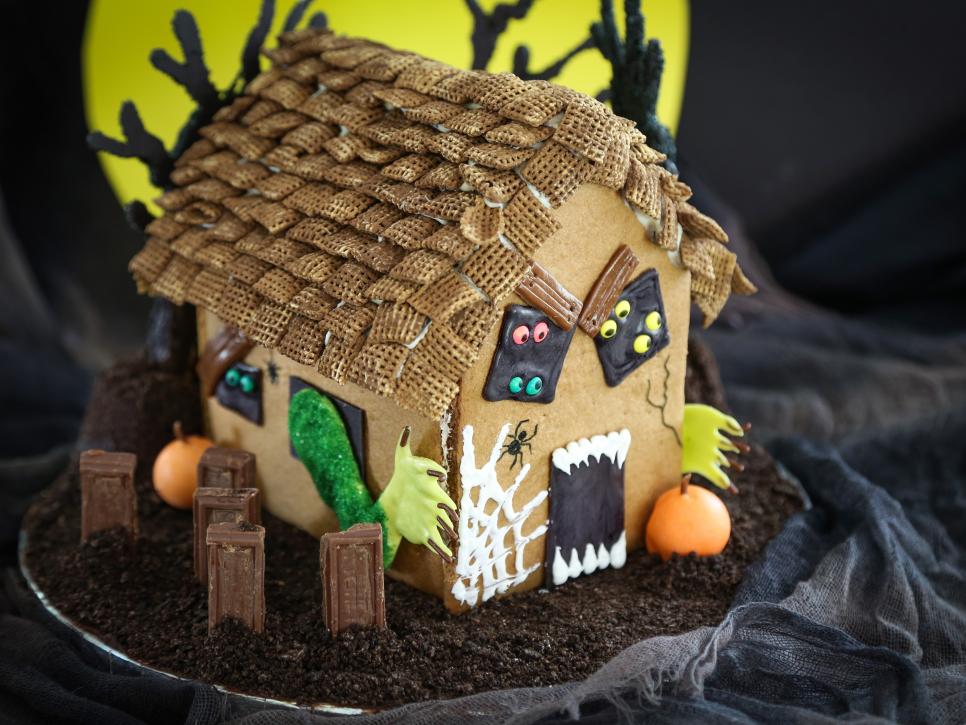 Courtesy of food network
Check out this article from food network on interesting Halloween recipe ideas as well as the video below on Halloween party games you can play.
#4 Trick Your Customers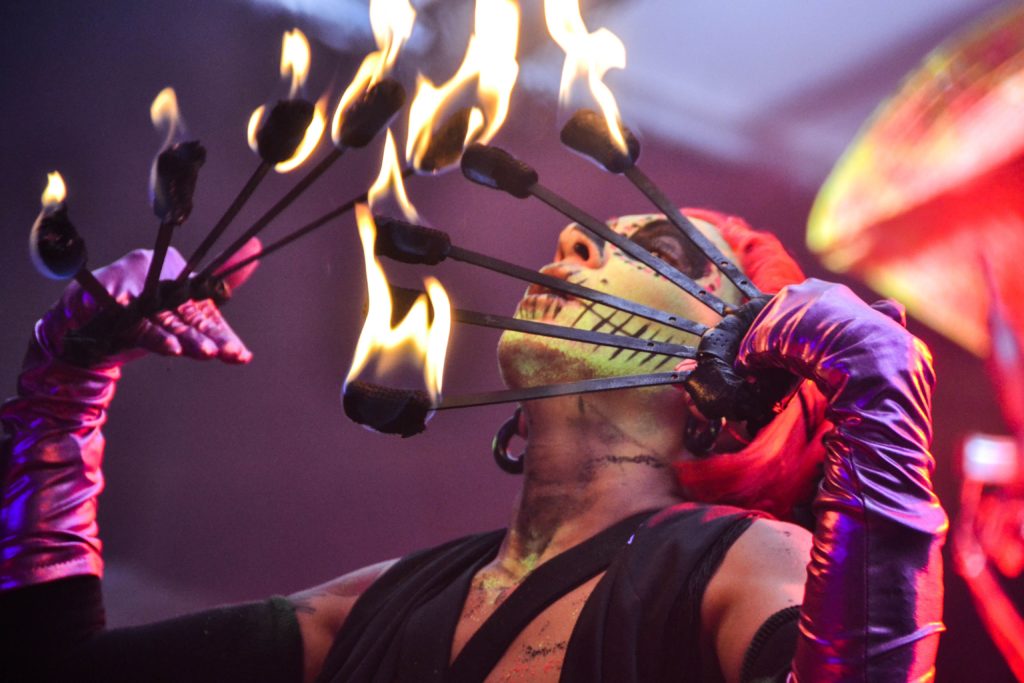 Courtesy of Pexels
No, I'm not asking you to cast a voodoo spell on your customers. Nor should you be deceiving them with a "treat" that turns out to be a scam.
Instead, you can turn this season into one filled with mirth and merriment, albeit with a touch of mischief.
Here are some ways to turn on the chillingly delicious fun factor:
Suggest Halloween games that your community members can play. From scavenger hunts, to passing-the-candy, to pin-the-bone-on-the-skeleton, there are lots of games you can play. Here's a good list to start off with.
Provide ideas for DIY Halloween costumes that will scare the wits out of your unsuspecting friends and family members. Making the costumes can be just as fun as wearing them. Here are some examples to consider.
Propose some Halloween performances such as songs and dancers that would make any party absolutely faboolous.
Or play a prank on your followers, but make sure you do it tastefully and not illegally though. Here's a famous example featuring a "ghost" in Raffles Place.
#5 Launch a Halloween Themed Contest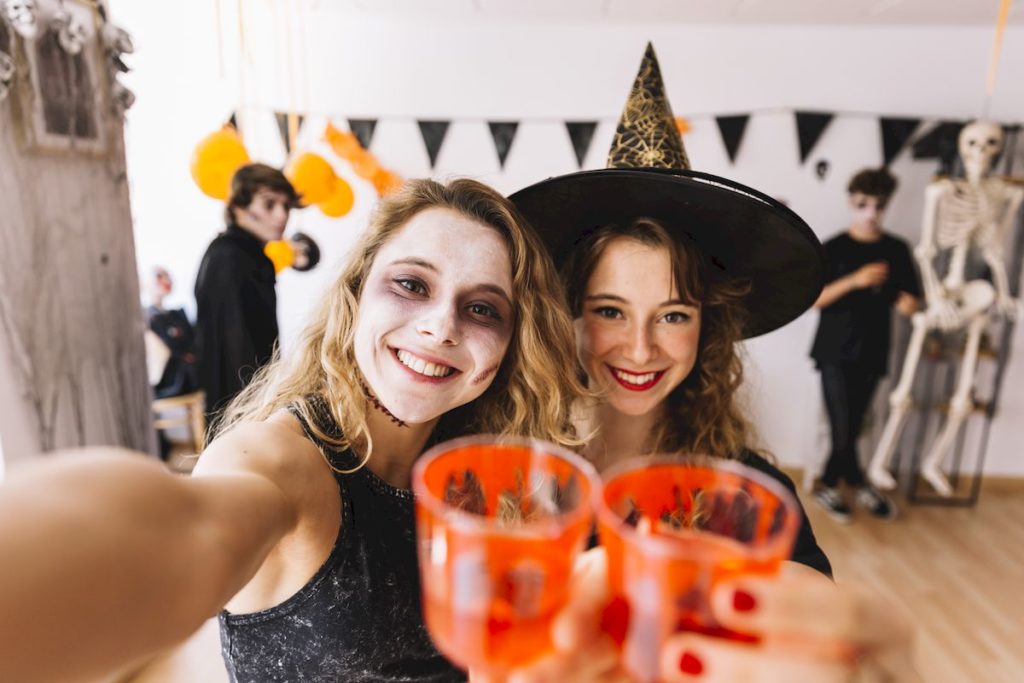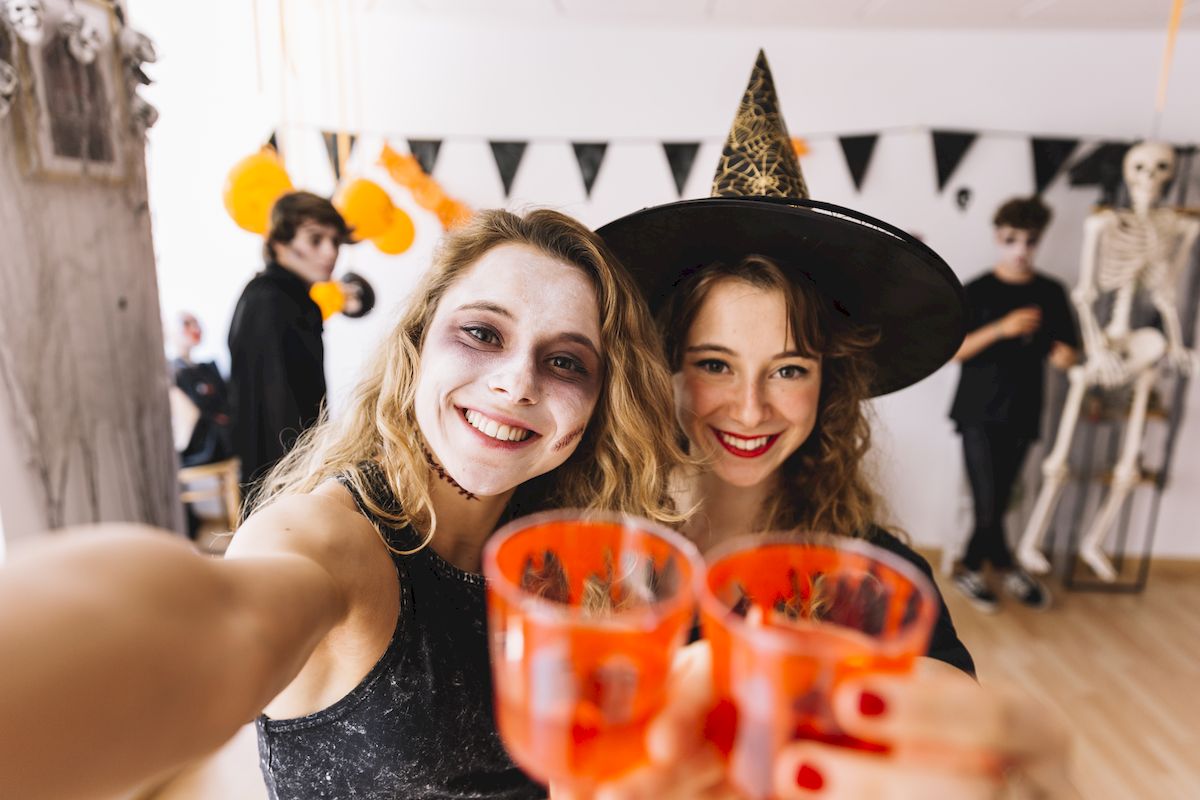 Photo contests are huge on social media, and everybody loves to take selfies of themselves decked in their ghoulish best.
To increase engagement on your Facebook or Instagram posts, you can suggest contests where participants can upload their most boo-tiful photos of themselves. The ones with the most likes or reactions could win.
Alternatively, you can do a trivial pursuit style Halloween contest on your blog, and see if anybody can get the correct answer.
Or maybe you can even do a murder mystery game, where you release clues each week, and the person who can eventually solve the mystery wins a big prize.
#6 Spin a Scary Story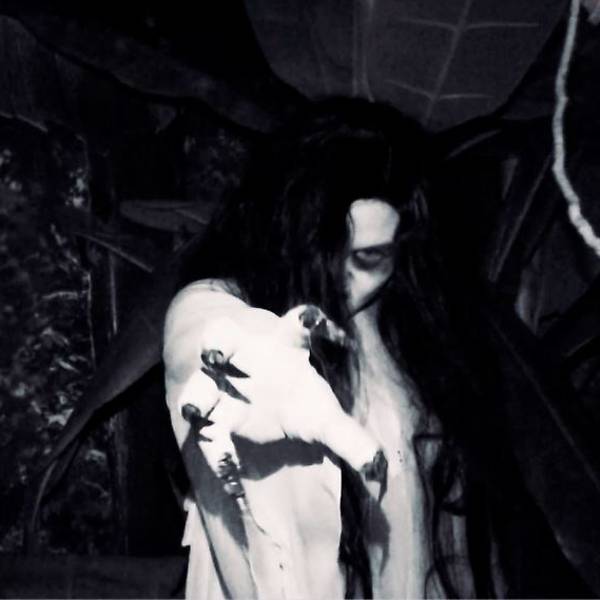 Courtesy of MediaCorp
"It was a dark and stormy night…"
Yep, Halloween is the time when ghost stories do their malevolent magic. Here in Singapore, we have our evergreen favourites like the super-scary Pontianak which Channel News Asia recently featured.
If you have a scary personal or professional story to tell, now is the time to do it, albeit with an uncanny twist. Or you can concoct your own terrifying tale, and unfurl it in episodes to your followers each week.
Here's a great example of storytelling from the History Channel narrating the history of Halloween with things that you probably didn't know.
#7 Inject Some Humour Into Your Content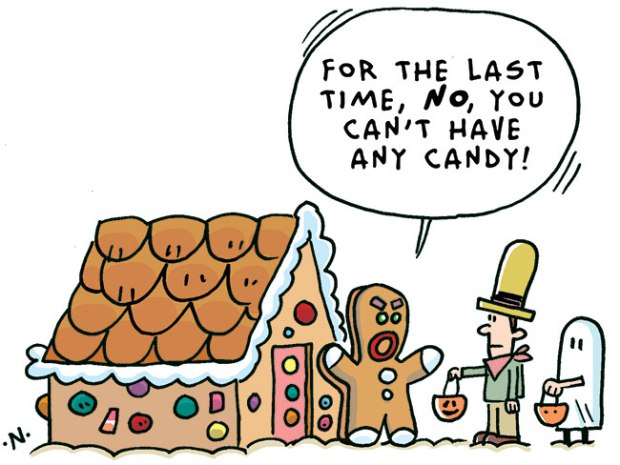 The best way to make light of a dark season is to have fun.
Make use of wordplay and metaphors to inject some laughter into the Halloween, bewitching your readers with jokes, puns, and comical content.
Here's a collection of some hilarious puns that I found on this website. I'm sure you can cook up much better brews in your pot!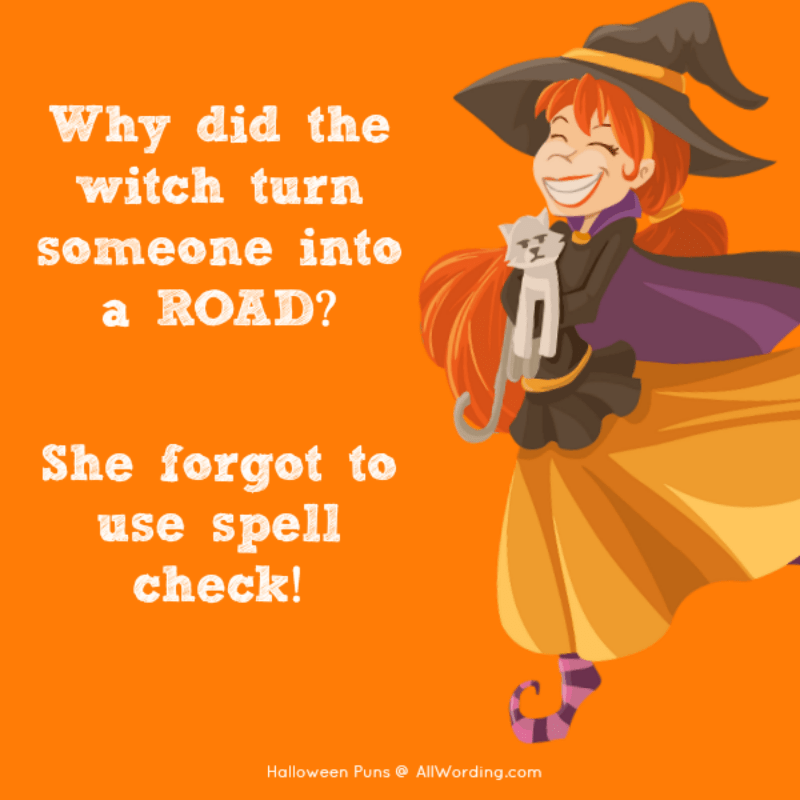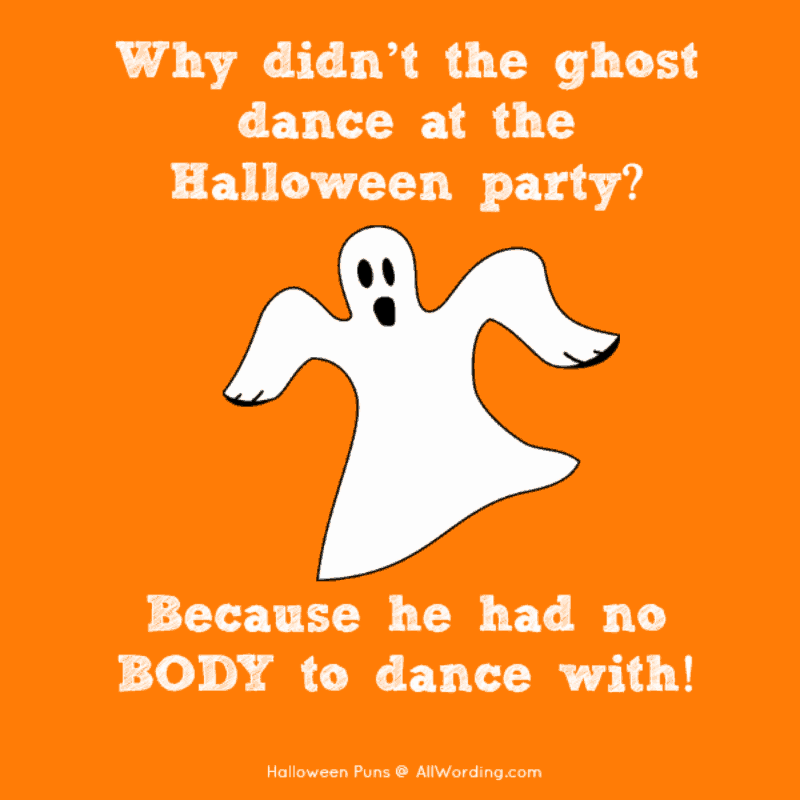 Conclusion
As an increasingly important commercial season, Halloween has become a part of our cultural calendar.
Hopefully, the above social media campaign ideas could help you to have your pumpkin pie and eat it!
Are there other ways for us to tap on Halloween for social media marketing? I'd love to read your thoughts.