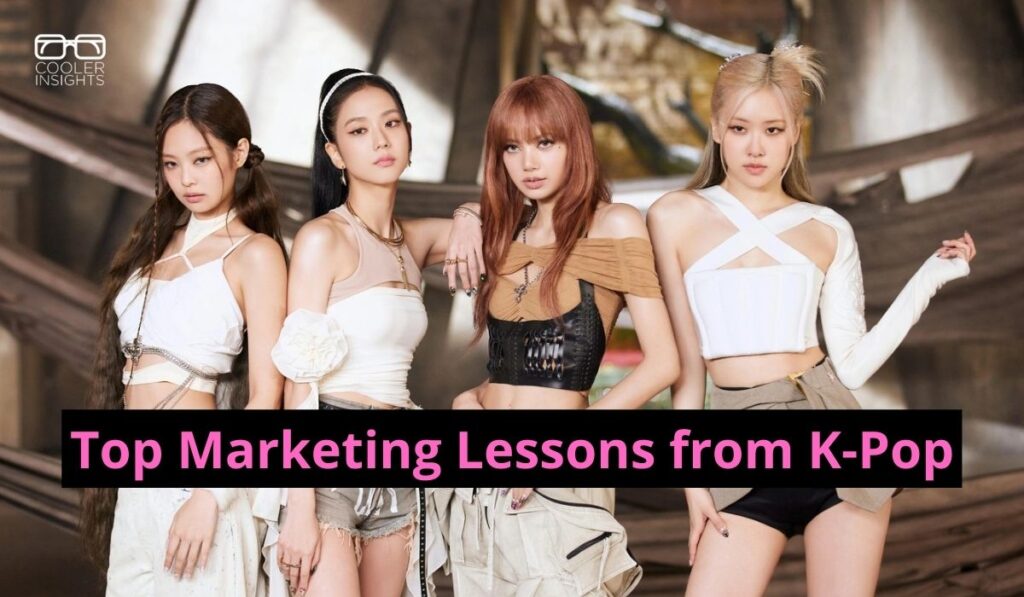 BlackPink is in your area, and everybody's going gaga over them.
K-pop or Korean Pop has been taking the world by storm. How did it rise to such phenomenal levels around the world? What are the marketing secrets behind the growth of K-Pop as a multi-billion dollar industry?
BlackPink is now the most popular girl group in history. Their recent series of concerts (which will include Singapore on 13 and 14 May 2023) has shattered all records for girl group concerts.
Balancing BlackPink is the ubuitous Korean boy band BTS, who created a huge buzz when fans queued overnight just to get into their concert in Singapore. Also known as the Bangtan Boys, the K-Pop group's August 2018 hit Idol earned a Guinness World Record for the most viewed music video online in 24 hours, thrashing heavyweights like Taylor Swift.
BlackPink and BTS isn't alone in ruling YouTube, of course.
Almost everybody on planet Earth with an Internet connection would have viewed Psy's iconic Gangnam Style YouTube video, which registered well over 3.2 billion views and counting.
Beyond BTS and Psy, there are lots of other headlining K-Pop acts.
They include both boy and girl groups like aespa, ENHYPEN, GOT7, ITZY, Girls' Generation, Big Bang, Twice, Wanna One, EXO, SHINee, 2NE1, and Red Velvet, as well as solo artistes like Taeyeon, Sunmi, Taemin, G-Dragon, and many many more over the years.
Less than 30 years old – the craze started back in 1992 with the emergence of the boy band Seo Taiji & Boys – K-Pop has swept the world's music scene, with fans around Asia, the Americas and the rest of the world.
From my analysis, K-Pop offers valuable marketing lessons that any company, brand or individual can learn from.
#1 Be Social Media and Content Marketing Savvy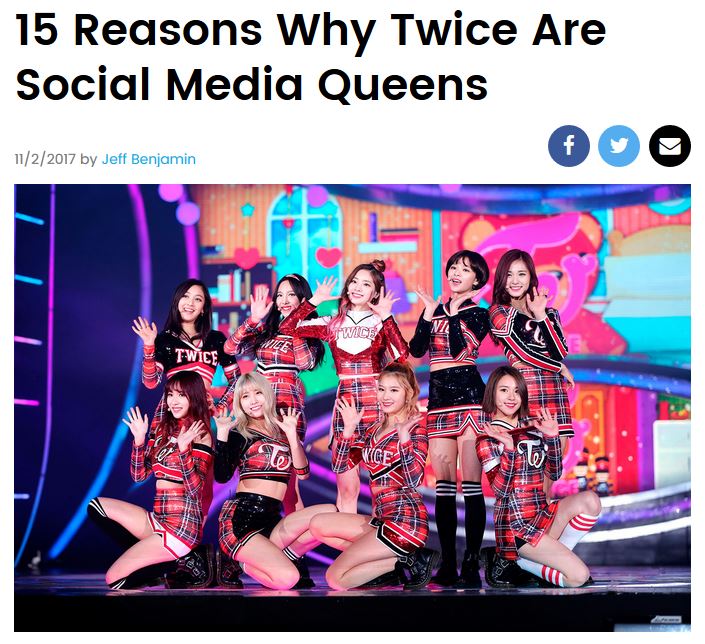 K-Pop group Twice is killing it on social media (courtesy of Billboard)
This is almost a given, seeing how dominant K-Pop stars are on social media platforms like YouTube, Instagram, Twitter, and Facebook.
Their popularity on social media can be seen in various ways:
The fast growth of views on their music videos on YouTube
Trending of #hashtags related to K-Pop acts on Twitter
High engagement rates on their photos and video posts on Instagram and Facebook
Here's a snapshot of the success of Blackpink, a K-Pop girl group, using statistics from Socialblade.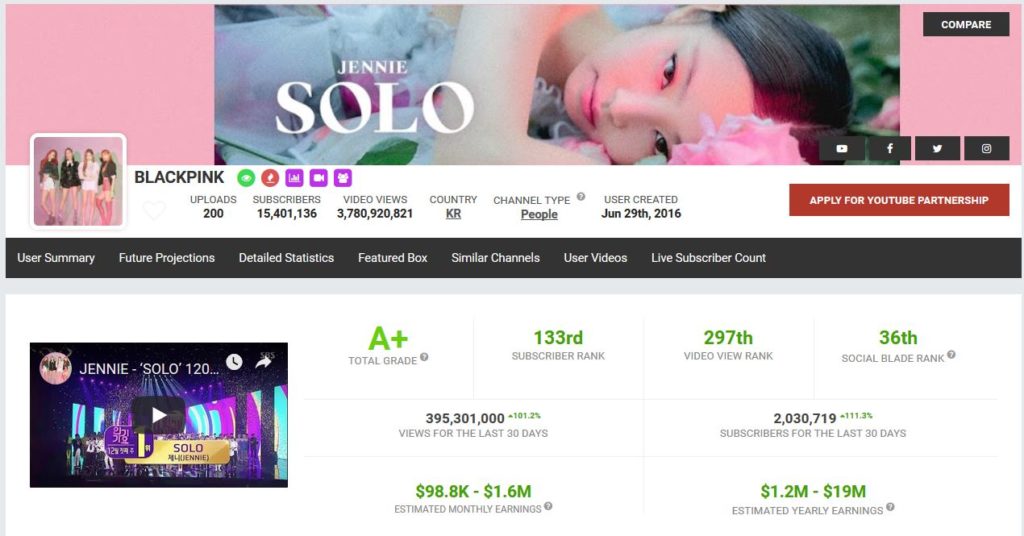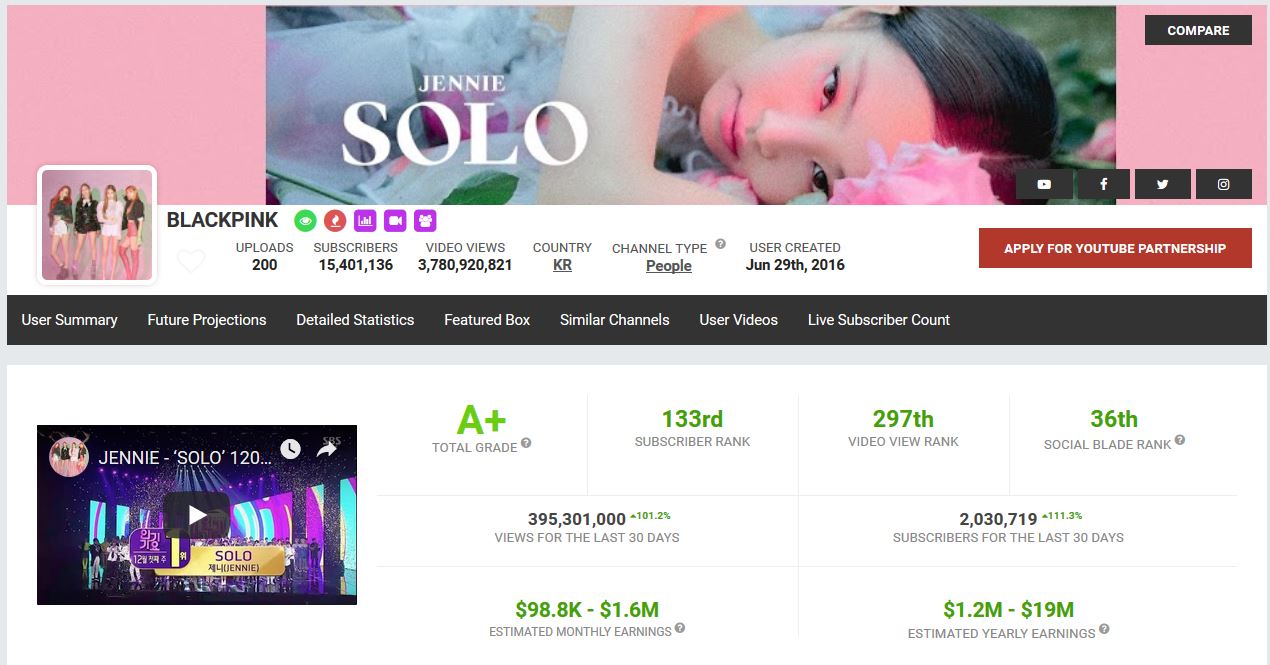 All K-Pop acts have their own channels, accounts, and pages on social media. Big K-Pop companies like SM Town, YG, and JYP also have their own websites, VLive channels, YouTube channels, and Twitter accounts.
Beyond these channels, many K-Pop acts are also regularly featured on forums and apps like reddit, allkpop, soompi, onehallyu, and many others.
How To Apply
Create your own social media channels and use them to reach out to your potential customers.
Beyond posting your own content, make it a point to also participate in other related social media channels.
Embrace the Law of Reciprocity: Like, comment and share the posts of others. By doing so, you'll help to cultivate goodwill for your brand and build a positive reputation in your industry.
#2 Teasers, Trailers and Behind The Scenes Content
K-Pop stars don't just appear on stage to sing during concerts.
They also share virtually every key moment of their lives as performers – in their homes, during their travels, backstage preparing for a concert, during singing and dance practices, and onsite when shooting their latest music videos.
Content showing how they rehearse and prepare for an upcoming show is also shared. Ditto for teasers and trailers on a new single. Or an upcoming album (aka 'comeback' in K-Pop speak).
By showing what they do each day, these celebrities make themselves more relatable to their fans. Dropping hints on what's to come further whets their appetites for what's ahead.
How To Apply
Like K-Pop acts, use your social media channels to reveal a little about yourself.
Let your followers know what a day in your office is like. Or the steps which you take to bring a new product or service to the market.
You can also interview some of your customers or clients, and get them to share how they've benefited from your products or services. Or you can do a behind the scenes and tease your audiences with snippets of upcoming line-ups.
#3 Create a Cultural Ecosystem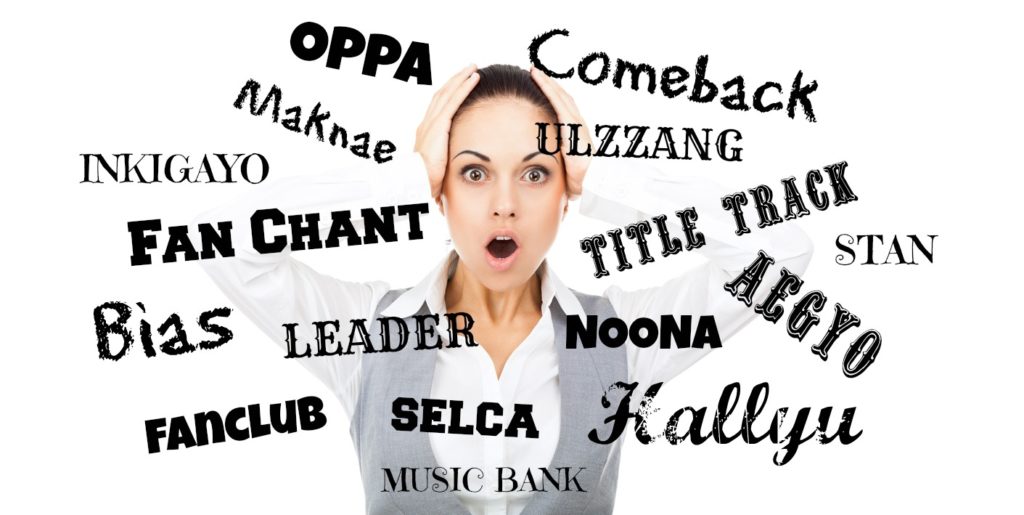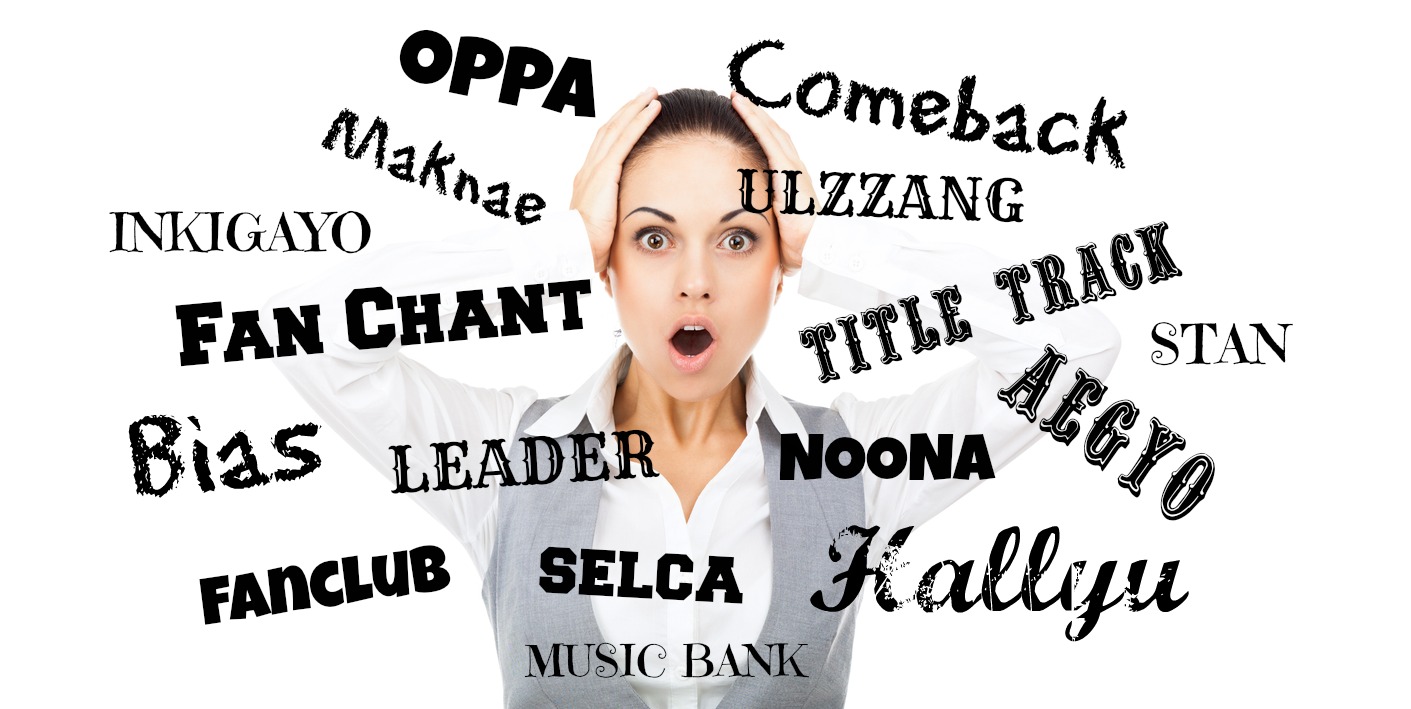 Courtesy of Confessions of a K-Pop fan girl
Do you know what is a stan or a ship in K-Pop speak? Have a bias or a bias wrecker?
What about terms such as unni and maknae?
Congratulations if those terms mean something to you. You're officially part of the K-Pop cultural ecosystem.
(If you're totally clueless, check out this guide to the K-Pop language.)
Beyond developing its own unique language, K-Pop groups and stars regularly appropriate and adapt the musical styles and genres from around the world.
They may include ethnic beats and rhythms from the Middle East, hip-hop and electronic music, sets inspired by the 1970s, costumes hailing from classical Europe, and traditional Korean dance moves.
Have a look at the two music videos below to see what I mean.
How To Apply
The saying that culture eats strategy for breakfast holds true.
While you may not be coming up with the latest dance steps or grooves in your business, it helps to pick up what other companies do, and appropriate their best practices. Embracing diversity is also a winning formula for any business.
Most importantly though, forge your own unique culture and brand. Develop a unique style that is personal to your organisation, and infuse the vibe to your community.
#4 Fuel the Flames of Fandom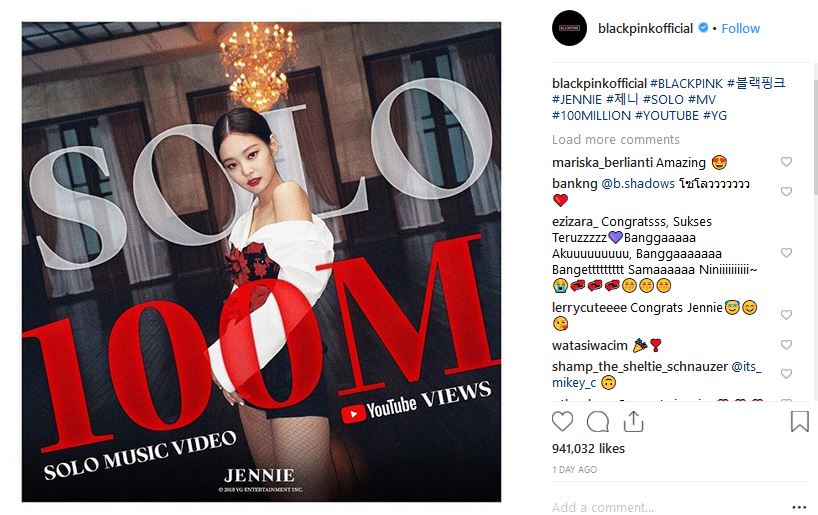 Blackpink's Instagram thanking fans for achieving 100 million views a video
Ahh… K-Pop fans!
Love them or hate them, they're a vital part of the entire machinery. And a very important one too, considering how influential they are in determining the fates of K-Pop stars.
K-Pop fans have a strong sense of identity. And they are extremely protective of their idols.
They also have unique monikers such as…
Onces: Fans of the group Twice
ARMY: Fans of the group BTS
EXO-Ls: Fans of the group EXO
Blinks: Fans of the group BlackPink
Sones: Fans of the group Girl Generation (SNSD)
Reveluv: Fans of the group Red Velvet
Etc….
To cultivate their millions of fans around the world, K-Pop groups and solo artistes make it a point to share snippets of their lives, provide a glimpse of their lives, and shout out their names during concerts. Anniversaries are celebrated with them, as are milestones like the numbers of views on YouTube videos.
Entertainment companies also organise lots of fan events and meet-ups, providing fodder to stoke the passions of fans.
How To Apply
Do you know who the members of your social media communities are?
What makes them tick? How can you add value to them beyond pushing your products and services?
Cultivating relationships with your fans is key, and it comes from meeting them, listening to what they'd like, and responding to their requests.
Create common shared symbols (eg a certain handshake or jingle or gesture), provide them with a name, and celebrate your milestones with them.
(For more tips, read my article on Monster Loyalty featuring Lady Gaga here.)
#5 Cultivate Citizen Journalists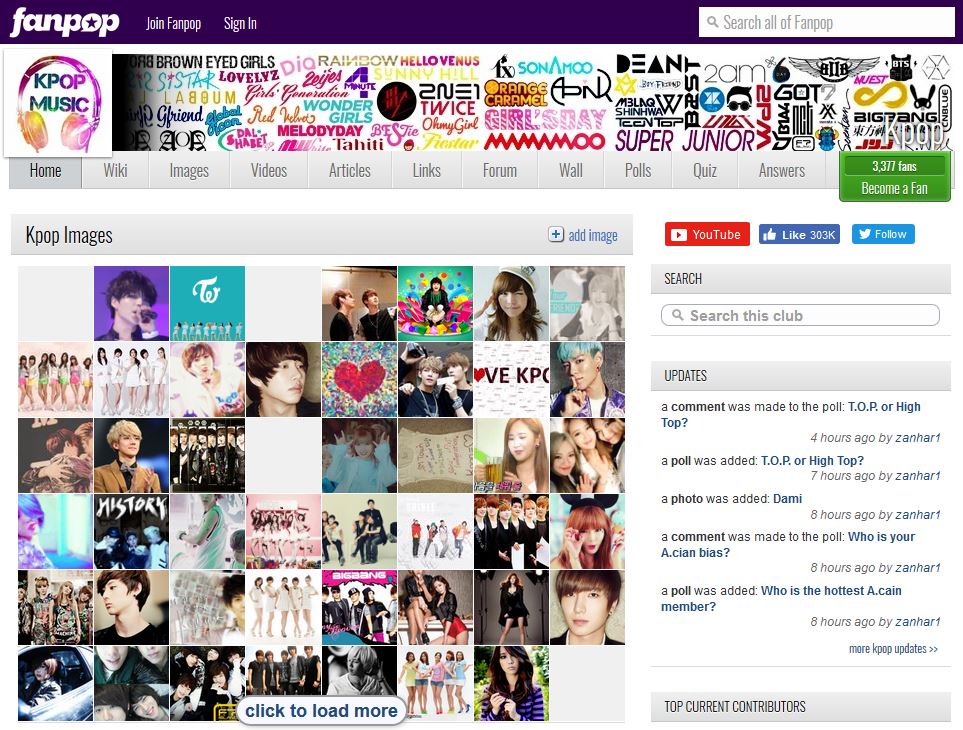 This brings us to the next thing about K-Pop: fan content.
Yes, there are tonnes of fan websites, YouTube channels, Instagram accounts and Twitter accounts.
Dedicated to their objects of affection, these online 'shrines' usually contain articles, mash-up images, and videos of K-Pop idols in different contexts.
They could be a collection of their dance practice videos, an amalgamation of their best fashion looks, or a montage of their various performances over the years.
What's unique about K-Pop is that fan content (which you'd imagine to infringe upon the intellectual property rights of content creators) isn't frowned upon but encouraged.
Wish to catch the highlights of the latest concert featuring *insert your favourite K-Pop artiste*? Just go to YouTube. Chances are that you'll find fan cam versions of the concert that you can view and listen to.
How To Apply
The moral of the story here is this:
Nudge your fans to create their own fan content using yours as a base.
Make it hassle free for them to do so. Encourage them to share your content, mash it up with their own perspectives, and publish it on their channels.
You should also create opportunities for them to 'cover' your events, incentivise them with product or service goodies (avoid cash).
Network with influencers in your space – both larger media companies and individuals with significant followings – and offer them unique opportunities to go behind the scenes or enjoy sneak peeks of upcoming products.
#6 Build Brands via Content Marketing Before Profits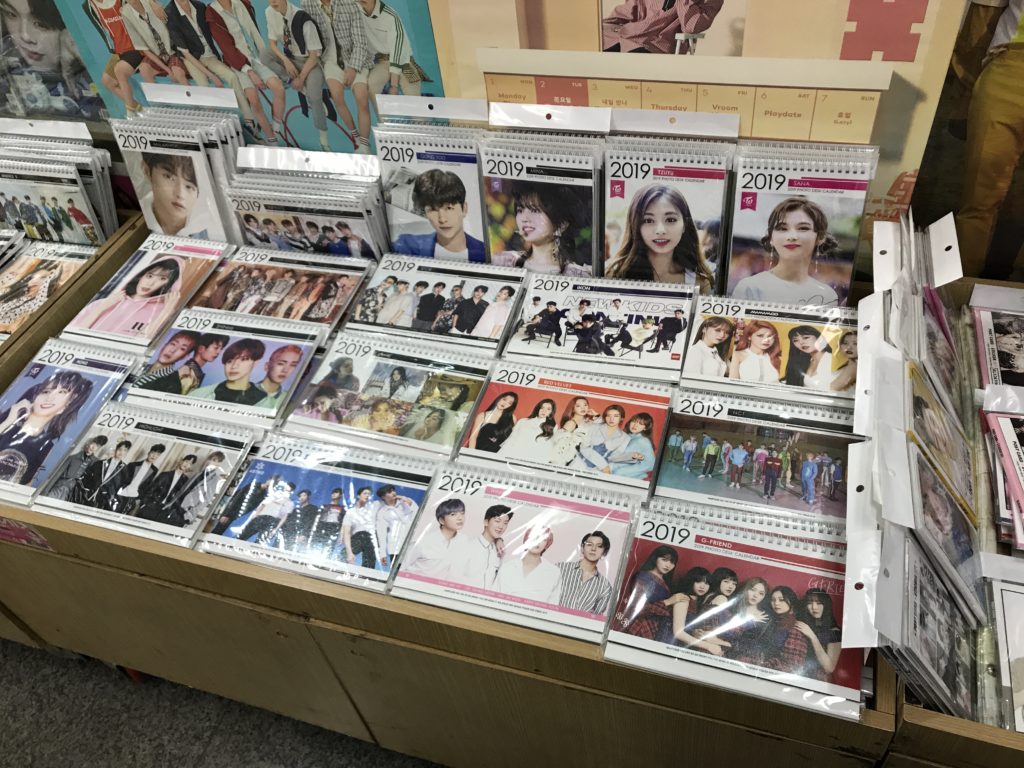 With all that free content available online, how do K-Entertainment companies make money?
Well, there are tonnes of ways to do so, from concerts (notice how quickly tickets get sold out each time?) to CD album releases to calendars, cards, caps, cushions, clothes, cafes and cups.
And let's not forget about the numerous endorsement opportunities which await popular K-Pop artistes and groups. A walk down Myeong-dong's main shopping streets reveals the sheer number of singers and actors who are paid handsome sums to promote anything from cosmetics, alcoholic drinks, food, and fashion apparel to contact lenses and toiletries.
The key thing is this: K-Pop companies focus a lot on building the brands of their various acts. Once these groups and individuals achieved a certain degree of fame, they would leverage on their brand and star power to generate revenue.
How To Apply
In the digital and social age, it is important to build a social brand using valuable and interesting content to cultivate the interest, goodwill and loyalty of your fans. Once this is done, you can seek ways to monetize that relationship.
Like K-Pop acts, you can offer free entertaining or educational content to cultivate your community. This can be used to nurture them as 'leads' in your pipeline. You can then monetize by using the following strategies:
Offer premium products or experiences for a higher fee
Develop branded merchandise
Work with non-competing brands for co-branding opportunities
#7 Gamification Marketing Techniques
Lastly, the K-Pop business is extremely shrewd in using gamification marketing techniques to seed, nurture and cultivate interest in their artistes.
This takes various forms such as the following:
Talent spotting contests and variety shows
Numerous awards (eg Mnet Asian Music Awards, Melon Music Awards, Gaon Chart Music Awards, etc)
Fan polls (often linked to variety shows)
Fan voting contests
Competition among fandoms to stream videos (and hence garner higher views) on YouTube
Participation of K-Pop stars in reality game shows like Running Man (see above) and other shows
Apps, forums and websites focused on K-Pop content
Beyond this list, websites/apps like allkpop deploy gamification techniques like badges, leader boards, and scores to encourage their members to interact on the website. This helped it to gain over 75 million page views a month.
How To Apply
As I've previously shared here, companies can use gamification to cut through consumer clutter, deepen engagement and loyalty, and tap customer insights.
While variety shows may be difficult to launch, you could develop platforms like forums or apps that nurture active brand communities. Should you choose to do so, consider the 5 principles of game mechanics:
Earning points – Or anything similar like credits, coupons, loyalty, chops, rankings. The use of leaderboards/flightboards are popular here as players can immediately see who is winning (and losing) in the game.
Collecting – Can be virtual or physical goods such as affiliations to groups, "swords and shields", toys, books, a set of matching crockery etc.
Feedback – So that players know how well or badly they are doing. Best if this can be provided in real-time.
Taking turns – An important attribute that helps to develop relationships amongst game players and build social capital. Allowing interaction is also key.
Customization – Anything that allows you to differentiate and tailor-make your profiles. Badges are quite popular here, as well as other elements like design, personality attributes, and so on.
Conclusion
Estimated to be worth a staggering US$4.7 billion globally, K-Pop is a cultural and economic force to be reckoned with.
What I've described above barely covers the full machinations behind South Korea's entertainment juggernaut. However, I believe that they played a big role in K-Pop's success over the last 2 to 3 decades, and will continue to do so in the years to come.
While applying these 7 strategies to your business doesn't guarantee your brand international stardom, doing so could help you to stand out from your crowd.
Have you applied any of these strategies to your business? Which ones do you find most relevant?
PS – Read this article by the American Marketing Association to learn more about the symbiotic relationship between brands and pop culture.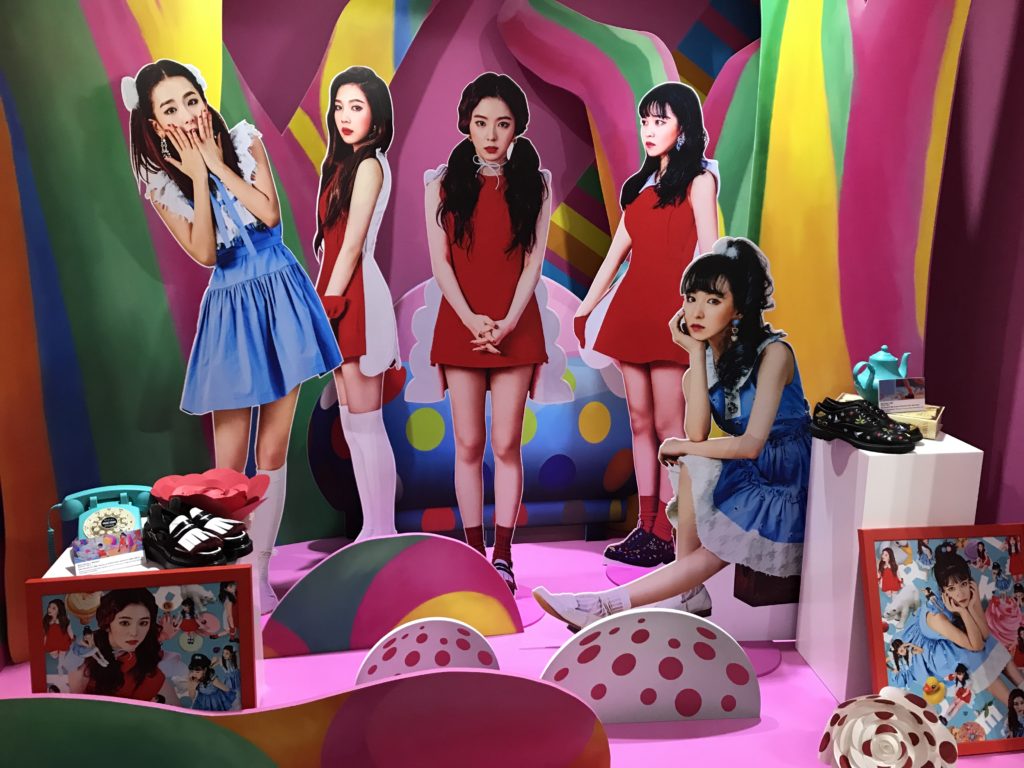 Do you know who this quintet are?
[LATEST] BTS parent company Big Hit Entertainment is now a multi-billion dollar company—its founder Bang Shi-hyuk is South Korea's newest billionaire. All 7 members of BTS are also multi-millionaires. I guess they never have to work another day of their lives! Read more in this Forbes article here.