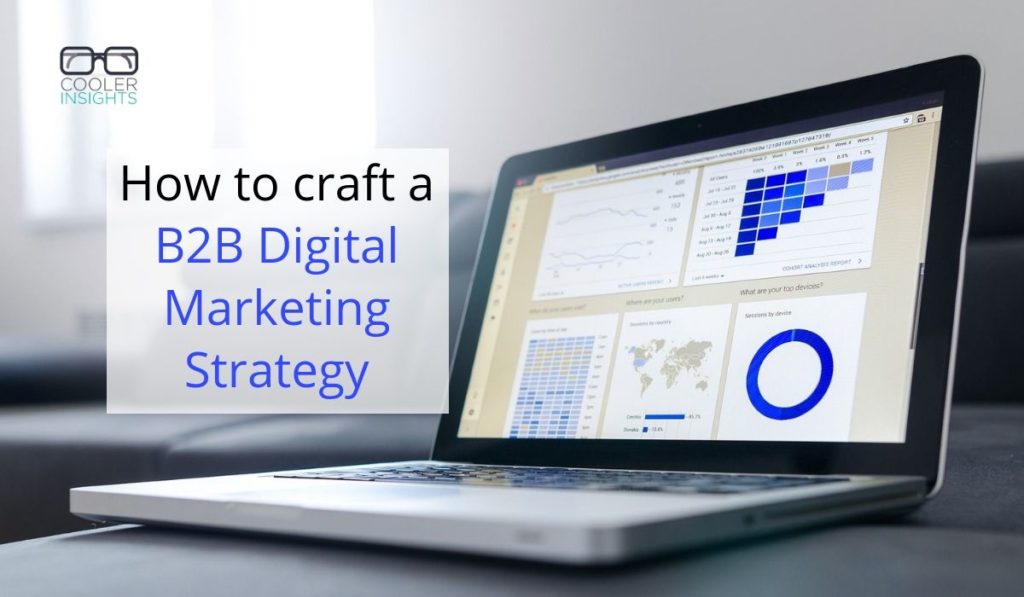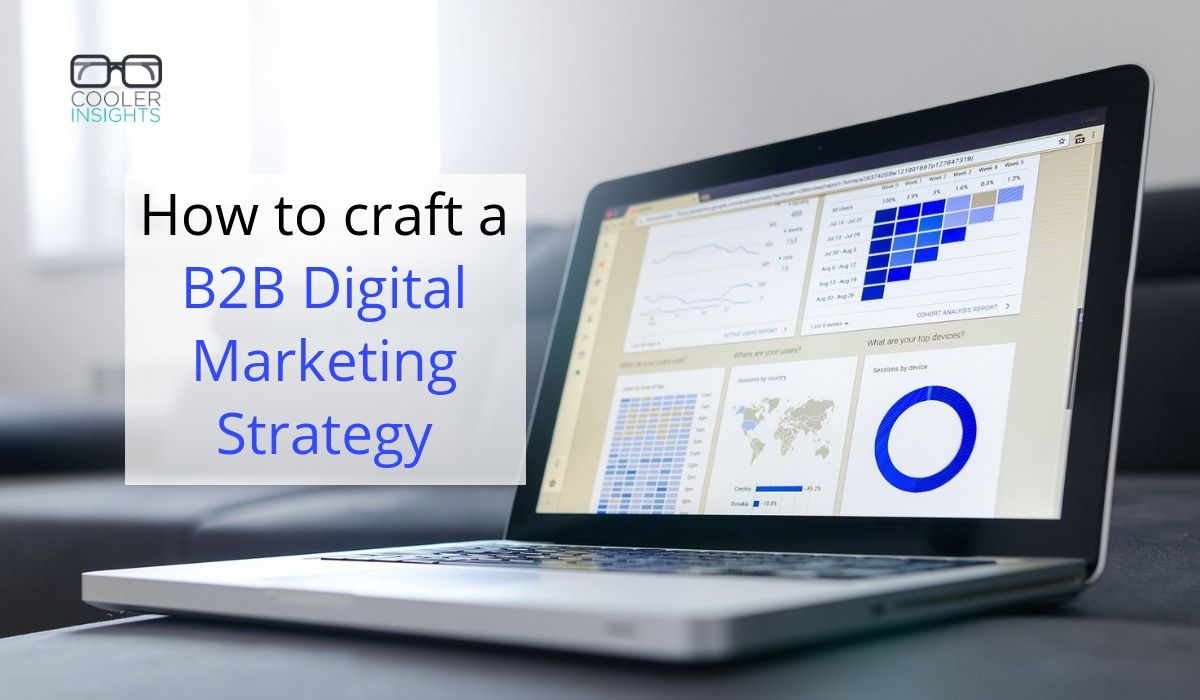 The biggest myth about B2B marketing is that you can't do it online.
With products and services ranging from thousands to millions of dollars, your customers can't possibly see a Facebook ad, click on a button, whip out their credit card, and buy, right?
Well, we all know that B2B marketing is usually more complex than B2C marketing. However, it can still benefit tremendously from digital marketing techniques.
Customer Purchases – B2B vs B2C Customers
Unlike say buying a bottle of shampoo or a book, business procurement processes normally straddles multiple folks across departments. Purchases take longer to happen, and often involves conducting due diligence to weigh the costs and benefits of a vendor's solution.
Here's a table (source) showing the differences between B2C customers and B2B clients.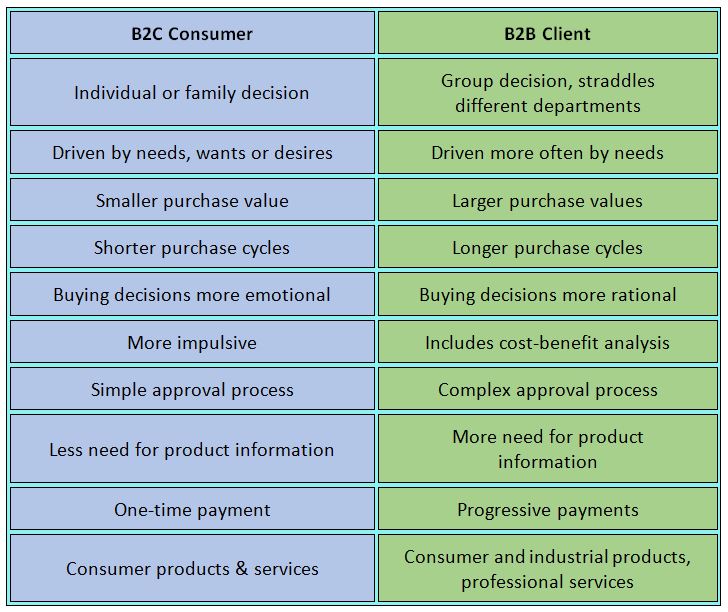 B2B Customer's Buying Journey
While the final B2B transactions are normally done face-to-face, that step is just one link in an entire chain of customer activities and behaviours before and after the sale.
Also known as your buyer's journey, a typical B2B client's purchase route may graduate from being unaware of a problem, all the way to becoming an advocate of your business.
As your prospective customer's staff engages with your firm along different communication touch-points, your goal is to move them towards a purchase decision.
This journey can be illustrated by the flowchart below.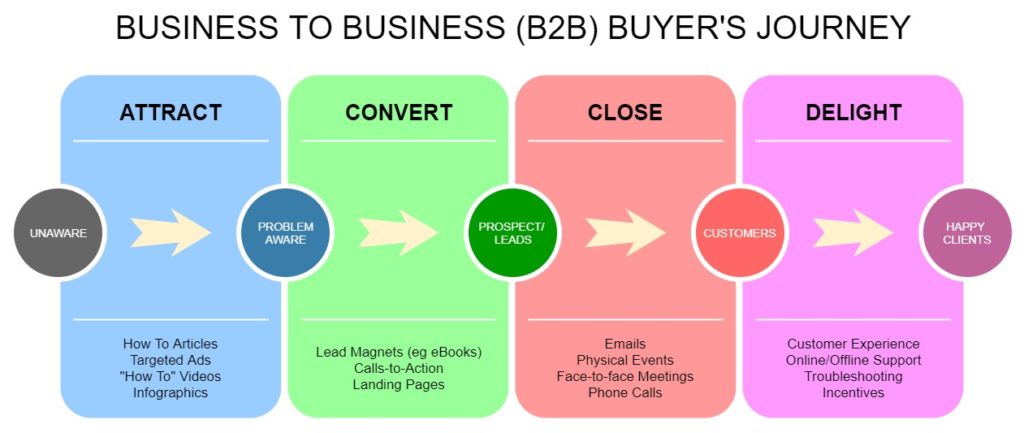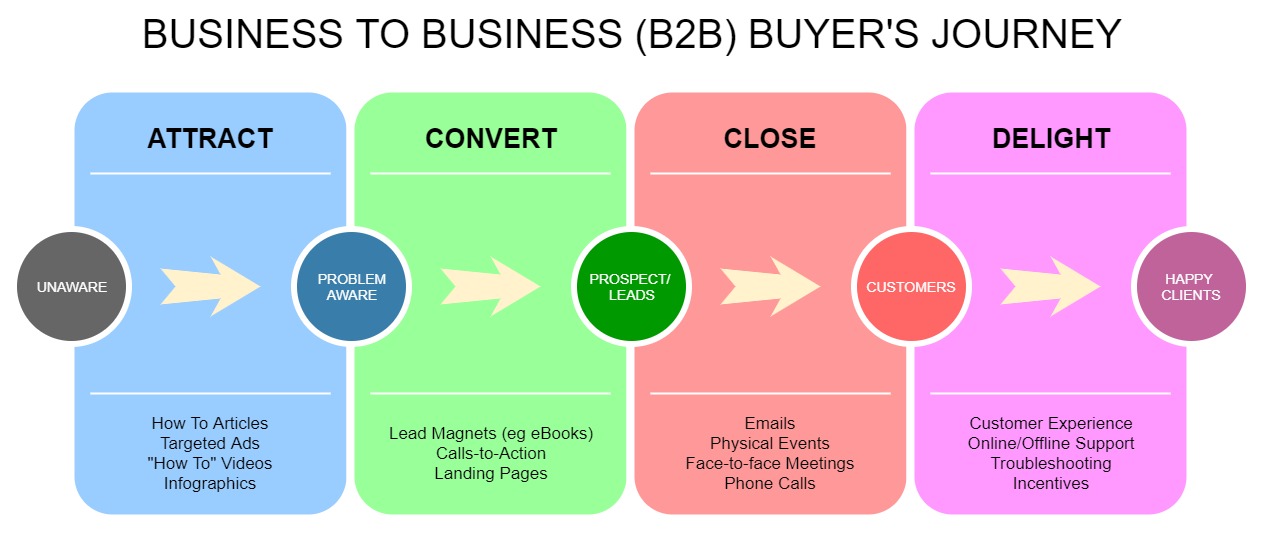 From the chart above, you can see that digital marketing in a B2B context usually happens across multiple steps. Often, you need to blend online marketing techniques (like SEO and social media marketing) with offline sales closing techniques (like face to face meetings and seminars).
So how can you craft a winning digital marketing strategy for your B2B firm?
The 6-Step B2B Digital Marketing Strategy
In crafting your digital marketing strategy or plan, it is useful to break it down into smaller steps. Doing so helps you to chart your progress along the way, and better manage the overall process.
Have a look at my flowchart below documenting the 6 steps needed for B2B digital marketing.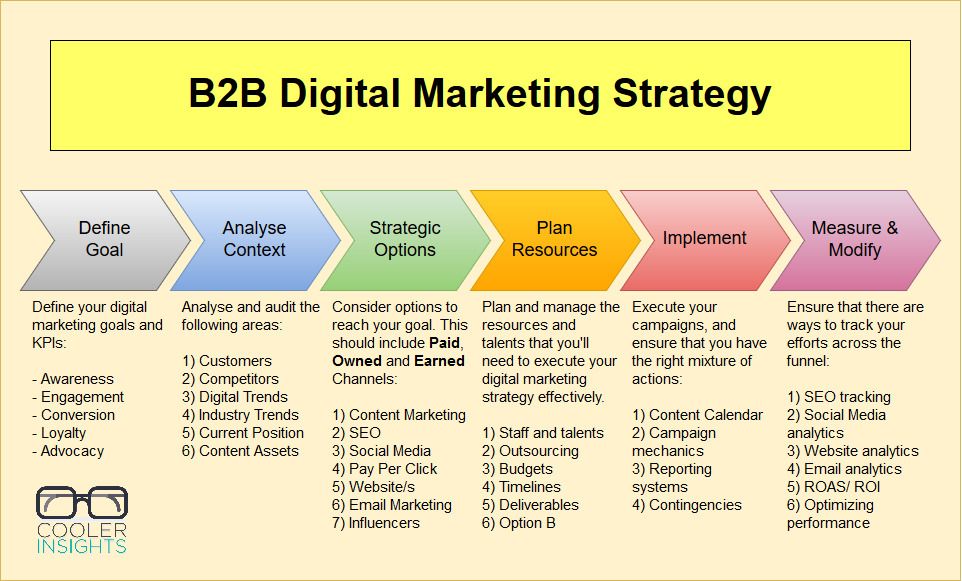 Let us go through each of the steps in detail.
Step 1: Define Goals
The first step in any digital marketing endeavour is to define your goals. Wherever possible, try to make sure that your goals are SMART, ie Specific, Measurable, Achievable, Realistic, and Time-bound.
For a B2B business, your digital marketing goals can be divided into 5 areas:
Awareness: Increase brand awareness; improve brand recall; grow positive brand associations;
Engagement: Improve interactions on social media; increase duration of content consumption; grow online networks;
Conversion: Generate email leads; increase event sign-ups; grow sales volume; improve sales value;
Loyalty: Increase customer retention; trigger repeat purchases; grow product or service upgrades; and
Advocacy: Increase in number of social shares/retweets; amplify use of branded hashtags; improve online/offline referrals.
These objectives can be mapped onto what we call a digital marketing funnel as shown below.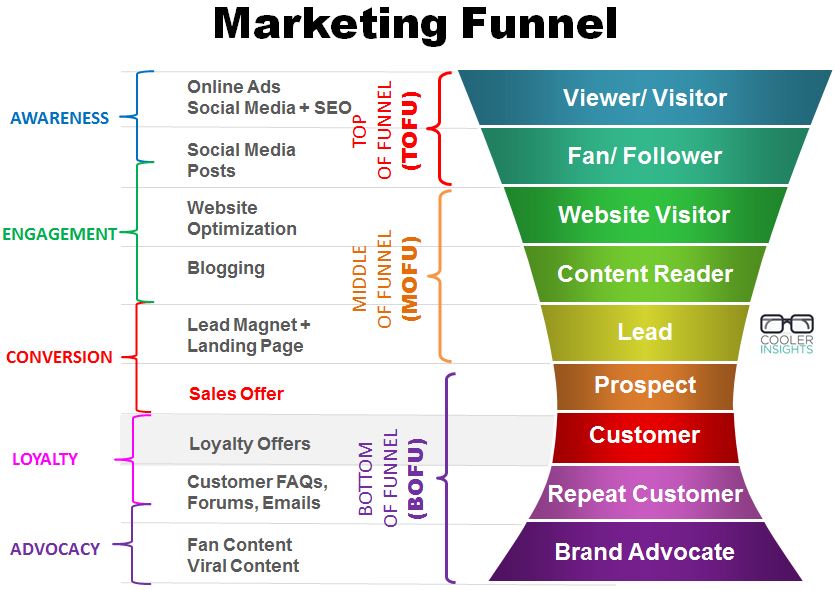 Step 2: Analyse Context
Once you've established what you want to achieve, your next step involves analysing your context.
For B2B firms, there are usually 6 main areas that you need to consider before launching your digital marketing activities:
Customers: What is the profile of the companies which buy from you in terms of their size, industry, budgets, use of technology, and location? Are there seasonal buying cycles? Who are the decision makers and gatekeepers? (More on customer profiles here.)
Competitors: Which companies operate in the same space as you do? How active are they online? Use tools like Socialbakers, SimilarWeb, Likealyzer, Website Grader, SpyFu and Monitor Backlinks to spy on their performance!
Digital Trends: Are there any recent changes in online algorithms that you should take note of? What about content trends (eg the rise of social videos)?
Industry Trends: How is your industry progressing on the digital front? Are there any PESTLE factors (Political, Economic, Social, Technological, Legal, Environmental) that may affect digital marketing for your trade?

Current Position: Do an audit of your current digital marketing activities, and conduct a SWOT (Strengths, Weaknesses, Opportunities, Threat) analysis.
Content Assets: What is your current inventory of content assets (both hard and soft copies) like? Any opportunities to repurpose them for digital marketing?
Step 3: Evaluate Strategic Options
Once you've got an inkling of where you're at, you need to prioritise where you'll put your time, money and efforts in.
For B2B marketers, the options typically cover a mixture of Paid, Earned, and Owned channels, and could include different degrees of digital marketing techniques depending on your organisation's state of digital readiness.
Typically, the main ones include the following:
Content Marketing: One of the most important methods for B2B businesses, creating and sharing helpful content builds trust and establishes your reputation.
Search Engine Optimization (SEO): Incorporate SEO best practices into your web and content architecture, and build links from trusted high domain authority sources.
Social Media Marketing (SMM): Build a community of followers and fans around your brand – be they technologists, engineers, accountants, or lawyers.
Pay Per Click (PPC) Advertising: Need to amplify your campaign? Consider the wide range of paid options available – from Google AdWords and Display Ads to LinkedIn, Facebook, Twitter, YouTube or other social channels.
Web Development: The foundation of all digital marketing methods starts with your "digital home base". If you don't have a website, build one that is responsive/mobile friendly, and optimize your landing pages for conversion.
Email Marketing: The email may be ancient, but it is definitely one of the most important conversion channel for B2B businesses.
Influencer Engagement: Unlike B2C marketing, influencers here could refer to well-known professionals and industry leaders respected for their expertise and achievements.
Here's how you could map out how the different digital marketing techniques combine to deliver synergy in your marketing efforts.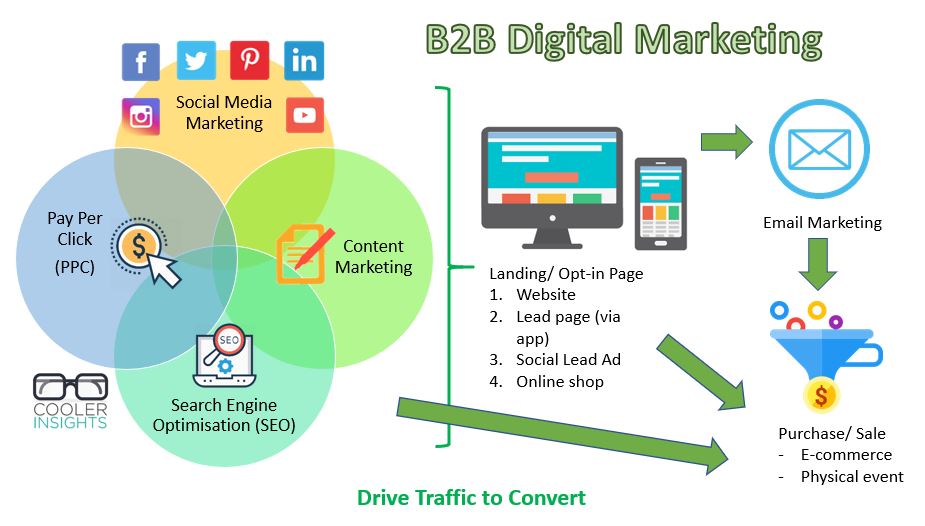 Step 4: Plan Resources
After you've got your B2B marketing channels and strategic options worked out, you need to determine how much resources to put into each.
This should cover the following aspects:
Staff and Talents: Do you have the right manpower to execute on your digital marketing plans? If not, where can you find them?
Outsourcing: Which roles and responsibilities are best kept in-house, and which should be outsourced?
Budgets: How much should you allocate to your campaigns and ongoing digital marketing efforts?
Timelines: What are the different milestones that you need to hit en route to launch? How about after the launch?
Deliverables: Which deliverables should be considered at each phase of the campaign? This would be important if external agency partners are responsible for parts of the digital marketing efforts.
Options B/C: Are there opportunities for you to do A/B testing? This involves buffering sufficient resources for fresh creatives/ copies, or different channels.
Step 5: Implement
It is better to execute well on a half-baked plan than to execute poorly on a perfect plan.
To ensure that your roll-out actions are optimally performed, consider these factors:
Calendar of Activities: Gain visibility of all your digital marketing actions and time them to avoid overlaps.
Campaign Mechanics: From offering lead magnets (eg event sign ups or eBook downloads) to trade discounts, include them in your plan.
Reporting Systems: How frequently will reports be generated on an ongoing basis? Create a simple reporting format and establish key areas to update on.
Contingencies: Include some flexibility and adaptability in your digital marketing strategy, just in case some fresh developments emerge.
Step 6: Measure and Modify
Track your results across the different marketing channels, and measure each stage of your digital marketing funnel. As each digital marketing effort will influence the other, you need to look at your analytics scoreboard as a whole.
Some of the tools which you could use here includes…
SEO tracking and monitoring tools: Eg SEMRush, Ahrefs, and Moz.
SMM tracking and monitoring tools: Eg Facebook Insights, LinkedIn Insights, Instagram Insights, YouTube Analytics
PPC tracking and monitoring: Eg Google AdWords, Facebook Ad Manager, LinkedIn Ads
Website tracking and monitoring: Eg Google Analytics
Email tracking and monitoring: Eg MailChimp, Marketo, Infusionsoft, HubSpot
Beyond this, you should also compute your digital marketing ROI, using advertising metrics such as the following: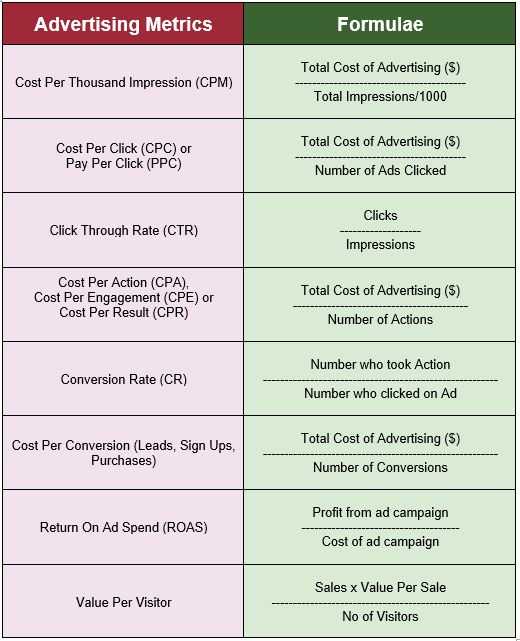 Using the results of your digital marketing efforts, you should look at tweaking and modifying your campaign parameters to improve your outcomes.
Conclusion
The world of B2B digital marketing can be both fascinating and frustrating.
Often, companies fail to achieve their desired outcomes due to a lack of planning, failure to understand their customer's buying journey (and behaviours), or inadequate resourcing of digital marketing activities.
Incorporating a systematic step-by-step process will help you to gain better visibility on your strategies and tactics, reduce errors, and improve your digital marketing ROI.
Are you managing a B2B firm? If you do, consider using above framework as a guide, and modify it to suit your company's unique needs.
Need Help with Your Digital Marketing?
Fill in the contact form below for a free 30-minute Skype or Zoom consultation session!