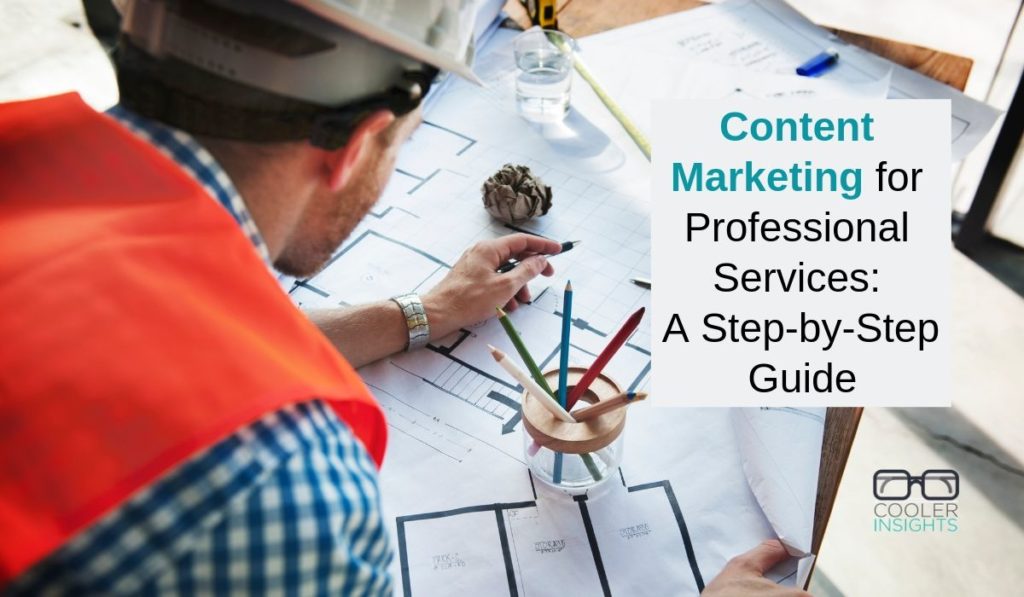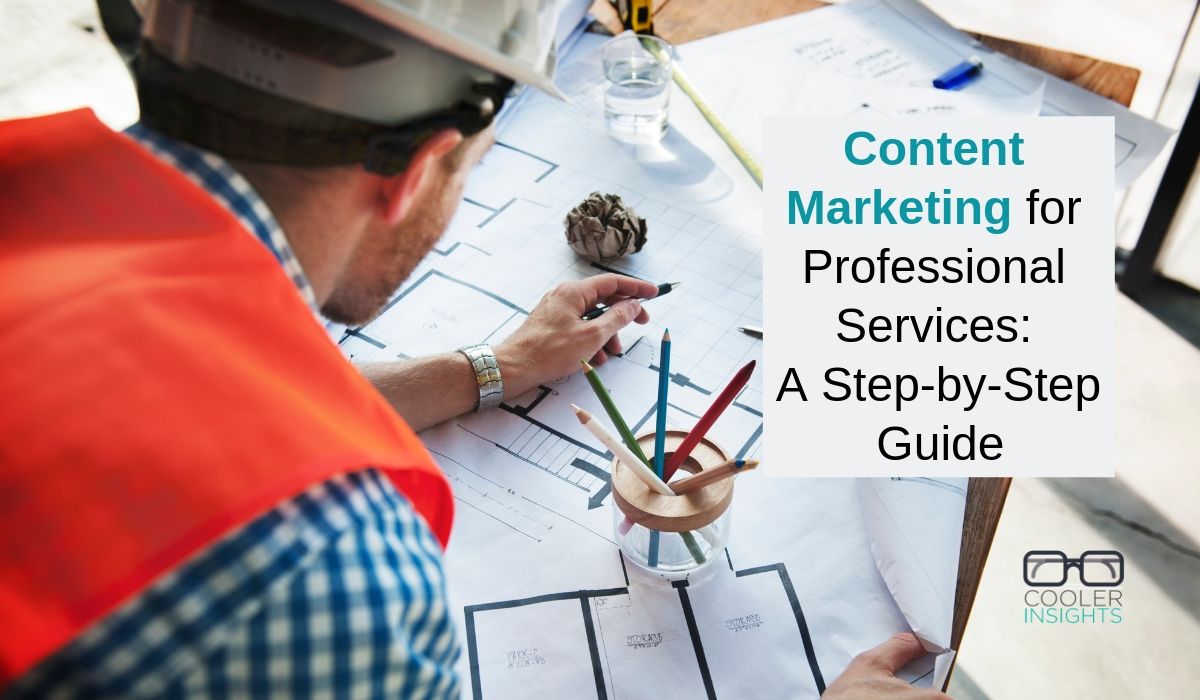 Give yourself a kick if you are in professional services yet ignoring content marketing.
Almost any professional service provider can benefit from online content – lawyers, coaches, trainers, accountants, financial advisers, advertising agencies, PR agencies, architects, marketing and management consultants.
What makes me so confident in saying so? Well, my firm Cooler Insights is a poster child of using content to drive business leads.
And I'm not kidding when I say that we have inbound leads coming to us. Every. Single. Week.
To help you achieve better returns in your online marketing efforts investment, here's a simple 7-step guide that you can follow.
#1 Study Your Market
First and foremost, you need to study your potential market online. This involves asking yourself these questions:
Market Niche: How big is your potential market? The trick here is to focus on a profitable and unaddressed niche, rather than to be all things to all men.
Competitors: Are there many players already in this space? Are they equally actively producing and sharing quality content?
Online Topics: What are some of the hot topics that drive your space? Any potential keywords that people are using?
Gaps/ Opportunities: Where are the existing gaps that needs to be addressed?
Influencers/ Content Creators: Who are the movers and shakers in your market when it comes to content? You can use an influencer search engine like InfluencerDB or a blog search engine to discover who they are.
Useful Research Tools and Techniques
To identify what's trending and hot in your industry, it may be useful to employ the following topics:
SEO Keyword Research: Use tools like Google Trends, Ubersuggest, Keywordtool.io, SEMRush, or others to find out which keywords you should focus on in your content. Choose a keyword that has a decent volume, but isn't too competitive. (You can learn more here.)
Social Media Topics: Use tools like BuzzSumo, BoardReader, Twitter Trends, and other tools to monitor what's trending on social media.
Content Aggregators: Follow your selected topics on content aggregators like News360, AllTop, Popurls, Techmeme, Science News, and others to learn what the hottest topics in your field are.
#2 Identify Your Buyer's Persona
The next step you need to take is to identify who your potential clients are.
Would they be individuals or companies? Are they the business owners themselves or the staff in the company?
In building a customer or buyer persona, do consider the following factors…
Hygiene Factors: What are their budgets for your products or services likely to be? Any location-based concerns? What about their buying seasons?
Demographics: These include factors like the age, designation, department, job specialisation, and income of your buyer.
Psychographics: What are the interests, motivations, and lifestyles of your buyer? Do they have any hobbies?
Pain Points: What are some of the pain points that drive them to look for solutions? What are some of their struggles?
Here's an example of how a hypothetical buyer's persona could look like if your company specializes in IT consulting.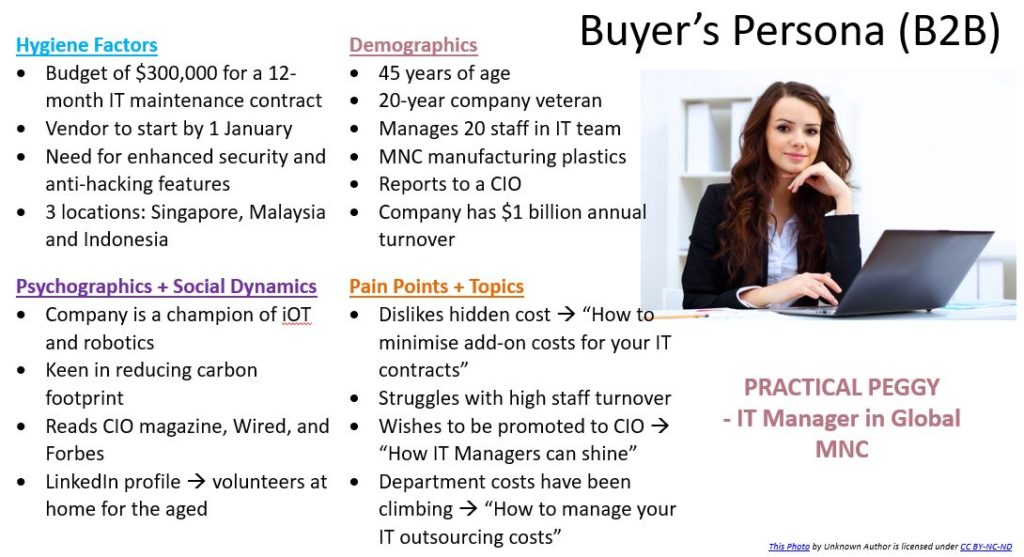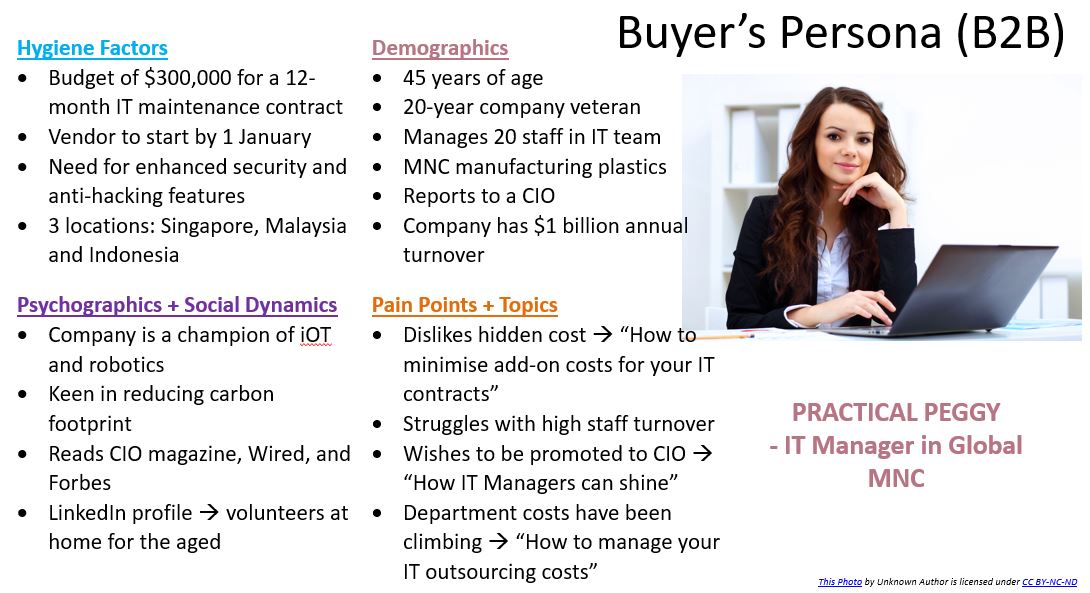 (Learn more about building your customer profile in this article.)
#3 Find Your Brand Voice
As a professional service provider, it is important for you to build a unique brand identity. This should not only be distinctive and memorable, but work to instill trust and respect in your target audience.
Here's where you need to develop your brand voice, defined as the sum of emotions, tones and personality which characterise your company's communication.
In coming up with your brand voice, consider your brand personality:
Are you more local and colloquial in your communication or do you adopt a global and universal tone?
Is there an air of mischief and irreverence in your content style? Or do you prefer to be businesslike and formal?
Does humour work in your industry? What about other emotions like anger, joy, anxiety?
Can you use emoticons and cartoons to communicate?
#4 Build Your Content Hub + Spokes
Next, you need to construct your Content Hub. This normally takes the form of either a website or a social media channel that you wish to focus your energies on.
Your content hub should be the centre of your content marketing universe. It should not only establish you/your firm as a thought leader and expert in your field, but provide utility to your readers, viewers and listeners.
In building your content hub, consider the following…
Focus on a core topic of influence. The more focused you are, the better (eg Accounting for Singapore SMEs as opposed to Accounting in general).
Work on promoting your content hub by sharing its content regularly on social media, emails, or instant messages. These are the spokes which help to drive traffic to your content hub.
Build your authority by reaching out to influencers. Begin by commenting and sharing their content. When you have an especially engaging content piece, you can consider dropping them a message or an email to consider linking to it or sharing it with their networks.
#5 Shape Your Content Marketing Funnel ⏳
The game of content marketing is one that requires strategy, planning, tracking and monitoring.
Rather than throw something on your wall to see if it sticks, spend time building what we call a digital marketing funnel.
Here's how such a funnel could look like. Note that there are usually 4 to 5 different content goals which each stage of the funnel seeks to achieve:
Awareness: Content that helps to generate brand awareness
Consideration: Engaging content that helps to build relationships with your prospects

Conversion

: Content that converts a content reader to a lead, or a lead to become a paying customer
Loyalty: Content or activities that builds community and fosters brand advocacy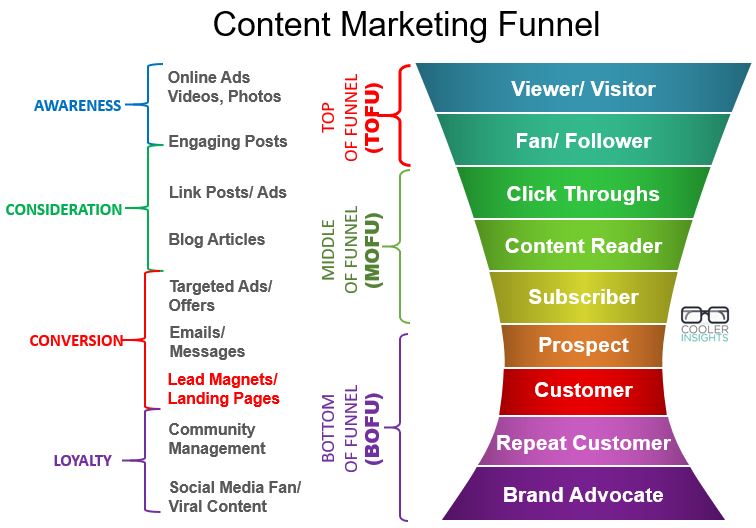 Let us look at this in the context of a life coach:
Top Of FUnnel (TOFU): Content that is used to attract visitors at the Top Of FUnnel (aka TOFU) are normally more basic and lightweight in nature. For a life coach, it could be a 60-second video sharing a productivity tip on Facebook, or a motivational quote from a personal development guru that is shared on LinkedIn.
Middle Of the FUnnel (MOFU): Here, warmer audiences would normally spend more time reading your blog articles, or even "opting-in" via a landing page to get a longer-form and more valuable piece of content (called a lead magnet). For a life coach, it could perhaps be a short course (delivered via email) on "How To Improve Your Energy Levels"
Bottom Of the FUnnel (BOFU): At this stage, your members would be converted to become paying customers through more specific Calls To Action (CTAs). A life coach could offer an one-hour telephone consultation for free, or an initial life assessment conducted via an online questionnaire. While sharing the results of these assessments, the life coach could then nudge the prospect to consider a longer-term paid coaching engagement.
#6 Teach, Teach, Teach, Then Sell
One of the greatest mistakes I see professionals regularly commit online is this:
They can't stop boasting about themselves. Or their services.
Here's where we revisit the definition of Content Marketing, which goes like this…
"Content Marketing is a marketing technique which involves producing, curating and disseminating valuable content through online channels with the purpose of creating brand awareness, generating business leads, driving sales conversion, or improving customer loyalty."
Remember that your goal is to provide value to your customers, not irritate the hell out of them!
As an experienced lawyer, architect, or PR professional, your greatest gift to your customer is helpful and relevant information that they can use.
Focus the bulk of your content efforts on educating your client. Provide them with the tips, tools, and techniques they can use to improve themselves professionally and personally.
#7 Plan and Schedule Your Content
The next step you need to take is to put all of your content ideas into a plan and to schedule them on a calendar.
In doing so, you should consider the following:
Frequency: How frequent should your content pieces be published? Consider how you can sustain your efforts over the long haul.
Content Types: What are the different content types – videos, images, text posts, articles, eBooks/guides, templates, checklists – and how they should be shared.
Outsourced/ Inhouse: Which should you do inhouse and which should you outsource?
Channels: What are the different content channels that you should use?
Here's an example of a content calendar from Coschedule: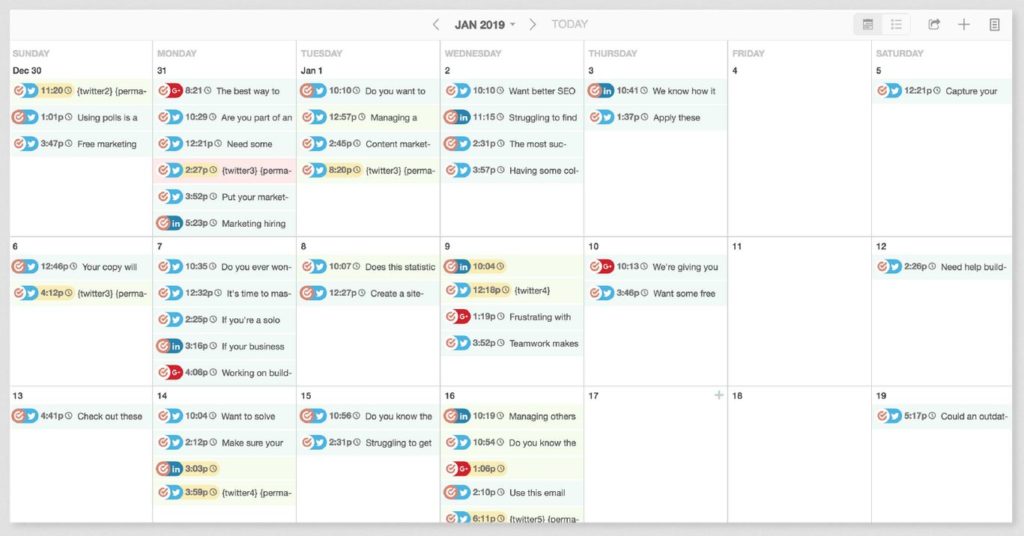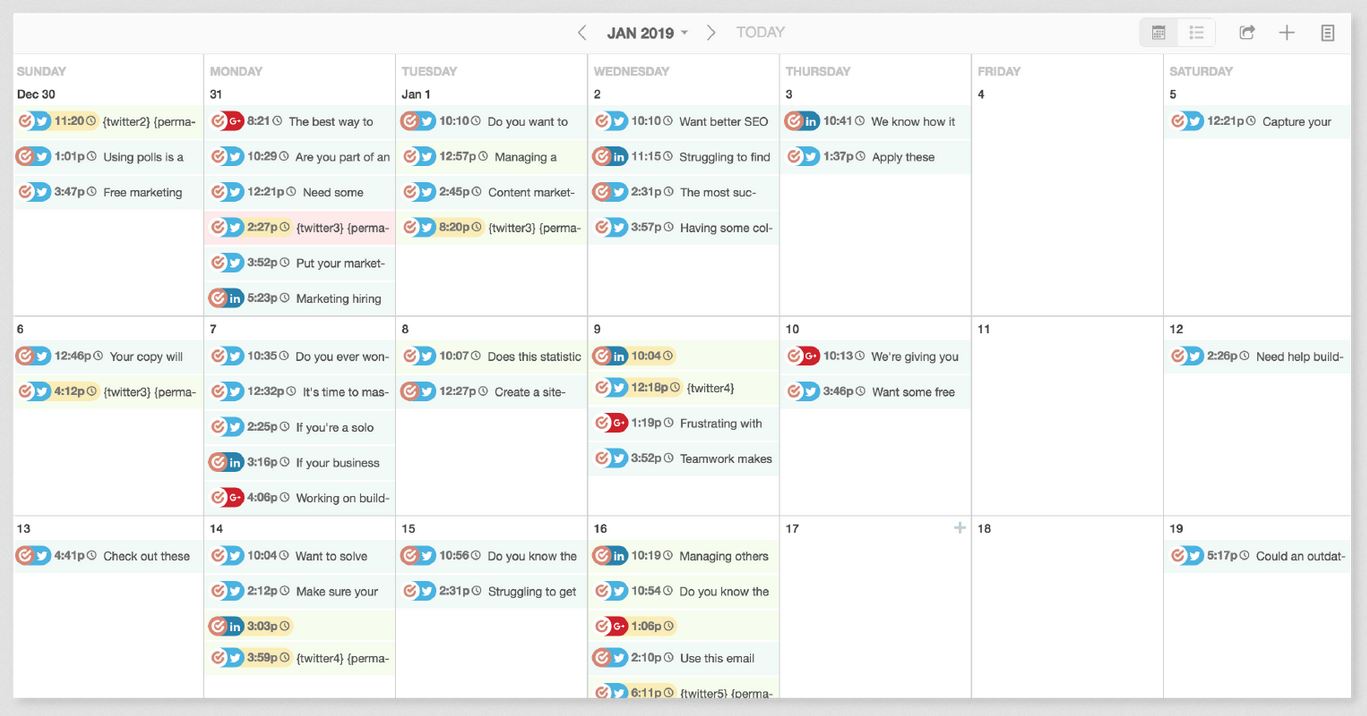 #8 Measure and Optimize Your Campaign
Finally, you need to have a way of measuring the performance of your content marketing efforts.
Now this could vary from goal to goal, and may include the following metrics:
Awareness: impressions, cost per thousand impressions, video views, page views, visitors, reach, no of fans/followers
Consideration: "likes", comments, shares, clicks, engagement rates per post, engagement rates per follower
Conversion: no of opt-ins, downloads, subscriptions, purchases, cost per lead, cost per sale, etc
Loyalty: fan shares, retweets, fan blog posts, influencer posts, customer lifetime value (LTV) etc
Beyond tracking individual metrics for your content pieces, you may also want to calculate your content marketing or social media marketing ROI. This usually involves calculating the following:
Revenue per channel or campaign: What is the total sales that you've generated for each channel (eg Facebook or LinkedIn) or for each campaign? Remember to find a way to attribute your customer acquisition efforts to the right channel.
Costs per channel/ campaign: What is the costs incurred for each of your content marketing channels? Include your manpower costs, creative and copywriting costs, advertising media costs, and others.
Compute Your Return On Ad Spend (ROAS): This formula simply looks at your campaign revenue divided by your cost of campaign, ie…

Once you've figured out what your Content Marketing performance is like for each channel, each campaign, and each content type, you can then tweak your content pieces to optimize your efforts.
Conclusion
Phew! That was quite a lot to go through wasn't it?
As providers of high-value and knowledge-intensive products and services, professional service providers in fields like architecture, accounting, training, marketing, engineering, law and other professions can benefit greatly from content marketing.
Unlike consumers of mass market products, your clients are likely to need more convincing before they decide to sign on the dotted line. To win them over, it makes sense to provide valuable insights, techniques and tactics that they can use. This is where content marketing fits like a glove.
Are you working in a professional services firm? Or do you own one yourself? What steps can you take to embrace content marketing in your trade?
Need Help with Your Content Marketing?
With over 5 years of experience working with over 60 clients while equipping over 2,900 trainees in social media and content marketing skills, Cooler Insights has the knowledge, experience and expertise to help you win in the online world.
Drop us an an email with your particulars or fill up our contact form⁠—we'll be happy to meet for a coffee chat.