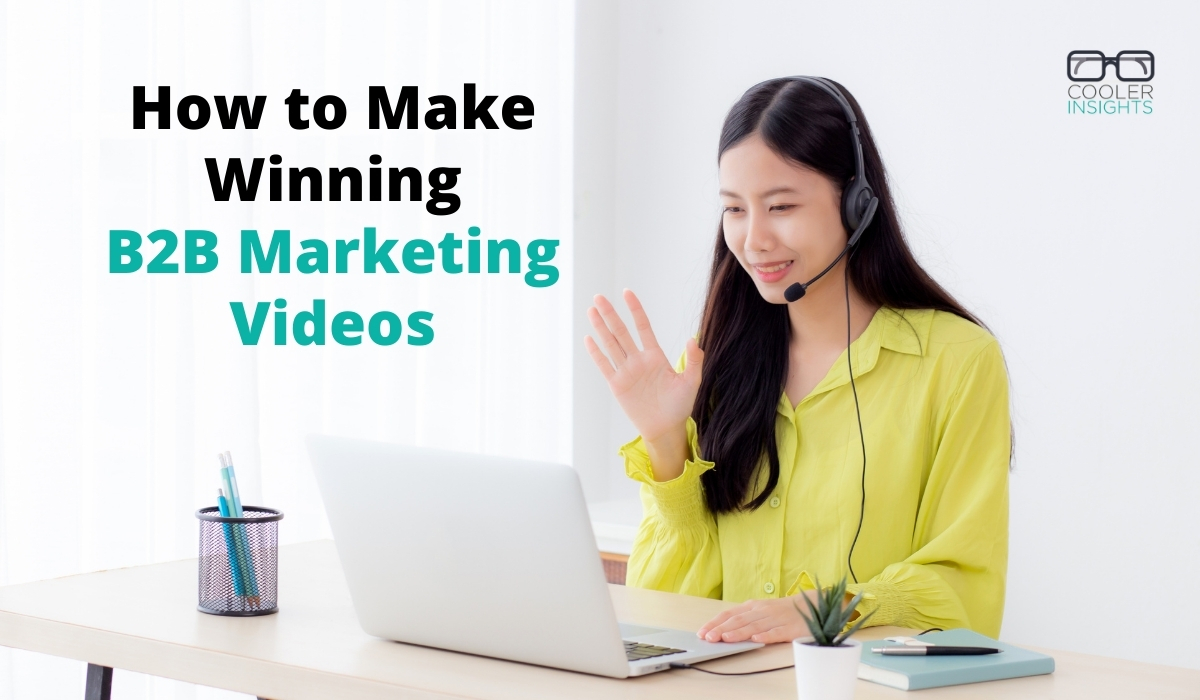 One of the latest content marketing trends that businesses are hopping on is video marketing. And for good reason too.
Around 60% of businesses have started using videos as their top marketing tool.
There was a time when videos were considered to be a great tool to attract the B2C audience. However, things have changed. Videos are now becoming crucial for marketing and communication for B2B brands too.
Honest, this is not surprising considering how easy and affordable creating videos can now be. The cost of developing videos and their impact makes it ideal for even small B2B businesses to adopt video marketing.
Video marketing has also been proven to bring increased customer engagement and retention. It helps to boost your SEO, social media, blogging, and other marketing efforts.
Used correctly, video marketing can even help you to nurture your prospects and distinguish yourself from others in the market.
But what makes video marketing successful? The answer is pretty simple — a great video.
And what makes a video great? Let's find out.
Features Of A Great Video
There are several videos that perform better than others. Here are a few common elements that you can find in each of those videos that make them great.
Limited duration
When creating your videos, you must keep your audience in mind. And in this case, your audience is the leaders and decision-makers of other businesses. Basically, the individuals that won't have enough time on their hands or attention span to watch an entire 60-minute video.
This makes it important for you to ensure your videos are short and sweet. Anything beyond 2-minutes won't be a good idea on Facebook and LinkedIn, while YouTube tutorial videos should be about 8 to 10 minutes in length.
Leverage storytelling
Humans are emotion-driven beings, irrespective of the industry; and stories happen to be an excellent method of targeting the emotional aspect of any individual.
In order to create videos that keep the viewers engaged, storytelling is an indispensable element. It is these stories that will help your audience to connect and relate with your brand.
Shared on the right platforms
This is perhaps a crucial feature of any great video – being at the right place and at the right time. It is possible to ensure this by posting the videos according to the platform.
Sharing a video that was originally meant for a landing page on your Instagram page won't really make sense. Also, resharing videos on LinkedIn that were meant for YouTube is not a great strategy either. You must create videos according to the platforms.
Suppose you are sharing a case study. The best way to distribute such a video would be by using email marketing. This will help improve the chances of your audience heading to the next stage in the buying process.
Entertain the audience
When you market your product, you must be careful that your marketing does not actually feel like marketing. An entertaining video helps you reach there. If you have a video that your audience finds entertaining, they will surely engage with it.
You can use such videos to let your audience understand that you are not just here to sell your product or service. You can show that you understand the challenges, the pain points, and maybe even the humor of your customers. It will help build trust among the audience.
Add value
The videos that you publish should entertain but if they don't, you must make an effort to make them educational. Or, even better, make them both entertaining and educational (ie edutaining).
You can share videos with your customers that add value to their lives. These videos should help them find solutions to their struggles or problems. You must also cover the topics that are relevant to your product and how it can be a perfect solution.
Well promoted
A video becomes great when more and more individuals get a chance to go through them. And that's possible only when your videos are reaching a large number of people. In order to ensure this, it is important for you to promote your videos well.
There are several platforms and ways to promote your videos. You can use social media platforms, email marketing, or search engines. However, you must make sure that your videos are optimized according to the platforms you are using.
Types Of B2B Marketing Videos
You can't always use the same format of a video. It will get monotonous and can reduce the traction. Don't worry. There are several types of B2B marketing videos for you to choose from.
Brand Video
A B2C customer mainly focuses on a brand's products and their functionality. They are hardly keen on understanding a brand and its background. It's not really their priority.
However, things are quite opposite when it comes to a B2B brand. This just means that when it comes to a B2B brand, they are looking to build a long-term partnership with their prospects. They are looking to not only generate a regular and predictable revenue stream but also for the time that can help prove the effectiveness of the product or service they are offering.
Now, to establish a partnership that would start off based on trust, a prospect would want to know everything they can about a brand. From the processes to the structures, from hierarchy to work experience, they would not leave any stone unturned. This is where a brand video can help.
Just be very clear about the personality that you want to portray and showcase it using such a video.
Product Video
The ads that you see on your television are all product videos. Product videos, in fact, have been a part of the advertising industry for a pretty long time now.
One common aspect of every product video is that they are all hardcore promotional. They have one job and that is to sell.
Most ads even work for the B2C sector. However, attracting a decision-maker of a business with such sales-y ads is a little too ambitious. Businesses don't buy products just because they found an advertisement cool.
Hence, when it comes to B2B product videos, the approach is a little different. You must use such videos to showcase your product as a solution. You can show how your brand understands the challenges that are being faced by the businesses and how your product helps them tackle those.
It will be a great video to attract your target audience.
Explainer/Product Demo Video
One type of video that you already covered was how your product is a great solution for businesses. Another type of video that you can produce is a demo of how exactly that product is to be used in order to reach the final destination.
You see, no one has enough time on their hands to sit and figure out a complex tool. This means that even if someone buys a product but they aren't able to use it, retaining them would still be a challenge. That's where product demo videos can become relevant.
Your product demos are basically the how-to videos. You can show a step-by-step guide on how an individual can quickly start using your product.
On the other hand, an explainer video explains what exactly does your business does.
It is a great type of video for those who are selling to a cold audience. You can showcase the benefits or advantages of using your product over others using explainer videos. You can also show how these benefits will result in making the lives of your prospects easy.
Testimonials
Testimonials are the reviews of your products by those who have already used them. When you collect and share testimonial videos, you are sharing social proof about your product. You can show how an individual was struggling with challenges similar to your prospects and how your product turned out to be an excellent solution for them.
Suppose you are a business that has a website checker as a product. You can ask your existing customers to share their experience – how convenient or easy was it to understand and use the product and how do they find it as compared to the products they have used earlier.
It helps your prospects give a clear idea of the product but from your customers and not your team. This adds some brownie points to your credibility.
Also, there are more chances for you to sell a product because everyone knows how tricky it can get to receive a video testimonial. But if your customers are doing it for you, it just means they truly appreciate your product. It can transform the entire situation.
Expert Interviews
Sharing interviews with leaders and subject matter experts in your business not only helps educate your audience but it's also a great way to establish your brand as an authority.
This helps others know that you have the knowledge and expertise needed to solve the problems of individuals. It is also a great way to gain trust and credibility.
But how do you make your expert interview videos great? Of course, the expert that you choose to interview has an influence over how your video will be perceived, but it's also the tone of the conversation and the type of questions that will help you reach where you need to.
You can also target controversy as an element. It is something that definitely keeps the users hooked. You can either ask controversial questions or invite an outsider, a famous personality, whose thoughts and perceptions do not align with your brand.
Case Study
Case studies are quite impactful, especially in the B2B markets.
You can dedicate entire videos to different brands and showcase how they are using your tool or service. Case studies themselves are quite convincing. Adding them in a video format only increases their already high impact.
Conclusion
To conclude, we can say that marketing certainly has seen major transformations. Videos were once only considered a great tool for B2C brands but now, they have also proven to be an amazing B2B marketing tool.
There are plenty of different types of B2B marketing video types that businesses can use including product demos, case studies, explainers, and educational videos. But these videos must be kept short and should be promoted using the right channels. Otherwise, reaching the right audience will certainly be a challenge. And who wants that, right?
Author Bio
Vaibhav Kakkar by the Founder and CEO of Digital Web Solutions, a globally trusted agency with a full suite of digital marketing services and development solutions. Vaibhav believes in building systems over services, and has helped scale up agencies from scratch to niche leaders with million-dollar turnovers.