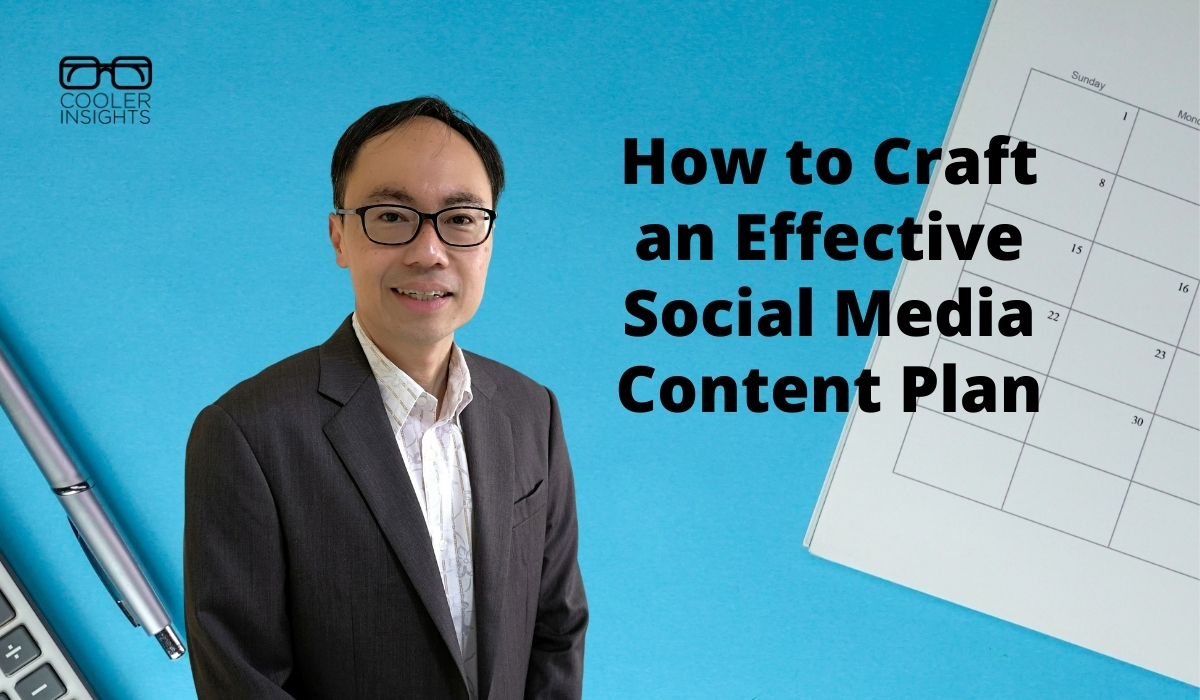 Need to better way to schedule and manage your social media content calendar? Consider developing a social media content plan!
As the saying goes, fail to plan and plan to fail. That saying is just as relevant in social media marketing as it is in any other areas of business.
Unlike creating content for your personal Facebook, Instagram, LinkedIn or TikTok accounts, you need to be systematic and strategic when you manage the content needs of your company or brand.
In this article, you will learn a step-by-step formula to translate raw content ideas into a practical and systematic social media content calendar and plan.
This will cover the following three sections:
Why Social Media Content Planning is Necessary
How to Map Campaign Content to Your Buyer's Journey and Marketing Funnel
How to Craft a Social Media Content Plan and Editorial Calendar
Ready to turn your content ideas into a systematic social media content strategy? Let's go!
Why Social Media Content Planning is Needed
First, let us look at some of the reasons why a systematic process for planning your social media content is needed.
#1 You Need a Compass to Steer Your Content Efforts
Ever boarded a plane or ship where the captain has no clue which direction to take? Well, neither have I.
Just as you wouldn't entrust your life to a pilot without a navigation device, the same rule should apply to your company's social media channels.
#2 You Need to Match Your Audience's Expectations
Without a plan, putting up a Facebook post or sharing an Instagram story is pretty much like throwing spaghetti on a wall and seeing what sticks.
It is random and haphazard, and may not deliver what your audiences expect.
#3 You Need to Be Consistent in Telling Your Brand Story
With a social media content plan, you're able to determine what stories and messages are communicated through your social media marketing channels. This ensures that your brand is consistently viewed and perceived by your prospects.
#4 You Need to Match Your Content Types to Your Goals
Crafting a social media content plan helps you to align your social media marketing content to your goals and your audience expectations.
#5 You Need to Track and Manage Your Social Media Content Efforts
Having a social media content plan makes it a lot easier to systematically manage your resources, assets and team members handling the different parts of your social media marketing process.
#6 You Need to Get Management Approval
By presenting your boss or manager with a systematically organised content plan, you are less likely to be questioned for your content choices!
Map Content to Your Buyer's Journey and Marketing Funnel
In crafting your social media marketing campaigns, you need to align your content ideas around two main things:
Customer Buying Journey: Which stage is your customer's buying journey?
Marketing Funnel: How you can nudge your customer towards a profitable action?
By doing so, you will ensure that your campaigns are robustly structured to meet the needs of your customer.
a) Trace Your Customer's Buying Journey
First, consider your customer's buying journey and their unique informational needs at each stage of the process. Gear your social media content towards answering the questions that customers may have in their heads.
Here are the typical stages of a buyer's journey below:
Need Recognition: "What do I want or need?" "What am I interested in?"
Research Options: "How do I know which is better?"
Evaluate Brands: "Which brand better meets my needs?" "How do I compare?"
Purchase: "What are the assurances that I can get for this purchase?"
Post Purchase: "How was my experience like with this brand?"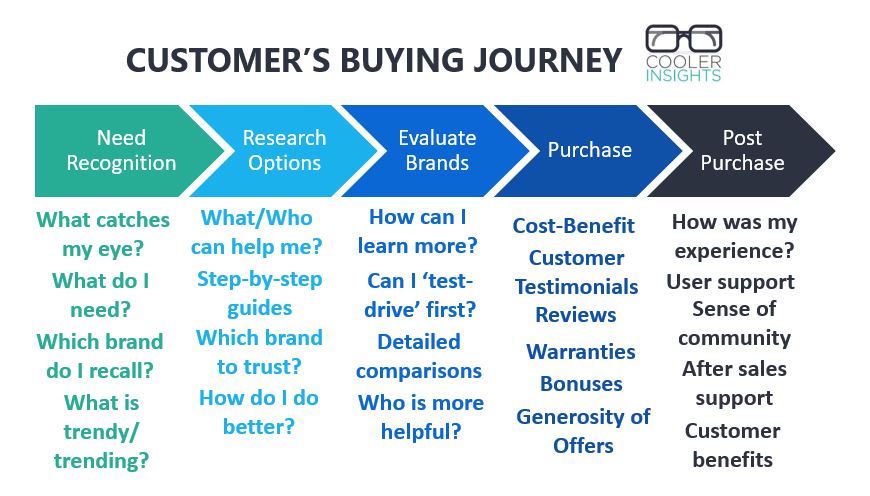 As an example, let us look at a mother considering organising a birthday party for her toddler. These would be the different types of information that she'll need at the different stages of her buying journey.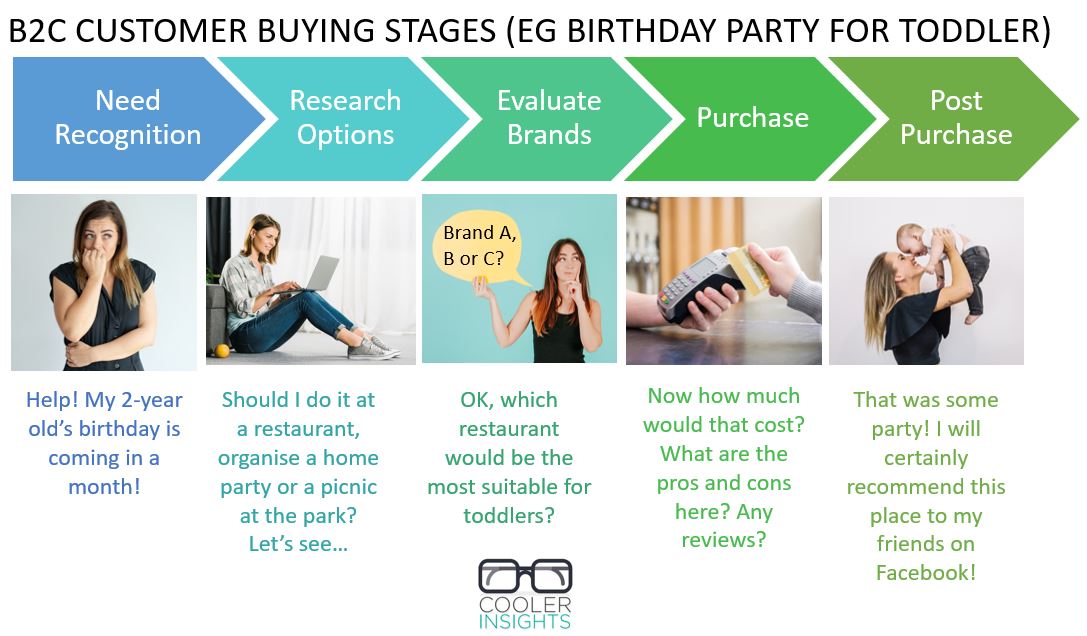 (Before tracing your customer's buying journey, do ensure that you've fleshed out your customer or buyer persona.)
b) Map Your Customer's Buying Journey to Your Digital Marketing Funnel
After you've identified your customer's content needs, your goal is to develop content that can meet their informational needs at each stage, and nudge them towards a deeper relationship with your brand.
This can be done by developing what we call a digital marketing funnel. For an example of a social media marketing funnel, look at the infographic below.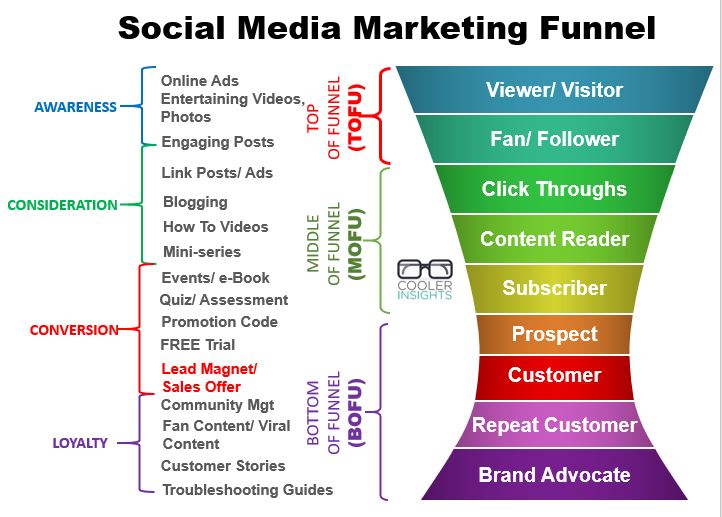 In crafting your social media campaign plan, it is paramount for you to achieve the following:
Ensure that there is a natural flow from the different stages: Awareness, Consideration, Conversion, and Loyalty
Ensure that your content types for each stage can meet your target audience's needs. For example, a customer at the awareness stage is less likely to respond to an attractive offer if you haven't invested enough time and money in building brand trust.
Ensure that you establish SMART Goals—Specific, Measurable, Attainable, Relevant and Timely
As you lay out the different content pieces for your social media marketing campaign, consider your social media marketing analytics. These are the KPIs and metrics for each stage.
Here's an example of how they may look like.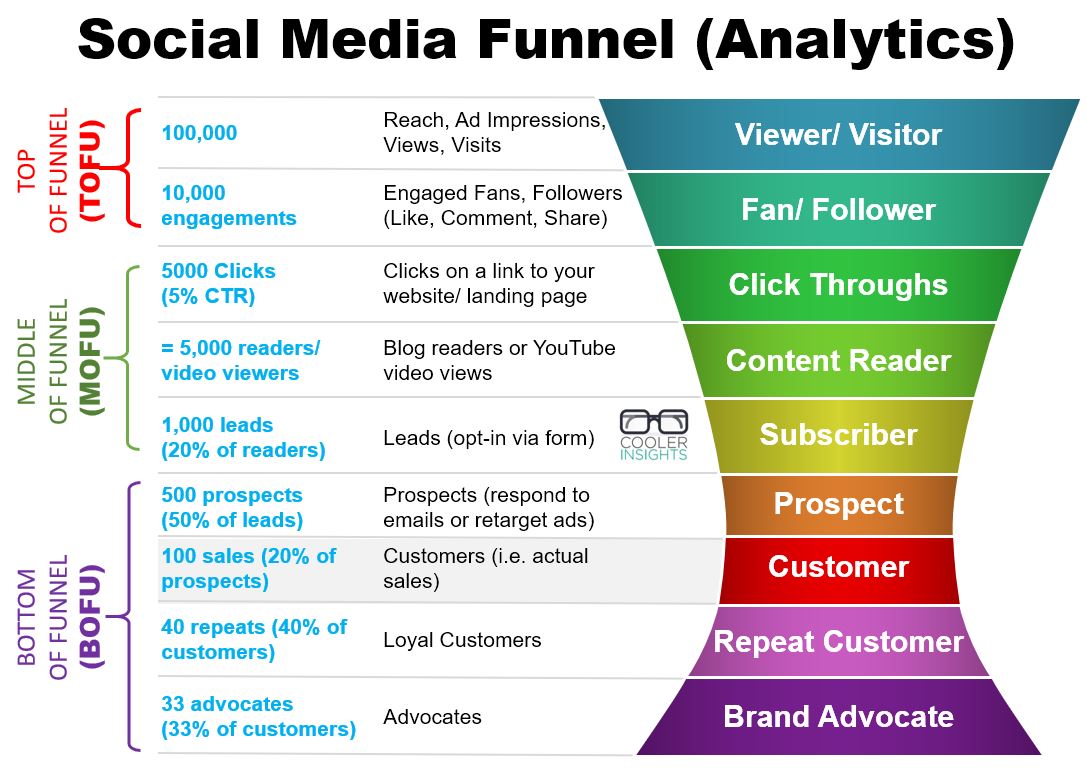 When you estimate the metrics that you hope to achieve at each stage, consider the following factors:
Tap Historic Performance: Use your past performance numbers as an estimate of what you can achieve at each stage
Use Analytics Tools: Use the different analytics tools available for your social networks and website (eg Google Analytics) to estimate your reach, users/visitors, engagement rates, leads (eg downloads or forms filled), customers (eg sales) and other numbers.
Estimate Cost Per Result: Use the estimated advertising KPIs provided by your social network (Facebook, LinkedIn, Twitter, Pinterest, YouTube or others) to come up with your cost per result if need be.
Estimate Conversions: Use your previous experience or benchmarks on what conversions you can achieve for each stage.
Now that you're acquainted with the different stages of your social media marketing content as well as possible numbers, let us see how we can put your social media content plan together.
How to Develop Your Social Media Content Plan and Calendar
Before you put together your social media content plan, ensure that you have the following 7 essential "ingredients" in place:
Targeted customer persona
Customer's buying journey stage
Company's marketing funnel goal
Content titles/ ideas (read this if you need help to brainstorm social media content ideas)
Topics/ keywords/ hashtags
Format/ type of social media content
Officer In Charge (OIC)
Social media channels for the campaign
Let us now try to put them all together.
Step 1: Begin with your customer persona, buying journey and funnel stage
For the first part of your content plan, list down your day/dates, targeted customer personas, their buying journey stage as well as your marketing goal and funnel stages.
In our example below, I am developing a social media content plan for a one-week (actually 5-day) period, for 3 different customer personas:
MNC Marketing Manager Tom: This would be a potential client for my agency business, as well as a trainee for my social media marketing course
SME Ah Huat: This individual is likely to be a client for my agency business, and perhaps also a trainee for my workshops
University Student Alice: This customer profile is more likely to be a potential trainee or possibly a talent that I can work with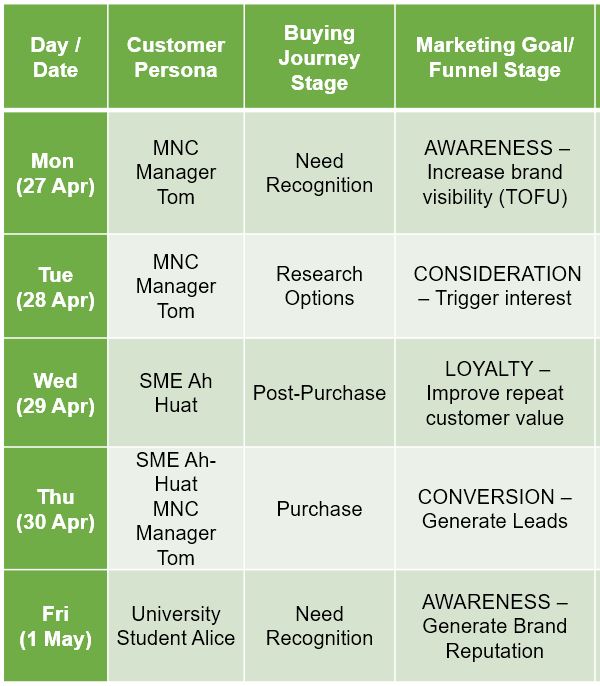 Notice in the example above that each customer buying stage has to match the marketing goal and funnel stage.
Step 2: Insert your content titles and ideas, topics/hashtags/keywords, and Format/ Types
Next, we should put in the content titles and ideas, themes/topics/ hashtags or keywords, as well as the content formats and types.
Here, your objective is to put in the right content and topics to meet your marketing goals.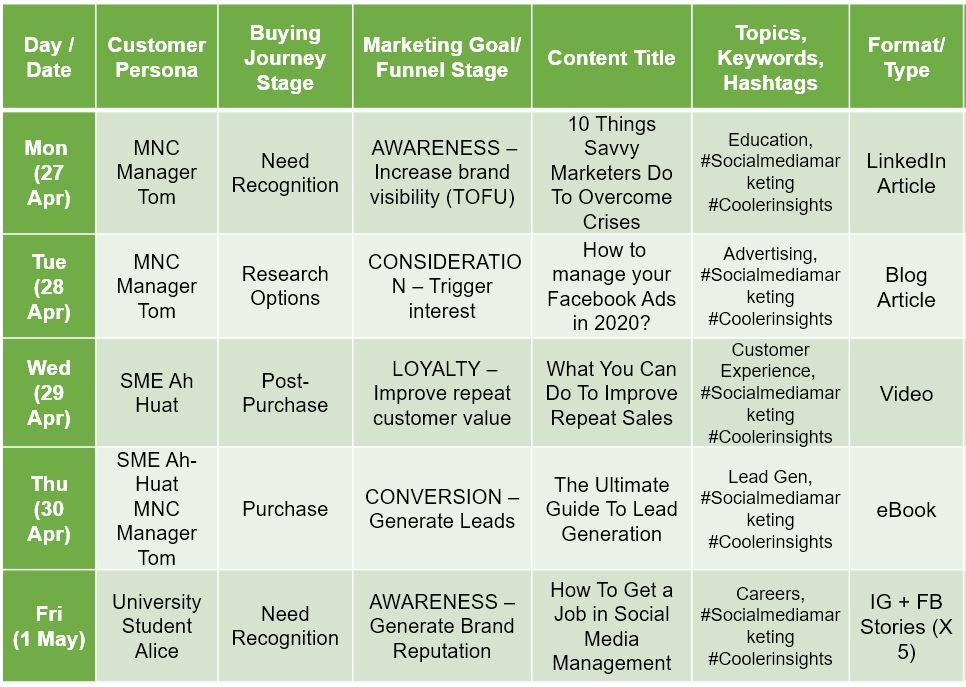 In the example here, we've carefully considered the following…
Content Titles/ Ideas: These have to be targeted at the customer persona, funnel stages, as well as their unique needs
Topics/ Keywords/ Hashtags: These needs to be aligned to our brand and focus areas
Content Types: These should reflect the best way for the content to be delivered to the target audience
Step 3: Include the Names of Officers in Charge, Channels, and KPIs/ Achievements (When Done)
Finally, to make your social media content plan complete, you should include the following:
Names of Officers: Useful for larger organisations where the social media management role is spread across various individuals
Social Channels: Details of all the social media channels where your content pieces will be published or shared
Results/ KPIs: This would be useful as a benchmark of which pieces worked and which didn't
Your final social media content plan should thus look something like this: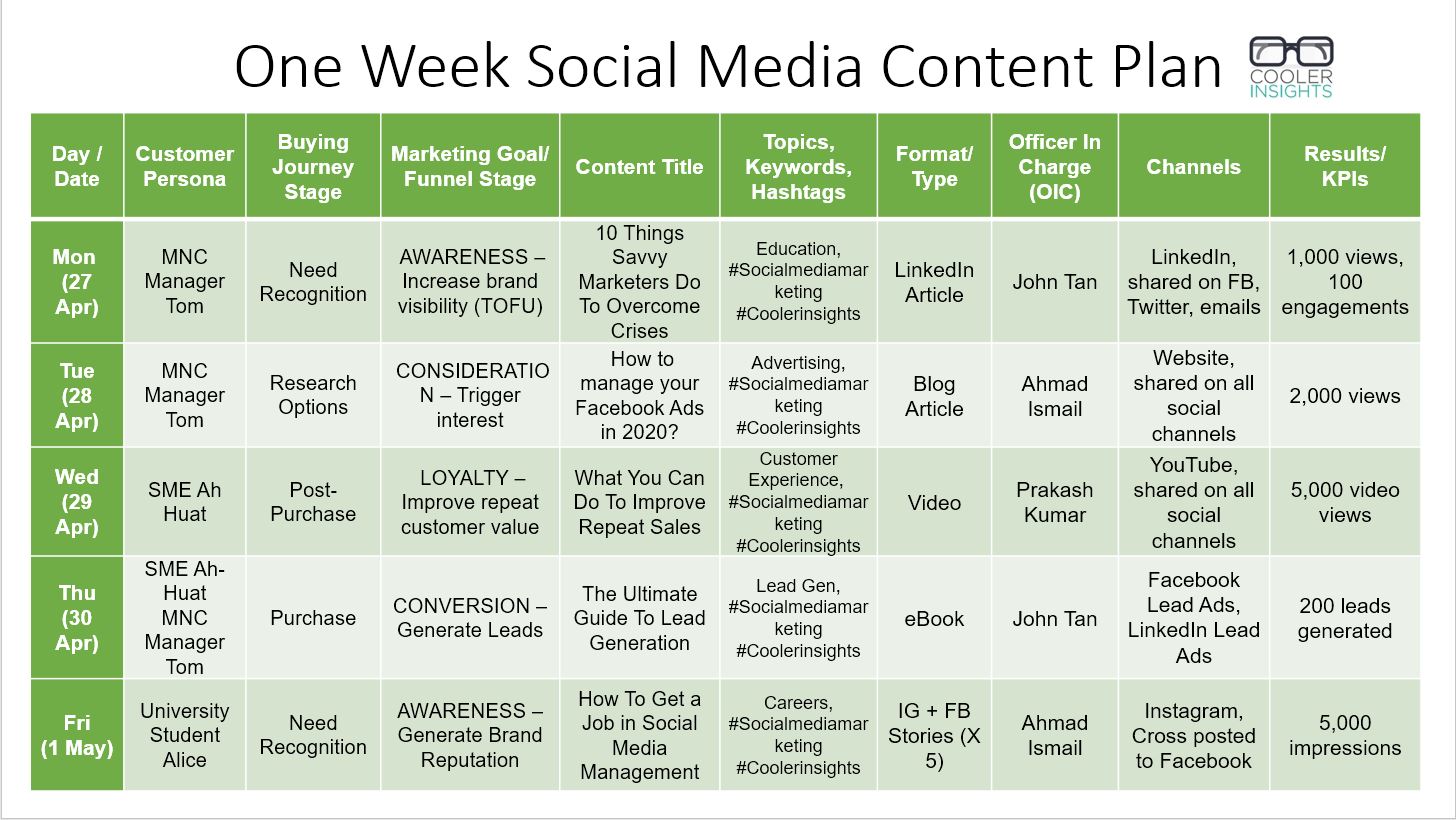 Adapting the Social Content Plan for Campaigns
What I've just shared above is a generic plan that you can use to develop a social media content plan (aka content calendar).
For social media marketing campaigns, you can use the same format to track the different pieces to be used during the entire campaign duration. In this case, you will then be naming it "The ________ Campaign Calendar" and put in the dates, targeted customer personas, marketing funnel stages, and campaign content pieces as well as the content types, channels, and KPIs for each content piece.
Using this method ensures that you have a more systematic and organised way of tracking your campaigns.
Determining Your Social Media Content Mix
The final point you need to consider in crafting your social media content plan is that of your content mix. There are several ways to mix and match your content messages and types.
#1 Marketing Funnel Content Mix
In the example above, I've adopted the marketing funnel approach to determine the types of content you should focus on. The goal is to reach out to your audiences across your entire funnel—from the blissfully unaware to your die-hard fans.
The mix I suggest is roughly as follows:
Awareness (20%): These are attention-grabbing easily consumed snackable pieces. They can be 1-minute videos, or relevant motivational quotes, or a cartoon. The goal is to grow your fanbase.
Consideration (40%): These are more education-focused, and could form part of a "curriculum" where you focus on educating your audience in a specific domain. They should form your core content.
Conversion – Leads (15%): These are content types that require users to fill in a form to access. They can be an eBook or guide, or a video mini-course, or a Zoom webinar.
Conversion – Sales (15%): These are more promotional sales-driven content which comes with an offer. They can be alternate with lead-generating type content.
Loyalty (10%): These are anchored at building fandom and advocacy among your fans or customers, and could be testimonials or customer stories or useful content that addresses customer woes.
Note that the suggested percentages above will vary depending on the maturity of your social media accounts or pages. Also, Awareness, Consideration, and Loyalty-focused content don't have to be all yours—they can be curated from third party sources.
For new accounts, you'd want to focus more of your energies on Awareness and Consideration (as much as 80% of your content mix), with the remaining 20% distributed among lead generation, sales and loyalty. More mature pages and accounts may tip the balance slightly heavier towards Conversion and Loyalty.
#2 The 80:20 Content Mix Rule
In this second example, approximately 80% (or 4 out of 5) of your social media content should be focused on helping, with the remaining 20% focused on selling.
Barker Social has a good way of distributing the types of content for the 80%, as illustrated by their infographic below.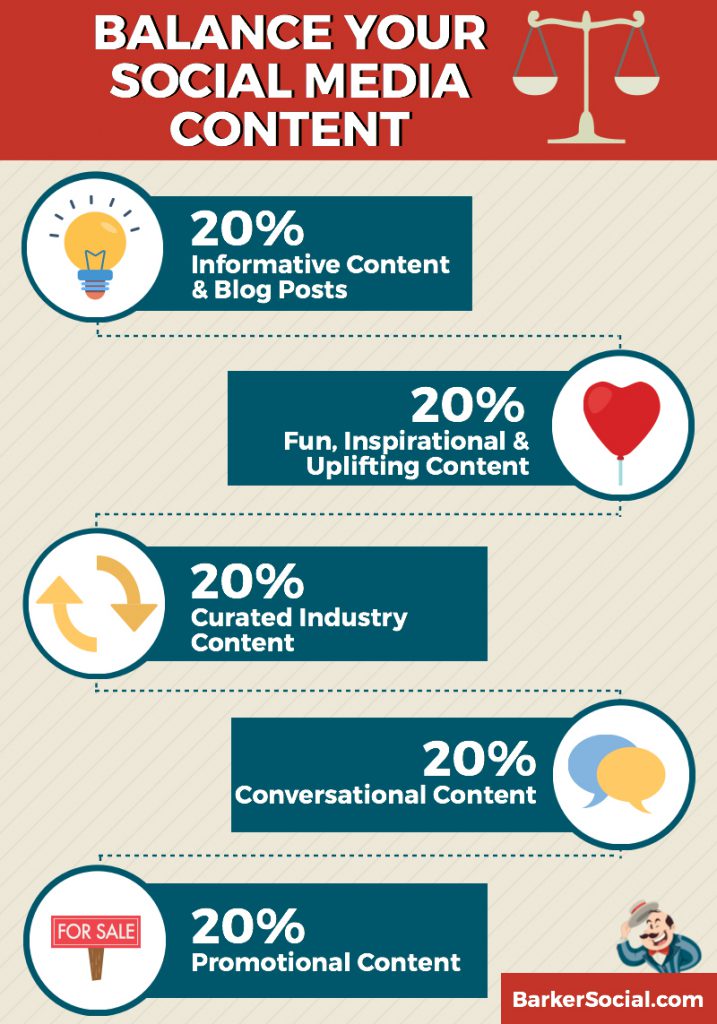 Courtesy of Barker Social
#3 Create, Curate and Promote
This final version of the content mix is one where you mix and match between your own educational posts, third party posts (related to your industry), and your promotional posts.
The percentages vary depending on your production capacity and the nature of your industry. Typically, we're looking roughly at the following:
Created (Own) Posts: 30 percent of posts
Curated (Other's) Posts: 50 to 60 percent of posts
Promotional (Own) Posts: 10 to 20 percent of posts
The advantage of adopting this content mix strategy is that it reduces the burden for you to create massive amounts of content. However, do be careful about excessively sharing other people's posts as it could dilute your brand impact.
Conclusion
Planning and tracking your social media content pieces can help to make your social media marketing efforts more systematic and strategic.
Putting them down altogether in a calendar ensures that your social media content generation efforts are focused on your targeted customers, geared towards achieving specific goals and KPIs, and distributed across the right channels with appropriate social content pieces.
Do you currently have a social media content plan in place? What formats do you use, and how do you ensure alignment to your goals and KPIs?
Wish to Strengthen Your Social Media Skills?
Learn more in my Advanced Social Media Marketing course, done in partnership with Equinet Academy.
You'll learn to audit your social media channels, analyse your campaign performance, build a robust social brand, and optimize your social media function.