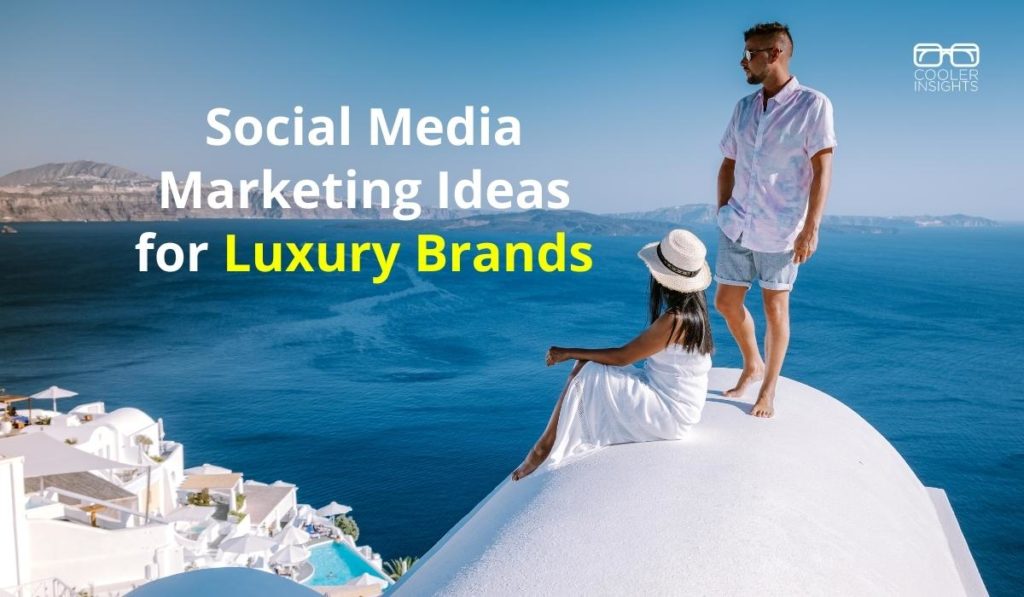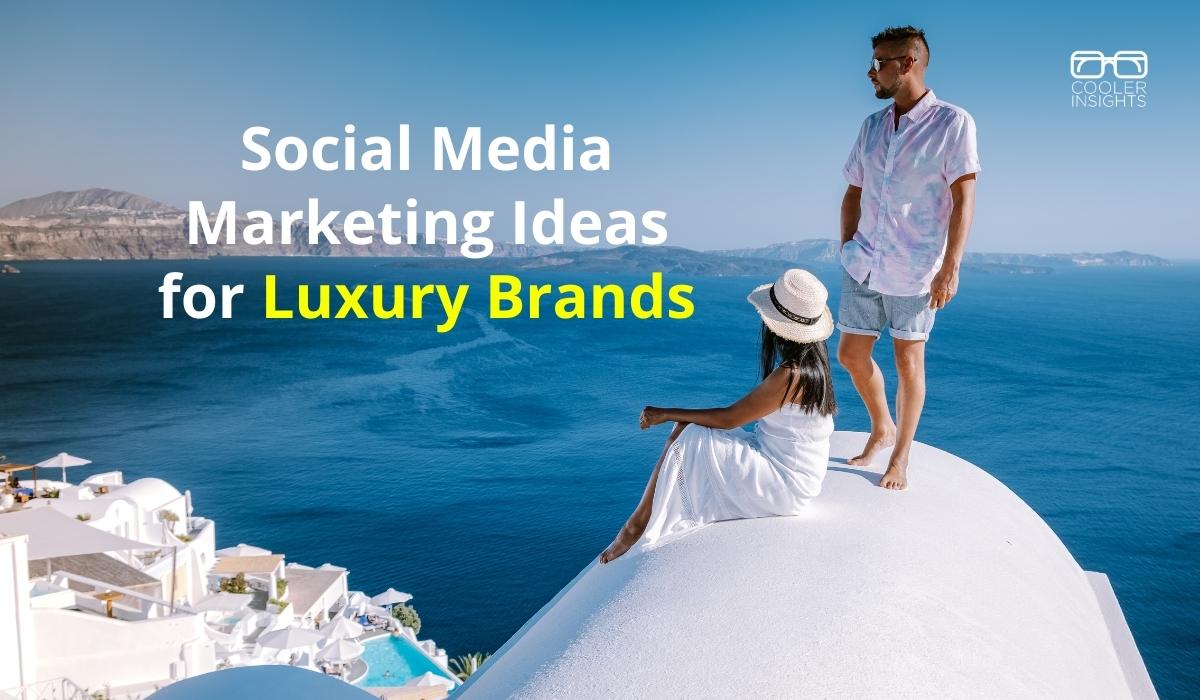 Need a better social media marketing strategy for your luxury brand? Consider learning from the world's leading luxury brands.
Everybody knows Gucci, Chanel, Prada, Tiffany or Louis Vuitton. Donned by celebrities, these iconic brands constantly hit the headlines around the world.
But did you know that these opulent symbols of European style aren't just media savvy—they're also some of the leading luxury brands in the online world.
Welcome to the world of luxury brand social media marketing!
In the rarefied air of influencing the tastes of the rich and ultra-rich, luxury brands have embraced social media to reach out to the prized Millennial and Gen Z demographics.
Unlike their parents, however, these high net worth consumers are digital natives—some were literally 'Instagrammed' while they were still in their mother's womb!
What can you do as a luxury brand manager or owner to reach these prized customer groups?
The answer lies in creating a strong digital presence on social networks: blogs, Facebook, Instagram, TikTok, YouTube, Twitter, Pinterest, LinkedIn, WeChat, and yes even Telegram, Discord, and Line.
Unlike Fast Moving Consumer Goods (FMCG) brands, however, luxury brand marketing requires a different form of digital marketing finesse.
In this article, you will learn 11 strategies and tactics which you can use to boost your luxury brand on social media.
#1 Focus on Visual Social Storytelling
Design excellence. Fine workmanship. Quality craftsmanship. Premium raw materials.
From fashion apparel and jewellery to luxurious homes, yachts, cars, and food (Beluga Caviar anybody?), the world of luxury brands is all about aesthetics.
To shine the spotlight on your brand, you need to embrace the art of visual storytelling. Here are some ideas you can adopt for different social media channels:
Blog: Write fashion trend pieces complete with photos and videos showcasing the different styles and ways of wearing them, focusing on the right SEO keywords
YouTube: Create a lifestyle video channel profiling your potential customers, and produce educational content targeted at the luxury market
Instagram: Adopt consistent themes

—

camera angles, lighting, colour schemes, layouts, typography, etc. Use IG Stories and Reels to share events, new product launches, or go behind-the-scenes
TikTok: Use the short and snappy video format of TikTok to hop onto trending music, show quick bite-sized styling or lifestyle tips, and tap on influencers
Pinterest: Build 'mood' boards focused on topics related to your product, eg different exquisite recipes for appetisers, mains, soups and desserts for a fine-dining restaurant.
Facebook: Encourage fans to share photos or videos of 'paradise', and let them peek behind-the-scenes
Example: Chanel's Instagram
As one of the stalwarts of visual storytelling, Chanel's Instagram account is carefully curated to present thematic posts and layouts that tell a story. Here's a set of 9 posts that feature (*gasp*) children's coloured drawings of Chanel's fragrances and cosmetics. It's creativity and surprise is characteristic of Chanel's brand ethos.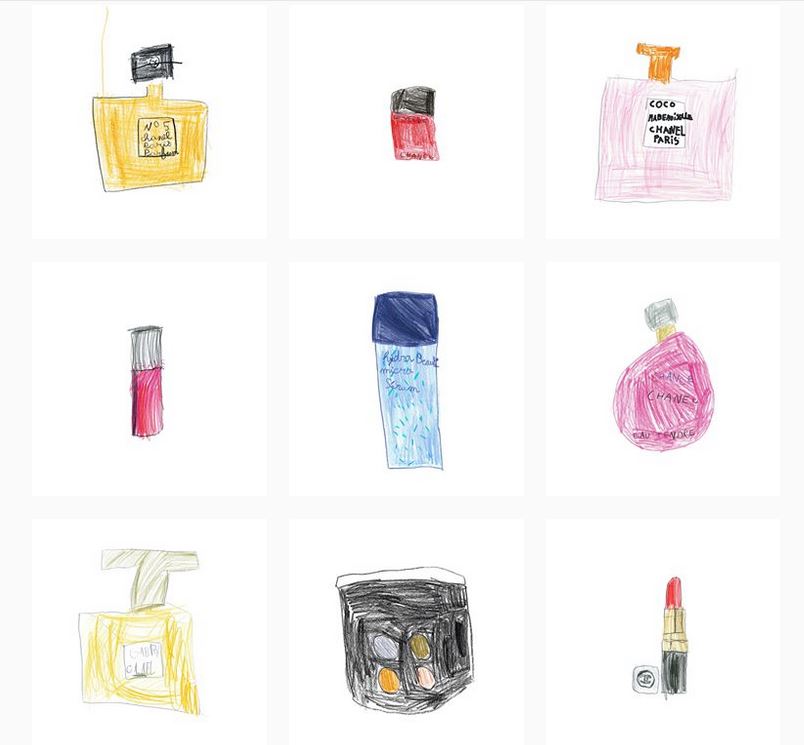 Courtesy of @chanelofficial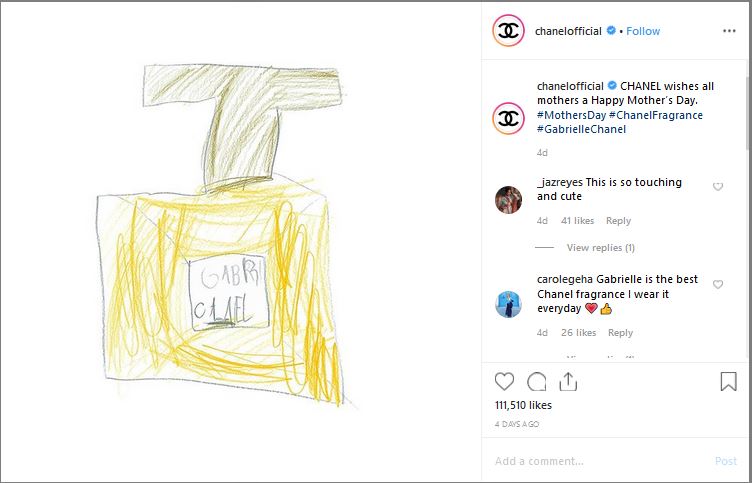 Courtesy of @chanelofficial
#2 Curate Trendsetting Tips & Thoughts
Luxury brands live and die by their credibility. You need to skillfully blend artistry and authenticity with innovation and experimentation.
As a trendsetter, your social content feeds have to be imaginative and inspiring. Rather than create everything yourself, consider following the thought leaders and global influencers in your space and tap on what they talk about.
Share snippets of their sartorial or business wisdom. Produce a short video summarising what's trending in the heady world of luxury tastes. Or put together weekly articles highlighting what the movers and shakers are up to, and where they're hanging out.
Example: Seasonal Fashion Shows on the Cat Walk
Yes, the old staple of luxury brands never grows old. With YouTube being the TV channel for millennials and Gen-Zs, luxury brands now have a place to parlay their fashion trends and shows for the different seasons.
Here's an example from Louis Vuitton.
#3 Narrate Your Brand Heritage
Storytelling is essential to luxury brands. Often, your success in marketing a luxury product—from stretch limousines to fine champagne—lies in how well you tell its brand story.
Also known as the "Why" behind your brand, narrate how your brand originated. Ask yourself these questions:
Who is the founder of the brand?
What inspired him/her to create the brand?
What are the core values/ tenets behind the brand?
Why is the brand unique and different? How does it distinguish itself from others?
What are the key milestones of the brand?
What are the future plans for the brand?
Example: The Tale of Thomas Burberry
One of my all-time favourite brand founder stories is the amazing dramatization of Thomas Burberry, founder of the Burberry brand. The video won several awards, and was directed by Academy Award-winner Asif Kapadia and starred Domhnall Gleeson, Sienna Miller, Dominic West and Lily James.
#4 Create Aspirational Content
Luxury brands provide a way for the successful to communicate their status to the world. A lady in a trendy (and elegant) Chanel suit wishes to let others know that she is powerful, wealthy, and influential.
To match the ambition of your potential customers, you need to craft aspirational content. This should be pitched towards the top rungs of Maslow's hierarchy—self actualisation and transcendence as opposed to meeting the basic needs.
Example: Louis Vuitton
I love this YouTube video from Louis Vuitton which features celebrity Emma Stone journeying through her life. Notice how it communicates the aura of achievement in a subtle yet sublime fashion.
#5 Craft Classy Copy
"Some people think luxury is the opposite of poverty. It is not. It is the opposite of vulgarity." – Coco Chanel
Ahh… copywriting!
Time and time again, I'm amused by Instagram 'influencers' dressed to the nines who are unable to string together a coherent sentence!
In the lofty world of luxury brand marketing, showing a palatial garden setting dripping with luxe isn't enough. You need the copywriting chops to embellish every exquisite detail.
Beyond using words like "unique," "tailored," "exquisite," "quality," and "pedigree" in your copy, you need to avoid looking cheap and crass.
(Learn more about crafting great copy by reading the articles here.)
Example: Häagen-Dazs
As one of the world's most sought after ice cream brands, Häagen-Dazs is known for its rich, creamy and irresistible ice creams. Here's an example of how they describe their frozen confections on their Twitter account.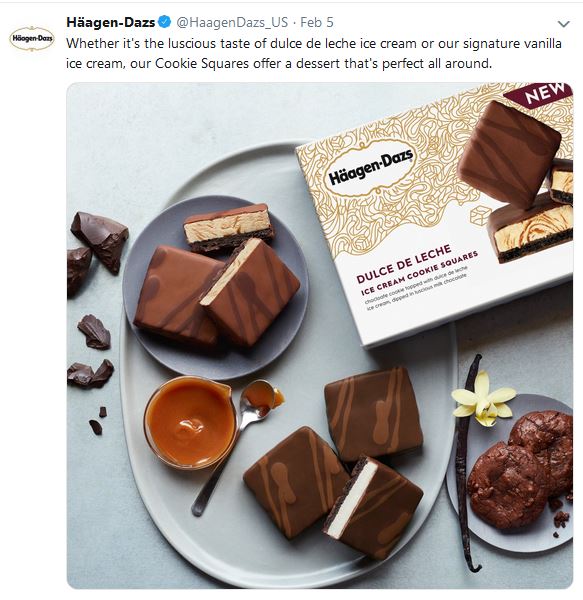 #6 Use a Consistent House Style…
Luxury brands need to embrace a consistent visual and textual style. Failing to do so can be catastrophic for your brand building efforts.
Often captured in your brand identity guidelines, your style guide should ideally cover the following:
Type and style of photographs and videos that best convey your brand personality
Visual styles for designs, colours, motifs, patterns, and typography.
Language that you should use. This would cover choice words and phrases that your brand should consider, as well as language that you need to stay away from.
Co-branding criteria, be it with other brands, influencers, distributors and partners
Most of the major luxury fashion, travel, vehicle, and beauty brands are known for their consistency. This helps them to stand out in a crowded and competitive marketplace.
Example: Dom Perignon
Luxury champagne brand Dom Perignon's Instagram account is painstakingly crafted to portray a consistent brand look and feel. Here's a consecutive series of posts which features various artistes as part of a campaign.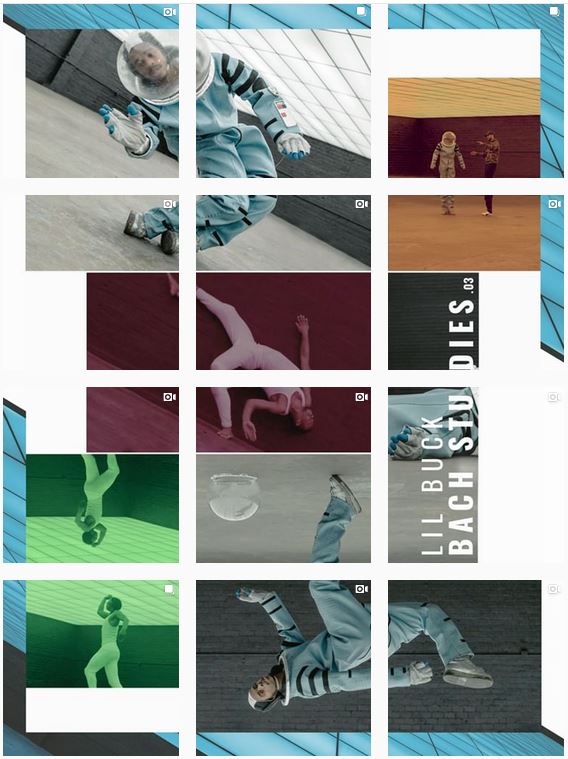 #7 …But Inject Splashes of Creativity
While being consistent is vital for luxury brands, you need to also spice things up with a little imagination.
This orchestration of the familiar with the foreign requires skill and nuance.
Your goal is to inject some element of surprise in your content without compromising your customer's expectations of top-notch quality, immaculate craftsmanship, and unsurpassed performance.
Example: Fendi's Artistic Painting on a Rooftop in Rome
For creativity, check out this example from Fendi. Here, visual artist Pokras Lampas brought calligraphy to Fendi's rooftop in Rome by staging. In just 2 days and with 550 litres of paint, he created a masterpiece touted as the biggest calligrafitti in Italy!
#8 Target Ads to the Mass Affluent
To reach the right affluent customers for your luxury brand, you need to be highly targeted online.
This means that you're willing to forego quantity for quality. Remember that it isn't the number of likes, comments, shares and clicks, but WHO likes, comments, shares and clicks that truly matter.
Here are some useful ways to zoom in on the right target audiences:
Location: Zoom in on more expensive neighbourhoods and dwelling types
Demographics: Choose the right age-groups, genders, and professions for your brand
Psychographics: Are there affiliated brands that your customers would be keen on? What are their hobbies and interests (eg golfing, yachting, wine tasting, pilates)?
Purchase Behaviours: How frequently would your targeted consumers be purchasing your product categories?
#9 Mix and Match Complementary Brands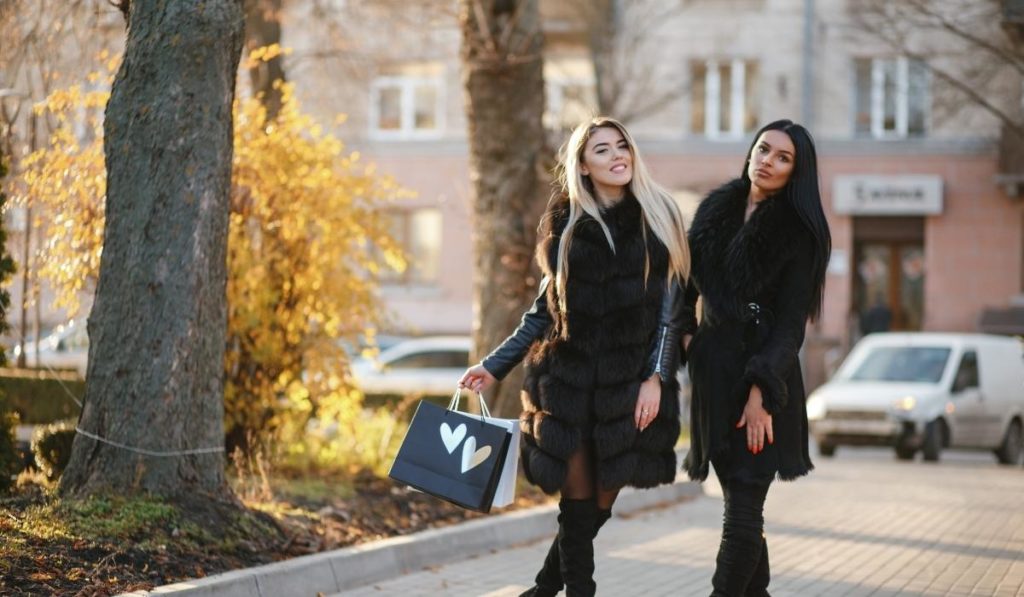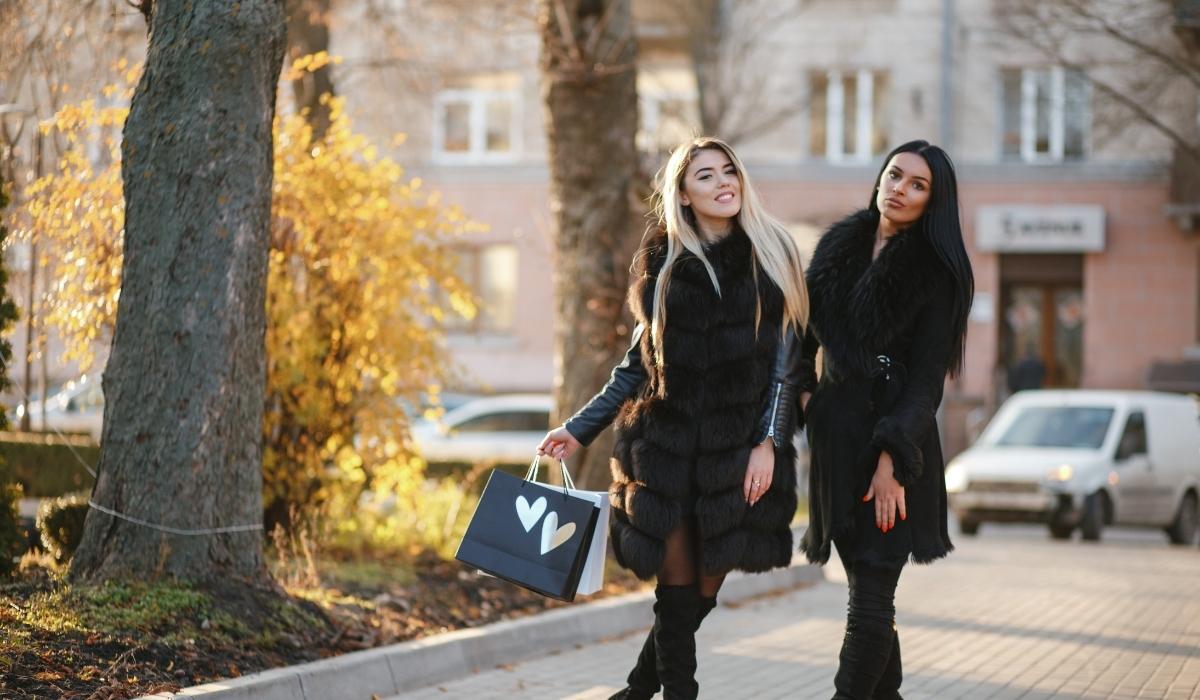 Picture who your affluent customer is likely to be. Chances are that she…
Wears a Gucci or Chanel dress
Carries a Kate Spade or Hermes Birkin bag
Is shod in Jimmy Choos, Louboutin's or Manolo Blahniks
Enjoys sipping a Chateau Lafite Rothschild wine or Dom Perignon champagne
Stays at the Ritz Carlton or Four Seasons for her holidays
Drives a BMW 6-series car or perhaps a Porsche 911 Turbo
Dines at Les Amis, Waku Ghin, or Cut by Wolfgang Puck
Lives in a District 9, 10, 11 home
Goes for exotic holidays (like a trek through Patagonia in Chile or an African glamping safari trip)
Given these consumer characteristics, it makes sense for you to partner complementary luxury brands in your marketing.
Expand your marketing beyond product features and benefits—include the different contexts in which your customers could use your brand, and aim for the 'feel' that you'd like to achieve.
#10 Engage Inspiring Influencers
From actors and singers to models and Instagrammers, influencers play an important role in the luxury branding ecosystem.
Beyond working with A-list celebrities and fashionistas, do also consider luminaries in the business, political or non-profit world whom you can work with.
Doing so will help your social media brand to be more than just a shallow symbol of materialism.
Example: Rolex Awards
Held every year since 1976, the Rolex Awards for Enterprise have supported individuals with original ideas who are determined to make the world a better place. Over 100 men and women have been singled out for their spirit of enterprise. The awards is a great way for the classic watch brand to appeal itself to the corporate captains and leaders who are inspired by these acts of heroism.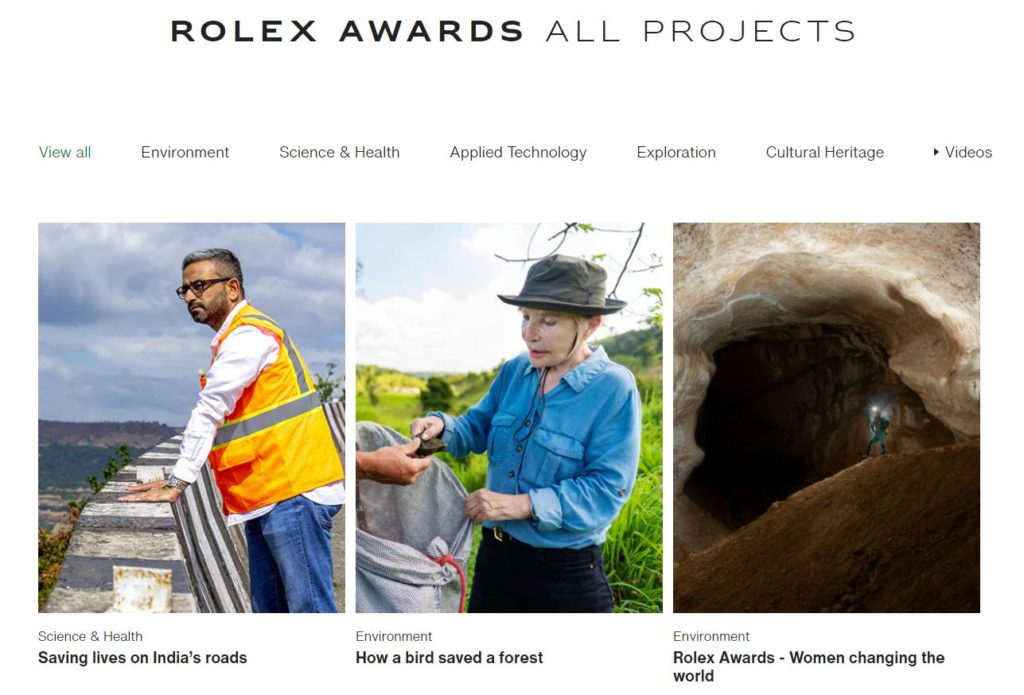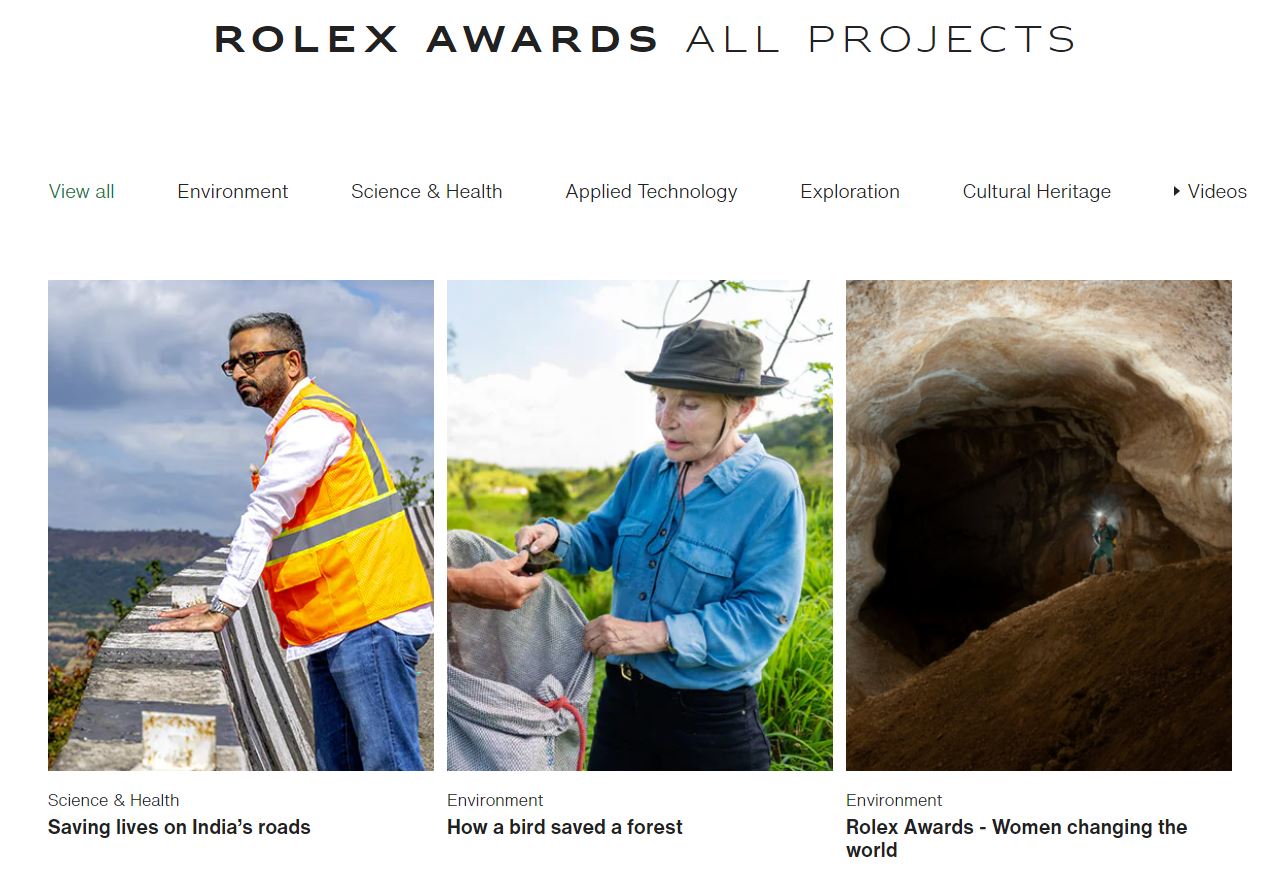 #11 Opulence =/= Ostentation
Last, but certainly not least, you need to be careful about going overboard with luxe.
Bringing too much bling can be blinding for your brand.
While you do want to project an aspirational image for your potential customers to follow, you need to go easy with the excesses of wealth. The last thing which luxury brands want to be associated with is dumb bimbotic extravagance.
Conclusion
Luxury brand marketing on social media is still very much an emerging area.
While bellwether luxury brands from Europe and US have led the way in embracing social media, Asian luxury brands are still very much followers rather than leaders.
By adopting these 11 principles, you'll be better able to harness the potential of social media to reach prized customers, and to build greater affinity for your brand.
Are there other strategies that we should consider for luxury brands on social media?