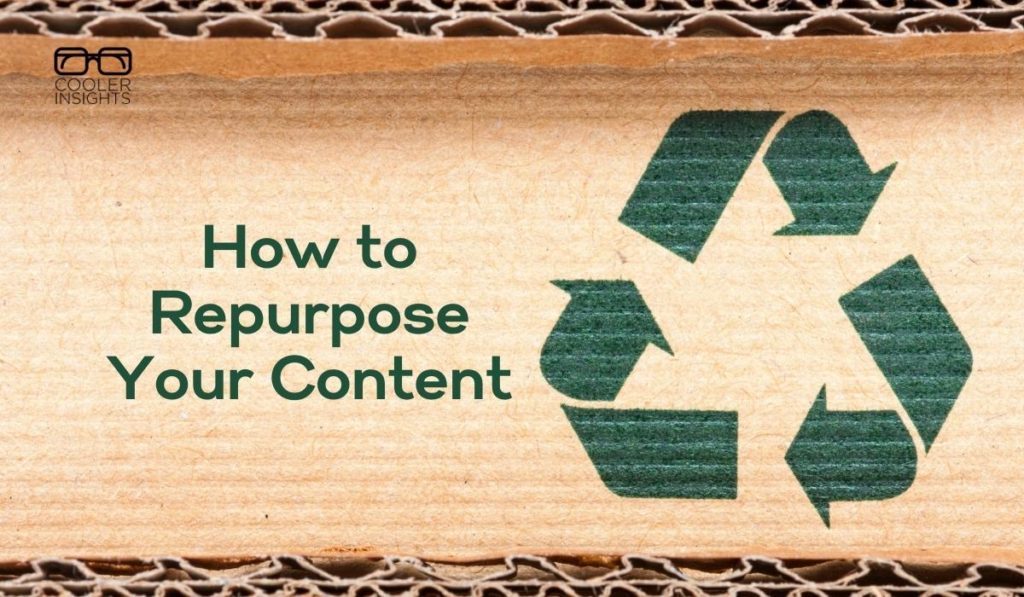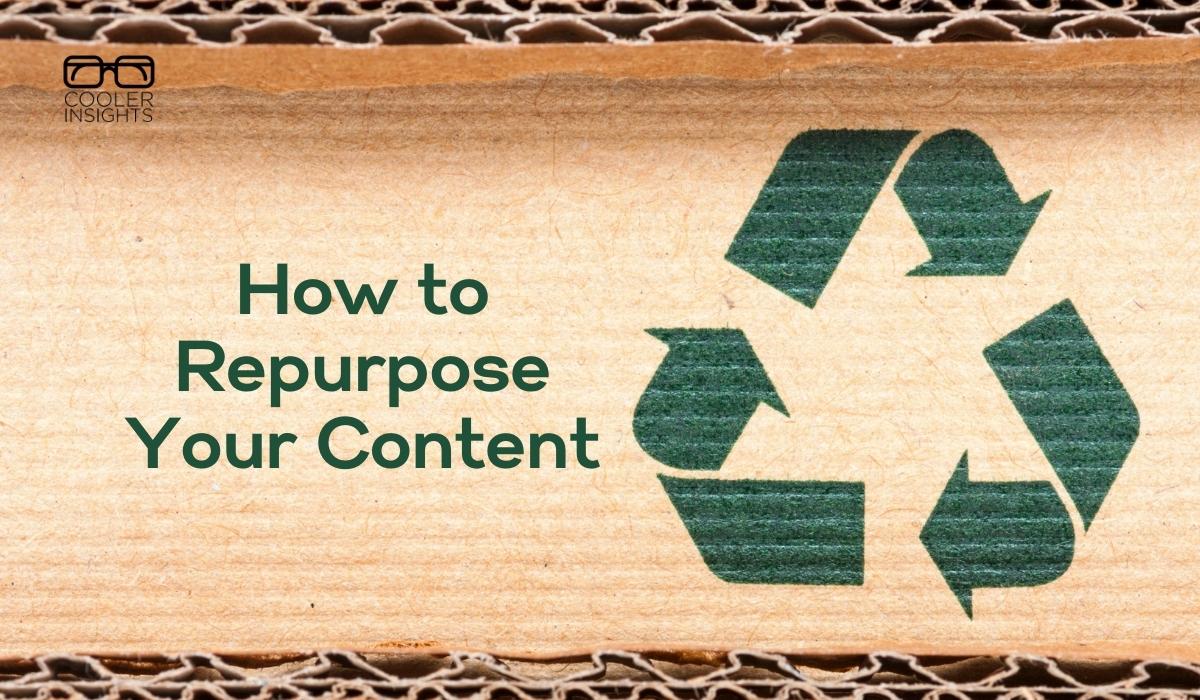 Do you know that repurposing your content can stretch your content marketing dollar? Or that regularly repackaging your content can help you to maximise your reach and effectiveness?
Thanks to Inbound Content by Justin Champion, I've learned a trick or two on how you can re-purpose your content effectively.
In this article, I will share some strategies from the book as well as my own that will help you to extend the longevity and utility of your best content pieces.
You will learn about the following topics:
Why You Need To Repurpose Your Content
How to Repurpose Your Content
How to Recycle Popular Content
How to Reuse Your Content
Why You Need To Repurpose Your Content
First, let us understand why re-purposing your content is key.
For a start, it takes a lot of time and effort to create educational, entertaining and and useful content. This may range from hours for a blog article to days for a comprehensive eBook or video.
Next, repurposing content helps you to extend the lifespan of your content and give it an additional pair of legs. This ensures that evergreen content can continue to attract, engage, convert and retain customers.
Thirdly, repackaging your content helps you to gain search engine prominence in a different content format. For example, if you have an article that did well on Google, you may want to repurpose it into a video that could rank on YouTube, or an infographic that could be displayed under Google Images.
Fourthly, repackaging your content could help you to reach a new audience. They could be people who prefer to consume content in a different format (for example downloaded as an eBook, or visually as a video).
Fifthly, rehashing your content in a different format can help you to review and improve what you've done. You can treat each repurposed format as an opportunity to update your facts, figures, examples or other information used in your content.
Now that you've learned why repurposing your content is important, let us look at how you can do so!
Three Ways to Repurpose Your Content
According to the book, there are two ways to extend the value of your content:
Republish your content on different channels
Recycle your content
Reuse your content
Let us go into each in turn.
How to Republish Your Content
This is basically the act of reposting your content (which is probably a blog article) on other websites. This could help you to expand your reach to other websites and platforms beyond your own.
There are three things to consider here:
Ensure source has a canonical tag: This is an SEO strategy to tell search engine bots that the article is republished content, ie a copy of the original. It can then pass "link juice" to the appropriate original website or author.
Include a link at the beginning or end: Connect the guest article back to your website (and the original source) so that readers will learn where it came from.
Have the source "NoIndex" their copy: While this may sometimes be difficult to do (especially for high authority websites), it will help to ensure that the search engines do not rank your republished content.
Beyond these pointers, you should consider these other best practices:
Partner with the most reputable high authority websites for your business. Here's a comprehensive list that you can look for.
Focus on republishing your top-performing content and not all your content.
Update the headline of your republished piece of content, and make additional tweaks to your images or your introduction.
Wait at least two weeks (or longer) before you republish your content. This ensures that search engines have enough time to index your article before the new republished piece comes on.
Include internal links throughout your post that goes back to articles on your website.
Ensure that your article is a good fit for the website that you're writing for. Like duhhh….
Make sure you have a call to action (CTA) or a boilerplate on your republished article.
Admittedly, some of these strategies are going to be difficult when you deal with a very high authority website like Forbes, Huffington Post, or CNN.
In that case, consider the next strategy below.
How to Recycle Your Popular Content
In this instance, you can use what Inbound Content calls the ACE method:
Look at how your content should be adjusted for the different content format. For instance if you're turning your article into a video, you may need to rescript your introduction to make it more punchy. Likewise, turning a deck of slides into an article may require you to expand on what you wish to say verbally into words.
Combining content may include incorporating other types of information to make your content "pop" in your recycled format. For example, if you're doing a video, you may want to include some visual examples or video clips that are used to illustrate a point.
Finally, expanding your content could be where you deep-dive into a specific area that your original article covered but didn't have time to cover in depth.
Step-by-step guide to creating and recycling content
To appreciate how you can use the Adjust, Combine and Expand method, Justin Champion proposes the following steps, using the analogy of planting a seed to let it grow into a tree.
#1 Begin with your ultimate content goal (your seed)
Start with your content goal⁠—what is the large piece of content (aka a content pillar) that you hope to build?
For my agency, for instance, it could be like "Guide to Writing Effective Facebook Ad Copy".
#2 Make a list of subtopics
Next, come up with a list of potential subtopics that could be used to support your content piece. In my case, it may include the following:
Guide to Writing Effective Facebook Ad Copy
How to include the right hook
How to call out your audiences
Incorporating visual metaphors
Determining the right length
How to write text overlays for images
How to weave in your call to actions (CTAs)?
#3 Start to craft each subtopic as a social media post
Depending on your preference, you can start to craft Facebook posts, Instagram videos, Slideshares, Tweets, Pinterest pins, or LinkedIn posts for each of the subtopics.
These can be as long or as short as you wish them to be.
#4 Expand your posts into a blog article or YouTube video
This is the first technique of recycling your content where you may turn each of your social media post into an article.
You may also consider turning each of your blog article into a YouTube video. This may help to make your content pieces more visual and impactful for video content audiences.
#5 Combine all your content and put them into a guide
Now that you've got multiple varied content pieces in different formats, see if you can assemble them into a guide. This can be a rich multi-media format or with links to the relevant videos and infographics. Check out this useful link offering tonnes of templates and resources. from HubSpot.
#6 Take your time to design a nice cover
Yes, people are judging content pieces by their covers! See if you can work with a designer (or be one yourself) to design a nice cover for your content piece.
#7 Plonk in your Call To Actions (CTAs) and links
Don't forget to weave in Call To Actions and links back to your website pages. This is important as you do want people to contact you in future if they need to. Doing so also helps you to build your brand.
How to Reuse Your Content
In this last section, I'll like to talk about how you can further extend the value of your content by refreshing it and using it for a different audience.
This can work for any content types, although I'm probably more partial to blog posts (given that I'm a writer).
Once again, you can follow these techniques from Justin Champion's book.
If you have a guide, consider what other ways the content can be consumed:
As a video tutorial?
As a series of emails?
As an infographic?
As a deck on Slideshare?
As a webinar?
As a series of email courses?
As a live workshop or talk?
As a podcast episode?
Depending on your intent, you may need to consider how this content piece can be delivered through the different channels.
Perhaps you'll need to have a landing page that is used for potential customers to opt-in.
Or if you intend to do a video, you may need certain types of equipment to shoot and record your content.
Conclusion⁠—The Sky is the Limit!
And there you have it⁠: multiple ways to repurpose your content.
Once again, let me reiterate the 3 main ways in which you can reuse and repackage your content pieces:
Republish it on a reputable high authority platform
Recycle all your disparate smaller content pieces into a larger content piece
Reuse your content piece by expanding it into different content options and types
Do get a copy of the book Inbound Content by the team from HubSpot, its a really good read along with their other volume on Inbound Marketing.
What is your favourite content format thus far and how do you intend to repurpose it?