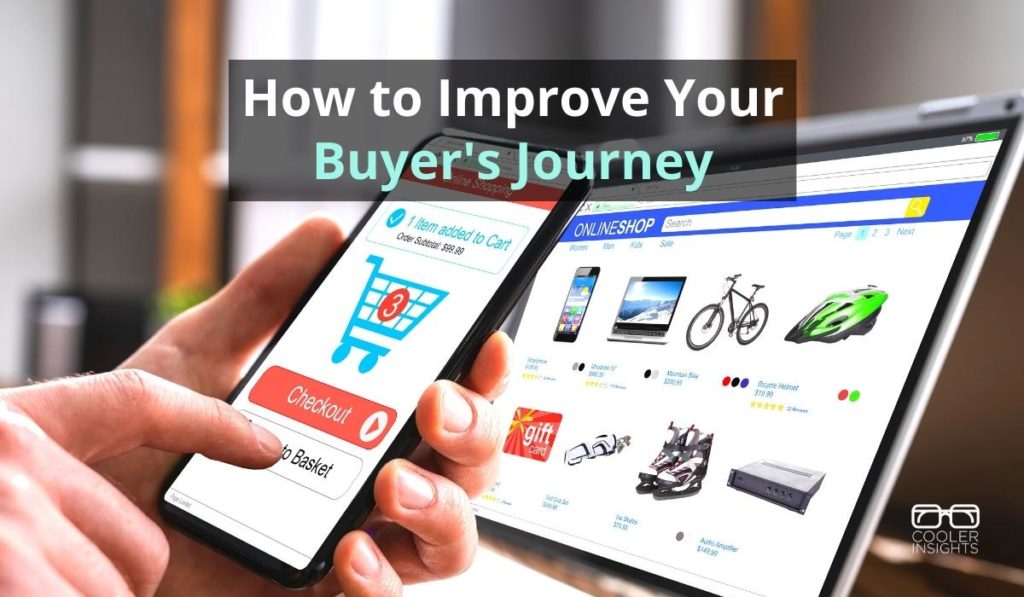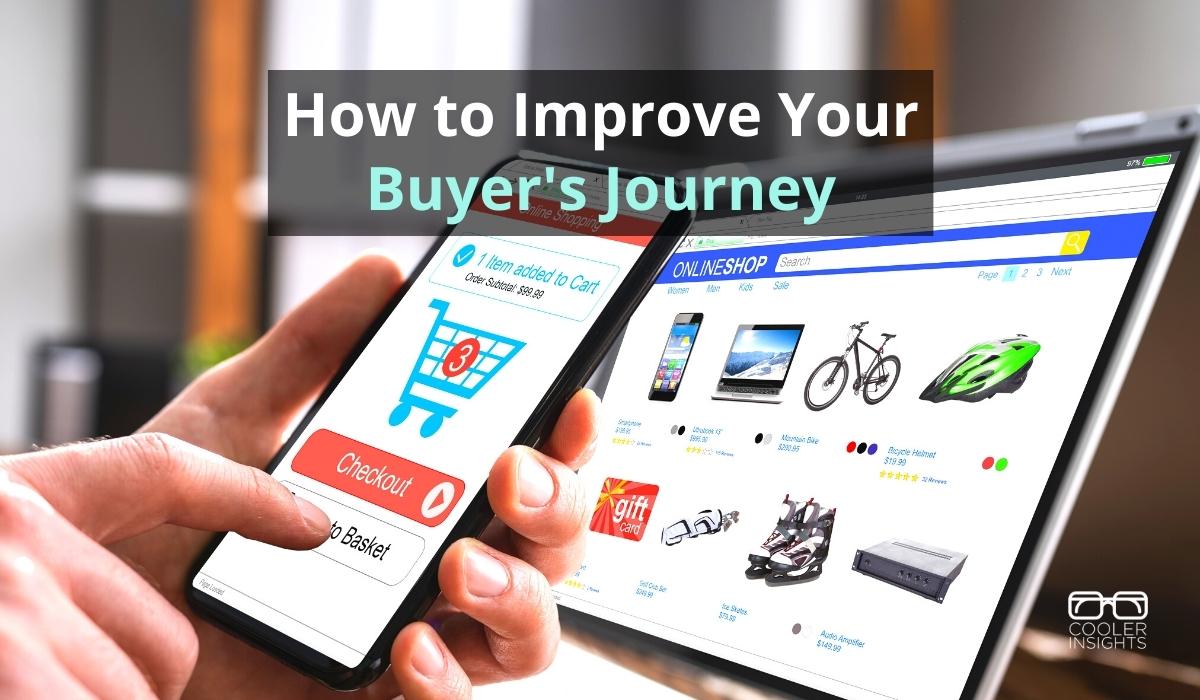 Heard of the buyer's journey? That is the series of steps that your target audience takes before becoming a customer.
When someone first hears of your brand and product, they start off on an adventure. One that takes them along a predictable path prior to becoming your customer.
Typically, your buyer's journey has specific stages and key points that you must hit along the way.
For most companies, the first stage of their potential customer's journey is awareness. This is when the buyer first hears of your product or service and becomes aware there is a solution to their problem.
Knowing what details your buyer needs at each point of the journey helps you create a stellar experience that moves the person along toward conversion.
What Makes a Successful Buyer's Journey
Contrary to popular marketing belief, most people do not want to be sold to. High-pressure sales tactics simply puts them off.
To succeed in convincing prospect's about your offer, you need to create a positive experience for them — one that includes non-spammy information and storytelling while building a desire in them to own your product.
At the United States' Chamber of Commerce's State of American Business Event for 2022, key leaders, lawmakers and experts gathered to discuss the state of the economy and what will drive sales moving forward. One key factor speakers agreed on was that innovation and competition will drive growth. Competition, including ways to better serve your customer, is a motivator driving new ideas while improving current methods.
How then can you improve your buyer's journey and make their customer experience one that keeps them coming back for more? Here are our favorite tips.
1. Analyze Your Audience
Before you can improve your buyer's journey, you must know who your audience are and how you can best help them.
Just understanding that there are awareness, information gathering, and decision stages aren't enough. You also must know what exact questions your users are most likely to have.
Start by looking at your current customer base. What drives them to buy from you? If needed, you can survey them and ask questions such as why they chose to buy from you over a competitor.
Such information helps you to see where you excel at, and what areas you could improve on. Ideally, you'll segment your audience and create buyer personas for each customer type.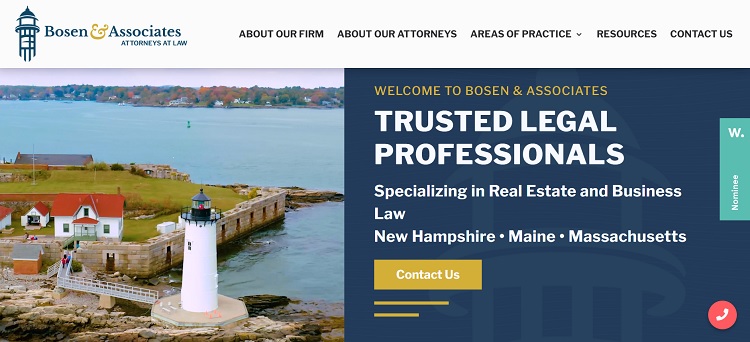 Source: Bosen & Associates
Bosen & Associates is a legal firm on the eastern coast of the United States. They know who their typical client is, and everything about their landing page is geared toward that person. They note that they specialize in real estate and business law. The images are also of a beautiful lighthouse and coastline.
When the user lands on their page, there's no question where they serve clients and the type of people they work best with.
2. Create Content for All Stages
Map out every stage of your buyer's journey based on their personas. What are they most likely to need to know during the Awareness phase, for example? Once you have an idea of the questions they likely have, you can create non-spammy content to answer those queries.
For example, you might add an article to your blog, shoot a video for one of the touchpoint pages on your site, or even create an infographic going into great detail about the industry, problems needing solved, or advantages of your product or service.
3. Prove Your Worth
Part of convincing people to buy from you other than a competitor is through proving that your product or brand is superior.
Although you don't want to get too spammy, you shouldn't be afraid of sharing the benefits of buying from you. After all, it is your website and the user does expect some level of self-promotion there. Just be careful to keep a balance so your site is both helpful and informative at the same time.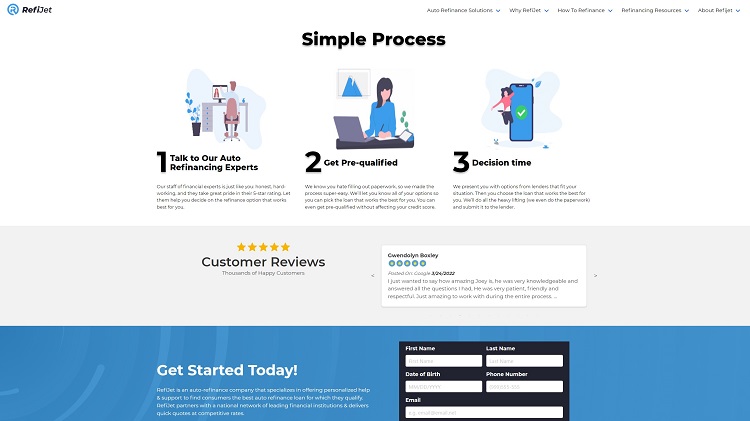 Source: RefiJet
RefiJet uses their landing page to outline the simple steps to getting refinanced through them. The 1, 2, 3 approach shows the user they understand how complex refinancing can be but the advantage to choosing them over a competitor is how simple the process can be.
4. Offer Personalized Help
People don't want to feel like just another face in a massive crowd of customers you serve. They want to know that while you appreciate their money, you also value them as customers.
We live in a highly impersonal world. People go online to make purchases, often without ever speaking to another soul. They get food and groceries delivered to their doorstep without any interaction. Everything is automated and based on interactions with a computer.
If you can add a human touch to your buyer's journey, you're going to stand out from all the businesses fully embracing artificial intelligence (AI). While AI is a great thing for businesses, it is impersonal.
People will pay more attention to your brand if you add live chat, a video of your founder speaking, engage with them via a personal newsletter, or engage with them as a human on social media.
5. Utilize Customer Reviews and Feedback
Reviews and customer feedback can drive your business' growth. Even if you run a brick-and-mortar store, users often go online to check comments before choosing to buy from you.
Gather as many positive reviews as you can. Share them on your site and social media. Ask your top customers for testimonials. Showcase a specific problem you solved for the client or the benefits they gained from choosing your brand.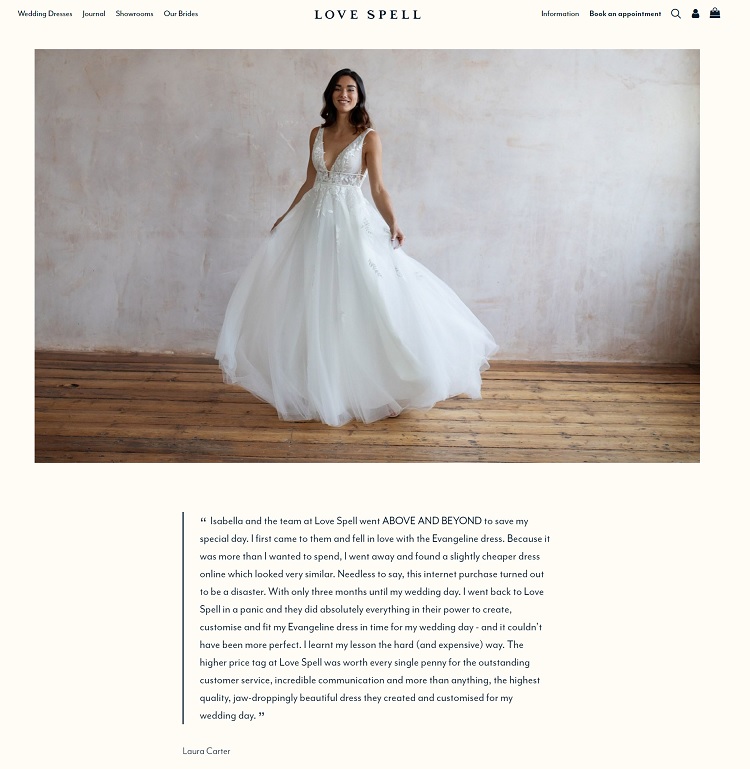 Source: Love Spell Designs
Love Spell Designs stands out from the crowd with their excellent customer service. It showcases this advantage by sharing glowing positive testimonials from their brides.
Doing so helps other potential clients to envisage how their wedding dress experience would be like, and encourage them to book this wedding gown designer for their own special day.
6. Overcome Objections
There's an old adage in sales that you have to close. Are you guilty of doing everything right in your buyer's journey but being afraid to ask for the sale?
Go ahead and ask if they're ready to make a decision — or add a call to action button urging them to sign up.
While most of your online buyer's journey should be non-spammy, you shouldn't hesitate to move ahead with the close once your prospect's objections are answered.
Can You Really Improve Your Buyer's Journey?
At this stage, you might wonder if there is really anything you can do to improve your customer's buying journey. After all, your potential buyer's decision is often based on whether they want your product — or not.
However, there are many subtle factors that push a browser towards becoming a customer. You have to gain their trust, prove your worth, answer their questions, and overcome their objections. If you don't, you can be sure that a competitor will!
Thus, it's well worth the investment of time to tweak your site and improve results.


Eleanor Hecks is editor-in-chief at Designerly Magazine. She was the creative director at a digital marketing agency before becoming a full-time freelance designer. Eleanor lives in Philly with her husband and pup, Bear.