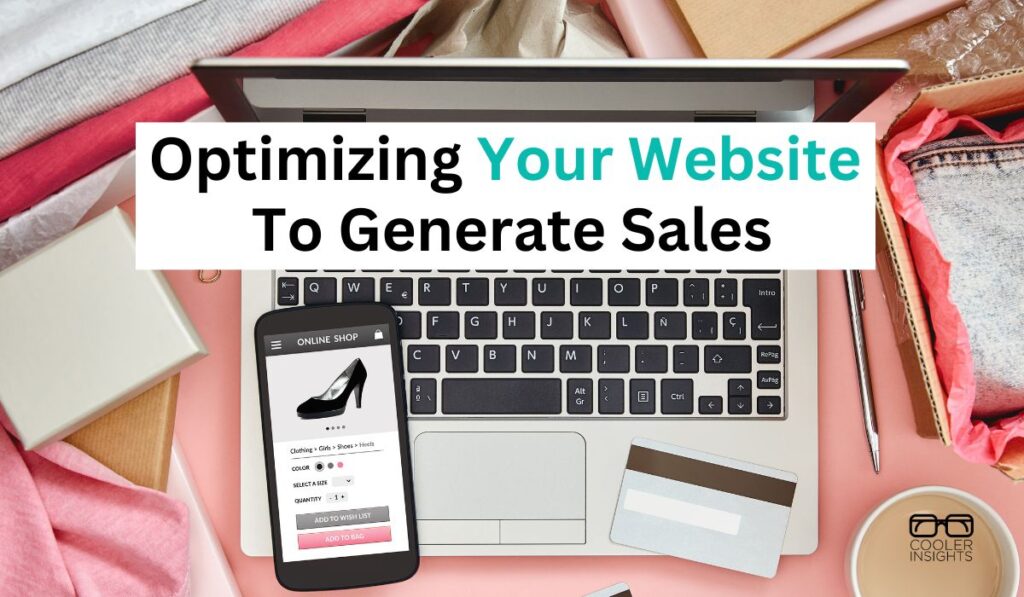 Many businesses underestimate the power of a website. A surprising 29% of Small Medium Businesses (SMBs) don't even have a website.
Indeed, not having a website or failing to take full advantage of one is a big mistake.
A solid website is one of your business's best investments. It's essentially your company's home base, where a customer can learn about your brand, become aware of what you have to offer, and make purchases.
That said, your website mustn't be just for entertainment. It should be optimized to generate sales if you really want to see results. These six strategies can help you optimize your website to get more sales.
#1 Clearly Define the Sales Funnel
First and foremost, clearly defining your sales funnel is critical. Without a clear, optimized sales funnel, you won't be able to design your website in a way that nurtures your customers through the entire process.
Study the four sales funnel stages and begin filling in the details of how your customers experience each stage. These stages generally include a variation of the following:
Awareness;
Interest;
Decision;
Action
Thereafter, determine how you should craft each page of your website to accommodate your customers' needs at all levels of your sales funnel.
As you define your sales funnel, ensure that the different pages and sections of your website aligns with it.
This includes assigning key performance indicators (KPIs) to each aspect of the sales funnel, and tracking user behavior at each stage on your website. (Read more about digital marketing funnels here.)
#2 Leverage Artificial Intelligence
Artificial intelligence (AI) is becoming more and more entrenched in businesses of all industries. It can be especially helpful to apply some AI tools to optimize your website for sales.
For example, AI tools can boost e-commerce performance by generating product recommendations for your customers at the bottom of relevant pages. They can also keep track of customer interactions and behaviors and use them to personalize the shopping experience when they come back to your site. You can also automate an "abandoned cart" email blast to remind customers to come back.
You can also incorporate both AI and chatbots to automate messaging sequences for potential customers. These can be applied both on your website as well as its accompanying social media pages.
Make sure that you research AI tools thoroughly before investing in them. Yes, AI is all the hype for businesses, but that shouldn't be the only reason you start using these tools. Instead, ensure the AI software you choose can help you achieve your goal of more sales on your website.
#3 Be Strategic About Navigation
Your customers won't make it to the purchasing process if it's hard to get there. Conversely, if your shop page is easily identifiable and accessible, those ready to purchase will find the opportunity to do so more often.
Thus, be strategic about navigation. Ensure your call-to-action (CTA) buttons are apparent and thoughtfully placed. Make it easy for customers to access the pages they need when they need them.
Pay special attention to your navigation bar, too. The pages displayed should be those that are expected by potential customers and organized in a way they're familiar with.
For example, the home page would be first, then your blog page, then your about page, then your product catalog if applicable.
#4 Prioritize Accessibility
Accessibility is one of the most overlooked factors in optimizing a website to generate sales.
Only a tiny percentage of sites adhere fully to website accessibility guidelines. Not only are these sites neglecting the needs of people living with varying disabilities, but they're also missing out on a huge opportunity to simplify the sales experience for everyone on their sites.
For example, accessibility guidelines suggest that sites include communication alternatives, like alt text on images and video captions. These alternatives ensure those with visual and hearing impairments can still enjoy the content. They also give people different ways to understand a product or part of the purchasing process, enabling a more efficient sales experience.
You won't learn everything about digital accessibility in one day. But, it's essential to commit to learning something each week. As you educate yourself, audit your website against what you're learning. Then, list the changes you need to make to elevate accessibility on your site and attack them one by one.
#5 Improve Your Content Experience
You've heard it before, and we'll repeat it here. Content is key. It's critical on your marketing channels and platforms, especially your website.
Many customers will access your website at least a few times before making a purchase. Each time they may do so for a different reason — not necessarily just to pick up a product.
For instance, they may want to visit your blog to read a post that you've shared on your social media channels. They may want to read testimonials. Or, perhaps they may just wish to dig into your product pages and make a purchase.
You must ensure that your website has premium content which encourages prospects to become actual customers. Adding videos to your product pages is a great idea. Adding interactive content to blog posts, creating a content hub, and having professionally-shot images are worth considering too.
#6 Keep It Simple
Keep everything simple if you truly want to optimize your website to generate sales.
Naturally, there are sites with lots of bold colors, animation, and cutesy fonts. And that may work for their particular audience.
However, the key lies in understanding if those features are suitable for your audience and if they help you reach your goal of generating more sales on your site. Chances are that if they aren't, then they won't.
Simplicity allows your customers to find what they're looking for exactly when they need it. Thus, try a minimalist design for seamless UX.
Stick with readable fonts and basic color schemes. Keep forms simple. Don't overdo it with animation. And ensure your page layouts make sense.
Conclusion
Optimizing your website to generate sales isn't a hugely complex task. But, even if it were, it'd be worth the effort for what an optimized website can do for your business's bottom line.
Use the tips above to tap into the power of a well-designed website.


BIO: Ainsley Lawrence is a freelance writer from the Pacific Northwest United States. She enjoys writing about better living through education and technology. She is frequently lost in a mystery podcast.