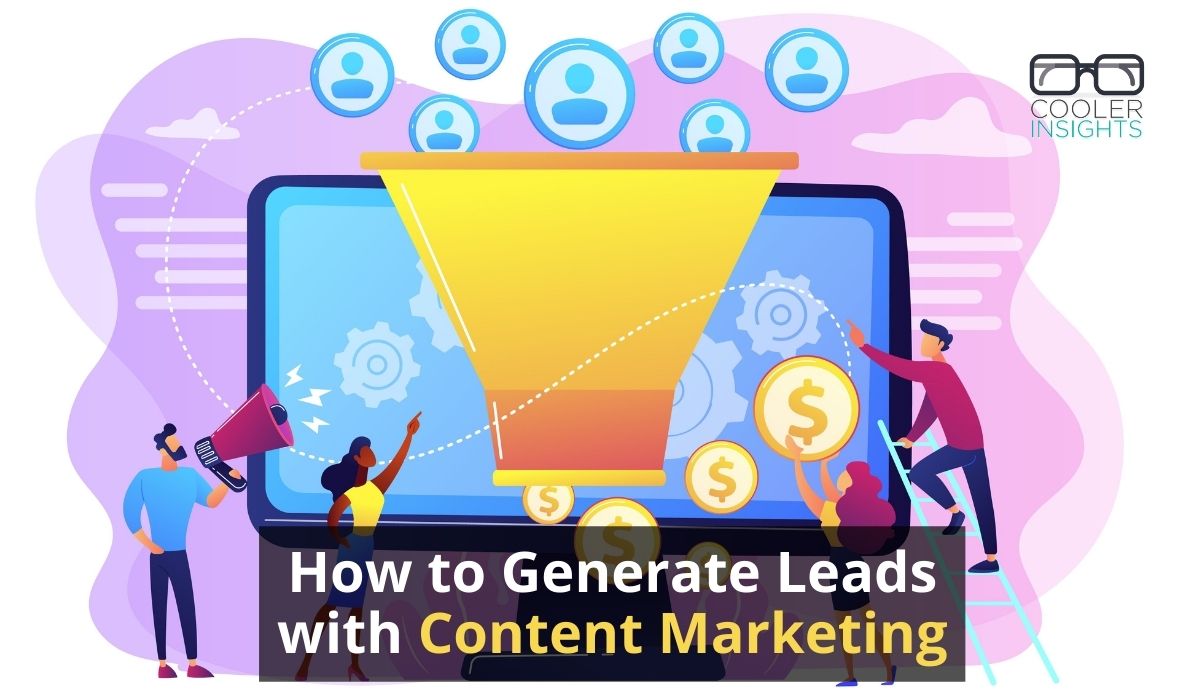 Computer vector created by vectorjuice – www.freepik.com
Wish to generate quality leads through content marketing? Need a systematic process to attract, nurture, and convert leads through content marketing?
You've come to the right place!
In this article, you will learn how to generate leads through a step-by-step process in content marketing:
Study your targeted customers
Research keywords and topics of interest
Map out your content marketing funnel
Develop suitable lead magnets
Build highly converting landing pages
Nurture leads through emails
Let's dive into how you can do lead generation through the art of content marketing for both B2B and B2C businesses!
What is Lead Generation?
But first, let us look at the definition of lead generation:
Lead generation is the process of nurturing potential customers by providing value to them until they are ready to buy your product or service.
It works for both B2C and B2B customers, and is often used as part of the content marketing and inbound marketing process.
Typically, lead generation (or lead gen) involves offering a lead magnet on a landing page where an opt-in form is used to capture the details of your prospect.
Sketch Your Ideal Buyer Persona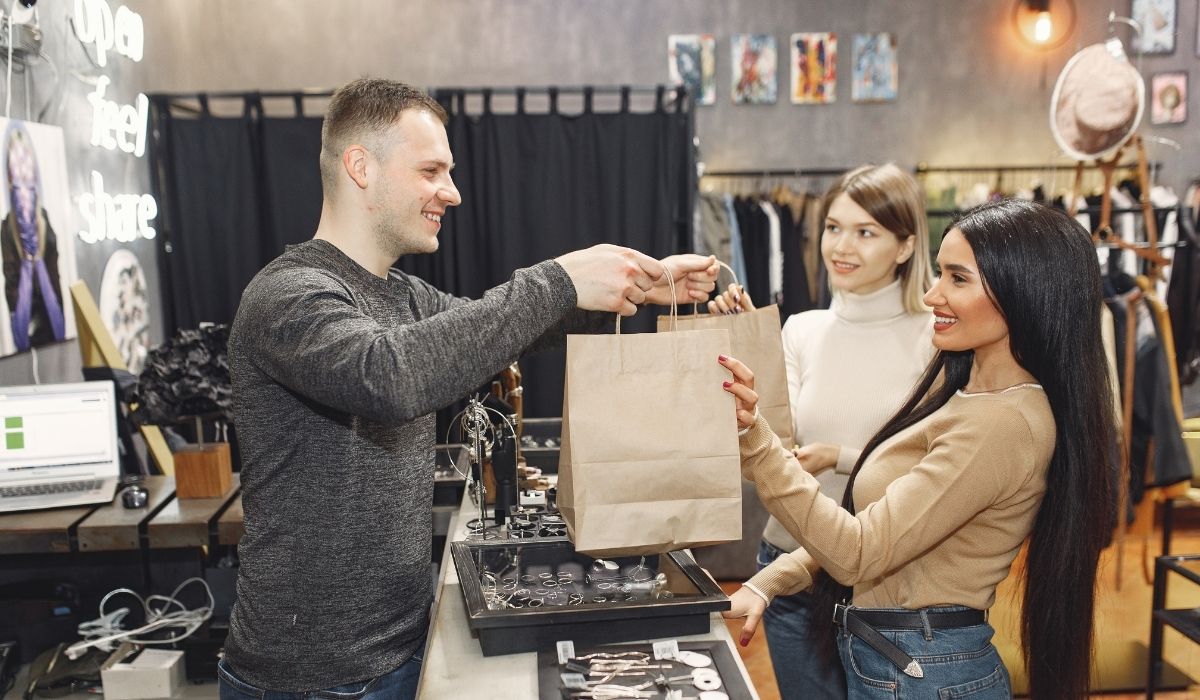 First, consider who your ideal customer would be. Create a customer avatar that probes deeply into their demographics, psychographics, buying decisions, and pain points.
If you're serving a consumer (B2C), consider what would make them tick. Ask yourself these questions:
What are the motivations, desires, and interests of my customer?
Who do they associate with on a regular basis?
What are the things that bug them—their pain points and challenges—and how can my business help them?
What kind of budgets and buying decisions do they have to make?
Which media do they consume? And who are their influencers?
If you're in a B2B space, ponder over what your client's operations are like.
Who are the decision makers and influencers in corporate purchasing decisions?
When do they start looking for solutions?
What are the things that affect them in their business—and how you can help them?
Which trade media and publications do they consume?
What is their budgeting process like, and how much do they typically set aside for your product or service category?
Research Suitable Keywords and Topics
Now that you know who you're serving, the next job is to identify their topics of interest.
I like to use various SEO keyword research tools to see what comes up. Key in your root keyword (ie the main keyword you want to rank for a specific topic on search engine) and see what the different suggestions are. Here are some that you can use:
Naturally, you can use Google's Keyword Planner too!
Now, when you look at the keyword suggestions, focus on the LSI (Latent Semantic Index) Keywords—these are the long-tail keywords or questions that provide good opportunities for lead generation. If I use "spirulina" as a root keyword (assuming that I'm in the health supplement business), I can derive the following questions that people are asking: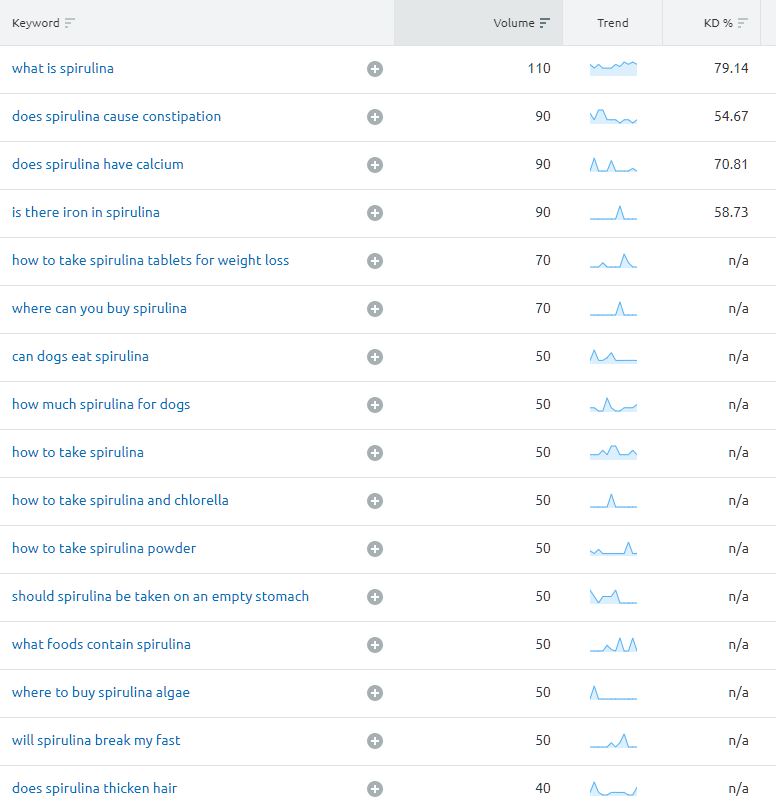 Map to Your Content Marketing Funnel
Once you've got an idea of the content that would attract and engage your potential customers, your next goal is to brainstorm on your content topics.
You should also map these content ideas and formats onto your content marketing funnel.
Here's an example of how one could look like.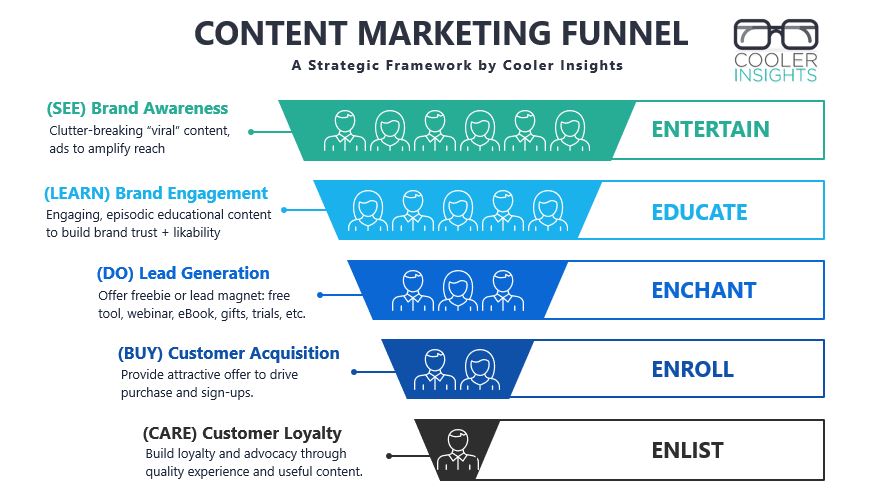 Note that the Lead Generation part of your funnel normally comes midway, after you have gained brand awareness and brand engagement. It is the step in audience engagement just before purchase.
Develop an Attractive Lead Magnet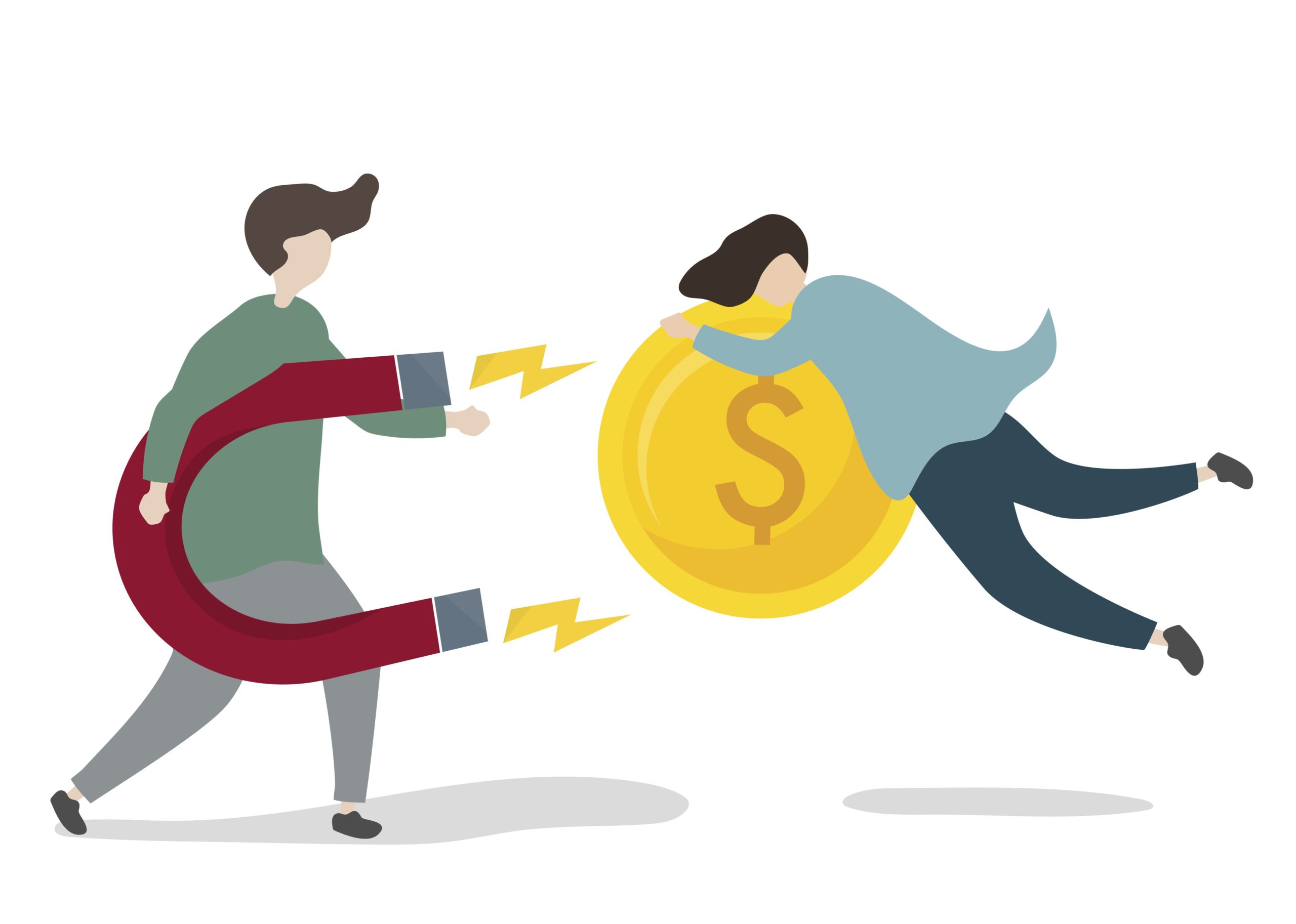 This is one of the most important steps in using content marketing to generate leads.
What a Good Lead Magnet Should Have
Typically, a good lead magnet has the following characteristics:
Specific: Targets a very specific issue faced by your prospect
Relevant: Addresses a relevant problem or pain point faced by your customer
Rare: Difficult to find and not easily substitutable
Valuable: Perceived to have high value
Easy to Consume: It should not be too difficult or complex
Helpful: Provides real help—without the recipient needing to fork out any cash
Popular Types of Lead Magnets
Lead magnets vary from industry to industry, and from brand to brand. Here are some of the popular ones:
eBooks or Guides: These are the mainstays for B2B businesses and knowledge-intensive B2C ones. They can be anything from "How Tos" to "Troubleshooters" to "101s"
Webinars: Increasingly growing in prominence (no thanks to Covid-19), 1-hour webinars are useful to impart knowledge and build trust
Email Mini-courses: These have the benefit of keeping your brand top-of-mind while you deliver short valuable content to your prospect's mailbox
Samples: Consumer businesses can benefit from having the ability to deliver free samples to your prospects, and to get them to experience your product upfront
Free Trials: For Software As A Service (SAAS) businesses or subscription based businesses, a free trial helps to encourage product use
Embed on a Landing Page/ Lead Gen Ad
Now that you've got your lead magnet ready, your next task is to create a landing page or a lead generation ad to capture your lead's particulars.
Depending on your source of traffic and the nature of your campaign, there are three ways to create an opt-in page:
#1 Landing Page on Your Website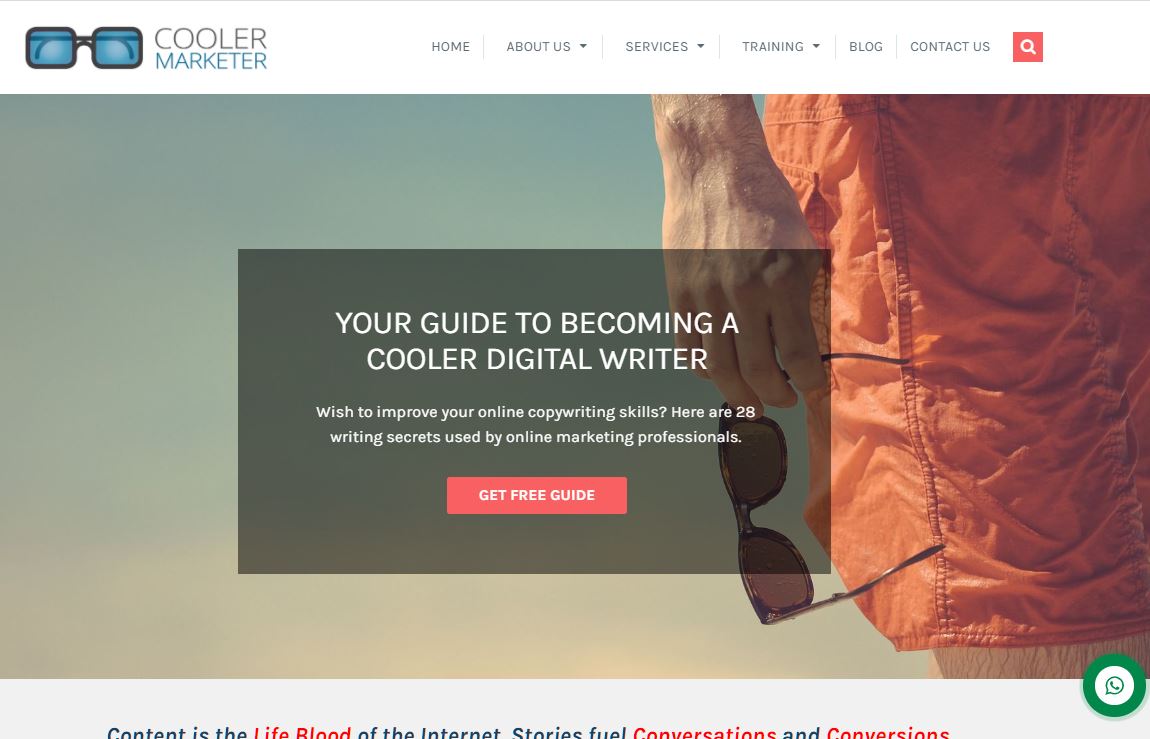 This is where you'll build a specific page specially designed to capture leads on your website.
As a permanent page, it will follow your site architecture, design and style. Where possible, try to optimize your page for conversions by following these best practices in web design.
If your using a WordPress CMS, consider using builders like Elementor, Divi or others to build your landing pages.
#2 Landing Page/ Marketing Automation Software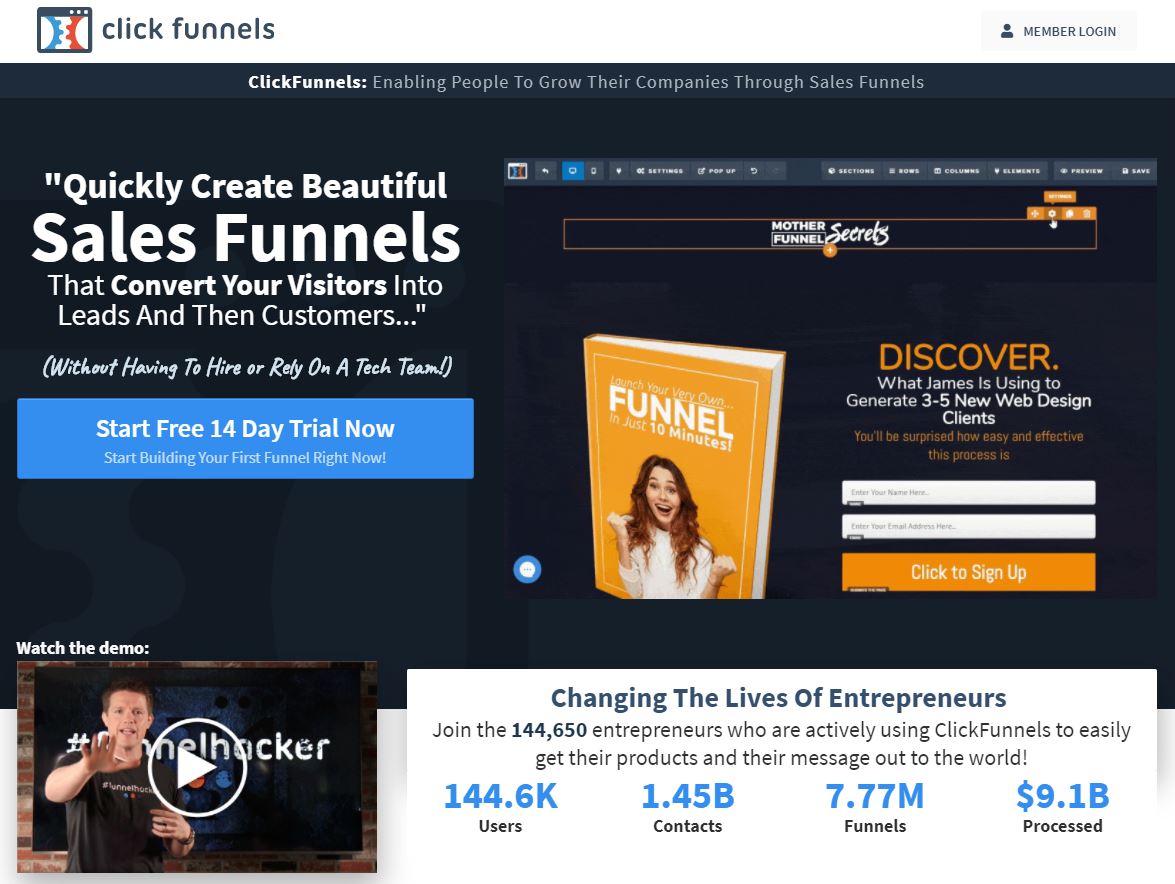 Alternatively, you may build a landing page by subscribing to one of many landing page software out there.
These come with ready templates, and you can drag-and-drop different elements (images and text) to build your pages.
Popular ones include the following:
#3 Facebook or LinkedIn Lead Generation Ads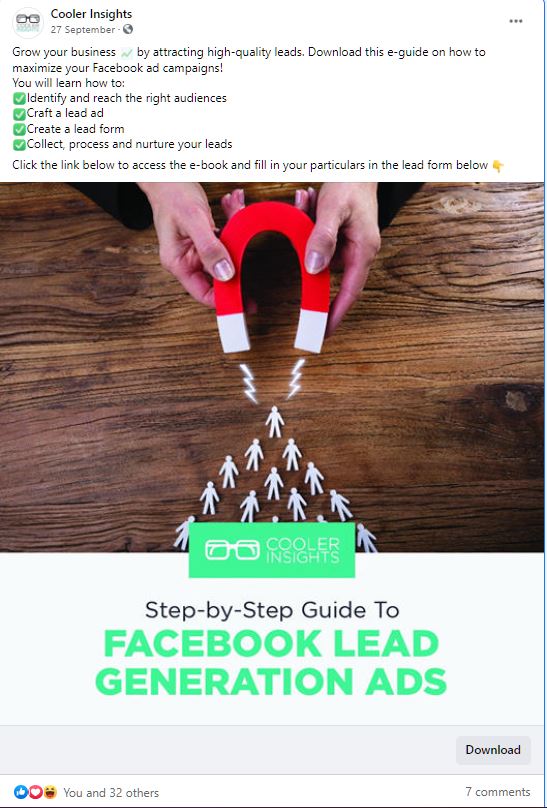 Using Facebook Lead Generation Ads or LinkedIn Lead Generation Ads, you are able to directly capture leads from these social platforms themselves.
Both of these social networks provide a short description of what your target audience can get, as well as an opt-in form that collects leads for you.
The advantage of native lead gen ads on social media is that your user's particulars are often pre-filled—this helps to increase the volume of leads captured. However, it may also lead to less qualified leads if your screening process isn't thorough enough.
Nurture Leads through Emails
What do you do after you have collected the leads from your landing pages or lead gen forms on social media?
The answer lies in lead nurturing. And this is commonly where email marketing and marketing automation comes in.
A lead nurturing email sequence is a series of emails aimed at getting subscribers to learn more about your business.
Here's an example of such a sequence:
Email 1: Thank you and welcome email
Email 2: Provide more value that matches with your subscribers' interest
Email 3: Describe and introduce your company, its members, and your products
Email 4: Provide yet more helpful content
Email 5: Share a customer testimonial or case study
Email 6: Promote your product and why it would be useful for your subscribers—don't forget to include a time-sensitive offer!
Here's a visual way to see how such a sequence may look like.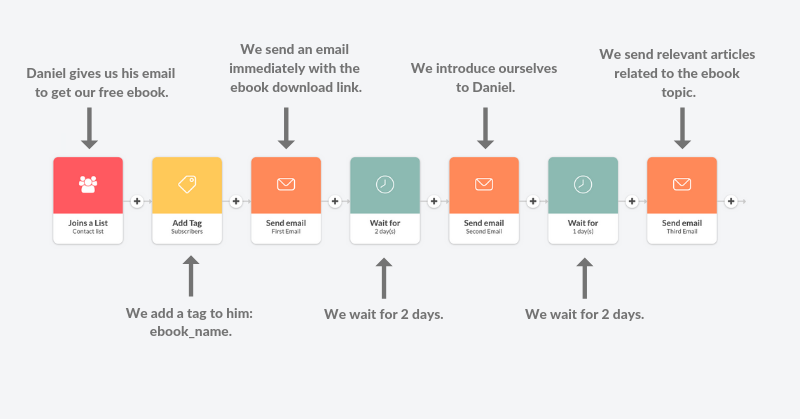 Courtesy of automizy
Some of the top email marketing software you can use are:
Conclusion
What I've described above is just a part of the process involved in attracting, generating and nurturing leads using content marketing as a strategy.
Naturally, this approach may vary from business to business. You are advised to adapt these strategies according to the specific needs of your business.
Have you tried generating leads for your B2B or B2C business using content? What were your biggest challenges like?
Wish to Generate More Leads Through Content Marketing?
Fill in the contact form below and let us know how we can help!