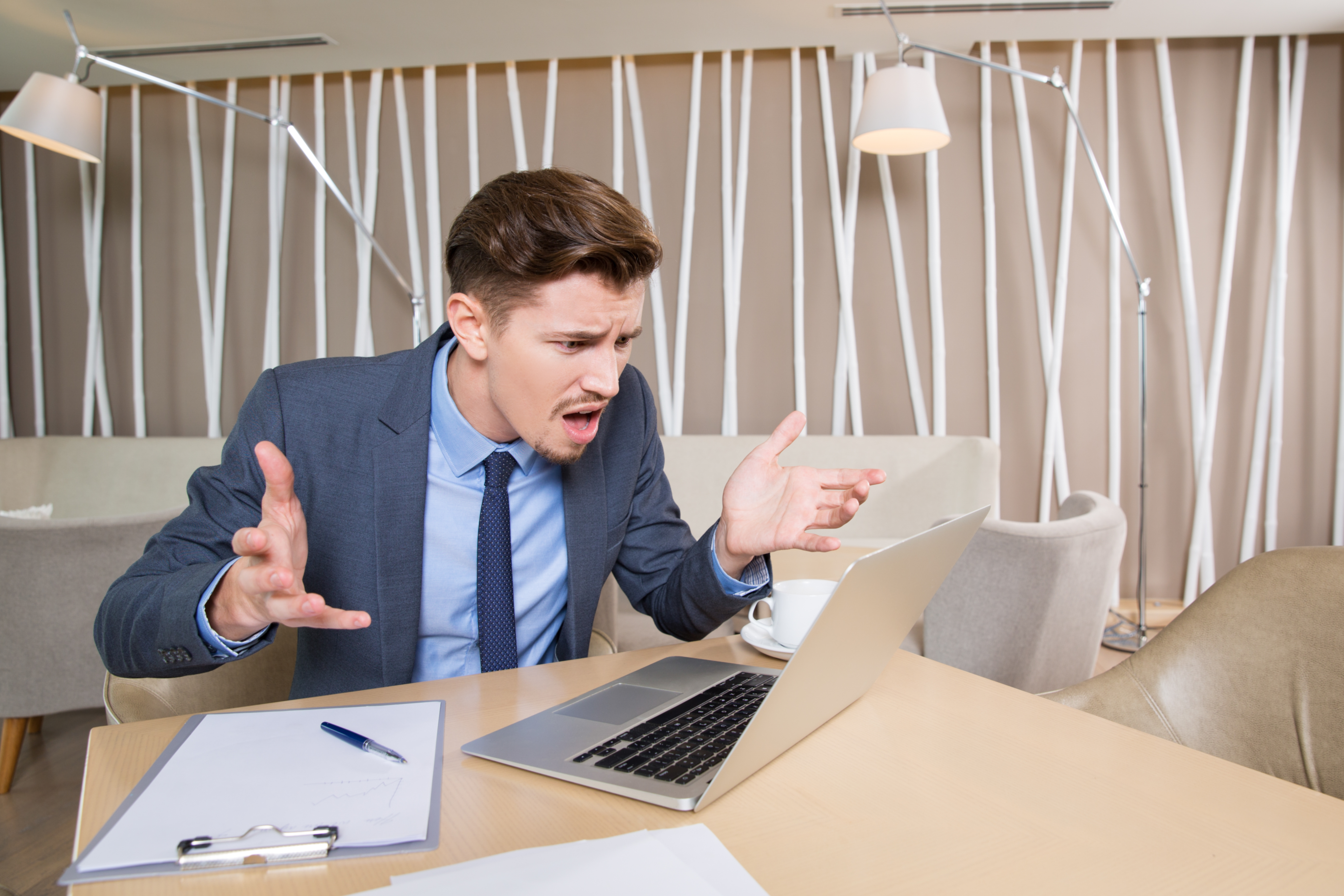 Automation is the secret to higher productivity. And marketing automation should help marketers like you to boost yours.
Unfortunately, many companies do not understand how marketing automation works.
They invest hundreds and thousands of dollars on marketing automation software, but fail to achieve appreciable gains in leads generated, customer conversions, or revenue.
What could have gone wrong for these companies?
After all, marketing automation has been cited as one of the most important digital marketing strategies in numerous studies. Such as this recent report on marketing trends in 2016 by Smart Insights (see graph below).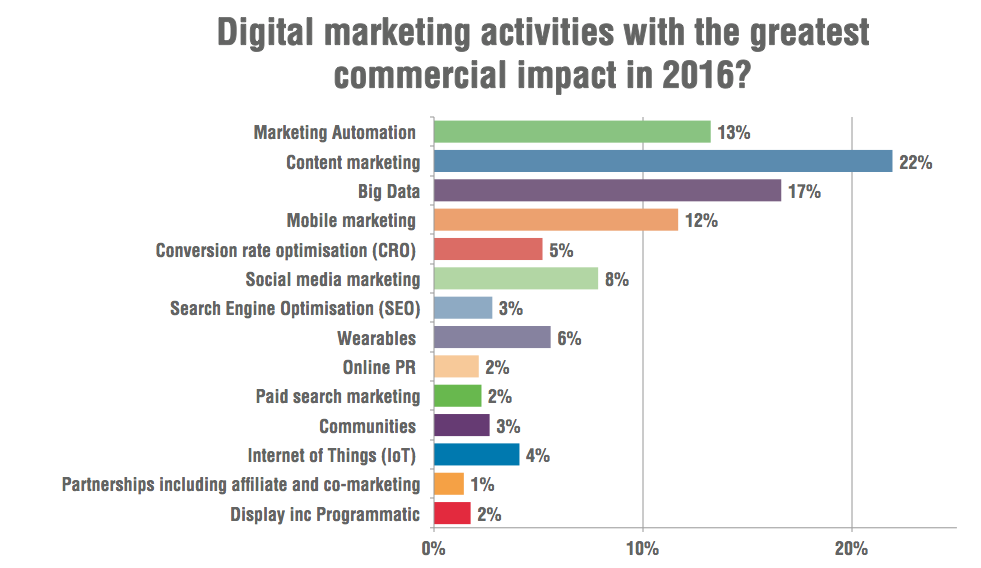 Let us first understand what marketing automation is broadly about, and then examine how companies are getting it wrong.
What is Marketing Automation Anyway?
There are numerous definitions of marketing automation out there, but I like this entry in Wikipedia:
Marketing automation refers to software platforms and technologies designed for marketing departments and organizations to more effectively market on multiple channels online (such as email, social media, websites, etc.) and automate repetitive tasks.
From the definition above, you can tell that marketing automation is more relevant for online rather than offline marketing efforts. Broadly speaking, it involves the following elements:
Nurturing leads from the top of your marketing funnel to the bottom, while making them more ready to buy from you.
Using content marketing and email marketing to drive interest in your offering via targeted pieces of content and messages.
Tracking customers throughout their entire customer journey, and managing their digital touch points.
Marketing automation covers a broad span of digital marketing Software-As-A-Service (SAAS) providers. Major all-in-one suites include HubSpot, Pardot, Marketo and Infusionsoft, while the more specialised niche providers include MailChimp, Leadpages and Wishpond.
Unfortunately, many companies have not optimized their investments in this space. They fail to reap the full benefits of a marketing automation software suite.
Here then are 8 reasons why…
#1 No Digital Marketing Strategy
First, you need to understand that marketing automation isn't the be-all and end-all of marketing. Like all other digital marketing solutions, it needs to be considered within the bigger context of your digital marketing strategy.
In other words, you must consider how lead generation and nurturing falls into your overall digital marketing strategy.
Ask yourself the following questions:
What digital marketing problem are we trying to solve using marketing automation?
Which part of the digital marketing funnel (Top, Middle or Bottom) does marketing automation help with?
Is the ROI for marketing automation worth our company's investment?
#2 Poor Understanding of Customers
Consumers and businesses alike have a myriad of choices. In the hyper-competitive digital and social media landscape, they will only buy from companies which truly understand their needs, wants and desires.
Before you spend a small fortune on marketing automation software, ask yourself these three questions:
Who are our main customers?
Where can we find them?
How profitable are they?
You can learn more about understanding your customers in the ABCs of Building a Customer Profile.
#3 Too Fast and Too Furious
Although marketing automation deals mainly with leads who opted-in to your database (often through signing up on a lead page), you need to remember not to overwhelm them with sales messages.
Like any digital marketing channel, marketing automation should follow the 80/20 rule in content strategy. Do not stop giving valuable tips, advice and tools to your email members after they have signed up for your email list. On the contrary, continue providing value and only ask for the sale after they are sufficiently warmed up.
Which brings us to our next point.
#4 Wrong Scoring of Leads
Lead scoring is one of the most powerful feature of marketing automation software suites. It allows you to rank your leads and prospects with a proprietary score that represents their perceived value to your company.
Often, the best lead scoring models includes three different types of customer information:
Information from lead-capture form, eg job title/role (businesses), company size, types of industry, interests/hobbies (consumers);
Information from interest levels, eg downloads of ebooks, participation in webinars, viewing of specific product pages, requests for demos;
Information from online activity, eg types of web pages viewed, social media behaviours (likes, comments and shares), use of free trials, and email enquiries.
Discerning how valuable each contact is, and how soon they are to purchase is both an art and a science. Read more about building up a basic lead scoring system in HubSpot's article here.
#5 Ignoring Socio-Cultural Contexts
Try as you might, not everything about your customers can be captured by data. One of the most important aspect here is their socio-cultural background.
Cultures are both subtle and sublime. Slight shifts in language or visuals change the entire meaning of a message.
Used incorrectly, local slang in the wrong hands result in hilarious and offensive outcomes. What appears "cool" to you may be perceived as a joke or an insult by a person from a different culture.
To learn more about how culture fits into marketing, read my article here. This brings us nicely into the next big hurdle for companies failing at marketing automation.
#6 Neglecting Content Marketing
Marketing automation and content marketing are inseparable bedfellows.
As a matter of fact, the biggest purveyors of marketing automation software like HubSpot, Marketo, Pardot, and others are all huge on content marketing. Just visit their websites and see how many articles, infographics, tools, and templates they offer – mostly for free!
While marketing automation may concern itself more with nurturing of your leads and prospects through email, you still need to consider your overall content production, flow and rhythm. Ensure that every piece of email content which you send out is still a work of art.
Here's a guide to how you can regularly produce content even when you feel stretched.
#7 Failure To Do Testing
One of the greatest benefits of marketing automation apps are their abilities to do split testing.
While digital marketers make it a point to test their ads on Facebook or Google AdWords, they often do not test their landing pages and emails. This is a mistake, considering that your email database of leads (who have a deeper relationship with you) are actually more valuable than a stranger seeing your ad for the first time.
To rectify this, consider coming up with slight variations in headline/titles, body copy, and visuals for your lead pages and emails. Score each of them some way or other, and batch test them.
#8 Too Many Sales Messages
Finally, you need to consider the focus and clarity of the message which you are sending to your leads.
Don't be too greedy! Squeezing multiple Call To Actions (CTAs) into an emailer is a big no-no. Do not forget that most people read their emails using their mobile devices these days, and cluttered content is a huge turnoff.
Plus, it may also get your unsubscribed. And that is going to put a huge dent on your lead nurturing efforts!
Are there other mistakes which leads to failure in deploying marketing automation software? I'd love to learn from you.