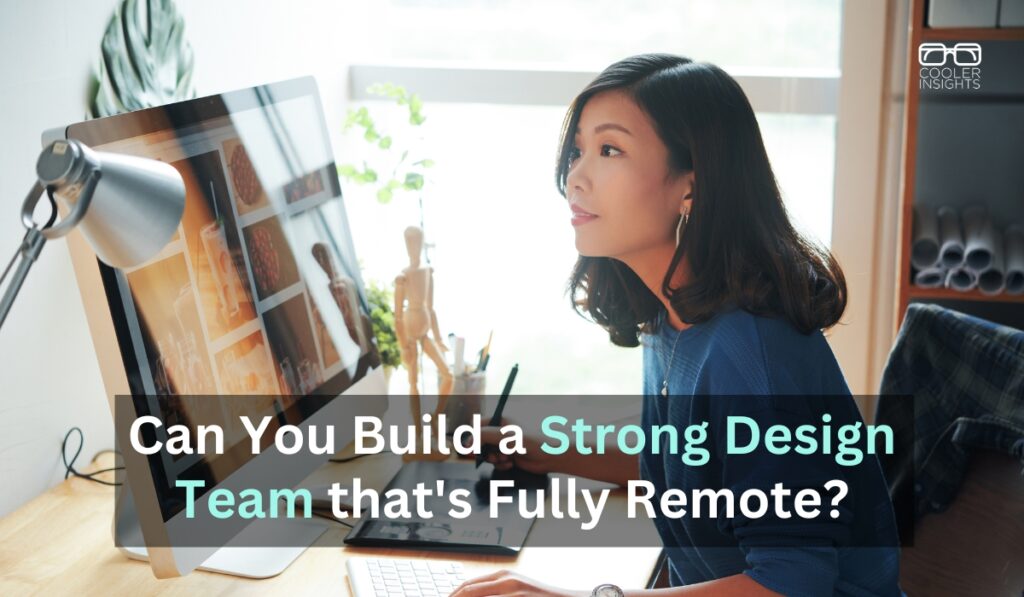 It's no secret that remote work is on the rise. More companies are moving their employees to remote locations and workers seek jobs that let them work from home.
In fact, remote work is the future for design teams and has tremendous benefits for companies and employees.
Yet, remote work also sets unprecedented challenges for designers. Because their work is highly visual and collaborative, designers are often used to working in a team environment where they share ideas. That dynamic can be challenging to replicate when you have a remote design team.
The good news is that there are ways to build a fully remote, strong design team. That way, you can keep up with the rest of your industry while still getting the most out of your employees' skill sets.
Here are the top best practices to follow.
1. Set up a Remote Design Team Structure That Works for You
Designing and building a team structure that works is the foundation of a successful remote design team. Therefore, you must ensure you have a solid system before hiring people so everyone knows what to expect to get the job done.
The first step is to define roles and responsibilities for each team member. For example, this could include a designer or developer responsible for creating wireframes and user flows based on your product vision. By defining each role, you keep the process of design organized and proficient.
Next, you'll need to create policies and guidelines for your team. These should include things like:
How often the group will meet in person.
The frequency of communication.
What channels they'll use to communicate.
Once everyone knows these policies, every new hire should know what's expected from day one to create a seamless onboarding experience.
2. Set up a Collaborative Environment
Building a strong remote design team will require giving everyone equal access to the same tools. Therefore, each team member must have the same access to everything — from project management software like Asana or Trello to design programs like Sketch or Photoshop. Creating equal access ensures everyone can work together effectively.
Additionally, you'll need a place for everyone on the team to share ideas and feedback so they can contribute their thoughts on an idea or project. Digital whiteboards are a great way to facilitate this. They're powerful tools for collaborating virtually in real-time.
Finally, each team member should have access to information they need from the client, such as deadlines, budgets and client notes. This strategy will help them keep track of the client's needs and ensure they're meeting them efficiently.
3. Be Flexible in Your Approaches to Communication
When managing a remote design team, it's important to remember that communication is key. The more you can get your team members to talk to each other, the more they'll understand each other's processes and needs.
After all, a culture of open communication supports collaboration, creativity and productivity. Research shows that workers are five times more likely to increase their productivity if they feel included in the communication.
To build this type of culture, start by getting to know your team members and learning about their preferences for communication, time zones and work styles. Doing so allows you to adapt your communication approach to suit their needs.
Another way to encourage effective communication is by using a variety of channels for communication, including video conferencing, instant messaging, email and more. This ensures everyone communicates in a way that works best for them.
It also helps to schedule meetings at the best possible time but ensure you're being flexible to cater to different time zones.
4. Create an Inclusive Culture
People with various backgrounds and different expertise levels foster a strong remote design team.
Get the most out of a diverse group of designers by creating a culture where everyone feels welcome to share their input and contributions. While some may have less experience than others, they can still share valuable insights into your company's design process. When everyone feels welcome, they'll be more likely to stay engaged and productive at work.
Keep in mind that remote team leaders should also use inclusive language and be transparent in communication and decision-making processes. Inclusive language, honesty and openness allow team members to build trust and avoid marginalizing any group or individual.
Incorporating these guidelines enables you to create an environment where team members feel included, valued and motivated to perform at their best.
5. Provide Opportunities for Professional Development
One of the biggest challenges for remote teams is creating an environment where people can grow and develop professionally. This is especially true when managing a large team across multiple locations, as ensuring everyone has access to the same opportunities can be challenging.
One way to overcome this challenge is by helping your team members develop new skills. Consider hosting virtual workshops where team members can learn something new and share knowledge. Also, consider offering remote employees a stipend so they can attend conferences in person or training courses online.
Another option is to provide virtual training sessions that allow team members to attend webinars and tutorials. These are excellent ways to strengthen your team's skills, stay up to date on industry trends and invest in the future success of your team.
6. Lead by Example
Remote team leaders need to be the ones who set the tone for their teams. Designers look up to their managers for guidance and inspiration, meaning you have to set a good example by doing things such as:
Being honest about your time commitments.
Setting realistic expectations.
Sticking to deadlines and showing up consistently.
By modeling the behavior and attitudes you expect from your team members, you set a standard for how they work together.
For instance, you can lead by example by showing your team you genuinely care about them as people and about their work. Intently listen if someone has an idea for a project or an improvement on something. Ask them what inspired them to develop their concept and what challenges they face when implementing it.
Understanding their methods enables them to feel valued and supported while also allowing them to feel heard. You could also lead by example by dedicating yourself to prioritizing work-life balance.
Demonstrate this by taking breaks, setting boundaries and encouraging team members to do the same. When you practice these remotely, your design team will respect you as a leader. Plus, you'll foster a culture of continuous improvement and positivity.
Building a Strong Remote Design Team
Creating a culture where designers feel empowered, supported and respected is key to building a strong remote design team. It's also important to have clear processes and expectations to ensure your team is on the same page — working towards the same goals.
Hopefully, you've gained some insight into building a successful team that's fully remote so you can get started incorporating these best practices.


Eleanor Hecks is editor-in-chief at Designerly Magazine. She was the creative director at a digital marketing agency before becoming a full-time freelance designer. Eleanor lives in Philly with her husband and pup, Bear.