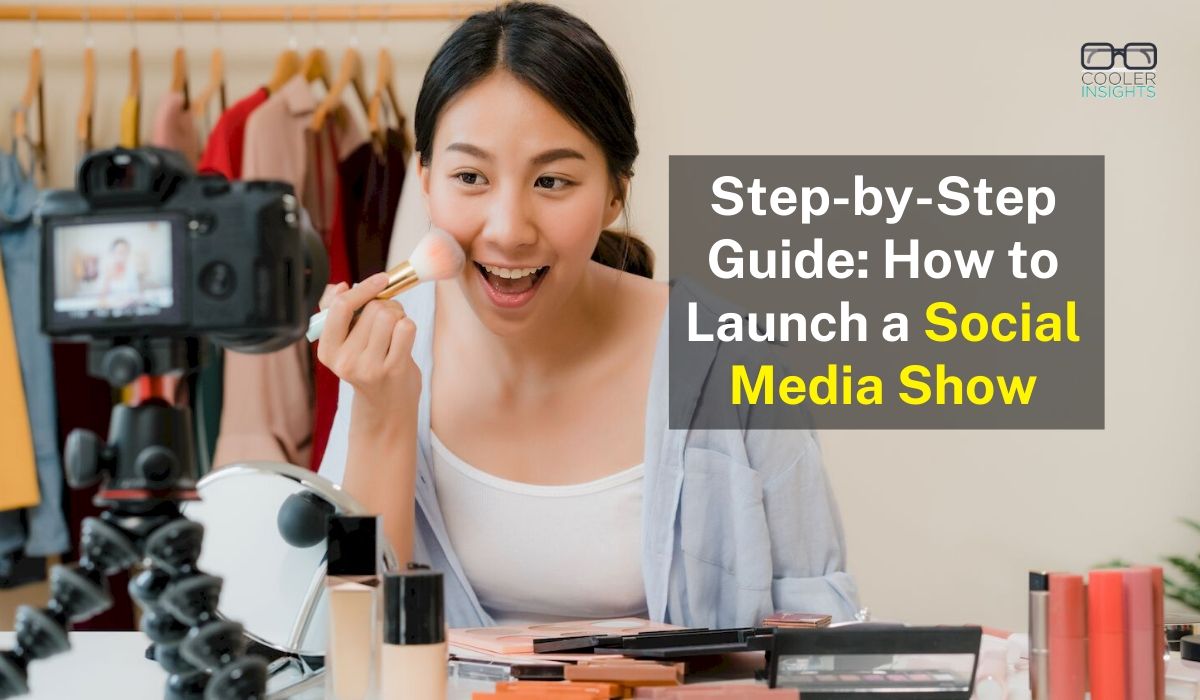 If content is king, and community is queen, then your social media channel must be the castle.
The real power of social media marketing lies in producing a regular show on your platform—an online soapbox where you can influence a clearly targeted audience and build community.
Think of your company or personal brand less as a product or service and more like a media production house.
What types of content would resonate with your potential customers? How can you produce and share your content on a regular basis?
In this article, you will learn why you should create and launch a social media show, how you can do so, and the steps you can take to build an audience.
Why You Need a Social Media Content Show
Creating and launching a regular show provides a major boost to your social media marketing efforts.
Here are the reasons why:
Increase brand awareness—Raise the awareness of your personal, corporate or product brands with regular content
Build brand trust—Being present and consistently delivering valuable content helps to build trust
Grow brand affection—Having a social media content show boosts brand affection and likability
Encourage interaction—A regularly timed and scheduled show provides fodder for discussions and engagements with your community
Expand your community—Nothing beats having a regular series of programmes to foster a sense of community and belonging
Generate leads—Use your daily or weekly content to continually attract leads to your business
Improve conversions/sales—Yes, you can sell online too! In fact, a regular show makes it easier for you to do so
Oh and I forgot to add one more important reason. Doing your own show can also be fun! You are now an artist/author/actor with your own audience of fans and followers!
Now that you've learned all the reasons why you need to launch your own social media content show, let us dive into the detailed steps needed for this.
#1 Research Your Show's Audience
Before you launch your social media channel, think about who your audiences are.
If you're marketing to businesses (B2B), think about the jobs, industries, and interests of your ideal clients. Are they likely to be working professionals? Entrepreneurs? CEOs of large companies? HR managers? Operation executives? Freelancers?
If you're marketing to consumers (B2C), consider your customer demographics in terms of age, location, household type, lifestyles and interests, as well as associated brands.
Do also think about your customer's pain points—use your show to address these problems by sharing suitable solutions. Consider the types of keywords which your customer may use when searching online: use a tool like Keyword Tool, Ubersuggest, or Answer the Public to come up with them.
(More on building a customer profile here.)
#2 Study Your Competitors
Next, consider the existing social media shows that are already out there.
What are the topics that they regularly tackle? Who are their existing audiences likely to be? Which formats do they adopt—video, articles, podcasts, live videos, or stories?
Find your competitors with a social media search tool. Find out who is ranking for your topics/ hashtag/ keywords using tools like the following…
After you've zoomed in on them, subscribe or follow their channels to study how their shows are produced. Focus on the following:
How frequently do they post on social media?
What are the content topics that they focus on?
How long is each episode/article/video in terms of duration in minutes or length in words?
What strategies do they use to market and promote their shows?
What are the Call To Actions (CTAs) that they use to drive their audience to take up an offer?
How do they interact with their audience?
#3 Define Your Social Media Show Topics and Themes
Once you know who your audiences are and what your competitors are putting up, your next step involves defining your show's niche.
This should meet the trifecta of what your audiences value, what you're an expert on, and what your competitors aren't doing.
Develop regular topics that your show should focus on. These should be related to what your target audience cares about.
For my blog, for instance, I zoom in on social media marketing, content marketing, storytelling, public relations, and personal development as key topics of interest. While I do inject other topics into my "show" every now and then, I always relate them back to these five topics.
Next, you'll need to think about the themes which your show will adopt. Here are some themes to consider:
"How Tos" eg "How to Launch a Social Media Show"
101s, eg "Facebook Marketing 101"
Tips of the Week
Q&As or Ask Me Anything (AMA)
Latest Trends, eg "This week's hot news…."
Expert Interviews, eg "We're joined by Mr ______ who will shed some light on ……"
Tricks and Hacks, eg "Solve your Work From Home woes with this simple trick…."
Day-in-the-Life/ Case Studies, eg "Watch how we transform a customer's home…."
#4 Choose Your Social Media Channel and Content Type
Next, you need to answer two very important questions:
Which content types are you most proficient and comfortable in producing on a regular basis?
Which social media channels should you publish your content on?
As a writer and blogger, I prefer long-form written content over videos, photos, or podcasts. Hence, my primary content hub is this website/blog, and I use my social networks on Facebook, Twitter, Instagram, LinkedIn, and Pinterest to promote each new article (aka "episode") of my show.
Depending on your talents and interests, you may pick one or more of these channels to regularly produce your show's content:
Website/Blog: Good for long-form SEO-keyword optimized articles
LinkedIn: Good for text posts, carousels, articles, and how to videos targeted at a professional audience
Facebook: Good for live videos, photo posts, and short-form videos (3 minutes or less)
Instagram: Good for visual 15-sec per clip stories, short reels, photos, and carousels
TikTok: Great for short videos of 15 seconds to 10 minutes in length, live-stream videos, for a younger audience
YouTube: Good for long form videos (at least 3 minutes to 10 minutes), SEO-keyword optimized topics, educational pieces
Podcast: These can be listed on iTunes or PlayStore, and are usually focused on audio content like interviews
Pinterest: Good for infographics, especially vertical formats
#5 Optimize Your Content Format/ Show Flow
To ensure that each episode of your show is done well, plan how your content flows. Adopt a consistent format as you unravel each episode.
I like Russell Brunson's Hook, Story, and Offer format, which can be applied across multiple content types. It goes like this:
Hook: Start off each edition with a question, amazing fact, or customer pain point that immediately grabs your audience's attention.
Story: This is the 'meat' of each episode/article/podcast. It describes the step-by-step guide which you provide to your audience, or narrates how you've solved a problem.
Offer: Also known as the Call To Action (CTA), this is where you ask your audience to take action on your offer. Note that this doesn't necessarily have to lead to a sale—a CTA may also be a question that you ask your audience, or you could ask for their comments on the show.
#6 Set-up Your Content Production Studio
Kicking off a social media show requires a lot of discipline and determination. Hence, you'll need to create the right environment for regular content production.
Consider the location where you'll produce each episode of your show. Make sure that you have some privacy (better yet if you can have a room dedicated to this purpose).
Next, think about the equipment which you may need for your show. If you're doing videos, you may need to invest in a good video camera, lighting, backdrop (eg a green screen), microphone and video editing software.
It also pays to think about the talents/supporting crew if you can't handle the logistics alone. If you're hiring a camera crew or studio, consider how you can block book their time so that you can shoot multiple episodes at once.
#7 Block Your Calendar to Schedule Regular Production
To sustain your social media show over the long haul, you'll need to make it a routine. Or better yet, a habit that you can't break.
Consider the frequency of your content production and publication. For me, I try to keep up to writing at least one long-form blog article per week, and at least 3 to 4 social media posts per week, primarily on Facebook, LinkedIn, Twitter, and Instagram. I also pin my blog images on Pinterest every week.
A good way to ensure that your content production does not lag is to block book your calendar in advance for social media content production. For me, I have two slots on Saturday morning and Sunday afternoon, with each lasting about 2 hours in length (weekdays are too hectic for me to do so.)
However, you may also consider any of the following schedules:
Daily during your commutes (for writing shorter social media posts, or recording a podcast if you're driving)
Evenings or nights before you sleep
First thing in the morning at the crack of dawn (before or after your coffee)
Lunchtimes
An entire day solely dedicated to producing multiple episodes!
Whichever schedule you prefer, you need to stick to it for the long-term for this to work.
#8 Focus on Production—Not Perfection!
Yes, this is soooooo important. Many people fail to sustain their social media shows due to their predilection for perfection.
They are afraid of being judged. Or being criticised by others. Or not looking their Sunday best. Or sharing an insight that is less than insightful.
Forget about what others think! Those naysayers aren't your audience or eventual customers anyway. Instead, focus your heart and mind on the vital few who values what you're doing and may become your customers.
#9 Promote Your Social Media Content Show
Launching each episode, video, story, or article isn't enough. You'll need to look at promoting your show in order to grow your audience.
Here are some ways to do so:
Post Previews/ Teasers/ Trailers on your social media channels
Boost your social media posts through paid advertising on Facebook, LinkedIn, Twitter, Instagram or YouTube
Network with other show producers and offer to feature them. In return, see if they can also do a shout out for you on their shows and channels.
Re-share your posts after each episode so that those who missed them can catch them again
Send reminders to your email lists and promote your show channels to them
Pitch your show to influencers in your industry and see if they can feature you in their posts
#10 Review and Refine based on Analytics
Lastly, and very importantly, consider how you can refine your social media show after each episode/ article.
Look at your show's analytics and see how you can improve on them. This will vary depending on your show's format…
Video Views: Did you garner an adequate number of video views?
Minutes/ Percentage of Video Viewed: How many minutes of your videos are viewed? What about the percent of videos viewed?
Engagement Metrics: What are the reactions, comments, shares and clicks for your show like? What about your story metrics like forward swipes, upswipes, and open rates?
Page Views: Are you able to garner a good no of page views?
Session Duration: How long did your readers or viewers stay on your web pages?
Bounce Rates: Did they click to take up an offer in your link? If not, how can it be improved?
Qualitative Metrics: Beyond the numbers, did you get more positive comments to your show? How was the social buzz surrounding your show like?
Ready to Launch?
Conceptualising, launching and sustaining a regular content programme on social media is hard work.
You'll need to not only have a continual stream of ideas, but a means to keep your audience interested and enthralled day-after-day, week-after-week, month-after-month, and year-after-year.
The best social media marketers aren't just interested in one-hit wonders. They're in it for the long-haul.
I hope that these steps have been useful for you. Let me know if you've got your own social media content show—share the link to your channel in the comments below!