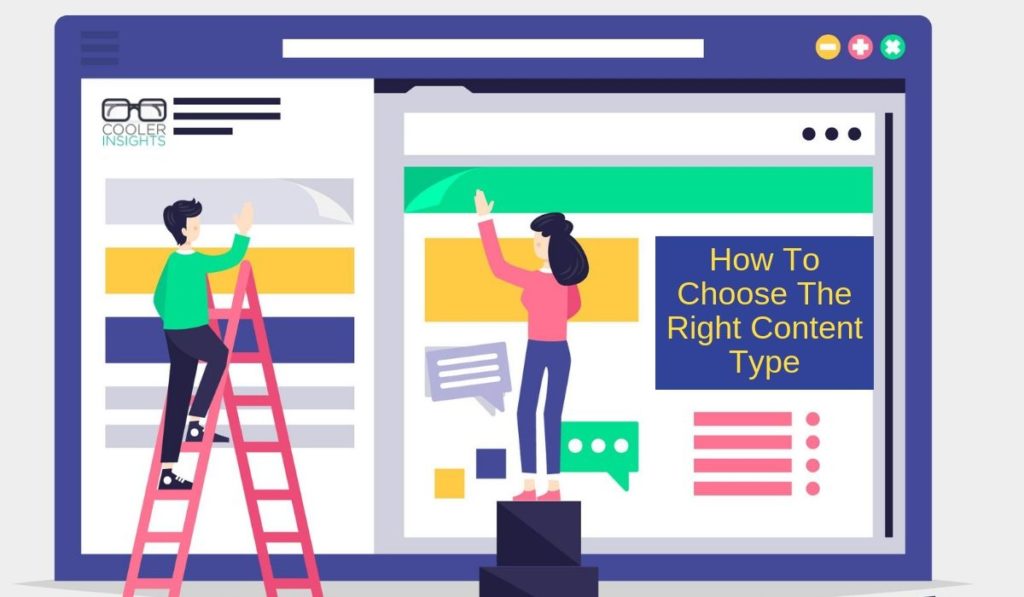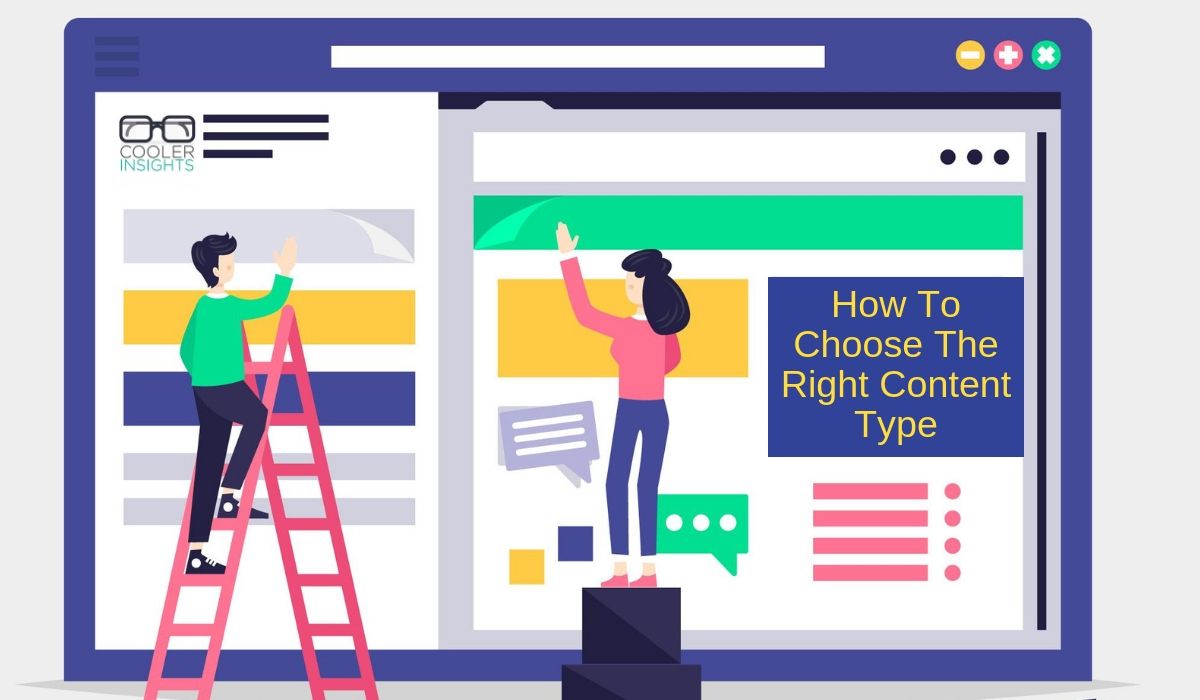 Choosing the right content types can be a challenge for content marketers.
After all, there are so many different content formats out there – from Facebook posts to LinkedIn text posts, YouTube videos, eBooks, infographics and more.
Should you shoot and produce a short video? Would an image with a text caption posted on Instagram work better?
In this article, we explore some of the most popular formats and types of content, discuss their key features, and recommend how they can be used to strengthen your brand awareness, improve engagement, generate leads or trigger sales.
There are an almost endless variety of content formats to choose from. However, I'll focus on the main ones and their unique characteristics here.

What Is Your Content Marketing Goal?
Before we zoom in on each of the content formats proper, it is important to establish why you are producing these content pieces.
Establish your content marketing goals, and your objectives for each stage of your customer's buying journey.
Ask yourself these questions:
Will my content type help to meet specific brand and marketing goals?
More importantly, will it be relevant and helpful to my potential customer?
How often should I create, curate and schedule my content?
Do I have the enough resources – time, money and talent?
What would be an ideal content marketing mix?
Remember that content marketing isn't just a one-time campaign, but a long-term strategy for your brand.
Clarified your goals? Great! Let us now look at each of the content types.
Videos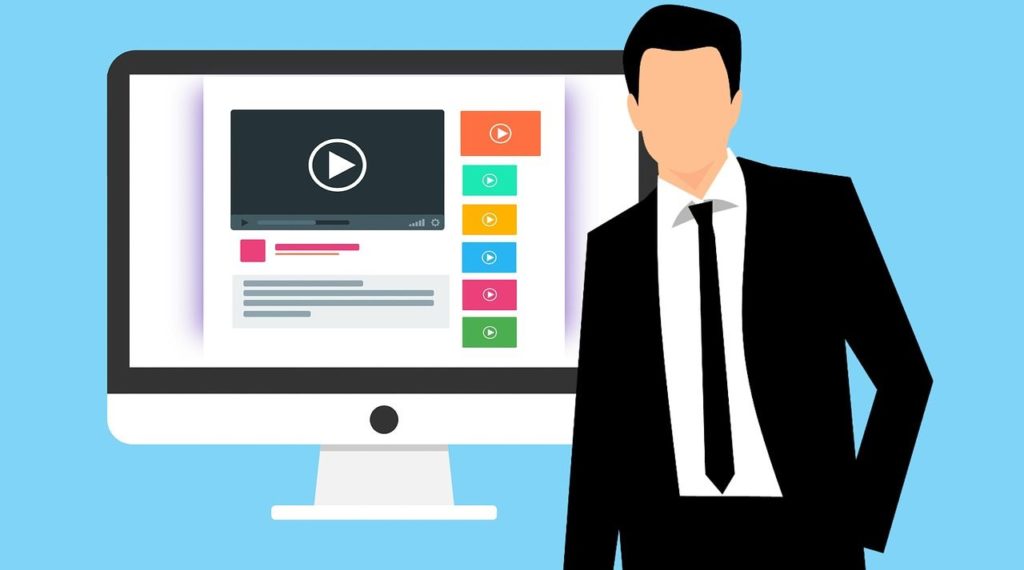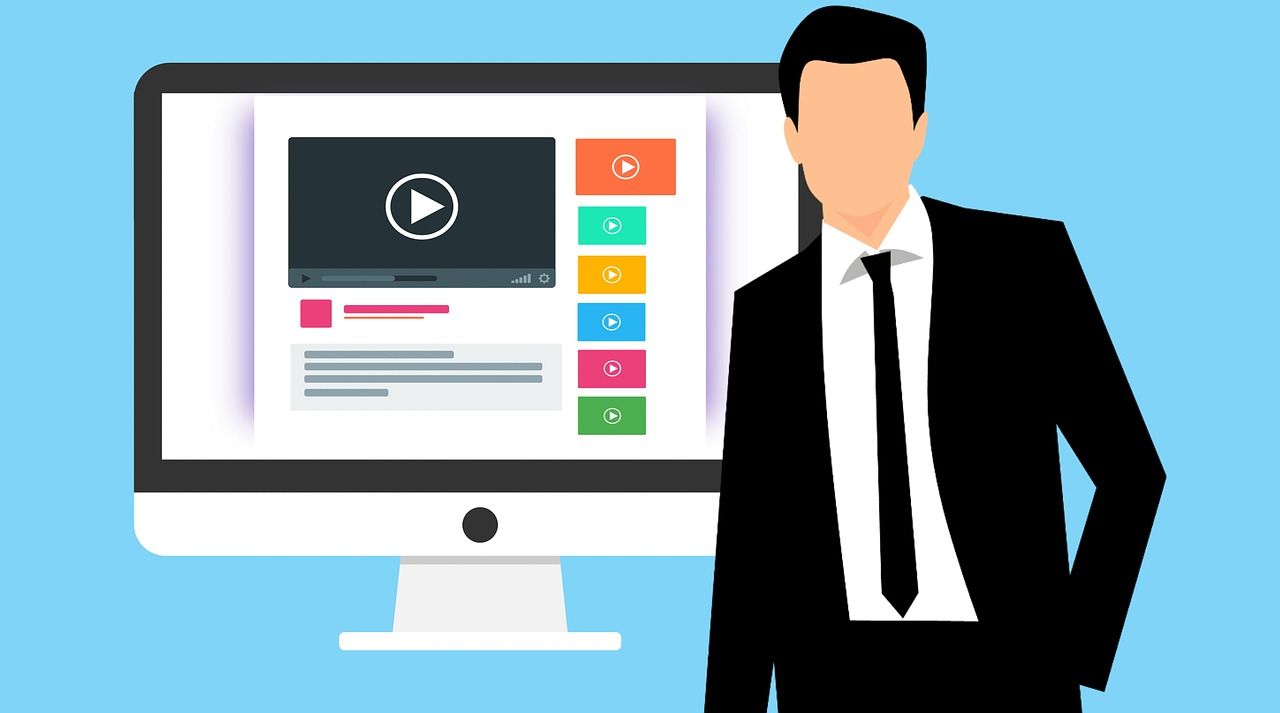 Videos are probably the most engaging content format out there. With moving images, sound and subtitles, they can simplify the communication process for both B2C brands and B2B businesses.
In terms of uses, videos are great for the following:
Brand storytelling
'Viral' marketing campaigns
Training and education
Product and service demonstrations
Illustration of complex processes (eg Blockchain technology)
Video blogs (vlogs) featuring personalities
Unfortunately, videos do have their drawbacks:
More time, resources and funds to produce
Usually require external talents/production houses
Difficult to change mid-stream
Virtually all online channels may be used to publish videos: YouTube, Facebook, Instagram, Twitter, or LinkedIn. You may also embed videos on your websites, blog articles, or emails to provide a multi-media spin on your content.
For best results, consider publishing them natively from each channel. Do also take note of the duration limits and dimensions for each.
Photos and Illustrations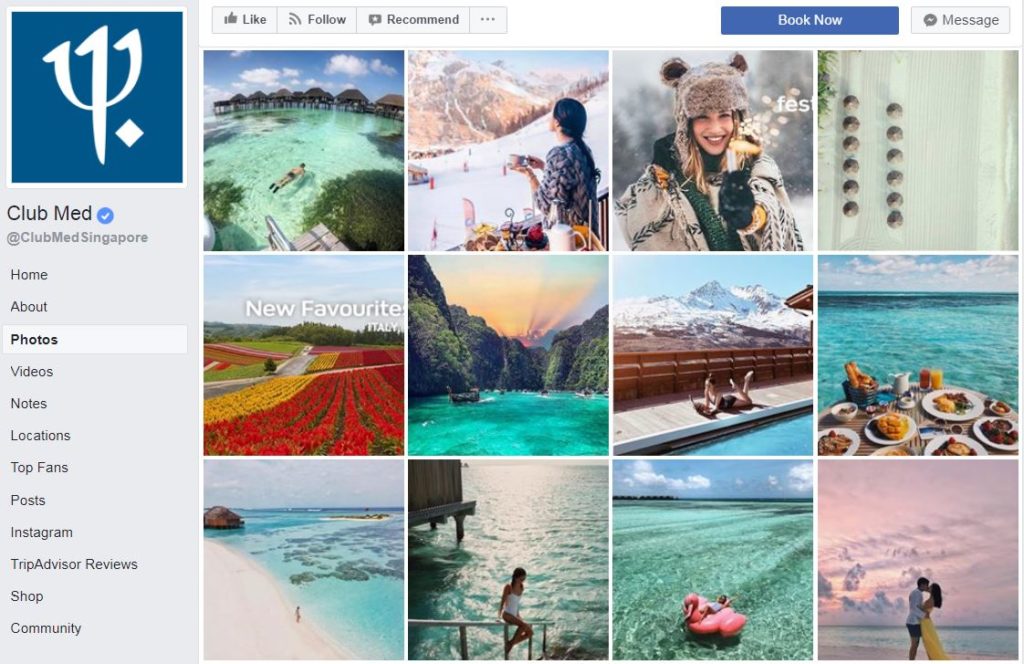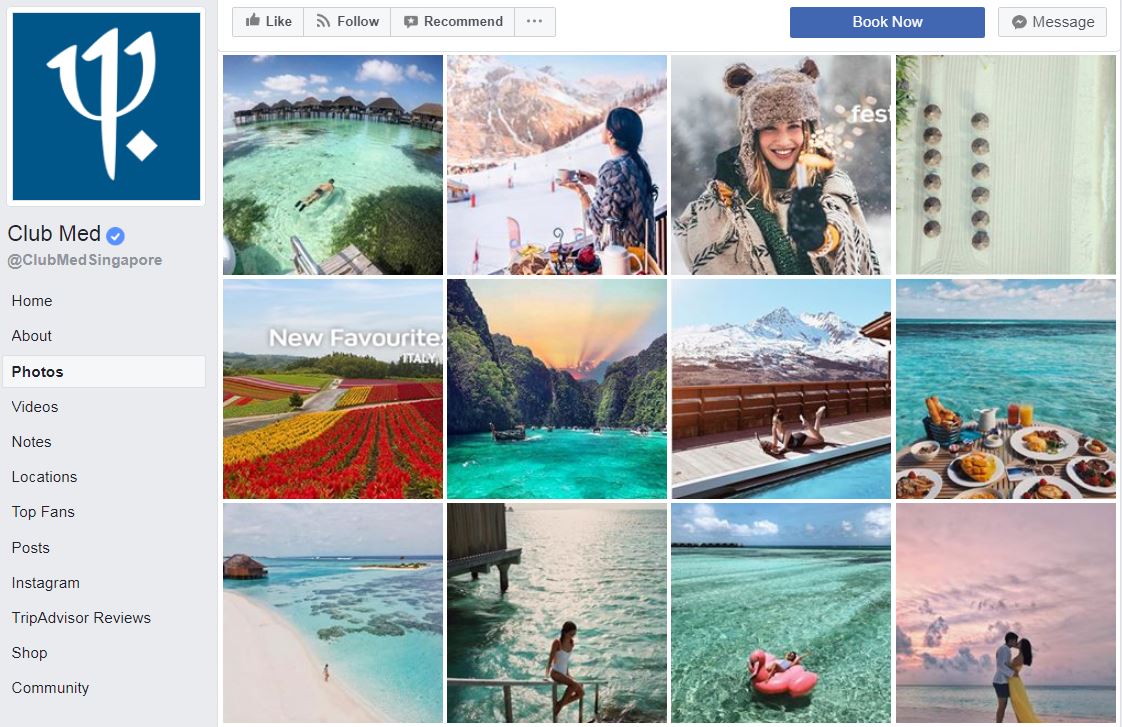 Club Med uses photos liberally on their Facebook Page
The old saying a picture paints a thousand words holds true in the online world. The rise and rise of image-first social networks like Instagram and Pinterest show that photos have a lot of pull power online.
Use an image for the following:
Illustrating a point with examples
Showcasing a product or service
Describing how certain things work
Demonstrating the aesthetic qualities of a product or service
Improving the shareability of content (especially social media posts)
Consider doing text overlays on your images helps to communicate your messages and offers more clearly. You can use tools like Canva, Crello or Adobe Spark to do so.
Infographics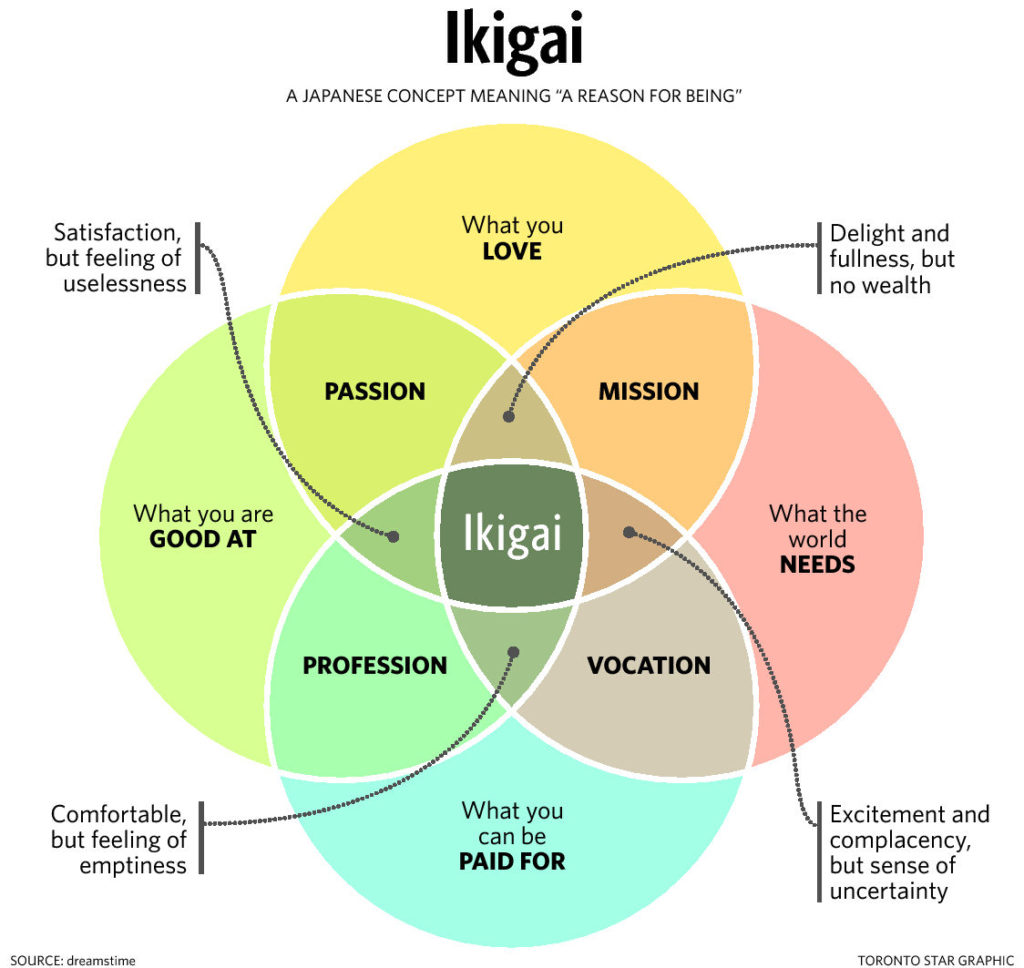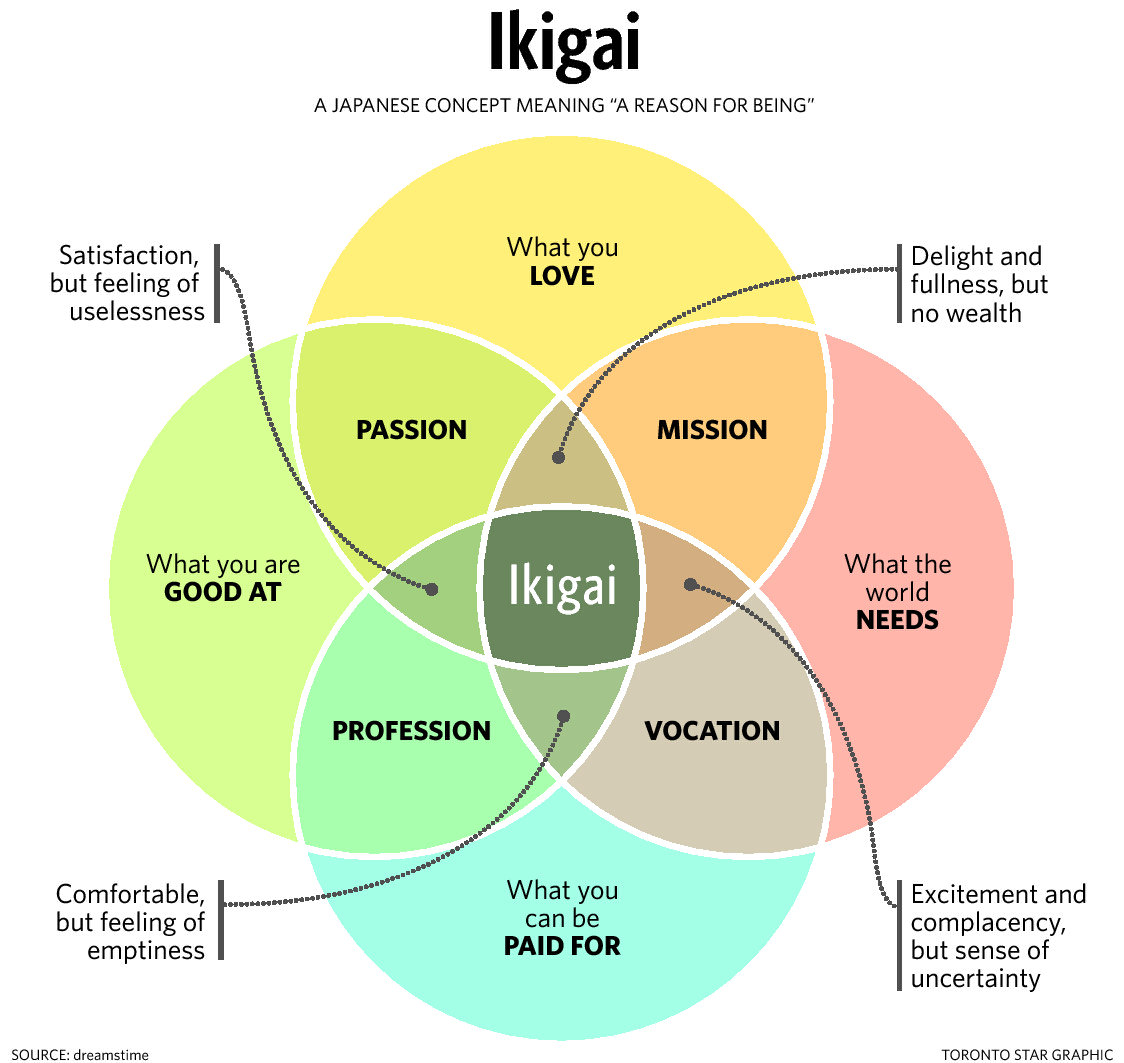 Source: dreamstime / Toronto Star Graphic
Infographics are a specific form of image which includes graphs, charts or tables that help to show a process. They are useful in depicting a sequence of steps, or to help readers visualise how a product or service work.
Infographics can also be used for research data and statistics, or to compare a product against another. They are normally embedded on your website, but could also be pinned on Pinterest or shared on Facebook, LinkedIn, Twitter and Instagram.
While there are free tools like Piktochart and Venngage to create your own infographics, complex infographics are probably better left to the professionals.
Social Media Status/ Text Updates
These are text/ status updates on Facebook, Twitter, or LinkedIn. Unlike longer-form articles, they normally do not contain embedded links or videos or images.
You can use text updates for the following:
Short announcements on company milestones or achievements
Relationship building content like questions and quizzes
Storytelling content (especially useful for solopreneurs)
Short tips/tricks that are useful for your audience
Note that short paragraphs (especially one sentence paragraphs) work better on most social networks. While Twitter's character limit may have increased to 280 for selected users, you should still refrain from writing anything too lengthy there.
Blog Articles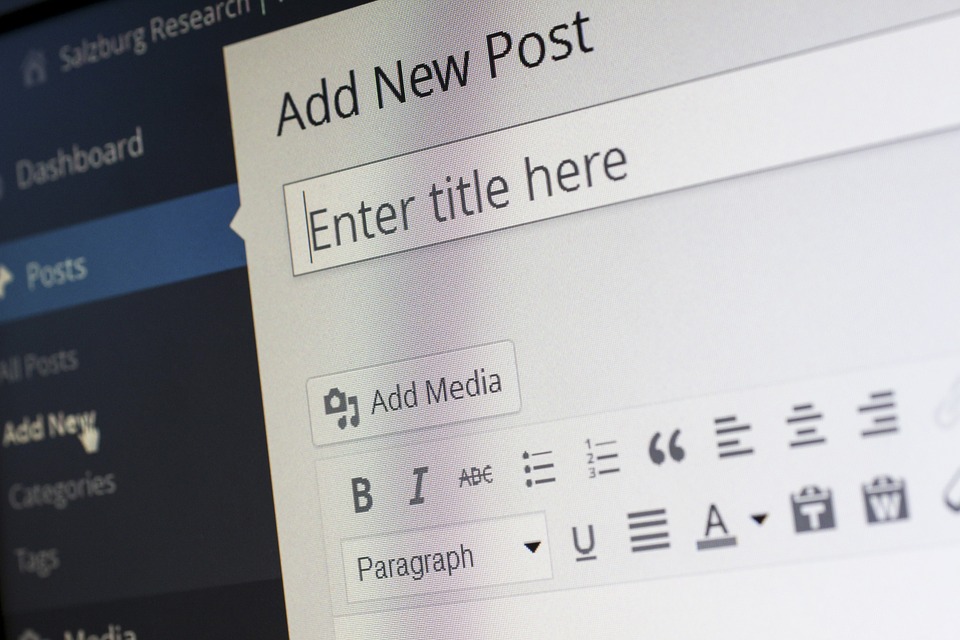 Blogs are the heavyweight content marketing formats which everybody loves to hate. Or hate to love.
A well written blog post can help you to build your reputation, gain trust, grow fans, and increase likability. It can also position your brand as a thought leader in your specific domain.
Blogs are useful for a wide variety of content types:
"How To" guides to virtually any topic under the sun
Checklists and templates (which can be embedded as a download)
Customer stories (more below)
Frequently Asked Questions (FAQs)
Research findings
Latest trending news
Opinion pieces
You can also embed videos, photos and infographics on your blog posts, and optimize them for specific SEO keywords.
Due to their frequency of updates, blogs are a tremendous boost to your SEO-led content marketing efforts.
Read my article on business blogging for beginners to learn more.
Landing Pages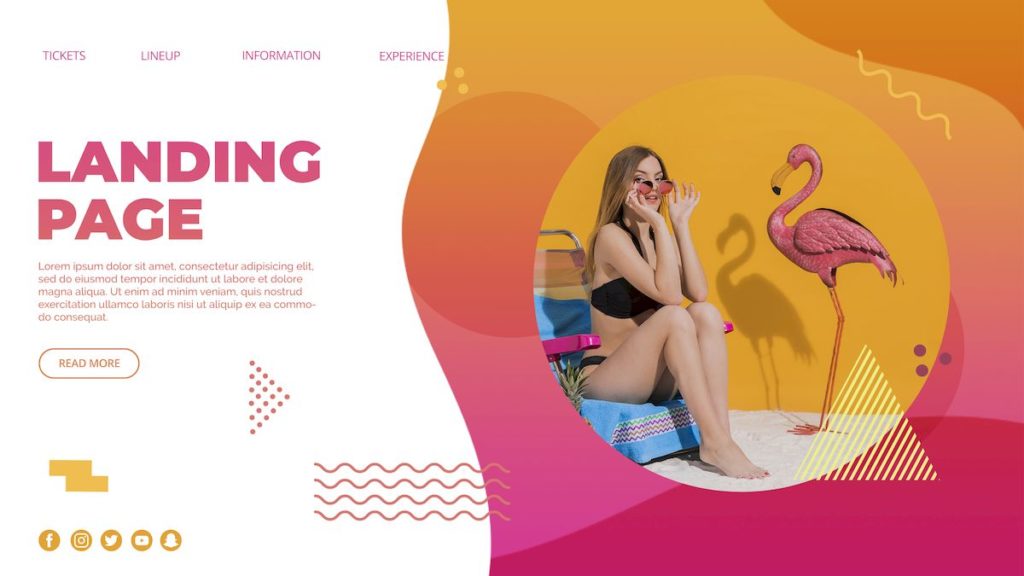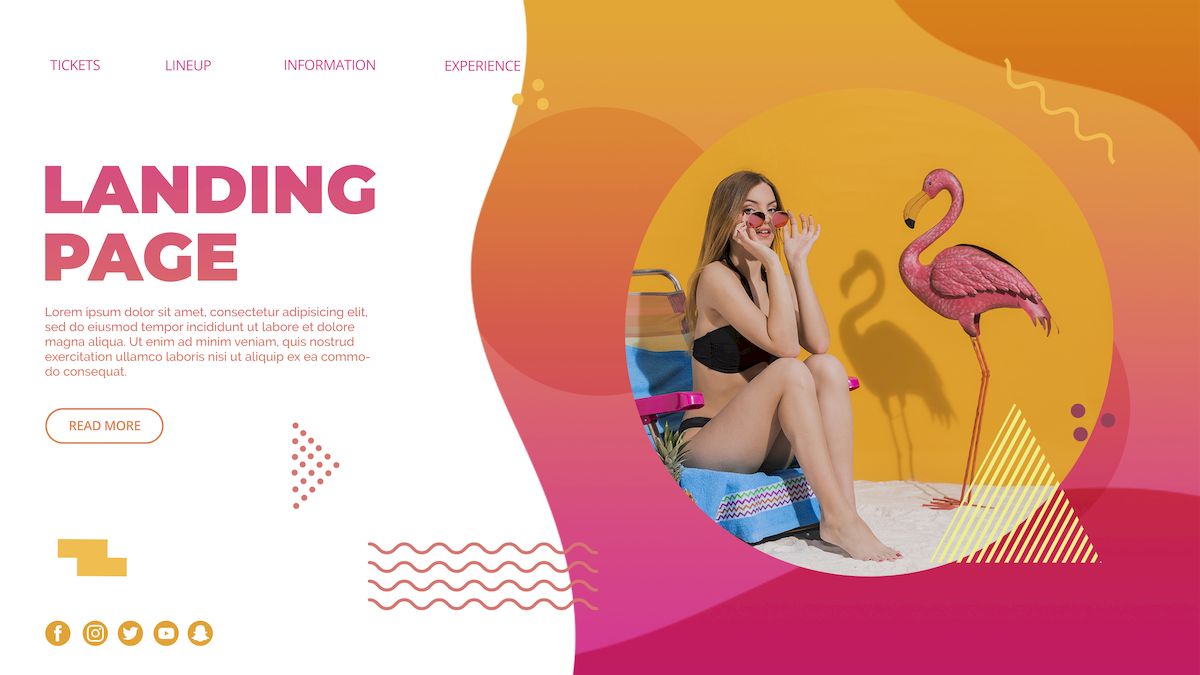 Banner psd created by freepik – www.freepik.com
Landing pages are web pages where a visitor may 'land' on after clicking on a link on a post, email, or ad.
Often, landing pages come with 'lead magnets' or sales offers which entice visitors to fill in their particulars on a lead capture form (opt-in form), sign up for an event, download an eBook, or purchase a specific product or service.
A key thing about landing pages is that they need to have a specific Call To Action or CTA. While they can be considered a page on your website, they normally have very specific purposes and are designed to simplify action taking.
(Read more on building successful landing pages here.)
Case Studies/ Customer Stories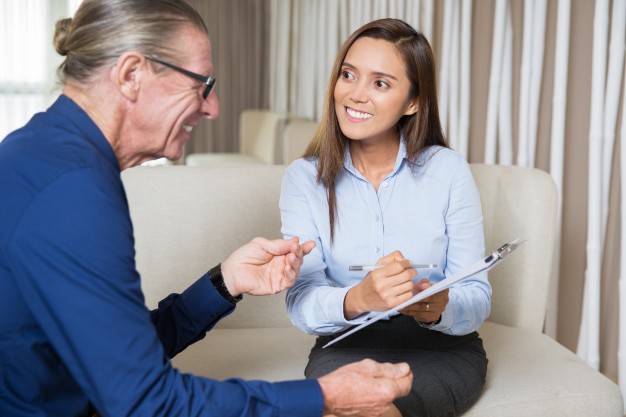 Business photo created by katemangostar – www.freepik.com
Customer success stories or case studies are very powerful pieces of content that can help to persuade a prospect or lead to become a paying customer.
These content pieces can either be written as articles on your blog, videos that are embedded on your website and distributed on YouTube, Facebook, LinkedIn and other social media channels, or crafted as a short testimonial.
To obtain them, you could do one of two things:
Invite your happy customers to share their stories, providing an incentive for them to do so if necessary (eg via a contest).
Do a face-to-face or email interview with your customer to secure the stories.
When crafting such case studies, you need to consider the following pointers:
WHO your customers/clients are (individual or corporate backgrounds)
WHERE are they located
WHAT were their pain points/ challenges prior to purchasing your products/ services
HOW have you helped them. If possible, provide specific numerical performance figures (eg reduce operating costs by 20% per year, or saved 40 minutes every day.)
WHY they chose your brand over others?
WOULD they recommend you to others? If so, why?
White Papers/ Research Reports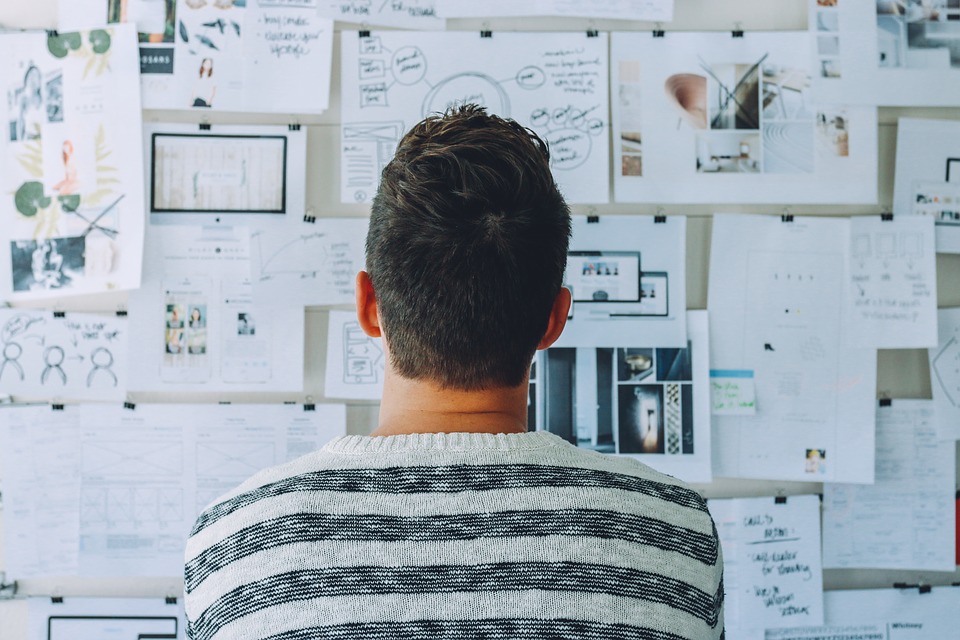 These are usually backed by research (either primary or secondary), and are useful to establish thought leadership for your firm. Thus, they are normally more popular with B2B companies than B2C ones.
To put together a useful white paper that people will love to read, consider these best practices:
Alignment: Ensure that the research or trends cited are aligned to your business.
Rarity: Would the piece of content be something scarce that is unique and valued?
Demand: Use a search engine traffic tool like Ubersuggest or SEMrush to gauge if there is sufficient volume of searches for the information.
Utility: How would the information help a potential client to do better?
Links: Ensure that your white paper has sufficient links back to your website or blog
Infographics: Make sure that you use sufficient charts, graphs and tables to make your information easier to digest.
Research reports are usually more time consuming to produce, and may require you to conduct your own surveys or focus groups. However, they can be very valuable if you wish to position your brand as a thought leader in the space. In fact, Michael Stelzner of Social Media Examiner calls them Nuclear Fuel!
eBooks/Books/Guides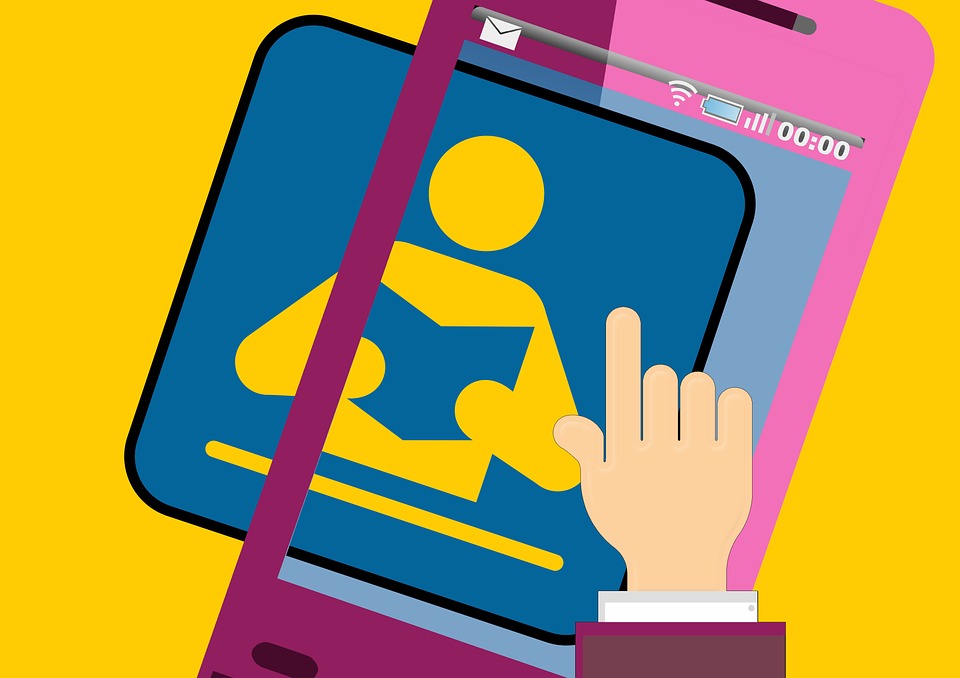 Increasingly, eBooks or guides are viewed as a valuable content format for both B2B and B2C customers due to the ease of digesting the information and the comprehensiveness of the information provided.
Some savvy marketers have even gone one step further to publish their own physical books, and to offer it as a lead magnet in return for payment of the 'shipping costs' for these publications.
To make your publication valuable enough for people to want to supply you with their personal details (and even credit cards), consider the following points in your eBook:
Authority: Write on a topic that you're familiar with, not one that happens to be the hottest topic in town.
Relevance: Make sure that your eBook is useful and relevant to your target audiences.
Formatting and Design: eBooks should be well-designed and laid out professionally, with the right images and infographics to make them readable.
Editing: As a larger piece of written work, it is important to do proper copy tasting and proof reading before it goes to digital print.
Links: Ensure that your eBook has sufficient links back to your website.
Calls To Action (CTA): Yes, you can and should include them in your eBook. However, don't make them too overt (like one on every page). Include emails and phone numbers to make it easier for your reader to contact you.
Live Events (Seminars or Webinars)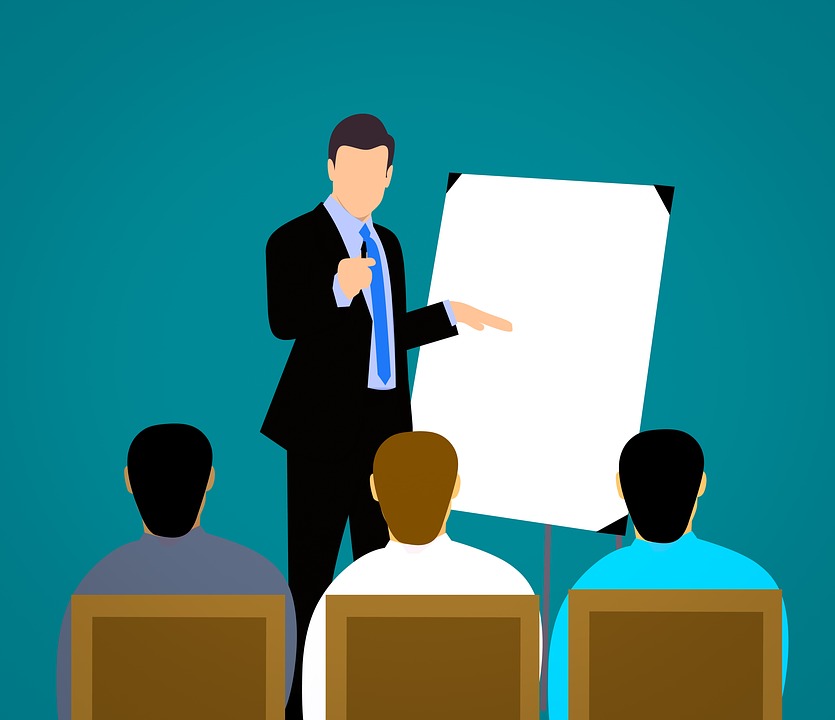 While events may not be technically classified as "content" in the same way as blogs or eBooks, they often require substantive preparation of 'offline' content that participants can read or watch.These may include conference/seminar materials, presentation slides, brochures, leaflets, physical books, and other collaterals.
Many organisations have used free events as a lead magnet to attract potential customers. This is especially popular in forex trading and internet marketing circles, so much so that consumers are wary of attending them.
To organise a winning event, you'll need to have a runway of 'preview' content pieces to whet the appetites of your customers. These include behind-the-scenes video interviews, soundbites/quotes from speakers, and short tips and tricks.
You will also need to create a landing page to register the details of your event participants, and find a way to gain their commitment to attend the event (perhaps by giving them a special bonus if they come).
The key thing here is to refrain from going too heavy on the hard-sell during events. Instead, offer real value and learning to your attendees.
Podcasts
Podcasts are regularly episodes that can be downloaded on a smartphone and listened to. Most podcasts are audio-only versions, and they last anything from 10 minutes to over an hour per episode.
Typically, a podcast involves the following:
Sound Equipment: Use of professional recording equipment to ensure good voice quality
Weekly or Fortnightly Episodes: Most podcasts are done on a regular schedule
Post Production: The best podcasts include music and post-production edits to jazz them up
Interviewees: The Q&A style interview is one of the most popular format for podcasts
Embeds on Blogs: Most podcasts are transcribed into text and included as part of a blog post. This helps to improve the findability and shareability of the content.
In view of the production quality of podcasts, these tend to be less popular among content creators. Launching a podcast also requires a lot of commitment in terms of time.
Emails and e-newsletters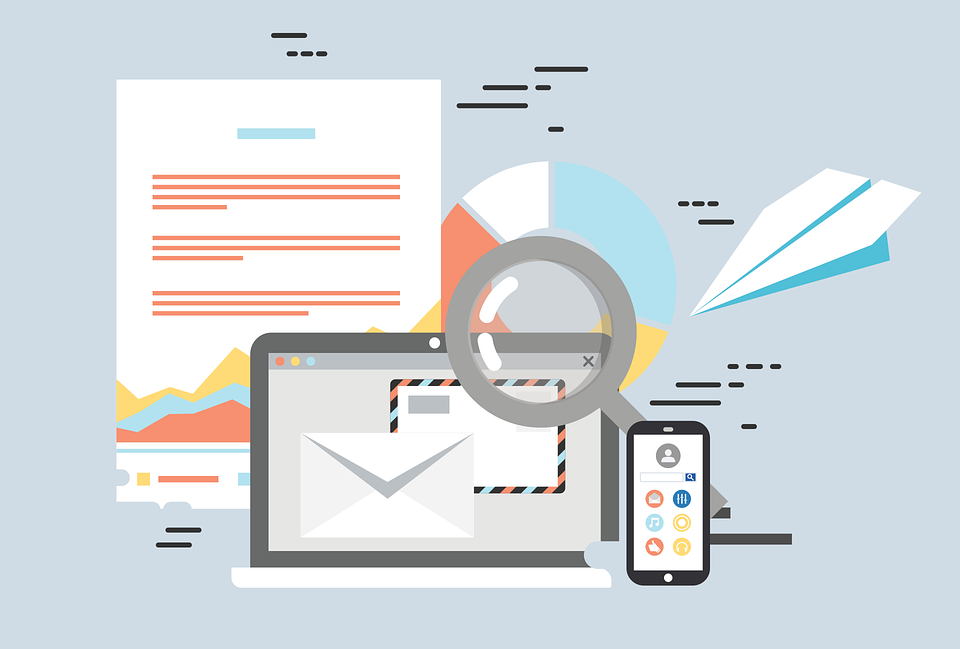 Emails are usually considered late stage buying content as they involve sending a message direct to your prospect's mail box.
Due to the prevalence of email spam and filters, it is important to request your subscribers to check their "spam" mailboxes so that your emails can be found there.
One of the golden rules about your email mailing list is that you should treat them as your most valuable community members. Thus, you should accord them with more respect than other networks.
There are several types of emails that you can send out:
INFORMATIVE: These take the form of newsletters and e-zines that inform your subscribers on updates in the company or brand.
INSTRUCTIVE: These emails have an educational purpose, and could be useful to continually engender trust and likability in your subscribers.
INTIMACY BUILDING: Sometimes, you may wish to send emails on your thoughts or insights from a specific life event or incident. This could be useful for personal branding purposes.
EVENT INVITATIONS: These are a popular form of email, where you can invite your subscribers to attend an exclusive event.
SALES: Unfortunately, most companies focus on sales-driven emails like promotions, discounts and deals. While these are certainly important, sending them too frequently could lead subscribers to unsubscribe, or even block you.
THANK YOU & CONFIRMATIONS: Yes, we do need to close the loop with our email recipients, regardless of what their eventual actions were. Sending a confirmation or thank you email is a good habit to adopt.
Conclusion
Deciding on the best mix of content types and formats is both a strategic and tactical exercise. Often, you need to trade-off between speed of production, costs, and effectiveness.
From the examples above, you can see that most content types are inter-related to each other. Popular social networks like Facebook and LinkedIn allow you to accommodate multiple content formats. Ditto for content types which you can use on your website.
Do you have a favourite content type? How often do you produce content based on that format?
Need Help with Your Content Marketing?
Wish to start embarking on content marketing for your company but unsure how?
Drop us an an email with your particulars, and we'll be happy to arrange for a free 30-minute consultation session. (If you're in Singapore, we can also meet for a coffee chat.)