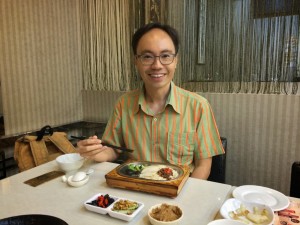 Johor Bahru (JB) can be fun for families who watch their budgets. With our rising Singapore dollar and the high costs of air travel (taxes and fuel surcharges particularly), there are more reasons than ever to consider a Malaysian holiday.
On a whim and a fancy, we hopped over to Johor Bahru (JB) when school closed last Wednesday. Like previous visits back in 2011 and 2013, we went via mostly buses and opted to go on a weekday.
Bringing Ethan along this time, we took public buses from our home to Queen Street, and hopped on a Singapore-JB Express bus. Tickets are only SGD 2.50 for adults (RM 2.60 return) and SGD1.50 for kids (RM 1.30 return). The breezy bus journey only took about 45 to 50 mins (including clearance of both Singapore and JB customs and immigration, and waiting at the Woodlands Causeway).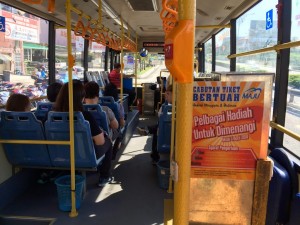 When we arrived at JB at about 10 am, we decided to take a bus from JB Sentral Bus Terminal to KSL City Mall. The bus fare was RM 1.50 for adults and RM 1.00 for kids. Surprisingly, the buses were new, air-conditioned and comfortable. Most importantly, they weren't crowded (we are demophobic).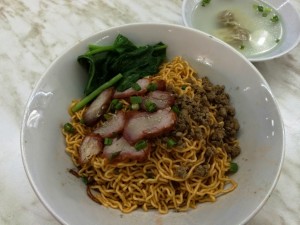 Once we arrived at KSL (about 10 to 15 mins ride), we decided to have some morning tea at a nonedescript food court. Here is a Sarawak kolo mee which costs about RM 6 (SGD 2.50)…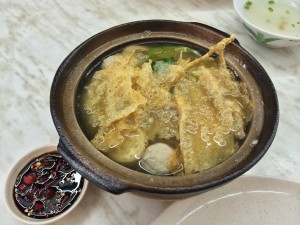 … and a bak kut teh with rice which cost about RM 9 (SGD 3.50).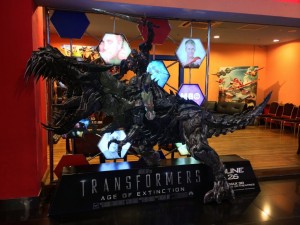 Having heard how much cheaper movies are here, we decided to watch X-Men: Days of Future Past at the MBO cinema here. The cost was RM 37 (SGD 14.45) for two adults and one child.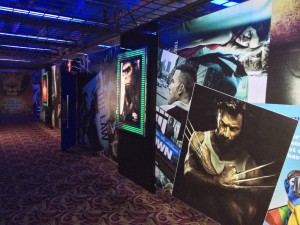 As you can see, the theatre was very modern and comfortable with state-of-the-art sound systems. And yes, the movie was fabulous with a nicely paced storyline that ties the future to the past and allowed the producers of the X-Men film franchise to bring back the old favourites after the huge boo boo with X-Men: The Last Stand (where almost every mutant was killed).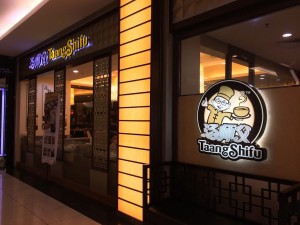 Lunch was at Taang Shifu, a healthy herbal restaurant chain which seemed to be quite new. The restaurant had a golden-yellowish theme to its decor and was comfortably designed with elements of contemporary chinoi chic.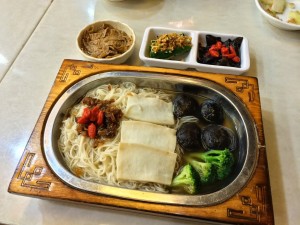 Here is my mee suah (bean noodles) with abalone, shiitake mushrooms, broccoli and goji berries. The cost was about RM 16.90 (SGD 6.60). It was nourishing, yummy and light yet filling.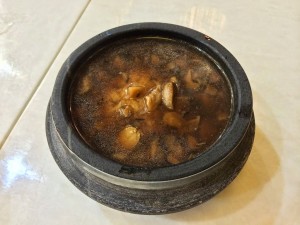 My wife's order of a herbal rice drenched in broth was healthy but somewhat insipid. I think it costs about the same price as my noodles.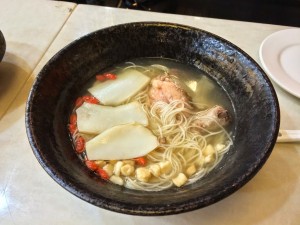 Ethan loved his mee suah soup with abalone slices, dried scallop, chicken thigh and goji berries. Looks like this restaurant specialises in the bean noodles more than other dishes!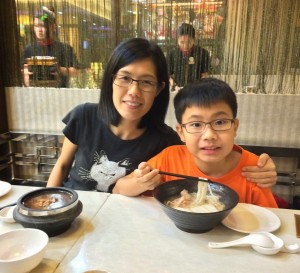 Smiling faces after a healthy and hearty meal. Total bill was RM 66.25 (SGD 25.88).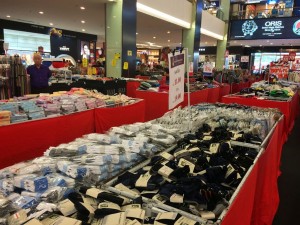 After lunch, we went shopping. My wife bought some cheap and comfy T-shirts (RM 30 or SGD 11.70 for three) to wear at home.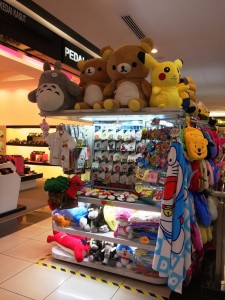 These toy peddling pushcart stalls naturally caught the eye of my son Ethan. Guess which character he liked best? (Answer to be found in one of the photos below)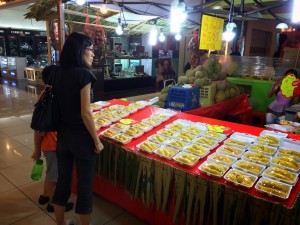 Believe it or not, they also sell durians in a makeshift stall complete with authentic "roof" and lights. The cost for a pack of Mao Shan Wang (the king of durians) was about RM 38 (SGD 14.85).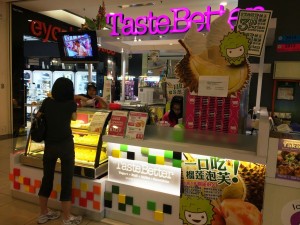 Instead of buying the durians, we opted for these durian puffs instead (RM 10 or SGD 3.90 for a pack of six).
Its rice dumpling season and these are available for sale too. More tasteful temptations!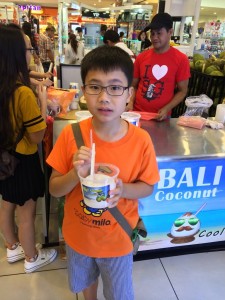 To quench Ethan's thirst, we bought him this "Bali" coconut which came unhusked and unshelled so you can drink and eat the whole fruit! It cost about RM 5 or SGD 1.95.
We were accosted by property agents offering homes for sale at the Iskandar region of Johor Bahru. Unfortunately, it isn't quite in our plans to invest here… at least for now.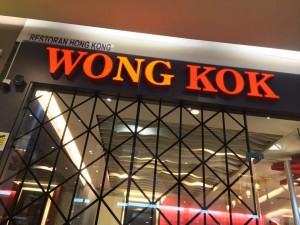 To rest our tired legs and recharge, we stopped by this place.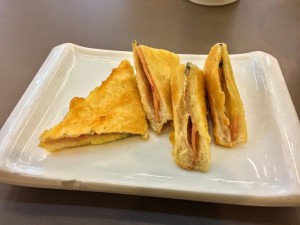 We ordered some deep fried cheese and ham sandwiches which were nice but somewhat tiny.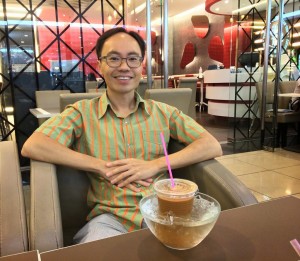 Here's me feeling relaxed without a care in the world… at least for now. The iced yin yong (or yuan yang, a mixture of coffee and tea) in front of me was nice and thick. Together with the sandwich, our tea costs about RM 13.75 (SGD 5.40).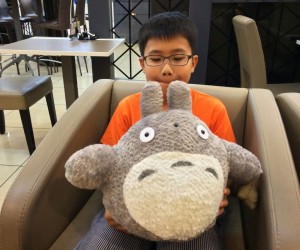 Yes, Ethan is a big fan of Hayao Miyazaki's anime. Actually so am I. This Totoro plush doll at RM 69.90 (SGD 23.70) is supposedly a "steal" since its an original. Or at least according to the label which said that it was designed by Studio Ghibli.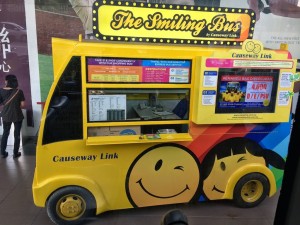 I found this bus ticketing booth quite cute, cheesy and quirky. Somehow or other, you don't see things like this in Singapore.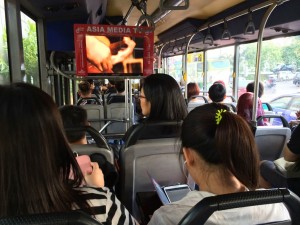 Back on the bus, this time returning to JB Sentral Bus Terminal and Johor Bahru City Square.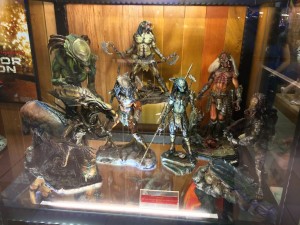 Predators, aliens and predaliens greeted us with "snarls" at one of the toy and hobby shops which we visited at Johor Bahru City Square.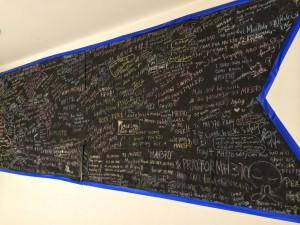 This memorial wall was created to remember the victims of the ill-fated flight MH370. It has been almost 3 months since the Boeing 777 airliner vanished. May God be with the families and friends of those who have disappeared.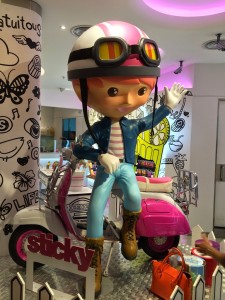 A cute mascot for a custom-made sticky candy shop which was popular for photo ops.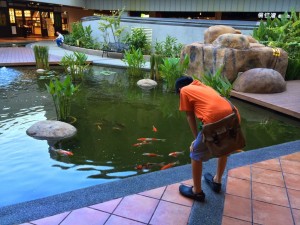 Surprisingly, there was a koi pond at the roof of the mall, complete with a little garden. You do need to be careful where you walk to though, to prevent being overwhelmed by smokers!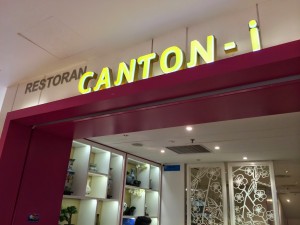 After walking around for some time, we finally settled on Canton-i for dinner. Its interesting to read about how the restaurant in Ion Orchard in Singapore received some negative reviews and closed. Honestly though, we thought that the food in the JB branch here was pretty yummy.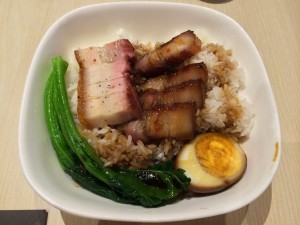 Double roast pork with rice, egg and vegetable. This was met with thumbs up from us. Both the "sio bak" (crispy skinned roast pork) and "char siew" (caramelised roast pork) were nicely done and full of fatty, juicy and savoury goodness.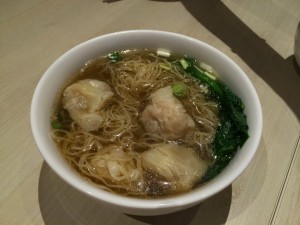 The signature dish of shrimp dumpling in noodles was also well received, particularly the succulent fresh prawns in the dumplings.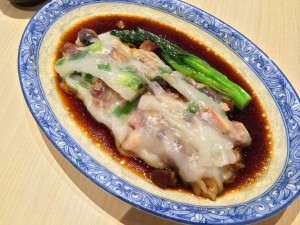 Barbequed pork in chee cheong fun. Another winning combination which tasted better than it looked.
Mixed pork congee with pig intestines, liver and stomach. While Tina and I enjoyed this light carbo option, Ethan preferred the noodles.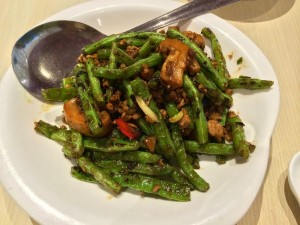 Finally, some stir fried long beans with pork and mushrooms. This dish went pretty well with the congee and the rice. Total damage for our dinner of about five items was RM 82.75 (SGD 32.30).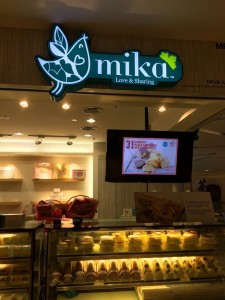 Before we went home, we bought some cream-filled swiss rolls for tea/supper/greed from this shop. Each roll which can be cut into about 6 slices costs RM 12.40 (SGD 4.85).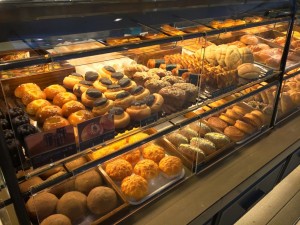 We also bought back some savoury breads for breakfast from Season. 2 buns (tuna, sardine), a chicken pie and an egg tart costs RM 10.40 (SGD 4.05).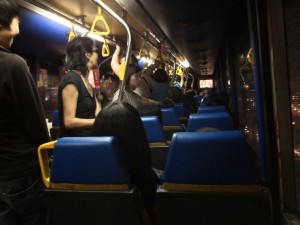 Finally, on the Singapore-JB Express bus back to Singapore. There was a bit of a jam at the Malaysia side but once it got closer to Singapore, the journey was smooth sailing on our roads.
Oh yes, other than the items above, we also bought eight Korean educational comic books from Popular Book Company (the 10% discount for members works here!) for about RM 75.80 (SGD 29.60) and a lipstick from Body Shop for RM 39.20 (SGD 15.32).
The total bill for our day trip to JB? About SGD 205 in total. This covered a morning tea, lunch, afternoon tea, dinner, lots of snacks, shopping, movie and transport.
Have you brought your family to JB? What are your experiences – and costs – like?