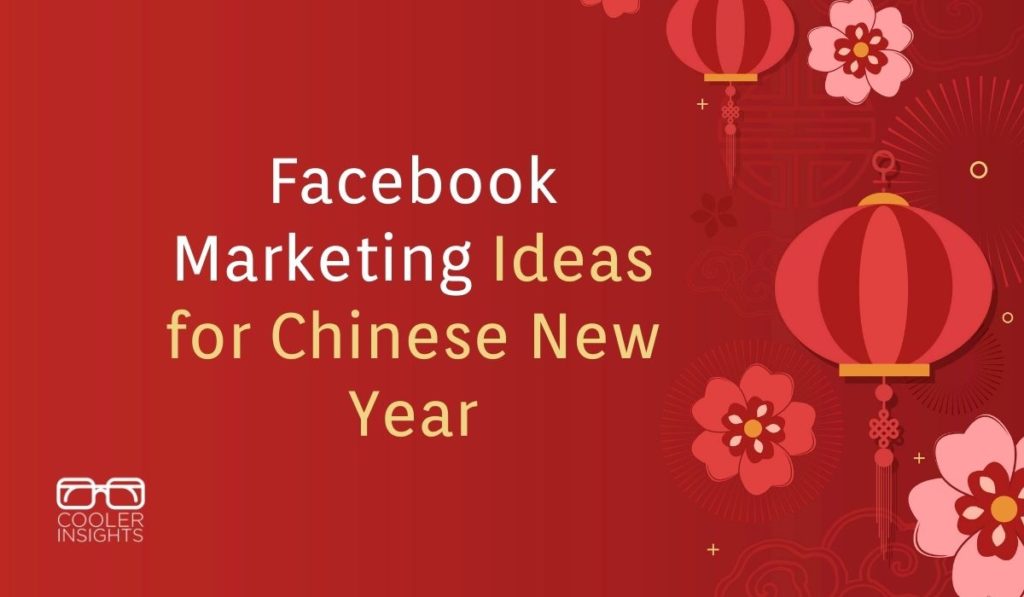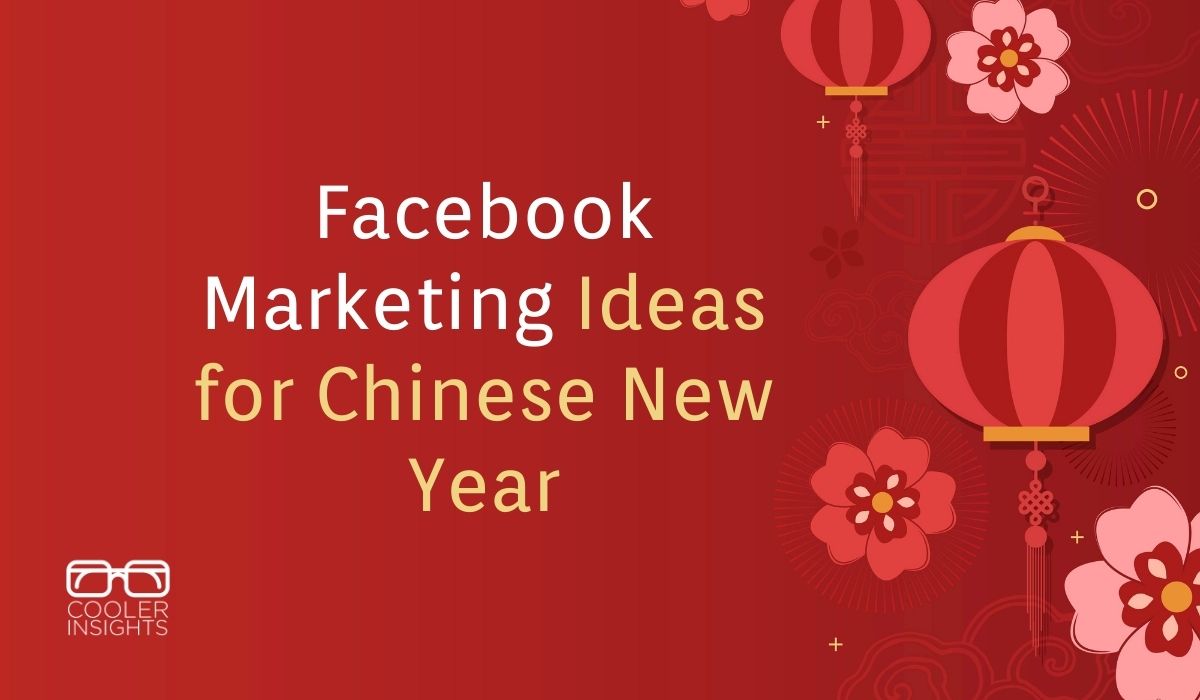 Chinese New Year (CNY) is just around the corner, and Facebook could be the perfect channel to market to your customers during the CNY period.
As shops continuously blast Chinese New Year (CNY) songs, it is timely for you to take advantage of Facebook's exceptional marketing capabilities to promote your products and services during this holiday season.
With 3.6 million people in Singapore on Facebook every month—3.2 million on mobile—you certainly cannot ignore this marketing channel.
If you haven't, its still not too late.
To guide you along, check out these statistics culled from an infographic from Facebook, as well as my own insights on how you can capitalise on the coming Lunar New Year holidays.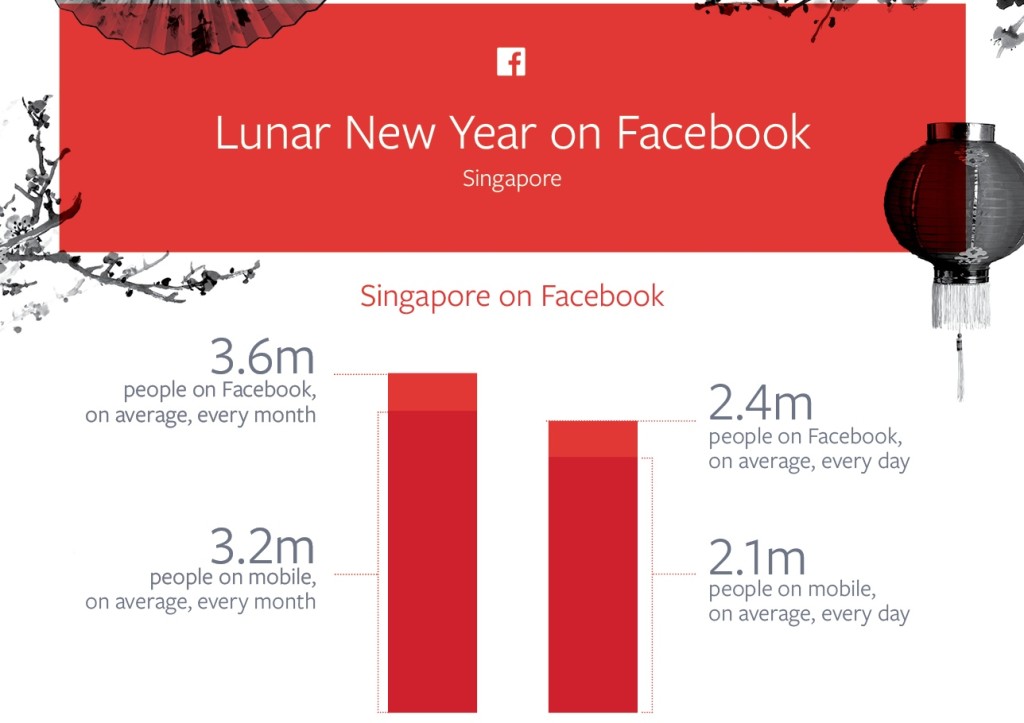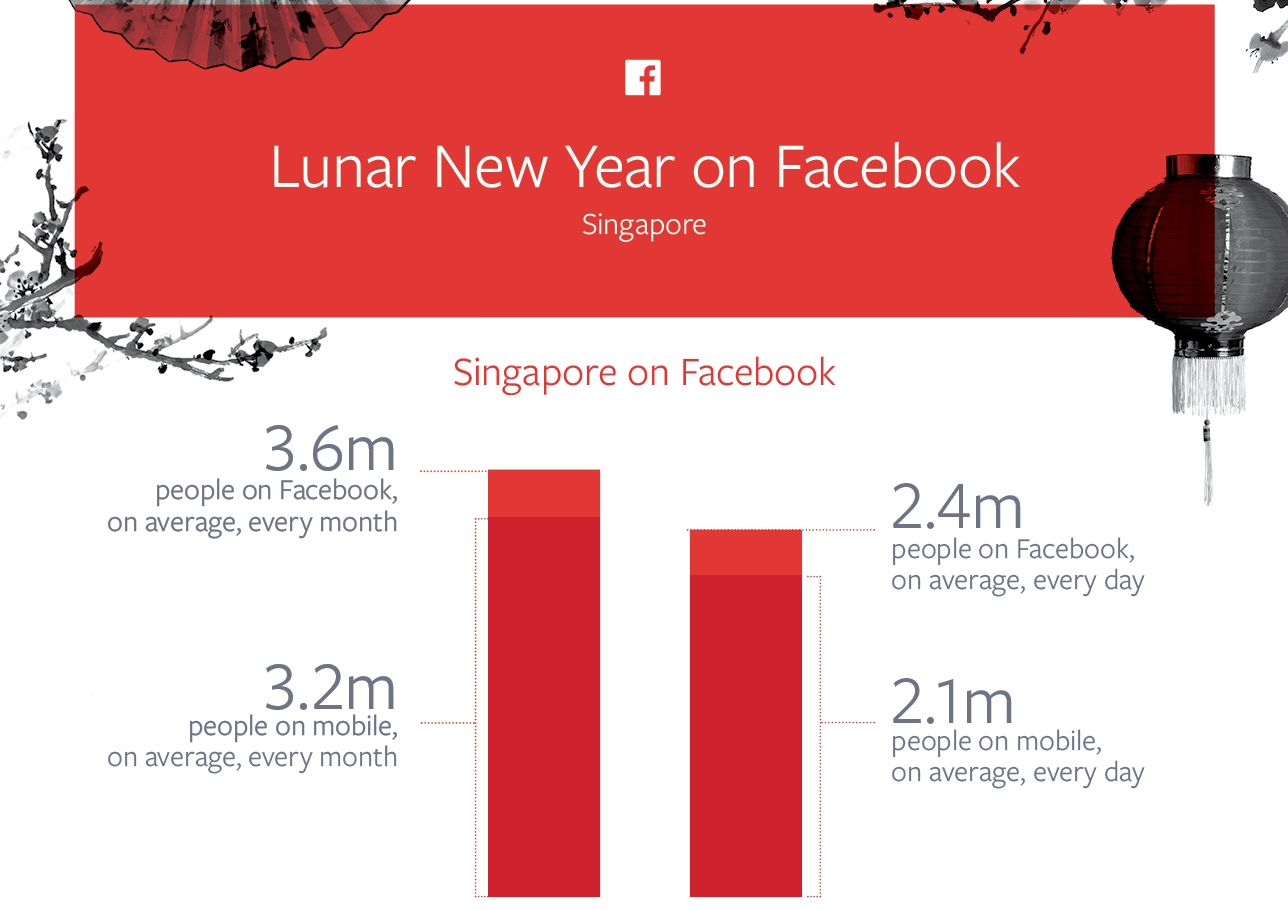 Introduce Mobile and Location-Based Promotions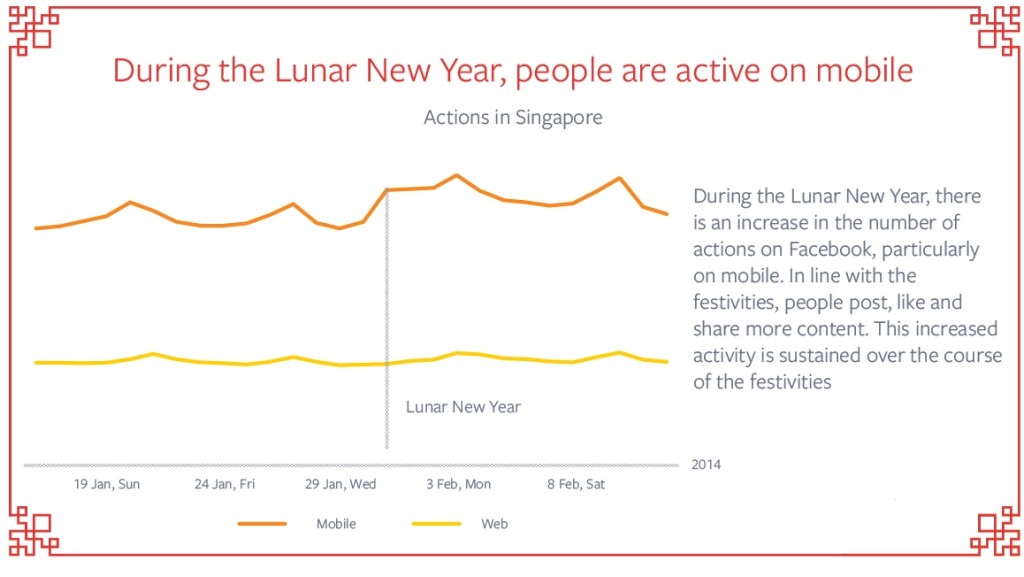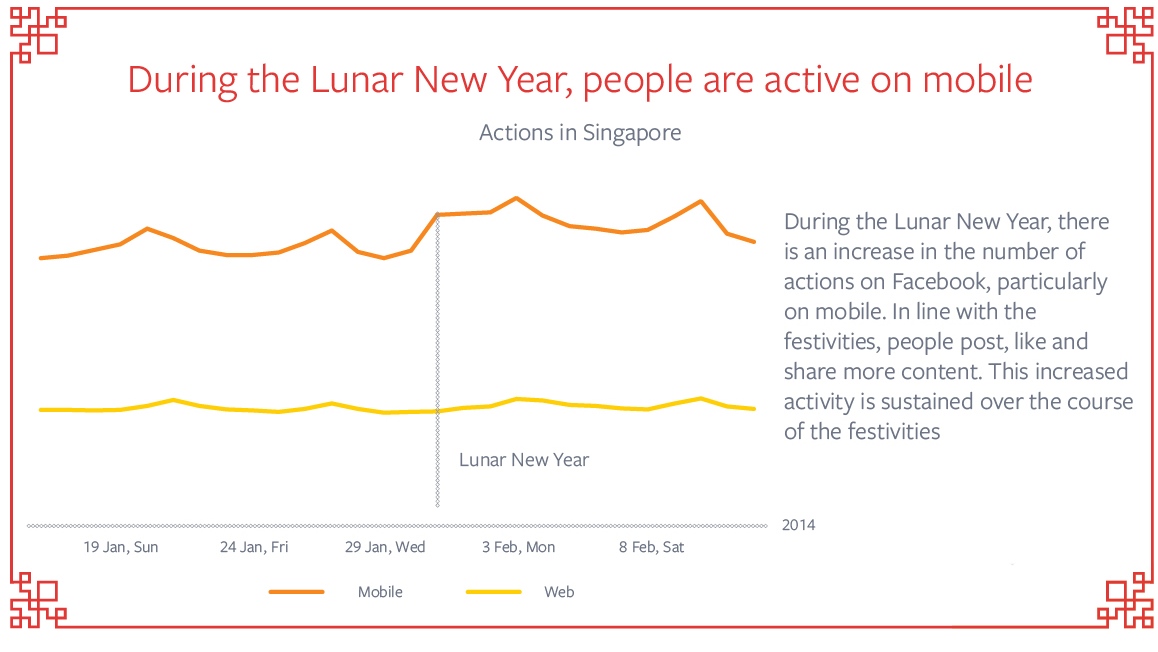 As you may have already suspected, we Singaporeans are addicted to our mobiles. This becomes even more prevalent during festive and holiday seasons.
The chart above shows a significant increase in the number of actions on Facebook on mobile, be it posting of photos and text, liking of posts, or sharing of content.
To ride on this, consumer businesses should consider the following Facebook marketing ideas:
Introduce a Facebook "check-in" discounts and deals for folks who do so at your outlet.
Create a branded photo op corner at your outlet, so that social narcissists can preen, pose, take selfies and share on social media.
Encourage social sharing by launching a branded #hashtag and giving discounts to those who share it with their friends on Instagram or Facebook.
Nudge your community to share stories revolving around CNY, and provide a prize to the best stories! These can be photos, videos, or just pure text posts.
Focus on Young Working Ladies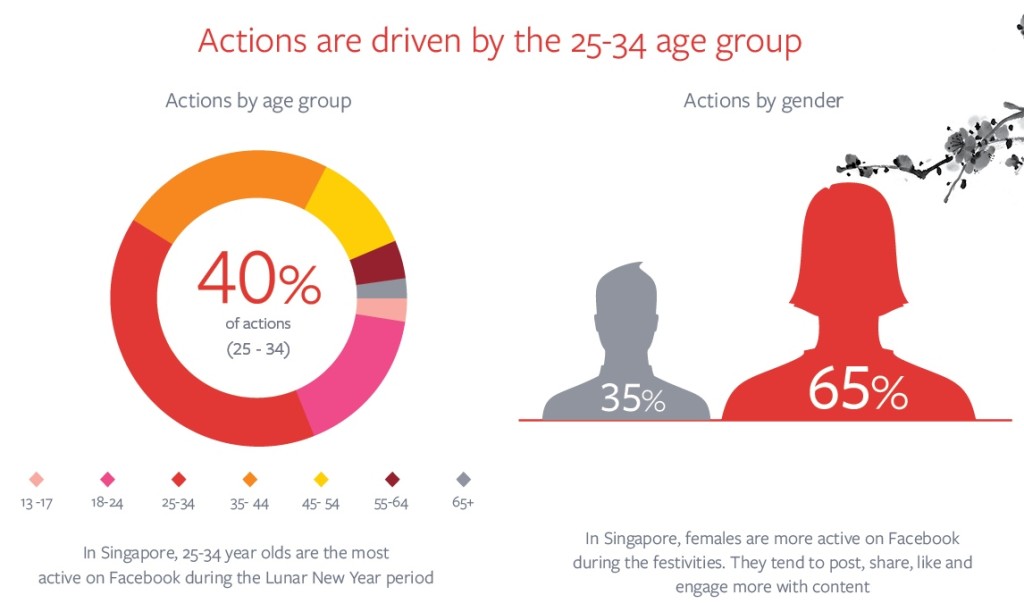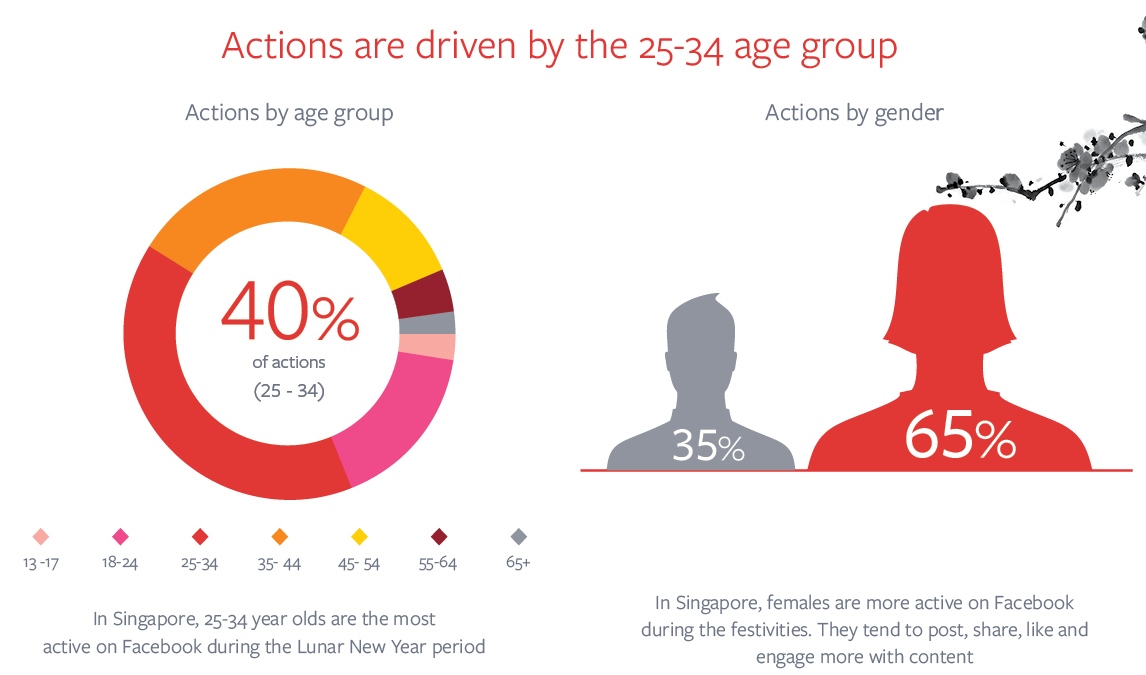 From the figures above, a sizable 40% of those in the 25-34 age group are the most active during CNY. They are followed closely by those in the 35-44 age group followed by 18-24. More importantly, an overwhelming two-thirds of those active on Facebook during CNY are females.
If your business appeals to women, now is the time to act. Consider the following Facebook marketing actions:
Introduce targeted "lady specials" that attract young executive ladies (aka PMETs) during the festive season.
Create useful Facebook content focused on helping women to shop better, cook tastier, eat wiser or stay healthier during CNY.
Design digital marketing content like posters, infographics, videos and stories that appeal aesthetically to ladies.
Consider thematic fashion-focused posts targeted at young fashionista ladies who wish to dress up for the occasion.
Celebrate CNY With Branded Festive Greetings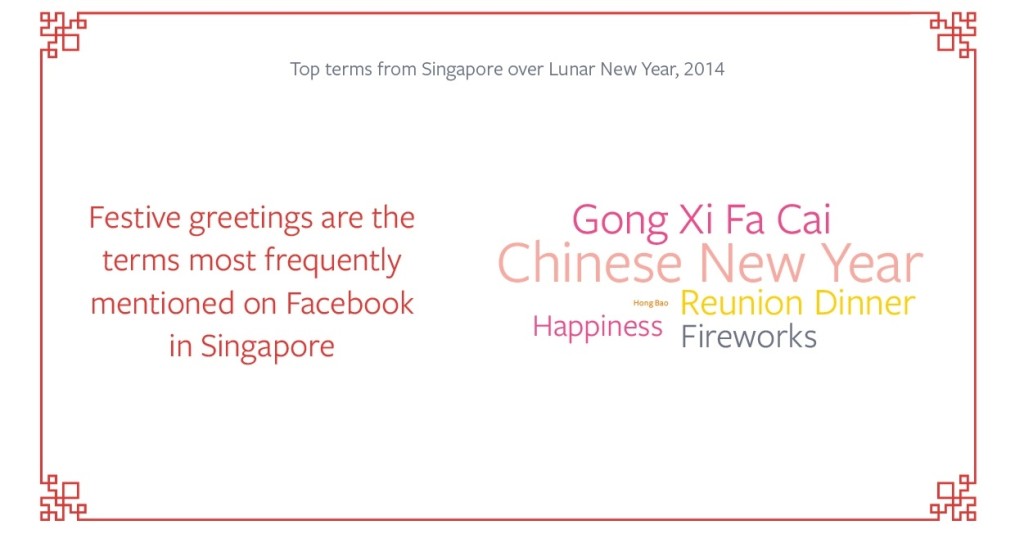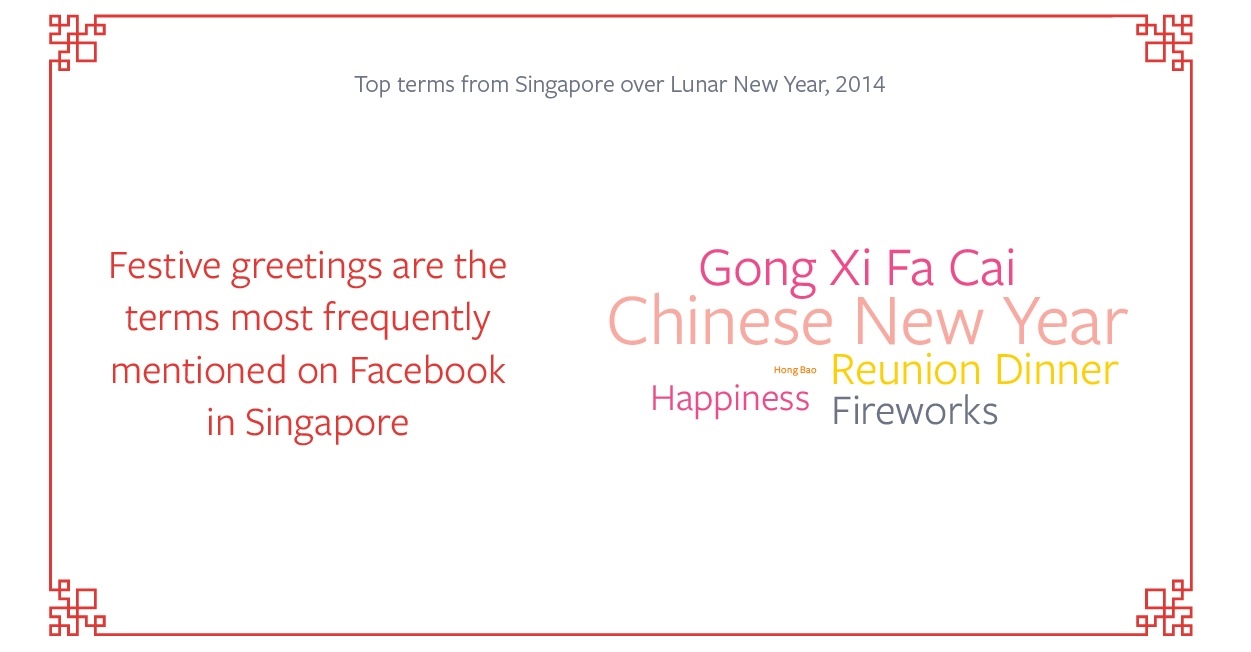 This is probably a no-brainer. Everybody (including their dogs and cats) would be sending festive greetings to each other not just on Facebook but Instagram, Twitter, LinkedIn, YouTube, and WhatsApp. Keywords here include "Gong Xi Fa Cai", "Chinese New Year", "Reunion Dinner", "Fireworks" and "Happiness".
To ride on this, businesses could do the following Facebook marketing activities:
Incorporate the animal of the year in your social media greetings, preferably in a witty and pun-tastic way. Yes, I'm talking about having a "Moo-vellous Year", "Paws-perous times", "Roarsome Year Head", and "Ssssuccess" in whatever you do (guess the animal for these).
Design a beautiful graphic as a greeting card, and make it Facebook-friendly and "Instagrammable". This should preferably have your logo and brand, and maybe even a special promotion (but keep it tasteful and not overbearing).
Greet as many of your Facebook followers on social media as you humanly can. If possible, customise your greetings, but if you can't, a generic greeting is still good.
Produce a short CNY festive video (uploaded on Facebook) featuring your staff and head honcho thanking customers for their patronage. Make it fun, humorous and creative!
Synchronize Your Content with CNY Buzz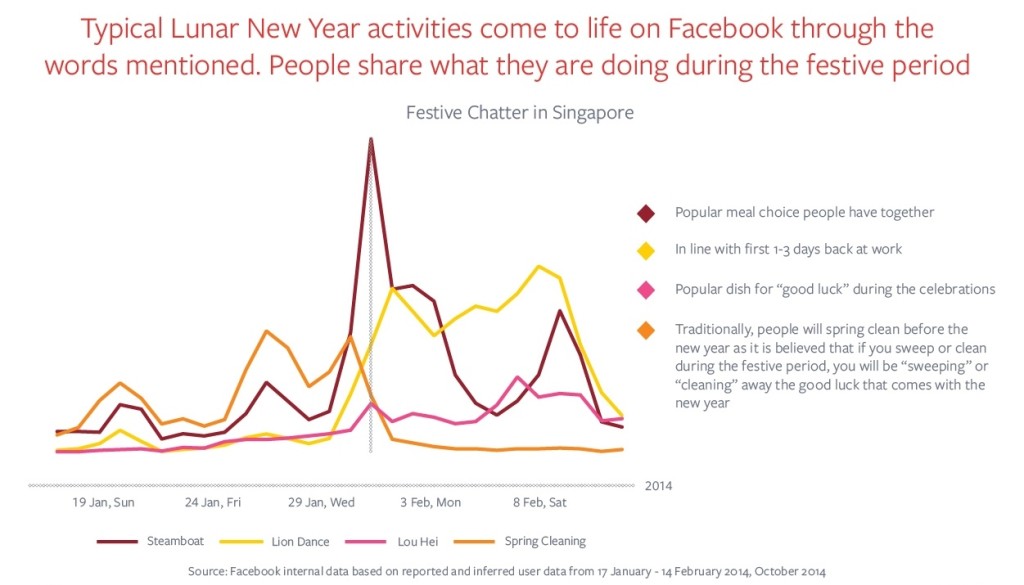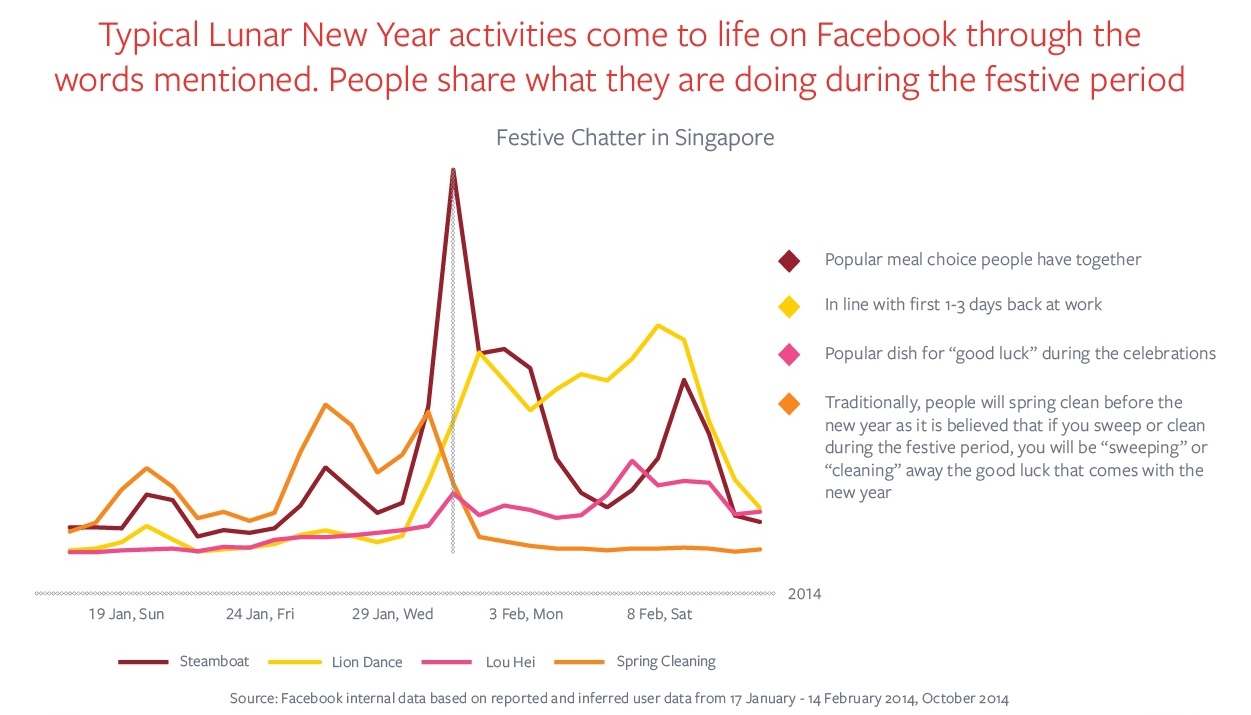 Like any festive occasion, Chinese New Year comprises a series of different rituals and customs. The chart above shows the chatter or buzz which occurs for activities like Lion Dance performances, Steamboat dinners (usually during Reunion dinner on the eve of CNY), Lou Hei (an auspicious raw fish salad) meals, and Spring Cleaning.
Once again, companies can synchronise their Facebook marketing efforts to take advantage of these observations:
Create stories that focuses on these "festive highlights" and release them over the CNY period at the right timing. Examples include stories on the origin of the Lion Dance, Steamboat, Spring Cleaning, or even CNY itself. Some of these tales never grow old, if told tastefully.
Develop marketing collaterals and storytelling content that feature images of these key activities, while associating it with your brand.
Roll out fun promotional activities that resonate. For instance, getting kids to draw their a goat-inspired lion dance costume, or home chefs to concoct a new Lou Hei recipe.
Capture the CNY Travellers (Even During Covid-19 Times!)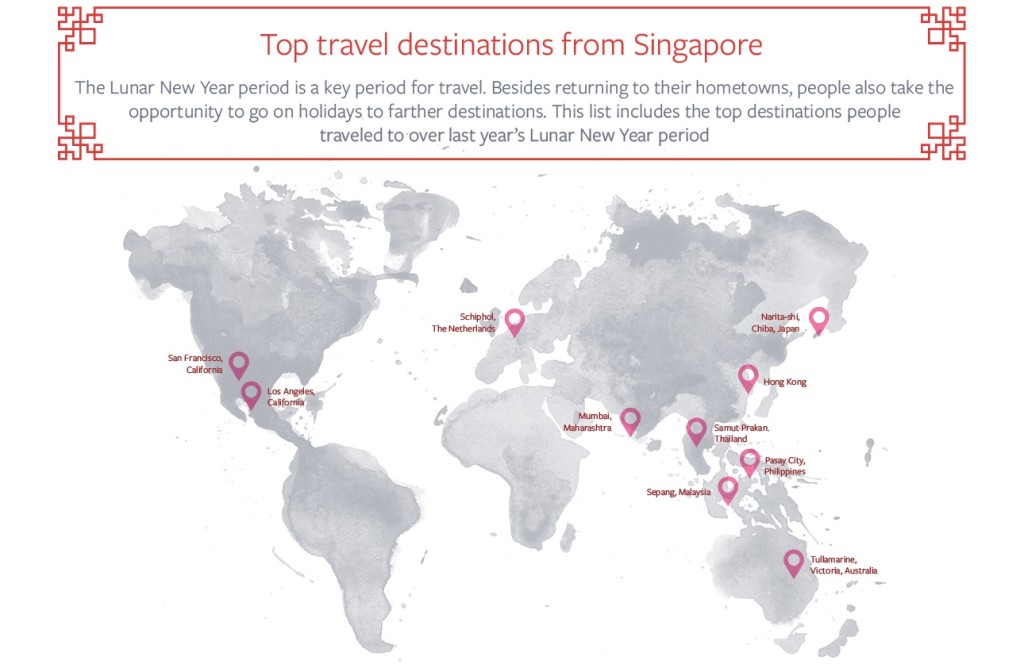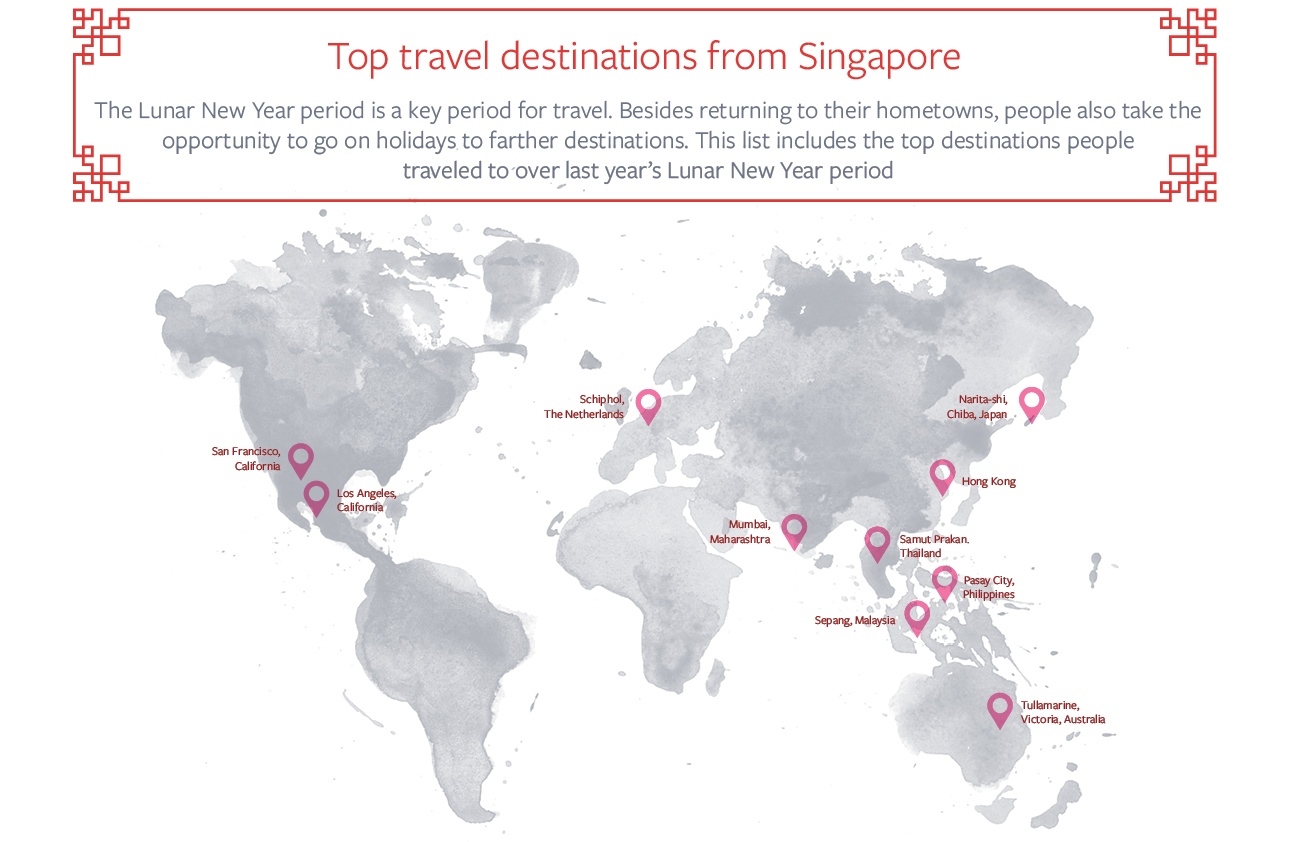 Inevitably, there will be the "escapees". These are the folks who take advantage of the extended public holidays to go on a vacation, away from the prying noses of inquisitive relatives and interminable/intolerable questions like "When will you get married?", "When are you going to have kids?", and "How well did you do in school?"
Surprisingly, from the above chart, we Singaporeans travel pretty far and wide during CNY. Popular destinations include Sepang in Malaysia, Japan, Hong Kong, Philippines, Thailand, and as far away as the Netherlands, San Francisco and Los Angeles.
(And if you're stuck on the island due to Covid-19 or travel restrictions, you can still "escape" within the country — just look for getaway ideas, staycations and hikes within Singapore during this season!)
Businesses can consider the following CNY Facebook Marketing tactics:
Create "Escape CNY" content that prepare people for their festive getaway. This could be discounts with targeted offerings aligned to holiday destinations or staycations within the island.
Write Facebook posts that provide useful tips for holidaymakers during the festive period. This could be content like "Excuses to Make for Escaping Chinese New Year Celebrations" or "Survivor Tips on CNY Shopping in San Francisco"
Conceive CNY-travel deals that make it enjoyable and fuss-free for CNY travellers. This could include activities that celebrate CNY in another country, discounts to global outlets (for international brands) within the same country, or other deals.
Come up with local itineraries that allow "escapees" to visit and experience another country even within their own hometown.
Use storytelling to enchant your audience with the origin of certain Chinese New Year traditions. For instance, how did the 12 Zodiac animals get to where they are? Focus particular on the traits of the animal for that specific year.
What other ideas can you think of to celebrate the Year of the GoatTiger? I'd love to hear them!
Special thanks to my buddy Daniel Goh of Young Upstarts (aka The Good Beer guy) for alerting me on this, and Zeno Group and Facebook for putting the infographic together.