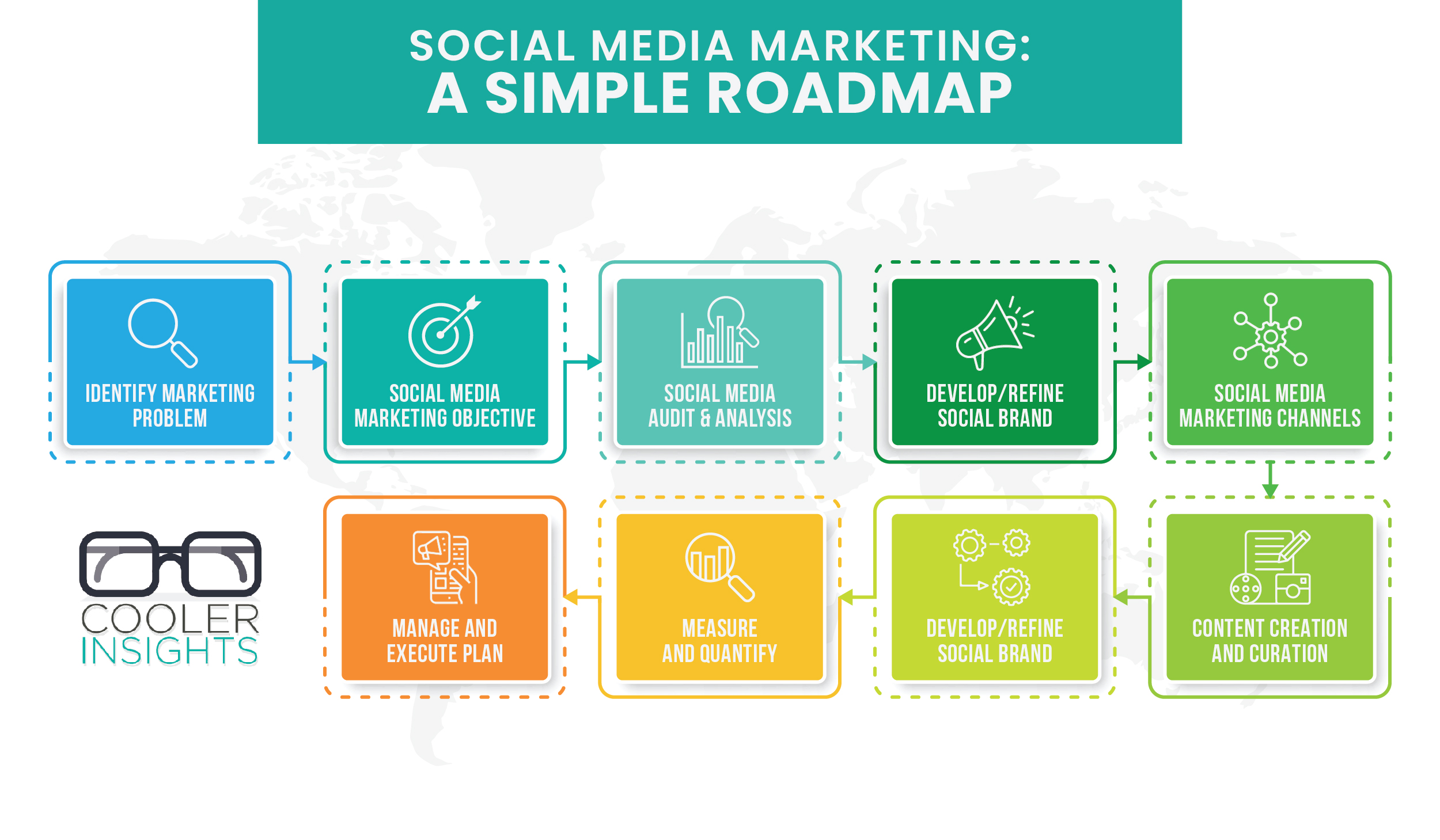 Contrary to popular belief, social media marketing isn't rocket science. Neither is it just a walk in the park.
After spending a decade dabbling in social media marketing – from blogs to Facebook, LinkedIn, Twitter, YouTube, Instagram and Pinterest – I developed a systematic step-by-step process which you can use for your social media marketing efforts.
As the saying goes, fail to plan and plan to fail. Without a social media marketing plan, your efforts in harnessing the power of social networks may become an exercise in futility.
By putting in place a systematic and detailed social media marketing planning process, you greatly increase your chances of succeeding in this exciting new space.
So what are the steps needed to succeed in social media marketing? Where should you begin?
#1 Identify Marketing Problem
The first step you need to do is to uncover what your marketing challenges are. Consider the following questions:
Is your company suffering from a lack of brand awareness and publicity?
Are your sales from traditional channels dropping?
Did you suffer a decline in the number of fresh leads?
Is your profitability declining due to rising operating costs?
Are your customers defecting to competitors due to poor service?
Is your content generating fewer shares and engagement than you wish?
By ascertaining where the problem lies, you can prioritise where your efforts and resources should be placed in your social media marketing journey.
#2 Set Social Media Marketing Objectives
Once you have identified where the gaps are, you need to define what you hope to achieve with social media marketing.
A disciplined way to do so is to tie in your goals with your objectives and metrics. This helps you determine if you have succeeded or failed in social media marketing.
For example, if your goal is to increase brand awareness online, then your objectives and metrics should support that goal. In this case, Key Performance Indicators (KPIs) like the number of new fans, increase in post engagement, and growth in web traffic would support that goal.
This is illustrated in the infographic below.
#3 Conduct Social Media Audit and Analysis
After you have decided where you wish to go with social media marketing, you need to determine where you are now.
Often the process of conducting a social media audit and setting objectives go hand-in-hand. You cannot hope to fly to the Moon if you can't even get your flying machine off the ground!
A comprehensive social media audit normally involves three key areas:
Studying the current state of your social media presence and understanding what your current Strengths, Weaknesses, Opportunities and Threats (SWOT) are.
Studying your competitors' processes and performance in social media marketing, and exploiting possible gaps which they may have.
Studying who your customers are – demographics, psychographics, online behaviours, and historical preferences – and what their customer journeys are like. This would cover the stages of Awareness, Interest, Consideration, Purchase, Retention and Advocacy.
One of the most important things to do here is to conduct a keyword research exercise. This helps you to determine what your customers are searching for. You can use a tool like Google AdWords Keyword Planner to do so.
Courtesy of SEO Book
#4 Develop Social Brand Story
Like all other forms of digital marketing, social media marketing begins with the story of your brand.
In the digital age, social branding is about creating both a Unique Value Proposition (UVP) and a Unique Story Proposition (USP). It is about starting a grassroots movement amongst your communities, and building a long-term relationship forged on trust and likability.
To storify your brand, it is useful to consider the following:
What values and beliefs do your brand stand for?
How are your brand stories communicated online?
How are you involving your stakeholders (notably customers) in your social brand story?
How is your brand articulated through "social friendly" brand images, profile descriptions and cover photos?
#5 Select Social Media Marketing Channels
This is the stage where hard decisions need to be made. While it is true that every social channel has its allure, it is not wise to be a Jack of all social networks but a master of none.
Consider the following pointers when you evaluate which social channel to be in:
Facebook is the biggest social network out there, but it is also the most crowded and competitive. Facebook ads have shown very positive ROI compared to other online advertising options.
LinkedIn is the largest social network for professionals, and is highly favoured amongst CEOs and B2B businesses.
Twitter has the greatest limit in terms of its 144 character limit. However, Google has recently started to feature Tweets on their Search Engine Results Page (SERP).
Instagram and Tumblr are highly popular "lite" versions of social network amongst teens and youths. However, they are also very heavily skewed towards visual content and pop culture.
YouTube is also the second largest search engine on the Web. However, videos are usually more resource and labour intensive to produce.
Pinterest is also known as "social candy" in view of its preference for beautiful designs and images. Over 2/3rds of Pinterest regulars are females.
Google Plus has less social traction relative to Facebook. However, posts shared on the social network are favourably considered by Google in terms of search ranking. The communities there are also very active.
#6 Social Content Creation and Curation
Following the selection of your social channel, you need to work on the social content itself. You can consider adopting the 80/20 rule in content creation here, as well as other best practices in written and visual content.
Here, there are four key aspects to consider:
How to write, shoot photos and videos, design, and produce social content.
Ways to filter and curate suitable content for social sharing.
Frequency and regularity in the production and dissemination of content.
Creation of a content calendar detailing things like the keywords, topics and types of content to be distributed through different social channels.
#7 Manage Communities and Engage Influencers
Content alone isn't going to cut it if nobody cares about what you have to say. This is where the "social" aspect of social media comes into play.
To grow your brand's influence on social media, you need to build and grow your online communities. This involves a process of nurturing your fans, sharing invaluable content, responding to their feedback, and engaging with them actively on a daily basis. Standard Operating Procedures (SOPs) and policies governing social media engagement needs to be established here.
Beyond managing your social media pages and accounts, you need to also work with influencers. Through the process of influencer marketing, you can expand your reach beyond your immediate communities for specific social media campaigns.
#8 Measure and Quantify Success
The old adage you cannot manage what you don't measure rings especially true in the age of "measurable" marketing. In social media marketing, a whole range of KPIs should be developed.
These would include the following:
Brand awareness metrics like reach, website visits and page views, fan growth, likes and comments;
Engagement metrics like comments and shares, retweets, downloads, and participation in contests;
Conversion metrics like signing up on lead pages, memberships, trial purchases, and actual purchases;
Social Advertising metrics like Cost per Click (CPC), Cost Per Acquisition (CPA), Return On Advertising Spent (ROAS), and others.
Put all of these metrics together and you can work out your social media marketing ROI – a topic which I'll cover in later posts.
#9 Manage and Execute Social Media Marketing Plan
Last but certainly not least, you need to manage and execute your social media marketing plan.
Once again, there are several points here that merits careful consideration:
Manpower and expertise: Should you build your own team or outsource? Are there new skills and competencies to acquire?
Policies: What are the rules and regulations governing social media in your organisation?
Budgeting: What percentage of your marketing budget should you allocate to social media marketing? How can you test its effectiveness?
Timelines: What is a realistic timeframe for you to roll out different phases of your social media marketing plan?
Stakeholders: Who do you need to bring along on your social media marketing journey?
Learn This And A Whole Lot More Here!
Overcome these common mistakes in social media marketing by signing up for my course. Learn a 6-step process for social media marketing campaigns in a rigorous two-day training course and bring your social media campaigns to life.