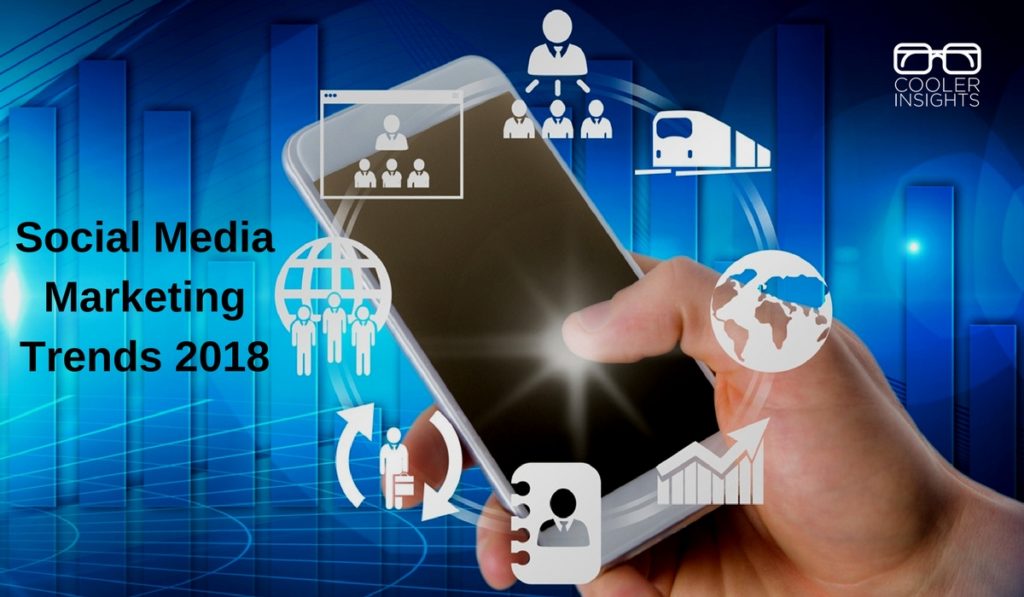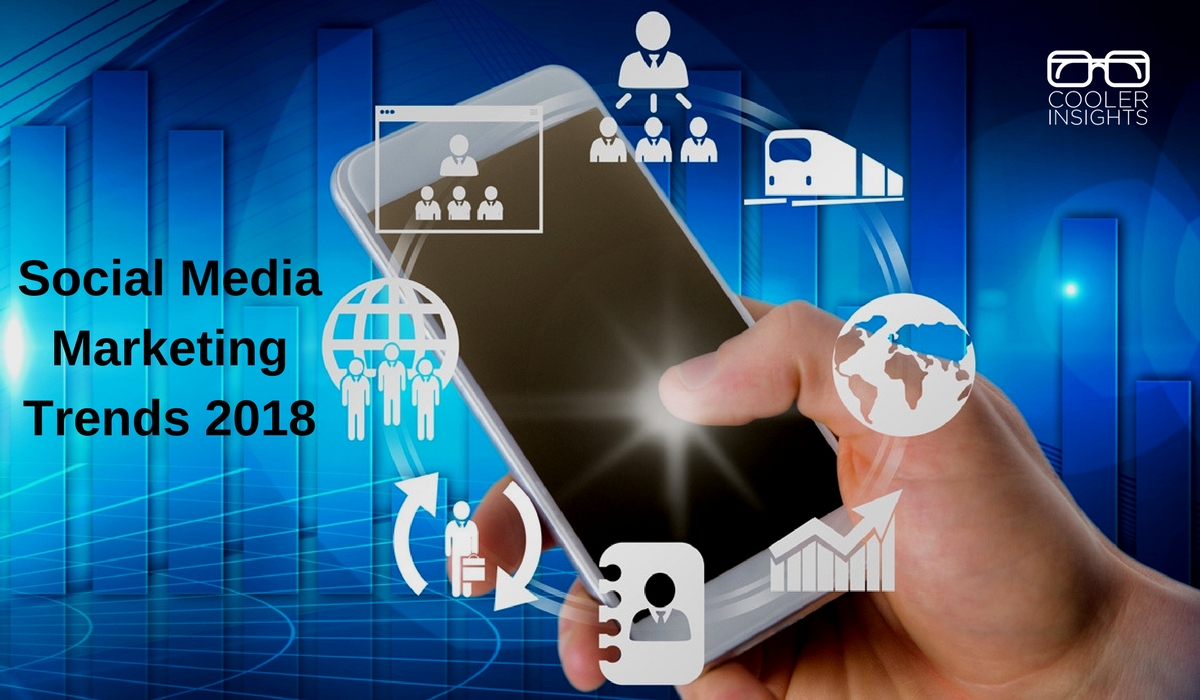 2017 is probably best remembered as the year social media became mass broadcast media.
By introducing a slew of different functionalities and technologies, online juggernauts like Facebook have empowered users to further boost their social media game.
Let us take a look back at what happened last year.
Social Media Marketing in 2017 – A Review
In 2017, brands around the world have significantly raised their social media marketing stakes. Many have invested significantly more resources in both social media content production and social media advertising over the past year or so.
Thanks to changes in Facebook's algorithm, videos took on greater prominence in the past year – especially "live" videos which were favoured by users over other videos.
Instagram Stories have also seen a huge jump in users. Leveraging on its existing installed base of users, it leapfrogged Snapchat in popularity, with over 250 million users (July 2017) compared to Snapchat's 166 million users.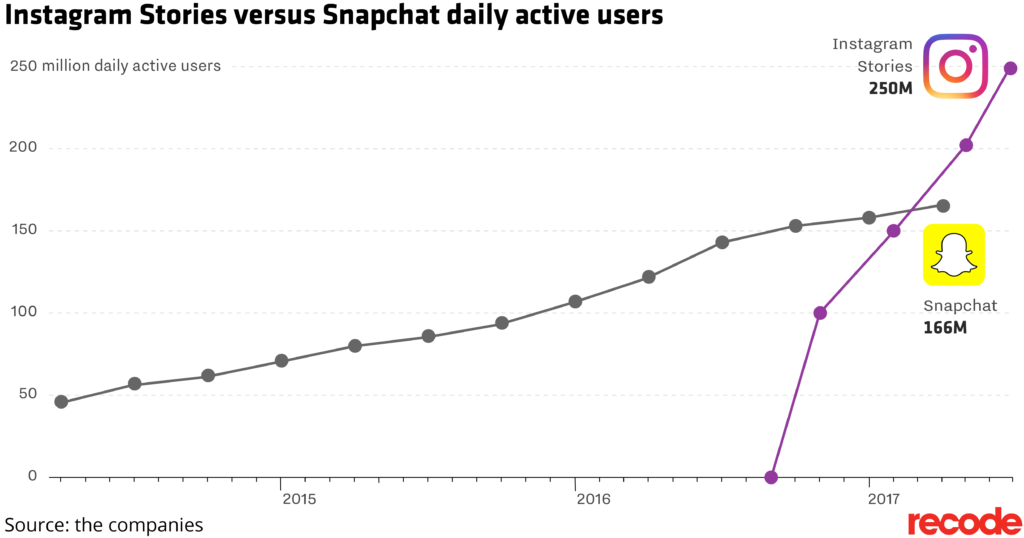 Courtesy of recode
Beyond live videos and stories, lead generation on social media platforms hopped to the forefront. Competing against Facebook, LinkedIn introduced its own Lead Generation ads, providing new opportunities for "social first" marketers to attract email subscribers and sign ups direct from its platform.
On the technology front, the rise of Facebook Messenger ChatBots gave rise to interesting uses in a wide variety of industries. Companies as diverse as financial service providers, restaurants, hotels, and real estate agents have used these AI enabled technologies. Unfortunately, it wasn't smooth sailing with many users reporting numerous problems with ChatBots.
With mobile continuing to be the number one screen for consumers, more brands have rolled out mobile-friendly content and ad formats, leveraging on Facebook's Canvas Ads and Carousel Ads to improve their storytelling efforts (see sample below).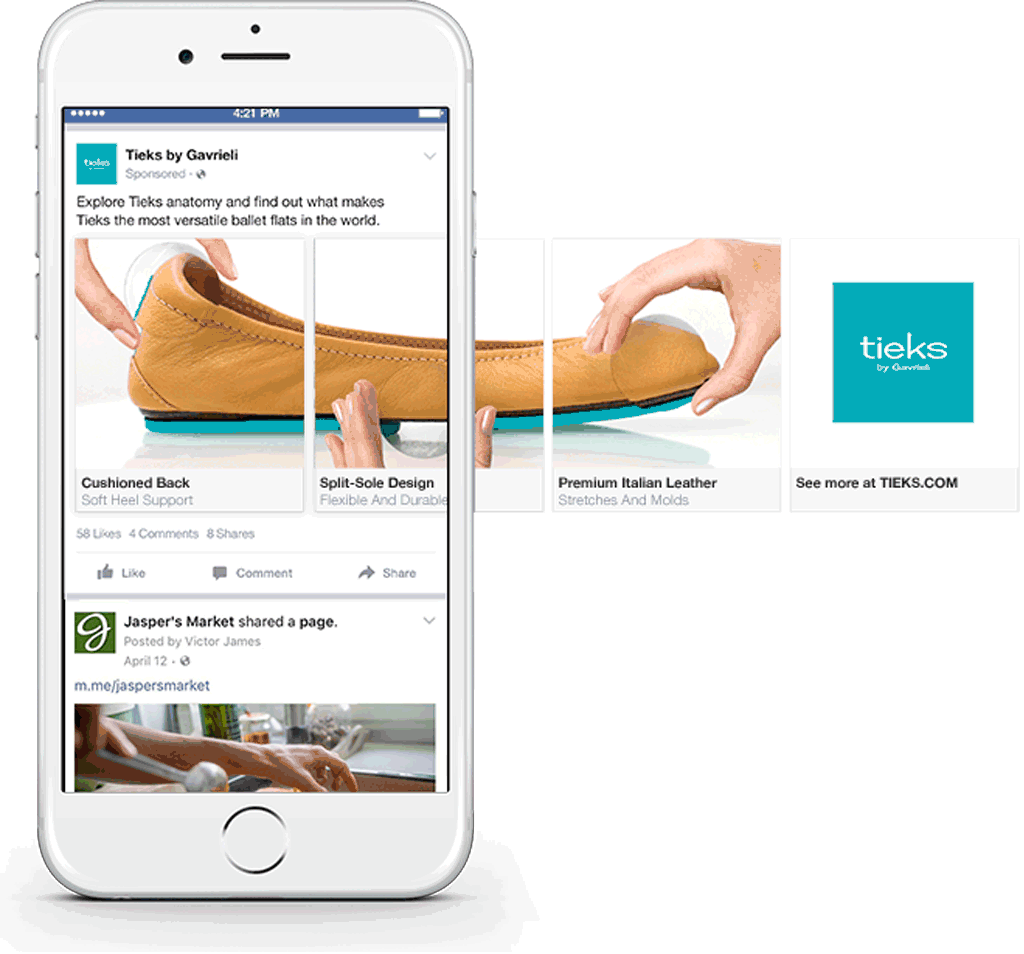 Finally, as fake news, terrorism, cyberbullies, and online predators continued to stalk social media networks, online giants like Facebook have promised to fight back. This would probably result in stricter policing of social media content in the year ahead.
With 2017 now behind us, what can you look forward to in the year ahead?
#1 Use of Chat (and ChatBots) Grows
As the technology for Facebook Messenger improves, we should continue to see more brands making use of chat to grow their business. Facebook Messenger users now exceed 1.3 billion per month, and this number is likely to grow.
Through the use of better conversational interfaces, deeper integration with third-party apps, and smoother Online to Offline (O2O) transactions, ChatBots may gradually take on a bigger share of the social media action.
If you wish to deploy ChatBots for your brand's social channels, do read this useful guide first.
#2 Video Continues to Hog the Stage
Yes, video will continue to be the superstar of social media. Especially if you are in the business of food, fashion, animals, DIY, gaming and tech (read BuzzSumo's article on Facebook videos here.)
According to BuzzSumo, the length of your videos will depend on whether you are broadcasting them "live" or pre-produced:
Normal Videos: Keep them to 90 seconds or less to enjoy optimal engagement
Facebook Live Videos: Ensure that you keep the smartphone camera on for at least 15 minutes or longer to enjoy greater traction
Wish to deploy videos for your Facebook ads? Consider adopting these tactics:
Provide an emotional reward to your viewer
Create a "hook" within the first 3 seconds
Ensure your video looks good on mobile devices (ie square as opposed to landscape)
Make sure your video works without sound (to cater to mobile viewers)
Invest in good brand storytelling techniques
Have a clear Call To Action (CTA)
#3 Conversions Grow in Importance
With the rise of e-commerce friendly technologies such as shoppable posts on Instagram, buyable pins, and Facebook collection ads, online marketers like you can focus more of your marketing resources on conversion-related activities.
Using social media analytics tools like Facebook and LinkedIn Insights, Google Analytics, and email marketing software, you can gain a better social media marketing ROI by tweaking and optimising your activities across the entire digital marketing funnel.
#4 Savvier Use of Real-time and Live Stories
More brands will experiment with Facebook Live and Stories to take advantage of the social network's algorithm. However, many will encounter challenges in sustaining their audience's attention given the heavy time and resource demands of both formats.
Here are five ways in which you can use these formats in 2018, courtesy of Socialbakers:
Branded events – Stream your company events, but ensure that its entertaining enough for a video audience
Influencers and celebrities – Engage influencers and interact with them in real-time
Tutorials – Do a step-by-step guide to using your products and services, or just answer viewer's questions
Behind-the-scenes – Provide a sneak-peek at how things work in your office (but don't be self-indulgent)
Contests – Everybody loves to win! Host Facebook Live contests to trigger participation and interaction.
#5 Rise of Niche and Micro-Influencers
While A-list influencers and celebrities continue to dominate media headlines, brands are finding it more profitable and rewarding to work with micro-influencers.
Unlike mainstream (or macro) influencers, micro influencers and niche influencers (eg food, fashion, travel, and other areas) have the following advantages:
Deeper personal connection with followers (as they are perceived as real people)
Higher engagement rates (likes, comments, shares and clicks)
More targeted audiences with specific interests
Easier to get hold off (compared to superstars)
More affordable
To work more easily with micro-influencers, consider using an influencer marketing platform. Here's a list of 44 influencer marketing platforms which you can choose from.
#6 Customer Experience Matters Even More
With the maturity of social media marketing, online users will expect brands to be even more responsive to their feedback, complaints and requests.
Brands that do well in the year ahead will continue to invest in social customer care, deploying technologies like ChatBots to augment (and not replace) their human agents.
To deliver remarkable social customer experiences, use analytics tools like Google Analytics and Facebook Insights to track customer behaviours across your customer journey. Aspire to provide a consistent brand experience across multiple touchpoints and ensure that your frontline officers deliver responsive service to your customers on your social channels.
#7 Social Algorithms Reward Authenticity
Last, but certainly not least, social network owners like Facebook and Google will continue to modify their algorithms to reward authentic content producers and punish "black hat" users. Recent measures by Facebook include introducing ways to reduce click baiting and engagement baiting practices.
The positive side to this is that brands which invest in delivering authentic and valuable customer content will be prioritised over those which choose to use gimmicky tactics to get cheap likes, comments and shares.
To be authentic yet interesting to your community, consider the following:
Craft engaging stories which touch the hearts of your customers
Deliver valuable content which helps them to solve their problems
Be responsive to your community's feedback – both positive and negative
Experiment with a variety of different content formats and types
Write in a human and conversational tone
Be transparent and open in disclosing your commercial interests
Conclusion
With the continued shifting of the social media sands, brands will need to change their game in order to remain relevant and interesting to their prospective customers.
Using the social media trends above as a guide, start thinking and planning for 2018 with the following questions in mind:
What areas can I do more of, given the current state of my social media accounts and channels?
How can I leverage on the new developments in social technologies like ChatBots without compromising on customer experience?
How often should I create video content? Which formats would work better for my brand?
What can I do to better track customer engagement across all social and digital channels?
Are there any micro-influencers whom I can work with? What campaigns would suit them best?
Am I using an excessive amount of gaming tactics to secure likes, comments and shares?
Here's wishing you a prosperous and fabulous 2018!