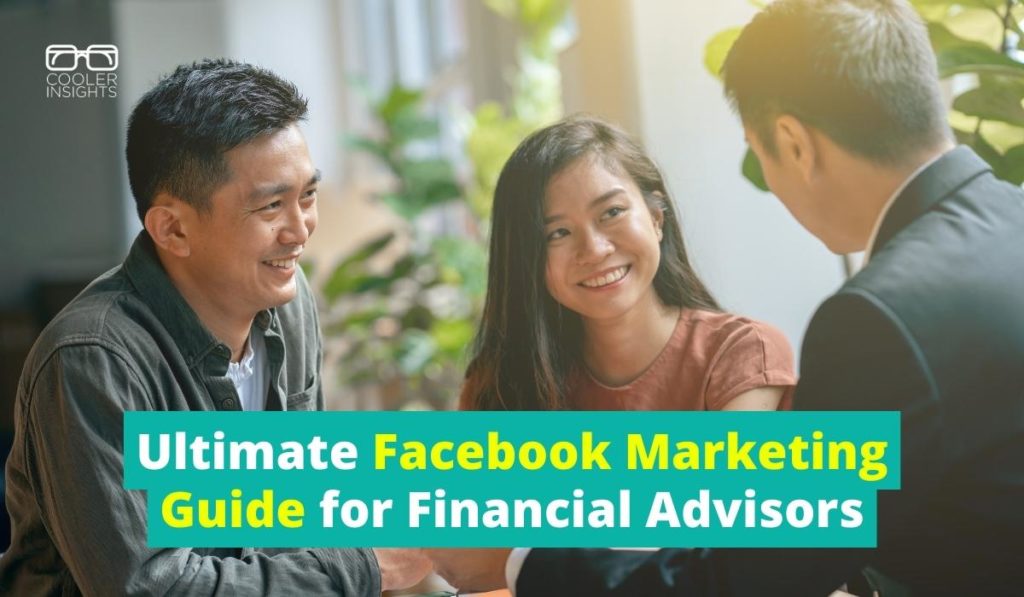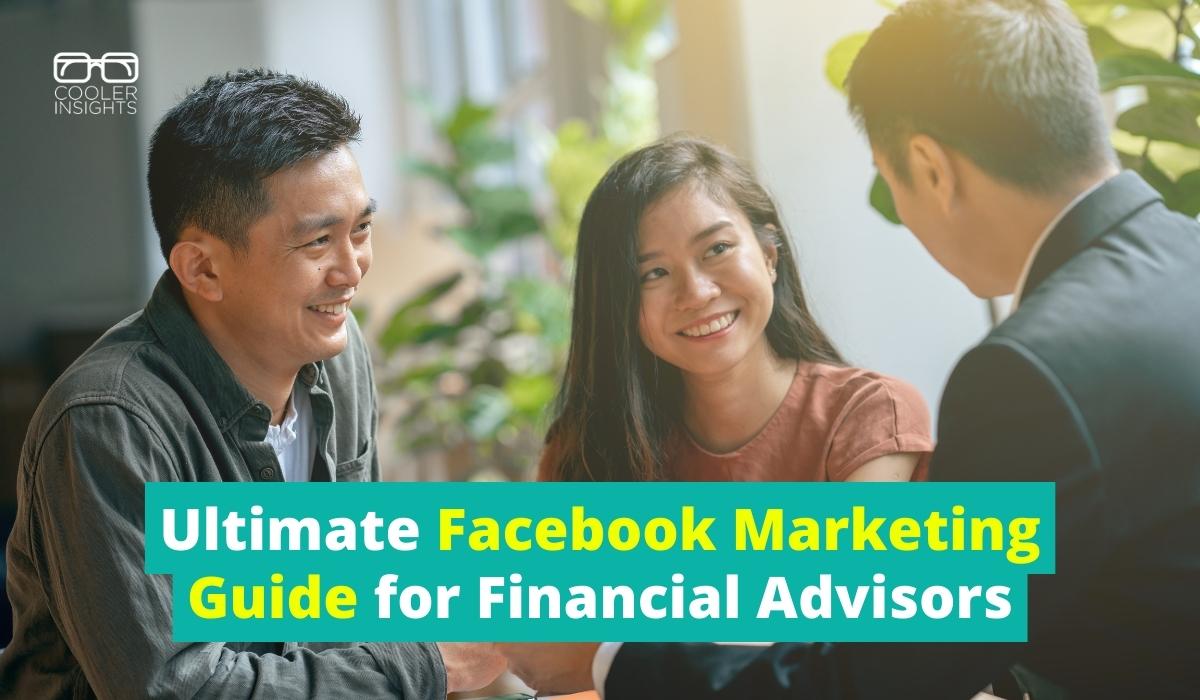 Are you a financial advisor, insurance agent, wealth manager, or investment specialist looking to tap on Facebook marketing?
In this article, you will learn a systematic step-by-step Facebook marketing strategy that is suited for financial planning professionals like yourself.
The article will cover the following strategies:
How to identify what your prospects are interested in
How to create content that resonates with potential financial advisory clients
How to attract leads through Facebook's Lead Generation Ads
How to build a vibrant Facebook community
Ready to boost your financial advisory practice? Let's go!
#1 Build a Customer or Buyer Persona
First and foremost, you'll need to know who your potential investment or financial clients on Facebook are.
A good way to do so is to build a customer avatar (or profile) that describes who they are. Here, it is useful to consider their demographics, psychographics, behaviours, and problem statements (and desires).
Beyond these basic elements, it'll also be useful to articulate the exact solutions or content that would resonate with this target customer.
Here's an example of a customer profile that a financial advisor or a real estate agent may need to put up for a potential client. It focuses on their demographic background, lifestyle, financial/job status, pain points, and online behaviours.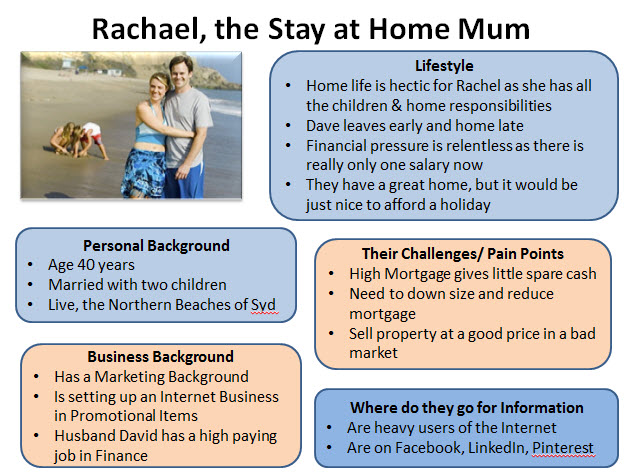 Here's yet another customer avatar that was generated, focusing on your prospect's job, education, demographics, communication methods, financial goals, and challenges using HubSpot's Make My Person tool: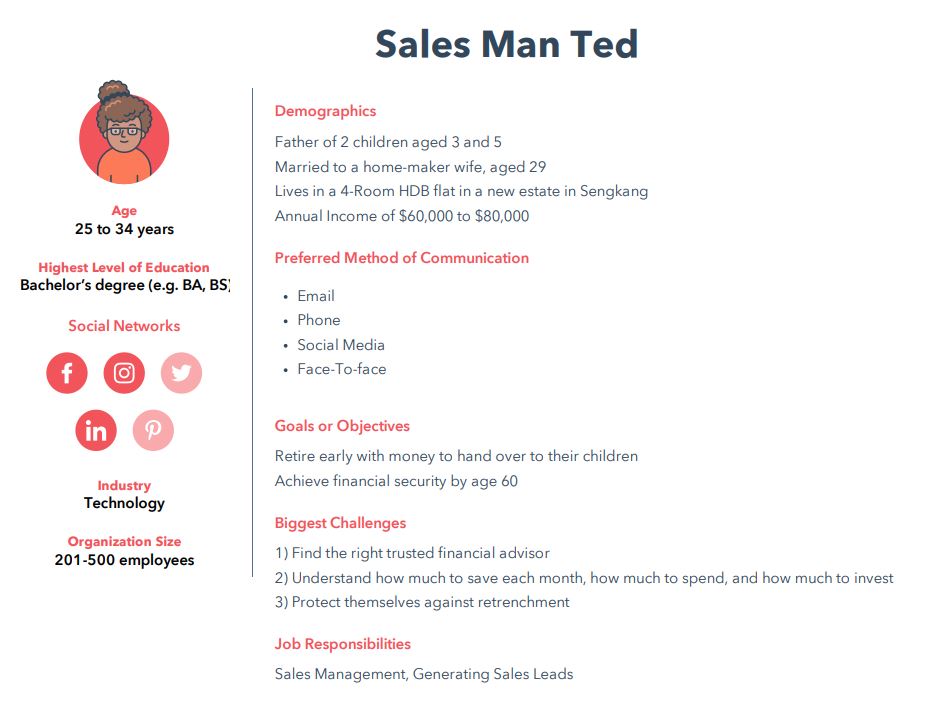 #2 Do Research Using a Keyword Research Tool
Once you've identified who your prospects and what their interests and trigger points are, your next step is to identify their topics of interest.
Here, it may be useful to use keyword research tools to zoom in on long-tail search keywords as well as potential questions that your prospect would have.
There are two useful tools which you can use here.
a) Ahrefs
This paid tool has some free keyword research tools available such as the Keyword Generator Tool which you can use. You can zoom in to your specific country as well as Keyword Ideas, and it'll come up with some suggestions for you as follows: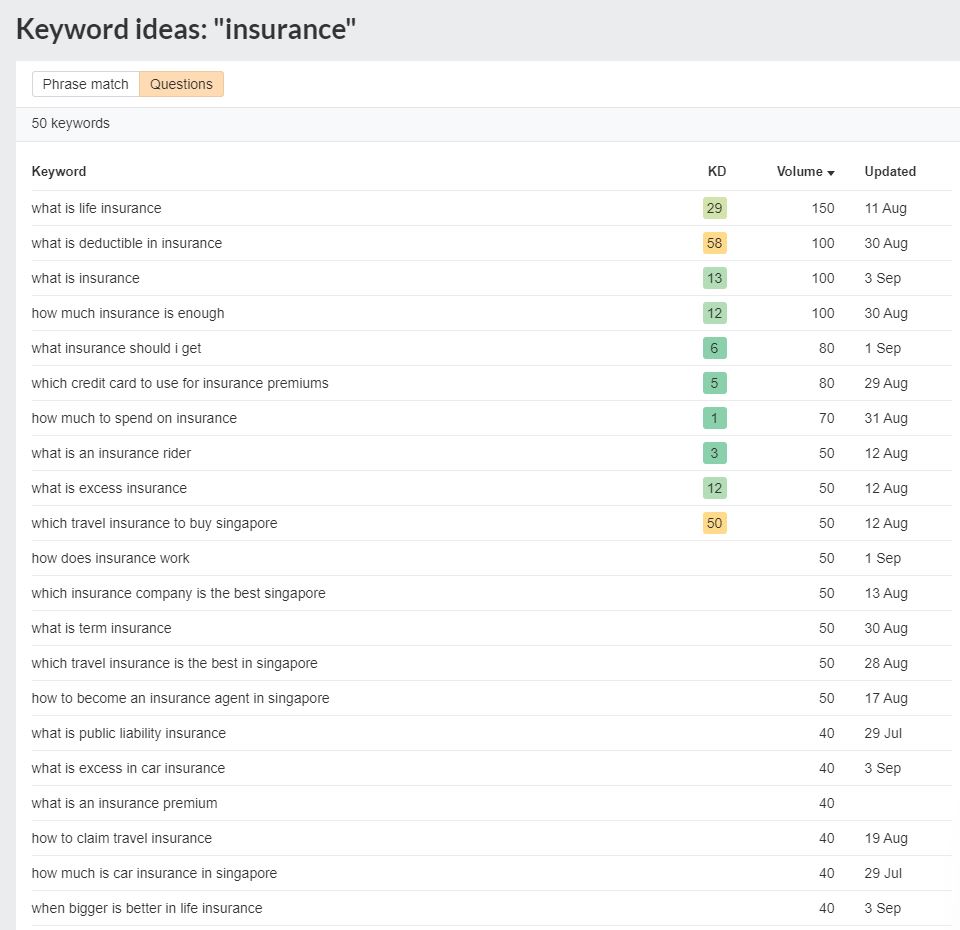 In the above example, the acronym "KD" stands for Keyword Difficulty. The lower the KD, the easier it is to rank for the particular keyword in question. You can either search by "Questions" (example above) or by "Phrase match" as shown by the second example below.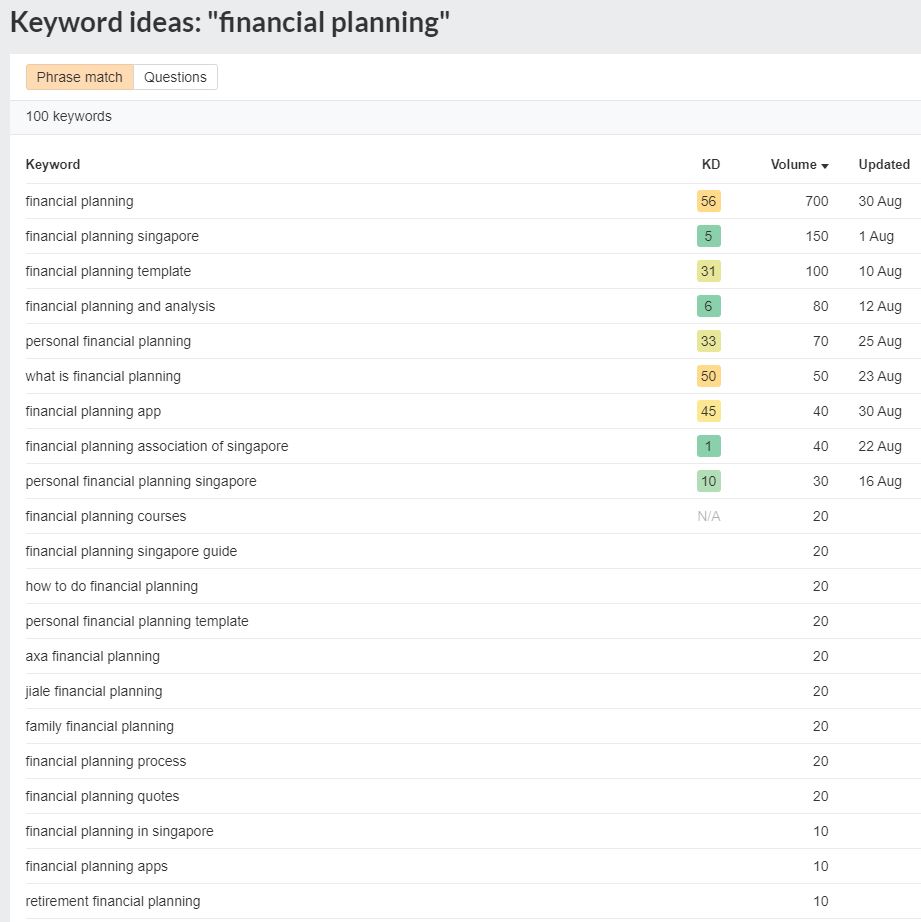 b) Answer The Public
Answer The Public is another nifty tool which helps you come up with potential questions (ie long-tail keywords) that your prospects could be looking for.
Let's zoom in to some of these questions that people commonly query Google for – in this case, we use "financial planning" in "English/Singapore" as a guide.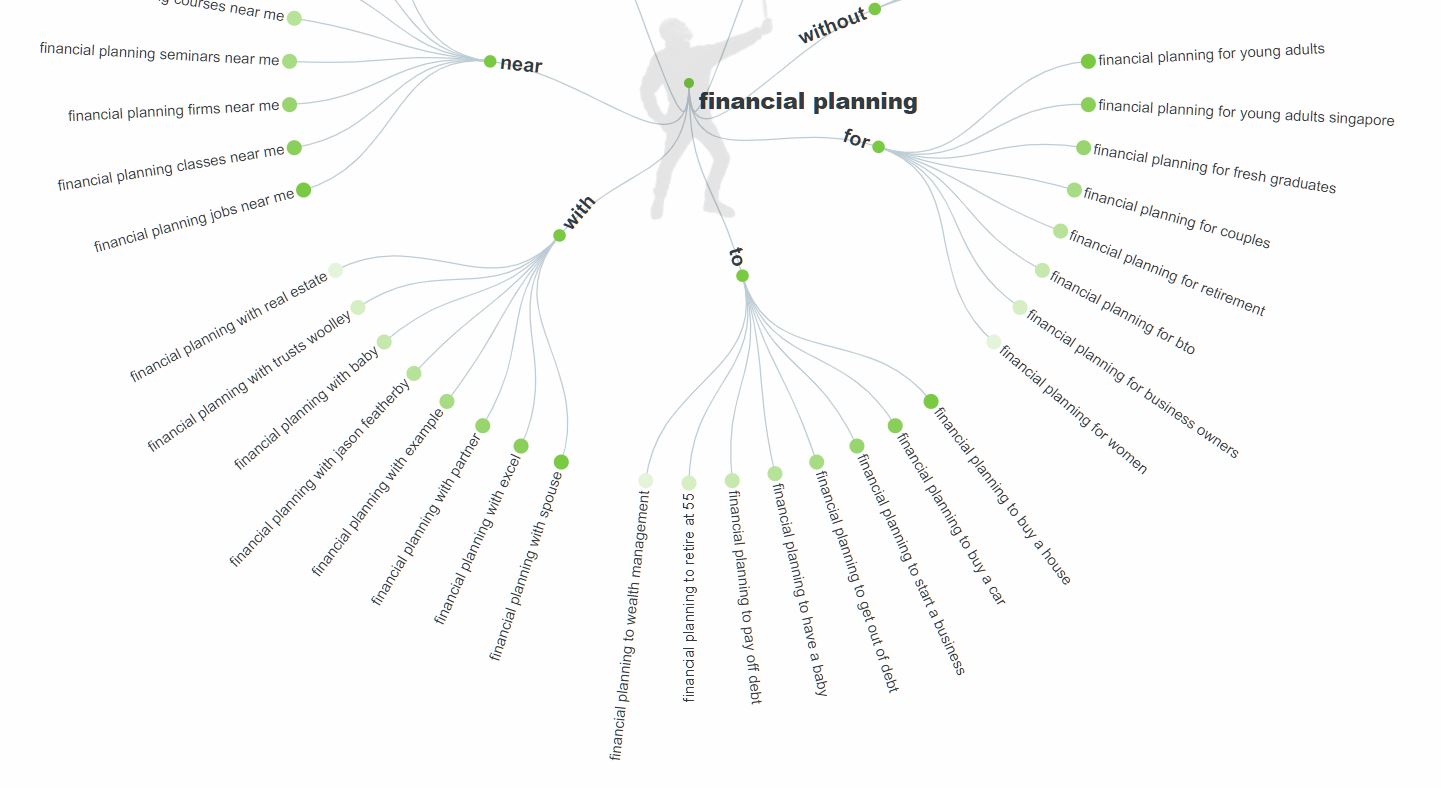 From the above tools, you can identify the potential keyword topics that you can focus on for your prospects.
#3 Read The News and Inject Trending Content
Occasionally, it'll be useful to produce and share financial advise or wealth planning content that is related to what's hot and happening.
Use a tool like Google Trends or Twitter Trends to see what's trending in the news. Flipping the local newspapers will also be helpful.
Look out for news that are related to the financial and economic situation in your country. Topics such as the following may be of interest to your prospects:
Economic trends and job statistics
Wealth management and financial market news (eg the performance of the stock markets)
Human interest stories—both positive (financially savvy individuals) as well as negative (those who are in bad financial situations)
Policies relating to insurance, investment, and other related areas
Government policies and rules relating to social security or retirement planning, eg mortgage rules, investment rules, etc
#4 Organize Your Facebook Posts
Once you've amassed a whole list of potential Facebook content topics, questions, and campaign ideas based on the above tools, you'll need to organize them into broad content themes.
The idea is to build a content framework that you can fall back on for your Facebook posts, even as you go down the list of content ideas that you've generated using the tools above.
There are several ways to organise your content:
a) By Customer Avatar
Here, you should group your content based on the different customer avatars that you're targeting. Depending on your target clients, you could rotate your content between the topics here, or you could even have dedicated channels serving each avatar.
Young Family (late 20s to early 30s)

How to start budgeting for your first home

Buying a car—yes or no?

Saving for your child's education

Mid-career Worker (40s to early 50s)

Building a nest-egg

Protecting yourself against accidents

Exploring re-financing of home

Retirees (late 50s to 60s)

Types of annuities

CPF retirement scheme—what you need to know

Working out a retirement budget
HINT: Try to be as specific as possible when you come up with your content title.
b) By Broad Categories
This is where you'll categorise your content based on the categories under financial advisory services. There are many ways to do so—here's one simple way to classify them based on five broad areas that commonly arise in the realm of financial planning.
Investments
Insurance
Financial Planning and Budgeting
Financial/Lifestyle Habits
What's In The News
c) By Customer's Buying Journey
Here, your role is to map your customer's buying journey and then come up with content topics groups that match each stage.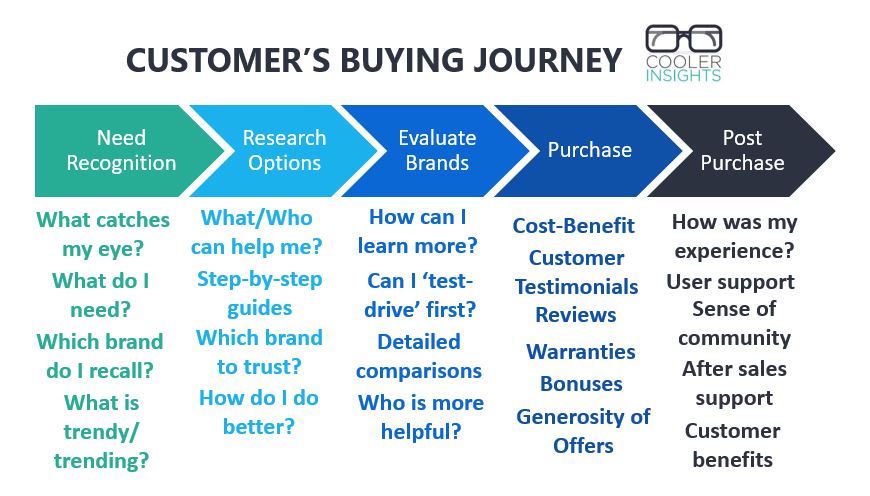 You can also map your content against your digital marketing funnel stages, from awareness, consideration, conversion to loyalty/ advocacy. This is shown below.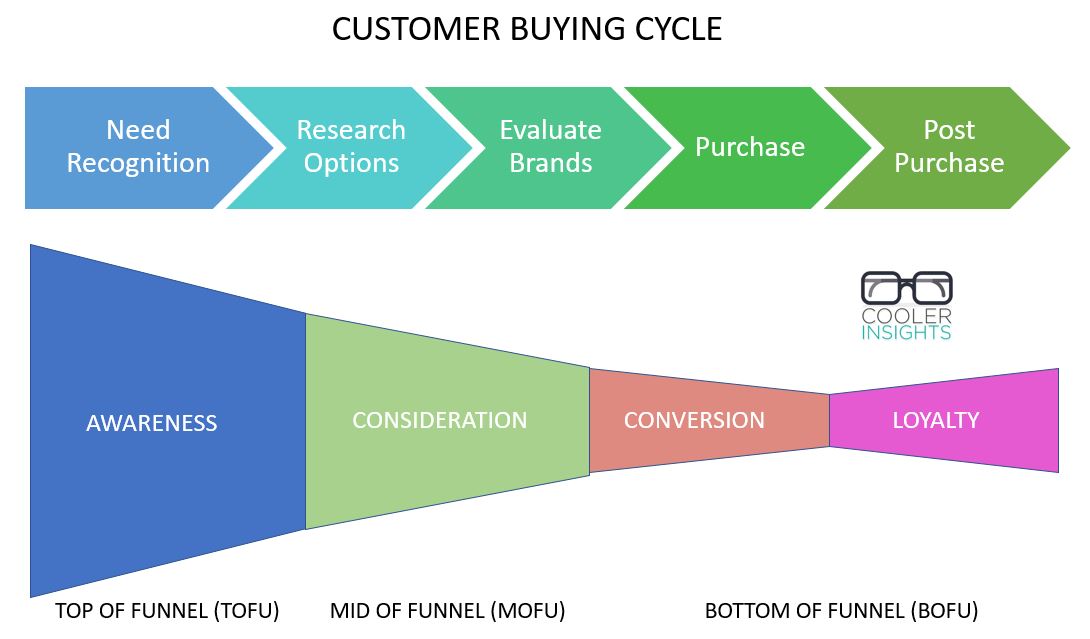 For a financial advisor, such content categories may include the following:
Awareness: 1-minute financial video tips, news commentaries, infographics
Consideration: Instructional videos, blog articles ("How to pay for a 4-room HDB flat?"), Facebook Live series
Conversion (Lead Gen): eBook to financial planning, budgeting template (opt-in to download), Zoom Webinar on retirement planning
Conversion (Sales): Face-t0-face consultation, Financial coaching
Loyalty/ Advocacy: Customer testimonials, success stories, case studies (anonymized)
#5 Put Them into a Content Calendar
Once you've got the main pillars of your content done, you should plonk them into a content calendar.
Your goal here is to be consistent and regular in sharing valuable content that your audience would find useful.
Here's an example of a content calendar for a social media marketing agency (like Cooler Insights!) where we include the customer personas, buying journey/marketing stage, content title, topics, format of content, channels, and results all in one spreadsheet. You can create a calendar like this or simplify it accordingly.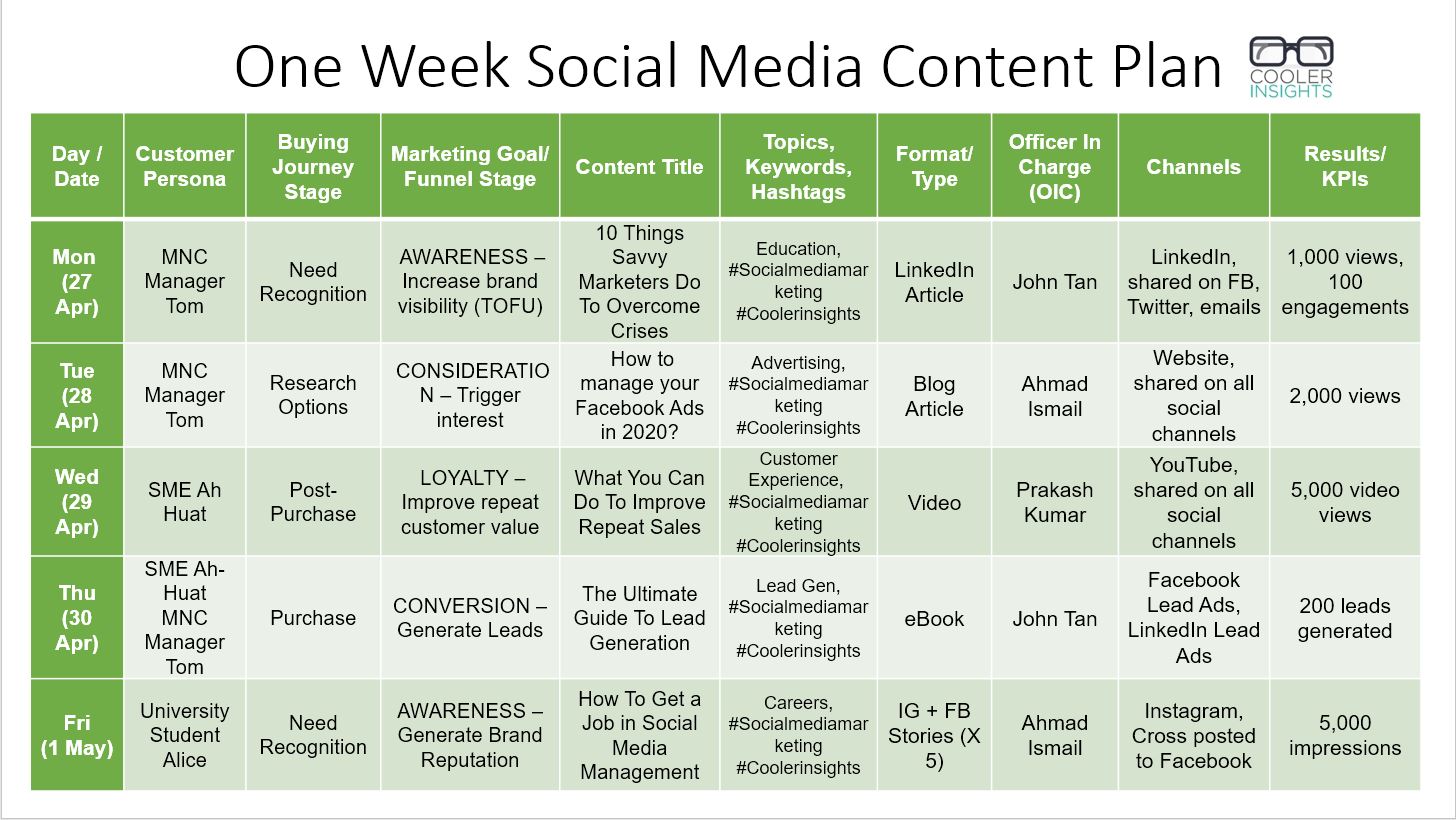 PS – Check out HubSpot's Social Media Calendar Template and see if you'd want to download it for your own use.
#6 Adopt Best Practices in Facebook Copywriting
Now copywriting is a huge topic in itself, and I've already written extensively about this here, here, here, here, and here.
For Facebook marketing, note that the first 1 or 2 lines are going to be the most critical (along with your visuals, which we will discuss later).
Here are some ways to do so:
Focus on your customer persona
Talk about their pain points/concerns
Use a triggering question
Stir their curiosity
Cite facts and figures that grab their attention
Reduce risks/ uncertainties
Tap on their dreams and desires
Let's look at some examples, shall we?
First, NTUC Income's example below focuses on their prospect's pain points, and demonstrates empathy in the copywriting. I like how it also provides a cost estimate (as little as $0.54 a day) in its copy, making it less risky for clients.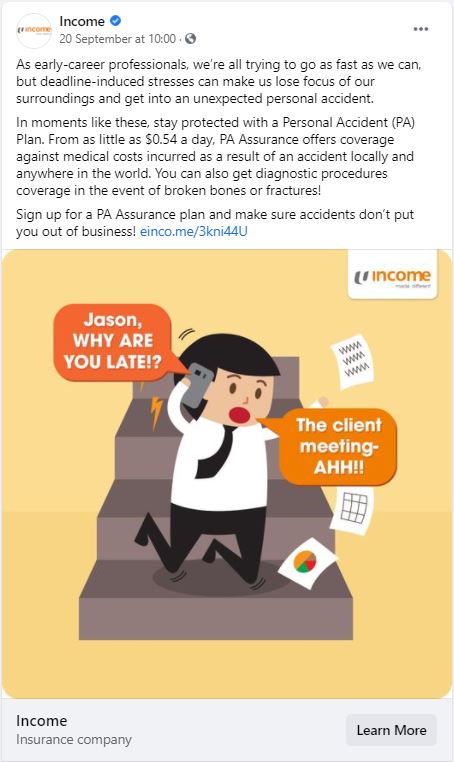 Here's another example, this time from DirectAsia Insurance. It uses a triggering question (or rather exclamation mark!) to stir interest, with an issue close to all our hearts.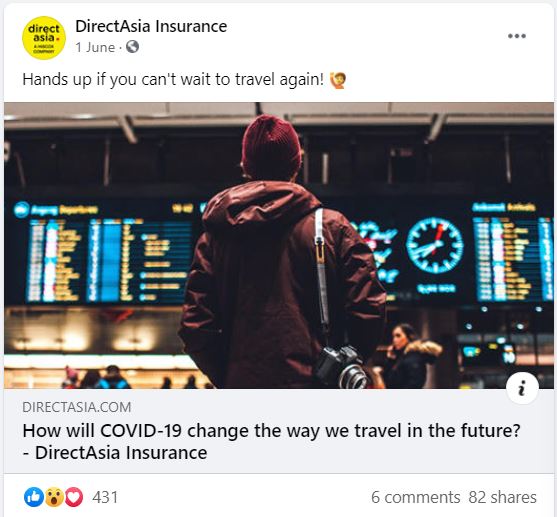 This last example from GoBear Singapore (with a nicely eye-catching visual) is more direct and to the point. It explicitly talks about the loan rates that a prospect may be paying, and offers an attractive alternative.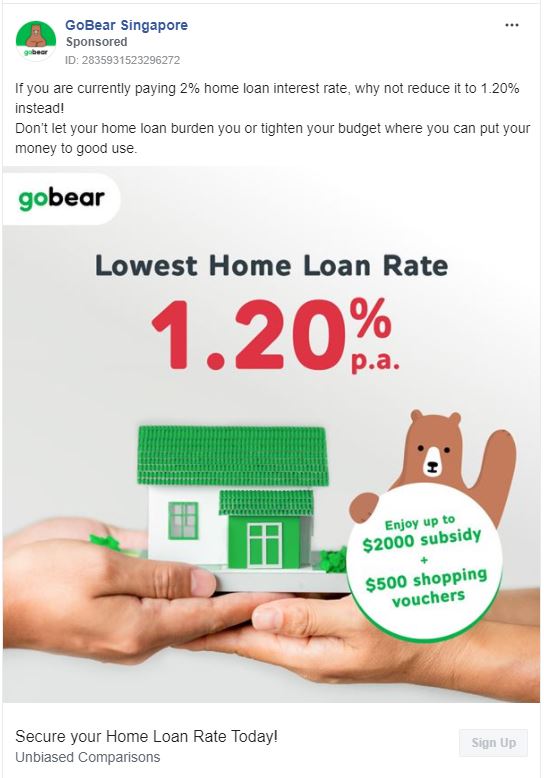 #7 Pay Attention to Your Visual Designs
Visuals such as photos, illustrations and videos are key in your Facebook marketing efforts. Here are some best practices:
Use videos if possible—tools like Lumen5, Invideo, wave.app and many others can be useful for creating simple videos
Feature humans in your visuals—preferably those who look like you target audiences
Text overlays to highlight salient points
Animations may sometimes work well
Bright and highly contrasting colours work well
Use a simple way to illustrate your points
Here are some examples of good designs relevant to the financial planning and advisory trade.
First, we look at an example from Manulife Singapore, with a topic that rides on a recent trend (have you watched the movie yet?) and a tongue-in-cheek comparison.
Here's another example from Tokio Marine, which effectively uses a visual metaphor to illustrate the importance of insurance.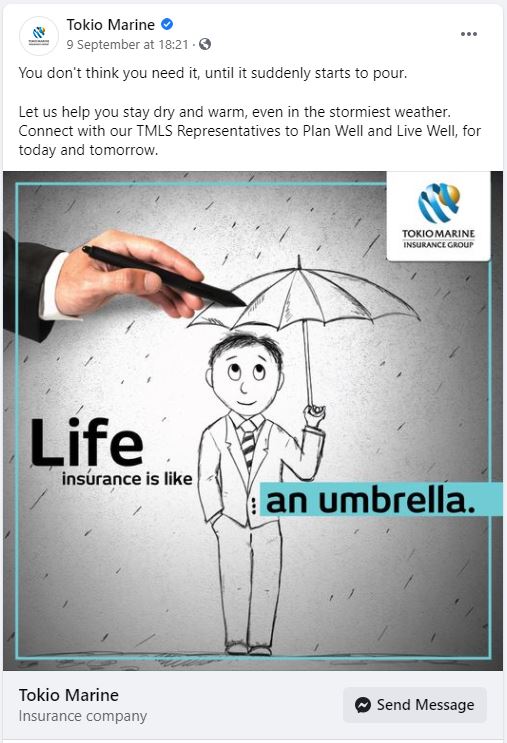 And another from Singlife, where a simple animation is used to illustrate the point of growing your capital and wealth.
#8 Attract and Nurture Your Leads on Facebook
But what if you'd like to generate leads from your Facebook marketing efforts? Well, consider running a Facebook Lead Generation campaign.
In this article, I have provided a step-by-step guide to doing so. Read it and see if you can apply those principles.
For those of you in the financial advisory business, you'd probably need to think of an attractive lead magnet that will entice your prospects to fill up a form. Examples may include the following:
Webinar on financial management for specific target groups
eBook or guide on insurance types
Template to help clients to manage their expenses
Calculator for wealth management or retirement planning
Checklist before they invest in any financial instrument
Quiz to help them make better financial decisions
Giveaways (eg premiums or prizes)
Here's an example from MoneySmart where the bait is a free pair of Apple AirPods earphones.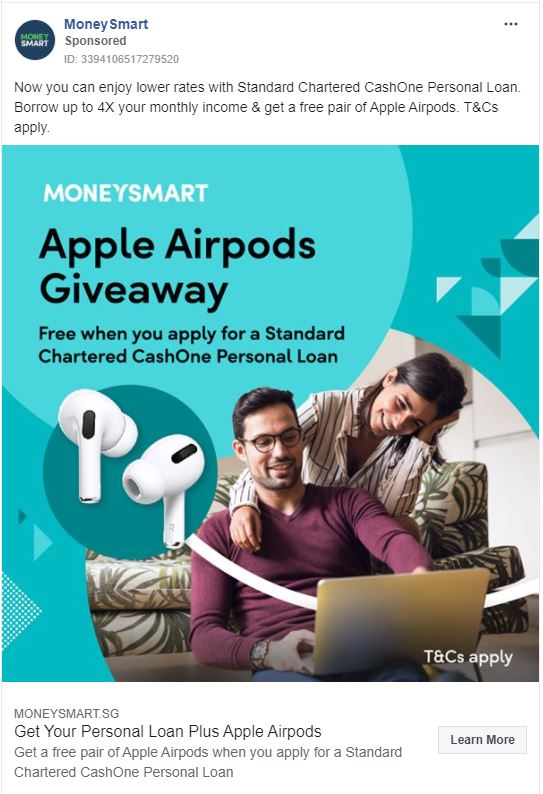 Here's another example from MoneySmart, where the audience is asked to complete a quiz to stand a chance to win $50 of vouchers.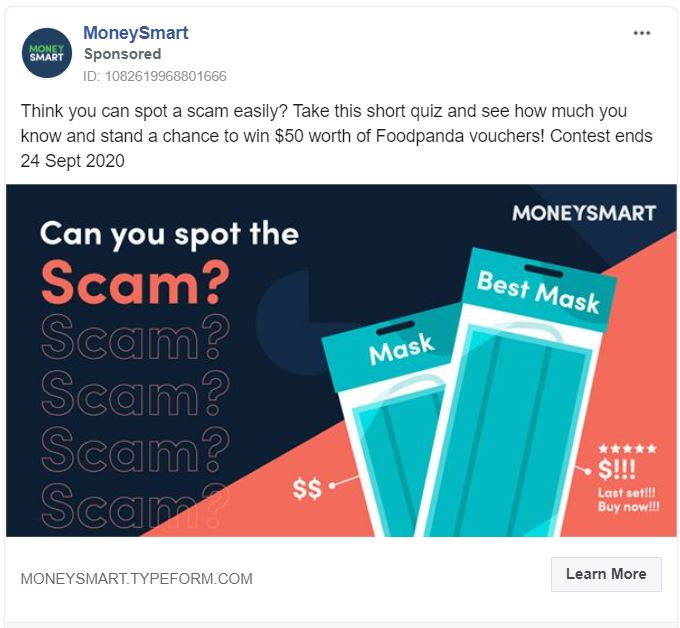 #9 Measure Your Success through Analytics
"You cannot manage what you do not measure," says Peter Drucker.
With multiple forms of analytics available, Facebook allows you to track your success across your entire marketing funnel.
a) Facebook Insights
This free tool on your Facebook page shows you various metrics such as your total fan count, engagement rates for your posts, audience profile and so on.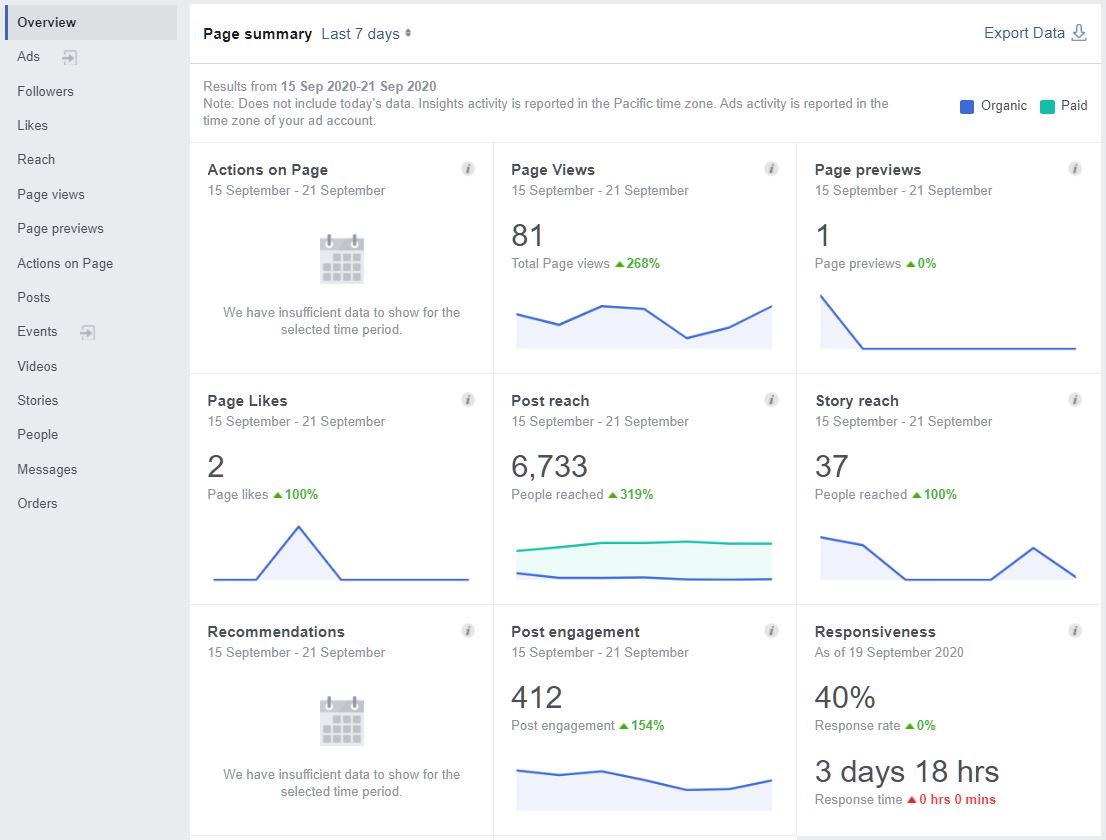 Perhaps the most useful is the section on your Posts, which shows you the performance of your individual Posts, as well as the best timing to posts.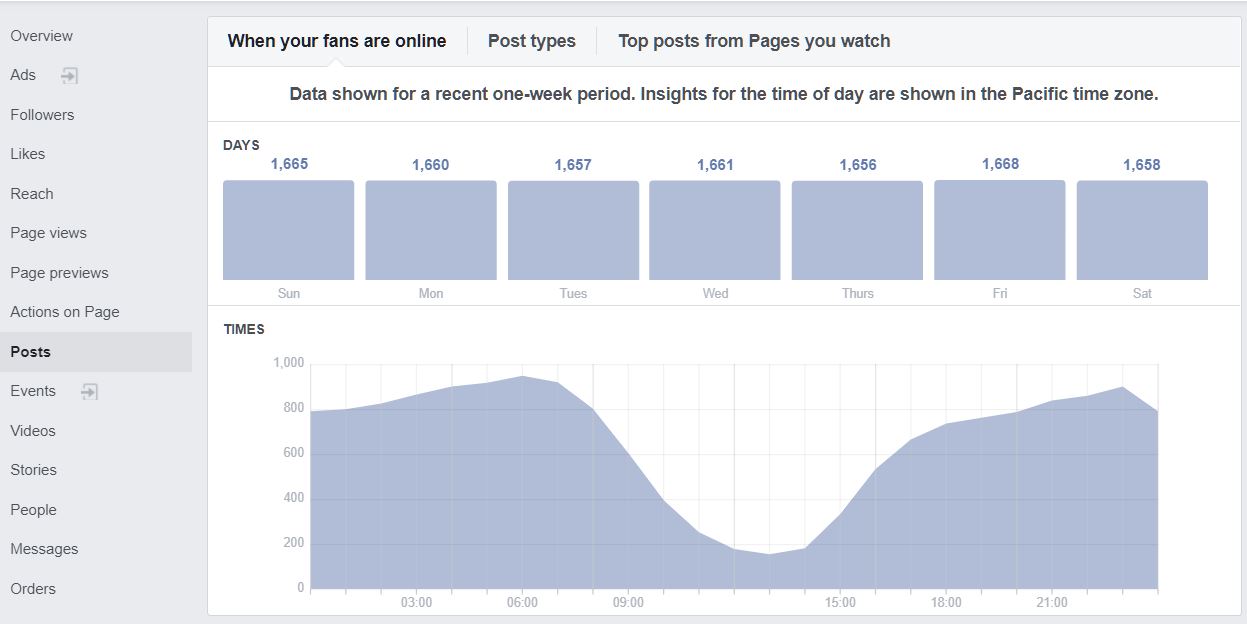 b) Facebook Leads Centre
This is where you can find all the leads that you've collected from a Lead Generation campaign. You can process them and categorize them if you wish, based on how "warm" these leads are:
Raw leads: Those you've just collected from your form
In-progress leads: Perhaps you may have categorized them, or sent them an email, or given them a call to qualify them
Interested leads: These may be prospects that you'd want to arrange meetings with, or whom you are close to closing
Converted leads: These are leads who ended up becoming clients. It is best that you then categorize them differently so that they receive a different stream of emails.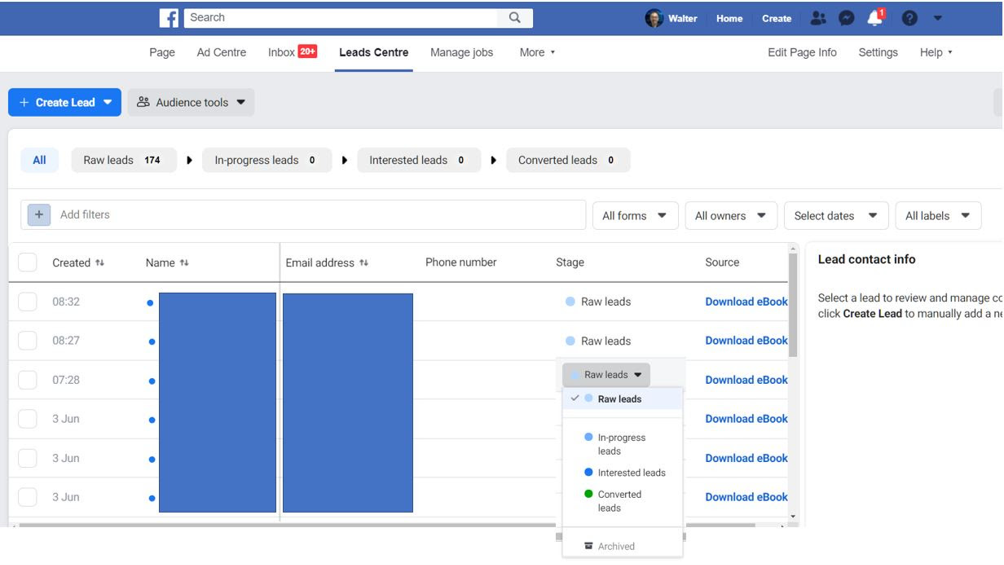 c) Facebook Ads Manager
This is the tool which shows you the performance of all the ads which you've run on your page and ad accounts. You can use this to determine your Cost Per Results for the different ad campaigns that you've run, as well as to manage them midway.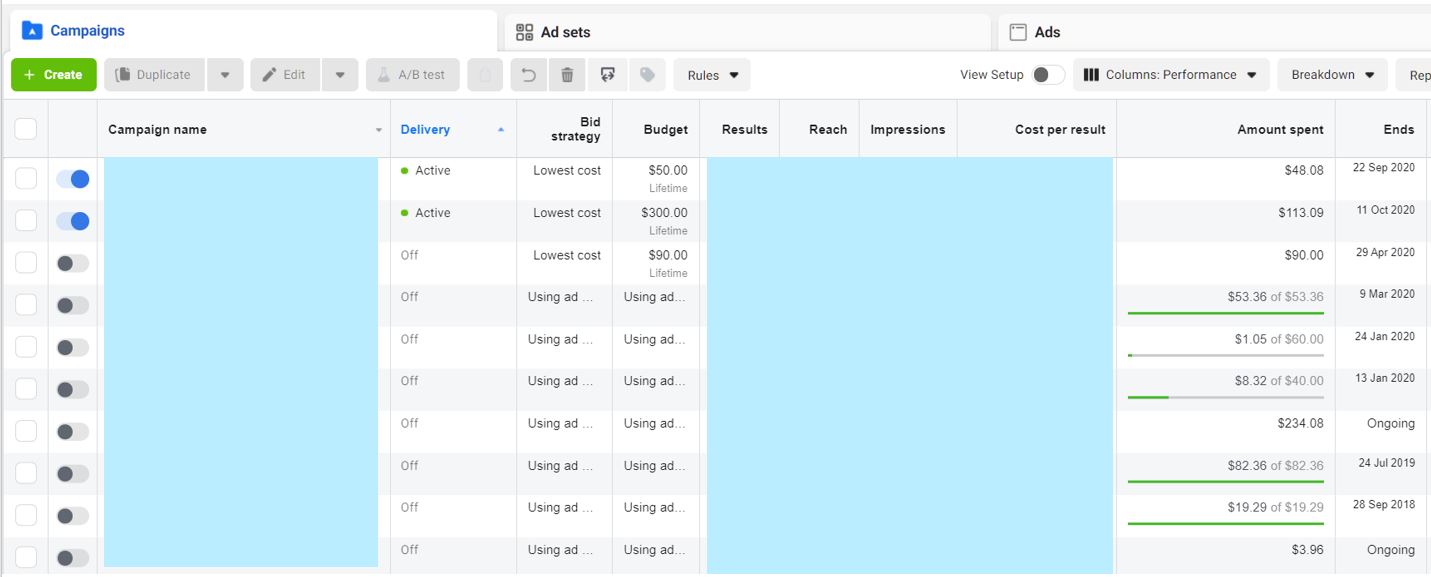 #10 Build a Loyal Online Community
To ensure that you have a long-term pipeline of prospects and loyal clients on Facebook, you'll need to sustain their interest well-beyond the initial deal.
Here, you should embrace the 4 Rs of Community Building:
Recruit—Grow your social media communities through various tactics
Relate—Engage with your community members and strengthening esprit de corp
Rejuvenate—Incorporate ways to sustain your community over the long-haul
Recommend and Refer—Trigger greater advocacy among your members
These community members could be either fans of your Facebook Page, or members of a Facebook Group that you've set up.
To learn more about this, do check out our ultimate guide to growing your online community here.
Conclusion
In the hyper-competitive world of financial planning and insurance sales, Facebook has been demonstrated as an important marketing channel for financial advisors, wealth managers, and insurance agents.
By adopting this step-by-step guide to Facebook Marketing for financial advisors, you'll be better placed to tap on this channel to attract new clients and keep your Million Dollar Round Table dream alive!
Which step do you find the most difficult and why?
Need Help with Your Digital Marketing?
Fill in the contact form below for a free 30-minute Skype or Zoom consultation session!