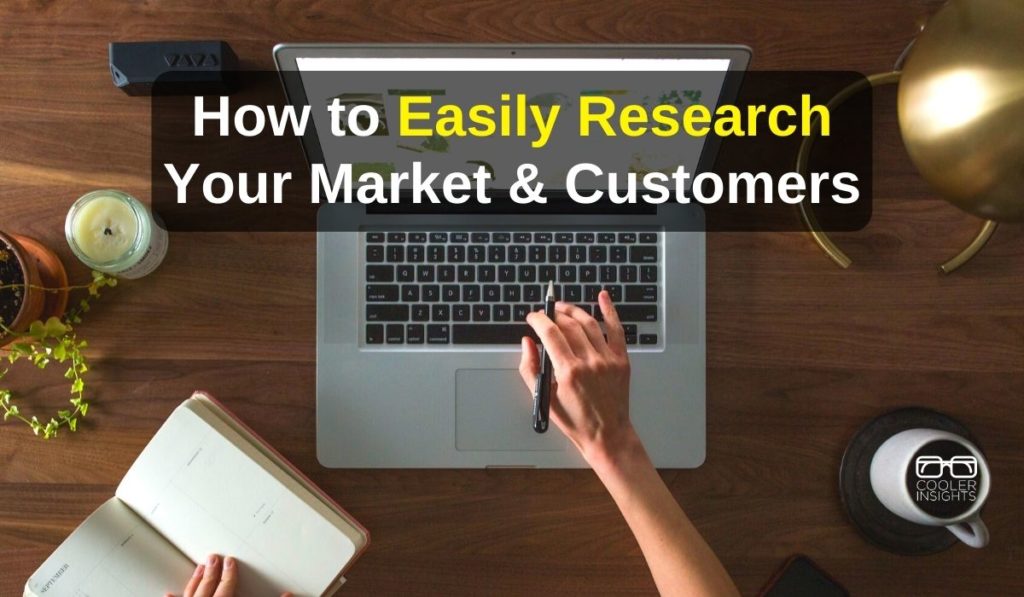 Wish to be an entrepreneur, but unsure which industry or niche to go into? Want to ascertain the market potential of your startup business ideas?
Consider tapping on the power of online research tools and techniques.
Thanks to the plethora of digital marketing research tools available, it is now easier than ever to determine if your new business idea will fly — or die — before you start investing time, money and energy into that endeavour.
In this article, you will learn how to use online research tools to conduct market and customer research for your new startup or small business.
These digital marketing research techniques and methodologies are drawn from the wonderful book Will It Fly by Pat Flynn.
How to Research Your Market
As a potential startup founder, the world may be your oyster. However, finding that precious pearl requires diligent study and investigation.
This is why you need to create a Market Map — a document that gives you a birds eye view of your targeted industry and market potential.
In this section, we will look at the three areas where you should look at: Places, People and Products.
#1 The Right Places
These are the digital platforms, channels and apps where you can distill the feasibility of your business idea. They may include blogs, forums and social media groups (eg Facebook Groups) where people congregate to talk about specific subject matters.
Here's how you can research them.
Blogs
Use Google search engine with the following in the search field:
blog: keyword
Here's an example below, using "blog: small business singapore"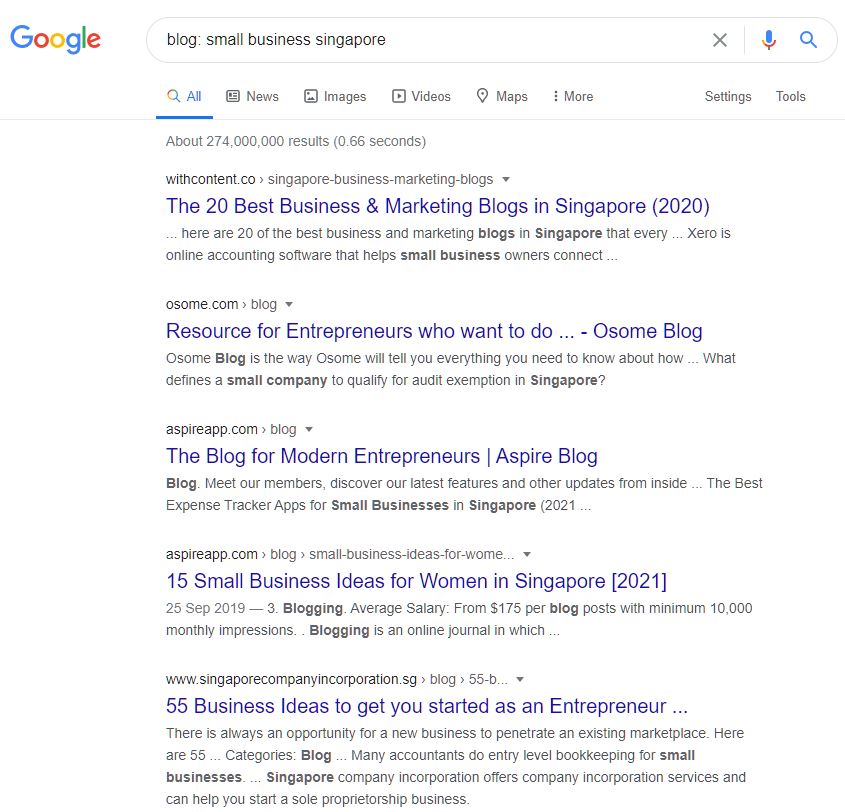 There are lots of useful resources in here that you can tap on. You may also wish to check out the "People also ask" section to see what questions potential customers are asking.

Do also check out the "Searches related to" section at the bottom of the Search Engine Results Page (SERP) to see what other popular terms are used.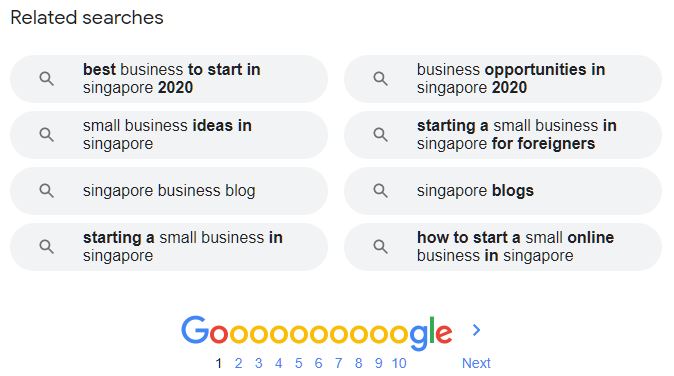 Click on the most relevant results and take note of the websites/blogs that contain the most relevant information for your potential niche.
Copy the URL and save it onto a Google sheet. Label it under Places.
Forums
For certain niches, forums may be better places to find what people are yakking about. Once again, we will use Google, but with the search field:
forum: keyword
Using the same keyword "small business singapore", we managed to get the following search engine results.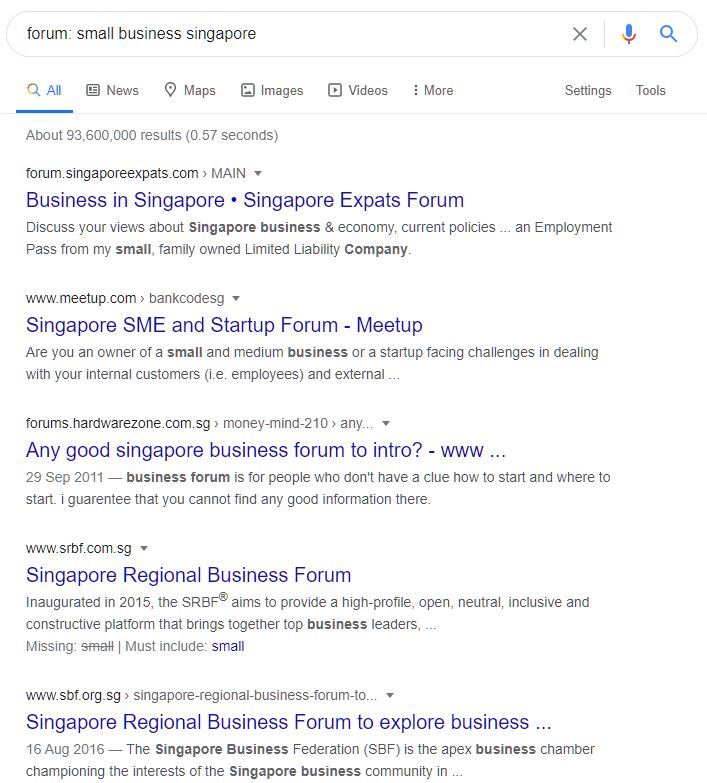 Just like before, check out which of these websites or forums provide the most relevant findings.
Social Media Groups
Visit Facebook or LinkedIn and search for relevant groups in your niche. These would be under the Groups section.
Using "small business singapore" as a search term, I managed to locate these Facebook Groups.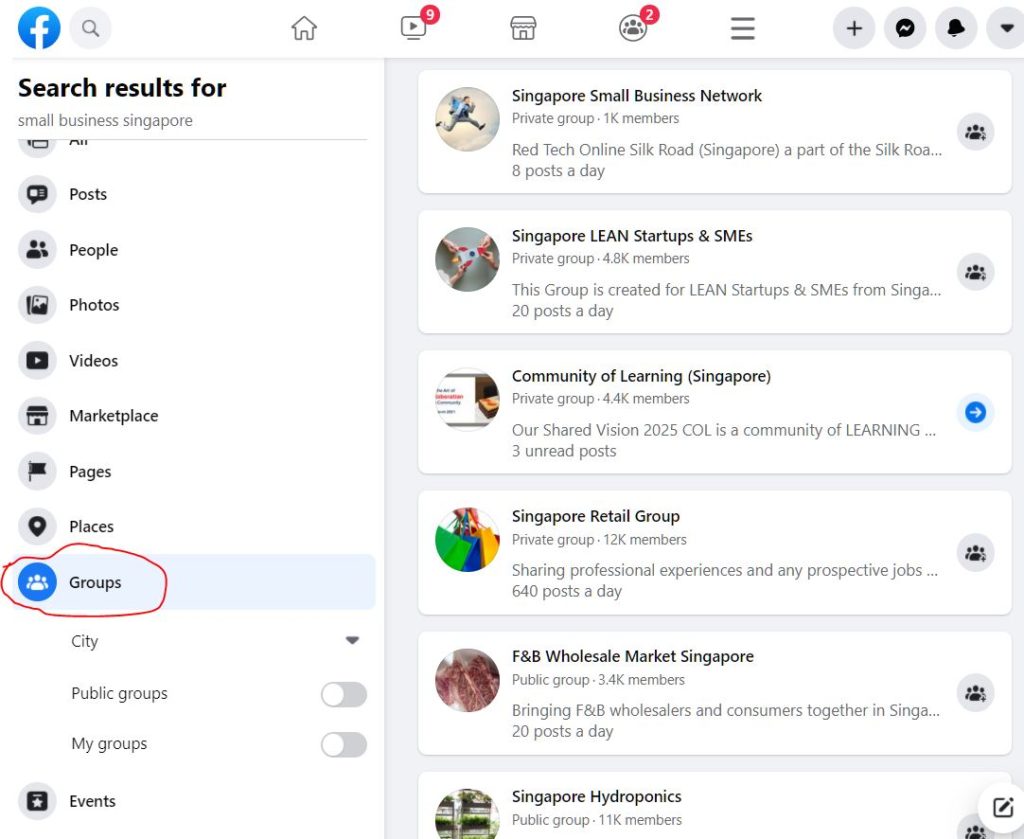 Scroll through them to see which is the most relevant, and add the URL to your database. You should also try other combinations like "Singapore SMEs" or "Singapore startups". These may yield more interesting or relevant groups that you can trawl.
You can also do the same for LinkedIn. I tried "small business singapore" in the LinkedIn search, narrowed them down to "groups" and found these.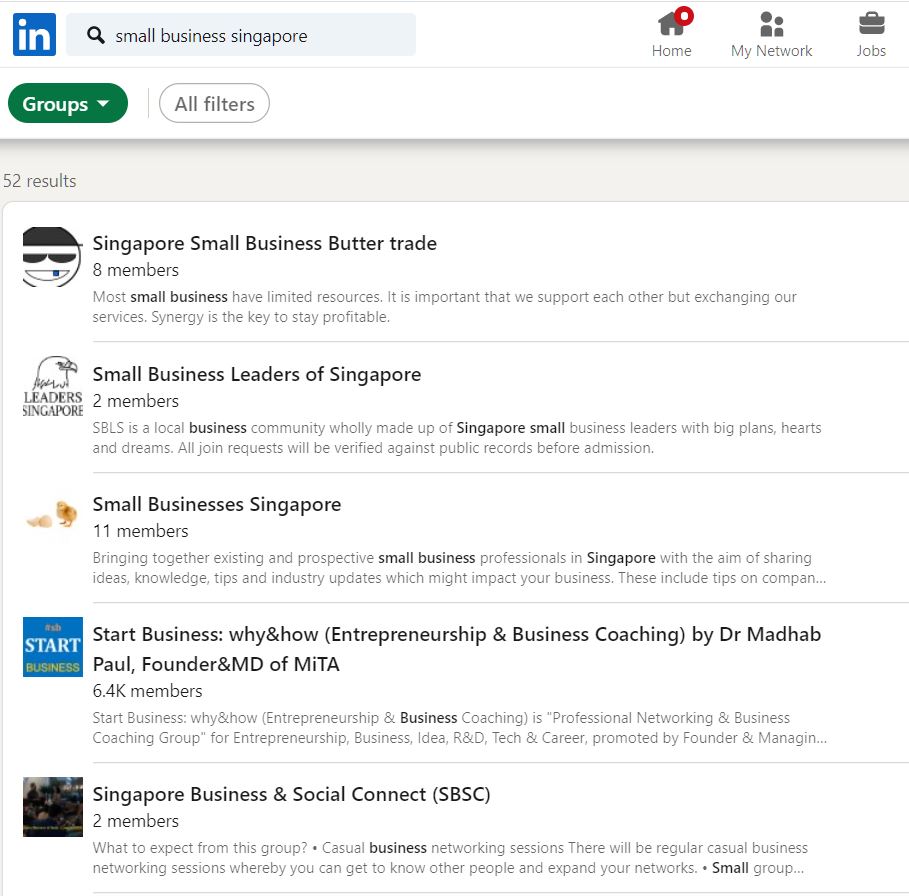 Not very promising to be honest. However, after switching to "singapore sme", I got slightly better results.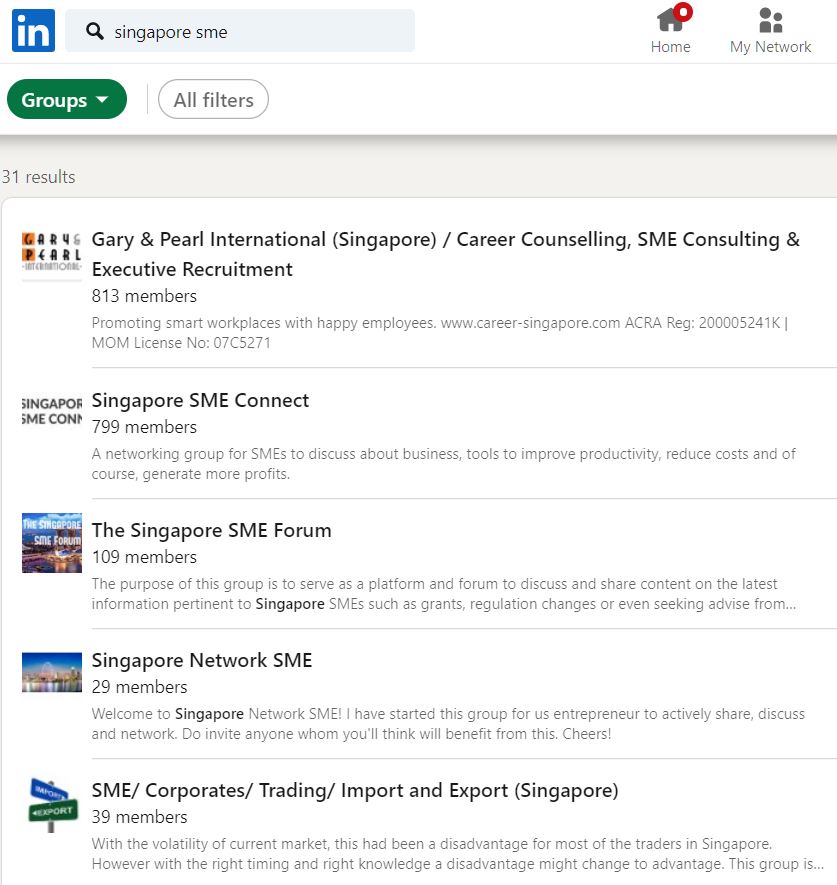 #2 The Right People
When we talk about finding people online, we're really looking at locating the top influencers in your space. There are several tools you can use here.
Social Media Profiles/Pages
For Facebook, you can try looking for them under "People" (individuals) or "Pages" (individuals or organisations).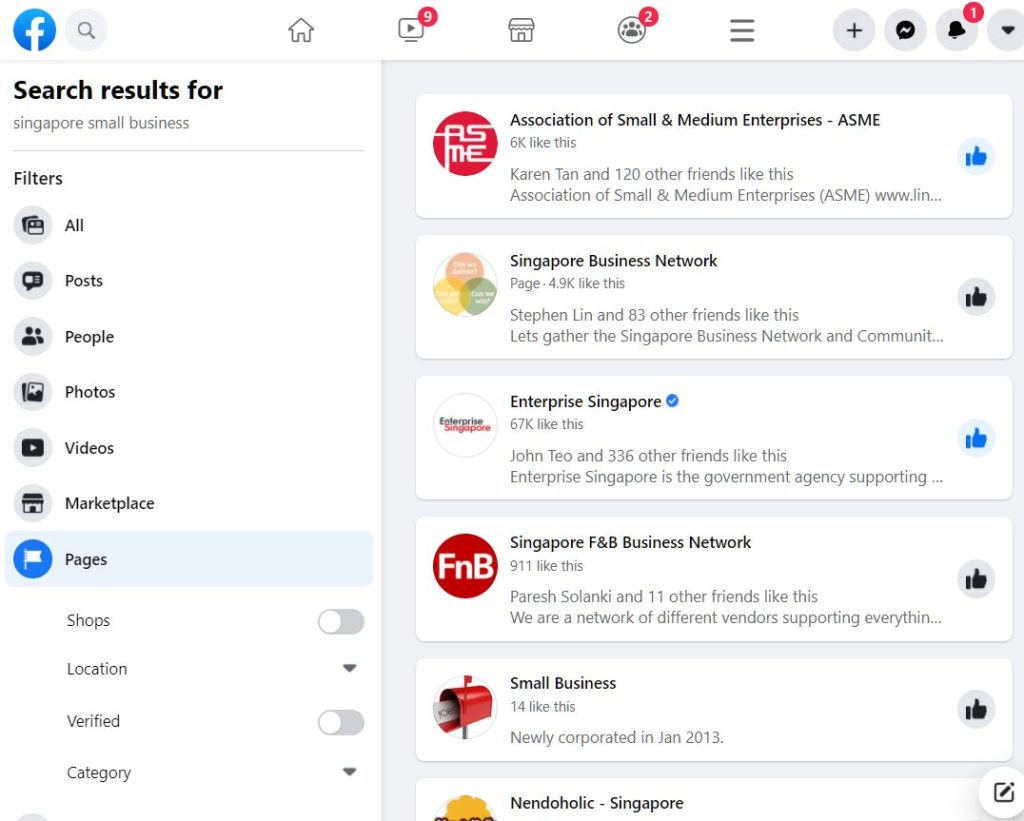 Click around to see if these profiles or pages are active. See how many people are following them or liking them.
You can do the same on LinkedIn too. Check out the individual people and company with these keywords. See if they're the right influencers for your potential business area.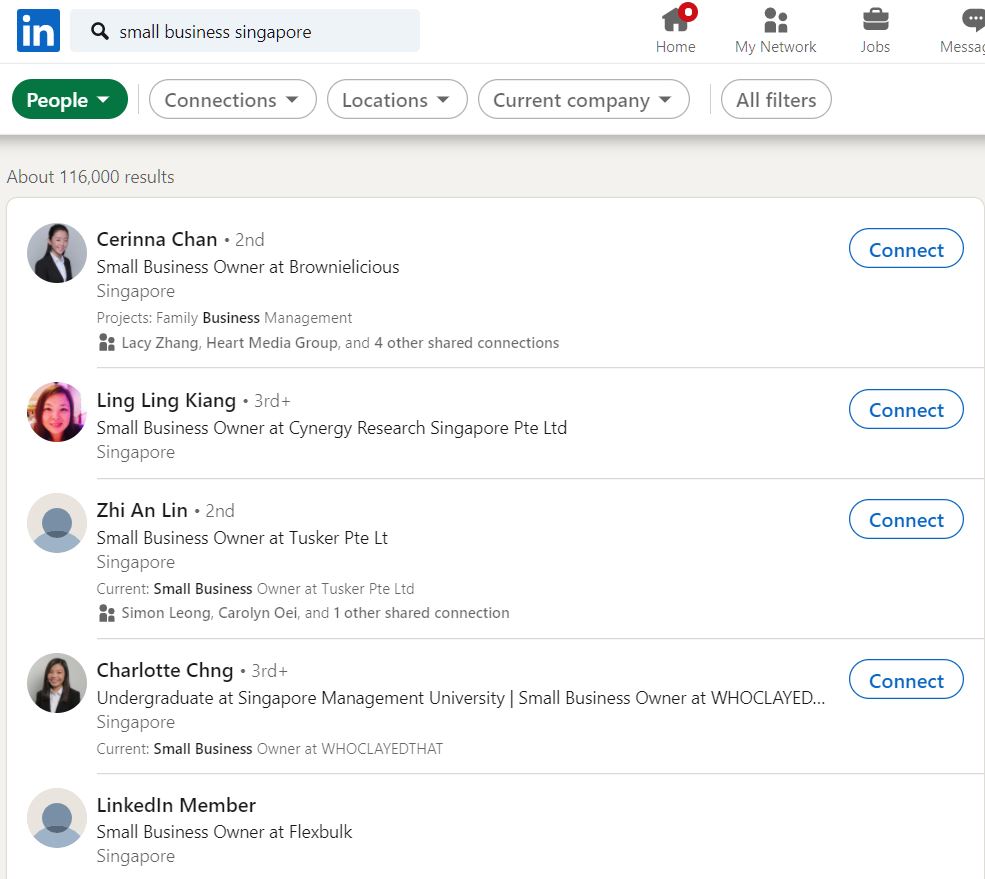 You can also do the same for other social networks like Instagram, YouTube, TikTok, or Twitter. For Instagram, search using hashtags (eg #smallbusinesssg or #sgsmallbusiness) and see whose posts come up at the top. These profiles could possibly be influencers (or micro-influencers) specific to your desired niche.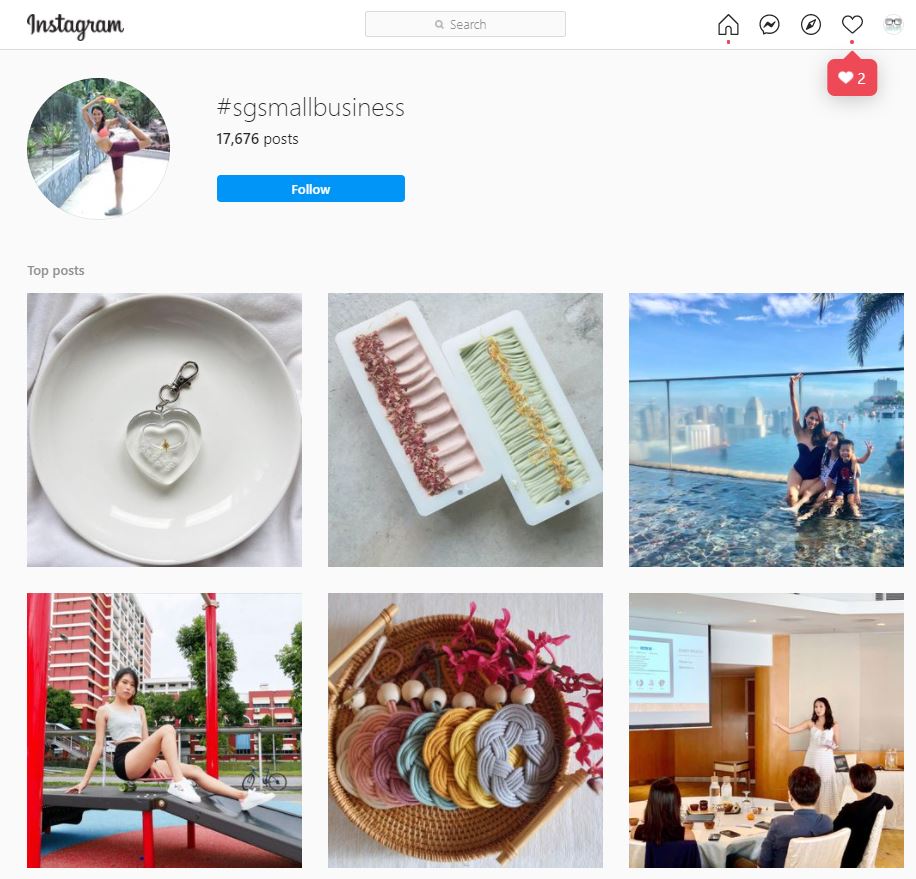 BuzzSumo or Social Animal
Using BuzzSumo or Social Animal, you can quickly research some of the top influencers in your niche. Let's try "small business singapore" on BuzzSumo to see what comes out.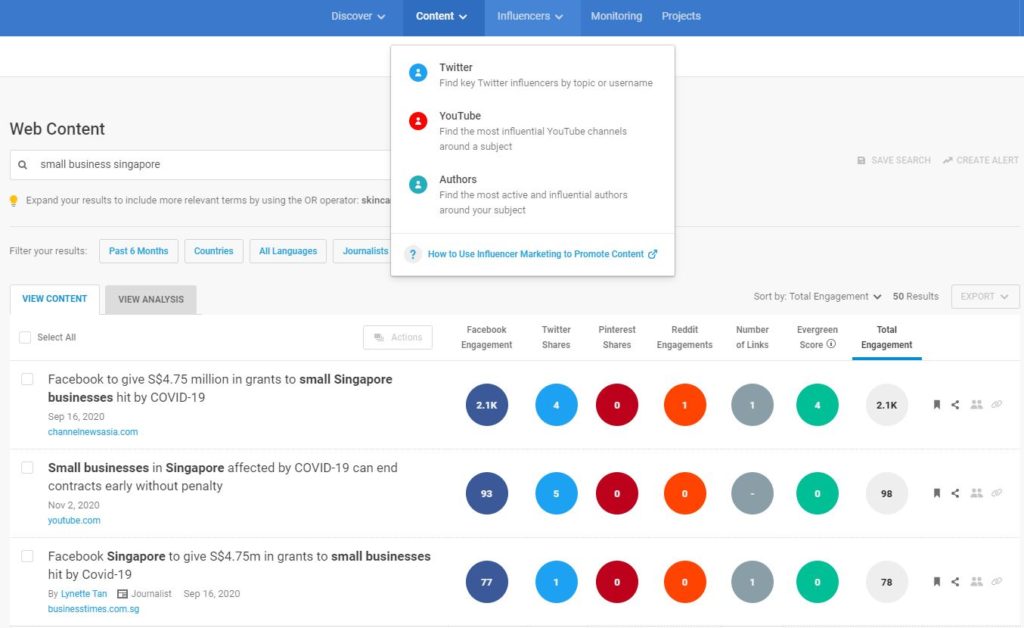 BuzzSumo allows you to see the top shared web content (and hence influencers who write articles), as well as those on Twitter or YouTube as shown above.
(For a whole list of influencer search tools, check out this article on 19 free influencer marketing tools here.)
#3 The Right Products
Knowing which blogs, forums and influencers isn't enough. You need to know what people are buying in relation to your keyword.
Here, you can use eCommerce shops like Amazon, Lazada, Zalora, Qoo10, or any of the other platforms to see what comes up. These tell you the types of products that are of interest.
For Amazon, you can also check out the books that are on sale, to see if the contents page gives you an idea of the topics of interest to them.
Products in Forums
You can use the earlier forums that you've shortlisted to research on what people are discussing about products serving your space.
In the search bar, use these queries:
"product review"
"Have you tried"
"I bought"
"I purchased"
You can also type it in Google directly to see what comes out. Click on the 2 to 3 star reviews — these are usually the most helpful in providing useful feedback on where the gaps in the market are.
How to Research Your Customers
After you've gained a good sense of what's out there in the market, it is time to consider how your target idea fits into your customer.
According Pat Flynn, you can break it down into a Customer P.L.A.N. which is an acronym for the following:
Problems
Language
Anecdotes
Needs
These should be prepared on the same spreadsheet, perhaps with a different tab.
#1 Problems
There are several ways to find out what could be ailing your potential customers.
One-to-One Conversations
Begin by conducting 1-to-1 conversations on social media (or via telephone or face-to-face meetings). Here are some questions that Pat suggests you can use:
What's something about [topic] that frustrates you?
If you had a magic wand, what would you change about [topic]?
What problems in [topic] are costing you the most money right now?
What's the most important activity related to [topic] that you do?
What related to [topic] takes up the most time?
Do you have any solution to [topic] right now? What do you like about it? What do you wish can be improved?
What's related to [topic] that you have to keep doing over and over again?
Surveys — Social Media, Emails, or Paid
You can also conduct surveys using a wide variety of tools like SurveyMonkey to ascertain what your customer pain point is. Or you can just post a question related to your topic on social media.
Here's an example from the book:
What's your #1 biggest challenge related to [topic]?
I'm going to post this question right now to see what comes back!

Beyond this, you may also wish to send emails out to your current mailing list, to see how they'd respond. Or you can also send out text messages on WhatsApp, Telegram, Signal or Facebook Messenger to find out what people think.
If you're desperate (or your list is too tiny), you may even wish to invest a little in social media advertising to ask your target audience what their problems are!
Do bear in mind that not everybody will respond, which is perfectly fine.
#2 Language
To learn the language of your target customer, it is useful to dig into what's going on in their minds.
Here, Pat suggests that there are three useful kinds of words and phrases you can collect:
Questions
Complaints
Keywords
Questions and FAQs
For these, you should go into that same forums that you've amassed earlier, and type in the following in Google search bar:
"how do I" site: [forum URL address]
Here's an example from Hardwarezone Forum.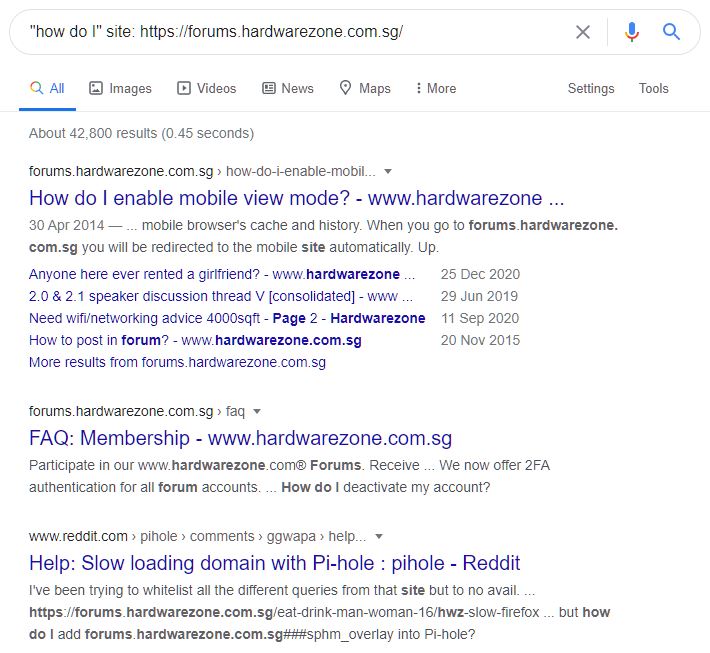 To be really useful, do also consider other types of terms like:
"why is it"
"when can I"
"what are the"
"what is the"
"how come I"
"need help"
"please help"
"I need"
"help with"
You may also wish to look at the FAQ sections of websites or blogs to see if you can find out what these questions are. Use this format:
"faq" site: [blog address]
You can also substitute with other words like….
"frequently asked questions"
"common question"
"question from"
Complaints
Ah, complaints! These are probably the most useful language since they tell you what the main problems of your customers are — in their own language.
You can use Google searches once again, possibly with this format:
"I hate" site: [website address]
Beyond this, you can also trawl Amazon Reviews, Facebook Reviews, and Google Reviews to find out what the top complaints are. Go to your specific niche area and focus on the 2 to 3 star reviews, which are normally the most interesting.
Here are some I found from hardwarezone forum.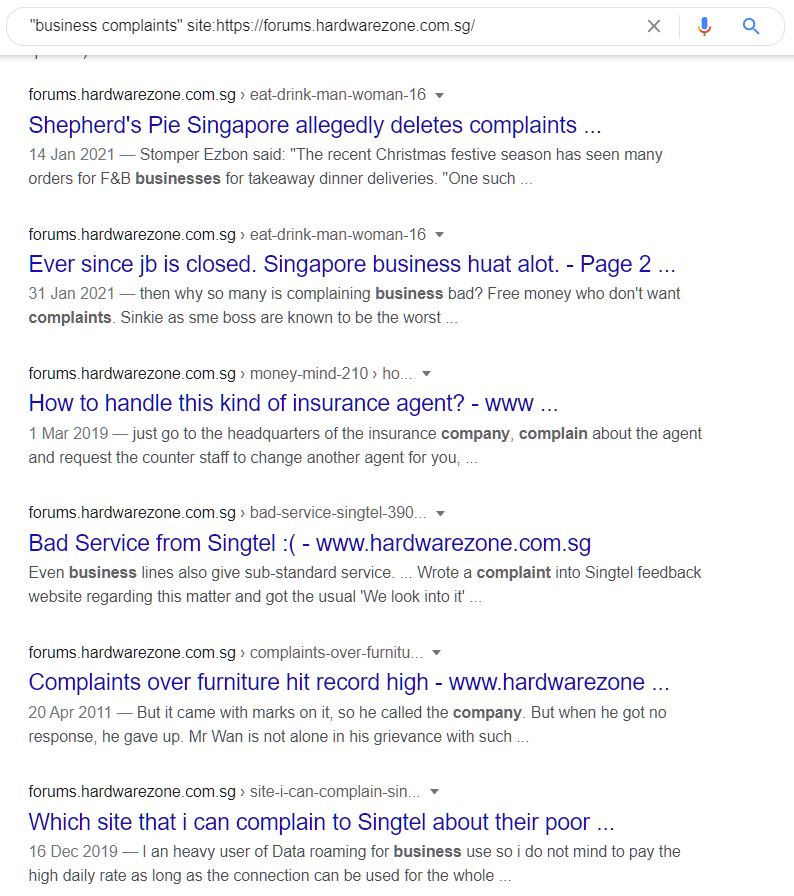 Keywords
Now these are really where you can use a whole barrage of tools to find out what your potential customer is typing into Google. You can just go directly into the platform itself, for "Searches related to".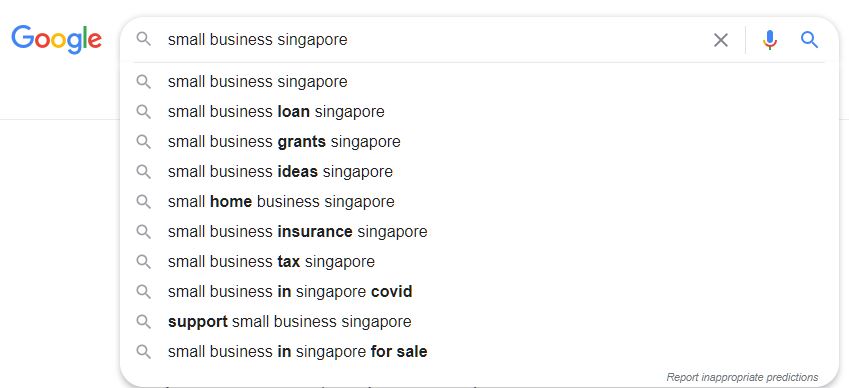 Or find a specific tool like Keywordtool.io to help you come up with the questions or keywords that prospects are using.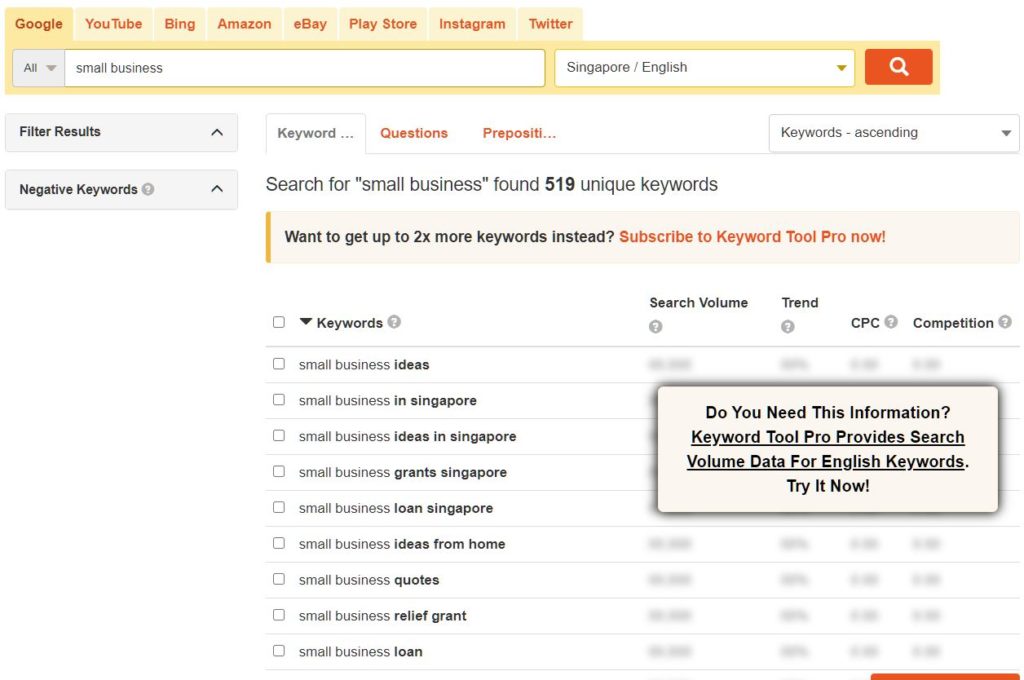 #3 Anecdotes
An anecdote (or a vignette) is a short story that your potential customer may be telling you. These are useful because they allow you to tap on the specific use case scenarios as well as examples of when, what, and how they may need a specific product or service.
You can search for forums using this format:
"search term" site:http://www.websitename.com
Some of the terms that people may use in relating stories on forums or blogs are:
"this happened to me"
"amazing story"
"great story"
"awesome story"
"one time I was"
"I remember when"
"share a story"
"good story"
"share my story"
"sometime ago"
etc….
The good thing about anecdotes is that they provide rich and contextualised information specific to your customer's unique experience.
Here's an example, using "good story" on the popular EDMW forum on Hardwarezone's Forum.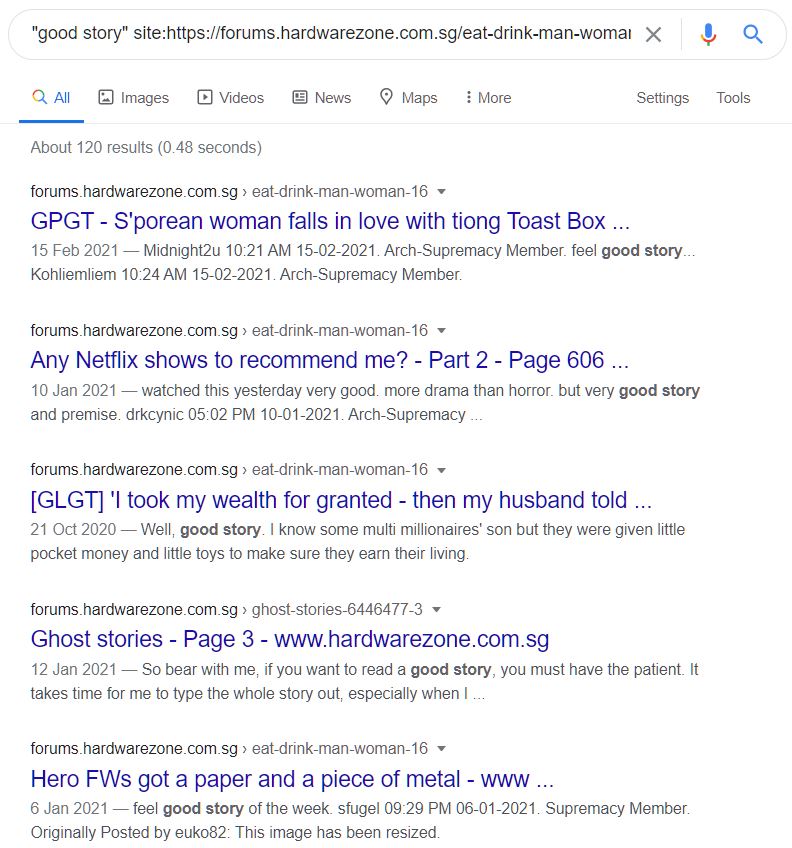 #4 Needs
Last, but not least, you need to know what your customer's needs are. According to the book Will It Fly, a need is defined as follows…
"A need is what you believe your customers require to solve a problem, and the product or business becomes the mechanism to fulfill that requirement."
From the above research, you should be able to list down what the main needs of your potential customers are.
Conclusion
And there you have it — a compendium of easy-to-implement digital marketing research methods you can use to research your potential market and customers.
What I have here are just a tip of the iceberg. There are a lot more complex ways to conduct research on digital marketing channels. However, I find these simple methods quick and easy, and they're also very helpful for startups, SMEs and solopreneurs who may not have the wherewithal to engage in intensive research.
For more information, and an entire game-plan to ensuring that you choose the right business to go into, get a copy of Pat Flynn's Will It Fly?
You should also sign up for his free Will It Fly? companion course here.
Need Help with Your Digital Marketing?
Fill in the contact form below for a free 30-minute Skype or Zoom consultation session!