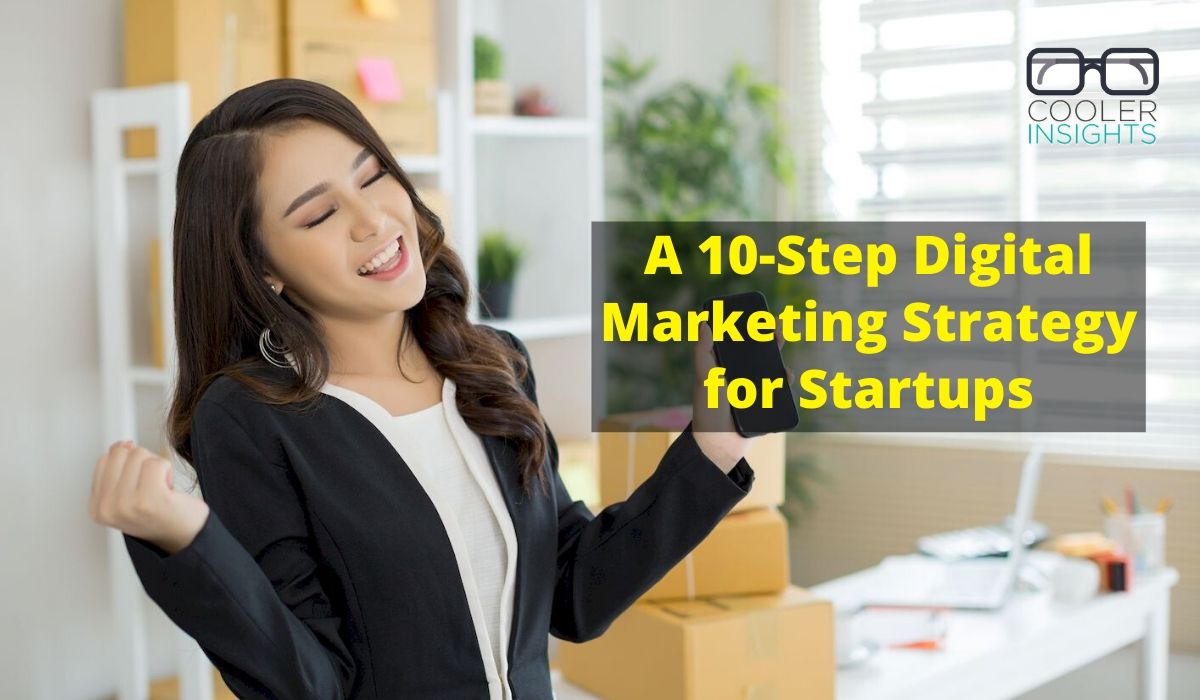 Business photo created by jcomp – www.freepik.com
Congratulations! You've just newly launched your startup business in Singapore.
As you mull over the thousand and one things you need to do to fuel your entrepreneurial venture, there is one thing you simply cannot ignore.
This: Develop the best digital marketing strategy for your startup.
Now before you complain that you don't have time to build one (after all you need to take care of your product, and isn't that the most important 'P' in marketing?), consider this:
Most of your customers are going to spend time online—be they consumers or businesses
It is far easier to influence your prospect's buying decision if you have a digital presence
Thanks to Google, every potential customer is going to do tonnes of research before they buy
And if they don't recall your brand name (or have a positive impression of it), they are not going to confirm their purchases
So what should a Singapore startup do in today's challenging—albeit exciting—screen-first environment?
In this article, I will cover the different stages of digital marketing that a startup or small business in Singapore should consider as well as the different areas that entrepreneurs and start-up managers should focus on.
#1 Develop Your Customer Profile
First, identify who your targeted customers are, and flesh out their profiles (or avatars). The more detailed you can be, the better.
Beyond basic factors like their demographics, psychographics, and purchase patterns, it is useful to focus your attention on two things:
a) Customer Pain or Pleasure Points
What are your target audience's current pain points? What are their aspirations, goals and dreams — the things that possibly keeps them awake at night?
By identifying either pain or pleasure points, you can position your offering as a solution to the problem which they're preoccupied with.
b) Online Behaviours
What do your potential customers use online platforms and channels for? How much time do they spend on Facebook, scrolling through Instagram, engaging with others on LinkedIn, or searching for information on Google?
These online behaviours are useful when you consider the right media and message to be delivered to them.
#2 Conduct SEO and Social Media Research
Next, you should do some Search Engine Optimization (SEO) and social media research.
Use keyword tools like Google Trends, Ubersuggest, or Keyword Tool to determine the best keyword combinations you should focus on. This should cover customers on different stages of their buying journey: Awareness, Consideration and Conversion. (Read more about keyword research here.)
Use social listening tools like BuzzSumo, Trends24, Google Alerts, Board Reader, and Mention to see what people are talking about online. You can put in your topic, category or competitor brands, and find the most popular posts around that subject. These tools can also help you to identify the right influencers for your brand.
#3 Build a Conversion-focused Website
After you've honed in on the right topics and keywords of interest, your next goal is to build a Conversion Rate Optimization (CRO) ready website.
Now what on earth does CRO mean? Well, CRO is defined as the process of improving the percentage of your web visitors who convert into a lead, subscriber or a customer.
Rather than start from scratch (and make all the million and one mistakes which others have made), you should aspire to build a website that adopts the best principles of winning websites around the world.
This covers anything from aesthetics and design, User Interface/ User Experience (UI/UX), to copywriting and SEO.
And don't forget about your landing pages—these are the places where convert visitors into leads (or customers).
(PS – if you are building an e-commerce shopfront, consider these tips from Lemonade IT.)
#4 Build Your Digital Marketing Funnel
A digital marketing funnel is a vital part of your marketing strategy. Sadly though, it is sorely neglected in most of the small businesses and startups that I encounter.
So what is a digital marketing funnel?
Simply put, your marketing funnel maps out the different stages of your target audiences as they interact with your company or brand, and describes the content types and metrics that each stage entails.
Here's how it looks like.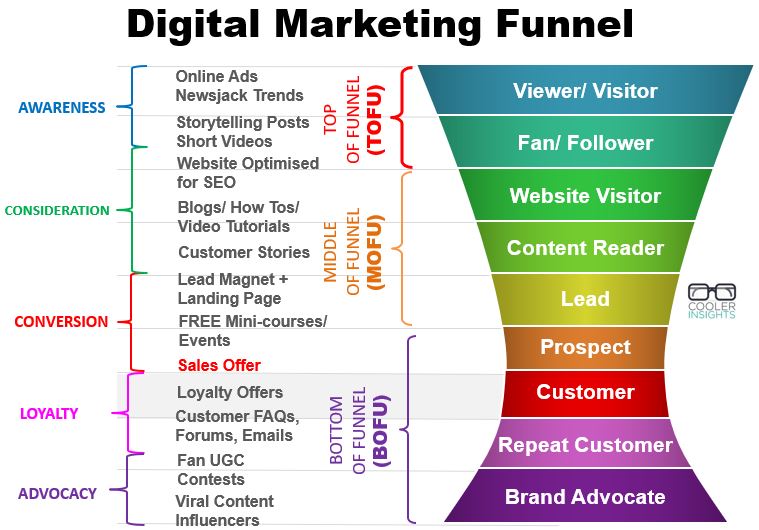 If the variety and types of content that you need for each stage looks exhausting trust me—it is!
But that's the only way for a new startup to gain traction in a hyper-competitive and cluttered digital marketplace.
#5 Start—and Participate in—Online Communities
Next, you should consider seeding an online community that is centred around your topic of interests. For example…
If you work in a bank, start a Facebook Group talking about financial matters
If you own an Italian restaurant, start an email list on greatest pasta and pizza recipes
If you manage a widget factory, start a Facebook Group or LinkedIn Group on manufacturing best practices
If you a management consultant, start a LinkedIn Group offering Leadership and Management Insights
Beyond this, you should also participate in existing communities, and be proactive in engaging with other members.
This means liking, commenting on, and sharing their posts. And doing it regularly.
(Learn more about growing your social media community here.)
#6 Roll Out Helpful Content First…
But wait! Shouldn't you focus on pushing out your product and selling it for all its worth?
Well you can do that. But given the sheer weight of competition in your category, your well-heeled competitors are going to come after you on a product or service feature-by-feature basis and it'll be hard to win that battle.
On the other hand, building a community and sharing useful SEO-keyword focused content will help you to build brand awareness, trust, likability and reputation. This is oh-so-important for start-ups without the marketing muscle of bigger boys.
As a principle, consider the 80/20 rule — 80 percent of your content should be helpful and valuable, while 20 percent should be focused on selling.
(More on useful marketing here.)
#7 Work with Your Real Influencers
As a small start-up with limited marketing budgets, you need to make friends and win customers who are willing to cross their hearts and die for you.
(OK, maybe not that dramatic, but you get the drift…)
While you can work with Instagrammers and YouTubers with huge number of followers, the best influencers for your brand are likely to be the people whom you already have a relationship with.
They could be your friends on social media, business partners, ex-colleagues, customers (or ex-customers), neighbours, or even family members.
These micro-influencers or nano-influencers may be better partners for you in view of the following:
They probably know you, and are more willing to help spread the word
They are probably viewed by their networks to be more trustworthy and authentic
They probably do not expect to get paid (a free meal or other gifts may be welcomed though!)
Reach out to these individuals directly and offer them a free gift like a sample, a free trial, or a preview. Doing so helps you to gain their attention and win their affections.
#8 Amplify with Paid Advertising Later
At some point of time, you'll also need to use paid online advertising to scale your business.
You may consider running social media ads (read my three part series on Facebook Campaigns, Ad Sets and Ads), splurge on Google Ads (search or display), or invest in native ads on platforms like Taboola or Outbrain.
However, my advice is to only do this later in the game when you've got your basic digital infrastructure worked out.
Once you've started to put money behind ads, your next step is to naturally look at your ROI…
#9 Measure Your Performance and ROI
Regardless of the free or paid channels that you chose, you need to assess your digital marketing ROI.
There are two areas here that you need to be conversant with:
Reading and interpreting the different analytics tools—eg Google Analytics, Facebook Insights, LinkedIn Insights and so on
Reading and interpreting your advertising results—eg Google Ads, Facebook Ad Manager, LinkedIn Campaign Manager and so on
This should transcend traditional cost per result indicators (eg CPM, CPC, CPA) to include your total Return On Ad Spend (ROAS), and even your Customer Lifetime Value (LTV).
To compute your digital marketing ROI, consider using the different formulas (such as those in my article here) that you can use. Or consider using one of these handy digital marketing calculators.
From your digital marketing performance (both in terms of numbers as well as revenue), you should be able to populate your funnel with the relevant KPIs at different stages as shown below.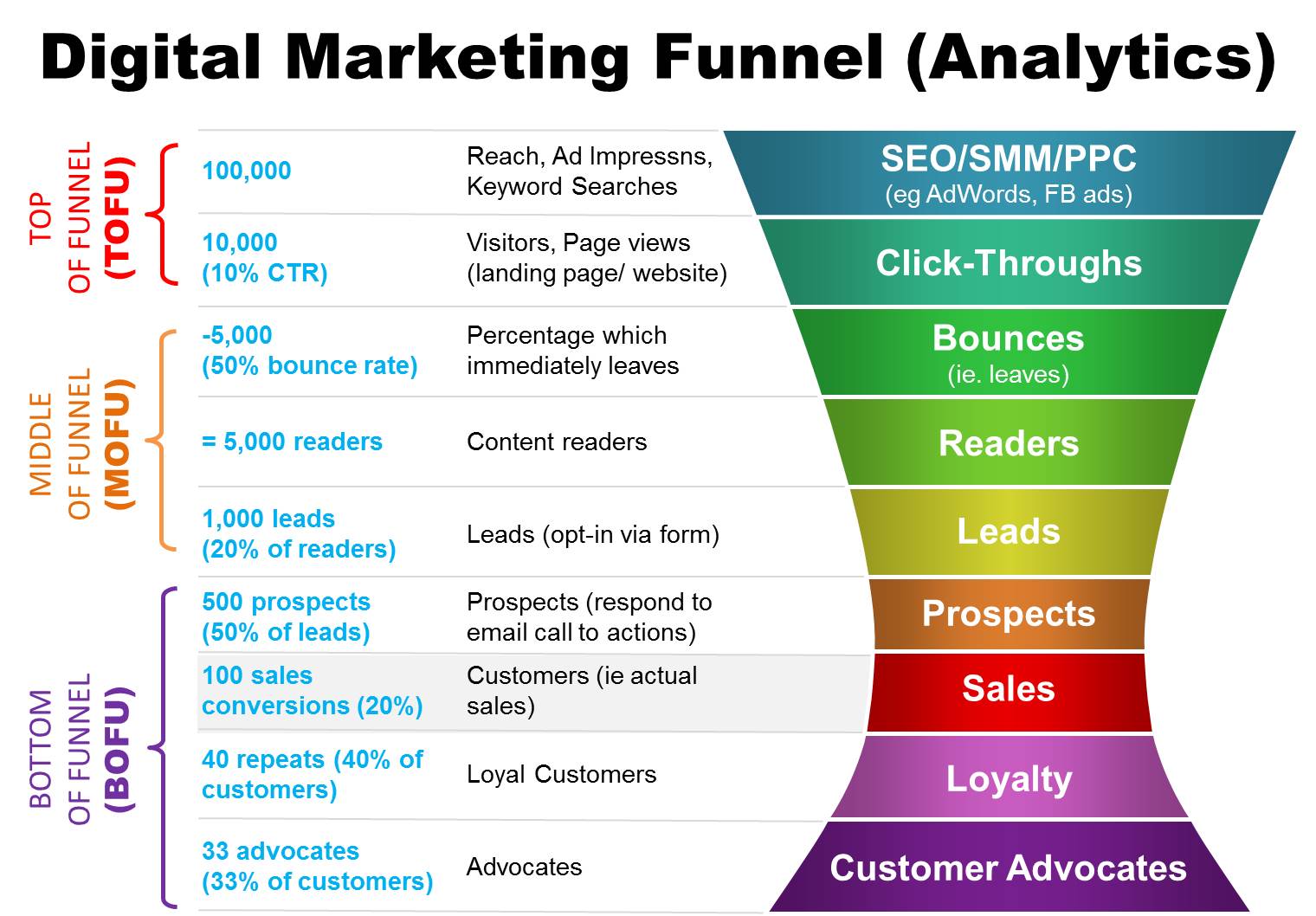 #10 Learn, Iterate, and Improve
Last, and certainly not least, you should use the data that you've gleaned to improve your digital marketing. This means embracing the tenets of agile marketing, and allowing the data to help your online platforms improve.
You need to study your marketing data and analyze it to determine what changes and improvements are required. For this, you can use a visual management board. It will help you to visualize everything and understand your marketing data better.
Ask yourself these strategic questions:
Are there any campaigns that did exceptionally well (or poorly)?
Which stages of the digital marketing funnel do most of your potential customers drop-off at? Why are they doing so?
Are your social media content pieces, online ads, landing pages and emails optimised for conversion?
Are your website/s ranking for the right SEO keywords?
Do the search keywords which you target for in a Pay Per Click (PPC) ad campaign work in generating the right audiences?
Do your fans or customers stick around for a long time? Or is there considerable churn?
Is your community both growing and engaged?
By asking yourself these questions (and finding out the answers), you'll be able to constantly tweak and adjust your platforms, campaign messages, and targeting efforts online.
Conclusion
Starting a new business in any age is never easy. As the world shifts towards a digital-first posture, any entrepreneur worth his or her salt must embrace these 10 fundamentals of digital marketing.
By following these 10 steps to developing a digital marketing strategy, you'll be better able to harness the potential of online traffic to build your brand, generate leads, and grow your business.