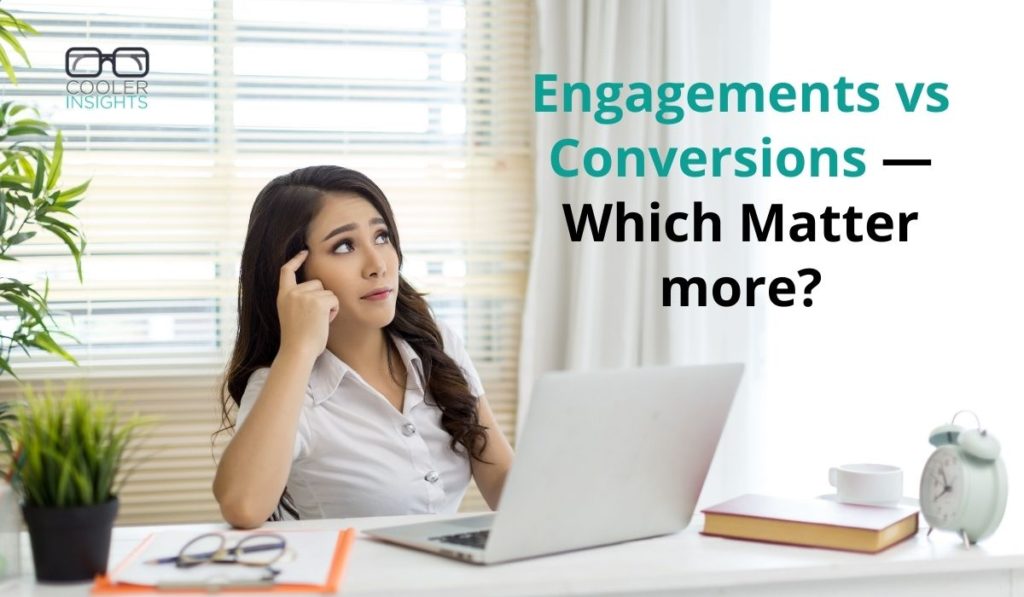 Which matters more in the world of social media marketing: engagements or conversions?
Is "going viral" necessarily the best thing for your social media posts? What about interactions like reactions and comments? Or the actual number of people sending you an enquiry or purchasing your product?
This really depends on what you are using your digital marketing activities for. And the answer may not be that straightforward.
In this article, you'll learn what marketing engagements and conversions are, why you shouldn't just focus on getting more reactions, comments and shares, and how you improve your overall marketing performance.
What are Engagement Metrics?
Engagements on digital and social media channels are the interactions that you get online. Typically, they include…
Reactions and "favourites"
Comments and saves
Shares, retweets, and reshares
Longer video views (ie minutes watched)
Clicks on posts or links
Session duration (ie time on your website)
Bounce rates
In the world of social media marketing, engagements are still seen to be the name of the game. "Going viral" with a huge number of reactions, comments and shares is perceived as a major plus point—the more people interact with your content, the greater your social proof.
When more people interact with your content, your videos, photos, link posts, and articles will automatically reach a higher number of people.
With this in mind, you'll see marketers employing various strategies and tactics to "gamify" their posts.
They include posting during the best times of the day (or night), forming engagement pods to like, comment and share each other's posts, posting trendy and catchy content that gets people buzzing, and interacting with others so that they'll reciprocate.
What about Conversion KPIs?
Now how about conversion metrics? How are these any different from engagement Key Performance Indicators (KPIs)?
There are many ways to define conversions. For me, a conversion (be it online or offline) occurs when a potential customer either fills up a form, participates in an event, enrolls in a programme, or purchases a product or service.
Typically, such a prospect can be individually identified because they have given you their particulars. They may include:
A lead submitting his name, email, and phone number on an online form
A participant signing up for an online webinar where he'll learn something valuable and relevant
A prospect clicking on an enquiry form to find out more about your products or services
A potential client sending you a direct message to enquire more about your offer
A customer purchasing a product—either online through an e-commerce shop or offline at a physical outlet
A buyer following your live stream videos on Facebook or Instagram, and purchasing your products by commenting on your video and subsequently messaging you with her particulars
While social media channels like Facebook and Instagram may sometimes lead to online sales, I find that most conversions occur outside of social media through private one-to-one interactions.
When More Engagements Doesn't Lead To More Sales
This brings us to the crux of the matter.
Since interactions like comments, shares and longer video views lead to better visibility of your social media posts, wouldn't better post engagement lead to a better marketing performance?
Not necessarily.
I've seen many social media users posting "viral videos" that they've downloaded from somewhere and uploaded on their own social networks which has absolutely no relevance to their professional brand.
There are also instances of social media users sharing content that is intriguing (or incendiary) on their channels with little or no bearing to what their business is all about.
For example, they may talk about an ongoing crisis that is very much in the news, or the latest celebrity shenanigan just because "everybody else is talking about it."
You'll also come across instances where people in the same interest group demonstrate their expertise by commenting intelligently on a post by somebody else in that group.
While such interactions are valued from a social angle, they don't necessarily lead to conversions.
How to Improve Your Social Media Marketing Results
So how do we ensure that engagements eventually lead to conversions like leads generated, sales, and repeat sales?
Consider taking these steps.
#1 Stick to Your Professional or Product Brand
Don't neglect to align everything which you share online with your personal, corporate or product brand.
This means that you need to maintain a coherent brand voice, tone and style in your company's social media accounts.
If you choose to newsjack a trending piece of news, ensure that you relate it back to your brand.
#2 Don't Just Share for the Sake of Sharing
Be more intentional in what you post online.
Don't just share something because you have a quota to hit (eg X number of posts per day), or because your trainer or coach tells you to do so.
Instead, be purposeful in your posts, and ask yourself these questions:
Will this post help to build my brand?
Is it relevant and valuable to my target audience—the people or companies who will eventually be my customers?
Does this add a fresh perspective to an ongoing conversation?
How will this help move my potential customers closer to acquisition and sales?
#3 Revisit Your Marketing Funnel
Sometimes, in the heat of our passion and interest in a subject matter, we may forget to calibrate our content on the marketing funnel.
Rather than post or share something for the sake of gaining likes, comments and shares, think about how it moves people down the funnel.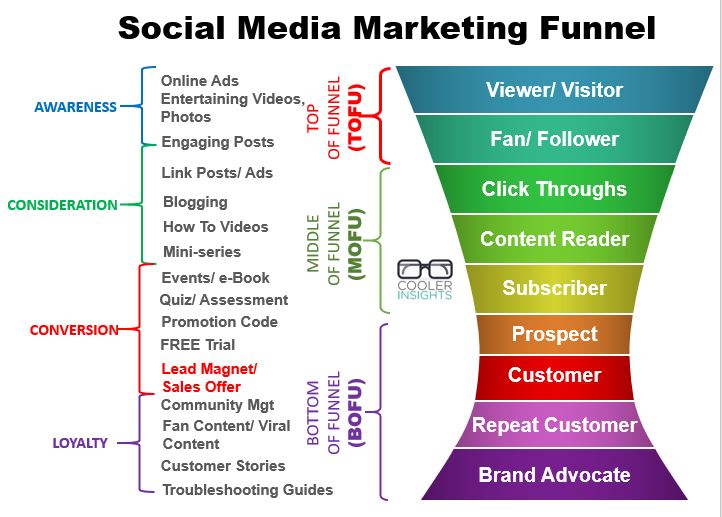 #4 Establish a Content Schedule and Calendar
Develop a systematic process of planning for and posting content on your social media channels.
Start by creating a content calendar of posts aligned to the different stages of your marketing funnel.
Ensure that there is a right mix of content—use the 80/20 rule as a gauge—and stay away from ad hoc content that is fun to share unless there is some relevance to your brand.
#5 Engage Meaningfully Online
Finally, do not merely just scroll through your social media feeds aimlessly. Seek to engage with others in a meaningful manner.
If you're doing it for work (I know the line between business and pleasure can be difficult to discern), focus on engaging with people who may eventually be your clients or business partners.
Of course, not everything that you do on social media needs to have a KPI associated with it! I for one do spend time on Facebook, LinkedIn, Instagram, and Twitter interacting with my friends.
However, if you seek to bring in leads or sales through social media, you need to be more intentional in your interactions.
Conclusion
I hope that this article has been useful and relevant for you as you tap on social media marketing to grow your business or your brand.
Rather than veer from trend to trend, or to "hack" and "gamify" your social accounts with gimmicky techniques, seek to cultivate relationships with the right people, on the right channels, with the right messages, at the right time.
What are your thoughts on this? I'd love to read them!