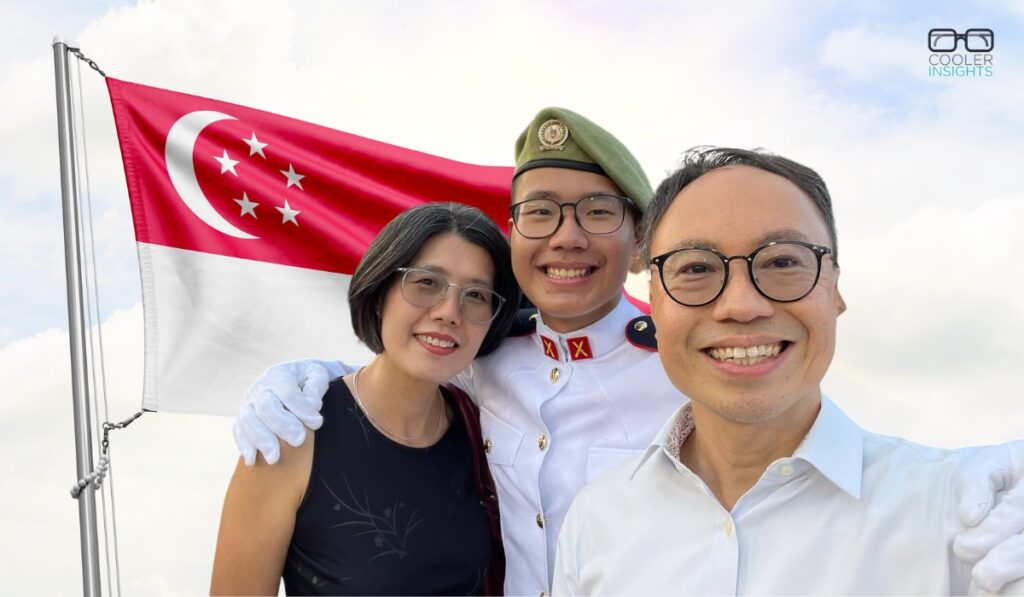 As Singapore celebrates its 58th birthday, it's a time for reflection, gratitude, and looking forward to the future.
In the midst of the festivities (NDP2023 anyone?), I find myself pondering the journey we've taken and the path I've walked professionally and personally.
Here are some musings that resonate with me as we mark our nation's 58th. Its a little different from how I usually write — this being a personal reflection piece — but I hope you find some inspiration and insight from it.
Embracing Technological Disruptions
On the professional front, 2023 has been an uncertain year. It is filled with technological advancements like AI, sensors, robotics, and tools that are both exciting and challenging, especially for digital marketing agencies like mine.
ChatGPT, Bard and their equivalents is now the talk of the town. Are marketers still needed with these AI tools available? Will we be disintermediated?
Social media marketing — my main bread and butter — has also changed irrevocably with the relentless updates in algorithms, consumer tastes, and content formats. Every influencer I know is now live-streaming and selling stuff on TikTok! And yes, Twitter is now X!
The rise of privacy concerns is having a major impact on social media marketing. With cookies, pixels, and tags blocked by iOS and Android, marketers find it more difficult to track users across the web and collect data about their online activity. Retargeting of specific users is now harder — and this has led to an increase in the cost per result for conversions.
The pace of change is relentless, but it's a reminder that we must adapt and evolve.
Stepping and Levelling Up
Given the above backdrop, the need to innovate and go beyond our comfort zones is more critical than ever. Though I'm not a natural video person, I've embraced the challenge to film instructional "how-to" videos on TikTok to build my audience.
As an agency, we've also pivoted more towards visual and video content — infographics, Reels, TikToks, Stories, carousels — while keeping a watchful eye on the numbers.
We're also becoming more multi-faceted, helping clients with not only social media and content marketing, but areas like Search Engine Optimisation (SEO), Conversion Rate Optimisation (CRO), and brand storytelling.
And yes, this covers both online and offline marketing channels — we now do brochures, banners, posters, stickers and other offline collaterals to supplement our client's online presence. (Drop us a line here if you're keen to find out more.)
A Proud Father's Moment
What about my life over at the homefront?
Well, the proudest and happiest moment for me this year was witnessing my son being commissioned from OCS as an officer. He now leads men as a platoon commander, and helps to train future generations of soldiers.
What I was particularly impressed with was his ability to bounce back from set-backs to rise stronger than before. And he always does it without any fanfare — literally an embodiment of the saying "if at first you don't succeed, try, try again!"
It's a journey I never expected him to take, especially as I myself was hardly a paragon of virtue during my NS.
Health is Wealth
A recent illness that took the wind out of my sails for two weeks was a stark reminder of the importance of keeping healthy. In this age of pandemics, exercising, eating well, and staying fit are not just lifestyle choices; they are necessities.
I now try to exercise almost everyday. I either go to the gym in the morning, or jog/brisk walk around my estate.
I try not to over-indulge in sweets, and make sure that I have the right macros — carbs, proteins, fats, in the right balance. Any forms of alcohol are also kept to a minimum now.
Rekindling the Flame of Education
The need to read, listen to podcasts, and continually learn and teach is vital. After a few months of low motivation (illness, plus low energy), I'm back in the learning game!
Growth never stops, and neither should our pursuit of knowledge.
I'm back to bringing a book along with me everywhere I go, and spending at least 30 minutes to an hour reading everyday. Should work be overwhelming, I'll try to manage with just 10 pages per day. I'm sure I can do that!
To make my treadmill/elliptical/stationery bike sessions more productive, I'll revert (yes, this is the correct use of the word!) to listening to a marketing podcast each time I'm sweating it out while going nowhere. Just once or twice a week will suffice, so long as I apply what I learn immediately to my own business and my clients.
Keeping Spiritually Grounded
Like many of you, I was shocked and saddened by the recent spate of political scandals, especially those involving extramarital affairs. However, I am also mindful that we're all fallen and sinful creatures.
I need to remind myself to be spiritually connected to God. All I have is from Him, and He has been a source of strength and guidance. This also means staying away from temptations should they arise.
It's by grace that I am saved, and His mercies abound every morning. His spiritual anchor provides direction in all aspects of my life.
What Makes Us Singapore
Although I often wish that we're 10 degrees colder, I'm profoundly grateful for what we have in Singapore. There are four areas in particular:
Our food
Our language
Our friendships and kinships
Our kiasu-ness
Our hawker centres are culinary melting pots, offering a diverse array of local dishes that tell the story of our multicultural heritage. While inflation has made everything significantly more expensive, we're still able to get affordable ready-cooked tasty food.
The way we speak, our "Singlish," is a familiar and endearing part of our daily discourse. They reflect our unique multicultural identity — a hallmark of what makes us Singaporean.
This, coupled with our multi-ethnic friendships, are traits of an inclusive society. While there will be occasional racial, religious, and ideological frictions, life in Singapore is generally harmonious and incident-free.
What about our "kiasu" mindset? Well, while it may lead to the "ugly Singaporean" emerging every now and then. However, it is this same drive that pushes us to strive for the best.
Let's take a moment to appreciate what makes us uniquely Singaporean. From our culinary delights to our language, from our pursuit of excellence to our sense of community, these qualities define our identity and unite us as a nation.
Looking Ahead
As we look ahead to the future, I'm excited to see what the next 58 years hold for Singapore. (Well, I won't be around to witness it, but I'm sure my son would.)
I know that we will continue to face challenges, but I also know that we are a resilient and resourceful people. I'm confident that we will overcome the challenges and continue to thrive and prosper.
Let me leave you with a quote from Lee Kuan Yew: "We must build a strong and united Singapore, where everyone has a stake in the country's success."
What are the most significant moments for you in Singapore? I'd love to read your experiences!